CVGM.net - Chiptune, Retro & Video Game Music

Platform - Computer » Amiga (500 / 600 / 1200 / 2000 / 3000 / 4000)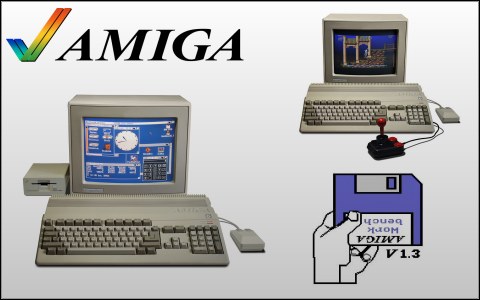 Things that should be added under this platform:
- songs ripped or recorded from Amiga games on actual system or emulator
- tracked songs in MOD format
Things that should NOT be added under this platform:
- songs from Amiga CD32 should be added under "Console » Amiga CD32" platform
----------------------------------------
Amiga was Commodore's home computer series. The first 16-bit Amiga was launched in July 1985. The most popular model Amiga 500 was released in 1987. Next generation "AGA"-models Amiga 1200 and Amiga 4000 appeared in 1992. All the Amigas contain Paula chip which plays 4-channel 8-bit PCM sound.
The development of Amiga had already begun in 1982 in Amiga Corporation which was later bought by Commodore. The first Amiga computer (later named Amiga 1000) was released in 1985 as expensive cutting edge product and Amiga 500 which was meant for average users came out in 1987. It became the most popular home computer model of its generation in Europe. In the USA Amiga's success was more modest. A2000 (1986) was developed for more professional use and had extra space for extension cards. A3000 (1990) was its successor and included also faster processor. A600 (1992) was yet simpler of its design than A500 and was meant to be cheaper but ended up being more expensive. OCS Amigas other than A500 and A600 have separate keyboards. Rare models A1500 and A2500 were odd variations of A2000.
Amiga was the machine most of active people used during the heyday of demoscene and warez groups in the late 1980s and the early 1990s. In addition to gaming and demos Amigas were used especially for graphics and video production by professional users.
German Karsten Obarski created the first tracker music program, Ultimate Sound Tracker, in 1987. That was the beginning of MOD/tracker music era. Now Amiga users (and later in the 1990s also PC users) could easily create music with better instrument sounds than before. This was made possible by Amiga's hardware support for PCM sound. MOD files use often samples recorded from "real life" as their instruments. Also some earlier computers could play recorded digital sound with the help of some programming tricks but due to the lack of hardware support their sound quality remained very low and often the use of samples consumed too much processor time to be used in games.
Since Amigas were not equipped with line-in ports, many users did not create their own instrument sounds initially and thus early MODs often re-use the same instrument sounds (many of which were distributed on a disk called "ST-01" after Sound Tracker). Many instruments used by Obarski himself can be also heard on songs by other composers. The first MOD song ever is music for the game "Amegas" by Obarski.
Despite of more advantaged sound chip, also Amiga music occasionally sounds "bleepy" in the manner of older computers. This is sometimes an intentional choice of composer but may also be due to the lack of disk space for instrument samples. Also during the early years many composers simply did not have software nor hardware to produce good instrument sounds. Though many early Amiga games are quickly made Atari ST ports, soon many designers started to make games utilizing Amiga's sound and graphic capabilities such as Shadow of the Beast (1989) which were technically the most impressive games of the late 1980s.
Next generation Amigas A1200 and A4000 (called AGA Amigas after their upgraded graphic capabilities) were released in 1992 but they could not stop the rising tide of IBM PC compatible computers. While the first Amiga models had been representatives of technological vanguard of home computers, this cannot be said of Amiga 1200. Even Amiga's sound capabilities were left intact while 8-bit 22 kHz sound and four channels were clearly an outdated concept in 1992 (SB16 and GUS cards for PC already featured 44 kHz sound with more than ten channels). In addition to these new AGA models, also Amiga based game console called CD32 had been released in 1993. It extended Amiga's life span for a moment. However, Commodore went into bankruptcy in 1994. German Escom company bought Amiga and continued selling A1200 for some time.
Technical info on Amiga's Paula sound chip:
-four sound channels, two for left and two for right stereo channel
-8-bit resolution and 6-bit volume control for each channel
-low-pass filter (the brightness of power LED indicating whether it is on or off)
-direct access to computer's RAM (DMA) to play sound without CPU intervention
Four sound channels can be divided to play sound with smaller frequency but more channels. For example Turrican games use Jochen Hippel's 7-sound system and Teijo Kinnunen's OctaMED tracker allows the use of eight channels simultaneously.
When uploading CD32 songs choose "source" as "Game (CD Audio)" if the music is stored as that.
Songs
Song Title
Artist
Song Length
Status
Avg. Vote
Queue
Last Played
## activity ##
XTD (Piotr Bendyk) Mystic , Tristar & Red Sector Inc. [TRSI]
2:23
Active
4.6

2023-08-22

## all the way ##
XTD (Piotr Bendyk)
5:37
Active
4.2

2023-08-17

## amusing ##
XTD (Piotr Bendyk) Union
2:31
Active
4.5

2023-08-07

## annihilation ##
XTD (Piotr Bendyk) Union
5:13
Active
3.8

2023-08-04

## armaments r-a-c-e ##
XTD (Piotr Bendyk) Mystic , Union
1:18
Active
3.7

2023-06-30

## ascend ##
XTD (Piotr Bendyk) Mystic
3:02
Active
4.8

2023-08-21

## auto reverse ##
XTD (Piotr Bendyk)
3:38
Active
4.2

2023-08-11

## awareness ##
XTD (Piotr Bendyk) Tristar & Red Sector Inc. [TRSI]
1:22
Active
4.0

2023-08-21

## bad format ##
XTD (Piotr Bendyk) Mystic
1:11
Active
4.0

2022-11-04

## bad voices ##
XTD (Piotr Bendyk) Action Direct
7:21
Active
4.0

2023-09-12

## balcer ##
XTD (Piotr Bendyk) Union
6:35
Active
3.8

2023-08-12

## ballada ## (Technological Death)
XTD (Piotr Bendyk) Union
2:14
Active
4.3

2023-06-05

## barrel ##
XTD (Piotr Bendyk) Mystic , Tristar & Red Sector Inc. [TRSI]
4:10
Active
4.5

2023-06-26

## battle ##
XTD (Piotr Bendyk) Action Direct
3:12
Active
4.4

2023-07-30

## blade walker 2 ##
XTD (Piotr Bendyk) Haze
5:07
Active
3.7

2023-07-19

## blade walker part 3 ##
XTD (Piotr Bendyk) Union
3:15
Active
3.8

2023-08-06

## blind flying ##
XTD (Piotr Bendyk) Mystic
3:29
Active
4.0

2023-07-10

## break off ##
XTD (Piotr Bendyk) Mystic
2:41
Active
4.0

2022-11-04

## breathe deep ##
XTD (Piotr Bendyk) Mystic , Tristar & Red Sector Inc. [TRSI]
3:28
Active
4.5

2023-09-11

## cast ##
XTD (Piotr Bendyk) Mystic
0:38
Active
4.0

2021-02-18

## come loose ##
XTD (Piotr Bendyk) atd
3:02
Active
3.8

2023-09-21

## confusion ##
XTD (Piotr Bendyk) Mystic , Tristar & Red Sector Inc. [TRSI]
7:05
Active
4.7

2023-08-17

## dark ##
XTD (Piotr Bendyk) Mystic , Tristar & Red Sector Inc. [TRSI]
2:39
Active
4.2

2023-08-17

## dead brain ##
XTD (Piotr Bendyk) Action Direct
9:01
Active
4.0

2021-12-20

## death race ##
XTD (Piotr Bendyk) Mystic , Tristar & Red Sector Inc. [TRSI]
2:57
Active
4.0

2021-11-21

## desire ##
XTD (Piotr Bendyk) Mystic
3:56
Active
4.3

2023-09-17

## desistance ##
XTD (Piotr Bendyk) Suspect
4:55
Active
4.5

2023-09-16

## destruction ##
XTD (Piotr Bendyk) Action Direct
4:06
Active
4.3

2023-09-06

## detersive ##
XTD (Piotr Bendyk) Mystic , Tristar & Red Sector Inc. [TRSI]
4:12
Active
4.8

2023-08-17

## detersive ##
XTD (Piotr Bendyk) Mystic , Tristar & Red Sector Inc. [TRSI]
4:12
Active
5.0

2023-05-28

## devastation ##
XTD (Piotr Bendyk) Action Direct
3:18
Active
4.6

2023-06-13

## discharge ##
XTD (Piotr Bendyk) Mystic
3:01
Active
4.3

2023-08-09

## discovery ##
XTD (Piotr Bendyk) Action Direct
5:19
Active
3.7

2023-09-12

## dread ##
XTD (Piotr Bendyk) Mystic
1:01
Active
3.0

2021-11-30

## drizzle ##
XTD (Piotr Bendyk) Mystic , Tristar & Red Sector Inc. [TRSI]
2:14
Active
3.8

2023-08-20

## duration of the party ##
XTD (Piotr Bendyk) Suspect
3:59
Active
4.3

2023-09-14

## economy ##
XTD (Piotr Bendyk) Action Direct
1:16
Active
4.0

2023-07-18

## economy 13 ##
XTD (Piotr Bendyk) Mystic , Union
1:38
Active
4.5

2023-06-27

## economy 15 ##
XTD (Piotr Bendyk) Mystic , Union
0:49
Active
4.3

2023-09-28

## ecstasy ##
XTD (Piotr Bendyk) Mystic , Tristar & Red Sector Inc. [TRSI]
3:28
Active
4.3

2023-09-10

## entrance ##
XTD (Piotr Bendyk) Mystic , Tristar & Red Sector Inc. [TRSI]
1:11
Active
5.0

2023-02-28

## ex-track't ##
XTD (Piotr Bendyk) Union
4:44
Active
5.0

2023-08-17

## exorcist ##
XTD (Piotr Bendyk) Suspect
4:13
Active
2.0

2023-05-19

## expedition ##
XTD (Piotr Bendyk) Union
8:44
Active
4.2

2023-08-03

## experience ##
XTD (Piotr Bendyk) Mystic
3:37
Active
4.5

2023-08-25

## explosive ##
XTD (Piotr Bendyk) Mystic
2:44
Active
4.5

2023-09-12

## extrication ##
XTD (Piotr Bendyk) Mystic , Union
4:23
Active
4.0

2023-02-10

## far away ##
XTD (Piotr Bendyk) Mystic , Pulse
3:18
Active
5.0

2023-05-08

## feeling ##
XTD (Piotr Bendyk) Mystic
3:04
Active
4.3

2023-09-30

## final battle ##
XTD (Piotr Bendyk) Mystic
2:48
Active
5.0

2023-07-14

## flight ##
XTD (Piotr Bendyk) Mystic , Pulse
3:12
Active
4.5

2021-12-24

## flight 2 ##
XTD (Piotr Bendyk) Mystic , Pulse
2:04
Active
5.0

2023-08-25

## forgotten song ##
XTD (Piotr Bendyk)
5:08
Active
4.5

2023-09-20

## fortunately ##
XTD (Piotr Bendyk) Action Direct
7:56
Active
4.5

2023-02-26

## freely ##
XTD (Piotr Bendyk) Mystic , The GRiD
4:14
Active
3.0

2023-04-27

## generation ##
XTD (Piotr Bendyk) Action Direct
6:31
Active
5.0

2023-08-05

## gift ##
XTD (Piotr Bendyk) Suspect
5:29
Active
5.0

2023-08-22

## good bye ##
XTD (Piotr Bendyk) Union
1:57
Active
4.0

2022-12-02

## hallucination ##
XTD (Piotr Bendyk) Mystic
3:54
Active
4.5

2023-07-10

## hybridism ##
XTD (Piotr Bendyk) Mystic , Mystic Bytes
3:42
Active
4.4

2023-09-09

## illusion ##
XTD (Piotr Bendyk) Mystic , Tristar & Red Sector Inc. [TRSI]
2:23
Active
4.5

2023-03-31

## in a blaze ##
XTD (Piotr Bendyk) Action Direct
5:07
Active
4.8

2023-09-03

## indecision ##
XTD (Piotr Bendyk) Mystic
2:46
Active
2.0

2023-06-15

## inertia ##
XTD (Piotr Bendyk) Mystic , Tristar & Red Sector Inc. [TRSI]
1:49
Active
3.0

2022-05-22

## inside ##
XTD (Piotr Bendyk) Mystic
2:59
Active
5.0

2023-02-24

## instant ##
XTD (Piotr Bendyk) Mystic , Tristar & Red Sector Inc. [TRSI]
1:39
Active
5.0

2023-02-24

## insurrection ##
XTD (Piotr Bendyk) Union
3:18
Active
4.4

2023-09-27

## living ghost ##
XTD (Piotr Bendyk) Mystic , The GRiD
3:36
Active
4.3

2023-08-24

## machinery ##
XTD (Piotr Bendyk) Union
3:48
Active
5.0

2023-02-24

## microtune ##
XTD (Piotr Bendyk) Union
0:30
Active
5.0

2023-08-31

## microtune 2 ##
XTD (Piotr Bendyk) Union
0:30
Active
5.0

2021-08-10

## microtune 5 ##
XTD (Piotr Bendyk) Mystic , Tristar & Red Sector Inc. [TRSI]
0:11
Active
5.0

2021-03-30

## microtune 6 ##
XTD (Piotr Bendyk) Mystic , Tristar & Red Sector Inc. [TRSI]
0:15
Active
5.0

2023-01-14

## moment of bewitch ##
XTD (Piotr Bendyk) Union
6:29
Active
4.8

2023-07-14

## mystic ##
XTD (Piotr Bendyk) Mystic
3:33
Active
4.0

2023-01-11

## needless ##
XTD (Piotr Bendyk) Union
3:43
Active
4.7

2023-08-10

## non-existence ##
XTD (Piotr Bendyk) Mystic
3:39
Active
4.0

2022-11-06

## non-existence part 2 ##
XTD (Piotr Bendyk) Mystic
2:38
Active
5.0

2023-07-29

## out of place ##
XTD (Piotr Bendyk) Mystic , Pulse
2:12
Active
4.5

2022-10-23

## overturn ##
XTD (Piotr Bendyk) Action Direct
3:32
Active
4.5

2022-05-08

## purgative ##
XTD (Piotr Bendyk) Mystic , Tristar & Red Sector Inc. [TRSI]
1:31
Active
5.0

2023-02-24

## quill ##
XTD (Piotr Bendyk) Mystic
1:09
Active
4.0

2023-06-25

## rascally ##
XTD (Piotr Bendyk) Mystic
3:46
Active
4.0

2023-08-07

## reassurance ##
XTD (Piotr Bendyk) Mystic , Tristar & Red Sector Inc. [TRSI]
3:35
Active
4.3

2023-09-09

## rebirth ##
XTD (Piotr Bendyk) Haze
4:28
Active
4.0

2022-04-05

## reflection ##
XTD (Piotr Bendyk) Mystic , Tristar & Red Sector Inc. [TRSI]
5:56
Active
5.0

2023-09-25

## reprove ##
XTD (Piotr Bendyk) Mystic , Pulse
2:25
Active
5.0

2023-09-28

## ride ##
XTD (Piotr Bendyk) Mystic , Pulse
2:40
Active
4.5

2023-06-20

## scream from space ##
XTD (Piotr Bendyk) Union
6:32
Active
4.3

2023-08-28

## scream from space 2 ##
XTD (Piotr Bendyk) Mystic , Union
4:10
Active
5.0

2023-09-20

## screamtech ##
XTD (Piotr Bendyk) Suspect
2:52
Active
5.0

2023-09-10

## seeker ##
XTD (Piotr Bendyk) Mystic , Union
3:03
Active
4.7

2023-08-20

## severe ##
XTD (Piotr Bendyk) Mystic
2:53
Active
5.0

2023-07-30

## space travel ##
XTD (Piotr Bendyk) Mystic , The GRiD
3:25
Active
5.0

2023-09-02

## starlight ##
XTD (Piotr Bendyk) Union
7:41
Active
5.0

2023-09-29

## suggestion ##
XTD (Piotr Bendyk) Union
4:38
Active
4.5

2021-12-02

## sunrise ##
XTD (Piotr Bendyk) Action Direct
8:09
Active
4.8

2023-07-31

## survive ##
XTD (Piotr Bendyk) Mystic , Tristar & Red Sector Inc. [TRSI]
4:57
Active
4.8

2023-08-28

## technological death ##
XTD (Piotr Bendyk) Union
5:06
Active
4.1

2023-08-25

## to see the light of day ##
XTD (Piotr Bendyk) Union
5:44
Active
5.0

2023-09-09

## very happy end ##
XTD (Piotr Bendyk) Mystic
1:10
Active
4.8

2023-08-09

## wandering ##
XTD (Piotr Bendyk) Mystic
3:02
Active
4.0

2023-07-23

## wavering ##
XTD (Piotr Bendyk) Mystic , Tristar & Red Sector Inc. [TRSI]
4:30
Active
4.3

2023-07-10

## welcome home ##
XTD (Piotr Bendyk) Haze
7:46
Active
4.8

2023-09-14

## Wspomnienie minionej chwili ##
XTD (Piotr Bendyk) Mystic
3:33
Active
4.8

2023-08-13

$00A3
Teque (Tero Kostermaa) Aggression
4:36
Active
3.5

2023-03-25

'92 Twist
Reed (Jaakko Kaitaniemi)
2:30
Active
4.0

2023-09-05

'95 raver's megamix
DaXX (Chris Crusher)
10:47
Active
4.0

2023-09-25

(((tubular)))
Uncle Tom (Tomas Dahlgren) Share and Enjoy [SAE]
3:14
Active
4.1

2023-09-20

(c)hip
Stargazer (Antti Oksanen) Complex
2:30
Active
4.5

2023-07-29

(c)hip-2
Stargazer (Antti Oksanen) Complex
2:08
Active
4.3

2023-08-08

(t)Weak First Try
serpent (Touko Väre)
1:57
Active
4.6

2023-09-29

* Kamasutra *
Jester (Volker Tripp)
1:53
Active
4.3

2023-07-31

-
Tommy (Thomas Jännicke)
3:12
Active
4.0

2023-09-29

02012019 1 - Obi Two
Banjo Guy Ollie (Ollie)
5:01
Active
4.0

2023-09-29

1
Uncle Tom (Tomas Dahlgren)
1:36
Active
4.5

2023-09-03

1 Dogs'n Cats
Kadi (Arek Śliwiński)
2:18
Active
4.0

2023-07-24

1 Pattern
TDK (Mark Knight)
1:00
Active
4.8

2023-08-26

1 Patterni Hupia
Ale (Tommi Vaikkinen)
0:31
Active
2.0

2022-08-08

1 Patterni Hupia II
Ale (Tommi Vaikkinen)
0:55
Active
2.0

2023-07-10

1% AiDS
oRaNGe Grillcrew
2:49
Active
5.0

2023-09-27

100 Yard Dash
Dr. Awesome (Bjørn Arild Lynne) Crusaders
4:47
Active
4.7

2023-08-04

100% Proof!
Delorean (Sakari Hannula) Complex
0:27
Active
4.5

2022-12-05

1001 Nights
Chromag (Timm Albers)
1:58
Active
3.0

2022-08-21

1081 SpeakerBuster
Walkman (Tor Bernhard Gausen)
3:56
Active
3.0

2022-04-02

11th Hour
TDK (Mark Knight)
4:18
Active
4.6

2023-08-25

1234 Rock!!
Yannis Brown
6:49
Active
4.8

2023-09-19

12th Warrior
Dr. Awesome (Bjørn Arild Lynne) Crusaders
4:10
Active
4.7

2023-09-29

13%
Delorean (Sakari Hannula) Complex
5:50
Active
2.7

2023-08-25

15 Years Of Fame
Qwan (Krister Kalin) Up Rough
4:44
Active
4.3

2023-09-22

1989 - A Number (Long)
Romeo Knight (Eike Steffen) Tristar & Red Sector Inc. [TRSI]
4:13
Active
4.6

2023-09-30

1990
Horace Wimp (Fredrik Skogh) Aurora
1:42
Active
4.9

2023-09-25

1991, a Number
TDK (Mark Knight)
3:42
Active
4.5

2023-08-17

1991: Not a Number
Cosmiq (FR) (Boris Proud)
5:18
Active
4.0

2023-08-11

1992
Maktone (Martin Nordell)
1:22
Active
4.8

2023-09-11

1998 Minimix
Tempest (Janne Suni) Damage
0:49
Active
4.0

2022-12-27

20 Karavan
Maf (Benoît C.)
1:42
Removed By Request
3.3

2014-10-10

2000AD Cracktune 2
Maktone (Martin Nordell) 2000 A.D.
0:40
Active
4.5

2023-09-29

2000AD Cracktune 3
Maktone (Martin Nordell) 2000 A.D.
0:39
Active
4.9

2023-06-22

2000AD Cracktune 4
Maktone (Martin Nordell) 2000 A.D.
1:01
Active
4.7

2023-09-14

200Kb From Heaven
DJ Joge (Jouko Karhula) Brainstorm
6:10
Active
4.4

2023-09-20

24,000 Miles
Hollywood (Simon Carless)
5:45
Active
4.3

2023-08-08

2400'n Counting
911 (Martyn Deykers) Rebels
0:38
Active
4.0

2022-12-06

242
Papa Smurf (Kari Kuusela) Fairlight (FLT)
2:52
Active
4.5

2023-08-24

2nd Elegy
Farpoint (Phil Smith) Share and Enjoy [SAE]
3:00
Active
4.5

2023-09-22

2nd Step
Chromag (Timm Albers)
2:20
Active
4.5

2023-01-03

2nd Wave
wasp (Alex Löfgren)
3:50
Active
4.3

2023-06-25

2nd World
Maf (Benoît C.) Silicon (SLC) , Syndrome (SDM)
4:40
Active
3.9

2023-08-22

3 New Strings
Gladiator (Hans Arild Runde) Cryptoburners [CRB]
6:57
Active
4.3

2023-09-02

3 Part Intro Tune
DJ Joge (Jouko Karhula) Chrome
8:07
Active
4.8

2023-08-04

3 Way: Cogitation
Maxym (Michal Kożusznik)
2:08
Active
4.0

2023-05-09

3 Way: Old Metro
Maxym (Michal Kożusznik)
1:24
Active
5.0

2022-02-05

3 Way: Password
Maxym (Michal Kożusznik)
3:18
Active
4.3

2023-09-06

3D Demo II Theme
Mad Freak (Martin Schiøler) Anarchy
2:45
Active
4.8

2023-08-24

3d demo tune
Mad Freak (Martin Schiøler) Anarchy
3:29
Active
4.7

2023-09-16

3rd World, Part 2
Maf (Benoît C.) Silicon (SLC) , Syndrome (SDM)
11:36
Active

2023-06-20

4-mat VI
4-Mat (Matt Simmonds)
2:40
Active
4.3

2023-09-02

40Kb Intro
DJ Joge (Jouko Karhula) Chrome
2:52
Active
4.3

2023-06-14

46K Gabberrr!
911 (Martyn Deykers)
2:54
Active
3.8

2023-05-20

4Lights
LukeLove
5:02
Active
2.9

2023-06-13

4th Dimension
Maxym (Michal Kożusznik)
3:56
Active
4.5

2022-05-27

5 Dollars
Breeze (Samppa Leino)
3:52
Active
3.0

2023-07-08

500 Crazy Warriors (Amiga 500)
YERZMYEY
2:50
Active
4.7

2023-09-13

50ft Drum Demon
Delorean (Sakari Hannula) Complex
4:57
Active
4.3

2023-07-03

5K Reese (Announcetro 2)
Hoffman (Ian Ford) Focus Design (FD - FCS)
2:18
Active
3.7

2023-08-12

60s
Audiomonster (Raphaël Gesqua) Melon Dezign
0:32
Active
4.8

2023-08-28

64k Intro
Baroque (Quinton Davies)
1:09
Active
4.0

2023-05-14

663482
cerror (Roel Heerspink)
1:55
Active
3.8

2023-08-11

663482
Xyce (Tom Offringa & Roel Heerspink)
1:54
Active
4.2

2023-08-24

68000 Guru Music
Heatbeat (Aleksi Eeben)
6:20
Active
4.3

2023-07-28

6a
Tommy (Thomas Jännicke)
2:30
Active
4.5

2023-08-16

6Beat
4-Mat (Matt Simmonds) Anarchy
2:55
Active
4.7

2023-09-04

7
Obi (Karsten Obarski)
7:42
Active
4.5

2023-09-16

70s Reprise
Audiomonster (Raphaël Gesqua) Melon Dezign
1:51
Active
3.0

2021-08-09

716
Xyce (Tom Offringa & Roel Heerspink)
1:41
Active
4.0

2023-03-05

7th Heaven
DJ Joge (Jouko Karhula)
10:29
Active
4.6

2023-09-05

7x
TSM
3:19
Active
4.5

2021-10-19

8 Bit Jungle
Hoffman (Ian Ford) Unsere Doofen Ossis [UDO]
56:30
Active
4.5

2023-08-22

9 Fingers
Travolta (Rune Svendsen) Spaceballs
2:43
Active
4.5

2023-08-22

9 Over 4 Calypso
Delorean (Sakari Hannula) Complex
2:38
Active
2.5

2022-11-30

= malutkie smutki =
XTD (Piotr Bendyk)
4:14
Active
4.5

2023-08-23

= understanding =
XTD (Piotr Bendyk) Union
5:08
Active
4.5

2023-09-01

A Call Today
Clawz (Mathieu Berthaud)
2:26
Active
5.0

2023-09-14

A City at Night
4-Mat (Matt Simmonds)
11:28
Active
4.8

2023-09-12

A Day in Calcutta
Absys (Frédéric Bellec)
3:51
Active
4.5

2023-09-08

A Final Hyperbase - Enigma (AKA Musiklinjen)
Firefox (Jimmy Fredriksson) , Tip (Robert Ling) Phenomena
5:34
Active
4.9

2023-09-14

A Flicker of Hope
Maxym (Michal Kożusznik)
4:47
Active
4.7

2023-09-23

A Friend Has Died
Scorpik (Adam Skorupa)
4:39
Active
4.8

2023-08-03

A Godles Gospel
Azazel (Markus Alakangas)
0:46
Active
4.0

2023-04-30

A Magic Touch
Noiseless (Jogeir Liljedahl)
2:52
Active
4.7

2023-09-13

A miniority
Horace Wimp (Fredrik Skogh) Aurora
2:10
Active
4.8

2023-09-12

A Mon Poussin
Absys (Frédéric Bellec)
4:29
Active
4.2

2023-08-12

A morning in Sarajevo
Audiomonster (Raphaël Gesqua) Melon Dezign
3:16
Active
4.0

2022-01-06

A Naff Song
TDK (Mark Knight)
2:38
Active
4.6

2023-07-19

A New Beginning
Geir Tjelta
3:14
Active
4.8

2023-09-28

A New Beginning II
Geir Tjelta
2:08
Active
4.8

2023-08-06

A New Day
LKA (Lars Kristian Aasbrenn) Twilight Zone (TTZ)
2:48
Active
4.0

2023-08-20

A New Jack Tune
Kookai (Yann Parmentier) Liquid (LQD)
5:03
Active
3.0

2023-09-30

A New Type
Airon (Anthony Oetzmann)
3:54
Active
5.0

2023-08-30

A New Way to Jazz
Blue Silence (Christophe Cassier)
2:33
Active
4.5

2023-07-29

A Place on Earth?
Bc (Ørjan Hojem)
4:21
Active
3.9

2023-08-16

A Prehistoric Tale - Intro
Mad Max (Jochen Hippel) The Lost Boys
6:18
Active
4.7

2023-08-20

A Question Of Time
Fleshbrain (Seppo Hurme) Crusaders
4:34
Active
4.2

2023-09-30

A Rambo Rules!
Noiseless (Jogeir Liljedahl)
0:10
Jingle
5.0
A Second Change
Nebula (Rudy van Etten)
4:51
Active
3.6

2023-08-01

A Solid Breakfast
Walkman (Tor Bernhard Gausen)
1:14
Active
4.7

2023-07-03

A Song to Sonia
Audiomonster (Raphaël Gesqua)
5:40
Active
3.0

2021-11-02

A Third Nipple
Syniphas (Eric Pinheiro)
1:05
Active
4.0

2023-07-10

A Time for You
Bar (Roberto Barabino)
4:03
Active
4.0

2023-08-19

A Touch of Green
Delorean (Sakari Hannula) Complex
4:07
Active
3.5

2022-11-02

A Travel in My Mind
Chrylian (Cyril Jegot)
3:37
Active
4.0

2023-08-23

A Trip To FunkyLand
Shun (Franck Amoros) Liquid (LQD)
4:13
Active
3.5

2023-07-03

A trip to Venus
Chill (Robert Halvarsson )
2:27
Active
2.0

2023-04-02

A Voice Faded Out
Magnum Force (Mike Baratte)
8:55
Active
4.2

2022-12-20

A Wait for a Funk
Chrylian (Cyril Jegot) Proton Ltd.
3:08
Active
4.7

2023-06-17

A Weak Mind
Maktone (Martin Nordell) Class [CLS] , SuperStars
0:47
Active
4.0

2021-11-27

A-Gain Remix
Tommy (Thomas Jännicke)
3:50
Active
4.6

2023-07-03

A-ha. Shines On TV
Bernard Sumner (Phil Bak )
2:30
Active
4.2

2023-08-06

A-Train - Bullet Train
Matthew Nathan
0:45
Active
4.0

2023-09-02

A-Train - Deck The Halls
Matthew Nathan
0:42
Active
4.3

2023-07-16

A-Train - Fall
Matthew Nathan
0:41
Active
4.0

2023-03-17

A-Train - Game Over
Matthew Nathan
1:44
Active
4.5

2022-11-23

A-Train - Jingle Bells
Matthew Nathan
0:45
Active
4.0

2022-12-01

A-Train - Silent Night
Matthew Nathan
0:56
Active
4.0

2023-06-06

A-Train - Spring
Matthew Nathan
0:39
Active
2.8

2023-08-01

A-Train - Summer
Matthew Nathan
0:40
Active
3.5

2023-06-07

A-Train - Title Theme
Matthew Nathan
0:48
Active
3.5

2023-04-19

A-Train - Victory
Matthew Nathan
0:19
Active
4.0

2022-10-29

A-Train - Winter
Matthew Nathan
0:40
Active
3.3

2023-09-23

A-Tune
Wicked (Sami Pöntinen) Exotic Men
5:09
Active
3.5

2022-11-21

A.L.II
Spirit Brainstorm
2:37
Active
4.5

2023-06-12

A320 Airbus - Title
Matthias Steinwachs
4:19
Active
4.0

2023-07-11

Aaltoluonne (Sticker)
Dizzy (Juha Kujanpää) Melon Dezign
1:32
Active
4.0

2023-08-29

Abandoned Places 2 - Death screen
Tim Bartlett
2:38
Active
4.4

2023-07-09

Above Field
Teque (Tero Kostermaa) Aggression
2:33
Active
3.5

2023-06-20

Above my Head
4-Mat (Matt Simmonds) Anarchy
1:51
Active
4.5

2023-08-23

Abracadabra
Nightbeat (Carl Larsson) Nebula (PC) , Prometheus
1:55
Active
3.5

2023-08-12

Abstractions
Heatbeat (Aleksi Eeben)
1:55
Active
5.0

2023-03-27

Abyss
Chromag (Timm Albers)
2:19
Active
3.0

2022-01-22

Access for Heaven
Chrylian (Cyril Jegot)
2:27
Active
4.0

2023-07-10

Aces High
Romeo Knight (Eike Steffen) Tristar & Red Sector Inc. [TRSI]
2:13
Active
4.0

2023-08-17

Aces High 2
4-Mat (Matt Simmonds)
2:14
Active
4.0

2023-09-02

Acess High
BKH (Georges Mairet-Coello) , NHP (Nicolas Louis Vuillier) Anarchy
4:15
Active
4.7

2023-09-15

Achlon Bux
Leon (David Marchevet) , Maf (Benoît C.)
0:51
Active
2.8

2023-09-14

Acid Chunks
Joss Manley
4:16
Active
2.0

2023-09-20

Acid Trip Pop
Tommy (Thomas Jännicke)
4:34
Active
4.5

2023-05-20

Acid-panic
Madlock Equinox
1:47
Active
4.0

2023-09-02

Acid1
Matt Furniss Magnetic Fields
1:47
Active
4.3

2023-07-27

Acidcore (Groove)
Maf (Benoît C.) Silicon (SLC) , Syndrome (SDM)
0:46
Active
4.0

2023-06-20

Acidic Lampshade
TDK (Mark Knight)
3:19
Active
4.4

2023-09-09

Acidjazzed Evening
Tempest (Janne Suni) Fairlight (FLT)
3:15
Active
4.5

2023-09-20

AcidRock
Diablo (Rene Bidstrup) Budbrain
1:42
Active
2.7

2023-09-23

Ackerlight-1
Fred (2) (Frédéric Hahn)
1:47
Active
5.0

2023-01-07

Acoustic
Mantronix (Martin Wall)
2:57
Active
4.0

2023-08-21

Acoustic Nork
Yannis Brown
6:04
Active
4.0

2023-06-12

Acrobotics
Nebula (Rudy van Etten)
4:07
Active
4.3

2023-09-02

Acronyme
Baroque (Quinton Davies)
2:58
Active
3.5

2022-12-27

Act of Impulse
Mantronix (Martin Wall) , Tip (Robert Ling) Phenomena , Rebels , Scoopex
4:24
Active
4.9

2023-09-04

Action's Batman (Batman Vuelve)
DJ Uno (José Antonio Arrain) Batman Group
5:35
Active
4.2

2023-09-20

Actionamics Theme
Romeo Knight (Eike Steffen)
5:09
Active
4.6

2023-09-25

Adrenochrome
DaXX (Chris Crusher)
5:03
Active
4.4

2023-09-27

Aerodrome
16beat (Joachim Soppe)
2:16
Active
5.0

2023-09-03

African Bush
Baroque (Quinton Davies)
4:56
Active
3.5

2023-07-10

Afro on the Loose
Rainer A. Nilsen (Brainbug)
2:59
Active
4.0

2021-10-27

Afrodite
Cutcreator (Allan A. Kirkeby)
3:50
Active
4.0

2023-06-20

Afternoon Voyage III
Pink (Manfred Linzner)
1:14
Active
4.7

2023-09-30

Agadoo
Bernard Sumner (Phil Bak )
0:44
Active
3.3

2023-09-19

Agenda 22
911 (Martyn Deykers)
1:16
Active
4.0

2021-11-29

Agony - Beginning
4-Mat (Matt Simmonds)
0:55
Active
3.2

2023-08-14

Agony - High Score
CoLD SToRAGE (Tim Wright)
1:55
Active
2.7

2023-06-27

Agony - Highlands 2
4-Mat (Matt Simmonds)
1:31
Active
3.7

2023-07-02

Agony - Intro
CoLD SToRAGE (Tim Wright)
4:22
Active
4.4

2023-09-16

Agony - Marshes
4-Mat (Matt Simmonds)
1:24
Active
3.5

2023-09-09

Agony - Sea Level
Mantronix (Martin Wall) , Tip (Robert Ling)
1:48
Active
4.7

2023-09-23

Ahdasmielinen Jami
Ale (Tommi Vaikkinen)
2:35
Active
2.0

2023-04-30

Ahdasmielinen Jami
Ale (Tommi Vaikkinen)
2:35
Dupe
Aimlessly
Clawz (Mathieu Berthaud)
1:09
Active
4.5

2023-08-12

Airline - Title Track
Dr. Awesome (Bjørn Arild Lynne)
2:06
Active
4.3

2023-08-25

Airline 1
Dr. Awesome (Bjørn Arild Lynne)
3:08
Active
4.4

2023-08-25

Airline 2
Dr. Awesome (Bjørn Arild Lynne)
3:15
Active
3.8

2023-07-25

Airline 3
Dr. Awesome (Bjørn Arild Lynne)
2:43
Active
4.0

2023-09-10

Akordon Light 2
Maf (Benoît C.)
1:05
Active
4.0

2022-02-16

Alcoholic Score
Audiomonster (Raphaël Gesqua) Melon Dezign
4:50
Active
4.3

2023-07-25

Aleph One
CeDeROM (Tomek Cedro)
2:15
Active
3.0

2023-08-13

Alfred Chicken - Bonus 2
TDK (Mark Knight)
1:09
Active
4.3

2023-08-26

Alfred Chicken - Credits
TDK (Mark Knight)
2:47
Active
3.8

2023-07-27

Alfred Chicken - End Game
TDK (Mark Knight)
3:04
Active
4.8

2023-09-16

Alfred Chicken - Ingame 1
TDK (Mark Knight)
4:28
Active
3.9

2023-09-10

Alfred Chicken - Ingame 2
TDK (Mark Knight)
2:33
Active
3.8

2023-08-30

Alfred Chicken - Meka Chicken
TDK (Mark Knight)
0:35
Active
4.7

2023-06-23

Alfred Chicken - Radio
TDK (Mark Knight)
1:47
Active
3.5

2023-09-12

Alfred Chicken - Title
TDK (Mark Knight)
2:22
Active
3.6

2023-08-31

Alien 3 - Boss
Matt Furniss
0:25
Active
4.0

2022-10-19

Alien 3 - Level 1
Matt Furniss
1:24
Active
4.0

2023-09-25

Alien 3 - Level 2
Matt Furniss
0:53
Active
4.8

2023-05-23

Alien 3 - Level 3
Matt Furniss
1:27
Active
4.2

2023-08-16

Alien 3 - Level 4
Matt Furniss
1:24
Active
4.0

2023-07-15

Alien 3 - Level 5
Matt Furniss
1:16
Active
4.0

2023-07-07

Alien Atmosphere
Dr. Awesome (Bjørn Arild Lynne)
2:54
Active
4.5

2023-09-16

Alien Breed (Uncut)
Allister Brimble
16:45
Active
4.6

2023-09-28

Alien Breed II: The Horror Continues - Title
Allister Brimble
3:50
Active
4.7

2023-09-23

Alien Radiation
Kevod (Federico Cito) Mystic
3:14
Active
4.0

2023-09-13

Alien Temple
Neurodancer (Alexander S. Kunz)
9:28
Active
4.3

2023-08-25

Alienchip
Kevod (Federico Cito)
1:47
Active
4.6

2023-08-12

Aliens Remix
Unknown Artist
3:53
Active
3.2

2023-09-30

Alive and Kicking
Hollywood (Simon Carless)
2:30
Active
3.0

2022-11-15

All I Have To Offer
Teque (Tero Kostermaa) Aggression
4:11
Active
4.5

2023-08-06

All That She Wants
Maf (Benoît C.)
1:21
Active
4.4

2023-08-23

Alone
Heatbeat (Aleksi Eeben)
3:36
Active
4.0

2022-10-01

Alone without You
Pye (Pierre Guillot)
4:05
Active
4.6

2023-09-27

Alpha Light
Cosmiq (FR) (Boris Proud)
5:11
Active
4.5

2023-08-12

Amberstar - City Walk
Mad Max (Jochen Hippel)
1:35
Active
3.8

2023-05-29

Amberstar - Dreamcave
Mad Max (Jochen Hippel)
2:22
Active
3.7

2023-08-21

Amberstar - Eriks Revenge
Mad Max (Jochen Hippel)
2:05
Active
3.6

2023-03-14

Amberstar - Fanfares
Mad Max (Jochen Hippel)
2:07
Active
4.3

2023-07-09

Amberstar - Flying High
Mad Max (Jochen Hippel)
2:00
Active
4.3

2023-09-24

Amberstar - Funkey Dungeon
Mad Max (Jochen Hippel)
2:00
Active
4.3

2023-08-22

Amberstar - Game End
Mad Max (Jochen Hippel)
7:20
Active
4.6

2023-06-26

Amberstar - Gwens Lament
Mad Max (Jochen Hippel)
1:35
Active
4.4

2023-07-28

Amberstar - Hasta La Vista
Mad Max (Jochen Hippel)
3:43
Active
4.0

2023-08-21

Amberstar - High Seas
Mad Max (Jochen Hippel)
1:52
Active
4.8

2023-08-25

Amberstar - Horse Song
Mad Max (Jochen Hippel)
2:03
Active
3.0

2023-04-16

Amberstar - Ingame
Mad Max (Jochen Hippel)
2:05
Active
4.3

2023-09-30

Amberstar - Irish Spring
Mad Max (Jochen Hippel)
2:07
Active
4.4

2023-03-16

Amberstar - Lullaby
Mad Max (Jochen Hippel)
1:15
Active
4.6

2023-07-25

Amberstar - Lurking Horror
Mad Max (Jochen Hippel)
3:16
Active
4.9

2023-07-23

Amberstar - Minor Quarrels
Mad Max (Jochen Hippel)
3:59
Active
3.7

2023-08-29

Amberstar - Misty Orc Hop
Mad Max (Jochen Hippel)
1:59
Active
4.3

2023-08-10

Amberstar - Mystic Moments
Mad Max (Jochen Hippel)
2:57
Active
4.0

2023-09-03

Amberstar - Ode to Schnism
Mad Max (Jochen Hippel)
1:22
Active
4.3

2023-09-20

Amberstar - Title
Mad Max (Jochen Hippel)
5:22
Active
4.7

2023-08-04

Amberstar - Travellers Tune
Mad Max (Jochen Hippel)
1:49
Active
2.8

2023-08-20

Ambience
Yannis Brown
4:21
Active
3.0

2023-09-28

Ambient Break
Chromag (Timm Albers)
2:43
Active
4.5

2023-07-08

Ambient Forest Revisted
TDK (Mark Knight)
5:22
Active
4.8

2023-08-05

Ambush
Alf (Johan Koskela)
2:30
Active
4.0

2023-06-09

Amegas - Title
Obi (Karsten Obarski) Tristar & Red Sector Inc. [TRSI]
4:21
Active
4.8

2023-09-27

Amiga Format
Allister Brimble
5:17
Active
4.9

2023-09-18

Amiga Format - SLVerbie
CoLD SToRAGE (Tim Wright)
3:41
Active
3.0

2023-08-07

Amiga Memories
4-Mat (Matt Simmonds) Anarchy
1:55
Active
4.2

2023-09-20

Amigabass
Tom Woxom
4:31
Active
4.5

2023-08-31

Amigabiisi
Oskari Kurki , Stargazer (Antti Oksanen) Sonik Clique
3:03
Active
3.7

2023-09-28

An Organ
Cosmiq (FR) (Boris Proud)
2:09
Active
5.0

2023-02-24

Anal Seduction
911 (Martyn Deykers) , mark!
1:54
Active
3.0

2023-07-02

Analogue Orgasm
TDK (Mark Knight)
5:53
Active
4.0

2023-08-31

Analysis
Reed (Jaakko Kaitaniemi)
2:00
Active
4.5

2022-01-26

Anarchy
Matt Furniss
2:40
Active
3.5

2023-09-09

Anarchy Full Menu
4-Mat (Matt Simmonds) Anarchy
19:04
Active
4.6

2023-08-26

Anarchy Menu 01
4-Mat (Matt Simmonds) Anarchy
2:30
Active
4.8

2023-09-26

Anarchy Menu 02
4-Mat (Matt Simmonds) Anarchy
1:32
Active
4.8

2023-05-23

Anarchy Menu 03 [Chip Shop]
4-Mat (Matt Simmonds) Anarchy
2:18
Active
4.8

2023-06-13

Anarchy Menu 04
4-Mat (Matt Simmonds) Anarchy
1:20
Active
4.8

2023-07-12

Anarchy Menu 05
4-Mat (Matt Simmonds) Anarchy
2:30
Active
3.6

2023-08-07

Anarchy Menu 06
4-Mat (Matt Simmonds) Anarchy
2:30
Active
4.8

2023-09-27

Anarchy Menu 07
4-Mat (Matt Simmonds) Anarchy
1:32
Active
4.8

2023-09-05

Anarchy Menu 08
4-Mat (Matt Simmonds) Anarchy
2:30
Active
4.0

2023-07-26

Anarchy Menu 09
4-Mat (Matt Simmonds) Anarchy
2:30
Active
4.3

2023-05-17

Anarchy Menu 10
4-Mat (Matt Simmonds) Anarchy
0:46
Active
4.0

2022-06-03

Anarchy Menu 11
4-Mat (Matt Simmonds) Anarchy
2:30
Active
4.4

2023-06-12

Anarchy Menu 12
4-Mat (Matt Simmonds) Anarchy
0:51
Active
5.0

2023-06-17

Anarchy Menu 13
4-Mat (Matt Simmonds) Anarchy
1:36
Active
4.3

2023-09-23

Anarchy Menu 14
4-Mat (Matt Simmonds) Anarchy
0:31
Active
5.0

2023-05-15

Anarchy Menu 15
4-Mat (Matt Simmonds) Anarchy
0:22
Active
2.5

2022-01-02

Anarchy Menu 16
4-Mat (Matt Simmonds) Anarchy
2:30
Active
3.5

2023-07-10

Anarchy Menu 17
4-Mat (Matt Simmonds) Anarchy
2:30
Active
4.8

2023-09-25

Anarchy Menu 18
4-Mat (Matt Simmonds) Anarchy
0:38
Active
4.0

2022-12-13

Anarchy Menu 19
4-Mat (Matt Simmonds) Anarchy
0:28
Active
5.0

2021-10-26

Anarchy Menu 20
4-Mat (Matt Simmonds) Anarchy
0:20
Active
3.5

2021-12-25

Anarchy Menu 21
4-Mat (Matt Simmonds) Anarchy
0:25
Active
4.0

2022-12-21

Anarchy-main (Flower Power)
Jester (Volker Tripp) Anarchy
4:30
Active
4.8

2023-09-29

Ancient Spirits
Svolkraq (Kjetil Hoem) Gollum
2:27
Active
4.7

2023-08-21

Andante #1 in C Major
Dr. Awesome (Bjørn Arild Lynne)
4:13
Active
4.6

2023-07-30

Android Rupture
Baroque (Quinton Davies)
3:04
Active
4.5

2023-09-23

Angel in the Night
Yannis Brown
5:04
Active
3.5

2023-02-02

Angels Voice
DJ Joge (Jouko Karhula) Chrome
5:23
Active
4.0

2023-08-26

Annika
Heatbeat (Aleksi Eeben)
4:16
Active
4.3

2023-08-02

Annike 8
Xerxes (Klaus Lunde)
2:06
Active
3.3

2023-09-13

Another Funky Day
Case (Guglielmo Bottin) The Silents [TSL]
3:49
Active
3.9

2023-09-20

Another World - Intro
Jean-François Freitas
1:47
Active
4.8

2023-09-08

Another World - Outro
Jean-François Freitas
1:39
Active
4.6

2023-09-15

Anthem
Juice (Nikola Fox) Reality
3:50
Active
4.5

2023-08-30

Anthem For The Victory
Creonix Brain Wave
2:54
Active
3.8

2023-07-17

Anti Atari
Kadi (Arek Śliwiński)
2:37
Active
3.2

2023-08-13

Anti Maras Song
Kadi (Arek Śliwiński)
2:30
Active
2.3

2023-09-02

Anticipation
Tempest (Janne Suni) Damage
2:13
Active
4.0

2023-02-10

Antoine Land
Maf (Benoît C.) Silicon (SLC) , Syndrome (SDM)
1:04
Active
3.5

2023-08-19

Anubis
Teque (Tero Kostermaa) Aggression
1:31
Active
4.0

2022-03-23

Anubis
Kevod (Federico Cito)
1:27
Active
3.5

2023-08-05

Anywhere with You
solon (Patrick Mauffrey)
4:03
Active
4.0

2021-11-26

Apache - Hiscore
Allister Brimble
1:19
Active
3.8

2023-09-09

Apache - Title
Allister Brimble
2:45
Active
3.8

2023-06-18

Apidya - Level 1
Chris Hülsbeck
1:22
Active
4.6

2023-09-27

Apidya - Level 2
Chris Hülsbeck
1:07
Active
4.8

2023-08-12

Apidya - Level 5
Chris Hülsbeck
2:20
Active
4.1

2023-08-06

Apidya - Title
Chris Hülsbeck
1:28
Active
3.8

2023-07-10

Apocalypse
Chromag (Timm Albers)
2:33
Active
4.0

2023-09-04

Apocalypse
Audiomonster (Raphaël Gesqua) Melon Dezign
4:29
Active
3.6

2023-07-01

Apocalypse 2
Audiomonster (Raphaël Gesqua) Melon Dezign
4:13
Active
4.8

2023-07-12

Apocalypse City
Matt Furniss Magnetic Fields
4:13
Active
4.6

2023-04-26

Appalation
CoLD SToRAGE (Tim Wright)
3:05
Active
4.0

2023-08-25

Appeareances
Axel (Alexander Strohm)
4:54
Active
3.7

2023-09-17

Apprentice - Title
Chris Hülsbeck
2:59
Active
4.0

2023-08-12

April 1993
Counterpoint (Matt McLellan)
3:19
Active
5.0

2022-01-15

Apuva-megamix
Captain (Markus Kaarlonen)
1:48
Active
2.7

2023-08-23

Aquarium
Rainer A. Nilsen (Brainbug)
2:14
Active
3.5

2021-11-04

Aquarius
Hollywood (Simon Carless)
4:21
Active
3.7

2023-09-03

Aquatic Games - 100 Meter Splash
Richard Joseph
1:42
Active
4.5

2023-05-23

Aquatic Games - Feeding Time (Die Forelle)
Richard Joseph
1:16
Active
4.6

2023-08-02

Aquatic Games - Kipper Watch
Richard Joseph
1:06
Active
4.7

2023-09-20

Aquatic Games - Menu music (An die Freude)
Richard Joseph
0:46
Active
4.0

2023-02-13

Aquaventura: Attract Section
CoLD SToRAGE (Tim Wright)
3:50
Active
4.5

2023-06-25

Aquaventura: Guardian Section
CoLD SToRAGE (Tim Wright)
2:59
Active
3.8

2023-09-14

Aquaventura: Main Section
CoLD SToRAGE (Tim Wright)
2:59
Active
4.4

2023-09-29

Aquaventura: Shaft Section
CoLD SToRAGE (Tim Wright)
3:12
Active
3.8

2023-08-26

Aquaventura: Tunnel Section
CoLD SToRAGE (Tim Wright)
3:12
Active
3.0

2022-05-16

Arabian Nights - Music 1
Matt Furniss
1:34
Active
4.0

2023-06-03

Arbitrage
Vesuri (Vesa Halttunen) dA JoRMaS
3:05
Active
4.0

2023-07-10

Arcade Pool
Allister Brimble
1:21
Active
4.0

2023-08-17

Arcadia
Zbb (Laurent Guyon)
2:04
Active
5.0

2023-09-11

Arcadian
16beat (Joachim Soppe)
2:30
Active
4.8

2023-09-28

Arcane Theme (Future Composer 4)
Zetrix
2:52
Active
4.6

2023-08-12

Arcane Zone
YERZMYEY
3:50
Active
4.4

2023-09-23

Archipelagos - Ingame
David Whittaker
5:15
Active
3.5

2023-07-05

Are You A Believer?
Teque (Tero Kostermaa) Armada
3:54
Active
3.5

2023-03-26

Ariska
Yannis Brown
6:39
Active
4.5

2023-01-02

Arkham Asylum
Moby (Frédéric Motte)
3:02
Active
4.4

2023-05-08

Arrangements
Dr. Awesome (Bjørn Arild Lynne)
4:07
Active
4.2

2023-09-17

Arsch, Deine Cickel
Piirakkamunalla (Aki Sopanen) dA JoRMaS
2:42
Active
2.0

2023-05-05

Arschfique
Chromag (Timm Albers)
2:22
Active
4.0

2021-12-12

Arsenic
Baroque (Quinton Davies)
1:47
Active
4.5

2023-08-24

Art of Spices
Rainer A. Nilsen (Brainbug)
2:05
Active
3.5

2023-07-10

Art of Undulation
fash (Johan Persson)
2:48
Active
5.0

2023-05-06

artcore-mix1
Hoffman (Ian Ford)
4:44
Active
4.0

2023-08-26

artcore-mix2
Hoffman (Ian Ford)
3:09
Active
4.7

2023-09-14

artcore-mix3
Hoffman (Ian Ford)
3:21
Active
4.4

2023-09-18

artcore-mix4
Hoffman (Ian Ford)
5:55
Active
4.6

2023-09-29

Artic
Magnum Force (Mike Baratte)
5:45
Active
3.8

2023-09-26

Arvids Fredag
Uncle Tom (Tomas Dahlgren)
4:36
Active
3.6

2023-08-29

Asm96
Morrow (Carl Johan Naes) , some1 (Mikael Fyrek)
0:46
Active
4.0

2023-09-21

Aspartame
Maf (Benoît C.)
3:17
Active
4.3

2023-08-26

Assassin - High Score
Allister Brimble
1:03
Active
4.0

2023-03-20

Assassin - Title
Allister Brimble
4:43
Active
5.0

2023-09-24

Assembly Killer
Teque (Tero Kostermaa) Aggression
1:16
Active
1.8

2023-08-28

Astaroth 1
Mad Max (Jochen Hippel)
2:18
Active
3.5

2023-08-26

Astaroth 2
Mad Max (Jochen Hippel)
2:02
Active

2022-05-22

Astaroth 3
Mad Max (Jochen Hippel)
5:32
Active
3.0

2023-04-25

Astaroth 4
Mad Max (Jochen Hippel)
6:33
Active
3.0

2023-08-11

Astaroth game_over_and_title(1)
Mad Max (Jochen Hippel)
2:18
Active
5.0

2023-04-05

Astaroth game_over_and_title(2)
Mad Max (Jochen Hippel)
2:02
Active
5.0

2022-05-22

Astaroth game_over_and_title(3)
Mad Max (Jochen Hippel)
5:32
Active
5.0

2023-09-27

Astaroth ingame
Mad Max (Jochen Hippel)
6:33
Active
5.0

2023-08-23

Astaroth_1
Mad Max (Jochen Hippel)
6:33
Active
5.0

2023-08-26

Astaroth_2-4
Mad Max (Jochen Hippel)
9:54
Active
4.5

2023-05-02

Astra
Zzzax (Sebastian Lentfert) Time Circle
4:15
Active
4.3

2023-07-08

Astralic Forces V11
911 (Martyn Deykers)
0:38
Active
4.0

2023-08-13

Astralic Forces V12
911 (Martyn Deykers)
0:42
Active
3.0

2023-01-27

Astralic Forces V13
911 (Martyn Deykers)
0:46
Active
3.0

2023-07-17

Astralic Forces V14
911 (Martyn Deykers)
0:28
Active
4.0

2021-07-12

Astralic Forces V15
911 (Martyn Deykers)
1:11
Active
3.5

2023-01-24

Astroflux
Alf (Johan Koskela)
3:04
Active
4.7

2023-08-26

Atarimod
Unknown Artist
2:10
Active
2.1

2023-07-28

Atiga Theme
Maf (Benoît C.) Silicon (SLC)
0:32
Active
4.7

2023-09-25

Atlantyda - High Scores Tune
Sławomir Maguda (Sławomir Jurałowicz)
2:09
Active
4.5

2023-06-12

Atlantyda - Title Tune
Sławomir Maguda (Sławomir Jurałowicz)
1:11
Active
5.0

2023-07-25

Atmosphere
The Judge (Jolyon Vincent Myers) Share and Enjoy [SAE]
4:57
Active
3.0

2022-10-24

Atmosphere (alternative)
Uncle Tom (Tomas Dahlgren)
4:09
Active
4.6

2023-09-13

Atmosphere (Double Dragon 2 intro)
Uncle Tom (Tomas Dahlgren)
4:09
Active
4.7

2023-08-29

Atmospheric Waves 2
Zbb (Laurent Guyon)
3:16
Active
5.0

2023-02-14

Atomic Failure
Voyce (François Morel) Delight (DLT)
0:51
Active
3.5

2023-09-09

Atomic Sweet
Blue Silence (Christophe Cassier)
2:07
Active
4.0

2022-03-18

Atomix - Atomic Fallout End
Noecken (Manfred Nöcken)
3:43
Active
4.8

2023-08-31

Atomix - Title
Noecken (Manfred Nöcken)
1:16
Active
4.3

2023-09-23

ATR: All Terrain Racing - Track 1
Allister Brimble
1:03
Active
4.0

2022-02-04

ATR: All Terrain Racing - Track 2
Allister Brimble
1:16
Active
5.0

2023-09-05

ATR: All Terrain Racing - Track 3
Allister Brimble
0:49
Active
3.0

2023-05-02

ATR: All Terrain Racing - Track 4
Allister Brimble
1:06
Active
3.0

2023-04-06

ATR: All Terrain Racing - Track 5
Allister Brimble
0:53
Active
4.0

2023-07-10

ATR: All Terrain Racing - Track 6
Allister Brimble
1:39
Active
3.0

2023-08-03

Attack of Turban
Travolta (Rune Svendsen) Spaceballs
1:40
Active

2023-02-16

Attractions
Teque (Tero Kostermaa) Aggression
3:15
Active
3.3

2023-07-10

Aubergine
Teque (Tero Kostermaa) Aggression
3:04
Active
4.5

2023-01-25

Aubergine 3
Teque (Tero Kostermaa) Aggression
3:19
Active
3.3

2023-07-27

Aubergine 4
Teque (Tero Kostermaa) Aggression
4:09
Active
3.8

2023-08-06

Aubergine 5b
Teque (Tero Kostermaa) Aggression
1:21
Active
4.0

2022-08-20

Audrey
Delorean (Sakari Hannula) Complex
3:32
Active
3.8

2023-08-02

Auf Wiedersehen Monty
4-Mat (Matt Simmonds) Anarchy
6:04
Active
4.5

2023-09-08

Auf Wiedersehn Monty
Zzzax (Sebastian Lentfert)
2:16
Active
4.0

2023-08-03

Aurora Borealis
fash (Johan Persson)
2:35
Active
4.5

2023-09-02

Autumn of Life
Delorean (Sakari Hannula) Complex
1:37
Active
5.0

2023-08-05

Autumn Twilight
Stargazer (Antti Oksanen)
3:03
Active
3.0

2022-10-25

Avea
Blue Silence (Christophe Cassier)
5:37
Active
3.5

2023-08-16

Avec des Peches
Rainer A. Nilsen (Brainbug)
2:05
Active
4.0

2023-09-10

Avernus
Bruno (Jussi Pietilä) Anarchy , Gate
4:21
Active
4.3

2023-08-15

Awakening
Dr. Awesome (Bjørn Arild Lynne) , El Cubo (Arndt Kubosch) Crusaders
3:49
Active
4.3

2023-09-05

Away They Go
Mystra (Kjell Pedersen) Technology
2:31
Active
4.7

2023-08-29

Awesome: Asteroids
CoLD SToRAGE (Tim Wright)
2:21
Active
4.5

2023-09-28

Awesome: Fight
CoLD SToRAGE (Tim Wright)
2:08
Active
4.8

2023-06-15

Awesome: Game Over
CoLD SToRAGE (Tim Wright)
1:48
Active
4.3

2023-06-05

Awesome: Planet Music #1
CoLD SToRAGE (Tim Wright)
2:26
Active
4.7

2023-09-30

Awesome: Planet Music #2
CoLD SToRAGE (Tim Wright)
2:33
Active
4.4

2023-09-12

Awesome: Planet Music #3
CoLD SToRAGE (Tim Wright)
0:23
Active
2.7

2023-09-29

Awesome: Spooky
CoLD SToRAGE (Tim Wright)
2:05
Active
4.0

2023-08-20

Awesome: Tunnel
CoLD SToRAGE (Tim Wright)
1:52
Active
3.7

2023-08-13

Axelchip
VGA (Brian Jensen) Implosion
1:24
Active
3.5

2023-08-19

Azile
Adamski (Lionel Payet-Pigeon)
4:56
Active
4.0

2021-12-12

A_Mystic_Place
silok (Robert Katsenos)
3:51
Active
3.0

2023-07-29

B.S.T
Bruno (Jussi Pietilä) Anarchy , Gate
2:31
Active
4.4

2023-09-30

Baby
Walkman (Tor Bernhard Gausen)
5:11
Active
4.3

2023-09-29

Baby Coma - Rave Mix
Hazel (Ketil Jensen) Future Vision
6:05
Active
3.5

2023-09-01

Baby Coma 6 - Intro
Hazel (Ketil Jensen) Future Vision
1:47
Active
4.0

2023-07-31

Bach 80's Mix
Allister Brimble
5:22
Active
2.0

2023-04-04

Bach'n'destroy
XTD (Piotr Bendyk)
2:20
Active
4.5

2023-02-07

Back 2 The Wall Aedit
Wicked (Sami Pöntinen) Scoopex
3:20
Active
4.0

2023-01-25

Back Again
4-Mat (Matt Simmonds) Orb
3:24
Active
4.9

2023-09-15

Back from Blue
4-Mat (Matt Simmonds) Anarchy
5:56
Active
4.7

2023-09-23

Back from Moscow
Airon (Anthony Oetzmann)
8:42
Active
3.0

2023-06-20

Back in the Scene?
WOTW (Elef Tsiroudis)
1:16
Active
5.0

2023-09-17

Back in Town
Case (Guglielmo Bottin) The Silents [TSL]
2:01
Active
4.4

2023-07-28

Back on Track
Soul (David Fredman) Shining
3:18
Active
4.3

2023-05-11

Back to Ham-Jam
Azazel (Markus Alakangas)
2:43
Active
4.0

2023-08-21

Back to the Bricks
Chromag (Timm Albers)
2:52
Active
5.0

2022-01-16

Backfire
Mr. Man (Ronny Nordeide)
2:54
Active
4.5

2023-07-10

Backlash
Michael Rooke , Simon Berry
2:26
Active
3.8

2023-09-19

Backpopped
Dr. Awesome (Bjørn Arild Lynne)
2:53
Active
4.4

2023-09-22

Backstreet View
Magnum Force (Mike Baratte)
4:49
Active
4.3

2023-08-05

Backtro
Novel (Matthias F. Kretzler) Moods Plateau
3:57
Active
4.5

2023-07-24

Bad Boogie
Rainer A. Nilsen (Brainbug)
2:00
Active
4.3

2023-06-25

Bad Time
Teque (Tero Kostermaa) Aggression
3:56
Active
4.0

2023-05-24

Bagdad
Fleshbrain (Seppo Hurme) Crusaders
2:44
Active
3.8

2023-09-30

Balikocaba
Maf (Benoît C.)
0:47
Active
4.2

2023-09-04

Ball Dream 2
Wakson (Michael Belousov) Flash Inc.
4:22
Active
4.7

2023-07-26

Ballad
Jester (Volker Tripp)
2:20
Active
4.8

2023-08-26

Balli
Bruno (Jussi Pietilä) Anarchy , Gate
0:43
Active
4.0

2022-09-03

Banal Sentence
Maxym (Michal Kożusznik)
4:36
Active
4.5

2022-10-21

bananaphone (amiiiggaaa version)
rams (Ramon Ott)
2:01
Active
4.1

2023-09-26

Banshee - Title
Martin Iveson
1:56
Active
4.0

2023-07-28

Bantam
Magnar (Magnar Harestad) Cosmic Orbs
2:06
Active
4.0

2023-08-29

Bappalander
Speedo (Sami Kinnunen)
3:36
Active
4.7

2023-09-26

Bappalander challenge
Pink (Manfred Linzner) Abyss
3:36
Active
5.0

2023-09-03

Bari and horn
Oistein Eide Maniacs Of Noise
1:16
Active
4.3

2023-07-14

Barracuda
Dr. Awesome (Bjørn Arild Lynne)
3:27
Active
4.8

2023-08-12

Barracuda
Reed (Jaakko Kaitaniemi)
2:26
Active
3.5

2023-01-03

Basic
Baroque (Quinton Davies)
4:39
Active
4.4

2023-08-26

Basic Elements
Chris Meland Abyss
3:07
Active
3.4

2023-07-10

Basic Instinct
Jester (Volker Tripp)
3:10
Active
4.5

2023-08-19

Basket Island: Game Over
Maf (Benoît C.)
1:56
Active
4.4

2023-06-25

Basket Island: Ingame 01
Maf (Benoît C.)
2:20
Active
4.0

2023-09-20

Basket Island: Ingame 02
Maf (Benoît C.)
1:26
Active
3.7

2023-05-27

Basket Island: Ingame 03
Maf (Benoît C.)
1:47
Active
4.8

2023-08-30

Basket Island: Ingame 04
Maf (Benoît C.)
1:48
Active
4.0

2023-08-18

Basket Island: Ingame 05
Maf (Benoît C.)
1:52
Active
3.7

2023-07-18

Basket Island: Ingame 06
Maf (Benoît C.)
1:58
Active
4.3

2023-05-02

Basket Island: Ingame 08
Maf (Benoît C.)
2:13
Active
3.7

2023-09-05

Basket Island: Ingame 09
Maf (Benoît C.)
2:18
Active
4.5

2023-09-21

Basket Island: Ingame 10
Maf (Benoît C.)
1:48
Active
4.5

2023-09-04

Basket Island: Ingame 10 (Alt)
Maf (Benoît C.)
1:48
Active
3.7

2023-04-04

Basket Island: Ingame 11
Maf (Benoît C.)
2:33
Active
4.0

2023-04-04

Basket Island: Menu
Maf (Benoît C.)
3:07
Active
3.7

2023-08-13

Basket Island: Menu II
Maf (Benoît C.)
2:20
Active
4.8

2023-09-10

Basket Island: Menu III
Maf (Benoît C.)
1:31
Active
4.8

2023-09-17

Basket Island: Menu IV
Maf (Benoît C.)
1:20
Active
4.3

2023-09-11

Basket Island: Menu V
Maf (Benoît C.)
1:25
Active
4.3

2023-08-30

Basket Island: You Win!
Maf (Benoît C.)
0:27
Active
3.5

2023-07-12

Bass
Chris Meland
4:37
Active
3.0

2023-06-25

Bass Of Power
Twins (Christian and Conny Cyreus) Phenomena
2:29
Active
4.0

2023-09-28

Batman
Allister Brimble
3:04
Active
3.7

2023-09-20

Batman - Chemical Factory
Jonathan Dunn
2:48
Active
4.0

2023-08-17

Batman - Driving Stage
Jonathan Dunn
2:18
Active
3.9

2023-09-07

Batman - Title
Jonathan Dunn
2:08
Active
4.2

2023-08-31

Batman's Sleepless
DJ Uno (José Antonio Arrain) Batman Group
3:19
Active
4.5

2023-08-19

Batmeat
Rogue Male (Kevin Collier) Share and Enjoy [SAE]
3:29
Active
3.1

2023-09-14

Battle Squadron - High score
Ron Klaren
5:36
Active
4.7

2023-09-23

Battle Squadron - Ingame
Ron Klaren
4:25
Active
4.6

2023-07-27

Battle Squadron - Intro
Ron Klaren
3:32
Active
4.8

2023-08-19

Battle Valley
Mad Max (Jochen Hippel)
5:28
Active
4.4

2023-08-30

Bazooka Sue - (Title Music)
Romeo Knight (Eike Steffen)
4:57
Active
4.0

2023-04-07

Bazooka Sue - Bazooka Funk
Romeo Knight (Eike Steffen)
2:15
Active
4.3

2023-06-11

Bazooka Sue - Chainsaw Theme
Romeo Knight (Eike Steffen)
1:36
Active
4.0

2022-09-11

Bazooka Sue - Dancing Gremlins
Romeo Knight (Eike Steffen)
0:25
Active
4.0

2022-12-07

Bazooka Sue - Piano Playing Sue
Romeo Knight (Eike Steffen)
2:01
Active
2.6

2023-08-19

Bazooka Sue - Preussens Gloria
Romeo Knight (Eike Steffen)
1:34
Active
3.5

2022-02-09

Bazooka Sue - Strip Jingle
Romeo Knight (Eike Steffen)
0:03
Jingle
3.0

2012-03-13

Bazooka Sue - Swamp Rock
Romeo Knight (Eike Steffen)
2:22
Active
4.6

2023-08-29

Beach Buggy
Shinobi (Marcus Andre Rousseau)
5:13
Active
4.7

2023-08-28

Beach Head 2
4-Mat (Matt Simmonds)
3:55
Active
4.1

2023-07-31

Beach Party
4-Mat (Matt Simmonds) Anarchy
1:03
Active
5.0

2023-06-24

Beach Volley - Title
Jean Baudlot
1:42
Active
4.1

2023-07-22

Beams of a Dying Star
Magnum Force (Mike Baratte)
5:11
Active
4.0

2022-06-24

Beams of Light
Walkman (Tor Bernhard Gausen)
3:35
Active
4.7

2023-07-25

Beans and Rusk
Grubi (Thomas Gruberski)
5:36
Active
4.3

2023-09-20

Bear Island
Delorean (Sakari Hannula) Complex
5:03
Active
4.4

2023-08-30

Beat Me
Rogue Male (Kevin Collier) Share and Enjoy [SAE]
1:59
Active
3.0

2022-07-27

Beat To The Pulp
Romeo Knight (Eike Steffen)
2:35
Active
4.8

2023-09-16

Beatbox
Little Bitchard (Arto Koivisto)
4:29
Active
2.5

2023-06-03

Beerbelly
Chromag (Timm Albers)
1:47
Active
4.0

2022-10-16

Before Ya Go...
Tommy (Thomas Jännicke)
3:11
Active
3.9

2023-05-07

Before Your Embryo
Azazel (Markus Alakangas)
0:46
Active
4.0

2023-05-05

Behind All Reality
Magnum Force (Mike Baratte)
3:45
Active
4.5

2023-08-22

Behind the Walls
Mantronix (Martin Wall)
1:02
Active
4.0

2023-08-24

Being Boiled
Chromag (Timm Albers)
0:38
Active
5.0

2022-05-08

Bemixremix
Baroque (Quinton Davies)
2:02
Active
4.0

2022-08-17

Beneath Dignity
Mr. Man (Ronny Nordeide)
4:12
Active
4.0

2023-09-22

Benefactor - Continue?
Blaizer (Olof Gustafsson)
1:10
Active
3.0

2023-07-10

Benefactor - Ending
Blaizer (Olof Gustafsson)
3:12
Active
4.0

2022-05-04

Benefactor - Intro
Blaizer (Olof Gustafsson)
2:24
Active
5.0

2023-05-28

Benefactor - Merry Winterland (World 5)
Blaizer (Olof Gustafsson)
3:25
Active
4.5

2023-07-22

Benefactor - Name Entry
Blaizer (Olof Gustafsson)
1:48
Active
4.0

2023-06-10

Benefactor - Start Level
Blaizer (Olof Gustafsson)
3:35
Active
4.0

2023-02-13

Benefactor - Stones and Bones (World 4)
Blaizer (Olof Gustafsson)
3:12
Active
3.8

2023-09-10

Benefactor - The Techno Treat: BGM 1 (World 6)
Blaizer (Olof Gustafsson)
2:45
Active
4.0

2023-01-16

Benefactor - The Techno Treat: BGM 2 (World 6)
Blaizer (Olof Gustafsson)
3:48
Active
4.0

2023-01-31

Benefactor - The Treetop Rescue: BGM 1 (World 3)
Blaizer (Olof Gustafsson)
2:31
Active
3.5

2023-07-10

Benefactor - The Treetop Rescue: BGM 2 (World 3)
Blaizer (Olof Gustafsson)
1:42
Active
2.0

2023-07-18

Benefactor - Title Screen
Blaizer (Olof Gustafsson)
2:10
Active
4.5

2023-05-28

Benefactor - To Hell With Minniat (World 7)
Blaizer (Olof Gustafsson)
4:45
Active
3.7

2023-06-20

Benefactor - Tombs of Egypt (World 2)
Blaizer (Olof Gustafsson)
2:08
Active
3.7

2023-08-17

Benefactor - Tombs of Egypt: Lemmings?
Blaizer (Olof Gustafsson)
0:38
Active
4.0

2023-05-28

Benefactor - Underworld (World 1)
Blaizer (Olof Gustafsson)
2:19
Active
4.7

2023-09-10

Benny Hill
Pye (Pierre Guillot)
0:41
Active
4.1

2023-08-30

Bergamotte (Preview)
Zoon (Emmanuel Bonald) Silicon (SLC)
0:49
Active
4.0

2023-03-24

Betrayer Killer
Teque (Tero Kostermaa) Armada
3:17
Active
2.7

2023-08-22

Between 2 Waters
Doh (Nicolas Dessesart) Cryptoburners [CRB]
1:11
Active
4.3

2023-09-25

Between the Tits
Walkman (Tor Bernhard Gausen) Mystix
5:31
Active
3.3

2023-09-06

Beverly Hills Funk
Audiomonster (Raphaël Gesqua)
5:12
Active
4.3

2023-09-05

Beyond 2000 [Budbrain II End Theme]
Diablo (Rene Bidstrup) Budbrain
1:39
Active
4.5

2023-03-31

Beyond Music
Captain (Markus Kaarlonen)
4:26
Active
4.7

2023-09-25

Beyond Piano
Acidline (Martin Spielmans)
1:45
Active
3.5

2023-03-01

Beyond the Galaxy
fash (Johan Persson)
3:54
Active
5.0

2023-08-08

Beyond the Ice Palace
David Whittaker
2:55
Active
4.7

2023-09-28

Big Band Brass
Chrylian (Cyril Jegot) Proton Ltd.
3:15
Active
5.0

2022-02-06

Big Bang
Marius Noxious (NXS)
2:18
Active
4.5

2023-05-21

Big Blunts
Maktone (Martin Nordell) Class [CLS] , Share and Enjoy [SAE] , Superior Art Creations [SAC] , SuperStars
1:01
Active
5.0

2023-09-25

Big Effort
CoLD SToRAGE (Tim Wright)
4:13
Active
3.7

2023-09-01

Big Gush
LukeLove
1:48
Active
2.6

2023-08-31

Big Time Sensuality
Iso (Christiaan Unck) Axis
3:04
Active
4.2

2023-09-07

Billedhogger'n
Xerxes (Klaus Lunde) Spetsnaz [STZ] , Triumph
2:09
Active
4.5

2022-11-26

Binary Metal
Teque (Tero Kostermaa) Armada
3:50
Active
3.8

2023-07-12

Binary Night
Fleshbrain (Seppo Hurme) Crusaders
8:52
Active
4.2

2023-07-28

Biological Substance
Unknown Artist
5:57
Active
3.0

2023-05-11

Biomechanics
Magnum Force (Mike Baratte)
4:19
Active
4.0

2023-07-06

Biomechanoid
Groo (Sami Järvinen) Fairlight (FLT) , Virtual Dreams [VD]
4:14
Active
4.6

2023-09-17

Bionic C (Remix)
LizardKing (Gustaf Grefberg)
4:05
Active
3.6

2023-08-28

Bionic Commando - stage 1
Tim Follin (Timothy John Follin)
2:59
Active
4.5

2023-09-08

Bionic Commando - stage 2
Tim Follin (Timothy John Follin)
2:54
Active
4.7

2023-09-13

Bionic Commando - stage 3
Tim Follin (Timothy John Follin)
2:01
Active
4.1

2023-06-26

Bionic Commando - stage 4
Tim Follin (Timothy John Follin)
3:20
Active
4.5

2023-09-13

Bionic Commando - stage 5
Tim Follin (Timothy John Follin)
2:24
Active
4.2

2023-08-07

Bionic Savage
Blue Fox (Thøger Wessel)
2:38
Active
5.0

2023-07-28

Birds Aren't Real
Mystra (Kjell Pedersen) Nectarine
2:48
Active
4.0

2023-02-17

Bjorn Wold
Blue Fox (Thøger Wessel)
3:31
Active
5.0

2023-08-30

Blache Bleuche
Clawz (Mathieu Berthaud)
1:21
Active
4.0

2023-07-05

Black Absorber
Neurodancer (Alexander S. Kunz)
7:50
Active
3.4

2023-08-31

Black and White
Grubi (Thomas Gruberski)
4:38
Active
4.0

2023-05-30

Black and White
Zzzax (Sebastian Lentfert) Time Circle
2:43
Active
4.2

2023-08-26

Black queen
Dreamer (Andrzej Dragan)
1:56
Active
3.3

2023-09-13

BlackJack
Tempest (Janne Suni) Fairlight (FLT)
3:29
Active
4.6

2023-09-19

Blade Runner Rave B
Airon (Anthony Oetzmann)
5:03
Active
3.5

2023-09-13

Bladeraver
JSL (Jeppe Schmidt) Focus Design (FD - FCS)
3:30
Active
4.0

2023-08-31

Blaizer Strikes
Blaizer (Olof Gustafsson)
1:16
Active
3.0

2023-07-03

Blasteroids
Ben Daglish
1:11
Active
3.9

2023-09-06

Bleep 5
Yannis Brown
1:32
Active
4.5

2023-05-11

Blip-Blop Trader
Clawz (Mathieu Berthaud)
1:09
Active
4.0

2021-08-29

Block Busters
Bruno (Jussi Pietilä) Anarchy , Gate
0:43
Active
4.0

2023-09-07

Blondie
Geir Tjelta Abyss
4:04
Active
4.7

2023-08-17

Blood 'n Tears
Bc (Ørjan Hojem)
3:01
Active
3.5

2023-09-05

Blood Money - Intro
Ray Norrish
3:48
Active
4.2

2023-09-20

Blood Money: Ingame
Ray Norrish
4:13
Active
4.4

2023-08-09

Blood On The Rooftops
Dr. Awesome (Bjørn Arild Lynne) Crusaders
1:08
Active
3.0

2023-09-29

Blood Sugar Rises
Bod AttentionWhore
6:13
Active

2023-04-27

Blow Up Your Mind!
CeDeROM (Tomek Cedro)
3:54
Active
3.0

2023-07-10

Blow-Up
Arios (Sébastien Le Clainche)
2:30
Active
4.0

2022-08-09

Blowaway
Jugi (Jukka Kaartinen)
2:58
Active
4.3

2023-09-10

Blowlivia
911 (Martyn Deykers)
1:06
Active
3.0

2023-01-18

Blown Away
Arios (Sébastien Le Clainche) Delight (DLT)
2:23
Active
4.0

2023-08-20

Blue Asteroid
Kevod (Federico Cito)
1:30
Active
4.4

2023-07-05

Blue Boxing
Static (Anders Bukh)
4:05
Active
2.0

2022-07-23

Blue Curacao
Jester (Volker Tripp)
2:43
Active
4.6

2023-02-27

Blue Dune Buggy
Hansee Brainstorm
1:21
Active
4.3

2023-07-25

Blue Mazda 323
Geir Tjelta
2:32
Active
4.4

2023-06-26

Blue Note Cafe
Chromag (Timm Albers)
1:47
Active
5.0

2022-10-27

BlueBerry (Vector Bobs)
Obi (Karsten Obarski) bamiga sector one [bs1] , Quoram
5:37
Active
4.7

2023-09-28

Blueprint
Bruno (Jussi Pietilä) Anarchy , Gate
3:12
Active
4.4

2023-09-08

BlueSong (Born)
Obi (Karsten Obarski) World of Wonders
3:58
Active
4.6

2023-09-21

Blur Vision
Neurodancer (Alexander S. Kunz)
6:26
Active
4.2

2023-08-31

BMX Simulator
David Whittaker
1:30
Active
3.8

2023-08-24

BN Mainia
Maf (Benoît C.)
0:49
Active
3.8

2023-09-24

Bobo - Electric Cable Stage
Charles Callet
2:00
Active
3.5

2023-09-05

Bobo - Floor Cleaning Stage
Charles Callet
3:00
Active
3.6

2023-07-23

Bobo - Potato Peeling Stage
Charles Callet
2:21
Active
3.9

2023-08-15

Bobo - Sleeping Stage
Charles Callet
2:46
Active
2.5

2023-08-21

Bobo - Soup Serving Stage
Charles Callet
3:01
Active
4.1

2023-08-31

Bobo - Trampoline Stage
Charles Callet
2:40
Active
3.8

2023-07-02

Bodacious V3
Airon (Anthony Oetzmann)
7:36
Active
4.7

2023-09-18

Bodveizer
Rainer A. Nilsen (Brainbug)
6:11
Active
4.0

2023-04-22

Body
Bc (Ørjan Hojem)
4:53
Active
3.6

2023-07-26

Body Blows - Ingame 1
Danny Burke (Daniel J. Burke)
1:01
Active
4.0

2023-02-23

Body Blows - Ingame 2
Danny Burke (Daniel J. Burke)
1:04
Active
4.0

2021-03-01

Body Blows - Ingame 3
Danny Burke (Daniel J. Burke)
1:09
Active
5.0

2023-09-16

Body Blows - Ingame 5
Danny Burke (Daniel J. Burke)
1:01
Active
2.0

2023-08-09

Body Blows - Ingame 6
Danny Burke (Daniel J. Burke)
1:01
Active

2022-05-22

Body Blows - Ingame 7
Danny Burke (Daniel J. Burke)
1:24
Active
3.5

2022-02-26

Body Blows - Menu
Danny Burke (Daniel J. Burke)
1:01
Active
4.0

2023-07-10

Body Blows - Title (Dance music)
Allister Brimble
3:58
Active
4.2

2023-07-23

Body Blows Galactic - Ingame Music 1
Allister Brimble
1:16
Active
3.0

2022-10-22

Body Blows Galactic - Ingame Music 2
Allister Brimble
1:33
Active
4.5

2023-05-29

Body Blows Galactic - Ingame Music 3
Allister Brimble
0:38
Active
3.0

2022-05-22

Body Blows Galactic - Ingame Music 4
Allister Brimble
1:42
Active
3.0

2023-06-23

Body Blows Galactic - Ingame Music 5
Allister Brimble
0:35
Active
2.0

2023-03-04

Body Blows Galactic - Ingame Music 6
Allister Brimble
0:53
Active
2.0

2022-09-23

Body Blows Galactic - Menu
Allister Brimble
1:01
Active
3.0

2023-07-10

Body Blows Galactic - Title
Allister Brimble
3:04
Active
4.0

2022-03-07

Bodybreak
Walkman (Tor Bernhard Gausen)
2:37
Active
3.5

2023-07-10

Boesendorfer
Romeo Knight (Eike Steffen) Tristar & Red Sector Inc. [TRSI]
3:25
Active
4.8

2023-08-28

Bogo!
Svolkraq (Kjetil Hoem) Gollum
2:33
Active
4.0

2023-07-16

Boheme
solon (Patrick Mauffrey)
2:40
Active
3.0

2021-11-14

Boing!!
Yannis Brown
5:14
Active
4.5

2022-11-07

Bomb Of Luck
Facet (Martijn van Meel) Anarchy
5:07
Active
4.0

2023-07-28

Bombay Theme
Travolta (Rune Svendsen) Spaceballs
1:23
Active
5.0

2023-09-10

Bombuzal
The Wyvern (Ross Goodley)
1:54
Active
2.5

2023-09-16

Bongalonga
Yannis Brown
3:41
Active
2.7

2023-07-16

Bongos Revenge
Twins (Christian and Conny Cyreus) Phenomena
2:16
Active
4.7

2023-05-02

Bop Till U Flop
Dr. Awesome (Bjørn Arild Lynne) Crusaders
6:35
Active
4.8

2023-05-31

Bottom Burps
Chromag (Timm Albers)
0:16
Active
5.0

2023-08-23

Boukan
Maf (Benoît C.)
1:01
Active
4.5

2022-09-21

Bounce!
Delorean (Sakari Hannula) Complex
4:41
Active
3.0

2023-09-05

Bouncing
Maxym (Michal Kożusznik)
4:04
Active
4.3

2023-09-13

Bouncing Ball
Fred (2) (Frédéric Hahn)
1:39
Active
5.0

2023-01-07

Bouncing Ball 2
Fred (2) (Frédéric Hahn) Ackerlight
2:02
Active
5.0

2023-01-07

Boxe
Maf (Benoît C.) Silicon (SLC)
0:38
Active
4.5

2023-09-03

Brain Artifice
Geir Tjelta
1:47
Active
3.8

2023-07-15

Brain Damage
Teque (Tero Kostermaa) Aggression
3:37
Active
4.0

2023-09-01

Brainball: Title
Dirk Magerkord
2:59
Active
4.4

2023-08-25

Brainbug's 70 Wah
Rainer A. Nilsen (Brainbug)
2:06
Active
4.0

2022-04-18

brainstorm
Droid (Henrik Haahr Saleh Svendsen) Direct
2:56
Active
2.7

2023-09-29

Brainstorm 4.00
Alf (Johan Koskela)
4:04
Active
4.0

2023-09-17

Brainstorming
Chromag (Timm Albers)
1:32
Active
5.0

2023-09-29

Brand new bend
Case (Guglielmo Bottin)
3:19
Active
4.3

2023-05-21

Brass Connection
Bit Arts (Norbert Röcher)
2:18
Active
4.4

2023-08-28

Brat
Dr. Awesome (Bjørn Arild Lynne)
3:23
Active
4.2

2023-08-29

Break Beat Orgie
Tommy (Thomas Jännicke)
4:34
Active
3.6

2023-09-29

Break Of Day 2
4-Mat (Matt Simmonds)
4:34
Active
3.5

2023-08-24

Breakout remix
Jester (Volker Tripp) , Virgill (Jochen Feldkoetter)
2:48
Active
4.7

2023-08-14

Breakthrough
Hollywood (Simon Carless)
3:14
Active
4.5

2023-09-28

Breakthru
TDK (Mark Knight)
4:40
Active
4.5

2023-08-23

Breath of Life
Jester (Volker Tripp)
5:01
Active
4.8

2023-08-19

Breath of the Muse
Arpegiator (Fabrice Gillet) Chryseis
6:32
Active
4.5

2023-08-11

Breathing
Xerxes (Klaus Lunde) Triumph
5:05
Active
4.4

2023-09-01

Bridge To The Universe - Part 1
Dr. Awesome (Bjørn Arild Lynne)
5:11
Active
4.8

2023-09-24

Bridge To The Universe - Part 2
Dr. Awesome (Bjørn Arild Lynne) Crusaders
5:07
Active
4.8

2023-09-16

Brightstar
Mystra (Kjell Pedersen)
2:46
Active
4.0

2022-12-24

Brilliance
Twins (Christian and Conny Cyreus) Phenomena
1:32
Active
5.0

2023-01-03

Broken
LukeLove
4:21
Active
4.5

2023-09-05

Broken Cigarette
Rainer A. Nilsen (Brainbug) Alcatraz
2:20
Active
4.0

2023-08-14

Broken Dreams
Captain (Markus Kaarlonen)
4:35
Active
4.2

2023-09-28

Broken Hand
Zenon (Fabrizio Stellato)
6:45
Active
4.0

2023-07-10

Broken Heart
Blue Silence (Christophe Cassier)
5:58
Active
4.4

2023-09-19

Broken Heroes
Dr. Awesome (Bjørn Arild Lynne) , El Cubo (Arndt Kubosch) Crusaders
2:18
Active
4.5

2023-09-21

Broken Joysticks
Mr. Man (Ronny Nordeide)
2:59
Active
4.8

2023-09-01

Brother Jo
Soach Syntax Error
3:27
Active
2.0

2023-07-10

Bruce Lee
Tempest (Janne Suni) Damage
0:22
Active
3.5

2022-07-31

Brutal Football - Title
Richard Joseph
2:21
Active
3.9

2023-09-09

bs1 song23 m
SLL (Sten Lysholm Larsen) bamiga sector one [bs1] , Crionics
3:40
Active
4.5

2023-08-14

Bubba 'n' Stix - Bonus
Nathan McCree
1:11
Active
4.0

2023-09-10

Bubba 'n' Stix - End
Nathan McCree
0:38
Active
4.0

2022-04-17

Bubba 'n' Stix - Interlude
Nathan McCree
0:19
Jingle
4.7

2014-05-24

Bubba 'n' Stix - Level1
Nathan McCree
1:20
Active
4.5

2023-09-23

Bubba 'n' Stix - Level2
Nathan McCree
1:43
Active
4.4

2023-07-02

Bubba 'n' Stix - Level3
Nathan McCree
0:57
Active
4.0

2023-09-12

Bubba 'n' Stix - Level4
Nathan McCree
1:55
Active
5.0

2022-01-16

Bubba 'n' Stix - Level5
Nathan McCree
1:16
Active
4.0

2023-07-28

Bubba 'n' Stix - Title
Nathan McCree
1:31
Active
4.6

2023-09-26

Bubble And Squeak - Bonus
Allister Brimble
0:10
Active
4.0

2021-11-21

Bubble And Squeak - Neon City
Allister Brimble
2:14
Active
4.0

2023-09-01

Bubble And Squeak - The Diamond Foundry (Factory)
Allister Brimble
2:20
Active
4.0

2023-07-31

Bubble And Squeak - The Neverglades (Swamp)
Allister Brimble
2:27
Active

2022-05-22

Bubble And Squeak - The Sandcastle Desert
Allister Brimble
2:40
Active
5.0

2023-07-31

Bubble And Squeak - The Strawberry Lagoon
Allister Brimble
0:40
Active

2022-01-18

Bubble And Squeak - Title
Allister Brimble
1:20
Active
4.0

2022-07-19

Bubble And Squeak - Underground (Stardust Caverns)
Allister Brimble
1:29
Active
4.0

2023-05-24

Bubble Bobble
Tempest (Janne Suni) Damage
0:55
Active
4.5

2023-09-10

Bubble Bobble
Unknown Artist
0:48
Active
4.7

2023-09-12

Bubble Bobble - Boss Fight
David Whittaker
0:56
Active
3.8

2023-03-07

Bubble Bobble - Title
David Whittaker
1:16
Active
4.5

2023-06-12

Bubble Dizzy
4-Mat (Matt Simmonds)
4:20
Active
4.7

2023-09-23

Bubblegum
Deelite (Henrik Bertilsson)
3:06
Active
4.2

2023-08-12

Bubtro
Maf (Benoît C.)
0:38
Active
4.0

2023-09-13

Bud Peculiar
Dr. Awesome (Bjørn Arild Lynne)
6:42
Active
4.4

2023-09-19

Budbrain II - Killer [Shower Scene]
Diablo (Rene Bidstrup) Budbrain
0:11
Jingle
5.0

2022-01-29

Buh Bye
Reed (Jaakko Kaitaniemi)
5:26
Active
4.2

2023-09-20

Bundle Of Nerves
Maf (Benoît C.)
1:41
Active
3.7

2023-09-28

Burning Bridges
Bruno Bossier
3:35
Active
4.7

2023-07-09

Butterfly Syndrome
Interphace (Jan Reinert Karlsen) Andromeda [AOA]
2:57
Active
5.0

2022-09-06

Buy A Cow
Maf (Benoît C.)
1:37
Active
4.2

2023-08-29

C64
TDK (Mark Knight)
0:46
Active
5.0

2023-09-01

C64v2
TDK (Mark Knight)
2:37
Active
4.7

2023-09-27

Cadaver
Richard Joseph
2:59
Active
3.9

2023-08-07

Calibra
Martin Iveson Lemon.
3:51
Active
4.0

2022-12-08

California Games - Half Pipe
Chris Ebert , Chris Grigg , David Hayes , Karl Lehenbauer , Steve Hales
2:29
Active
4.2

2023-09-10

California Games - Menu
Chris Ebert , Chris Grigg , David Hayes , Karl Lehenbauer , Steve Hales
0:58
Active
4.4

2023-09-16

Call Me Legion
TDK (Mark Knight)
4:03
Active
3.0

2023-02-08

Call Of A Carrion
Stargazer (Antti Oksanen) The Special Brothers (TSB)
4:08
Active
3.5

2023-03-19

Call Of Gotham
DJ Uno (José Antonio Arrain) , HeadBangeR Batman Group
1:37
Active
5.0

2022-06-03

Camel Abortion
Travolta (Rune Svendsen) Spaceballs
1:42
Active
4.0

2021-12-17

Can't Stop Coming
Azazel (Markus Alakangas)
2:10
Active
4.0

2023-07-10

Canal Green
Audiomonster (Raphaël Gesqua) Melon Dezign
4:05
Active
4.0

2023-09-25

Candiru
Lug00ber (Ola Christian Gundelsby) Spaceballs
1:01
Active
4.0

2023-08-29

Cannibal Tornado
Travolta (Rune Svendsen) Spaceballs
1:18
Active
4.0

2023-05-17

Cannon 'X' Fodder
Pye (Pierre Guillot)
1:56
Active
3.0

2023-07-28

Cannon Fodder
DJ Uno (José Antonio Arrain) Batman Group
2:28
Active
4.2

2023-09-01

Cannon Fodder - Boothill
Jovial Jops (Jon Hare) , Richard Joseph
2:22
Active
4.9

2023-09-23

Cannon Fodder - Mission Begins
Richard Joseph
2:01
Active
4.3

2023-07-12

Cannon Fodder Title (WAR)
Richard Joseph
2:26
Active
4.6

2023-09-09

Cappucino
Deetsay (Tero Heikki Mäyränen) dA JoRMaS
3:19
Active
3.2

2023-08-26

Captain Planet and the Planeteers - Captain Planet
Ratt (Anthony Crowther)
4:02
Active
3.2

2023-08-17

Captain Planet and the Planeteers - Earth
Ratt (Anthony Crowther)
2:59
Active
3.8

2023-09-10

Captain Planet and the Planeteers - Fire
Ratt (Anthony Crowther)
3:22
Active
4.0

2023-05-18

Captain Planet and the Planeteers - Heart
Ratt (Anthony Crowther)
3:21
Active
3.0

2023-06-18

Captain Planet and the Planeteers - Title
Ratt (Anthony Crowther)
4:01
Active
4.5

2022-12-10

Captain Planet and the Planeteers - Water
Ratt (Anthony Crowther)
2:38
Active
3.3

2023-09-27

Captain Planet and the Planeteers - Wind
Ratt (Anthony Crowther)
3:12
Active
4.6

2023-09-13

Captive - Title
Super CC. (Chris Crowther)
4:23
Active
4.0

2023-09-18

Captive 2: Liberation Credits
TDK (Mark Knight)
2:30
Active
4.8

2023-09-30

Captive 2: Liberation Game Over
TDK (Mark Knight)
1:02
Active
3.7

2023-08-14

Captive 2: Liberation Ingame
TDK (Mark Knight)
10:43
Active
4.3

2023-09-11

Captive 2: Liberation Underworld
TDK (Mark Knight)
3:20
Active
4.3

2023-08-11

Car-Vup - Ingame 1
4-Mat (Matt Simmonds)
2:01
Active
4.4

2023-08-21

Car-Vup - Ingame 2
4-Mat (Matt Simmonds)
2:08
Active
4.0

2023-06-21

Car-Vup - Ingame 3
4-Mat (Matt Simmonds)
2:30
Active
4.0

2023-08-17

Car-Vup - Title
4-Mat (Matt Simmonds)
3:12
Active
4.4

2023-09-05

Carabia
Baroque (Quinton Davies)
1:32
Active
4.0

2021-12-22

Cardiaxx - Complete
4-Mat (Matt Simmonds)
1:38
Active
3.5

2022-06-07

Cardiaxx - Ingame
4-Mat (Matt Simmonds)
0:51
Active
4.0

2023-03-20

Cardiaxx - Intro
4-Mat (Matt Simmonds)
2:51
Active
4.8

2023-09-14

Cardiaxx - Pause
4-Mat (Matt Simmonds)
1:00
Active
4.3

2023-09-05

Caribbean Jive
TDK (Mark Knight)
1:20
Active
5.0

2022-12-24

Carmen's Faith
Pye (Pierre Guillot)
2:27
Active
4.0

2023-07-02

Carthage: Fractal Map
CoLD SToRAGE (Tim Wright)
1:42
Active
3.7

2023-06-29

Carthage: High Score
CoLD SToRAGE (Tim Wright)
0:12
Active
3.5

2023-09-27

Carthage: Lost
CoLD SToRAGE (Tim Wright)
1:04
Active
3.0

2023-03-10

Carthage: Title
CoLD SToRAGE (Tim Wright)
1:52
Active
2.7

2023-09-20

Carthage: Victory
CoLD SToRAGE (Tim Wright)
1:04
Active
4.0

2023-07-10

Carwash
Delorean (Sakari Hannula) Complex
4:19
Active
4.0

2023-09-17

Casablanca
Travolta (Rune Svendsen) Spaceballs
1:40
Active
4.3

2023-08-31

Casimir End Theme
Clawz (Mathieu Berthaud)
0:46
Active
4.0

2023-09-23

Casio Dream
Tom Woxom
4:20
Active
3.0

2023-09-13

Castle Master - Title
Matt Furniss
4:51
Active
4.7

2023-08-31

Castle of Death
Emax (DE) (Benni Pedersen)
3:50
Active
4.0

2023-09-09

Castlemiga
LukeLove
3:15
Active
3.8

2023-05-15

Castles of Echoes
DJ Joge (Jouko Karhula) Chrome
12:07
Active
4.4

2023-09-18

Castlevania - Game Over
András Magyari
0:09
Active
2.0

2023-06-20

Castlevania - Heart of Fire - Stages 7-9
András Magyari
3:48
Active
3.8

2023-08-23

Castlevania - Intro Theme
András Magyari
2:14
Active
4.3

2023-09-28

Castlevania - Map
András Magyari
0:09
Active
4.0

2023-03-24

Castlevania - Out of Time - Stage 16-17
András Magyari
1:22
Active
3.3

2023-04-16

Castlevania - Prologue
András Magyari
0:09
Active
3.0

2023-08-15

Castlevania - Stage Clear
András Magyari
0:08
Jingle
1.0

2014-04-25

Castlevania - Stalker - Stages 13-15
András Magyari
1:22
Active
3.0

2023-05-06

Castlevania - Vampire Killer - Stages 10-12
András Magyari
1:06
Active
4.0

2023-06-20

Castlevania - Wicked Child - Stages 1-3
András Magyari
2:56
Active
3.0

2023-01-02

Castlevania - Wicked Child - Stages 4-6
András Magyari
1:45
Active
3.0

2023-04-04

Castlevania Mix
Maktone (Martin Nordell)
12:17
Active
4.5

2023-08-02

Catharina
Tommy (Thomas Jännicke)
6:15
Active
3.6

2023-09-02

Cathy
Cristofer Lee
2:30
Active
4.7

2023-08-10

Caughing Around Me!
JosSs (Jose Manuel)
3:25
Active
4.0

2023-06-20

Celtic Romances
DJ Joge (Jouko Karhula)
15:00
Active
4.7

2023-09-04

Centre Lift
Teque (Tero Kostermaa) Aggression
10:32
Active
2.3

2023-07-10

Century
Chromag (Timm Albers)
0:40
Active
4.7

2023-07-22

Century - Intro
Ruben Monteiro
4:11
Active
4.0

2023-08-24

Chakral Frequency
Neurodancer (Alexander S. Kunz)
8:03
Active
4.2

2023-08-02

Challenging Waves
Shinobi (Marcus Andre Rousseau)
3:48
Active
4.0

2023-09-26

Chambers of Shaolin - Test of Balance
Mad Max (Jochen Hippel)
3:45
Active
4.8

2023-09-04

Chambers of Shaolin - Test of Strength
Mad Max (Jochen Hippel)
3:18
Active
4.7

2023-09-04

Chambers of Shaolin - Title
Mad Max (Jochen Hippel)
4:36
Active
4.8

2023-09-04

Change Your Mind
Kadi (Arek Śliwiński)
3:53
Active
4.0

2023-05-05

Changemode
Tom Woxom
5:19
Active
3.3

2023-05-15

Changing Times
Airon (Anthony Oetzmann)
4:30
Active
3.0

2023-08-18

Channel 42
Ice (Morten Timmig)
3:42
Active
4.5

2023-09-13

Chaos Engine Remix
TDK (Mark Knight)
2:30
Active
2.7

2023-09-01

Chaotic
T-101 Dekadence
3:05
Active
3.2

2023-08-11

Chaotic Dawn
Echo (Graham Gray) LSD
2:17
Active
3.8

2023-09-19

Chaotic State
Little Bitchard (Arto Koivisto)
4:07
Active
3.0

2023-09-17

Charming and Sober
Chromag (Timm Albers)
2:01
Active
4.3

2023-09-26

Charming but Drunk 2 (Version 1)
Chromag (Timm Albers)
2:58
Active
5.0

2023-09-09

Charming but Drunk 2 (Version 2)
Chromag (Timm Albers)
2:21
Active
4.5

2023-07-16

Chart Busting
Delorean (Sakari Hannula) Complex
1:41
Active
4.5

2023-09-12

Chart Track
4-Mat (Matt Simmonds) Anarchy
2:25
Active
4.7

2023-09-28

Charts
Chromag (Timm Albers)
2:08
Active
4.5

2023-09-05

Charts #13
Chromag (Timm Albers)
2:08
Active
4.0

2023-07-10

Chase
Zzzax (Sebastian Lentfert) Time Circle
3:11
Active
4.0

2023-07-28

Chase H.Q. - Title
Matt Furniss
0:58
Active
4.3

2023-09-26

Chase H.Q. - Track 1
Matt Furniss
0:15
Active

2023-07-01

Chase H.Q. - Track 2
Matt Furniss
0:04
Active
4.0

2023-06-13

Chase H.Q. - Track 3
Matt Furniss
0:22
Active
4.5

2023-08-21

Chase H.Q. - Track 4
Matt Furniss
0:54
Active
5.0

2023-09-10

Chase H.Q. - Track 5
Matt Furniss
0:30
Active
4.0

2023-09-09

Chase H.Q. - Track 7
Matt Furniss
0:41
Active
4.3

2023-08-12

Chase H.Q. - Track 8
Matt Furniss
0:10
Active
4.0

2023-04-29

Chase the Ace 2
Walkman (Tor Bernhard Gausen)
4:04
Active
3.2

2023-08-29

Chaud Aux Pieds
Maf (Benoît C.) Silicon (SLC)
4:08
Active
4.7

2023-09-28

Cheap Vectors
Keo (Karl Espen Olsen)
6:16
Active
4.5

2023-09-25

Check Mate Demo (HALLUCIN)
Jesper Kyd The Silents [TSL]
5:15
Active
4.7

2023-09-28

Cheese Hazzard
Echo (Graham Gray) LSD
2:59