CVGM.net - Chiptune, Retro & Video Game Music

Song Information

Marching at 2880 fps

Author:

teadrinker (Martin Eklund)
Uploaded By:

FishGuy876
Song Length: 1:57
Release Year: 2023
Song Status: Active
Song Bitrate: 192 kbps
Song Source: Demo
Song Platform:

Miscellaneous » Wild (unknown/unusual source)
Additional Information:
Ranked 4th at Revision 2023 Wild Compo
From the YouTube video:
"I made this video synth + composition together with my new track Warm Butter!
It's written for a 3D Display that runs at 60 hz, each 3D slice contains 48 images (in slightly different camera angles, thus in total we need to render 2880 frames per second!)
At the end of the video, you can see how the synth is triggered from midi, this way I can compose visuals in a similar way (and at the same time) as the music.
This was a part of the Revision 2023 Wild compo. This was the first time I attended a demo party IRL, and it was a great and also overwhelming experience!
Fun Rendering Info:
Reflections are correct (but not complete). The look/lighting is inspired by early cgi, so very basic, no PBR. Shapes can be morphed, but scene parameters are basically hardcoded, except for spheres which are dynamic. Environment parameters are also morphable, and you can create parameter presets (separate for shapes and environment) which can in turn be triggered using MIDI CC or note-on (with a time-filtered response)
Raymarching is heavy, it helps that the resolution is very low (420x560), but 2880 fps is still quite a lot. I'm using a simple trick to achieve performance vs quality; Only render self reflection with raymarching, the plane is rendered with normal forward rendering, and the reflection is a mirrored version of the raymarch under the plane with a lower quality setting.
The 3D display is called Looking Glass Portrait, and it's their smaller entry-level 3D display"
Last Queued : Never Been Queued!
This song has been played 0 times. [See Request History]
It was added 1 month ago.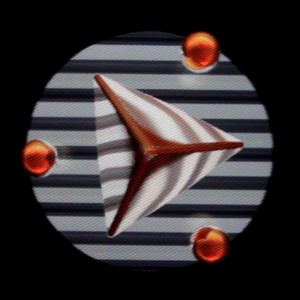 Download Pouet Production:
Click to Download
Song Rating
No Votes Yet :(
A total of 0 users have this song on their favourites list.
Compilation / Remix Information
This Song Is Listed In The Following Compilations:



Revision 2023

Screenshots
Add new screenshot
Song Corrections & Updates
[Edit Information] - [Add Links]