CVGM.net - Chiptune, Retro & Video Game Music

Platform - Console » Mega Drive / Genesis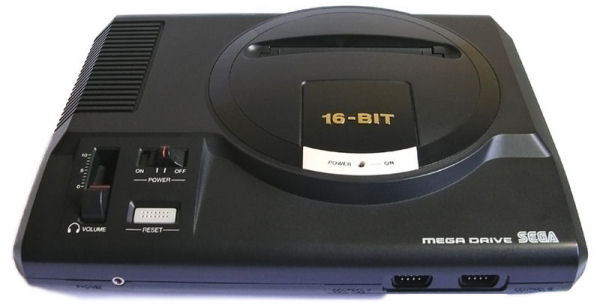 Things that should be added under this platform:
- songs ripped or recorded from games on this console or emulator
----------------------------------------
Sega's 16-bit generation console is Megadrive. It is called Genesis in the USA because Sega could not secure rights for "Megadrive" name in that area. Release years: 1988 (Japan), 1989 (USA), 1990 (Europe).
Megadrive is the most successful console Sega ever released. It sold better than 16-bit Nintendo (SNES) in the USA and many European countries.
Megadrive's primary sound chip is Yamaha YM2612 which has 5 channel FM and 1 channel FM/PCM. Thus the machine has one channel hardware support for PCM sound which can be recorded from "real life". The same sound chip was used in some Japanese FM Towns computers.
Because Megadrive was built to be compatible with 8-bit Sega Master System, also Texas Instruments SN76489 sound chip is included. It has 4 channel PSG sound. Some Megadrive games use also this older sound chip.
(Despite of hardware compatibility Megadrive requires a cartridge adapter to run Sega Master System games)
Songs
Song Title
Artist
Song Length
Status
Avg. Vote
Queue
Last Played
Addams Family Values - Addams Family Values
Keith Tinman , Teque (Tero Kostermaa)
0:42
Active
4.6

2023-09-30

Addams Family Values - Blizzard
Keith Tinman , Teque (Tero Kostermaa)
2:04
Active
4.3

2023-02-11

Addams Family Values - Creepy Creatures
Keith Tinman , Teque (Tero Kostermaa)
0:35
Active
4.6

2023-04-20

Addams Family Values - Dangerous Terrain
Keith Tinman , Teque (Tero Kostermaa)
1:48
Active
4.2

2023-08-20

Addams Family Values - Dark Dungeons
Keith Tinman , Teque (Tero Kostermaa)
2:37
Active
4.0

2023-08-14

Addams Family Values - Deadly Flowers
Keith Tinman , Teque (Tero Kostermaa)
1:30
Active
3.8

2023-08-23

Addams Family Values - Haunted Halls
Keith Tinman , Teque (Tero Kostermaa)
2:56
Active
4.3

2023-08-12

Addams Family Values - House of the Dead
Keith Tinman , Teque (Tero Kostermaa)
2:19
Active
4.4

2023-09-18

Addams Family Values - Mountain Petrified
Keith Tinman , Teque (Tero Kostermaa)
1:45
Active
4.0

2023-09-24

Addams Family Values - Neverending Rain
Keith Tinman , Teque (Tero Kostermaa)
2:10
Active
4.2

2023-08-09

Addams Family Values - Sandy Wasteland
Keith Tinman , Teque (Tero Kostermaa)
3:05
Active
3.4

2023-08-07

Addams Family Values - Sea of Cursed Trees
Keith Tinman , Teque (Tero Kostermaa)
2:31
Active
3.9

2023-06-03

Addams Family Values - Staff Roll
Keith Tinman , Teque (Tero Kostermaa)
1:44
Active
4.7

2023-09-23

Addams Family Values - Strobia - Silent Guardian
Keith Tinman , Teque (Tero Kostermaa)
1:26
Active
3.5

2023-06-27

Addams Family Values - Unused Track
Keith Tinman , Teque (Tero Kostermaa)
1:07
Active
4.4

2023-09-05

Aerobiz - Africa
Taku Iwasaki (岩崎 琢)
1:26
Active
3.0

2021-11-07

Aerobiz - Asia
Taku Iwasaki (岩崎 琢)
1:33
Active
4.0

2022-08-14

Aerobiz - Bankruptcy
Taku Iwasaki (岩崎 琢)
1:30
Active
4.5

2023-02-09

Aerobiz - Company Chart
Taku Iwasaki (岩崎 琢)
1:30
Active
4.0

2023-09-23

Aerobiz - Deliveries
Taku Iwasaki (岩崎 琢)
1:49
Active
5.0

2023-03-26

Aerobiz - Ending
Taku Iwasaki (岩崎 琢)
4:39
Active
4.0

2022-12-16

Aerobiz - Europe
Taku Iwasaki (岩崎 琢)
2:12
Active
4.3

2023-06-26

Aerobiz - Intro
Taku Iwasaki (岩崎 琢)
2:28
Active
4.0

2023-09-06

Aerobiz - Japan
Taku Iwasaki (岩崎 琢)
2:38
Active
3.5

2022-09-12

Aerobiz - Main Menu
Taku Iwasaki (岩崎 琢)
2:38
Active
3.7

2023-06-05

Aerobiz - Middle East
Taku Iwasaki (岩崎 琢)
1:53
Active
4.5

2022-11-19

Aerobiz - News of the World
Taku Iwasaki (岩崎 琢)
1:37
Active
3.0

2021-06-09

Aerobiz - North America
Taku Iwasaki (岩崎 琢)
1:42
Active
3.0

2023-04-01

Aerobiz - Oceania
Taku Iwasaki (岩崎 琢)
1:44
Active
3.0

2021-08-22

Aerobiz - Opponent Wins
Taku Iwasaki (岩崎 琢)
1:32
Active
3.0

2023-07-14

Aerobiz - Out of Time
Taku Iwasaki (岩崎 琢)
1:21
Active
4.4

2023-05-04

Aerobiz - Positive News
Taku Iwasaki (岩崎 琢)
1:07
Active
4.0

2022-08-10

Aerobiz - Russia
Taku Iwasaki (岩崎 琢)
1:29
Active
4.0

2019-12-19

Aerobiz - South America
Taku Iwasaki (岩崎 琢)
2:29
Active
4.0

2023-01-16

Alex Kidd in the Enchanted Castle - Town
Chikako Kamatani
1:06
Active
4.7

2023-08-23

Alien 3 - Ending Theme
Matt Furniss
1:31
Active
3.5

2023-09-29

Alien 3 - Fox Fanfare (Unused)
Matt Furniss
0:17
Jingle
Alien 3 - Game Over
Matt Furniss
0:09
Jingle
Alien 3 - High Score
Matt Furniss
1:34
Active
3.8

2023-09-26

Alien 3 - Level Complete
Matt Furniss
0:49
Active
4.3

2023-09-16

Alien 3 - Level Guardian
Matt Furniss
1:08
Active
4.0

2023-09-04

Alien 3 - Main Title
Matt Furniss
3:03
Active
4.3

2023-09-12

Alien 3 - Stage 1
Matt Furniss
2:36
Active
4.3

2023-09-14

Alien 3 - Stage 2
Matt Furniss
3:40
Active
4.6

2023-08-23

Alien 3 - Stage 3
Matt Furniss
3:10
Active
4.5

2023-09-23

Alien 3 - Stage 4
Matt Furniss
3:47
Active
4.7

2023-09-29

Alien 3 - Stage 5
Matt Furniss
3:07
Active
5.0

2023-09-18

Alien Soldier - 3 Prayers
Norio Hanzawa (半沢 紀夫)
1:41
Active
4.0

2021-02-24

Alien Soldier - 7th Force
Norio Hanzawa (半沢 紀夫)
1:30
Active
4.0

2023-09-11

Alien Soldier - Alone 'Z'
Norio Hanzawa (半沢 紀夫)
1:58
Active
3.0

2023-08-07

Alien Soldier - Blacksheep
Norio Hanzawa (半沢 紀夫)
1:18
Active
2.5

2023-09-12

Alien Soldier - Epsilon's Ally
Norio Hanzawa (半沢 紀夫)
1:11
Active
4.4

2023-09-03

Alien Soldier - Flashback
Norio Hanzawa (半沢 紀夫)
1:26
Active
3.0

2022-07-02

Alien Soldier - From Objector
Norio Hanzawa (半沢 紀夫)
1:33
Active
2.4

2023-09-07

Alien Soldier - Galaxy Desert
Norio Hanzawa (半沢 紀夫)
1:18
Active
4.7

2023-09-18

Alien Soldier - Lurk!
Norio Hanzawa (半沢 紀夫)
1:17
Active
3.0

2023-09-01

Alien Soldier - Oblivious Past
Norio Hanzawa (半沢 紀夫)
3:13
Active
4.7

2023-04-22

Alien Soldier - Perfect Thing
Norio Hanzawa (半沢 紀夫)
1:23
Active
2.2

2023-09-28

Alien Soldier - Runner AD2025
Norio Hanzawa (半沢 紀夫)
1:34
Active
4.2

2023-07-24

Alien Soldier - Shade
Norio Hanzawa (半沢 紀夫)
1:47
Active
4.5

2022-01-31

Alien Soldier - Side Limits
Norio Hanzawa (半沢 紀夫)
1:51
Active
3.0

2023-09-28

Alien Soldier - Silent
Norio Hanzawa (半沢 紀夫)
1:55
Active
3.3

2023-09-14

Alien Soldier - Slap-Up
Norio Hanzawa (半沢 紀夫)
1:09
Active
3.8

2023-05-04

Alien Soldier - Soldiers Song
Norio Hanzawa (半沢 紀夫)
1:36
Active
4.6

2023-03-17

Alien Soldier - Soltype
Norio Hanzawa (半沢 紀夫)
1:10
Active
4.0

2022-12-11

Alien Soldier - Title
Norio Hanzawa (半沢 紀夫)
0:28
Active
4.5

2023-07-02

Alien Soldier - Unknown (Sound Code 84)
Norio Hanzawa (半沢 紀夫)
1:37
Active
4.0

2023-09-29

Alien Soldier - X-Ages
Norio Hanzawa (半沢 紀夫)
1:10
Active
3.0

2023-06-04

Altered Beast - Altered Beast (Transformation)
Toshio Kai (甲斐 敏夫)
1:18
Active
4.0

2023-07-31

Altered Beast - Closed in Upon Me (Round 2)
Toshio Kai (甲斐 敏夫)
1:17
Active
3.0

2023-05-23

Altered Beast - Ending Theme
Toshio Kai (甲斐 敏夫)
2:23
Active
3.8

2023-09-09

Altered Beast - Game over/Name Entry
Toshio Kai (甲斐 敏夫)
0:38
Active
2.5

2021-02-15

Altered Beast - Gaum-Hermer (Boss Theme)
Toshio Kai (甲斐 敏夫)
0:45
Active
3.0

2023-09-05

Altered Beast - I'll be Back (Round 3)
Toshio Kai (甲斐 敏夫)
1:33
Active
3.3

2023-09-19

Altered Beast - Rise From Your Grave (Round 1)
Toshio Kai (甲斐 敏夫)
2:07
Active
4.3

2023-09-05

Antibiotics Bitch
Animal Style
4:37
Active
3.8

2023-08-21

Asterix and the Great Rescue - Title
Nathan McCree
2:08
Active
4.3

2023-08-10

AWS Pro Moves Soccer - Title
Jesper Kyd
4:17
Active
4.5

2023-09-18

Bassfish Demo
Fieserwolf Speckdrumm
1:45
Active
4.9

2023-09-18

Batman - Ending Theme
Naoki Kodaka (小高 直樹)
2:22
Active
4.0

2023-09-13

Batman - Game Over
Naoki Kodaka (小高 直樹)
0:05
Jingle
Batman - Prologue
Naoki Kodaka (小高 直樹)
1:47
Active
5.0

2023-09-13

Batman - Special Levels
Naoki Kodaka (小高 直樹)
2:51
Active
4.0

2023-08-20

Batman - Stage 1 ~ Gotham City Streets ~
Naoki Kodaka (小高 直樹)
2:11
Active
4.7

2023-09-19

Batman - Stage 2 ~ Axis Chemical Factory ~
Naoki Kodaka (小高 直樹)
2:56
Active
3.5

2023-06-30

Batman - Stage 3 ~ Flugelheim Museum ~
Naoki Kodaka (小高 直樹)
2:42
Active
4.8

2023-09-18

Batman - Stage 4-1 & Stage 5 ~ In The Sky Over Gotham City ~
Naoki Kodaka (小高 直樹)
2:21
Active
4.2

2023-08-15

Batman - Stage Clear
Naoki Kodaka (小高 直樹)
0:04
Jingle
Batman - Title Theme
Naoki Kodaka (小高 直樹)
0:52
Active
4.0

2022-06-17

Battle Mania Daiginjou - Blue Sky Laundry
Fumito Tamayama (玉山文人) , Shigenori Masuko (益子 重徳) , Yasuyuki Hamada (はまだ やすゆき) , Youko Suzuki (鈴木陽子)
1:38
Active
4.6

2023-08-16

Battle Mania Daiginjou - Burning Heart
Fumito Tamayama (玉山文人) , Shigenori Masuko (益子 重徳) , Yasuyuki Hamada (はまだ やすゆき) , Youko Suzuki (鈴木陽子)
1:55
Active
4.6

2023-09-10

Battle Mania Daiginjou - Deposit Coins
Fumito Tamayama (玉山文人) , Shigenori Masuko (益子 重徳) , Yasuyuki Hamada (はまだ やすゆき) , Youko Suzuki (鈴木陽子)
0:36
Active
4.3

2023-08-28

Battle Mania Daiginjou - My Kingdom
Fumito Tamayama (玉山文人) , Shigenori Masuko (益子 重徳) , Yasuyuki Hamada (はまだ やすゆき) , Youko Suzuki (鈴木陽子)
2:00
Active
4.2

2023-09-04

Battle Mania Daiginjou - Shrine
Fumito Tamayama (玉山文人) , Shigenori Masuko (益子 重徳) , Yasuyuki Hamada (はまだ やすゆき) , Youko Suzuki (鈴木陽子)
2:15
Active
4.4

2023-09-29

Battle Mania Daiginjou - Twilight Express
Fumito Tamayama (玉山文人) , Shigenori Masuko (益子 重徳) , Yasuyuki Hamada (はまだ やすゆき) , Youko Suzuki (鈴木陽子)
1:29
Active
4.0

2023-06-12

Battle Squadron - Game Over
Rob Hubbard , Ron Klaren
1:17
Active
4.5

2023-09-03

Battle Squadron - Main theme
Rob Hubbard , Ron Klaren
1:41
Active
4.4

2023-09-14

Battle Squadron - Title
Rob Hubbard , Ron Klaren
1:22
Active
3.8

2023-09-09

Beige Boxes
Linde
4:19
Active
2.8

2023-08-31

Beyond Oasis (The Story Of Thor) - Aqua
Yuzo Koshiro (古代 祐三)
0:57
Active
3.5

2022-12-06

Beyond Oasis (The Story Of Thor) - Battle
Yuzo Koshiro (古代 祐三)
0:56
Active
4.0

2022-12-06

Beyond Oasis (The Story Of Thor) - Burning Cave
Yuzo Koshiro (古代 祐三)
1:14
Active
4.0

2022-12-06

Beyond Oasis (The Story Of Thor) - Chaos
Yuzo Koshiro (古代 祐三)
1:13
Active
3.0

2022-12-06

Beyond Oasis (The Story Of Thor) - Concentration
Yuzo Koshiro (古代 祐三)
1:55
Active
2.0

2023-05-29

Beyond Oasis (The Story Of Thor) - Deep Hole
Yuzo Koshiro (古代 祐三)
2:08
Active
1.8

2023-06-03

Beyond Oasis (The Story Of Thor) - Ending
Yuzo Koshiro (古代 祐三)
5:21
Needs Re-Encoding
4.5

2022-12-06

Beyond Oasis (The Story Of Thor) - Evil Territory
Yuzo Koshiro (古代 祐三)
0:44
Active
3.5

2023-05-19

Beyond Oasis (The Story Of Thor) - Fortress
Yuzo Koshiro (古代 祐三)
1:17
Active
3.0

2023-07-03

Beyond Oasis (The Story Of Thor) - Holiness
Yuzo Koshiro (古代 祐三)
1:29
Active
2.0

2022-10-21

Beyond Oasis (The Story Of Thor) - Introduction
Yuzo Koshiro (古代 祐三)
2:28
Active
3.3

2023-09-08

Beyond Oasis (The Story Of Thor) - Last Battle
Yuzo Koshiro (古代 祐三)
1:17
Active
3.0

2021-08-15

Beyond Oasis (The Story Of Thor) - Mysterious Green
Yuzo Koshiro (古代 祐三)
1:36
Active
2.6

2023-09-11

Beyond Oasis (The Story Of Thor) - Peaceful
Yuzo Koshiro (古代 祐三)
1:10
Active
3.0

2022-11-09

Beyond Oasis (The Story Of Thor) - Stone Place
Yuzo Koshiro (古代 祐三)
2:01
Active
4.5

2023-08-28

Beyond Oasis (The Story Of Thor) - The Story of Thor
Yuzo Koshiro (古代 祐三)
2:17
Active
4.2

2023-09-11

Beyond Oasis (The Story Of Thor) - To Begin
Yuzo Koshiro (古代 祐三)
1:00
Active
2.0

2020-11-01

Beyond Oasis (The Story Of Thor) - Vessel
Yuzo Koshiro (古代 祐三)
1:31
Needs Re-Encoding
4.0

2015-03-26

Beyond Oasis (The Story Of Thor) - Voice from Darkside
Yuzo Koshiro (古代 祐三)
0:51
Active
3.0

2023-09-05

Beyond Oasis (The Story Of Thor) - Water Cave
Yuzo Koshiro (古代 祐三)
1:45
Active
1.9

2023-09-12

Bio-Hazard Battle - Stage 1, 8 ~ Space ~ Base
K.N.U. (Kenichiro Isoda, 磯田 健一郎)
2:58
Active
5.0

2023-08-06

Bio-Hazard Battle - Stage 2, 6 ~ City ~ Airship
K.N.U. (Kenichiro Isoda, 磯田 健一郎)
2:10
Active
3.5

2023-01-14

Bio-Hazard Battle - Stage 3 ~ Jungle
K.N.U. (Kenichiro Isoda, 磯田 健一郎)
3:26
Active
3.7

2023-07-28

Bio-Hazard Battle - Stage 7 ~ Factory
K.N.U. (Kenichiro Isoda, 磯田 健一郎)
2:34
Active
4.5

2023-08-13

Bio-Hazard Battle - Title
K.N.U. (Kenichiro Isoda, 磯田 健一郎)
2:49
Active
3.6

2023-09-10

Boogerman: A Pick and Flick Adventure - Boogerville
Matt Furniss , Shaun Hollingworth
1:28
Active
3.7

2023-06-02

Boogerman: A Pick and Flick Adventure - Boss Theme
Matt Furniss , Shaun Hollingworth
1:27
Active
3.0

2023-08-08

Boogerman: A Pick and Flick Adventure - Ending 1
Matt Furniss , Shaun Hollingworth
1:46
Active
4.0

2022-01-06

Boogerman: A Pick and Flick Adventure - Ending 2
Matt Furniss , Shaun Hollingworth
0:45
Active
2.5

2021-12-25

Boogerman: A Pick and Flick Adventure - Flatulent Swamps
Matt Furniss , Shaun Hollingworth
2:59
Active
3.8

2023-06-05

Boogerman: A Pick and Flick Adventure - Introduction
Matt Furniss , Shaun Hollingworth
1:18
Active
3.5

2023-09-18

Boogerman: A Pick and Flick Adventure - Mucous Mountains
Matt Furniss , Shaun Hollingworth
2:07
Active
3.7

2023-09-22

Boogerman: A Pick and Flick Adventure - Nasal Caverns
Matt Furniss , Shaun Hollingworth
1:53
Active
4.3

2023-09-11

Boogerman: A Pick and Flick Adventure - Password
Matt Furniss , Shaun Hollingworth
0:57
Active
4.0

2023-09-20

Boogerman: A Pick and Flick Adventure - Pus Palace
Matt Furniss , Shaun Hollingworth
1:46
Active
3.5

2021-11-10

Boogerman: A Pick and Flick Adventure - Sewer City
Matt Furniss , Shaun Hollingworth
3:10
Active
4.0

2022-01-27

Boogerman: A Pick and Flick Adventure - The Pits
Matt Furniss , Shaun Hollingworth
2:15
Active
3.5

2021-09-13

Boogerman: A Pick and Flick Adventure - Title Theme
Matt Furniss , Shaun Hollingworth
1:59
Active
3.7

2023-08-15

Bram Stoker's Dracula - Boss Theme 1
Matt Furniss
1:17
Active
3.0

2023-04-09

Bram Stoker's Dracula - Boss Theme 2
Matt Furniss
1:04
Active
3.0

2022-12-07

Bram Stoker's Dracula - Ending Theme
Matt Furniss
1:37
Active
4.4

2023-07-13

Bram Stoker's Dracula - Final Boss Theme
Matt Furniss
2:19
Active
4.5

2023-08-01

Bram Stoker's Dracula - Opening Theme
Matt Furniss
2:05
Active
4.5

2023-06-10

Bram Stoker's Dracula - Stage 1-1
Matt Furniss
0:56
Active
3.0

2023-09-17

Bram Stoker's Dracula - Stage 1-2
Matt Furniss
2:19
Active
3.7

2023-08-16

Bram Stoker's Dracula - Stage 2-1
Matt Furniss
3:41
Active
3.8

2023-08-25

Bram Stoker's Dracula - Stage 2-2
Matt Furniss
2:55
Active
4.4

2023-06-25

Bram Stoker's Dracula - Stage 2-3
Matt Furniss
2:47
Active
4.2

2023-07-31

Bram Stoker's Dracula - Stage 3-1
Matt Furniss
2:06
Active
4.0

2023-08-20

Bram Stoker's Dracula - Stage 3-2
Matt Furniss
1:34
Active
4.7

2023-09-02

Bram Stoker's Dracula - Stage 3-3
Matt Furniss
1:39
Active
4.0

2023-06-22

Bram Stoker's Dracula - Stage 3-4
Matt Furniss
1:38
Active
4.0

2023-09-26

Bram Stoker's Dracula - Stage 4-1
Matt Furniss
1:21
Active
3.0

2023-08-25

Bram Stoker's Dracula - Stage 4-2
Matt Furniss
2:19
Active
4.0

2023-08-26

Bram Stoker's Dracula - Stage 4-3
Matt Furniss
3:29
Active
3.7

2023-08-28

Bram Stoker's Dracula - Stage 5-1
Matt Furniss
1:47
Active
4.0

2023-02-23

Bram Stoker's Dracula - Stage 5-2
Matt Furniss
2:33
Active
3.0

2023-06-18

Bram Stoker's Dracula - Stage 6
Matt Furniss
2:10
Active
4.0

2023-06-20

Bram Stoker's Dracula - Unknown Track 1
Matt Furniss
1:05
Active
3.0

2023-06-06

Bram Stoker's Dracula - Unknown Track 2
Matt Furniss
0:56
Active
3.0

2020-10-31

Bram Stoker's Dracula - Vampyre Book
Matt Furniss
3:14
Active
4.7

2023-05-21

Bram Stoker´s Dracula - Stage 6
Matt Furniss
2:10
Dupe
4.0
CA the Meowian - Some menu tune
Tiido (Tiido Priimägi)
1:22
Active
3.5

2023-06-21

Cannon Fodder - Cannon Fodder
Allister Brimble , Jovial Jops (Jon Hare)
0:54
Active
4.2

2023-08-28

Cannon Fodder - Heroes of War
Allister Brimble
1:07
Active
4.4

2023-08-18

Cannon Fodder - Objective
Allister Brimble
0:35
Active
4.0

2022-05-20

Castle of Illusion - Door Select
Kamiya Studio
0:23
Active
4.0

2022-12-09

Castle of Illusion - Level 1 - Stage 1
Kamiya Studio
1:55
Active
4.0

2023-09-12

Castle of Illusion - Level 1 - Stage 2
Kamiya Studio
0:53
Active
4.0

2022-01-18

Castle of Illusion - Level 1 - Stage 3
Kamiya Studio
1:02
Active
3.0

2023-05-31

Castle of Illusion - Level 2 - Stage 1
Kamiya Studio
2:48
Active
4.3

2023-05-22

Castle of Illusion - Level 2 - Stage 1 (Slope)
Kamiya Studio
0:36
Active

2022-03-28

Castle of Illusion - Level 2 - Stage 2
Kamiya Studio
1:59
Active
3.5

2023-09-12

Castle of Illusion - Level 3 - Stage 1
Kamiya Studio
1:17
Active
4.0

2023-06-22

Castle of Illusion - Level 3 - Stage 2
Kamiya Studio
2:55
Active
3.4

2023-09-17

Castle of Illusion - Level 4 - Stage 1
Kamiya Studio
1:21
Active
4.0

2020-10-28

Castle of Illusion - Level 4 - Stage 2
Kamiya Studio
0:55
Active
2.7

2023-08-24

Castlevania: Bloodlines - A Vision of Dark Secrets (Open Theme)
Michiru Yamane (山根 ミチル)
1:03
Active
3.8

2023-06-29

Castlevania: Bloodlines - Beginning (Classic Tune 1)
Michiru Yamane (山根 ミチル)
1:47
Active
4.6

2023-06-06

Castlevania: Bloodlines - Calling From Heaven (Stage 6)
Michiru Yamane (山根 ミチル)
2:30
Active
4.5

2023-09-17

Castlevania: Bloodlines - Iron-Blue Intention (Stage 4)
Michiru Yamane (山根 ミチル)
1:57
Active
4.8

2023-09-11

Castlevania: Bloodlines - Reincarnated Soul (Stage 1)
Michiru Yamane (山根 ミチル)
1:53
Active
4.7

2023-09-23

Castlevania: Bloodlines - Requiem for the Nameless Victims
Michiru Yamane (山根 ミチル)
2:28
Active
4.4

2023-09-26

Castlevania: Bloodlines - The Discolored Wall (Stage 3)
Michiru Yamane (山根 ミチル)
2:06
Active
3.6

2023-08-31

Castlevania: Bloodlines - The Prayer of a Tragic Queen (Stage 5)
Michiru Yamane (山根 ミチル)
1:44
Active
4.5

2023-09-01

Castlevania: Bloodlines - The Sinking Old Sanctuary (Stage 2)
Michiru Yamane (山根 ミチル)
1:59
Active
4.6

2023-09-24

Castlevania: Bloodlines - The Six Servants of the Devil (Boss)
Michiru Yamane (山根 ミチル)
1:13
Active
4.2

2023-07-05

Castlevania: Bloodlines - The Vampire's Stomach (Final Boss)
Michiru Yamane (山根 ミチル)
1:17
Active
3.7

2023-07-25

Castlevania: Bloodlines - Theme of Simon (Classic Tune 4)
Michiru Yamane (山根 ミチル)
2:16
Active
4.8

2023-08-01

Castlevania: Bloodlines - Together Forever (Ending Theme)
Michiru Yamane (山根 ミチル)
2:04
Active
4.3

2023-09-29

Chuck Rock - Level 1
Matt Furniss , Shaun Hollingworth
1:07
Active
4.5

2022-07-01

Chuck Rock - Level 2
Matt Furniss , Shaun Hollingworth
0:56
Active
4.0

2022-02-06

Chuck Rock - Level 3
Matt Furniss , Shaun Hollingworth
1:02
Active
3.0

2023-08-04

Chuck Rock - Level 4
Matt Furniss , Shaun Hollingworth
0:52
Active
4.0

2021-12-27

Chuck Rock - Level 5
Matt Furniss , Shaun Hollingworth
1:15
Active
4.0

2023-05-31

Chuck Rock - Title Theme
Matt Furniss , Shaun Hollingworth
1:52
Active
3.5

2023-08-08

Chuck Rock II: Son of Chuck - Butterfly Grove, Wacky Waterfalls
Martin Iveson , Matt Furniss
1:16
Active
5.0

2023-09-10

Chuck Rock II: Son of Chuck - Dippy the Dinosaur, The River Race
Martin Iveson , Matt Furniss
1:25
Active
5.0

2023-09-15

Chuck Rock II: Son of Chuck - Ending Theme
Martin Iveson , Matt Furniss
0:54
Active
4.2

2023-08-19

Chuck Rock II: Son of Chuck - Fruit Mountain, Snow Problem, Meet Morgan Moose
Martin Iveson , Matt Furniss
1:32
Active
3.5

2023-04-10

Chuck Rock II: Son of Chuck - Going Up the Tree, Going Down the Tree, Lava Tree
Martin Iveson , Matt Furniss
1:01
Active
4.0

2023-09-14

Chuck Rock II: Son of Chuck - In the Smelly Sewers, The Car Factory
Martin Iveson , Matt Furniss
0:58
Active

2021-09-25

Chuck Rock II: Son of Chuck - Lively Lava, Spooky Cave
Martin Iveson , Matt Furniss
0:46
Active
3.7

2023-09-17

Chuck Rock II: Son of Chuck - Opening Theme
Martin Iveson , Matt Furniss
1:50
Active
4.0

2023-06-17

Chuck Rock II: Son of Chuck - Stone Age Suburbs
Martin Iveson , Matt Furniss
1:10
Active
4.5

2022-10-08

Columns - Atropos (BGM 3)
Tokuhiko Uwabo
1:19
Active
2.3

2023-07-16

Columns - Clotho (BGM 1)
Tokuhiko Uwabo
1:27
Active
4.3

2023-07-13

Columns - Lathesis (BGM 2)
Tokuhiko Uwabo
1:17
Active
3.0

2023-09-01

Columns III: Revenge of Columns - Column Dive
Morihiko Akiyama (秋山守彦)
1:53
Active
4.8

2023-08-24

Columns III: Revenge of Columns - Explorer
Morihiko Akiyama (秋山守彦)
1:38
Active
4.0

2022-01-12

Contra Hard Corps - A Spirit of Bushi
Hiroshi Kobayashi , Michiru Yamane (山根 ミチル)
1:40
Active
4.3

2023-08-05

Contra Hard Corps - AC Violence
Hiroshi Kobayashi , Michiru Yamane (山根 ミチル)
1:04
Active
4.6

2023-03-05

Contra Hard Corps - Alien's Den
Hiroshi Kobayashi , Michiru Yamane (山根 ミチル)
1:20
Active
3.8

2023-09-05

Contra Hard Corps - Charshoe X
Hiroshi Kobayashi , Michiru Yamane (山根 ミチル)
0:42
Active
3.7

2023-08-20

Contra Hard Corps - Contra Overdrive
Hiroshi Kobayashi , Michiru Yamane (山根 ミチル)
0:54
Active
4.3

2023-07-20

Contra Hard Corps - Contra The Blue Gale
Hiroshi Kobayashi , Michiru Yamane (山根 ミチル)
1:34
Active
4.0

2023-09-15

Contra Hard Corps - Format X
Hiroshi Kobayashi , Michiru Yamane (山根 ミチル)
1:43
Active
4.4

2023-09-07

Contra Hard Corps - Gekokujoh Norakura
Hiroshi Kobayashi , Michiru Yamane (山根 ミチル)
1:37
Active
4.0

2023-08-14

Contra Hard Corps - GTR Attack!
Hiroshi Kobayashi , Michiru Yamane (山根 ミチル)
1:38
Active
4.3

2023-08-10

Contra Hard Corps - Guillotine
Hiroshi Kobayashi , Michiru Yamane (山根 ミチル)
0:54
Active
4.0

2023-08-15

Contra Hard Corps - JB303
Hiroshi Kobayashi , Michiru Yamane (山根 ミチル)
0:49
Active
4.0

2023-05-04

Contra Hard Corps - Jurassic Dope
Hiroshi Kobayashi , Michiru Yamane (山根 ミチル)
1:31
Active
3.9

2023-09-06

Contra Hard Corps - Last Springsteen
Hiroshi Kobayashi , Michiru Yamane (山根 ミチル)
1:44
Active
4.3

2023-06-11

Contra Hard Corps - Moonlit Army
Hiroshi Kobayashi , Michiru Yamane (山根 ミチル)
3:06
Active
4.0

2023-07-27

Contra Hard Corps - R.A.V.E
Hiroshi Kobayashi , Michiru Yamane (山根 ミチル)
0:51
Active
4.7

2023-09-25

Contra Hard Corps - Simon 1994RD
Hiroshi Kobayashi , Michiru Yamane (山根 ミチル)
0:44
Active
4.4

2023-09-24

Contra Hard Corps - Something Wonderful
Hiroshi Kobayashi , Michiru Yamane (山根 ミチル)
1:16
Active
4.3

2023-08-31

Contra Hard Corps - The Dawn
Hiroshi Kobayashi , Michiru Yamane (山根 ミチル)
1:45
Active
4.6

2023-07-17

Contra Hard Corps - The Foggy Cave in the Darkness
Hiroshi Kobayashi , Michiru Yamane (山根 ミチル)
0:55
Active
4.3

2023-07-01

Contra Hard Corps - The Hard Corps
Hiroshi Kobayashi , Michiru Yamane (山根 ミチル)
1:29
Active
4.3

2023-09-28

Contra Hard Corps - The Hard Corps Blues
Hiroshi Kobayashi , Michiru Yamane (山根 ミチル)
2:02
Active
4.7

2023-09-04

Contra Hard Corps - Yoru no Nikusyokujyu
Hiroshi Kobayashi , Michiru Yamane (山根 ミチル)
1:17
Active
4.5

2023-06-14

Contra Hard Corps - Zephyr
Hiroshi Kobayashi , Michiru Yamane (山根 ミチル)
1:30
Active
4.2

2023-09-02

Corporation (Cyber-Cop)
Matt Furniss
2:26
Active
4.4

2023-08-23

Crusader of Centy (Soleil) - 01 - Opening Theme
Motokazu Shinoda (篠田 元一)
4:08
Active
4.0

2023-08-25

Crusader of Centy (Soleil) - 02 - Data Select
Motokazu Shinoda (篠田 元一)
0:36
Active
3.0

2023-09-12

Crusader of Centy (Soleil) - 03 - Town
Motokazu Shinoda (篠田 元一)
2:01
Active
4.8

2023-09-18

Crusader of Centy (Soleil) - 04 - Soleil Plaza
Motokazu Shinoda (篠田 元一)
1:57
Active
4.5

2023-03-14

Crusader of Centy (Soleil) - 05 - Fortuneteller
Motokazu Shinoda (篠田 元一)
2:14
Active

2022-11-22

Crusader of Centy (Soleil) - 06 - Overworld Map
Motokazu Shinoda (篠田 元一)
2:20
Active
5.0

2023-07-28

Crusader of Centy (Soleil) - 07 - Rafflesia Training Grounds
Motokazu Shinoda (篠田 元一)
2:51
Active
4.8

2023-09-04

Crusader of Centy (Soleil) - 08 - Monster Area
Motokazu Shinoda (篠田 元一)
2:17
Active
5.0

2023-03-21

Crusader of Centy (Soleil) - 09 - Dahlia Valley
Motokazu Shinoda (篠田 元一)
2:03
Active
5.0

2023-08-26

Crusader of Centy (Soleil) - 10 - Battle 1
Motokazu Shinoda (篠田 元一)
2:30
Active
4.3

2023-09-04

Crusader of Centy (Soleil) - 11 - Anemone Beach
Motokazu Shinoda (篠田 元一)
1:42
Active
5.0

2023-09-18

Crusader of Centy (Soleil) - 12 - Animal Town
Motokazu Shinoda (篠田 元一)
1:32
Active
4.0

2022-07-18

Crusader of Centy (Soleil) - 13 - Water Lily
Motokazu Shinoda (篠田 元一)
2:23
Active
3.8

2023-08-07

Crusader of Centy (Soleil) - 14 - Burn Daisy
Motokazu Shinoda (篠田 元一)
2:07
Active
5.0

2022-02-07

Crusader of Centy (Soleil) - 15 - Battle 2
Motokazu Shinoda (篠田 元一)
4:00
Active
4.5

2023-09-01

Crusader of Centy (Soleil) - 16 - Camellia Desert
Motokazu Shinoda (篠田 元一)
2:16
Active
4.0

2021-02-08

Crusader of Centy (Soleil) - 17 - Tower of Babel
Motokazu Shinoda (篠田 元一)
2:01
Active
4.8

2023-09-20

Crusader of Centy (Soleil) - 18 - Castle Freesia
Motokazu Shinoda (篠田 元一)
2:21
Active
5.0

2023-09-26

Crusader of Centy (Soleil) - 19 - Root Temple
Motokazu Shinoda (篠田 元一)
2:05
Active
4.5

2023-09-22

Crusader of Centy (Soleil) - 20 - Battle 3
Motokazu Shinoda (篠田 元一)
5:55
Active
4.0

2023-09-19

Crusader of Centy (Soleil) - 21 - Place of Peace
Motokazu Shinoda (篠田 元一)
1:46
Active
4.0

2023-07-11

Crusader of Centy (Soleil) - 22 - Desert Palace
Motokazu Shinoda (篠田 元一)
2:39
Active
3.7

2023-08-11

Crusader of Centy (Soleil) - 23 - Mother Monster
Motokazu Shinoda (篠田 元一)
1:59
Active

2021-06-21

Crusader of Centy (Soleil) - 24 - Dark Night
Motokazu Shinoda (篠田 元一)
3:48
Active
4.0

2023-09-13

Crusader of Centy (Soleil) - 25 - Ending Theme
Motokazu Shinoda (篠田 元一)
2:08
Active

2022-01-08

Crusader of Centy (Soleil) - 26 - Game Over
Motokazu Shinoda (篠田 元一)
0:04
Jingle

2022-01-14

Cyboshellfish
Animal Style
3:18
Active
4.5

2023-09-07

Daffy Duck in Hollywood - Introduction
Matt Furniss
0:36
Active
4.5

2023-06-03

Daffy Duck in Hollywood - Options, Game Over
Matt Furniss
2:26
Active
4.6

2023-09-17

Daffy Duck in Hollywood - Staff Roll
Matt Furniss
0:39
Active
3.5

2022-10-19

Daffy Duck in Hollywood - Stage 1 (Scalp Trouble)
Matt Furniss
1:38
Active
4.2

2023-05-18

Daffy Duck in Hollywood - Stage 2 (The Duxorcist)
Matt Furniss
1:34
Active
4.8

2023-08-03

Daffy Duck in Hollywood - Stage 3 (Robin Hood Daffy)
Matt Furniss
1:25
Active
4.2

2023-07-22

Daffy Duck in Hollywood - Stage 4 (Assault & Peppered)
Matt Furniss
1:29
Active
4.0

2023-09-18

Daffy Duck in Hollywood - Stage 5 (Duck Dodgers)
Matt Furniss
0:52
Active
4.0

2022-10-19

Daffy Duck in Hollywood - Stage 6 (The Quacker Tracker)
Matt Furniss
1:26
Active
4.0

2023-04-13

Daffy Duck in Hollywood - Title
Matt Furniss
0:17
Jingle
5.0

2011-04-14

Dark Castle - Toccata and Fugue in D minor
Unknown Artist
6:18
Active
4.1

2023-08-25

DecapAttack - Blue Potion
Fumito Tamayama (玉山文人)
0:10
Jingle
5.0

2011-12-08

DecapAttack - Bonus Stage
Fumito Tamayama (玉山文人)
1:09
Active
3.0

2020-10-29

DecapAttack - Game Music 1
Fumito Tamayama (玉山文人)
1:14
Active
3.4

2023-09-20

DecapAttack - Game Music 2
Fumito Tamayama (玉山文人)
1:19
Active
4.2

2023-08-03

DecapAttack - Game Music 3
Fumito Tamayama (玉山文人)
1:02
Active
4.2

2023-07-28

DecapAttack - Game Music 4
Fumito Tamayama (玉山文人)
2:10
Active
4.0

2023-08-24

DecapAttack - Game Music 5
Fumito Tamayama (玉山文人)
1:28
Active
4.2

2023-08-27

DecapAttack - Game Music 6
Fumito Tamayama (玉山文人)
1:02
Active
3.0

2023-01-09

DecapAttack - Intro
Fumito Tamayama (玉山文人)
1:10
Active
4.7

2023-06-21

DecapAttack - Item Screen
Fumito Tamayama (玉山文人)
1:09
Active
3.0

2020-10-25

DecapAttack - Totem Level
Fumito Tamayama (玉山文人)
2:13
Active
4.4

2023-08-19

Desert Strike: Return To The Gulf - Campaign Clear
Brian Schmidt , Rob Hubbard
0:36
Active
4.0

2022-05-05

Desert Strike: Return To The Gulf - Ending Theme
Brian Schmidt , Rob Hubbard
0:50
Active
3.0

2023-08-24

Desert Strike: Return To The Gulf - Mission Briefing 1
Brian Schmidt , Rob Hubbard
0:40
Active
4.0

2023-08-13

Desert Strike: Return To The Gulf - Mission Briefing 2
Brian Schmidt , Rob Hubbard
0:26
Active
3.0

2023-03-10

Desert Strike: Return To The Gulf - Mission Briefing 3
Brian Schmidt , Rob Hubbard
0:48
Active
2.0

2023-04-25

Desert Strike: Return To The Gulf - Mission Briefing 4
Brian Schmidt , Rob Hubbard
0:37
Active
4.0

2023-08-07

Desert Strike: Return To The Gulf - Opening (Part 1)
Brian Schmidt , Rob Hubbard
0:55
Active
4.0

2021-11-21

Desert Strike: Return To The Gulf - Opening (Part 3)
Brian Schmidt , Rob Hubbard
0:44
Active
3.0

2022-04-19

Desert Strike: Return To The Gulf - Opening (Part 5)
Brian Schmidt , Rob Hubbard
0:32
Active
5.0

2023-09-17

Desert Strike: Return To The Gulf - Staff Roll
Brian Schmidt , Rob Hubbard
1:45
Active
3.4

2023-09-01

Desert Strike: Return To The Gulf - Title Theme
Brian Schmidt , Rob Hubbard
0:45
Active
4.0

2023-05-24

Desert Strike: Return To The Gulf - Unknown (Sound Code 6F)
Brian Schmidt , Rob Hubbard
0:39
Active
4.3

2023-07-09

Desert Strike: Return To The Gulf - Unknown (Sound Code 70)
Brian Schmidt , Rob Hubbard
0:22
Active
4.0

2022-12-27

Desert Strike: Return To The Gulf - Unknown (Sound Code 74)
Brian Schmidt , Rob Hubbard
1:06
Active
4.3

2023-08-03

Devilish - Defeat the Boss!
Hitoshi Sakimoto (崎元 仁)
2:08
Active

2022-01-14

Devilish - Final Boss
Hitoshi Sakimoto (崎元 仁)
1:14
Active

2021-09-30

Devilish - Game Clear
Hitoshi Sakimoto (崎元 仁)
1:04
Active

2022-05-22

Devilish - Game Over
Hitoshi Sakimoto (崎元 仁)
0:11
Active

2023-02-16

Devilish - Intro
Hitoshi Sakimoto (崎元 仁)
1:32
Active
4.0

2023-09-22

Devilish - Stage 1 - Graveyard
Hitoshi Sakimoto (崎元 仁)
1:16
Active
4.0

2023-09-17

Devilish - Stage 2 - Clock Tower
Hitoshi Sakimoto (崎元 仁)
2:42
Active
4.0

2023-06-02

Devilish - Stage 3 - Waterfalls
Hitoshi Sakimoto (崎元 仁)
1:51
Active
4.0

2023-08-30

Devilish - Stage 4 - Air Passage
Hitoshi Sakimoto (崎元 仁)
1:14
Active
4.0

2023-04-02

Devilish - Stage 5 - Seaside
Hitoshi Sakimoto (崎元 仁)
2:10
Active
4.8

2023-09-21

Devilish - Stage 6 - Volcano
Hitoshi Sakimoto (崎元 仁)
2:19
Active
4.0

2023-06-08

Devilish - Stage 7 - Prarie
Hitoshi Sakimoto (崎元 仁)
2:53
Active
5.0

2023-09-22

Devilish - Stage Clear
Hitoshi Sakimoto (崎元 仁)
0:04
Jingle

2021-08-20

Devilish - Survive the Boss!
Hitoshi Sakimoto (崎元 仁)
0:30
Active

2022-11-03

Devilish - Time's Running Out!
Hitoshi Sakimoto (崎元 仁)
1:02
Active

2023-03-26

Devilish - Title Screen
Hitoshi Sakimoto (崎元 仁)
0:05
Active

2021-11-07

Dino Dini's Soccer - Ingame Music
Allister Brimble , Matt Furniss
2:24
Active
4.7

2023-08-07

Dino Dini's Soccer - Menu Theme
Allister Brimble , Matt Furniss
1:24
Active
4.3

2023-07-29

Dino Dini's Soccer - Title
Allister Brimble , Matt Furniss
2:18
Active
4.5

2023-05-27

Disruptor
Groovemaster303 (David Burton) , Jredd (Trevin Hughes)
3:54
Active
4.2

2023-05-29

Down the Drain
Syniphas (Eric Pinheiro)
2:12
Active
4.0

2023-03-27

Dragon Slayer (Eiyuu Densetsu) - Dungeon
Falcom Sound Team JDK Falcom Sound Team JDK
2:40
Active
4.7

2023-05-11

Dragon Slayer (Eiyuu Densetsu) - Ending
Falcom Sound Team JDK Falcom Sound Team JDK
4:58
Active
4.5

2023-06-19

Dragon Slayer (Eiyuu Densetsu) - Field
Falcom Sound Team JDK Falcom Sound Team JDK
1:51
Active
4.6

2023-06-13

Dragon Slayer (Eiyuu Densetsu) - Neargead Castle
Falcom Sound Team JDK Falcom Sound Team JDK
3:55
Active
4.0

2023-08-13

Dragon Slayer (Eiyuu Densetsu) - Opening Theme
Falcom Sound Team JDK Falcom Sound Team JDK
3:08
Active
4.2

2023-09-28

Dragon Slayer (Eiyuu Densetsu) - Pirate Island
Falcom Sound Team JDK Falcom Sound Team JDK
2:13
Active
4.7

2023-09-01

Dragon Slayer (Eiyuu Densetsu) - Ship
Falcom Sound Team JDK Falcom Sound Team JDK
1:42
Active
3.7

2023-07-24

Dragon Slayer (Eiyuu Densetsu) - Title Theme
Falcom Sound Team JDK Falcom Sound Team JDK
1:19
Active
4.3

2023-09-12

Dragon Slayer (Eiyuu Densetsu) - Town
Falcom Sound Team JDK Falcom Sound Team JDK
2:10
Active
4.5

2023-09-08

Dragon's Fury - Main Table
Masanobu Tsukamoto (塚本雅信) , Toshiaki Sakoda , Toshiharu Yamanishi (山西 利治)
3:30
Active
4.8

2023-08-08

Dragon's Fury - OMAKE00 - Knights of Legend
Toshiharu Yamanishi (山西 利治)
4:37
Active
4.5

2023-08-14

Dragon's Fury - OMAKE01 - A Breach of Contract
Toshiharu Yamanishi (山西 利治)
3:14
Active
4.0

2023-06-01

Dragon's Fury - OMAKE02 - Venus Fire
Toshiharu Yamanishi (山西 利治)
3:20
Active
4.6

2023-09-11

Dragon's Fury - OMAKE03 - Blood-Stained Lake
Toshiharu Yamanishi (山西 利治)
3:03
Active
4.9

2023-06-19

Dragon's Fury - OMAKE04 - Etude of Wind
Toshiharu Yamanishi (山西 利治)
2:05
Active
4.2

2023-09-09

Dragon's Fury - Opening Theme
Masanobu Tsukamoto (塚本雅信) , Toshiaki Sakoda , Toshiharu Yamanishi (山西 利治)
1:40
Active
4.5

2023-09-26

Dragon`s Fury - Bonus Stage 1
Masanobu Tsukamoto (塚本雅信) , Toshiaki Sakoda , Toshiharu Yamanishi (山西 利治)
1:24
Active
4.0

2023-09-04

Dragon`s Fury - Bonus Stage 3
Masanobu Tsukamoto (塚本雅信) , Toshiaki Sakoda , Toshiharu Yamanishi (山西 利治)
1:27
Active
4.5

2023-06-01

Dragon`s Fury - Bonus Stage 4
Masanobu Tsukamoto (塚本雅信) , Toshiaki Sakoda , Toshiharu Yamanishi (山西 利治)
2:11
Active
4.3

2023-07-17

Dungeon
Syniphas (Eric Pinheiro)
1:13
Active
4.0

2023-09-22

Dynamite Headdy - A Man Of Sun
Norio Hanzawa (半沢 紀夫)
1:26
Active
3.5

2022-12-04

Dynamite Headdy - Ballad For You
Norio Hanzawa (半沢 紀夫)
3:00
Active
3.8

2023-07-19

Dynamite Headdy - Crosswalk Of Love
Norio Hanzawa (半沢 紀夫)
6:07
Active
4.8

2023-08-29

Dynamite Headdy - Crosswalk Of Love (Short Version)
Norio Hanzawa (半沢 紀夫)
0:30
Active
4.0

2023-05-03

Dynamite Headdy - Danzen Dungeon
Norio Hanzawa (半沢 紀夫)
1:02
Active
3.0

2022-08-04

Dynamite Headdy - Dark Demon's Song
Norio Hanzawa (半沢 紀夫)
2:08
Active
3.8

2023-09-11

Dynamite Headdy - Escape Hero
Norio Hanzawa (半沢 紀夫)
1:02
Active
4.0

2023-06-19

Dynamite Headdy - Escape Hero (Short Version)
Norio Hanzawa (半沢 紀夫)
0:28
Active
4.8

2023-09-29

Dynamite Headdy - Funny Angry
Norio Hanzawa (半沢 紀夫)
2:43
Active
3.5

2023-09-02

Dynamite Headdy - Geisha Robot
Norio Hanzawa (半沢 紀夫)
0:45
Active
4.3

2023-08-28

Dynamite Headdy - Hattari Is Here
Norio Hanzawa (半沢 紀夫)
0:25
Active
4.0

2023-08-23

Dynamite Headdy - Headdy The Hero
Norio Hanzawa (半沢 紀夫)
1:38
Active
4.8

2023-09-20

Dynamite Headdy - Hustle Maruyama (Part 1)
Norio Hanzawa (半沢 紀夫)
2:56
Active
4.9

2023-08-01

Dynamite Headdy - Hustle Maruyama (Part 2)
Norio Hanzawa (半沢 紀夫)
0:39
Active
2.0

2023-02-09

Dynamite Headdy - I Love Goldie Hawn
Norio Hanzawa (半沢 紀夫)
0:30
Active
4.0

2023-05-26

Dynamite Headdy - I Sing
Norio Hanzawa (半沢 紀夫)
1:53
Active
4.0

2021-04-18

Dynamite Headdy - It's Good if it Ends Happily, Isn't It?
Norio Hanzawa (半沢 紀夫)
2:06
Active
4.3

2023-08-21

Dynamite Headdy - Maruyuma Appears
Norio Hanzawa (半沢 紀夫)
0:59
Active
2.0

2021-09-26

Dynamite Headdy - Mystery Spot
Norio Hanzawa (半沢 紀夫)
1:00
Active
3.3

2023-08-26

Dynamite Headdy - North Town's Theme
Norio Hanzawa (半沢 紀夫)
1:25
Active
3.7

2023-09-02

Dynamite Headdy - Nutcracker
Norio Hanzawa (半沢 紀夫)
1:17
Active
4.7

2023-06-20

Dynamite Headdy - Ohnami Konami
Norio Hanzawa (半沢 紀夫)
1:10
Active
4.0

2022-05-30

Dynamite Headdy - Opening Theme
Norio Hanzawa (半沢 紀夫)
1:33
Active
5.0

2023-04-01

Dynamite Headdy - Paradise
Norio Hanzawa (半沢 紀夫)
1:05
Active
3.0

2023-09-22

Dynamite Headdy - Schumacher Fly
Norio Hanzawa (半沢 紀夫)
1:31
Active
4.0

2019-07-01

Dynamite Headdy - Sky High
Norio Hanzawa (半沢 紀夫)
1:26
Active
3.0

2022-12-15

Dynamite Headdy - South Town's Theme
Norio Hanzawa (半沢 紀夫)
1:01
Active
4.0

2021-03-23

Dynamite Headdy - That's The Way The Boss Is Killed!
Norio Hanzawa (半沢 紀夫)
0:45
Active
4.0

2021-09-10

Dynamite Headdy - Tonight's A Jazzy Night
Norio Hanzawa (半沢 紀夫)
1:43
Active
3.0

2023-06-12

Dynamite Headdy - Tower of Puppet
Norio Hanzawa (半沢 紀夫)
1:00
Active
5.0

2023-09-18

Dynamite Headdy - Walk Towards Me
Norio Hanzawa (半沢 紀夫)
0:45
Active
4.0

2020-10-31

Dynamite Headdy - You're Izayoi
Norio Hanzawa (半沢 紀夫)
1:35
Active
3.5

2020-04-05

Earthworm Jim - Andy Asteroids?
Mark Miller
3:41
Active
3.5

2023-09-10

Earthworm Jim - Buttville
Mark Miller
3:28
Active
3.8

2023-09-18

Earthworm Jim - Chicken Boss & The Descent
Mark Miller
1:37
Active
4.6

2023-09-28

Earthworm Jim - Down the Tubes & Level 5
Mark Miller
3:18
Active
4.3

2023-08-30

Earthworm Jim - For Pete's Sake
Mark Miller
3:23
Active
4.8

2023-04-30

Earthworm Jim - Intestinal Distress
Mark Miller
3:48
Active
4.1

2023-09-20

Earthworm Jim - Menu & New Junk City
Mark Miller
4:17
Active
4.6

2023-08-24

Earthworm Jim - Psycrow!
Mark Miller
0:58
Active
3.0

2023-02-02

Earthworm Jim - Snot A Problem!
Mark Miller
3:06
Active
4.0

2023-09-01

Earthworm Jim - Snowman Boss & Ending
Mark Miller
1:05
Active
3.3

2023-09-09

Earthworm Jim - What the Heck?
Mark Miller
5:02
Active
3.4

2023-09-20

Earthworm Jim - Who Turned Out the Lights?
Mark Miller
3:44
Active
4.0

2022-02-20

Earthworm Jim 2 - Anything But Tangerines
Tommy Tallarico
4:05
Active
4.8

2023-09-05

Earthworm Jim 2 - Bonus
Tommy Tallarico
4:01
Active
3.3

2023-08-12

Earthworm Jim 2 - Ending
Tommy Tallarico
0:53
Active
3.0

2019-06-05

Earthworm Jim 2 - Forked
Tommy Tallarico
1:19
Active
2.0

2021-11-20

Earthworm Jim 2 - Game Show
Tommy Tallarico
3:19
Active
3.0

2021-09-19

Earthworm Jim 2 - Lorenzen's Soil
Tommy Tallarico
4:38
Active
4.6

2023-09-18

Earthworm Jim 2 - Puppy Love
Tommy Tallarico
3:42
Active
4.7

2023-08-16

Earthworm Jim 2 - See Jim Run, Run Jim Run
Tommy Tallarico
3:04
Active
4.7

2023-09-13

Earthworm Jim 2 - The Flyin' King
Tommy Tallarico
4:43
Active
4.0

2023-09-23

Earthworm Jim 2 - Title Screen
Tommy Tallarico
1:34
Active
3.8

2023-07-03

Earthworm Jim 2 - Udderly Abducted
Tommy Tallarico
3:18
Active
4.0

2023-05-28

Earthworm Jim 2 - Vilii People
Tommy Tallarico
5:28
Active
4.3

2023-09-25

Ecco the Dolphin - Ending Theme
András Magyari , Brian Coburn , Spencer Nilsen
0:41
Active
4.0

2022-08-07

Ecco the Dolphin - Ice Zone
András Magyari , Brian Coburn , Spencer Nilsen
1:23
Active
3.8

2023-09-15

Ecco the Dolphin - Island Zone
András Magyari , Brian Coburn , Spencer Nilsen
0:50
Active
3.0

2023-01-11

Ecco the Dolphin - Jurassic Beach
András Magyari , Brian Coburn , Spencer Nilsen
1:09
Active
4.4

2023-09-23

Ecco the Dolphin - Medusa Bay
András Magyari , Brian Coburn , Spencer Nilsen
1:07
Active
4.7

2023-08-30

Ecco the Dolphin - Open Ocean
András Magyari , Brian Coburn , Spencer Nilsen
0:45
Active
4.0

2023-07-02

Ecco the Dolphin - Opening Theme
András Magyari , Brian Coburn , Spencer Nilsen
2:03
Active
4.5

2023-08-24

Ecco the Dolphin - The Lagoon
András Magyari , Brian Coburn , Spencer Nilsen
1:04
Active
4.6

2023-09-07

Ecco the Dolphin - The Stomach
András Magyari , Brian Coburn , Spencer Nilsen
0:56
Active
4.0

2023-09-01

Ecco the Dolphin - The Tube
András Magyari , Brian Coburn , Spencer Nilsen
1:01
Active
4.5

2023-09-02

Ecco the Dolphin - The Vents
András Magyari , Brian Coburn , Spencer Nilsen
0:41
Active
5.0

2020-07-23

Ecco the Dolphin - Time Travel
András Magyari , Brian Coburn , Spencer Nilsen
0:40
Active
4.3

2023-09-15

Ecco the Dolphin - Undercaves
András Magyari , Brian Coburn , Spencer Nilsen
0:59
Active
3.7

2023-09-17

Ecco the Dolphin - Welcome to the Machine
András Magyari , Brian Coburn , Spencer Nilsen
0:54
Active
4.0

2023-07-12

Ecco: The Tides of Time - Aqua Tubeway
András Magyari , Andy Armer , Attila Dobos , David Javelosa
4:03
Active
4.3

2023-09-07

Ecco: The Tides of Time - Big Water
András Magyari , Andy Armer , Attila Dobos , David Javelosa
3:01
Active
4.5

2023-08-09

Ecco: The Tides of Time - Convergence
András Magyari , Andy Armer , Attila Dobos , David Javelosa
3:11
Active
4.3

2023-09-06

Ecco: The Tides of Time - Crystal Springs
András Magyari , Andy Armer , Attila Dobos , David Javelosa
2:58
Active
3.7

2023-08-07

Ecco: The Tides of Time - Fault Zone
András Magyari , Andy Armer , Attila Dobos , David Javelosa
3:28
Active
4.0

2023-04-13

Ecco: The Tides of Time - Fin to Feather
András Magyari , Andy Armer , Attila Dobos , David Javelosa
3:56
Active
4.4

2023-08-30

Ecco: The Tides of Time - Fish City
András Magyari , Andy Armer , Attila Dobos , David Javelosa
2:55
Active
2.0

2023-09-26

Ecco: The Tides of Time - Inside
András Magyari , Andy Armer , Attila Dobos , David Javelosa
2:55
Active
3.0

2023-08-01

Ecco: The Tides of Time - Moray Abyss
András Magyari , Andy Armer , Attila Dobos , David Javelosa
4:16
Active
4.4

2023-09-21

Ecco: The Tides of Time - Sea of Darkness
András Magyari , Andy Armer , Attila Dobos , David Javelosa
4:35
Active
3.7

2023-07-03

Ecco: The Tides of Time - Skyway
András Magyari , Andy Armer , Attila Dobos , David Javelosa
3:22
Active
4.0

2023-09-02

Ecco: The Tides of Time - Time Travel
András Magyari , Andy Armer , Attila Dobos , David Javelosa
0:50
Active
3.7

2023-08-03

Ecco: The Tides of Time - Title
András Magyari , Andy Armer , Attila Dobos , David Javelosa
2:23
Active
4.0

2023-05-30

Ecco: The Tides of Time - Trellia`s Bay
András Magyari , Andy Armer , Attila Dobos , David Javelosa
2:53
Active
4.1

2023-06-27

Ecco: The Tides of Time - Tube of Medusa
András Magyari , Andy Armer , Attila Dobos , David Javelosa
3:15
Active
4.6

2023-09-23

Ecco: The Tides of Time - Two Tides
András Magyari , Andy Armer , Attila Dobos , David Javelosa
3:14
Active
4.4

2023-09-16

Elemental Master - Blood-Stained Lake (Stage 4)
Toshiharu Yamanishi (山西 利治)
3:02
Active
4.6

2023-08-27

Elemental Master - Avatar of Flame
Toshiharu Yamanishi (山西 利治)
1:34
Active
4.0

2022-05-14

Elemental Master - Calling on the Dark Dragon King
Toshiharu Yamanishi (山西 利治)
2:00
Active
4.7

2023-09-18

Elemental Master - Cursed Destiny
Toshiharu Yamanishi (山西 利治)
2:02
Active
4.0

2023-09-12

Elemental Master - Dance of Flame
Toshiharu Yamanishi (山西 利治)
3:10
Active
4.0

2023-08-20

Elemental Master - Den of Evil
Toshiharu Yamanishi (山西 利治)
1:13
Active
4.0

2023-02-11

Elemental Master - Evil Beat
Toshiharu Yamanishi (山西 利治)
1:25
Active
3.0

2022-11-17

Elemental Master - Fate
Toshiharu Yamanishi (山西 利治)
1:53
Active
4.3

2023-09-05

Elemental Master - Great Spirit Overture
Toshiharu Yamanishi (山西 利治)
0:33
Active
4.0

2021-04-03

Elemental Master - King of Gaira's Revival
Toshiharu Yamanishi (山西 利治)
1:51
Active

2022-11-17

Elemental Master - Like the Wind (Stage 2)
Toshiharu Yamanishi (山西 利治)
4:19
Active
4.6

2023-09-20

Elemental Master - Ring of Light
Toshiharu Yamanishi (山西 利治)
1:16
Active
4.0

2023-07-29

Elemental Master - Roar of the Monster
Toshiharu Yamanishi (山西 利治)
1:05
Active
3.0

2022-08-14

Elemental Master - Setting Out (Staff Roll)
Toshiharu Yamanishi (山西 利治)
3:54
Active
4.3

2023-09-04

Elemental Master - Shudder of Darkness
Toshiharu Yamanishi (山西 利治)
1:06
Active

2021-01-28

Elemental Master - Sorrowful Requiem (Ending Theme)
Toshiharu Yamanishi (山西 利治)
1:16
Active
4.5

2023-09-11

Elemental Master - Specter Living in the Water
Toshiharu Yamanishi (山西 利治)
1:18
Active

2023-03-14

Elemental Master - Spirit of Light
Toshiharu Yamanishi (山西 利治)
1:09
Active
4.0

2020-11-23

Elemental Master - Suspicious Beauty
Toshiharu Yamanishi (山西 利治)
1:16
Active
2.0

2021-12-11

Elemental Master - Temptation of the Devil
Toshiharu Yamanishi (山西 利治)
1:18
Active
2.0

2022-08-29

Elemental Master - Terror of the Glacier (Stage 5)
Toshiharu Yamanishi (山西 利治)
2:45
Active
4.6

2023-09-24

Elemental Master - Until the End of the Earth (Stage 3)
Toshiharu Yamanishi (山西 利治)
4:11
Active
4.5

2023-09-03

ESWAT: City Under Siege - BGM 1
T.N (Takayuki Nakamura) , Y.T (You Takada)
3:41
Active
4.0

2023-09-20

ESWAT: City Under Siege - BGM 3
T.N (Takayuki Nakamura) , Y.T (You Takada)
3:56
Active
5.0

2023-08-04

ESWAT: City Under Siege - Ending Theme
T.N (Takayuki Nakamura) , Y.T (You Takada)
2:13
Active
5.0

2023-09-13

ESWAT: City Under Siege - Intro
T.N (Takayuki Nakamura) , Y.T (You Takada)
2:16
Active
5.0

2023-09-08

Eternal Champions - Bad Ending
Adrian Van Velssen , Jeff Marsh , Joe Delia , John Hart
2:15
Active
4.0

2023-08-01

Eternal Champions - Battle Room
Adrian Van Velssen , Jeff Marsh , Joe Delia , John Hart
2:10
Active
3.5

2023-05-21

Eternal Champions - Blade
Adrian Van Velssen , Jeff Marsh , Joe Delia , John Hart
2:15
Active
4.3

2023-08-07

Eternal Champions - Eternal Champion
Adrian Van Velssen , Jeff Marsh , Joe Delia , John Hart
2:32
Active
3.0

2023-03-08

Eternal Champions - Jetta
Adrian Van Velssen , Jeff Marsh , Joe Delia , John Hart
2:20
Active
3.9

2023-06-13

Eternal Champions - Larcen
Adrian Van Velssen , Jeff Marsh , Joe Delia , John Hart
2:10
Active
3.8

2023-09-25

Eternal Champions - Main Theme
Adrian Van Velssen , Jeff Marsh , Joe Delia , John Hart
1:40
Active
4.5

2023-06-24

Eternal Champions - Menu Theme
Adrian Van Velssen , Jeff Marsh , Joe Delia , John Hart
1:30
Active
3.0

2023-09-20

Eternal Champions - Midknight
Adrian Van Velssen , Jeff Marsh , Joe Delia , John Hart
1:52
Active
3.7

2023-08-09

Eternal Champions - RAX
Adrian Van Velssen , Jeff Marsh , Joe Delia , John Hart
2:20
Active
3.0

2023-03-30

Eternal Champions - Shadow
Adrian Van Velssen , Jeff Marsh , Joe Delia , John Hart
2:38
Active
4.7

2023-08-08

Eternal Champions - Slash
Adrian Van Velssen , Jeff Marsh , Joe Delia , John Hart
2:25
Active
3.7

2023-06-21

Eternal Champions - Tournament Results
Adrian Van Velssen , Jeff Marsh , Joe Delia , John Hart
1:54
Active
3.0

2020-10-24

Eternal Champions - Trident
Adrian Van Velssen , Jeff Marsh , Joe Delia , John Hart
1:45
Active
4.5

2023-08-22

Eternal Champions - Xavier
Adrian Van Velssen , Jeff Marsh , Joe Delia , John Hart
2:28
Active
4.3

2023-09-15

European Club Soccer - Club Mediterrania
Matt Furniss , Shaun Hollingworth
1:26
Active
4.0

2022-02-11

European Club Soccer - Design
Matt Furniss , Shaun Hollingworth
0:34
Active
4.0

2023-03-13

European Club Soccer - Eastern Power
Matt Furniss , Shaun Hollingworth
2:04
Active
3.5

2022-05-15

European Club Soccer - European Stars
Matt Furniss , Shaun Hollingworth
2:47
Active
4.3

2023-09-03

European Club Soccer - Latin Heat
Matt Furniss , Shaun Hollingworth
1:56
Active
4.0

2023-06-20

European Club Soccer - United Kingdom
Matt Furniss , Shaun Hollingworth
1:36
Active
4.3

2023-07-10

European Club Soccer - Well Done
Matt Furniss , Shaun Hollingworth
0:39
Active
4.0

2022-09-16

European Club Soccer - World Anthem
Matt Furniss , Shaun Hollingworth
1:36
Active
4.6

2023-08-05

F-15 Strike Eagle II - Decisions, Decisions
Matt Furniss , Shaun Hollingworth
1:06
Active
4.6

2023-08-19

F-15 Strike Eagle II - Over The Top
Matt Furniss , Shaun Hollingworth
2:38
Active
4.6

2023-09-11

F-15 Strike Eagle II - Read All About It
Matt Furniss , Shaun Hollingworth
0:24
Active
5.0

2023-08-23

F-15 Strike Eagle II - Up, Up and Away!
Matt Furniss , Shaun Hollingworth
3:08
Active
4.4

2023-09-04

Fido Dido - Bonus Rounds 1 + 2
Matt Furniss
0:51
Active
4.5

2021-03-28

Fido Dido - Bonus Rounds 3
Matt Furniss
0:16
Active
3.0

2020-10-31

Fido Dido - End Theme
Matt Furniss
1:07
Active
4.5

2023-09-04

Fido Dido - Password Entry, High Scores
Matt Furniss
0:30
Active
3.0

2023-07-25

Fido Dido - Stage 1
Matt Furniss
0:41
Active
3.0

2021-11-13

Fido Dido - Stage 2
Matt Furniss
0:58
Active
3.8

2023-09-03

Fido Dido - Title Theme
Matt Furniss
0:24
Active
4.7

2023-09-01

Formingplatz
Kulor (Richard J. Armijo)
4:49
Active
5.0

2023-09-18

Fun Car Rally - Name Entry
Matt Furniss
0:24
Active
4.0

2022-03-22

Fun Car Rally - Race Music 1
Matt Furniss
0:59
Active
4.5

2023-09-13

Fun Car Rally - Race Music 2
Matt Furniss
1:17
Active
4.3

2023-09-04

Fun Car Rally - Race Music 3
Matt Furniss
0:46
Active
4.8

2023-09-24

Fun Car Rally - Race Music 4
Matt Furniss
0:46
Active
4.0

2022-12-10

Fun Car Rally - Title Theme
Matt Furniss
0:35
Active
4.0

2023-08-09

G-LOC: Air Battle - Ending Theme
Matt Furniss
0:52
Active
5.0

2023-09-02

G-LOC: Air Battle - Game Over
Matt Furniss
0:41
Active
3.0

2022-02-12

G-LOC: Air Battle - Stage 1
Matt Furniss
1:01
Active
4.3

2023-03-20

G-LOC: Air Battle - Stage 1 Briefing
Matt Furniss
0:19
Active
3.0

2021-01-19

G-LOC: Air Battle - Stage 2
Matt Furniss
0:37
Active
2.5

2023-05-19

G-LOC: Air Battle - Stage 2 Briefing
Matt Furniss
0:30
Active
4.0

2023-06-30

G-LOC: Air Battle - Stage 3 Briefing
Matt Furniss
0:26
Active
4.7

2023-09-05

G-LOC: Air Battle - Stage 3A
Matt Furniss
0:45
Active
4.7

2023-08-17

G-LOC: Air Battle - Stage 3B
Matt Furniss
0:59
Active
4.3

2023-05-09

G-LOC: Air Battle - Stage 4A
Matt Furniss
0:38
Active
4.0

2022-11-25

G-LOC: Air Battle - Stage 4B
Matt Furniss
0:43
Active
4.8

2023-09-20

G-LOC: Air Battle - Title Theme
Matt Furniss
1:12
Active
4.5

2023-09-04

G-LOC: Air Battle - Unknown Track
Matt Furniss
0:29
Active
3.0

2023-08-12

Gaiares - Mission 1
Shinobu Ogawa (小川史生)
2:21
Active
4.0

2023-07-13

Gaiares - Mission 2
Shinobu Ogawa (小川史生)
2:12
Active
4.0

2023-07-13

Gaiares - Mission 3
Shinobu Ogawa (小川史生)
1:56
Active
4.0

2023-07-13

Gaiares - Mission 8
Shinobu Ogawa (小川史生)
1:53
Active
4.0

2023-07-04

Gaiares - Opening Theme
Shinobu Ogawa (小川史生)
3:59
Active
4.0

2023-07-13

Galahad - Game Complete
Matt Furniss
2:11
Active
4.3

2023-09-12

Galahad - High Score
Matt Furniss
1:18
Active
4.5

2023-07-08

Galahad - Inside Shop
Matt Furniss
1:03
Active
4.0

2023-07-19

Galahad - Level Task
Matt Furniss
0:56
Active
4.0

2022-11-25

Galahad - Title Theme
Matt Furniss
3:42
Active
4.6

2023-08-01

Galahad - World One
Matt Furniss
3:58
Active
4.5

2023-06-18

Galahad - World Three
Matt Furniss
4:18
Active
4.4

2023-08-17

Galahad - World Two
Matt Furniss
3:47
Active
4.9

2023-09-20

Gauntlet IV - Adventures of Iron
Earl Vickers , Hal Canon , Hitoshi Sakimoto (崎元 仁) , Masaharu Iwata (岩田 匡治)
4:52
Active
4.8

2023-09-22

Gauntlet IV - Back of Beyond
Earl Vickers , Hal Canon , Hitoshi Sakimoto (崎元 仁) , Masaharu Iwata (岩田 匡治)
1:36
Active
4.3

2023-08-29

Gauntlet IV - Crux
Earl Vickers , Hal Canon , Hitoshi Sakimoto (崎元 仁) , Masaharu Iwata (岩田 匡治)
1:47
Active
3.5

2022-05-18

Gauntlet IV - March in the Dark
Earl Vickers , Hal Canon , Hitoshi Sakimoto (崎元 仁) , Masaharu Iwata (岩田 匡治)
2:40
Active
4.3

2023-09-16

Gauntlet IV - Retribution
Earl Vickers , Hal Canon , Hitoshi Sakimoto (崎元 仁) , Masaharu Iwata (岩田 匡治)
3:37
Active
4.7

2023-07-24

Gauntlet IV - Sortie
Earl Vickers , Hal Canon , Hitoshi Sakimoto (崎元 仁) , Masaharu Iwata (岩田 匡治)
3:27
Active
4.8

2023-09-22

Gauntlet IV - The Spark
Earl Vickers , Hal Canon , Hitoshi Sakimoto (崎元 仁) , Masaharu Iwata (岩田 匡治)
2:24
Active
4.5

2023-08-16

Gauntlet IV - Transparent Obstacle
Earl Vickers , Hal Canon , Hitoshi Sakimoto (崎元 仁) , Masaharu Iwata (岩田 匡治)
5:13
Active
4.4

2023-09-02

Gauntlet IV - Whisper of Phantom
Earl Vickers , Hal Canon , Hitoshi Sakimoto (崎元 仁) , Masaharu Iwata (岩田 匡治)
4:26
Active
4.8

2023-08-22

Ghouls 'N Ghosts - Options
Tamayo Kawamoto (河本 圭代)
1:47
Active
4.2

2023-06-09

Ghouls 'N Ghosts - Stage 1
Tamayo Kawamoto (河本 圭代)
3:00
Active
4.5

2023-09-05

Ghouls 'N Ghosts - Stage 1 Boss
Tamayo Kawamoto (河本 圭代)
1:04
Active
3.3

2023-09-09

Ghouls 'N Ghosts - Stage 2
Tamayo Kawamoto (河本 圭代)
1:57
Active
4.5

2023-09-25

Ghouls 'N Ghosts - Stage 3
Tamayo Kawamoto (河本 圭代)
2:38
Active
2.5

2020-05-06

Gleylancer - Bosses 1, 4, 7, 8, 9
Isao Mizoguchi , Masanori Hikichi , Noriyuki Iwadare (岩垂 徳行) , Yoshiaki Kubotera
1:55
Active
5.0

2023-01-23

Gleylancer - Bosses 2, 3, 5, 6
Isao Mizoguchi , Masanori Hikichi , Noriyuki Iwadare (岩垂 徳行) , Yoshiaki Kubotera
1:58
Active
4.0

2023-05-04

Gleylancer - Final Boss
Isao Mizoguchi , Masanori Hikichi , Noriyuki Iwadare (岩垂 徳行) , Yoshiaki Kubotera
2:15
Active
3.7

2023-01-03

Gleylancer - Normal Ending
Isao Mizoguchi , Masanori Hikichi , Noriyuki Iwadare (岩垂 徳行) , Yoshiaki Kubotera
3:58
Active
4.8

2023-07-26

Gleylancer - Select Mover
Isao Mizoguchi , Masanori Hikichi , Noriyuki Iwadare (岩垂 徳行) , Yoshiaki Kubotera
1:50
Active
4.7

2023-08-12

Gleylancer - Stage 1 (Asteroid Field)
Isao Mizoguchi , Masanori Hikichi , Noriyuki Iwadare (岩垂 徳行) , Yoshiaki Kubotera
2:38
Active
4.6

2023-08-28

Gleylancer - Stage 11 (Blue Lightning)
Isao Mizoguchi , Masanori Hikichi , Noriyuki Iwadare (岩垂 徳行) , Yoshiaki Kubotera
1:37
Active
4.3

2023-03-30

Gleylancer - Stage 2 (Purple Sea)
Isao Mizoguchi , Masanori Hikichi , Noriyuki Iwadare (岩垂 徳行) , Yoshiaki Kubotera
1:48
Active
4.0

2023-09-11

Gleylancer - Stage 4 (Base Interior)
Isao Mizoguchi , Masanori Hikichi , Noriyuki Iwadare (岩垂 徳行) , Yoshiaki Kubotera
1:25
Active
4.0

2023-01-02

Gleylancer - Stage 6 (Twin Sunset)
Isao Mizoguchi , Masanori Hikichi , Noriyuki Iwadare (岩垂 徳行) , Yoshiaki Kubotera
2:28
Active
4.8

2023-09-26

Gleylancer - Stage 7 (Crystal Caverns)
Isao Mizoguchi , Masanori Hikichi , Noriyuki Iwadare (岩垂 徳行) , Yoshiaki Kubotera
2:00
Active
4.5

2023-09-22

Gleylancer - Stage 8 (Flying Rocks)
Isao Mizoguchi , Masanori Hikichi , Noriyuki Iwadare (岩垂 徳行) , Yoshiaki Kubotera
2:08
Active
4.5

2023-09-11

Gleylancer - Stage 9 (Battleship)
Isao Mizoguchi , Masanori Hikichi , Noriyuki Iwadare (岩垂 徳行) , Yoshiaki Kubotera
1:40
Active
4.0

2021-01-07

Gleylancer - Story 2
Isao Mizoguchi , Masanori Hikichi , Noriyuki Iwadare (岩垂 徳行) , Yoshiaki Kubotera
1:48
Active
3.0

2023-08-13

Gleylancer - Story 3 & Stage 5 (Huge Battleship)
Isao Mizoguchi , Masanori Hikichi , Noriyuki Iwadare (岩垂 徳行) , Yoshiaki Kubotera
3:43
Active
4.7

2023-04-13

Gleylancer - Story 4 & Stage 10 (Super Enemy Attack)
Isao Mizoguchi , Masanori Hikichi , Noriyuki Iwadare (岩垂 徳行) , Yoshiaki Kubotera
1:11
Active
4.0

2022-12-26

Gleylancer - Story Begin
Isao Mizoguchi , Masanori Hikichi , Noriyuki Iwadare (岩垂 徳行) , Yoshiaki Kubotera
4:29
Active
4.7

2023-09-16

Gleylancer - Story End & Credits (Easy Mode)
Isao Mizoguchi , Masanori Hikichi , Noriyuki Iwadare (岩垂 徳行) , Yoshiaki Kubotera
2:30
Active
4.7

2023-09-16

Gleylancer - Unknown Track (Sound Test 0A)
Isao Mizoguchi , Masanori Hikichi , Noriyuki Iwadare (岩垂 徳行) , Yoshiaki Kubotera
1:59
Active
4.5

2023-08-23

Gods - Complete Tune
Jason Page
3:37
Active
4.4

2023-06-02

Gods - Guardian Tune
Jason Page
2:25
Active
4.0

2023-09-18

Gods - High Score Tune
Jason Page
2:58
Active
4.2

2023-09-04

Gods - Intro Tune
Jason Page
3:20
Active
3.7

2023-09-29

Gods - Level 1 Tune
Jason Page
3:29
Active
4.2

2023-09-05

Gods - Level 2 Tune
Jason Page
2:46
Active
4.3

2023-02-06

Gods - Level 3 Tune
Jason Page
2:51
Active
2.3

2023-09-19

Gods - Level 4 Tune
Jason Page
2:50
Active
2.8

2023-09-17

Gods - Shop Tune
Jason Page
2:47
Active
3.3

2023-07-31

Gods - Title Tune
Jason Page
2:42
Active
4.1

2023-09-01

Golden Axe - Battle Field
Tooru Nakabayashi (中林 亨)
2:04
Active
4.0

2023-09-19

Golden Axe - Death Adder
Tooru Nakabayashi (中林 亨)
2:20
Active
4.5

2023-07-31

Golden Axe - Old Map
Tooru Nakabayashi (中林 亨)
0:35
Active
3.5

2023-04-25

Golden Axe - Path of the Fiend
Tooru Nakabayashi (中林 亨)
2:14
Active
4.8

2023-08-12

Golden Axe - Showdown
Tooru Nakabayashi (中林 亨)
1:44
Active
4.5

2023-09-02

Golden Axe - Sutakora, Sassa!
Tooru Nakabayashi (中林 亨)
0:35
Active
4.5

2023-09-12

Golden Axe - The Battle
Tooru Nakabayashi (中林 亨)
1:07
Active
3.4

2023-08-14

Golden Axe - Theme of Thief
Tooru Nakabayashi (中林 亨)
0:29
Active
4.4

2023-09-26

Golden Axe - Turtle Village 1
Tooru Nakabayashi (中林 亨)
2:03
Active
4.6

2023-09-10

Golden Axe - Turtle Village 2
Tooru Nakabayashi (中林 亨)
0:40
Active
4.2

2023-07-21

Golden Axe - Wilderness
Tooru Nakabayashi (中林 亨)
2:43
Active
4.2

2023-08-04

Golden Axe II - Ancient Ruins
Naofumi Hataya (幡谷 尚史)
1:47
Active
4.0

2023-06-08

Golden Axe II - Boss Theme 1
Naofumi Hataya (幡谷 尚史)
1:48
Active
4.0

2023-09-07

Golden Axe II - Boss Theme 2
Naofumi Hataya (幡谷 尚史)
2:21
Active
4.3

2023-09-14

Golden Axe II - Castle of Dark Guld
Naofumi Hataya (幡谷 尚史)
2:18
Active
4.0

2023-07-02

Golden Axe II - Character Select
Naofumi Hataya (幡谷 尚史)
1:11
Active
4.0

2022-10-22

Golden Axe II - Death Adder II
Naofumi Hataya (幡谷 尚史)
2:45
Active
4.7

2023-09-03

Golden Axe II - Dragon's Throat
Naofumi Hataya (幡谷 尚史)
1:22
Active
3.0

2022-09-18

Golden Axe II - Enemy`s Headquarters
Naofumi Hataya (幡谷 尚史)
2:02
Active
4.0

2023-09-22

Golden Axe II - Magician Stage
Naofumi Hataya (幡谷 尚史)
1:42
Active
3.5

2023-09-16

Golden Axe II - Ravaged Village
Naofumi Hataya (幡谷 尚史)
2:02
Active
4.6

2023-08-26

Golden Axe II - Staff Roll
Naofumi Hataya (幡谷 尚史)
2:24
Active
4.8

2023-08-04

Golden Axe II - The Castle Gate
Naofumi Hataya (幡谷 尚史)
1:49
Active
3.5

2022-12-10

Golden Axe III - A Voyage to Castle (Stage 5B)
Naofumi Hataya (幡谷 尚史) , Tatsuyuki Maeda (前田 龍之)
2:00
Active
4.0

2023-05-02

Golden Axe III - Ancient Mound (Stage 2A)
Naofumi Hataya (幡谷 尚史) , Tatsuyuki Maeda (前田 龍之)
2:44
Active
4.0

2023-07-27

Golden Axe III - Bloody Street (Stage 4B)
Naofumi Hataya (幡谷 尚史) , Tatsuyuki Maeda (前田 龍之)
1:42
Active
3.7

2023-09-29

Golden Axe III - Boss Theme
Naofumi Hataya (幡谷 尚史) , Tatsuyuki Maeda (前田 龍之)
3:03
Active
3.5

2023-03-19

Golden Axe III - Campsite
Naofumi Hataya (幡谷 尚史) , Tatsuyuki Maeda (前田 龍之)
1:21
Active
3.5

2023-01-22

Golden Axe III - Castle (Stage 8)
Naofumi Hataya (幡谷 尚史) , Tatsuyuki Maeda (前田 龍之)
2:02
Active
4.0

2022-11-04

Golden Axe III - Cave of Crystal (Stage 3B)
Naofumi Hataya (幡谷 尚史) , Tatsuyuki Maeda (前田 龍之)
2:17
Active
3.0

2020-10-31

Golden Axe III - Character Select
Naofumi Hataya (幡谷 尚史) , Tatsuyuki Maeda (前田 龍之)
0:53
Active
3.0

2023-05-09

Golden Axe III - Cursed City (Stage 6B)
Naofumi Hataya (幡谷 尚史) , Tatsuyuki Maeda (前田 龍之)
2:01
Active
4.0

2023-09-02

Golden Axe III - Death Mountain (Stage 5A)
Naofumi Hataya (幡谷 尚史) , Tatsuyuki Maeda (前田 龍之)
1:59
Active
4.9

2023-09-28

Golden Axe III - Dim Jungle (Stage 3A)
Naofumi Hataya (幡谷 尚史) , Tatsuyuki Maeda (前田 龍之)
2:06
Active
4.0

2020-10-31

Golden Axe III - Ending ~ Staff Roll
Naofumi Hataya (幡谷 尚史) , Tatsuyuki Maeda (前田 龍之)
3:04
Active
3.7

2023-04-27

Golden Axe III - Fight with Adversary
Naofumi Hataya (幡谷 尚史) , Tatsuyuki Maeda (前田 龍之)
1:30
Active
4.0

2023-09-19

Golden Axe III - Final Boss
Naofumi Hataya (幡谷 尚史) , Tatsuyuki Maeda (前田 龍之)
2:08
Active
3.0

2023-04-24

Golden Axe III - Is the Battle Won
Naofumi Hataya (幡谷 尚史) , Tatsuyuki Maeda (前田 龍之)
0:27
Active
3.0

2023-01-20

Golden Axe III - Map Screen
Naofumi Hataya (幡谷 尚史) , Tatsuyuki Maeda (前田 龍之)
1:05
Active
3.0

2023-06-24

Golden Axe III - Opening Theme ~ Title
Naofumi Hataya (幡谷 尚史) , Tatsuyuki Maeda (前田 龍之)
1:11
Active
3.0

2020-10-31

Golden Axe III - Ride the Whirlwind (Stage 6A)
Naofumi Hataya (幡谷 尚史) , Tatsuyuki Maeda (前田 龍之)
2:21
Active
4.3

2023-08-06

Golden Axe III - Tender Hamlet (Stage 2B)
Naofumi Hataya (幡谷 尚史) , Tatsuyuki Maeda (前田 龍之)
2:48
Active
4.0

2023-08-15

Golden Axe III - The Gate of Fate (Stage 7)
Naofumi Hataya (幡谷 尚史) , Tatsuyuki Maeda (前田 龍之)
1:58
Active
4.4

2023-09-09

Golden Axe III - The Scorching Sand (Stage 4A)
Naofumi Hataya (幡谷 尚史) , Tatsuyuki Maeda (前田 龍之)
2:44
Active
3.3

2023-08-18

Golden Axe III - The Vast Field (Stage 1)
Naofumi Hataya (幡谷 尚史) , Tatsuyuki Maeda (前田 龍之)
2:26
Active
4.0

2023-08-15

Golden Axe III - Victory
Naofumi Hataya (幡谷 尚史) , Tatsuyuki Maeda (前田 龍之)
0:15
Jingle
Granada - Advance 'GRANADA'
Motoi Sakuraba (桜庭 統)
1:00
Active
5.0

2023-01-01

Granada - Beat
Motoi Sakuraba (桜庭 統)
1:29
Active
3.0

2021-01-28

Granada - Bumpy Road
Motoi Sakuraba (桜庭 統)
2:50
Active
2.0

2023-02-11

Granada - Clap
Motoi Sakuraba (桜庭 統)
1:20
Active

2023-07-02

Granada - Good-Bye 'GRANADA'
Motoi Sakuraba (桜庭 統)
2:35
Active
3.0

2023-08-07

Granada - Heavy Line
Motoi Sakuraba (桜庭 統)
2:45
Active
3.7

2023-08-31

Granada - Hopping Express
Motoi Sakuraba (桜庭 統)
3:00
Active
4.0

2021-01-07

Granada - Marching Way
Motoi Sakuraba (桜庭 統)
3:00
Active
4.3

2023-09-18

Granada - Mountain Path
Motoi Sakuraba (桜庭 統)
2:30
Active
3.0

2022-12-30

Granada - Nature Trail
Motoi Sakuraba (桜庭 統)
4:11
Active
4.7

2023-08-07

Granada - Smashing Street
Motoi Sakuraba (桜庭 統)
2:58
Active
4.9

2023-09-21

Granada - Take a Chance
Motoi Sakuraba (桜庭 統)
2:14
Active
4.5

2023-09-27

Granada - Tap
Motoi Sakuraba (桜庭 統)
1:44
Active
4.0

2023-07-08

Granada - Windy Avenue
Motoi Sakuraba (桜庭 統)
3:35
Active
4.0

2023-08-13

Gunship - Arctic - 2D Stage
Matt Furniss
1:09
Active
4.3

2023-09-27

Gunship - Arctic - 3D Stage
Matt Furniss
1:21
Active
3.3

2023-09-09

Gunship - Asia - 2D Stage
Matt Furniss
1:32
Active
4.0

2023-08-06

Gunship - Asia - 3D Stage
Matt Furniss
1:41
Active
4.0

2023-09-08

Gunship - End Theme
Matt Furniss
1:04
Active
4.0

2022-05-11

Gunship - Middle East - 2D Stage
Matt Furniss
1:09
Active
3.5

2023-04-07

Gunship - Middle East - 3D Stage
Matt Furniss
1:17
Active
5.0

2023-07-30

Gunship - South America - 2D Stage
Matt Furniss
1:25
Active
4.7

2023-09-22

Gunship - South America - 3D Stage
Matt Furniss
1:57
Active
4.7

2023-09-05

Gunship - Title
Matt Furniss
0:52
Active
4.5

2023-01-02

Gunstar Heroes - Continue (Continue BGM)
Norio Hanzawa (半沢 紀夫)
0:43
Active
4.0

2022-08-23

Gunstar Heroes - Ending (Ending BGM)
Norio Hanzawa (半沢 紀夫)
2:14
Active
4.3

2023-08-13

Gunstar Heroes - Opening (Opening Title BGM)
Norio Hanzawa (半沢 紀夫)
1:46
Active
3.9

2023-05-20

Gunstar Heroes - Option (Option Mode BGM)
Norio Hanzawa (半沢 紀夫)
1:41
Active
4.0

2023-08-15

Gunstar Heroes - Staff (Staff Roll BGM)
Norio Hanzawa (半沢 紀夫)
1:57
Active
4.8

2023-09-20

Gunstar Heroes - Stage 1 (Stage 1 BGM)
Norio Hanzawa (半沢 紀夫)
1:38
Active
4.8

2023-08-16

Gunstar Heroes - Stage 1 (Stage 1 Middle Boss)
Norio Hanzawa (半沢 紀夫)
1:13
Active
3.0

2023-08-07

Gunstar Heroes - Stage 1 Boss (Stage 1 Boss BGM)
Norio Hanzawa (半沢 紀夫)
1:03
Active
4.0

2020-10-31

Gunstar Heroes - Stage 2 (Stage 2 BGM)
Norio Hanzawa (半沢 紀夫)
1:40
Active
4.0

2023-09-26

Gunstar Heroes - Stage 2 Boss (Stage 2 Boss BGM)
Norio Hanzawa (半沢 紀夫)
1:36
Active
3.0

2022-03-19

Gunstar Heroes - Stage 3 (Stage 3 BGM)
Norio Hanzawa (半沢 紀夫)
1:40
Active
4.0

2023-04-22

Gunstar Heroes - Stage 3 Boss (Stage 3 Boss BGM)
Norio Hanzawa (半沢 紀夫)
1:02
Active
3.0

2021-11-27

Gunstar Heroes - Stage 4 (Stage 4 BGM)
Norio Hanzawa (半沢 紀夫)
1:13
Active
3.0

2023-05-06

Gunstar Heroes - Stage 4 Boss (Stage 4 Boss BGM)
Norio Hanzawa (半沢 紀夫)
1:12
Active
4.0

2021-01-13

Gunstar Heroes - Stage 5 (Stage 5 BGM)
Norio Hanzawa (半沢 紀夫)
1:24
Active
4.0

2023-02-28

Gunstar Heroes - Stage 5 (Stage 5 Boss BGM)
Norio Hanzawa (半沢 紀夫)
1:17
Active
2.7

2023-09-10

Gunstar Heroes - Stage 6 (Stage 6 BGM)
Norio Hanzawa (半沢 紀夫)
1:12
Active
3.0

2023-06-05

Gunstar Heroes - Stage 7 (Stage 7 BGM 1)
Norio Hanzawa (半沢 紀夫)
1:17
Active
3.0

2020-10-31

Gunstar Heroes - Stage 7 (Stage 7 BGM 2)
Norio Hanzawa (半沢 紀夫)
0:50
Active
3.0

2021-11-28

Gunstar Heroes - Stage 7 (Stage 7 Boss BGM)
Norio Hanzawa (半沢 紀夫)
1:17
Active
5.0

2021-11-08

Gunstar Heroes - Stage Select (Stage Select BGM)
Norio Hanzawa (半沢 紀夫)
0:35
Active
4.0

2020-10-30

Gunstar Heroes - Story Demo (Story Demo BGM)
Norio Hanzawa (半沢 紀夫)
1:16
Active
4.0

2021-08-25

Herzog Zwei - A Breach of Contract
Naosuke Arai (新井 直介) , Tomomi Otani (大谷 智巳)
3:09
Active
3.3

2023-09-01

Herzog Zwei - Back to square one
Naosuke Arai (新井 直介) , Tomomi Otani (大谷 智巳)
2:20
Active
4.2

2023-07-03

Herzog Zwei - Sleight of hand
Naosuke Arai (新井 直介) , Tomomi Otani (大谷 智巳)
3:34
Active
4.3

2023-09-06

Herzog Zwei - Sniper
Naosuke Arai (新井 直介) , Tomomi Otani (大谷 智巳)
2:08
Active
4.4

2023-07-20

Herzog Zwei - Take it easy
Naosuke Arai (新井 直介) , Tomomi Otani (大谷 智巳)
2:14
Active
3.6

2023-08-20

Herzog Zwei - The Mournful War
Naosuke Arai (新井 直介) , Tomomi Otani (大谷 智巳)
3:16
Active
4.8

2023-06-19

Herzog Zwei - The Super Fighter Invigorated Us
Naosuke Arai (新井 直介) , Tomomi Otani (大谷 智巳)
3:17
Active
3.4

2023-07-29

Herzog Zwei - There is no time to lose
Naosuke Arai (新井 直介) , Tomomi Otani (大谷 智巳)
2:36
Active
4.1

2023-08-03

James Bond 007: The Duel - Caveman Rock
Matt Furniss
2:55
Active
3.7

2023-08-22

James Bond 007: The Duel - Jungle Soup
Matt Furniss
2:50
Active
4.2

2023-08-06

James Bond 007: The Duel - Space Hop
Matt Furniss
2:14
Active
3.4

2023-09-29

James Bond 007: The Duel - Wave Trouble
Matt Furniss
3:31
Active
3.0

2023-09-23

James Pond II: Codename: Robocod - A Sport to Catch a Mackerel (Catlots)
Richard Joseph , Rob Hubbard
2:29
Active
4.1

2023-09-28

James Pond II: Codename: Robocod - Big Top, Big Hop (Fluffy Toys)
Richard Joseph , Rob Hubbard
1:48
Active
3.7

2023-05-06

James Pond II: Codename: Robocod - Bubbles and Bathtubs (Bath Time)
Richard Joseph , Rob Hubbard
2:39
Active
4.4

2023-07-11

James Pond II: Codename: Robocod - Castle Castellations (Christmas)
Richard Joseph , Rob Hubbard
2:07
Active
4.0

2023-06-25

James Pond II: Codename: Robocod - Dr. Maybe (Big boss)
Richard Joseph , Rob Hubbard
1:07
Active
2.7

2023-09-11

James Pond II: Codename: Robocod - Title (Ode To RoboCod)
Richard Joseph , Rob Hubbard
2:52
Active
4.6

2023-09-01

King's Bounty - Overworld
Rob Wallace
1:16
Active
3.3

2023-07-29

Kishi Densetsu - E War 1
Isao Mizoguchi , Noriyuki Iwadare (岩垂 徳行)
2:36
Active
4.5

2022-10-22

Lame FAQs
Animal Style
5:24
Active
4.5

2023-01-11

Langrisser - Ending Theme (Part 1)
Isao Mizoguchi , Noriyuki Iwadare (岩垂 徳行)
0:45
Active
3.3

2023-09-19

Langrisser - Ending Theme (Part 2)
Isao Mizoguchi , Noriyuki Iwadare (岩垂 徳行)
1:58
Active
3.0

2022-08-08

Langrisser - Enemy Phase 1 - Hard Battle
Isao Mizoguchi , Noriyuki Iwadare (岩垂 徳行)
1:25
Active
3.7

2023-09-23

Langrisser - Enemy Phase 2
Isao Mizoguchi , Noriyuki Iwadare (岩垂 徳行)
1:55
Active
4.6

2023-09-21

Langrisser - Enemy Phase 3 - Scramble
Isao Mizoguchi , Noriyuki Iwadare (岩垂 徳行)
0:48
Active
4.0

2023-03-13

Langrisser - Player Phase 1
Isao Mizoguchi , Noriyuki Iwadare (岩垂 徳行)
1:42
Active
4.7

2023-07-11

Langrisser - Player Phase 2 - Kingdom Knight
Isao Mizoguchi , Noriyuki Iwadare (岩垂 徳行)
2:02
Active
4.9

2023-07-10

Langrisser - Player Phase 3 - Sword of Holy
Isao Mizoguchi , Noriyuki Iwadare (岩垂 徳行)
1:50
Active
4.3

2023-06-13

Langrisser - Scenario Prologue
Isao Mizoguchi , Noriyuki Iwadare (岩垂 徳行)
1:18
Active
4.0

2020-10-25

Langrisser - Title
Isao Mizoguchi , Noriyuki Iwadare (岩垂 徳行)
1:30
Active
4.1

2023-04-19

Langrisser II - Bernhardt
Noriyuki Iwadare (岩垂 徳行)
2:52
Active
3.3

2023-09-24

Langrisser II - Böser
Noriyuki Iwadare (岩垂 徳行)
1:54
Active
3.0

2021-03-21

Langrisser II - Egbert
Noriyuki Iwadare (岩垂 徳行)
2:20
Active
3.0

2023-02-26

Langrisser II - Enemy Reinforcements
Noriyuki Iwadare (岩垂 徳行)
1:16
Active
4.0

2022-08-07

Langrisser II - Fight it Out
Isao Mizoguchi
2:20
Active
4.0

2023-09-22

Langrisser II - Imelda
Isao Mizoguchi
2:00
Active
3.7

2023-09-14

Langrisser II - Knight's Errand
Noriyuki Iwadare (岩垂 徳行)
2:10
Active
4.8

2023-09-08

Langrisser II - Leon
Noriyuki Iwadare (岩垂 徳行)
1:39
Active
4.0

2023-06-12

Langrisser II - Main Theme of Langrisser
Noriyuki Iwadare (岩垂 徳行)
1:06
Active
4.5

2023-01-29

Langrisser II - Morgan
Noriyuki Iwadare (岩垂 徳行)
1:21
Active
4.3

2023-09-03

Langrisser II - Neo Holy War
Noriyuki Iwadare (岩垂 徳行)
2:07
Active
4.4

2023-07-24

Langrisser II - No Surrender
Noriyuki Iwadare (岩垂 徳行)
2:42
Active
4.6

2023-09-15

Langrisser II - One's Side
Noriyuki Iwadare (岩垂 徳行)
2:02
Active
4.7

2023-09-22

Langrisser II - Shop
Isao Mizoguchi
1:33
Active
4.0

2022-01-05

Langrisser II - Soldier
Noriyuki Iwadare (岩垂 徳行)
3:06
Active
4.9

2023-08-31

Langrisser II - The Dark Princess
Noriyuki Iwadare (岩垂 徳行)
2:00
Active
4.4

2023-09-04

Langrisser II - The Evil Person
Noriyuki Iwadare (岩垂 徳行)
2:29
Active
3.0

2023-06-24

Langrisser II - The Last Battle
Noriyuki Iwadare (岩垂 徳行)
2:24
Active
4.7

2023-09-25

Langrisser II - The Legend of Sword
Noriyuki Iwadare (岩垂 徳行)
2:02
Active
4.0

2023-03-23

Langrisser II - Vargas
Isao Mizoguchi
2:33
Active
4.7

2023-07-03

Lemmings - Ingame 1 (Can-can)
Hirohiko Takayama
1:07
Active
4.0

2023-08-24

Lemmings - Ingame 10
Hirohiko Takayama
2:30
Active
4.3

2023-09-12

Lemmings - Ingame 11
Hirohiko Takayama
3:12
Active
4.2

2023-08-20

Lemmings - Ingame 12
Hirohiko Takayama
2:16
Active
4.5

2022-06-18

Lemmings - Ingame 13
Hirohiko Takayama
2:01
Active
4.3

2023-09-19

Lemmings - Ingame 14 (London Bridge is Falling Down)
Hirohiko Takayama
1:46
Active
4.0

2023-08-10

Lemmings - Ingame 15
Hirohiko Takayama
2:30
Active
4.5

2023-09-17

Lemmings - Ingame 16
Hirohiko Takayama
2:01
Active
4.0

2023-07-19

Lemmings - Ingame 17
Hirohiko Takayama
2:45
Active
4.0

2023-09-24

Lemmings - Ingame 2
Hirohiko Takayama
1:38
Active
3.0

2023-04-26

Lemmings - Ingame 3
Hirohiko Takayama
1:44
Active
4.2

2023-09-09

Lemmings - Ingame 4
Hirohiko Takayama
2:30
Active
4.6

2023-09-05

Lemmings - Ingame 5
Hirohiko Takayama
2:22
Active
4.9

2023-09-11

Lemmings - Ingame 6
Hirohiko Takayama
2:34
Active
4.0

2022-06-30

Lemmings - Ingame 7
Hirohiko Takayama
1:56
Active
2.1

2023-08-12

Lemmings - Ingame 8
Hirohiko Takayama
1:46
Active
4.2

2023-07-29

Lemmings - Ingame 9
Hirohiko Takayama
3:28
Active
3.8

2023-08-10

Lemmings - Special Level 1 [Beast of a level]
Hirohiko Takayama
2:59
Active
4.3

2023-09-12

Lemmings - Special Level 2 [MENACING !!]
Hirohiko Takayama
2:59
Active
3.5

2023-09-02

Lemmings - Special Level 3 [What an AWESOME level]
Hirohiko Takayama
2:28
Active
4.3

2023-09-29

Lemmings - Special Level 4 [A BeastII of a level]
Hirohiko Takayama
2:59
Active
4.3

2023-08-06

Lemmings - Special Level 5 [SUNSOFT Special]
Hirohiko Takayama
2:50
Active
4.5

2023-09-16

Lemmings 2: The Tribes - Beach, Ending Theme
Matt Furniss
1:23
Active
3.3

2023-09-19

Lemmings 2: The Tribes - Cave
Matt Furniss
1:40
Active
4.8

2023-09-25

Lemmings 2: The Tribes - Circus
Matt Furniss
1:04
Active
4.0

2023-08-31

Lemmings 2: The Tribes - Classic
Matt Furniss
1:03
Active
4.0

2023-09-07

Lemmings 2: The Tribes - Egyptian
Matt Furniss
1:27
Active
4.6

2023-05-17

Lemmings 2: The Tribes - Highland
Matt Furniss
1:17
Active
4.8

2023-09-25

Lemmings 2: The Tribes - Medieval
Matt Furniss
1:18
Active
3.0

2022-11-08

Lemmings 2: The Tribes - Opening Theme
Matt Furniss
0:40
Active
4.5

2023-08-22

Lemmings 2: The Tribes - Outdoor
Matt Furniss
1:07
Active
4.3

2023-07-25

Lemmings 2: The Tribes - Polar
Matt Furniss
1:24
Active
3.8

2023-06-04

Lemmings 2: The Tribes - Shadow
Matt Furniss
1:02
Active
4.0

2022-12-31

Lemmings 2: The Tribes - Space
Matt Furniss
1:16
Active
3.8

2023-09-10

Lemmings 2: The Tribes - Sports
Matt Furniss
1:19
Active
4.0

2022-05-23

Lemmings 2: The Tribes - Title Theme
Matt Furniss
1:51
Active
4.4

2023-08-01

Light Crusader - Castle
Aki Hata , Nazo² Suzuki (鈴木 勝彦)
1:30
Active
4.0

2021-08-31

Light Crusader - File Select
Aki Hata , Nazo² Suzuki (鈴木 勝彦)
1:14
Active
4.0

2022-01-24

Light Crusader - Status Screen
Aki Hata , Nazo² Suzuki (鈴木 勝彦)
0:58
Active
4.0

2022-12-16

Light Crusader - Town
Aki Hata , Nazo² Suzuki (鈴木 勝彦)
2:01
Active
4.3

2023-08-19

M.U.S.H.A. (Musha Aleste) - Aggressive Attack
Toshiaki Sakoda
3:26
Active
4.2

2023-09-14

M.U.S.H.A. (Musha Aleste) - Alpha Wave
Toshiaki Sakoda
1:30
Active
4.0

2023-06-21

M.U.S.H.A. (Musha Aleste) - Armed Armor
Toshiaki Sakoda
3:11
Active
4.2

2023-08-22

M.U.S.H.A. (Musha Aleste) - For the Love of ...
Toshiaki Sakoda
3:22
Active
4.6

2023-07-13

M.U.S.H.A. (Musha Aleste) - Fullmetal Fighter
Toshiaki Sakoda
2:34
Active
4.0

2023-08-28

M.U.S.H.A. (Musha Aleste) - Galvanic Gear
Toshiaki Sakoda
3:04
Active
3.3

2023-08-20

M.U.S.H.A. (Musha Aleste) - Noh Specter
Toshiaki Sakoda
3:58
Active
4.0

2023-07-23

M.U.S.H.A. (Musha Aleste) - Offensive Overdrive
Toshiaki Sakoda
1:41
Active
5.0

2023-08-15

M.U.S.H.A. (Musha Aleste) - Round Clear
Toshiaki Sakoda
0:09
Jingle
M.U.S.H.A. (Musha Aleste) - Stratospheric Struggle
Toshiaki Sakoda
1:57
Active
4.0

2023-09-11

M.U.S.H.A. (Musha Aleste) - Theme of Musha Aleste
Toshiaki Sakoda
2:37
Active
3.5

2023-08-26

Madou Monogatari I - Opening (Part 2 ~ Dark Noble`s Theme)
Polygon Junkie , Tsuyoshi Matsushima (松島 剛史)
1:38
Active
4.5

2023-09-12

Master of Monsters - Black Demise
Hayato Matsuo
1:17
Active
4.7

2023-09-24

Master of Monsters - Black Dignity
Hayato Matsuo
1:51
Active
4.8

2023-09-01

Master of Monsters - Golden Warrior
Hayato Matsuo
2:55
Active
4.3

2023-09-20

Master of Monsters - Into the Deep Blue Sky
Hayato Matsuo
5:42
Active
4.7

2023-09-26

Master of Monsters - Large Green Meadow
Hayato Matsuo
4:30
Active
3.7

2023-09-23

Master of Monsters - Standing in the White Fortress
Hayato Matsuo
4:02
Active
4.7

2023-09-27

Master of Monsters - Violet Time
Hayato Matsuo
2:46
Active
4.4

2023-09-14

Master of Monsters - We Will Conquer the Crimson Valley
Hayato Matsuo
4:28
Active
4.3

2023-09-20

Master of Monsters - Yellow Robe
Hayato Matsuo
3:14
Active
4.0

2023-09-01

Mega Bomberman - Area 2 (Vexin' Volcano)
June Chiki Chikuma (竹間 淳)
0:43
Active
4.0

2021-05-15

Mega Lo Mania - Ingame
Matt Furniss , Michael Burdett , Richard Joseph
4:19
Active
3.6

2023-08-05

Mega Lo Mania - Menu
Matt Furniss , Michael Burdett , Richard Joseph
0:39
Active
1.8

2023-08-08

Mega Lo Mania - Title
Matt Furniss , Michael Burdett , Richard Joseph
2:40
Active
3.7

2023-09-19

Mick & Mack Global Gladiators - Dance Tune
Tommy Tallarico
1:38
Active
3.3

2023-09-29

Mick & Mack Global Gladiators - Duelin Dance
Tommy Tallarico
2:14
Active
4.1

2023-09-08

Mick & Mack Global Gladiators - Ice Boss Tune
Tommy Tallarico
0:53
Active
3.0

2023-07-17

Mick & Mack Global Gladiators - MC Rock Pt. 1
Tommy Tallarico
2:28
Active
4.0

2023-09-05

Mick & Mack Global Gladiators - Techno Tune
Tommy Tallarico
1:55
Active
4.0

2022-02-17

Mick & Mack Global Gladiators - Title
Tommy Tallarico
0:39
Active
2.8

2023-08-06

Mick & Mack Global Gladiators - Toxitown Blues
Tommy Tallarico
2:00
Active
3.7

2023-09-12

Micro Machines 2: Turbo Tournament - Menu
Tim Bartlett
2:31
Active
4.3

2023-09-13

Micro Machines: Turbo Tournament 96 - Menu
Tim Bartlett
3:14
Active
4.5

2023-07-01

Midnight Resistance - Flood of Power
Azusa Hara , Hitoshi Sakimoto (崎元 仁) , Maro (Hiroaki Yoshida) , Tatsuya Kiuchi
2:53
Dupe
5.0
Midnight Resistance - Flood of Power (BGM 1)
Hitoshi Sakimoto (崎元 仁) , Shogo Sakai (酒井 省吾)
2:58
Active
4.5

2023-08-12

Midnight Resistance - Home, Disappointment and Counterattack (BGM 2)
Hitoshi Sakimoto (崎元 仁) , Shogo Sakai (酒井 省吾)
2:16
Active
3.5

2022-06-29

Ocean Floor
Kulor (Richard J. Armijo)
4:29
Active
4.0

2023-09-29

Outer Trace
Animal Style
3:10
Active
4.7

2023-09-04

Phantasy Star II - A Prologue
Tokuhiko Uwabo
1:28
Active
4.8

2023-06-09

Phantasy Star II - Advanced
Tokuhiko Uwabo
1:28
Active
4.0

2023-09-14

Phantasy Star II - Bracky News
Tokuhiko Uwabo
0:40
Active
3.0

2022-03-01

Phantasy Star II - Death Place
Tokuhiko Uwabo
2:05
Active
4.3

2023-09-18

Phantasy Star II - Excite Town
Tokuhiko Uwabo
1:35
Active
5.0

2023-08-17

Phantasy Star II - Exclaim
Tokuhiko Uwabo
1:45
Active
4.5

2023-03-13

Phantasy Star II - Movement
Tokuhiko Uwabo
1:03
Active
4.0

2023-08-19

Phantasy Star II - My Home
Tokuhiko Uwabo
1:34
Active
4.3

2023-06-23

Phantasy Star II - Mystery
Tokuhiko Uwabo
1:28
Active
4.3

2023-07-07

Phantasy Star II - Never Dream
Tokuhiko Uwabo
2:10
Active
3.0

2022-11-12

Phantasy Star II - Over
Tokuhiko Uwabo
1:10
Active
3.0

2021-10-09

Phantasy Star II - Phantasy
Tokuhiko Uwabo
2:55
Active
4.5

2021-12-25

Phantasy Star II - Pleasure
Tokuhiko Uwabo
2:20
Active
4.6

2023-09-06

Phantasy Star II - Power
Tokuhiko Uwabo
1:28
Active
4.0

2023-07-04

Phantasy Star II - Pressure
Tokuhiko Uwabo
1:35
Active
4.0

2023-07-28

Phantasy Star II - Restoration
Tokuhiko Uwabo
2:04
Active
4.1

2023-07-03

Phantasy Star II - Rise or Fall
Tokuhiko Uwabo
2:00
Active
4.7

2023-09-11

Phantasy Star II - Secret Ways
Tokuhiko Uwabo
1:08
Active
4.0

2021-09-18

Phantasy Star II - Silent Zone
Tokuhiko Uwabo
1:41
Active
4.7

2023-07-22

Phantasy Star II - Step Up
Tokuhiko Uwabo
1:15
Active
4.2

2023-09-04

Phantasy Star II - Violation
Tokuhiko Uwabo
1:28
Active
4.5

2022-11-10

Phantasy Star IV - A Happy Settlement
ippo (Izuho Numata )
0:51
Active
5.0

2022-10-19

Phantasy Star IV - Abyss
ippo (Izuho Numata )
1:21
Active
3.0

2021-05-14

Phantasy Star IV - Behind the circuit
ippo (Izuho Numata )
1:07
Active
4.3

2023-07-18

Phantasy Star IV - Defeat at a blow!
ippo (Izuho Numata )
1:07
Active
5.0

2023-07-28

Phantasy Star IV - Dezoris field 1
ippo (Izuho Numata )
1:21
Active
3.0

2022-11-28

Phantasy Star IV - Dezoris field 2
ippo (Izuho Numata )
1:31
Active
4.0

2023-08-08

Phantasy Star IV - Dezoris town 1
ippo (Izuho Numata )
1:57
Active
4.0

2023-09-12

Phantasy Star IV - Dezoris town 2
ippo (Izuho Numata )
1:05
Active
4.7

2023-09-21

Phantasy Star IV - Edge of Darkness
ippo (Izuho Numata )
0:55
Active
3.0

2023-01-17

Phantasy Star IV - End of the millennium
ippo (Izuho Numata )
0:53
Active
5.0

2023-08-02

Phantasy Star IV - Fal
ippo (Izuho Numata )
1:23
Active
4.0

2022-10-12

Phantasy Star IV - Field Motabia
ippo (Izuho Numata )
1:14
Active
4.7

2023-09-03

Phantasy Star IV - Her last breath
ippo (Izuho Numata )
3:01
Active
4.0

2023-07-23

Phantasy Star IV - In the cave
ippo (Izuho Numata )
1:32
Active
4.0

2023-01-30

Phantasy Star IV - Inn
ippo (Izuho Numata )
0:38
Active
3.5

2023-09-13

Phantasy Star IV - Jijy no rag
ippo (Izuho Numata )
1:43
Active
4.3

2023-07-13

Phantasy Star IV - Land master AXV-25
ippo (Izuho Numata )
0:55
Active
4.0

2021-12-03

Phantasy Star IV - Laughter
ippo (Izuho Numata )
2:55
Active
4.0

2023-05-09

Phantasy Star IV - Machine Center
ippo (Izuho Numata )
1:17
Active
4.5

2023-05-21

Phantasy Star IV - Meet them head-on!
ippo (Izuho Numata )
1:16
Active
4.3

2023-07-26

Phantasy Star IV - Motabia town
ippo (Izuho Numata )
1:38
Active
4.6

2023-09-07

Phantasy Star IV - Motabia village
ippo (Izuho Numata )
3:04
Active
4.3

2023-08-15

Phantasy Star IV - Now on sale
ippo (Izuho Numata )
1:11
Active
4.2

2023-09-15

Phantasy Star IV - Ooze
ippo (Izuho Numata )
3:17
Active
3.6

2023-08-22

Phantasy Star IV - Organic beat
ippo (Izuho Numata )
1:51
Active
4.0

2021-03-05

Phantasy Star IV - Pain
ippo (Izuho Numata )
1:28
Active
3.5

2023-07-26

Phantasy Star IV - Pao-pao!
ippo (Izuho Numata )
2:06
Active
4.0

2023-07-14

Phantasy Star IV - PS1 dungeon arrange 1
ippo (Izuho Numata )
0:56
Active
4.0

2022-02-03

Phantasy Star IV - PS1 dungeon arrange 2
ippo (Izuho Numata )
0:42
Active
3.0

2023-07-13

Phantasy Star IV - Red alert
ippo (Izuho Numata )
0:58
Active
4.0

2021-02-27

Phantasy Star IV - Requiem for Lutz
ippo (Izuho Numata )
1:47
Active
3.5

2021-09-08

Phantasy Star IV - Ryucross Field
ippo (Izuho Numata )
2:06
Active
4.3

2023-08-25

Phantasy Star IV - Staff roll
ippo (Izuho Numata )
3:01
Active
3.9

2023-05-21

Phantasy Star IV - Suspicion
ippo (Izuho Numata )
1:30
Active
3.0

2023-07-15

Phantasy Star IV - Temple Ngangbius
ippo (Izuho Numata )
1:06
Active
2.7

2023-09-14

Phantasy Star IV - Terrible sight
ippo (Izuho Numata )
2:07
Active
3.7

2023-08-30

Phantasy Star IV - The age of Fables
ippo (Izuho Numata )
1:09
Active
3.0

2022-09-08

Phantasy Star IV - The Black Blood
ippo (Izuho Numata )
1:00
Active
3.0

2022-08-13

Phantasy Star IV - The king of terrors
ippo (Izuho Numata )
1:19
Active
4.0

2023-09-23

Phantasy Star IV - The promising future 1
ippo (Izuho Numata )
2:32
Active
4.2

2023-07-05

Phantasy Star IV - The promising future 2
ippo (Izuho Numata )
3:46
Active
3.9

2023-07-21

Phantasy Star IV - Thray
ippo (Izuho Numata )
1:16
Active
3.0

2023-06-02

Phantasy Star IV - Tonoe de pon
ippo (Izuho Numata )
1:16
Active
4.2

2023-09-13

Phantasy Star IV - Tower
ippo (Izuho Numata )
0:46
Active

2023-03-07

Puggsy - A Hidden Place
Matt Furniss , Shaun Hollingworth
0:47
Active
4.0

2023-09-23

Puggsy - Angeltier Falls
Matt Furniss , Shaun Hollingworth
2:06
Active
4.4

2023-09-27

Puggsy - Aztec Temple
Matt Furniss , Shaun Hollingworth
1:22
Active
4.0

2023-04-08

Puggsy - Badger Mill
Matt Furniss , Shaun Hollingworth
3:10
Active
4.0

2023-05-02

Puggsy - Darkblade Forest
Matt Furniss , Shaun Hollingworth
3:02
Active
4.3

2023-08-13

Puggsy - Darkskull Castle
Matt Furniss , Shaun Hollingworth
3:15
Active
3.9

2023-08-19

Puggsy - Diamond Mines
Matt Furniss , Shaun Hollingworth
2:07
Active
4.0

2022-08-28

Puggsy - Fire Heart
Matt Furniss , Shaun Hollingworth
1:59
Active
4.0

2023-03-01

Puggsy - Opening Theme
Matt Furniss , Shaun Hollingworth
1:01
Active
4.0

2023-01-09

Puggsy - Pyramids
Matt Furniss , Shaun Hollingworth
2:00
Active
3.8

2023-08-24

Puggsy - Raclantis Docks
Matt Furniss , Shaun Hollingworth
2:35
Active
4.3

2023-09-12

Puggsy - Racrock Forge
Matt Furniss , Shaun Hollingworth
1:50
Active
4.0

2023-09-15

Puggsy - Redwood Keep
Matt Furniss , Shaun Hollingworth
2:30
Active
3.8

2023-06-09

Puggsy - Splinter Town
Matt Furniss , Shaun Hollingworth
1:50
Active
3.0

2023-08-14

Puggsy - Star Fall Lake
Matt Furniss , Shaun Hollingworth
2:45
Active
4.8

2023-09-16

Puggsy - The Beach
Matt Furniss , Shaun Hollingworth
2:14
Active
4.7

2023-05-24

Puggsy - The Cove
Matt Furniss , Shaun Hollingworth
3:16
Active
4.7

2023-09-22

Puggsy - The Light House
Matt Furniss , Shaun Hollingworth
2:45
Active
4.0

2023-06-04

Puggsy - The Red Woods
Matt Furniss , Shaun Hollingworth
3:08
Active
4.8

2023-09-01

Puggsy - World Map
Matt Furniss , Shaun Hollingworth
0:41
Active
3.0

2022-08-14

Puyo Puyo - Baroque of Puyo Puyo
Einosuke Nagao (長尾英之助)
0:58
Active
5.0

2023-09-20

Puyo Puyo - Brave of Puyo Puyo
Einosuke Nagao (長尾英之助)
1:37
Active
4.0

2021-12-22

Puyo Puyo - Cooking of Puyo Puyo
Einosuke Nagao (長尾英之助)
0:26
Active
2.0

2021-06-20

Puyo Puyo - Final of Puyo Puyo
Einosuke Nagao (長尾英之助)
2:13
Active
4.0

2023-01-21

Puyo Puyo - Memories of Puyo Puyo
Einosuke Nagao (長尾英之助)
4:16
Active
4.5

2023-09-22

Puyo Puyo - Morning of Puyo Puyo
Einosuke Nagao (長尾英之助)
0:48
Active

2023-03-09

Puyo Puyo - Ondo of Puyo Puyo
Einosuke Nagao (長尾英之助)
1:38
Active
4.0

2020-10-21

Puyo Puyo - Sorrow of Puyo Puyo
Einosuke Nagao (長尾英之助)
0:11
Active
2.0

2023-01-19

Puyo Puyo - Sticker of Puyo Puyo
Einosuke Nagao (長尾英之助) , Masanobu Tsukamoto (塚本雅信)
2:50
Active
4.3

2023-09-26

Puyo Puyo - Sunset Puyo Puyo
Einosuke Nagao (長尾英之助)
3:59
Active
4.0

2020-12-14

Puyo Puyo - Theme for Harpy
Einosuke Nagao (長尾英之助)
0:28
Active
1.0

2022-12-07

Puyo Puyo - Theme for Satan
Einosuke Nagao (長尾英之助)
1:47
Active
4.0

2023-09-17

Puyo Puyo - Theme of Puyo Puyo
Einosuke Nagao (長尾英之助) , Masanobu Tsukamoto (塚本雅信)
2:36
Active
3.9

2023-09-22

Puyo Puyo - Toy of Puyo Puyo
Einosuke Nagao (長尾英之助)
1:19
Active
4.3

2023-09-14

Puyo Puyo - Unused - Rejection of Puyo Puyo
Einosuke Nagao (長尾英之助)
0:55
Active
4.0

2022-08-17

Puyo Puyo - Victory of Puyo Puyo
Einosuke Nagao (長尾英之助)
0:10
Active

2021-01-24

Puyo Puyo - Warning of Puyo Puyo
Einosuke Nagao (長尾英之助)
0:20
Active
3.0

2023-03-10

Puyo Puyo Tsu - Ending Part 1
BA.M (Tomonori Minami)
1:56
Active
4.0

2020-11-16

Puyo Puyo Tsu - Ending Part 2
BA.M (Tomonori Minami)
2:05
Active
4.8

2023-09-22

Puyo Puyo Tsu - Ending Part 3
BA.M (Tomonori Minami)
2:06
Active

2020-12-10

Puyo Puyo Tsu - Last Floor
BA.M (Tomonori Minami)
1:45
Active
4.7

2023-06-01

Puyo Puyo Tsu - Mode Select
BA.M (Tomonori Minami)
1:12
Active
4.0

2023-08-16

Puyo Puyo Tsu - Selection Screen
BA.M (Tomonori Minami)
0:37
Active
3.0

2023-06-25

Puyo Puyo Tsu - Sorrow of Puyo Puyo
BA.M (Tomonori Minami)
0:11
Active
3.0

2023-05-23

Puyo Puyo Tsu - Title Theme
BA.M (Tomonori Minami)
1:26
Active
4.0

2023-05-30

Puyo Puyo Tsu - Victory Puyo Puyo
BA.M (Tomonori Minami)
0:10
Active
3.5

2021-07-03

Puyo Puyo Tsu - Warning of Puyo Puyo
BA.M (Tomonori Minami)
0:20
Active
4.0

2023-03-27

Puyo Puyo Tsuu - Area A
BA.M (Tomonori Minami) , Tsuyoshi Matsushima (松島 剛史)
2:40
Active
4.7

2023-07-21

Puyo Puyo Tsuu - Area B
BA.M (Tomonori Minami) , Tsuyoshi Matsushima (松島 剛史)
2:57
Active
3.8

2023-09-13

Puyo Puyo Tsuu - Area C
BA.M (Tomonori Minami) , Tsuyoshi Matsushima (松島 剛史)
2:11
Active
4.0

2020-04-24

Puyo Puyo Tsuu - How to Play
BA.M (Tomonori Minami) , Tsuyoshi Matsushima (松島 剛史)
3:02
Active
4.0

2023-06-10

Puyo Puyo Tsuu - Last Area
BA.M (Tomonori Minami) , Tsuyoshi Matsushima (松島 剛史)
1:51
Active
4.3

2023-07-09

Quack Shot Starring Donald Duck - Boss Battle
Kamiya Studio
1:02
Active
3.5

2022-05-31

Quack Shot Starring Donald Duck - Duckburg
Kamiya Studio
1:27
Active
4.1

2023-09-23

Quack Shot Starring Donald Duck - Egypt
Kamiya Studio
1:23
Active
4.2

2023-07-21

Quack Shot Starring Donald Duck - Final Boss
Kamiya Studio
1:00
Active
4.0

2023-08-24

Quack Shot Starring Donald Duck - Intro and Theme
Kamiya Studio
0:44
Active
4.0

2023-07-17

Quack Shot Starring Donald Duck - Locomotion
Kamiya Studio
0:48
Active
3.0

2023-01-01

Quack Shot Starring Donald Duck - Maharajah
Kamiya Studio
1:38
Active
4.3

2023-06-02

Quack Shot Starring Donald Duck - Map Screen
Kamiya Studio
0:32
Active
4.0

2022-10-28

Quack Shot Starring Donald Duck - Mexico
Kamiya Studio
0:58
Active
4.0

2023-02-26

Quack Shot Starring Donald Duck - South Pole
Kamiya Studio
1:11
Active
4.3

2023-09-18

Quack Shot Starring Donald Duck - The Island
Kamiya Studio
1:54
Active
4.2

2023-09-11

Quack Shot Starring Donald Duck - Transylvania
Kamiya Studio
1:05
Active
4.2

2023-08-10

Quack Shot Starring Donald Duck - Viking Ship
Kamiya Studio
0:58
Active
4.0

2022-05-19

Red Zone - DataRum
Jesper Kyd
6:14
Active
4.5

2023-08-29

Red Zone - DataRum Remix
Jesper Kyd
6:33
Active
4.5

2023-09-13

Red Zone - Hangar
Jesper Kyd
6:58
Active
4.5

2023-09-21

Red Zone - Hangar Remix
Jesper Kyd
6:09
Active
4.4

2023-09-25

Red Zone - Hard Titlemusic
Jesper Kyd
8:00
Active
4.2

2023-09-22

Red Zone - Headquarter
Jesper Kyd
5:33
Active
4.3

2023-08-19

Red Zone - Mission Complete
Jesper Kyd
5:31
Active
4.6

2023-04-05

Red Zone - Night Mission
Jesper Kyd
5:33
Active
3.8

2023-07-10

Red Zone - Retirement
Jesper Kyd
4:28
Active
4.4

2023-09-10

Red Zone - Selector Screen
Jesper Kyd
3:41
Active
4.3

2023-06-24

Red Zone - Spinner
Jesper Kyd
5:04
Active
4.7

2023-08-02

Red Zone - The Habam
Jesper Kyd
5:05
Active
4.3

2023-09-20

Red Zone - Time's Running Out
Jesper Kyd
3:00
Active
4.5

2023-08-10

Red Zone - Titlemusic
Jesper Kyd
8:25
Active
4.2

2023-08-22

Red Zone - Walking
Jesper Kyd
5:47
Active
4.4

2023-09-15

Red Zone - Walking Remix
Jesper Kyd
4:59
Active
4.6

2023-07-23

Resq - 3D Bonus Section
Matt Furniss
2:12
Active
4.3

2023-09-22

Resq - Briefing
Matt Furniss
1:05
Active
4.0

2022-02-01

Resq - Guardian 1
Matt Furniss
0:55
Active
4.5

2023-09-04

Resq - Guardian 2
Matt Furniss
1:35
Active
4.6

2023-08-03

Resq - Guardian 3
Matt Furniss
1:13
Active
4.0

2022-05-20

Resq - Guardian 4
Matt Furniss
0:56
Active
4.0

2023-05-07

Resq - Intro Story
Matt Furniss
3:19
Active
3.8

2023-09-05

Resq - Level 1a
Matt Furniss
3:28
Active
5.0

2023-09-19

Resq - Level 1b
Matt Furniss
2:17
Active
2.8

2023-08-29