CVGM.net - Chiptune, Retro & Video Game Music

Song Information

We Are All Connected (full soundtrack)

Author:

Groms (Rune Gausdal) ,

Kristian Myklebust ,

OMP (Ole Marius Pettersen) ,

Stein Pedersen ,

Wiklund (Alexander Wiklund)

Fairlight (FLT)

Offence

Prosonix
Uploaded By:

cxw
Song Length: 17:06
Release Year: 2014
Song Status: Active
Song Bitrate: 192 kbps
Song Source: Demo
Song Platform:

Computer » Commodore 64/128
Additional Information:
Full soundtrack for "We Are All Connected" by Offence/Fairlight/Prosonix, 1st in the C64 demo compo at Datastorm 2014.
Datastorm 2014 was to be the last Datastorm since the venue, Truckstop Alaska, was to be demolished in 2015 (per this). However, that proved not to be the case! [url=http://datastorm.party]Datastorm[/url came back in 2016. :)
Tracklist:
- disk 1 -
0:00-1:30 - Talk to the Wind - Kristian Myklebust (Kribust) of Offence
1:41-5:49 - Connected - Scarzix of F*A*I*C, Offence
5:50-7:18 - Heupiin - Groms of Offence
- disk 2 -
7:19-11:20 - Facemorph - Wiklund of Fairlight, Retroguru
- disk 3 -
11:21-14:50 - Golden Moments - Scarzix
14:51-16:10 - Lead of Light - Ole Marius Pettersen of Offence, Prosonix
16:21-17:06 - Theme from Save Truckstop Alaska (part 1) - Stein Pedersen of Offence, Panoramic Designs, Prosonix
This version edited by

cxw from the original SIDs, ripped with libsidplay2 in winamp at 44.1kHz, assembled in Audacity, rendered as Ogg quality 7 (VBR, up to ~250kbps). Track times and fadeouts were based on the YouTube version. As a result, this sound effects are missing from Save Truckstop Alaska. Go watch the real demo! Seriously! Do it now!!!

Last Queued : 1 month, 1 week ago
This song has been played 59 times. [See Request History]
It was added 9 years, 6 months ago.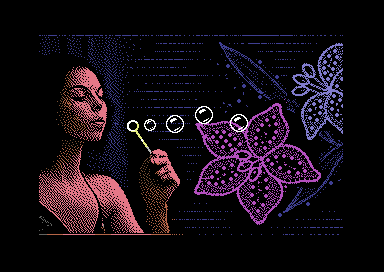 Download Pouet Production:
Click to Download
Song Rating
Song Rating: 4.5 - Votes Placed: 17
View Voting History
A total of 8 users have this song on their favourites list.
Compilation / Remix Information
Screenshots
Add new screenshot
Song Corrections & Updates
[Edit Information] - [Add Links]
User
Song Comment
debo
debo is flashy, fact! :sumo:

Holy shit this set opens with a king crimson cover!!!

4 years, 3 months ago