CVGM.net - Chiptune, Retro & Video Game Music

Platform - Computer » Sharp X1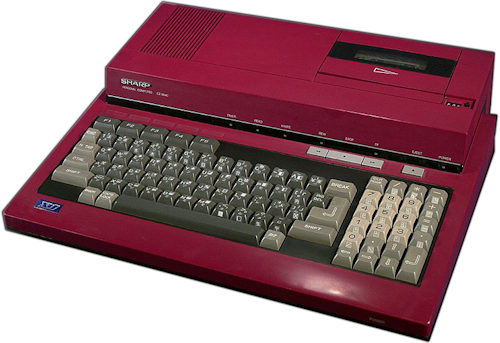 The X1 is a series of home computer released by Sharp Corporation from 1982 to 1988. It was based on a Z80 CPU. At the time the original X1 was released, all other home computers generally had a BASIC language in ROM. However the X1 did not have a BASIC ROM, and it had to load the interpreter from a cassette tape. On the plus side however, this concept meant that a free RAM area was available that was as big as possible when not using BASIC. The cabinet shape of X1 was also much more stylish than others at that time and a range of cabinet colors (including Red) was selectable.
The RGB display monitor for the X1 had a television tuner, and a computer screen could be super-imposed on TV. All the TV functions could be controlled from a computer program. The character font was completely programmable (A.K.A. PCG) with 4bit color, and it was effectively used into a lot of games. The entirety of the VRAM memory was mapped on to the I/O area, so it was controlled without bank change. Since X1 had these features, it was very powerful for game software.
While X1 was struggling to sell, the PC8801 (from NEC) was quickly becoming popular in the Japanese market. In 1984, Sharp released the X1 turbo series with high resolution graphics (640x400, while X1 had 640x200). It had a lot of improvements, but the clock speed was still only 4MHz. In 1986, Sharp released the X1 turbo Z series with a 4096 color analog RGB monitor and upgraded sound with added YM2151. An X1 twin, which had a PC-Engine in the cabinet, was finally released as the last machine of the X1 series in 1987. Then this series was succeeded by the X68000 series.
Technical information:
Name: X1 (CZ-800C)
Manufacturer: Sharp
Origin: Japan
Year: 1982
Keyboard: Full-stroke keyboard
CPU: Sharp Z80 A
Speed: 4 MHz
RAM: 64 KB
Video RAM: 4 KB (up to 48 KB)
ROM: 6 KB
Text Modes: 40 / 80 x 25
Graphic Modes: 320 x 200 / 640 x 200
Colours: 8
Sound: 3 voices PSG (and 8 channel FM synth in the later TurboZ series, YM2151)
Information taken from the Wikipedia page: http://en.wikipedia.org/wiki/Sharp_X1
Songs
| Song Title | Artist | Song Length | Status | Avg. Vote | Queue | Last Played |
| --- | --- | --- | --- | --- | --- | --- |
| Gradius - Aircraft Carrier - Boss | Miki Higashino (東野 美紀) | 0:22 | Active | 4.0 | | 2022-12-31 |
| Gradius - Beat Back - Stage 2 | Miki Higashino (東野 美紀) | 0:47 | Active | 2.5 | | 2023-01-22 |
| Gradius - Beginning of History | Miki Higashino (東野 美紀) | 0:45 | Active | 5.0 | | 2022-06-25 |
| Gradius - Blank Mask - Stage 3 | Miki Higashino (東野 美紀) | 0:43 | Active | 3.0 | | 2021-07-25 |
| Gradius - Bonus Stage | Miki Higashino (東野 美紀) | 1:11 | Active | 3.3 | | 2023-05-12 |
| Gradius - Challenger 1985 - Stage 1 | Miki Higashino (東野 美紀) | 0:43 | Active | 4.7 | | 2023-05-20 |
| Gradius - Final Attack - Stage 7 | Miki Higashino (東野 美紀) | 0:45 | Active | 3.0 | | 2022-06-20 |
| Gradius - Free Flyer - Stage 4 | Miki Higashino (東野 美紀) | 0:44 | Active | 3.0 | | 2020-12-19 |
| Gradius - Game Over | Miki Higashino (東野 美紀) | 0:04 | Active | 3.0 | | 2022-12-21 |
| Gradius - Historical Soldier | Miki Higashino (東野 美紀) | 0:20 | Active | | | 2023-04-28 |
| Gradius - Mazed Music - Stage 5 | Miki Higashino (東野 美紀) | 0:32 | Active | 3.5 | | 2022-12-21 |
| Gradius - Mechanical Globule - Stage 6 | Miki Higashino (東野 美紀) | 0:45 | Dupe | | | |
| Gradius - Mechanical Globule - Stage 6 | Miki Higashino (東野 美紀) | 1:09 | Active | 4.0 | | 2022-11-21 |
| Gradius - Victory | Miki Higashino (東野 美紀) | 0:24 | Active | 5.0 | | 2023-05-09 |
| SoundShock: FM Synthesis Maddness!! - pf (NRTDRV funk edit) | hex125 | 3:52 | Active | 4.9 | | 2023-05-06 |