CVGM.net - Chiptune, Retro & Video Game Music

Platform - Handheld » PlayStation Portable (PSP)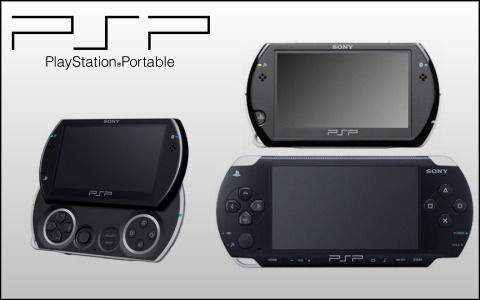 The PlayStation Portable (PSP) was released March 24, 2005 and marked Sony's first entry into the handheld gaming market.
In late 2007, the PSP was upgraded with a new hardware variation known by the model number PSP-2000.
On August 20, 2008, at the Leipzig Games Convention, Sony announced a new revision of the PSP, the PSP-3000.
On June 2, 2009, at E3 in Los Angeles, Sony announced the PSPgo, which removed the UMD drive and instead was the first dedicated gaming handheld to be completely dependent on downloaded software.
In August, 2011, at Gamescom in Cologne, Sony announced the budget priced PSP-E1000 for PAL regions, which removed network support. This would be the last revision of the PSP.
Songs
| Song Title | Artist | Song Length | Status | Avg. Vote | Queue | Last Played |
| --- | --- | --- | --- | --- | --- | --- |
| C-Squat Slow Dance | Natty (Nathaniel Adams) | 3:31 | Active | 1.5 | | 2023-09-06 |
| Cyberculosis | raina (Lasse Mattila) Titan | 3:47 | Active | 4.6 | | 2023-08-29 |
| Dancing Funky Pigs | XyNo (Nicolas Allaire) | 2:26 | Active | 3.3 | | 2023-09-16 |
| Final Fantasy IV - Castle Damcyan | Nobuo Uematsu (植松 伸夫) | 1:32 | Active | 4.5 | | 2023-06-24 |
| Final Fantasy IV - Chocobo ~ Chocobo | Nobuo Uematsu (植松 伸夫) | 2:01 | Active | 4.6 | | 2023-08-08 |
| Final Fantasy IV - Cry in Sorrow: part 2 | Nobuo Uematsu (植松 伸夫) | 2:11 | Active | 4.7 | | 2023-09-08 |
| Final Fantasy IV - Fabul | Nobuo Uematsu (植松 伸夫) | 1:50 | Active | 4.3 | | 2023-08-09 |
| Final Fantasy IV - Fanfare | Nobuo Uematsu (植松 伸夫) | 0:45 | Active | 4.0 | | 2023-09-12 |
| Final Fantasy IV - Fight 1 | Nobuo Uematsu (植松 伸夫) | 1:54 | Active | 4.5 | | 2023-06-13 |
| Final Fantasy IV - Fight 2 | Nobuo Uematsu (植松 伸夫) | 2:22 | Active | 4.6 | | 2023-07-12 |
| Final Fantasy IV - Hey, Cid! | Nobuo Uematsu (植松 伸夫) | 1:16 | Active | 4.5 | | 2023-07-26 |
| Final Fantasy IV - Into the Darkness | Nobuo Uematsu (植松 伸夫) | 1:56 | Active | 4.9 | | 2023-09-04 |
| Final Fantasy IV - Intro 1 | Nobuo Uematsu (植松 伸夫) | 2:30 | Active | 4.6 | | 2023-09-16 |
| Final Fantasy IV - Intro 2 | Nobuo Uematsu (植松 伸夫) | 2:57 | Active | 4.6 | | 2023-08-25 |
| Final Fantasy IV - Kingdom Baron | Nobuo Uematsu (植松 伸夫) | 1:37 | Active | 4.3 | | 2023-09-04 |
| Final Fantasy IV - Main Theme | Nobuo Uematsu (植松 伸夫) | 2:48 | Active | 4.6 | | 2023-07-12 |
| Final Fantasy IV - Mt. Ordeals | Nobuo Uematsu (植松 伸夫) | 3:17 | Active | 3.8 | | 2023-08-24 |
| Final Fantasy IV - Mystic Mysidia | Nobuo Uematsu (植松 伸夫) | 1:42 | Active | 4.1 | | 2023-08-14 |
| Final Fantasy IV - Palom and Porom | Nobuo Uematsu (植松 伸夫) | 1:11 | Active | 3.0 | | 2021-05-25 |
| Final Fantasy IV - Red Wings | Nobuo Uematsu (植松 伸夫) | 2:24 | Active | 4.3 | | 2023-09-21 |
| Final Fantasy IV - Rydia | Nobuo Uematsu (植松 伸夫) | 2:36 | Active | 4.4 | | 2023-08-25 |
| Final Fantasy IV - The Airship | Nobuo Uematsu (植松 伸夫) | 1:24 | Active | 4.1 | | 2023-08-11 |
| Final Fantasy IV - The Dreadful Fight | Nobuo Uematsu (植松 伸夫) | 3:09 | Active | 3.9 | | 2023-09-10 |
| Final Fantasy IV - The Prelude | Nobuo Uematsu (植松 伸夫) | 2:17 | Active | 5.0 | | 2023-09-05 |
| Final Fantasy IV - Toroian Beauty | Nobuo Uematsu (植松 伸夫) | 3:46 | Active | 4.3 | | 2023-09-06 |
| Final Fantasy IV - Welcome to our Town! | Nobuo Uematsu (植松 伸夫) | 3:04 | Active | 4.5 | | 2023-06-18 |
| Flesheaters | Matt Nida | 4:46 | Active | 4.0 | | 2023-08-10 |
| Hadean Nights (City-State Altered Egos Mix) | Natty (Nathaniel Adams) | 5:05 | Active | 1.0 | | 2023-07-14 |
| How Low You Wear Your Pants (The Boys All Love It) | Natty (Nathaniel Adams) | 4:05 | Active | 4.0 | | 2022-08-07 |
| Janus | Natty (Nathaniel Adams) | 3:04 | Active | 2.4 | | 2023-06-21 |
| Name Plate Earrings | Natty (Nathaniel Adams) | 4:25 | Active | 1.8 | | 2023-08-22 |
| Nerdy White Kids (The Chip Music National Anthem) | Natty (Nathaniel Adams) | 4:32 | Active | 1.7 | | 2023-08-10 |
| Never Been to Japan, Never Seen a Screaming Fan | Natty (Nathaniel Adams) | 4:42 | Active | 2.2 | | 2023-06-21 |
| ParaNESia | XyNo (Nicolas Allaire) | 3:06 | Active | 4.3 | | 2023-06-24 |
| Rooms | Natty (Nathaniel Adams) | 6:34 | Active | 2.2 | | 2023-08-19 |
| Save The Date | Matt Nida | 4:31 | Active | 3.0 | | 2023-07-29 |
| Slavic March Goes House | Natty (Nathaniel Adams) | 3:40 | Active | 3.0 | | 2023-05-18 |
| Star Ocean: First Departure - What Should Be | Motoi Sakuraba (桜庭 統) | 2:31 | Active | 4.3 | | 2023-08-25 |
| These Unforgiving Hours | Natty (Nathaniel Adams) | 4:41 | Active | 3.2 | | 2023-09-17 |