CVGM.net - Chiptune, Retro & Video Game Music

Platform - Console » Dreamcast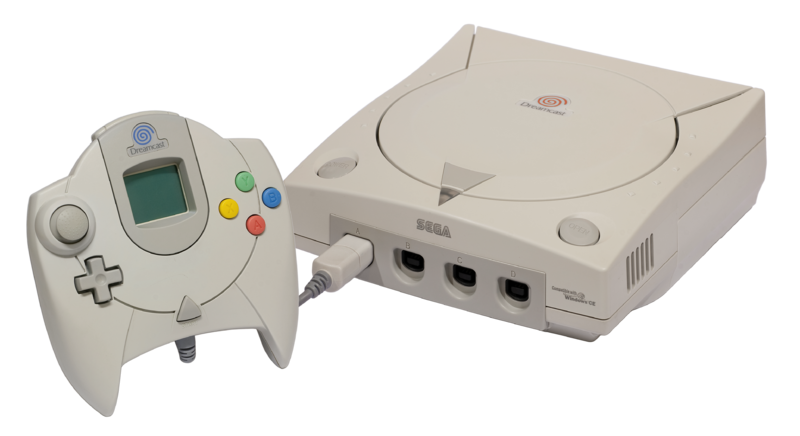 Things that should be added under this platform:
- songs ripped or recorded from games on this console or emulator
----------------------------------------
The Dreamcast was the last video game console made by Sega, and is the successor to the Sega Saturn. The Dreamcast is part of the sixth generation of video game consoles and was released in late 1998, before its contemporaries—the PlayStation 2, the Nintendo GameCube and the Xbox.
Sega discontinued the Dreamcast in North America in February 2002 and withdrew entirely from the console hardware business. However, support of the system continued in Europe and Oceania until the end of 2002, as well as in Japan, where consoles were still sold until 2007 and new licensed games continued to be released.
According to Bernie Stolar, former President and CEO of Sega of America, the Dreamcast was discontinued because the new chairman of Sega wanted the company to focus on software.
Despite its short lifespan, the Dreamcast was widely hailed as ahead of its time, and is still held in high regard for pioneering online console gaming—it was the first console to include a built-in modem and Internet support for online play. As of 2010, the console is still supported through various homebrew video game releases.
Songs
| Song Title | Artist | Song Length | Status | Avg. Vote | Queue | Last Played |
| --- | --- | --- | --- | --- | --- | --- |
| Airforce Delta - Alpha Base | Satoru Nakata (中田 暁) | 3:27 | Active | 4.5 | | 2023-09-19 |
| Airforce Delta - Beta Base | Satoru Nakata (中田 暁) | 3:36 | Active | 5.0 | | 2023-09-20 |
| Airforce Delta - Border Region | Satoru Nakata (中田 暁) | 3:32 | Active | 4.5 | | 2023-07-18 |
| Airforce Delta - City of Algoss | Satoru Nakata (中田 暁) | 3:29 | Active | 4.3 | | 2023-09-16 |
| Airforce Delta - City of Gholanda | Satoru Nakata (中田 暁) | 3:38 | Active | 4.0 | | 2023-08-23 |
| Airforce Delta - City of Khalavar | Satoru Nakata (中田 暁) | 4:11 | Active | 4.5 | | 2022-12-23 |
| Airforce Delta - City of Naxos | Satoru Nakata (中田 暁) | 3:33 | Active | 4.7 | | 2023-09-05 |
| Airforce Delta - Credits | Satoru Nakata (中田 暁) | 3:39 | Active | 4.0 | | 2022-07-18 |
| Airforce Delta - Despard Islands | Satoru Nakata (中田 暁) | 3:45 | Active | 4.3 | | 2023-09-23 |
| Airforce Delta - Ending Cutscene | Satoru Nakata (中田 暁) | 1:32 | Active | | | 2023-06-19 |
| Airforce Delta - Eyon Forest Belt | Satoru Nakata (中田 暁) | 3:56 | Active | 3.3 | | 2023-06-06 |
| Airforce Delta - Intro Cutscene | Satoru Nakata (中田 暁) | 0:46 | Active | 4.0 | | 2023-09-09 |
| Airforce Delta - Meloss Fort 1 | Satoru Nakata (中田 暁) | 3:37 | Active | 4.7 | | 2023-07-26 |
| Airforce Delta - Meloss Fort 2 | Satoru Nakata (中田 暁) | 3:26 | Active | 5.0 | | 2023-09-29 |
| Airforce Delta - Military Supply Base | Satoru Nakata (中田 暁) | 4:05 | Active | 4.0 | | 2023-02-17 |
| Airforce Delta - Mt. Alathia | Satoru Nakata (中田 暁) | 3:14 | Active | 4.5 | | 2023-07-14 |
| Airforce Delta - Mt. Coridalos | Satoru Nakata (中田 暁) | 3:57 | Active | 4.0 | | 2023-03-17 |
| Airforce Delta - Oil Refinery | Satoru Nakata (中田 暁) | 3:37 | Active | 3.0 | | 2021-11-28 |
| Airforce Delta - Prologue | Satoru Nakata (中田 暁) | 0:56 | Active | | | 2022-07-30 |
| Airforce Delta - Sea of Limnoss | Satoru Nakata (中田 暁) | 3:52 | Active | 4.5 | | 2023-09-27 |
| Airforce Delta - Smilna Straits | Satoru Nakata (中田 暁) | 3:26 | Active | 5.0 | | 2020-12-09 |
| Airforce Delta - The Confrontation | Satoru Nakata (中田 暁) | 4:13 | Active | 4.5 | | 2023-03-26 |
| Airforce Delta - Title | Satoru Nakata (中田 暁) | 1:54 | Active | 4.0 | | 2023-05-16 |
| Airforce Delta - Title (Short) | Satoru Nakata (中田 暁) | 0:43 | Active | | | 2020-12-18 |
| Airforce Delta - Uranium Mine | Satoru Nakata (中田 暁) | 3:45 | Active | 3.8 | | 2023-07-18 |
| Airforce Delta - Zeta Base | Satoru Nakata (中田 暁) | 3:22 | Active | 4.0 | | 2022-01-06 |
| Bomberman Online - Battle Mode Menu | June Chiki Chikuma (竹間 淳) | 1:37 | Active | 5.0 | | 2023-07-27 |
| Bomberman Online - Battle Mode: Hyper Bomb Rule | June Chiki Chikuma (竹間 淳) | 2:05 | Active | 4.0 | | 2023-08-10 |
| Bomberman Online - Battle Mode: Panel Paint Rule | June Chiki Chikuma (竹間 淳) | 2:05 | Active | 4.5 | | 2022-07-06 |
| Bomberman Online - Battle Mode: Ring Match Rule | June Chiki Chikuma (竹間 淳) | 1:55 | Active | 3.0 | | 2023-06-27 |
| Bomberman Online - Battle Mode: Submarine Rule | June Chiki Chikuma (竹間 淳) | 2:12 | Active | 5.0 | | 2023-09-10 |
| Bomberman Online - Battle Mode: Survival Rule | June Chiki Chikuma (竹間 淳) | 2:26 | Active | 4.4 | | 2023-08-13 |
| Bomberman Online - Boss | June Chiki Chikuma (竹間 淳) | 2:08 | Active | 2.0 | | 2020-11-22 |
| Bomberman Online - Diamond Canyon Excavation Point | June Chiki Chikuma (竹間 淳) | 2:30 | Active | 4.3 | | 2023-09-02 |
| Bomberman Online - Intro Movie | June Chiki Chikuma (竹間 淳) | 1:32 | Active | 5.0 | | 2023-08-28 |
| Bomberman Online - Loading | June Chiki Chikuma (竹間 淳) | 1:00 | Active | 2.5 | | 2023-02-14 |
| Bomberman Online - Submarine Patrol Base | June Chiki Chikuma (竹間 淳) | 2:10 | Active | 3.5 | | 2022-07-16 |
| Bomberman Online - Thunder Volt Power Plant | June Chiki Chikuma (竹間 淳) | 2:15 | Active | 4.8 | | 2023-09-21 |
| Bomberman Online - Title | June Chiki Chikuma (竹間 淳) | 0:50 | Active | 4.7 | | 2023-08-22 |
| Bomberman Online - Tower of Wind | June Chiki Chikuma (竹間 淳) | 2:15 | Active | 4.0 | | 2023-09-11 |
| Bomberman Online - Volcanic Training School | June Chiki Chikuma (竹間 淳) | 2:39 | Active | 4.7 | | 2023-07-24 |
| Climax Landers - Ancient House | Chamy (伊師 正好) | 1:04 | Active | 4.8 | | 2023-08-15 |
| Climax Landers - Battle | Yasutaka Hatade (幡手 康隆) | 1:47 | Active | 4.0 | | 2023-05-09 |
| Climax Landers - Church | Michihiro Nomura (野村 教裕) | 1:29 | Active | 5.0 | | 2023-02-10 |
| Climax Landers - Crisis Draws Near | Michihiro Nomura (野村 教裕) | 0:53 | Active | 4.0 | | 2022-12-19 |
| Climax Landers - Dandy | Hiroshi Kondo (近藤 洋) | 1:22 | Active | | | 2023-04-08 |
| Climax Landers - Dr. Alan | Hiroshi Kondo (近藤 洋) | 1:43 | Active | 4.0 | | 2022-11-01 |
| Climax Landers - Dungeon (Doll House) | Chamy (伊師 正好) | 1:53 | Active | 4.0 | | 2023-09-18 |
| Climax Landers - Dungeon (Downtown) | Chamy (伊師 正好) | 1:08 | Active | 4.0 | | 2023-02-26 |
| Climax Landers - Dungeon (Holy Temple) | Chamy (伊師 正好) | 1:42 | Active | 5.0 | | 2022-04-16 |
| Climax Landers - Dungeon (Mountain Cave) | Chamy (伊師 正好) | 1:26 | Active | 4.0 | | 2022-09-05 |
| Climax Landers - Dungeon (Phantom Zone) | Michihiro Nomura (野村 教裕) | 1:32 | Active | | | 2022-06-23 |
| Climax Landers - Dungeon (Tomb of Ou) | Chamy (伊師 正好) | 1:24 | Active | 4.0 | | 2023-08-04 |
| Climax Landers - Dungeon Boss Appearance | Yasutaka Hatade (幡手 康隆) | 2:28 | Active | 5.0 | | 2023-01-30 |
| Climax Landers - Friday | Hiroshi Kondo (近藤 洋) | 3:06 | Active | 4.2 | | 2023-06-15 |
| Climax Landers - Gang Dounatterunda | Chamy (伊師 正好) | 1:14 | Active | 3.0 | | 2023-06-24 |
| Climax Landers - Inclination of the Rabbit | Hiroshi Kondo (近藤 洋) | 1:22 | Active | 3.0 | | 2023-07-25 |
| Climax Landers - Inside the Shop | Michihiro Nomura (野村 教裕) | 0:52 | Active | 3.3 | | 2023-09-24 |
| Climax Landers - Item Shop | Michihiro Nomura (野村 教裕) | 1:03 | Active | 4.0 | | 2023-03-18 |
| Climax Landers - Lady's Theme | Hiroshi Kondo (近藤 洋) | 2:08 | Active | 5.0 | | 2022-08-27 |
| Climax Landers - Lady's Theme (Field Arrange) | Hiroshi Kondo (近藤 洋) | 1:50 | Active | | | 2021-01-10 |
| Climax Landers - Lao's House | Hiroshi Kondo (近藤 洋) | 1:25 | Active | 5.0 | | 2023-09-10 |
| Climax Landers - Lao's Theme | Hiroshi Kondo (近藤 洋) | 2:01 | Active | 4.0 | | 2022-06-01 |
| Climax Landers - Lao's Theme (Field Arrange) | Hiroshi Kondo (近藤 洋) | 1:43 | Active | 4.0 | | 2023-05-13 |
| Climax Landers - Last Battle | Michihiro Nomura (野村 教裕) | 2:26 | Active | 3.0 | | 2020-11-18 |
| Climax Landers - Last Dungeon | Michihiro Nomura (野村 教裕) | 1:42 | Active | 3.0 | | 2020-10-26 |
| Climax Landers - Marion's Theme | Hiroshi Kondo (近藤 洋) | 2:42 | Active | 4.6 | | 2023-06-11 |
| Climax Landers - Marion's Theme (Field Arrange) | Hiroshi Kondo (近藤 洋) | 2:10 | Active | 5.0 | | 2023-09-05 |
| Climax Landers - Marlin's Theme | Hiroshi Kondo (近藤 洋) | 2:52 | Active | 5.0 | | 2022-05-06 |
| Climax Landers - Marlin's Theme (Field Arrange) | Hiroshi Kondo (近藤 洋) | 1:21 | Active | | | 2023-05-23 |
| Climax Landers - Master's Theme | Hiroshi Kondo (近藤 洋) | 2:23 | Active | 3.5 | | 2019-09-06 |
| Climax Landers - Oh, the Stupidity of Yatsura | Chamy (伊師 正好) | 1:06 | Active | 4.5 | | 2021-05-21 |
| Climax Landers - Rail's Theme | Hiroshi Kondo (近藤 洋) | 2:09 | Active | 5.0 | | 2020-10-27 |
| Climax Landers - Rail's Theme (Field Arrange) | Hiroshi Kondo (近藤 洋) | 2:01 | Active | 4.0 | | 2022-08-02 |
| Climax Landers - Rapid | Michihiro Nomura (野村 教裕) | 1:30 | Active | 3.0 | | 2022-03-26 |
| Climax Landers - Something Flourishes | Chamy (伊師 正好) | 1:18 | Active | | | 2021-07-19 |
| Climax Landers - Sword's Theme | Hiroshi Kondo (近藤 洋) | 2:28 | Active | 4.0 | | 2023-07-02 |
| Climax Landers - Sword's Theme (Field Arrange) | Hiroshi Kondo (近藤 洋) | 1:47 | Active | 4.0 | | 2021-09-23 |
| Climax Landers - Sword's Theme (Title Screen Arrange) | Hiroshi Kondo (近藤 洋) | 2:19 | Active | 4.3 | | 2023-08-19 |
| Climax Landers - The Yogurt is Transforming! | Hiroshi Kondo (近藤 洋) | 1:32 | Active | 4.8 | | 2023-09-12 |
| Climax Landers - True Citizen Day | Michihiro Nomura (野村 教裕) | 1:09 | Active | 4.0 | | 2020-10-25 |
| Climax Landers - Zealous Siblings | Yasutaka Hatade (幡手 康隆) | 0:58 | Active | 4.0 | | 2022-06-12 |
| Climax Landers - Zukkoke Trio | Yasutaka Hatade (幡手 康隆) | 1:14 | Active | 5.0 | | 2022-01-13 |
| Daytona USA - Let's Go Away (Mirror) | Takenobu Mitsuyoshi (光吉 猛修) | 4:20 | Active | 4.0 | | 2023-09-12 |
| Daytona USA - Let's Go Away (Race) | Takenobu Mitsuyoshi (光吉 猛修) | 4:20 | Active | 4.3 | | 2023-09-22 |
| Daytona USA - Sky High (Mirror) | Takenobu Mitsuyoshi (光吉 猛修) | 4:09 | Active | 4.2 | | 2023-09-05 |
| Daytona USA - Sky High (Race) | Takenobu Mitsuyoshi (光吉 猛修) | 4:16 | Active | 3.9 | | 2023-09-25 |
| Daytona USA - The King of Speed (Mirror) | Takenobu Mitsuyoshi (光吉 猛修) | 4:24 | Active | 3.0 | | 2023-08-17 |
| Daytona USA - The King of Speed (Race) | Takenobu Mitsuyoshi (光吉 猛修) | 4:25 | Active | 4.4 | | 2023-07-12 |
| Delicious Theme | Eyas (Ludvig Linge) Yodel | 5:31 | Active | 4.7 | | 2023-09-07 |
| Ecco the Dolphin: Defender of the Future - Anguish of Death | Tim Follin (Timothy John Follin) | 5:48 | Active | 4.9 | | 2023-09-07 |
| Ecco the Dolphin: Defender of the Future - Caverns of Hope | Tim Follin (Timothy John Follin) | 5:26 | Active | 4.3 | | 2023-09-19 |
| Ecco the Dolphin: Defender of the Future - Credits | Tim Follin (Timothy John Follin) | 3:35 | Active | 4.8 | | 2023-08-05 |
| Ecco the Dolphin: Defender of the Future - Passage from Genesis | Tim Follin (Timothy John Follin) | 7:04 | Active | 4.9 | | 2023-06-10 |
| Ecco the Dolphin: Defender of the Future - Aquamarine Bay | Tim Follin (Timothy John Follin) | 10:31 | Active | 4.8 | | 2023-08-04 |
| Ecco the Dolphin: Defender of the Future - Atlantis Lost | Tim Follin (Timothy John Follin) | 5:41 | Active | 4.7 | | 2023-07-02 |
| Ecco the Dolphin: Defender of the Future - Pathways from Nowhere | Tim Follin (Timothy John Follin) | 7:56 | Active | 4.7 | | 2023-09-28 |
| Ecco the Dolphin: Defender of the Future - Perils of the Coral Reef | Tim Follin (Timothy John Follin) | 3:34 | Active | 4.6 | | 2023-09-12 |
| Ecco the Dolphin: Defender of the Future - Perils of the Coral Reef 2 | Tim Follin (Timothy John Follin) | 2:30 | Active | 5.0 | | 2023-05-22 |
| Ecco the Dolphin: Defender of the Future - Shrine of Controversy | Tim Follin (Timothy John Follin) | 5:36 | Active | 4.6 | | 2023-07-02 |
| Legacy of Kain: Soul Reaver - Ozar Midrashim (Intro) | Jim Cassidy, Jim Kazmeyer (James Cassidy) , Kurt Harland , Paul Robb Information Society | 5:09 | Active | 4.4 | | 2023-09-19 |
| Metropolis Street Racer - I Can Still Believe | Richard Jacques , TJ Davis (Teresa Jane Davis) | 4:18 | Active | 3.7 | | 2023-02-27 |
| Metropolis Street Racer - Stand at Ease | Richard Jacques | 3:16 | Active | 3.0 | | 2023-08-15 |
| Phantasy Star Online - Image of hero | Fumie Kumatani (熊谷 文恵) | 2:54 | Active | 4.5 | | 2023-08-08 |
| Shadowman - Asylum Playrooms | Tim Haywood | 3:53 | Active | 3.6 | | 2023-09-22 |
| Shadowman - Jack II | Tim Haywood | 2:12 | Active | 3.0 | | 2023-08-18 |
| Shadowman - Shadowlands | Tim Haywood | 2:18 | Active | 4.6 | | 2023-09-10 |
| Shadowman - The Sisters Awake | Tim Haywood | 3:22 | Active | 4.1 | | 2023-08-30 |
| Shadowman - Title | Tim Haywood | 1:32 | Active | 4.7 | | 2023-07-16 |
| Shenmue - Bob's Pizzeria | Takenobu Mitsuyoshi (光吉 猛修) | 0:55 | Active | 3.3 | | 2023-07-02 |
| Shenmue - Harbour Lounge | Takenobu Mitsuyoshi (光吉 猛修) | 2:15 | Active | 3.5 | | 2021-12-28 |
| Shenmue - Slot House | Takenobu Mitsuyoshi (光吉 猛修) | 0:56 | Active | 5.0 | | 2023-03-31 |
| Shenmue - Tomato Convenience Store | Takenobu Mitsuyoshi (光吉 猛修) | 0:55 | Active | 4.4 | | 2023-07-26 |
| Shenmue: 一章: 横須賀 - Antiquity Tree | Takenobu Mitsuyoshi (光吉 猛修) | 1:31 | Active | | | 2020-12-13 |
| Shenmue: 一章: 横須賀 - Cherry Blossom Wind Dance | Osamu Murata (村田 理) | 1:40 | Active | 4.0 | | 2021-06-21 |
| Shenmue: 一章: 横須賀 - Christmas on Dobuita Street | Ryuuji Iuchi (井内 竜次) | 2:15 | Active | 4.0 | | 2022-08-21 |
| Shenmue: 一章: 横須賀 - Daily Agony | Ryuuji Iuchi (井内 竜次) | 2:18 | Active | 4.0 | | 2023-05-17 |
| Shenmue: 一章: 横須賀 - Dawn | Ryuuji Iuchi (井内 竜次) | 2:34 | Active | | | 2023-06-03 |
| Shenmue: 一章: 横須賀 - Departure | Osamu Murata (村田 理) | 2:18 | Active | 5.0 | | 2022-11-02 |
| Shenmue: 一章: 横須賀 - Departure for Hope | Osamu Murata (村田 理) | 4:50 | Active | 3.3 | | 2023-08-30 |
| Shenmue: 一章: 横須賀 - Departure on a New Trip | Takenobu Mitsuyoshi (光吉 猛修) | 6:19 | Active | 4.0 | | 2021-03-31 |
| Shenmue: 一章: 横須賀 - Encounter with Destiny | Osamu Murata (村田 理) | 3:29 | Active | 5.0 | | 2023-09-11 |
| Shenmue: 一章: 横須賀 - Flower Girl | Ryuuji Iuchi (井内 竜次) | 0:54 | Active | 3.0 | | 2023-08-11 |
| Shenmue: 一章: 横須賀 - Hip de Hop | Yuzo Koshiro (古代 祐三) | 1:35 | Active | 3.5 | | 2023-07-12 |
| Shenmue: 一章: 横須賀 - Memories of Distant Days | Osamu Murata (村田 理) | 3:50 | Active | 4.7 | | 2023-05-11 |
| Shenmue: 一章: 横須賀 - Memories of Distant Days (Version 2) | Osamu Murata (村田 理) | 2:25 | Active | 4.0 | | 2023-09-29 |
| Shenmue: 一章: 横須賀 - Nightmare | Takeshi Yanagawa (柳川 剛) | 2:03 | Active | | | 2020-12-13 |
| Shenmue: 一章: 横須賀 - Nozomi and Ryo | Osamu Murata (村田 理) | 3:56 | Active | 5.0 | | 2019-11-29 |
| Shenmue: 一章: 横須賀 - Nozomi's Confession | Osamu Murata (村田 理) | 3:17 | Active | | | 2020-12-18 |
| Shenmue: 一章: 横須賀 - Rain | Yuzo Koshiro (古代 祐三) | 1:03 | Active | 5.0 | | 2023-03-22 |
| Shenmue: 一章: 横須賀 - Receive a Skill to Succeed | Osamu Murata (村田 理) | 2:02 | Active | | | 2023-06-22 |
| Shenmue: 一章: 横須賀 - Revenge of a Sailor | Takeshi Yanagawa (柳川 剛) | 1:18 | Active | 3.0 | | 2020-12-14 |
| Shenmue: 一章: 横須賀 - Sadness and Hope | Osamu Murata (村田 理) | 3:01 | Active | 4.5 | | 2023-04-28 |
| Shenmue: 一章: 横須賀 - Secret of a Warehouse | Osamu Murata (村田 理) | 2:21 | Active | 4.0 | | 2023-01-01 |
| Shenmue: 一章: 横須賀 - Separated from Yokosuka | Ryuuji Iuchi (井内 竜次) | 2:27 | Active | 4.0 | | 2023-09-21 |
| Shenmue: 一章: 横須賀 - Shenhua: Sedge Flower | Ryuuji Iuchi (井内 竜次) | 3:01 | Active | 4.8 | | 2023-09-23 |
| Shenmue: 一章: 横須賀 - Shenmue: Sedge Tree | Takenobu Mitsuyoshi (光吉 猛修) | 3:59 | Active | 4.5 | | 2023-05-07 |
| Shenmue: 一章: 横須賀 - Snack Linda Theme | Osamu Murata (村田 理) | 3:40 | Active | 5.0 | | 2022-11-14 |
| Shenmue: 一章: 横須賀 - Snowy Scenery | Ryuuji Iuchi (井内 竜次) | 3:34 | Active | 4.5 | | 2021-09-09 |
| Shenmue: 一章: 横須賀 - Snowy Scenery (Version 2) | Ryuuji Iuchi (井内 竜次) | 3:33 | Active | 5.0 | | 2022-07-31 |
| Shenmue: 一章: 横須賀 - Tears of Separation | Ryuuji Iuchi (井内 竜次) | 2:08 | Active | 4.0 | | 2023-08-12 |
| Shenmue: 一章: 横須賀 - The Place Where the Sun Sets | Osamu Murata (村田 理) | 3:05 | Active | 4.0 | | 2022-12-18 |
| Shenmue: 一章: 横須賀 - The Place Where the Sun Sets (Version 2) | Osamu Murata (村田 理) | 4:10 | Active | 4.8 | | 2023-09-12 |
| Shenmue: 一章: 横須賀 - The Sadness I Carry on My Shoulders | Yuzo Koshiro (古代 祐三) | 2:53 | Active | 4.3 | | 2023-06-19 |
| Shenmue: 一章: 横須賀 - To Fly Vacantly, Like an Eagle | Osamu Murata (村田 理) | 3:33 | Active | 3.5 | | 2023-01-10 |
| Shenmue: 一章: 横須賀 - To the Sea and the Continent Beyond | Ryuuji Iuchi (井内 竜次) | 2:42 | Active | 5.0 | | 2022-05-22 |
| Shenmue: 一章: 横須賀 - Wish... | Nobuhiko Kashiwara (樫原 伸彦) , Ryuuji Iuchi (井内 竜次) , Yumiko Yamamoto (山本 由美子) | 5:02 | Active | 2.5 | | 2023-09-15 |
| Shenmue: 一章: 横須賀 - Working Man | Osamu Murata (村田 理) | 1:54 | Active | 4.0 | | 2023-02-12 |
| Skies of Arcadia - Kingdom of Ixa`taka | Tatsuyuki Maeda (前田 龍之) | 3:08 | Active | 4.7 | | 2023-09-11 |
| Sonic Adventure - At Dawn ...for Speed Highway | Jun Senoue (瀬上 純) | 2:41 | Active | 4.7 | | 2023-09-11 |
| Sonic Adventure - Azure Blue World ...for Emerald Coast | Jun Senoue (瀬上 純) | 4:13 | Active | 4.7 | | 2023-09-03 |
| Sonic Adventure - Bad Taste Aquarium ...for Hot Shelter | Jun Senoue (瀬上 純) | 3:31 | Active | 5.0 | | 2023-01-23 |
| Sonic Adventure - Be Cool, Be Wild and Be Groovy ...for Icecap | Jun Senoue (瀬上 純) , Kenichi Tokoi (床井 健一) | 2:24 | Active | 4.5 | | 2023-08-03 |
| Sonic Adventure - BIG fishes at Emerald Coast... | Jun Senoue (瀬上 純) | 1:50 | Active | 4.0 | | 2023-08-22 |
| Sonic Adventure - Blue Star ...for Casinopolis | Kenichi Tokoi (床井 健一) | 1:35 | Active | 4.4 | | 2023-09-02 |
| Sonic Adventure - Boss: CHAOS ver.6 | Jun Senoue (瀬上 純) | 1:54 | Active | 4.0 | | 2023-08-17 |
| Sonic Adventure - Calm After the Storm ...Egg Carrier -The Ocean- | Kenichi Tokoi (床井 健一) | 2:08 | Active | 4.0 | | 2023-08-01 |
| Sonic Adventure - Crank the Heat Up!! ...for Final Egg | Jun Senoue (瀬上 純) | 3:00 | Active | 4.5 | | 2022-09-09 |
| Sonic Adventure - Crazy Robo ...Boss: E-101R | Fumie Kumatani (熊谷 文恵) | 2:33 | Active | 5.0 | | 2020-10-23 |
| Sonic Adventure - Danger! Chased by Rock ...for Lost World | Kenichi Tokoi (床井 健一) | 1:36 | Active | 4.0 | | 2022-08-03 |
| Sonic Adventure - Dilapidated Way ...for Casinopolis | Jun Senoue (瀬上 純) | 2:09 | Active | 4.6 | | 2023-09-01 |
| Sonic Adventure - Egg Carrier - A Song That Keeps Us on the Move | Fumie Kumatani (熊谷 文恵) , Kenichi Tokoi (床井 健一) | 4:03 | Active | 4.4 | | 2023-05-29 |
| Sonic Adventure - Egg Mobile ...Boss: Egg Hornet | Jun Senoue (瀬上 純) | 2:03 | Active | 4.3 | | 2023-09-11 |
| Sonic Adventure - Fakery Way ...for Twinkle Park | Fumie Kumatani (熊谷 文恵) | 1:09 | Active | | | 2022-02-18 |
| Sonic Adventure - Fight for My Own Way ...Boss: Event | Jun Senoue (瀬上 純) | 2:07 | Active | 5.0 | | 2023-07-08 |
| Sonic Adventure - Funky Groove Makes U Hot!? ...for Options | Jun Senoue (瀬上 純) | 1:46 | Active | 4.0 | | 2023-09-10 |
| Sonic Adventure - General Offensive ...for Sky Deck | Jun Senoue (瀬上 純) , Kenichi Tokoi (床井 健一) | 2:44 | Active | 3.7 | | 2023-09-29 |
| Sonic Adventure - Heartless Colleague ...Boss: E-Series Targets | Jun Senoue (瀬上 純) | 1:25 | Active | 2.7 | | 2023-09-13 |
| Sonic Adventure - Join Us 4 Happy Time ...for CHAO Race | Fumie Kumatani (熊谷 文恵) | 2:29 | Active | 4.3 | | 2023-09-25 |
| Sonic Adventure - Leading Lights ...for Lost World | Kenichi Tokoi (床井 健一) | 1:49 | Active | 4.0 | | 2023-09-14 |
| Sonic Adventure - Letz Get This Party Started ...for CHAO Race Entrance | Fumie Kumatani (熊谷 文恵) | 4:05 | Active | 3.0 | | 2023-09-21 |
| Sonic Adventure - Limestone Cave ...for Icecap | Fumie Kumatani (熊谷 文恵) | 1:52 | Active | 2.7 | | 2023-06-22 |
| Sonic Adventure - Mechanical Resonance ...for Final Egg | Kenichi Tokoi (床井 健一) | 3:05 | Active | 4.5 | | 2023-02-04 |
| Sonic Adventure - Militant Missionary ...Boss: Egg Walker & Egg Viper | Kenichi Tokoi (床井 健一) , Masaru Setsumaru (瀬津丸 勝) | 1:17 | Active | | | 2022-02-15 |
| Sonic Adventure - Mt Red: a Symbol of Thrill ...for Red Mountain | Kenichi Tokoi (床井 健一) | 1:47 | Active | 4.0 | | 2023-09-03 |
| Sonic Adventure - Mystic Ruin | Fumie Kumatani (熊谷 文恵) | 2:25 | Active | 2.5 | | 2023-01-08 |
| Sonic Adventure - Open Your Heart -Main Theme of "SONIC Adventure"- | Jun Senoue (瀬上 純) , Kenichi Tokoi (床井 健一) | 4:29 | Active | 3.8 | | 2023-09-07 |
| Sonic Adventure - Perfect CHAOS Revival! ...Boss: Perfect CHAOS | Kenichi Tokoi (床井 健一) | 1:43 | Active | 3.3 | | 2023-09-01 |
| Sonic Adventure - Pleasure Castle ...for Twinkle Park | Jun Senoue (瀬上 純) | 1:55 | Active | 4.3 | | 2023-07-26 |
| Sonic Adventure - Red Barrage Area ...for Hot Shelter | Kenichi Tokoi (床井 健一) | 2:47 | Active | 5.0 | | 2020-10-25 |
| Sonic Adventure - Red Hot Skull ...for Red Mountain | Jun Senoue (瀬上 純) | 4:58 | Active | 3.5 | | 2023-07-22 |
| Sonic Adventure - Run Through the Speed Highway ...for Speed Highway | Fumie Kumatani (熊谷 文恵) , Jun Senoue (瀬上 純) | 1:56 | Active | 4.0 | | 2023-09-20 |
| Sonic Adventure - Sand Hill | Kenichi Tokoi (床井 健一) | 3:09 | Active | 4.3 | | 2023-08-13 |
| Sonic Adventure - Skydeck A Go! Go! ...for Sky Deck | Jun Senoue (瀬上 純) | 1:41 | Active | 4.0 | | 2022-06-13 |
| Sonic Adventure - Snowy Mountain ...for Icecap | Jun Senoue (瀬上 純) | 2:07 | Active | 5.0 | | 2023-09-14 |
| Sonic Adventure - Sweet Punch ...for Hedgehog Hammer | Fumie Kumatani (熊谷 文恵) | 1:04 | Active | 3.5 | | 2023-06-08 |
| Sonic Adventure - The Air ...for Windy Valley | Jun Senoue (瀬上 純) | 2:53 | Active | 4.2 | | 2023-07-10 |
| Sonic Adventure - The Dreamy Stage ...for Casinopolis | Fumie Kumatani (熊谷 文恵) , Kenichi Tokoi (床井 健一) | 2:14 | Active | 4.3 | | 2023-06-07 |
| Sonic Adventure - Theme of "CHAO" | Fumie Kumatani (熊谷 文恵) | 2:27 | Active | 4.0 | | 2021-12-12 |
| Sonic Adventure - Theme of "Dr. EGGMAN" | Jun Senoue (瀬上 純) | 2:30 | Active | 4.5 | | 2022-10-29 |
| Sonic Adventure - Theme of "E-102γ" | Fumie Kumatani (熊谷 文恵) | 4:26 | Active | 4.3 | | 2023-08-07 |
| Sonic Adventure - Theme of "TIKAL" | Fumie Kumatani (熊谷 文恵) | 3:23 | Active | 4.3 | | 2023-06-29 |
| Sonic Adventure - Tornado ...for Windy Valley | Jun Senoue (瀬上 純) | 1:37 | Active | 3.3 | | 2023-04-05 |
| Sonic Adventure - Tornado Scramble ...for Sky Chase | Masaru Setsumaru (瀬津丸 勝) | 1:33 | Active | 3.0 | | 2023-09-11 |
| Sonic Adventure - Tricky Maze ...for Lost World | Fumie Kumatani (熊谷 文恵) | 2:31 | Active | 4.3 | | 2023-08-24 |
| Sonic Adventure - Twinkle Cart ...for Twinkle Park | Jun Senoue (瀬上 純) | 2:04 | Active | 4.0 | | 2023-06-15 |
| Sonic Adventure - Twinkle Circut | Jun Senoue (瀬上 純) | 2:21 | Active | 4.5 | | 2023-07-24 |
| Sonic Adventure - Welcome to Station Square | Jun Senoue (瀬上 純) , Masaru Setsumaru (瀬津丸 勝) | 3:14 | Active | 3.8 | | 2023-05-05 |
| Sonic Adventure - Windy and Ripply ...for Emerald Coast | Jun Senoue (瀬上 純) | 3:11 | Active | 5.0 | | 2023-04-22 |
| Sonic Adventure - Windy Hill ...for Windy Valley | Jun Senoue (瀬上 純) | 1:41 | Active | 4.0 | | 2023-01-29 |
| Sonic Adventure - ZERO The Chase-master ...Boss: Eggman Robot -ZERO- | Jun Senoue (瀬上 純) | 1:58 | Active | 3.0 | | 2022-11-11 |
| SoulCalibur - Beyond the Horizon | Yoshihito Yano (矢野 義人) | 2:32 | Active | 4.0 | | 2020-10-24 |
| SoulCalibur - Bloom and Harvest | Junichi Nakatsuru | 2:33 | Active | 3.0 | | 2023-06-29 |
| SoulCalibur - Bred from the Gap | Yoshihito Yano (矢野 義人) | 2:40 | Active | 4.5 | | 2023-07-16 |
| SoulCalibur - Chasing Downstream | Yoshihito Yano (矢野 義人) | 2:44 | Active | 4.5 | | 2023-04-10 |
| SoulCalibur - Duelists | Junichi Nakatsuru | 2:48 | Active | 5.0 | | 2023-09-13 |
| SoulCalibur - Eye to Eye, Blade to Blade | Junichi Nakatsuru | 1:31 | Active | 4.0 | | 2023-05-20 |
| SoulCalibur - Gathering: Fatal Gravity | Junichi Nakatsuru | 2:51 | Active | 4.0 | | 2023-08-22 |
| SoulCalibur - Immortal Flame | Akitaka Toyama (遠山 明孝) | 2:44 | Active | 4.0 | | 2023-06-24 |
| SoulCalibur - In the Name of Father | Akitaka Toyama (遠山 明孝) | 2:27 | Active | 4.8 | | 2023-08-26 |
| SoulCalibur - Leaving the World Behind | Akitaka Toyama (遠山 明孝) | 2:51 | Active | 4.3 | | 2023-07-08 |
| SoulCalibur - Light & Darkness | Junichi Nakatsuru | 2:01 | Active | 4.5 | | 2023-02-11 |
| SoulCalibur - Sail Over the Storm | Junichi Nakatsuru | 2:46 | Active | 4.0 | | 2023-03-30 |
| SoulCalibur - Sweet Illusion | Hideki Tobeta (戸部田 英樹) , Yoshihito Yano (矢野 義人) | 2:38 | Active | 4.0 | | 2023-08-29 |
| SoulCalibur - The Cursed Image | Akitaka Toyama (遠山 明孝) | 2:52 | Active | 4.5 | | 2023-09-29 |
| SoulCalibur - The New Legend | Junichi Nakatsuru | 2:37 | Active | 5.0 | | 2023-02-04 |
| SoulCalibur - The Stage of History | Junichi Nakatsuru | 1:07 | Active | 4.0 | | 2022-07-24 |
| SoulCalibur - Unblessed Soul | Akitaka Toyama (遠山 明孝) | 2:34 | Active | 5.0 | | 2023-06-03 |
| SoulCalibur - Wings of Faith | Junichi Nakatsuru | 2:37 | Active | 3.0 | | 2022-07-14 |
| SoulCalibur - Worth Dying For | Yoshihito Yano (矢野 義人) | 2:29 | Active | 5.0 | | 2023-08-17 |
| Toy Commander - Cassis Bleep | Philippe Vachey | 3:08 | Active | 3.6 | | 2023-08-28 |
| Toy Commander - Feel.V. | Philippe Vachey | 3:52 | Active | 3.0 | | 2023-03-18 |
| Toy Commander - Lost Strings | Philippe Vachey | 3:35 | Active | 3.0 | | 2023-05-19 |
| Toy Commander - Mona Lisa Smile | Philippe Vachey | 3:55 | Active | 4.0 | | 2021-09-17 |
| Toy Commander - Mush Area | Philippe Vachey | 3:56 | Active | 4.0 | | 2023-08-09 |
| Toy Commander - Radio S. | Philippe Vachey | 2:20 | Active | 4.0 | | 2022-07-24 |
| Toy Commander - Speed Up! | Philippe Vachey | 3:23 | Active | 3.8 | | 2023-08-31 |
| Toy Commander - Wild Wild West | Philippe Vachey | 4:28 | Active | 5.0 | | 2021-03-28 |
| Toy Commander - Your Mission | Philippe Vachey | 4:43 | Active | 4.0 | | 2023-08-10 |
| Toy Commander - Zeboom | Philippe Vachey | 4:25 | Active | 3.0 | | 2023-09-10 |
| Triggerheart EXELICA - (ending, arcade mode) Change a Tear Into Hope | Masahiro Kajihara | 2:05 | Active | 4.5 | | 2023-06-17 |
| Triggerheart EXELICA - (ending, arranged mode) Heartful Trigger Heart | Masahiro Kajihara | 3:56 | Active | 4.0 | | 2022-12-29 |
| Triggerheart EXELICA - (ending, story mode) Track of Light | Masahiro Kajihara | 1:03 | Active | 4.0 | | 2023-07-23 |
| Triggerheart EXELICA - (epilogue) Stellar Memory | Masahiro Kajihara | 2:50 | Active | 4.0 | | 2021-07-08 |
| Triggerheart EXELICA - (final boss) Varmis Core | Masahiro Kajihara | 2:10 | Active | 4.0 | | 2022-07-25 |
| Triggerheart EXELICA - (menu) Reload Your Arms | Masahiro Kajihara | 1:59 | Active | 3.7 | | 2023-09-13 |
| Triggerheart EXELICA - (stage 1) Exelica, Dancing at Dawn | Masahiro Kajihara | 3:02 | Active | 4.8 | | 2023-07-08 |
| Triggerheart EXELICA - (stage 1, arrange mode) Exelica, Dancing at Dawn | Masahiro Kajihara | 3:02 | Active | 4.9 | | 2023-09-13 |
| Triggerheart EXELICA - (stage 2) Absolute Destruction City | Masahiro Kajihara | 3:02 | Active | 4.1 | | 2023-08-16 |
| Triggerheart EXELICA - (stage 2, arrange mode) Absolute Destruction City | Masahiro Kajihara | 3:02 | Active | 4.0 | | 2023-06-08 |
| Triggerheart EXELICA - (stage 3) Exelica of the Blue Sky | Masahiro Kajihara | 3:00 | Active | 4.2 | | 2023-08-01 |
| Triggerheart EXELICA - (stage 3, arrange mode) Exelica of the Blue Sky | Masahiro Kajihara | 3:00 | Active | 4.7 | | 2023-09-12 |
| Triggerheart EXELICA - (stage 4) Into the Darkness, Along With the Light | Masahiro Kajihara | 2:45 | Active | 4.2 | | 2023-09-19 |
| Triggerheart EXELICA - (stage 4, arrange mode) Into the Darkness, Along With... | Masahiro Kajihara | 2:45 | Active | 4.7 | | 2023-09-28 |
| Triggerheart EXELICA - (stage 5) To the Vortex of Battle | Masahiro Kajihara | 2:39 | Active | 5.0 | | 2023-09-11 |
| Triggerheart EXELICA - (stage 5, arrange mode) To the Vortex of Battle | Masahiro Kajihara | 2:39 | Active | 5.0 | | 2022-02-27 |
| Triggerheart EXELICA - (story mode) Confronting | Masahiro Kajihara | 2:29 | Active | 4.0 | | 2023-03-18 |
| Triggerheart EXELICA - (story mode) Confronting Ver.B | Masahiro Kajihara | 2:42 | Active | 4.0 | | 2023-09-11 |
| Triggerheart EXELICA - (story mode) Confronting Ver.C | Masahiro Kajihara | 1:46 | Active | 5.0 | | 2023-09-19 |
| Triggerheart EXELICA - (story mode) Courage and Faith | Masahiro Kajihara | 1:44 | Active | 4.0 | | 2021-07-19 |
| Triggerheart EXELICA - (unused 2) Those Children Are Three Unwelcoming Eyes | Masahiro Kajihara | 2:33 | Active | 4.0 | | 2022-12-05 |
| Triggerheart EXELICA - (unused 3) When Time Flows | Masahiro Kajihara | 2:07 | Active | 4.0 | | 2020-10-25 |
| Triggerheart EXELICA - (vs boss) V.B.A.S. | Masahiro Kajihara | 1:41 | Active | 4.8 | | 2023-08-06 |
| Triggerheart EXELICA - (vs faintear) Deep Crimson Impact | Masahiro Kajihara | 1:55 | Active | 4.0 | | 2022-03-07 |