CVGM.net - Chiptune, Retro & Video Game Music

Platform - Computer » MSX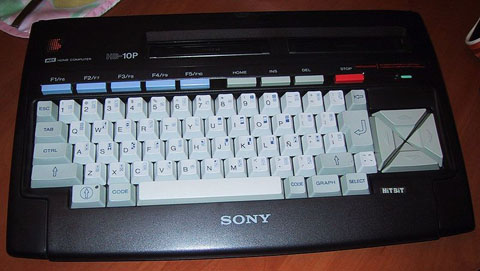 MSX was computer standard manufactured by numerous different companies. It was designed by the Japanese branch of Microsoft and released with 15 Japanese electronic firms in 1983. The standard was based on earlier home computer called Spectravideo SV-328 with which it was partly compatible. Letters MSX refer to MicroSoft eXtended basic (though there are alternative theories).
In the early 1980s there were numerous different computer brands which were mutually incompatible. The situation was totally opposite to what it is today. The idea of creating computer standard was inspired by VHS video cassette standard. Most of components used were easily available.
MSX computers did not become popular in the USA and in Britain which meant that MSX did not become a worldwide standard as it was planned. However, MSX found significant markets elsewhere. They were especially important in Japan, South Korea, Argentina, and Brazil. In Europe MSX met success especially in Netherlands and Spain.
The first generation of MSX standard was manufactured by numerous firms including Al Alamia (Kuwait, Saudi Arabia), Canon, Casio, Daewoo/Yeno, Dragon Data, Fujitsu, GoldStar, Gradiente (Brazil), Hitachi, JVC, Mitsubishi, National, Panasonic, Philips (the Netherlands), Pioneer, Sanyo, Samsung/Fenner, Sharp/Epcom (Brazil), Sony, Spectravideo (USA), Talent (Argentina), Toshiba, Yamaha and Yashica-Kyocera (Japan)
Soundchip of MSX1 was General Instrument AY-3-8910 (PSG) which was used also by numerous other computers and consoles in the 1980s.
Songs
| Song Title | Artist | Song Length | Status | Avg. Vote | Queue | Last Played |
| --- | --- | --- | --- | --- | --- | --- |
| Bomberman - Title | June Chiki Chikuma (竹間 淳) | 0:21 | Active | 4.0 | | 2022-06-20 |
| Gradius - Aircraft Carrier - Boss | Miki Higashino (東野 美紀) | 0:42 | Active | 4.0 | | 2021-11-23 |
| Gradius - Beat Back - Stage 2 | Miki Higashino (東野 美紀) | 0:42 | Active | 3.5 | | 2022-01-18 |
| Gradius - Beginning of History | Miki Higashino (東野 美紀) | 0:42 | Active | 4.8 | | 2022-07-30 |
| Gradius - Blank Mask - Stage 3 | Miki Higashino (東野 美紀) | 0:42 | Active | 3.0 | | 2021-12-26 |
| Gradius - Bonus Stage | Miki Higashino (東野 美紀) | 0:42 | Active | 3.0 | | 2021-02-13 |
| Gradius - Final Attack - Stage 8 | Miki Higashino (東野 美紀) | 0:42 | Active | | | 2021-11-28 |
| Gradius - Free Flyer - Stage 4 | Miki Higashino (東野 美紀) | 0:42 | Active | 4.0 | | 2021-12-20 |
| Gradius - Game Over | Miki Higashino (東野 美紀) | 0:04 | Active | 3.0 | | 2020-10-29 |
| Gradius - Mazed Music - Stage 6 | Miki Higashino (東野 美紀) | 0:40 | Active | 5.0 | | 2022-08-02 |
| Gradius - Mechanical Globule - Stage 7 | Miki Higashino (東野 美紀) | 0:42 | Active | 4.0 | | 2021-08-11 |
| Gradius - Space Graveyard - Stage 5 | Miki Higashino (東野 美紀) | 0:42 | Active | 3.0 | | 2021-05-15 |
| Gradius - Star Battle | Miki Higashino (東野 美紀) | 0:22 | Active | 3.5 | | 2020-05-08 |
| Gradius - Victory | Miki Higashino (東野 美紀) | 0:22 | Active | 4.0 | | 2020-02-25 |
| Hype | Ronald Pieket Weeserik | 1:46 | Active | 4.3 | | 2022-06-21 |
| Metal Gear - -!- Red Alert (OST version) | Konami Kukeiha Club | 1:43 | Active | 3.8 | | 2022-08-13 |
| Metal Gear - Escape: Beyond Big Boss (OST version) | Konami Kukeiha Club | 1:51 | Active | 4.0 | | 2021-08-01 |
| Metal Gear - Just Another Dead Soldier (OST version) | Konami Kukeiha Club | 0:08 | Active | 2.0 | | 2020-07-26 |
| Metal Gear - Mercenary (OST version) | Konami Kukeiha Club | 1:12 | Active | 2.5 | | 2021-02-21 |
| Metal Gear - Operation Intrude N313 (OST version) | Konami Kukeiha Club | 0:34 | Active | 3.0 | | 2021-11-23 |
| Metal Gear - Return of Fox Hounder (OST version) | Konami Kukeiha Club | 1:15 | Active | 4.5 | | 2022-07-01 |
| Metal Gear - Sneaking Mission (OST version) | Konami Kukeiha Club | 1:52 | Active | 2.5 | | 2022-06-01 |
| Metal Gear - Theme of Tara (OST version) | Konami Kukeiha Club | 2:09 | Active | 4.0 | | 2022-07-09 |
| Metal Gear - TX-55 Metal Gear (OST version) | Konami Kukeiha Club | 1:11 | Active | 4.0 | | 2022-02-14 |
| Penguin Adventure - song 1 | Konami | 1:28 | Active | 4.2 | | 2022-06-26 |
| Pretty Eight Machine - Token Ringfinger | Inverse Phase (Brendan Becker) | 5:42 | Active | 3.7 | | 2022-08-11 |
| Puyo Puyo - Baroque of Puyo Puyo | Einosuke Nagao (長尾英之助) | 0:52 | Active | 4.0 | | 2021-05-02 |
| Puyo Puyo - Cooking of Puyo Puyo | Einosuke Nagao (長尾英之助) | 0:52 | Active | 3.0 | | 2021-05-02 |
| Puyo Puyo - Credits | Einosuke Nagao (長尾英之助) | 1:23 | Active | 3.0 | | 2020-12-12 |
| Puyo Puyo - Morning of Puyo Puyo | Einosuke Nagao (長尾英之助) | 1:07 | Active | 3.0 | | 2022-01-01 |
| Puyo Puyo - Ondo of Puyo Puyo | Einosuke Nagao (長尾英之助) | 1:37 | Active | 3.0 | | 2020-11-19 |
| Puyo Puyo - Sorrow of Puyo Puyo | Einosuke Nagao (長尾英之助) | 0:11 | Active | | | 2021-05-03 |
| Puyo Puyo - Toy of Puyo Puyo | Einosuke Nagao (長尾英之助) | 1:13 | Active | 3.0 | | 2021-01-09 |
| SD Snatcher - Bio Hazard | Konami Kukeiha Club | 4:22 | Active | 4.5 | | 2022-07-24 |
| SD Snatcher - Logo | Konami Kukeiha Club 3 Some | 0:23 | Active | 4.7 | | 2022-07-12 |