CVGM.net - Chiptune, Retro & Video Game Music

Platform - Arcade » CPS (Capcom Play System)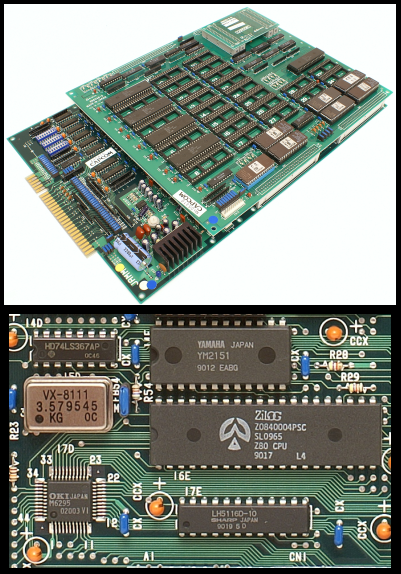 Things that should be added under this platform:
- songs ripped or recorded from this arcade system or emulator
----------------------------------------
Platform for Capcom CPS (Capcom Play System) games.
CPS uses:
- 8 channel 4-operator FM soundchip (YM2151)
- 4 channel 4-bit ADPCM soundchip (OKI6295)
Even if the YM2151 is capable to play stereo (with YM3012 DAC) so are all CPS games using FM sound in mono (JAMMA standard).
Some later CPS games used Qsound (stereo sound) as soundhardware and those will be found in the "Qsound" platform here at CVGM.
Songs
| Song Title | Artist | Song Length | Status | Avg. Vote | Queue | Last Played |
| --- | --- | --- | --- | --- | --- | --- |
| Carrier Airwing - Boss 1 | Capcom Sound Team Alph Lyla (アルフ・ライラ) | 0:50 | Active | 4.0 | | 2022-10-19 |
| Carrier Airwing - Boss 2 | Capcom Sound Team Alph Lyla (アルフ・ライラ) | 1:36 | Active | 4.4 | | 2022-11-05 |
| Carrier Airwing - Boss 3 | Capcom Sound Team Alph Lyla (アルフ・ライラ) | 1:13 | Active | 4.0 | | 2022-10-13 |
| Carrier Airwing - Boss 4 | Capcom Sound Team Alph Lyla (アルフ・ライラ) | 0:32 | Active | 3.5 | | 2021-11-25 |
| Carrier Airwing - Boss 5 | Capcom Sound Team Alph Lyla (アルフ・ライラ) | 0:52 | Active | 3.0 | | 2021-03-02 |
| Carrier Airwing - Boss 6 | Capcom Sound Team Alph Lyla (アルフ・ライラ) | 1:19 | Active | 4.0 | | 2022-08-01 |
| Carrier Airwing - Ending 1 | Capcom Sound Team Alph Lyla (アルフ・ライラ) | 3:13 | Active | 4.3 | | 2022-11-06 |
| Carrier Airwing - Ending 2 | Capcom Sound Team Alph Lyla (アルフ・ライラ) | 1:47 | Active | 4.0 | | 2022-10-29 |
| Carrier Airwing - Landing (mission complete) | Capcom Sound Team Alph Lyla (アルフ・ライラ) | 0:34 | Active | 4.0 | | 2022-02-08 |
| Carrier Airwing - Mission 1 - Regain the Capital - Win Control of the Air | Capcom Sound Team Alph Lyla (アルフ・ライラ) | 1:39 | Active | 4.5 | | 2022-02-09 |
| Carrier Airwing - Mission 10 - Stratosphere | Capcom Sound Team Alph Lyla (アルフ・ライラ) | 2:50 | Active | 4.7 | | 2022-11-14 |
| Carrier Airwing - Mission 2 - Regain the Capital - Destroy the Enemy Occupal | Capcom Sound Team Alph Lyla (アルフ・ライラ) | 1:58 | Active | 5.0 | | 2022-10-04 |
| Carrier Airwing - Mission 3 - Block the Enemy Landing Party | Capcom Sound Team Alph Lyla (アルフ・ライラ) | 2:04 | Active | 4.7 | | 2022-10-15 |
| Carrier Airwing - Mission 4 - Raid Over the Dockyard | Capcom Sound Team Alph Lyla (アルフ・ライラ) | 1:55 | Active | 4.0 | | 2022-08-13 |
| Carrier Airwing - Mission 5 - Attack the Experimental Weapon Testing Area 1 | Capcom Sound Team Alph Lyla (アルフ・ライラ) | 1:34 | Active | 4.0 | | 2022-11-19 |
| Carrier Airwing - Mission 6 - Attack the Experimental Weapon Testing Area 2 | Capcom Sound Team Alph Lyla (アルフ・ライラ) | 1:42 | Active | 4.0 | | 2022-02-24 |
| Carrier Airwing - Mission 7 - Attack the Enemy Bomber Squadron | Capcom Sound Team Alph Lyla (アルフ・ライラ) | 1:29 | Active | 4.4 | | 2022-09-24 |
| Carrier Airwing - Mission 8 - Destroy the Weapon Depot in the Desert | Capcom Sound Team Alph Lyla (アルフ・ライラ) | 2:02 | Active | 4.7 | | 2022-09-28 |
| Carrier Airwing - Mission 9 - Assault the Enemy Secret Base | Capcom Sound Team Alph Lyla (アルフ・ライラ) | 1:59 | Active | 4.3 | | 2022-10-24 |
| Carrier Airwing - Operations & Weapon Select | Capcom Sound Team Alph Lyla (アルフ・ライラ) | 0:39 | Active | 4.0 | | 2022-07-17 |
| Carrier Airwing - Player Select | Capcom Sound Team Alph Lyla (アルフ・ライラ) | 0:27 | Active | 4.0 | | 2022-02-09 |
| Carrier Airwing - Takeoff | Capcom Sound Team Alph Lyla (アルフ・ライラ) | 0:55 | Active | 4.5 | | 2022-07-27 |
| Carrier Airwing - Unused Tune 1 | Capcom Sound Team Alph Lyla (アルフ・ライラ) | 1:55 | Active | 5.0 | | 2022-10-18 |
| Carrier Airwing - Unused Tune 2 | Capcom Sound Team Alph Lyla (アルフ・ライラ) | 1:52 | Active | 4.5 | | 2022-11-13 |
| Carrier Airwing - Unused Tune 3 | Capcom Sound Team Alph Lyla (アルフ・ライラ) | 2:26 | Active | 3.8 | | 2022-10-30 |
| Carrier Airwing - Unused Tune 4 | Capcom Sound Team Alph Lyla (アルフ・ライラ) | 0:31 | Active | 3.0 | | 2021-12-18 |
| Carrier Airwing - Unused Tune 5 | Capcom Sound Team Alph Lyla (アルフ・ライラ) | 0:49 | Active | 2.0 | | 2020-10-29 |
| Carrier Airwing - Unused Tune 6 | Capcom Sound Team Alph Lyla (アルフ・ライラ) | 1:26 | Active | 4.7 | | 2022-11-24 |
| Mega Twins - And to the Paradise (ending 1) | HIFUMI (ひふみ) | 1:52 | Active | 4.0 | | 2022-11-02 |
| Mega Twins - And to the Paradise (ending 2) | HIFUMI (ひふみ) | 1:36 | Active | 4.0 | | 2021-02-28 |
| Mega Twins - Bonus Stage | HIFUMI (ひふみ) | 0:57 | Active | 3.0 | | 2019-12-21 |
| Mega Twins - Chiki Chiki Boys (main theme) | HIFUMI (ひふみ) | 2:17 | Active | 3.0 | | 2022-07-30 |
| Mega Twins - Credits | HIFUMI (ひふみ) | 1:58 | Active | 4.0 | | 2022-11-07 |
| Mega Twins - Dragon Blue Eyes (demo 1) | HIFUMI (ひふみ) | 0:40 | Active | 4.0 | | 2020-10-29 |
| Mega Twins - Escape (round 5-1) | HIFUMI (ひふみ) | 1:54 | Active | 5.0 | | 2022-03-02 |
| Mega Twins - For Home (round 5-2) | HIFUMI (ひふみ) | 1:32 | Active | 4.0 | | 2021-02-04 |
| Mega Twins - Found Out the Monster Castle!! (round 4-1) | HIFUMI (ひふみ) | 1:57 | Active | 3.3 | | 2022-10-09 |
| Mega Twins - High Tower (round 4-4) | HIFUMI (ひふみ) | 1:28 | Active | 2.0 | | 2020-10-30 |
| Mega Twins - In the Sea (round 3) | HIFUMI (ひふみ) | 2:13 | Active | 4.0 | | 2022-11-22 |
| Mega Twins - In the Sky (round 2) | HIFUMI (ひふみ) | 1:56 | Active | 4.0 | | 2022-11-13 |
| Mega Twins - New Journey (round 1) | HIFUMI (ひふみ) | 2:08 | Active | 4.0 | | 2022-09-03 |
| Mega Twins - Ranking (1st) | HIFUMI (ひふみ) | 0:42 | Active | 2.5 | | 2022-11-20 |
| Mega Twins - Ranking (below 2nd) | HIFUMI (ひふみ) | 1:00 | Active | 3.0 | | 2021-02-26 |
| Mega Twins - Scary Dungeon (round 4-3) | HIFUMI (ひふみ) | 1:24 | Active | 4.0 | | 2020-10-30 |
| Mega Twins - Start Invasion (round 4-2) | HIFUMI (ひふみ) | 1:38 | Active | 3.0 | | 2020-10-29 |
| Mega Twins - Theme of Boss | HIFUMI (ひふみ) | 0:54 | Active | 4.0 | | 2020-10-29 |
| Mega Twins - Theme of Great Satan | HIFUMI (ひふみ) | 1:55 | Active | 3.8 | | 2022-08-27 |
| Mega Twins - Time to Fight! | HIFUMI (ひふみ) | 2:25 | Active | 3.0 | | 2021-04-12 |
| Mega Twins - Typhoon Kid | HIFUMI (ひふみ) | 1:24 | Active | 3.0 | | 2020-10-29 |
| Mega Twins - Unknown? | HIFUMI (ひふみ) | 3:39 | Active | 4.2 | | 2022-10-12 |
| Street Fighter II: Champion Edition - Blanka | Oyaji (阿部 功) , Yoko Shimomura (下村 陽子) | 2:01 | Active | 3.6 | | 2022-11-30 |
| Street Fighter II: Champion Edition - Chun Li | Oyaji (阿部 功) , Yoko Shimomura (下村 陽子) Capcom Sound Team Alph Lyla | 1:57 | Active | 3.9 | | 2022-08-27 |
| Street Fighter II: Champion Edition - Guile | Oyaji (阿部 功) , Yoko Shimomura (下村 陽子) Capcom Sound Team Alph Lyla | 2:27 | Active | 4.6 | | 2022-12-04 |
| Street Fighter II: Champion Edition - Honda | Oyaji (阿部 功) , Yoko Shimomura (下村 陽子) | 2:09 | Active | 3.7 | | 2022-11-12 |
| Street Fighter II: Champion Edition - Ken | Oyaji (阿部 功) , Yoko Shimomura (下村 陽子) Capcom Sound Team Alph Lyla | 2:15 | Active | 4.9 | | 2022-12-01 |
| Street Fighter II: Champion Edition - Ryu | Oyaji (阿部 功) , Yoko Shimomura (下村 陽子) | 1:48 | Active | 4.7 | | 2022-11-06 |
| Street Fighter II: Champion Edition - Zangief | Oyaji (阿部 功) , Yoko Shimomura (下村 陽子) Capcom Sound Team Alph Lyla | 1:53 | Active | 3.9 | | 2022-11-06 |
| Strider (Strider Hiryū) - Level 1 | Junko Tamiya (民谷 淳子) | 1:06 | Active | 4.4 | | 2022-11-27 |
| The King of Dragons - BGM 1 | Yoko Shimomura (下村 陽子) | 1:10 | Active | 4.2 | | 2022-07-15 |
| The King of Dragons - BGM 2 | Yoko Shimomura (下村 陽子) | 2:01 | Active | 4.9 | | 2022-11-27 |
| The King of Dragons - BGM 3 | Yoko Shimomura (下村 陽子) | 1:37 | Active | 3.8 | | 2022-11-09 |
| The King of Dragons - BGM 4 | Yoko Shimomura (下村 陽子) | 2:31 | Active | 4.7 | | 2022-10-07 |
| The King of Dragons - BGM 5 | Yoko Shimomura (下村 陽子) | 1:02 | Active | 4.5 | | 2022-07-15 |
| The King of Dragons - BGM 6 | Yoko Shimomura (下村 陽子) | 0:39 | Active | 3.0 | | 2022-07-15 |
| The King of Dragons - BGM 7 | Yoko Shimomura (下村 陽子) | 0:51 | Active | 3.0 | | 2022-07-15 |
| The King of Dragons - BGM 8 | Yoko Shimomura (下村 陽子) | 2:21 | Active | 4.0 | | 2022-11-21 |
| The King of Dragons - Boss BGM 1 | Yoko Shimomura (下村 陽子) | 1:01 | Active | 4.0 | | 2022-06-11 |
| The King of Dragons - Boss BGM 2 | Yoko Shimomura (下村 陽子) | 1:09 | Active | 4.3 | | 2022-10-08 |
| The King of Dragons - Boss BGM 3 | Yoko Shimomura (下村 陽子) | 0:38 | Active | 3.0 | | 2021-01-07 |
| The King of Dragons - Boss BGM 4 | Yoko Shimomura (下村 陽子) | 0:59 | Active | 3.3 | | 2022-11-07 |
| The King of Dragons - Credits Roll | Yoko Shimomura (下村 陽子) | 0:58 | Active | 4.0 | | 2022-10-23 |
| The King of Dragons - Ending | Yoko Shimomura (下村 陽子) | 1:21 | Active | 4.0 | | 2022-08-23 |
| The King of Dragons - Player Select | Yoko Shimomura (下村 陽子) | 0:35 | Active | 3.0 | | 2021-03-26 |
| Three Wonders - Unknown Track 1 | T' Yomage (泉谷 雅樹) | 1:13 | Active | 4.0 | | 2020-10-31 |
| Three Wonders: Chariot - Ending | T' Yomage (泉谷 雅樹) | 2:25 | Active | 3.0 | | 2022-11-04 |
| Three Wonders: Chariot - Stage 1 | T' Yomage (泉谷 雅樹) | 2:25 | Active | 3.0 | | 2021-11-25 |
| Three Wonders: Chariot - Stage 2 | T' Yomage (泉谷 雅樹) | 1:41 | Active | 4.0 | | 2020-10-30 |
| Three Wonders: Chariot - Stage 3 | T' Yomage (泉谷 雅樹) | 1:38 | Active | 3.0 | | 2020-10-30 |
| Three Wonders: Chariot - Stage 4 | T' Yomage (泉谷 雅樹) | 2:02 | Active | 3.8 | | 2022-12-02 |
| Three Wonders: Chariot - Stage 5 | T' Yomage (泉谷 雅樹) | 1:01 | Active | 4.0 | | 2022-10-27 |
| Three Wonders: Chariot - Stage 6 | T' Yomage (泉谷 雅樹) | 1:43 | Active | 3.0 | | 2022-09-10 |
| Three Wonders: Don't Pull - BGM 1 | T' Yomage (泉谷 雅樹) | 1:08 | Active | 4.0 | | 2022-10-29 |
| Three Wonders: Don't Pull - BGM 2 | T' Yomage (泉谷 雅樹) | 0:59 | Active | 3.0 | | 2021-10-22 |
| Three Wonders: Don't Pull - BGM 3 | T' Yomage (泉谷 雅樹) | 0:56 | Active | 5.0 | | 2022-07-09 |
| Three Wonders: Don't Pull - BGM 4 | T' Yomage (泉谷 雅樹) | 0:47 | Active | 4.0 | | 2020-12-26 |
| Three Wonders: Don't Pull - Ending | T' Yomage (泉谷 雅樹) | 1:14 | Active | 3.0 | | 2022-08-19 |
| Three Wonders: Midnight Wanderers - Area Boss | T' Yomage (泉谷 雅樹) | 1:27 | Active | 3.0 | | 2022-02-06 |
| Three Wonders: Midnight Wanderers - Ending | T' Yomage (泉谷 雅樹) | 3:28 | Active | 4.4 | | 2022-11-11 |
| Three Wonders: Midnight Wanderers - Final Boss (Gaia) | T' Yomage (泉谷 雅樹) | 0:53 | Active | 4.0 | | 2022-09-19 |
| Three Wonders: Midnight Wanderers - Stage 1 (area 1) | T' Yomage (泉谷 雅樹) | 1:59 | Active | 4.0 | | 2022-11-15 |
| Three Wonders: Midnight Wanderers - Stage 1 Boss (Balgoss) | T' Yomage (泉谷 雅樹) | 1:34 | Active | 3.0 | | 2021-12-04 |
| Three Wonders: Midnight Wanderers - Stage 2 | T' Yomage (泉谷 雅樹) | 1:16 | Active | 1.0 | | 2022-12-01 |
| Three Wonders: Midnight Wanderers - Stage 2 Boss (Laru) | T' Yomage (泉谷 雅樹) | 1:31 | Active | 3.5 | | 2022-06-06 |
| Three Wonders: Midnight Wanderers - Stage 3 | T' Yomage (泉谷 雅樹) | 1:44 | Active | 4.0 | | 2022-12-01 |
| Three Wonders: Midnight Wanderers - Stage 3 Boss (Dougar) | T' Yomage (泉谷 雅樹) | 2:04 | Active | 4.0 | | 2022-11-20 |
| Three Wonders: Midnight Wanderers - Stage 4 | T' Yomage (泉谷 雅樹) | 2:09 | Active | 2.8 | | 2022-11-25 |
| Three Wonders: Midnight Wanderers - Stage 4 Boss (Moeban) | T' Yomage (泉谷 雅樹) | 1:13 | Active | 4.0 | | 2021-12-23 |
| Three Wonders: Midnight Wanderers - Stage 5 | T' Yomage (泉谷 雅樹) | 1:36 | Active | 5.0 | | 2021-02-07 |
| Varth: Operation Thunderstorm - Credits Roll | Masaki Izutani | 1:19 | Active | 3.0 | | 2021-07-29 |
| Varth: Operation Thunderstorm - Ending | Masaki Izutani | 0:32 | Active | 4.0 | | 2022-06-16 |
| Varth: Operation Thunderstorm - Name Entry | Masaki Izutani | 0:36 | Active | 5.0 | | 2021-12-05 |
| Varth: Operation Thunderstorm - Pod Type Select | Masaki Izutani | 0:38 | Active | 3.5 | | 2022-08-20 |
| Varth: Operation Thunderstorm - Stage 1 Boss "Spider" | Masaki Izutani | 1:22 | Active | 4.0 | | 2021-12-16 |
| Varth: Operation Thunderstorm - Stage 1, 16 | Masaki Izutani | 2:19 | Active | 4.0 | | 2022-06-15 |
| Varth: Operation Thunderstorm - Stage 11, 23 Boss "Clover Fore" | Masaki Izutani | 1:31 | Active | 3.0 | | 2022-07-13 |
| Varth: Operation Thunderstorm - Stage 12, 17 | Masaki Izutani | 1:51 | Active | 4.0 | | 2020-06-28 |
| Varth: Operation Thunderstorm - Stage 14 | Masaki Izutani | 1:56 | Active | 4.5 | | 2020-07-20 |
| Varth: Operation Thunderstorm - Stage 15, 24 Boss "Iron Golem" | Masaki Izutani | 1:28 | Active | 4.0 | | 2022-05-02 |
| Varth: Operation Thunderstorm - Stage 18, 28 | Masaki Izutani | 2:07 | Active | 4.9 | | 2022-12-03 |
| Varth: Operation Thunderstorm - Stage 19, 25 Boss "Bloody Hawk" | Masaki Izutani | 1:11 | Active | 4.7 | | 2022-11-05 |
| Varth: Operation Thunderstorm - Stage 2 | Masaki Izutani | 1:43 | Active | 4.3 | | 2022-12-05 |
| Varth: Operation Thunderstorm - Stage 20 Bonus Stage | Masaki Izutani | 1:31 | Active | 3.5 | | 2022-10-11 |
| Varth: Operation Thunderstorm - Stage 27 | Masaki Izutani | 2:03 | Active | 3.0 | | 2022-10-05 |
| Varth: Operation Thunderstorm - Stage 29 Boss "Cartridge Gunner" | Masaki Izutani | 1:02 | Active | 3.0 | | 2022-01-11 |
| Varth: Operation Thunderstorm - Stage 3 | Masaki Izutani | 1:54 | Active | 4.0 | | 2022-06-20 |
| Varth: Operation Thunderstorm - Stage 30 Last Boss "Duo" (part 1) | Masaki Izutani | 0:45 | Active | 2.0 | | 2021-02-20 |
| Varth: Operation Thunderstorm - Stage 30 Last Boss "Duo" (part 2) | Masaki Izutani | 1:59 | Active | 4.0 | | 2022-08-14 |
| Varth: Operation Thunderstorm - Stage 4, 21 | Masaki Izutani | 1:22 | Active | 4.0 | | 2022-06-15 |
| Varth: Operation Thunderstorm - Stage 4, 21 Boss "Satellite" | Masaki Izutani | 0:53 | Active | 3.0 | | 2022-06-15 |
| Varth: Operation Thunderstorm - Stage 5, 10 | Masaki Izutani | 1:58 | Active | 4.7 | | 2022-11-07 |
| Varth: Operation Thunderstorm - Stage 6, 26 | Masaki Izutani | 2:20 | Active | 4.4 | | 2022-08-28 |
| Varth: Operation Thunderstorm - Stage 7, 22 Boss "Dragon Fly" | Masaki Izutani | 0:40 | Active | 4.0 | | 2022-06-15 |
| Varth: Operation Thunderstorm - Stage 8 | Masaki Izutani | 1:33 | Active | 3.0 | | 2020-10-28 |
| Varth: Operation Thunderstorm - Stage 9, 13 | Masaki Izutani | 1:53 | Active | 4.0 | | 2022-01-16 |