CVGM.net - Chiptune, Retro & Video Game Music

Platform - Computer » X68000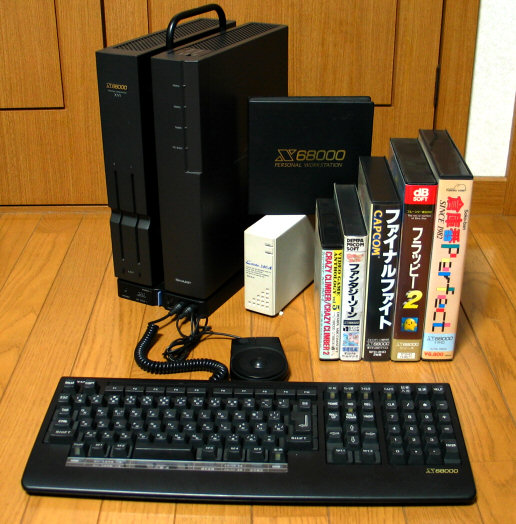 The Sharp X68000, often referred to as the X68k, is a home computer released only in Japan by the Sharp Corporation. The first model was released in 1987, with a 10 MHz Motorola 68000 CPU, 1 MB of RAM and no hard drive; the last model was released in 1993 with a 25 MHz Motorola 68030 CPU, 4 MB of RAM and optional 80 MB SCSI hard drive. RAM in these systems is expandable to 12 MB though most games and applications didn't require more than two.
The X68k ran an operating system developed for Sharp by Hudson Soft called Human68k, which features commands very similar to those in MS-DOS (typed in English).
sound
-YM2151 FM
-single channel OKI MSM6258V for PCM
Later in the system's life, there was an expansion card called Mercury Unit, which increased the PCM channels to a total of 8. Songs that use this expansion sometimes have PCM8 in their title or file name.
Many games also supports the Roland SC-55 and MT-32 MIDI modules for sound as well as mixed-mode internal/external output.

Songs
| Song Title | Artist | Song Length | Status | Avg. Vote | Queue | Last Played |
| --- | --- | --- | --- | --- | --- | --- |
| #00 | M.Otaki | 4:45 | Active | 2.3 | | 2023-05-10 |
| 03'90"02 | Hally (J.Haliyama) | 7:51 | Active | 3.0 | | 2023-06-23 |
| 23 | DJ QIX , Hally (J.Haliyama) | 7:53 | Active | 2.3 | | 2023-09-21 |
| A Ressha De Ikou III - Ending (X68000) | Koji Yamada (山田 耕治) | 0:29 | Active | 4.5 | | 2023-09-07 |
| A Ressha De Ikou III - Game Over (X68000) | Koji Yamada (山田 耕治) | 0:18 | Active | | | 2021-02-15 |
| A Ressha De Ikou III - Jingle Bells (X68000) | Koji Yamada (山田 耕治) | 1:01 | Active | 2.6 | | 2023-08-05 |
| A Ressha De Ikou III - Opening (X68000) | Koji Yamada (山田 耕治) | 0:33 | Active | 3.0 | | 2020-10-22 |
| A Ressha De Ikou III - The New Year (X68000) | Koji Yamada (山田 耕治) | 0:29 | Active | 4.0 | | 2021-11-29 |
| Absolute Terror | M.Otaki | 9:16 | Active | 3.0 | | 2020-12-11 |
| Air Management - Africa | Taku Iwasaki (岩崎 琢) | 1:26 | Active | 4.3 | | 2023-07-16 |
| Air Management - Asia | Taku Iwasaki (岩崎 琢) | 1:32 | Active | 4.5 | | 2022-01-29 |
| Air Management - Bankruptcy | Taku Iwasaki (岩崎 琢) | 1:30 | Active | 4.5 | | 2020-05-07 |
| Air Management - Company Chart | Taku Iwasaki (岩崎 琢) | 1:30 | Active | 3.0 | | 2022-12-17 |
| Air Management - Deliveries | Taku Iwasaki (岩崎 琢) | 1:50 | Active | 3.0 | | 2023-03-02 |
| Air Management - Ending | Taku Iwasaki (岩崎 琢) | 4:38 | Active | 4.0 | | 2023-06-03 |
| Air Management - Europe | Taku Iwasaki (岩崎 琢) | 2:13 | Active | 4.5 | | 2021-03-28 |
| Air Management - Intro | Taku Iwasaki (岩崎 琢) | 2:27 | Active | 4.0 | | 2021-11-27 |
| Air Management - Japan | Taku Iwasaki (岩崎 琢) | 1:46 | Active | 5.0 | | 2022-05-22 |
| Air Management - Main Menu | Taku Iwasaki (岩崎 琢) | 2:36 | Active | 4.8 | | 2023-06-23 |
| Air Management - Middle East | Taku Iwasaki (岩崎 琢) | 1:52 | Active | 4.0 | | 2023-05-13 |
| Air Management - News of the World | Taku Iwasaki (岩崎 琢) | 1:39 | Active | 4.0 | | 2022-05-17 |
| Air Management - North America | Taku Iwasaki (岩崎 琢) | 1:42 | Active | 4.0 | | 2022-12-04 |
| Air Management - Oceania | Taku Iwasaki (岩崎 琢) | 1:44 | Active | 3.3 | | 2023-07-07 |
| Air Management - Opponent Wins | Taku Iwasaki (岩崎 琢) | 1:32 | Active | 4.0 | | 2021-07-09 |
| Air Management - Out of Time | Taku Iwasaki (岩崎 琢) | 1:29 | Active | 4.0 | | 2023-01-30 |
| Air Management - Positive News | Taku Iwasaki (岩崎 琢) | 1:24 | Active | 5.0 | | 2022-04-21 |
| Air Management - Russia | Taku Iwasaki (岩崎 琢) | 1:29 | Active | 3.5 | | 2023-08-12 |
| Air Management - South America | Taku Iwasaki (岩崎 琢) | 1:40 | Active | 4.0 | | 2021-05-17 |
| AKSTN | Hally (J.Haliyama) , T.Kotobuki | 4:16 | Active | 1.8 | | 2023-09-11 |
| All You Can Be Acid | Hally (J.Haliyama) | 7:16 | Active | 1.7 | | 2023-08-24 |
| AMS II: Take Revenge for the Ruined Master – Ending (The Beginning of Loneliness) | Bugbeard (Naoto Ishikawa) | 3:04 | Active | 3.5 | | 2023-08-26 |
| AMS II: Take Revenge for the Ruined Master – Name Entry | Bugbeard (Naoto Ishikawa) | 1:06 | Active | | | 2023-07-05 |
| AMS II: Take Revenge for the Ruined Master – Stage 1 (Once Again Give Me A Crisis) | Bugbeard (Naoto Ishikawa) | 3:45 | Active | 5.0 | | 2023-09-18 |
| AMS II: Take Revenge for the Ruined Master – Stage 3 (Memories) | Bugbeard (Naoto Ishikawa) | 3:54 | Active | 4.0 | | 2023-07-05 |
| AMS II: Take Revenge for the Ruined Master – Stage 4 (Return To Earth) | Bugbeard (Naoto Ishikawa) | 3:47 | Active | 4.0 | | 2023-07-05 |
| AMS II: Take Revenge for the Ruined Master – Stage 5 (I Want To Go Back To That Day) | Bugbeard (Naoto Ishikawa) | 3:05 | Active | 4.0 | | 2023-07-05 |
| Angel Gallop | XX | 8:01 | Active | 2.3 | | 2020-11-18 |
| ANGEL LINE | Y.Tachibana (Yasuhiko Taschibana) | 7:59 | Active | 2.5 | | 2023-09-05 |
| Aren't Ua Junkie? | Y.Fukumi | 7:01 | Active | 1.8 | | 2023-09-17 |
| ASSAULT TANK | Tachyon | 7:47 | Active | 2.2 | | 2023-05-21 |
| Aufheben | Utabi Hirokawa | 8:26 | Active | 3.0 | | 2020-09-18 |
| B-in-GO | T.Kotobuki | 6:37 | Active | 2.0 | | 2022-09-20 |
| Bare Knuckle - Fighting in the Street | Knao | 4:45 | Active | 4.4 | | 2023-09-18 |
| Bare Knuckle - The Streets of Rage Mix | Knao | 3:15 | Active | 4.8 | | 2023-09-04 |
| Bare Knuckle - The Super Threc | CAROL | 3:11 | Active | 4.6 | | 2023-09-12 |
| Bare Knuckle - The Super Threc Arrange | CAROL | 3:11 | Active | 4.8 | | 2023-09-16 |
| Bare Knuckle 2 - Go Straight | Knao | 5:55 | Active | 3.8 | | 2023-08-28 |
| Be A Superman (Cicagoman edit) | Hally (J.Haliyama) | 4:35 | Active | 2.0 | | 2023-09-07 |
| Be Invoked | Hally (J.Haliyama) | 7:57 | Removed By Request | 1.0 | | 2021-02-26 |
| Bloody Shade | Napo.sun | 3:03 | Active | 4.7 | | 2023-08-26 |
| Bomberman - Background Music | June Chiki Chikuma (竹間 淳) | 1:30 | Active | 4.6 | | 2023-09-04 |
| Bomberman - Title / Start | June Chiki Chikuma (竹間 淳) | 0:22 | Active | 5.0 | | 2023-09-11 |
| BURST RUNNER | XX | 6:41 | Active | 3.0 | | 2023-09-11 |
| CABLE | XX | 4:56 | Active | 3.4 | | 2023-07-31 |
| Chase 4 Chase | Hally (J.Haliyama) | 7:08 | Active | 4.0 | | 2023-09-04 |
| Cho Ren Sha 68K - Infinity | Loser Kashiwagi (Ruzarin Kashiwagi) | 3:17 | Active | 4.0 | | 2023-08-15 |
| CLUBDER | T.Kotobuki | 4:50 | Active | 2.6 | | 2023-08-27 |
| coralreef | M.Otaki | 6:30 | Active | 2.0 | | 2022-11-14 |
| Cy-Lips – End of Time | Bugbeard (Naoto Ishikawa) | 1:47 | Active | 4.0 | | 2023-08-15 |
| Cy-Lips – Ending (History One More) | Bugbeard (Naoto Ishikawa) | 2:17 | Active | 4.0 | | 2023-08-15 |
| Cy-Lips – Loader (Ram-In) | Bugbeard (Naoto Ishikawa) | 2:31 | Active | 4.5 | | 2023-08-15 |
| Cy-Lips – Stage 1 (Destructive Instinct) | Bugbeard (Naoto Ishikawa) | 3:25 | Active | 4.0 | | 2023-08-15 |
| Cy-Lips – Stage 1 Boss (DNA-Dragon) | Bugbeard (Naoto Ishikawa) | 2:37 | Active | 4.0 | | 2023-08-15 |
| Cy-Lips – Stage 2 (Vacillation) | Bugbeard (Naoto Ishikawa) | 3:24 | Active | 4.0 | | 2023-08-15 |
| Cy-Lips – Stage 3 (Traces of Breath) | Bugbeard (Naoto Ishikawa) | 5:20 | Active | 4.0 | | 2023-08-15 |
| Cy-Lips – Stage 4 (Direct Arts) | Bugbeard (Naoto Ishikawa) | 3:44 | Active | 4.0 | | 2023-08-15 |
| Cy-Lips – Stage 4 Boss (Mega-Gate) | Bugbeard (Naoto Ishikawa) | 2:56 | Active | 5.0 | | 2023-08-15 |
| Cy-Lips – Stage 5 (Elegant Assault) | Bugbeard (Naoto Ishikawa) | 4:10 | Active | 4.0 | | 2023-08-15 |
| Cy-Lips – Stage 7 Boss (Do-It) | Bugbeard (Naoto Ishikawa) | 3:12 | Active | 4.0 | | 2023-08-15 |
| DECOY | M.Otaki | 5:08 | Active | 3.0 | | 2023-05-13 |
| Degeneracy (Coastal Zone House) | TMK | 6:03 | Active | 3.5 | | 2023-02-04 |
| Detana!! Twinbee - Beyond the Sea of Clouds - Stage 2 | Michiru Yamane (山根 ミチル) | 1:53 | Active | 5.0 | | 2023-08-02 |
| Detana!! Twinbee - Boss Theme #1 | Michiru Yamane (山根 ミチル) | 2:07 | Active | 4.0 | | 2022-02-16 |
| Detana!! Twinbee - Boss Theme #2 | Michiru Yamane (山根 ミチル) | 1:07 | Active | 4.0 | | 2020-12-16 |
| Detana!! Twinbee - Ending | Michiru Yamane (山根 ミチル) | 1:47 | Active | 4.0 | | 2023-08-26 |
| Detana!! Twinbee - Final Boss | Michiru Yamane (山根 ミチル) | 1:38 | Active | 4.0 | | 2023-08-12 |
| Detana!! Twinbee - Game Over | Michiru Yamane (山根 ミチル) | 0:06 | Active | | | 2022-06-07 |
| Detana!! Twinbee - Gift From the Wind - Stage 1 | Michiru Yamane (山根 ミチル) | 2:14 | Active | 5.0 | | 2023-06-01 |
| Detana!! Twinbee - Laputa Fortress in the Sky - Stage 3 | Michiru Yamane (山根 ミチル) | 2:48 | Active | 3.0 | | 2023-08-08 |
| Detana!! Twinbee - Loading Theme | Michiru Yamane (山根 ミチル) | 2:31 | Active | 4.0 | | 2020-11-15 |
| Detana!! Twinbee - March on the Water - Stage 5 | Michiru Yamane (山根 ミチル) | 2:10 | Active | 4.0 | | 2021-09-25 |
| Detana!! Twinbee - Paradise Beyond the Fog - Stage 7 | Michiru Yamane (山根 ミチル) | 2:04 | Active | 4.3 | | 2023-05-31 |
| Detana!! Twinbee - Prologue | Michiru Yamane (山根 ミチル) | 0:52 | Active | 4.0 | | 2023-02-04 |
| Detana!! Twinbee - Ranking | Michiru Yamane (山根 ミチル) | 0:34 | Active | 3.0 | | 2023-09-20 |
| Detana!! Twinbee - Stage Clear | Michiru Yamane (山根 ミチル) | 0:05 | Active | | | 2020-11-23 |
| Detana!! Twinbee - Temple of Iva - Stage 6 | Michiru Yamane (山根 ミチル) | 1:56 | Active | 5.0 | | 2023-09-21 |
| Detana!! Twinbee - Title Theme | Michiru Yamane (山根 ミチル) | 0:25 | Active | 4.0 | | 2023-09-22 |
| Detana!! Twinbee - World of the Mold - Stage 4 | Michiru Yamane (山根 ミチル) | 2:01 | Active | 4.0 | | 2021-11-17 |
| DONKEYMO' HAD SOMETHING LARGE | Utabi Hirokawa | 7:06 | Active | 1.5 | | 2023-08-23 |
| DRTY PWDR | hizmi | 6:50 | Active | 2.8 | | 2023-08-30 |
| Electroid | Hally (J.Haliyama) | 7:09 | Active | 1.7 | | 2023-04-25 |
| EMOTION UNIT | XX | 7:10 | Active | 2.5 | | 2023-01-04 |
| Evil Magicians | Napo.sun | 4:36 | Active | 4.4 | | 2023-08-18 |
| factory | M.Otaki | 5:12 | Active | 2.0 | | 2023-06-09 |
| FALCON | XX | 6:18 | Active | 2.5 | | 2022-10-31 |
| Find Your Lover | TMK | 8:59 | Active | 1.7 | | 2020-09-30 |
| flare | Tachyon | 8:16 | Active | 2.5 | | 2020-11-01 |
| Fly to the Leaden Sky (Sprite) | M.Otaki | 4:46 | Active | 3.0 | | 2023-08-24 |
| Foodoo Foodoo | Utabi Hirokawa | 7:38 | Active | 4.1 | | 2023-08-25 |
| Funky Knacky Hicky! | Hally (J.Haliyama) | 6:34 | Active | 3.9 | | 2023-08-29 |
| GENErationSYStem 03(3327)7553 | Osamu Ikeda | 4:26 | Active | 4.4 | | 2023-09-18 |
| get over (you) | TMK | 9:10 | Active | 3.8 | | 2020-06-04 |
| Good Bye, The 3rd 4ce | Hally (J.Haliyama) | 6:11 | Active | 1.7 | | 2023-09-10 |
| Gradius - Beat Back - Stage 2 | Miki Higashino (東野 美紀) | 0:50 | Active | 3.5 | | 2021-11-15 |
| Gradius - Beginning of History | Miki Higashino (東野 美紀) | 0:46 | Active | 4.0 | | 2022-06-25 |
| Gradius - Blank Mask - Stage 3 | Miki Higashino (東野 美紀) | 0:49 | Active | 2.5 | | 2023-09-13 |
| Gradius - Challenger 1985 - Stage 1 | Miki Higashino (東野 美紀) | 0:51 | Active | 4.5 | | 2023-05-03 |
| Gradius - Free Flyer - Stage 4 | Miki Higashino (東野 美紀) | 0:50 | Active | 4.0 | | 2023-07-11 |
| Gradius - Konami Jingle | Miki Higashino (東野 美紀) | 0:01 | Jingle | 4.7 | | 2021-08-16 |
| Gradius - Mazed Music - Stage 5 | Miki Higashino (東野 美紀) | 0:42 | Active | 3.0 | | 2022-12-28 |
| Gradius II - A Way Out | Hidenori Maezawa (前澤 ヒデノリ) | 0:43 | Active | 5.0 | | 2022-06-11 |
| Gradius II - Burning Heat | Hidenori Maezawa (前澤 ヒデノリ) | 0:52 | Active | 5.0 | | 2023-08-12 |
| Gradius II - Crystal World | Hidenori Maezawa (前澤 ヒデノリ) | 1:27 | Active | 4.5 | | 2023-08-11 |
| Gradius II - Equipment | Hidenori Maezawa (前澤 ヒデノリ) | 0:53 | Active | 5.0 | | 2023-09-02 |
| Gradius II - Farewell | Hidenori Maezawa (前澤 ヒデノリ) | 0:36 | Active | 4.7 | | 2023-09-04 |
| Gradius II - Final Enemy | Hidenori Maezawa (前澤 ヒデノリ) | 1:05 | Active | 4.5 | | 2023-02-17 |
| Gradius II - Fire Dragon | Hidenori Maezawa (前澤 ヒデノリ) | 0:42 | Active | 4.5 | | 2023-06-02 |
| Gradius II - Gradius Boss | Hidenori Maezawa (前澤 ヒデノリ) | 0:25 | Active | 4.5 | | 2023-06-21 |
| Gradius II - Hostile Ship | Hidenori Maezawa (前澤 ヒデノリ) | 1:15 | Active | 4.3 | | 2023-09-21 |
| Gradius II - Loading Screen | Hidenori Maezawa (前澤 ヒデノリ) | 1:05 | Active | 5.0 | | 2023-08-06 |
| Gradius II - Maximum Speed | Hidenori Maezawa (前澤 ヒデノリ) | 0:53 | Active | 5.0 | | 2022-12-04 |
| Gradius II - Old Stone Age | Hidenori Maezawa (前澤 ヒデノリ) | 1:56 | Active | 4.0 | | 2023-09-12 |
| Gradius II - Ranking | Hidenori Maezawa (前澤 ヒデノリ) | 0:59 | Active | 4.7 | | 2023-08-13 |
| Gradius II - Salamander Boss | Hidenori Maezawa (前澤 ヒデノリ) | 1:23 | Active | 4.5 | | 2023-09-22 |
| Gradius II - Shooting Star | Hidenori Maezawa (前澤 ヒデノリ) | 0:46 | Active | 5.0 | | 2023-09-16 |
| Gradius II - Synthetic Life | Hidenori Maezawa (前澤 ヒデノリ) | 1:27 | Active | 5.0 | | 2023-09-18 |
| Gradius II - Tabidachi | Hidenori Maezawa (前澤 ヒデノリ) | 0:47 | Active | 5.0 | | 2023-09-18 |
| Gradius II - Take Care! | Hidenori Maezawa (前澤 ヒデノリ) | 0:28 | Active | 4.0 | | 2022-08-25 |
| Gradius II - Title Theme | Hidenori Maezawa (前澤 ヒデノリ) | 0:30 | Active | 4.8 | | 2023-08-23 |
| Granada - "Advance" Granada [Opening Theme] | Motoi Sakuraba (桜庭 統) | 2:15 | Active | 4.6 | | 2023-06-01 |
| Granada - Beat [Final Boss] | Motoi Sakuraba (桜庭 統) | 0:54 | Active | 3.0 | | 2023-05-14 |
| Granada - Bumpy Road [Stage 7: Volcano] | Motoi Sakuraba (桜庭 統) | 1:32 | Active | 4.0 | | 2021-11-20 |
| Granada - Clap [Stages 1-4 Boss] | Motoi Sakuraba (桜庭 統) | 0:52 | Active | 4.0 | | 2020-10-26 |
| Granada - Heavy Line [Stage 1: Dead City] | Motoi Sakuraba (桜庭 統) | 1:30 | Active | 5.0 | | 2023-07-14 |
| Granada - Hopping Express [Stage 3: Underground City] | Motoi Sakuraba (桜庭 統) | 1:20 | Active | 4.7 | | 2023-09-03 |
| Granada - Marching Way [Stage 4: Underground Cavern] | Motoi Sakuraba (桜庭 統) | 1:37 | Active | 4.8 | | 2023-09-04 |
| Granada - Mountain Path [Stage 6: Fortress] | Motoi Sakuraba (桜庭 統) | 1:32 | Active | 3.0 | | 2022-09-26 |
| Granada - Nature Trail [Stage 5: Mountains] | Motoi Sakuraba (桜庭 統) | 1:56 | Active | 5.0 | | 2023-09-04 |
| Granada - Smashing Street [Stage 8: Enemy Base] | Motoi Sakuraba (桜庭 統) | 1:37 | Active | 4.5 | | 2023-07-30 |
| Granada - Take a Chance [Bonus Stage] | Motoi Sakuraba (桜庭 統) | 1:14 | Active | 4.8 | | 2023-07-21 |
| Granada - Tap [Stages 5-8 Boss] | Motoi Sakuraba (桜庭 統) | 0:59 | Active | 4.3 | | 2023-06-24 |
| Granada - Windy Avenue [Stage 2: Carrier] | Motoi Sakuraba (桜庭 統) | 1:59 | Active | 4.0 | | 2023-02-24 |
| HECATE | M.Otaki | 6:16 | Active | 2.8 | | 2023-06-06 |
| hello, world | Y.Tachibana (Yasuhiko Taschibana) | 6:04 | Active | 3.0 | | 2023-09-16 |
| I can do nothin' | Yamagata , yar-3 , Yuki | 7:19 | Active | 3.5 | | 2023-07-19 |
| Insecticide | DJ QIX , Hally (J.Haliyama) , TMK | 6:59 | Active | 1.8 | | 2023-09-02 |
| INSECTs | roB woB | 2:34 | Active | 2.8 | | 2023-08-20 |
| KICK SOME BUGG | Utabi Hirokawa | 7:21 | Active | 1.7 | | 2023-09-14 |
| Knight Arms - Opening | Toshiya Yamanaka (山中 季哉) | 6:36 | Active | 4.7 | | 2023-09-04 |
| Kyuukyoku Senki Gikadiver - Boss Theme | Unknown Artist | 3:10 | Active | 4.7 | | 2023-09-12 |
| Kyuukyoku Senki Gikadiver - Name Entry | Unknown Artist | 3:03 | Active | 4.7 | | 2023-07-06 |
| Lemmings - Awesome | Akira Suzuki (鈴木 晶) | 2:08 | Active | 4.4 | | 2023-09-19 |
| Lemmings - Can Can | Akira Suzuki (鈴木 晶) | 1:37 | Active | 4.0 | | 2020-11-16 |
| Lemmings - Dance of The Little Swans | Akira Suzuki (鈴木 晶) | 2:05 | Active | 3.7 | | 2023-08-17 |
| Lemmings - Dance of The Reed Flutes | Akira Suzuki (鈴木 晶) | 2:21 | Active | 4.0 | | 2023-09-19 |
| Lemmings - Forest Green | Akira Suzuki (鈴木 晶) | 2:29 | Active | 4.8 | | 2023-09-07 |
| Lemmings - How much is That Doggie in the Window? | Akira Suzuki (鈴木 晶) | 1:44 | Active | 4.0 | | 2022-10-31 |
| Lemmings - Keep Your Hair on Mr. Lemming | Akira Suzuki (鈴木 晶) | 2:15 | Active | 4.0 | | 2023-02-19 |
| Lemmings - Lend a Helping Hand | Akira Suzuki (鈴木 晶) | 2:29 | Active | 4.5 | | 2021-12-08 |
| Lemmings - London Bridge is Falling Down | Akira Suzuki (鈴木 晶) | 2:32 | Active | 4.0 | | 2021-10-18 |
| Lemmings - Menace | Akira Suzuki (鈴木 晶) | 2:39 | Active | 4.0 | | 2023-03-09 |
| Lemmings - Mind the Step | Akira Suzuki (鈴木 晶) | 2:51 | Active | 4.0 | | 2020-12-20 |
| Lemmings - One Way or Another | Akira Suzuki (鈴木 晶) | 3:15 | Active | 3.0 | | 2023-07-26 |
| Lemmings - Opening - March of the Mods | Akira Suzuki (鈴木 晶) | 0:38 | Active | 1.0 | | 2023-04-20 |
| Lemmings - Pachelbel's Cannon | Akira Suzuki (鈴木 晶) | 1:43 | Active | 4.0 | | 2022-09-10 |
| Lemmings - Postcard from Lemmingland | Akira Suzuki (鈴木 晶) | 2:50 | Active | 4.0 | | 2020-11-22 |
| Lemmings - Rainbow Islands | Akira Suzuki (鈴木 晶) | 3:35 | Active | 4.0 | | 2022-09-08 |
| Lemmings - Rondo Alla Turca | Akira Suzuki (鈴木 晶) | 2:05 | Active | 4.8 | | 2023-07-19 |
| Lemmings - Shadow of the Beast I | Akira Suzuki (鈴木 晶) | 2:19 | Active | 4.0 | | 2023-07-21 |
| Lemmings - Shadow of the Beast II | Akira Suzuki (鈴木 晶) | 2:33 | Active | 3.3 | | 2023-07-26 |
| Lemmings - She'll be Coming 'Round The Mountain | Akira Suzuki (鈴木 晶) | 1:50 | Active | 2.0 | | 2023-04-14 |
| Lemmings - Smile if You Love Lemmings | Akira Suzuki (鈴木 晶) | 1:50 | Active | 4.0 | | 2022-11-12 |
| Lemmings - Twang | Akira Suzuki (鈴木 晶) | 1:50 | Active | 3.0 | | 2023-08-25 |
| Leonard | Hally (J.Haliyama) | 6:33 | Active | 1.8 | | 2023-07-11 |
| less than luv | Y.Tachibana (Yasuhiko Taschibana) | 4:37 | Active | 3.6 | | 2023-09-18 |
| Life with GAMEs | T.Kotobuki | 7:10 | Active | 1.7 | | 2023-09-21 |
| Lunatic | XX | 6:11 | Active | 3.0 | | 2023-09-08 |
| Mars Attack | Hally (J.Haliyama) | 6:10 | Active | 1.0 | | 2023-01-24 |
| Martians, Come Back! | roB woB | 5:56 | Active | 1.0 | | 2023-07-28 |
| Mayim Mayim | Utabi Hirokawa | 9:02 | Active | 3.2 | | 2020-11-05 |
| Memories (music box version) | Y.Tachibana (Yasuhiko Taschibana) | 3:58 | Active | 4.0 | | 2023-09-05 |
| MESOSPHERE | Utabi Hirokawa | 8:14 | Active | 1.7 | | 2020-11-02 |
| MORTAL FACTORY | XX | 7:44 | Active | 2.4 | | 2023-09-08 |
| N.M.C. (Dance of Love) | T.Kotobuki | 5:49 | Active | 3.5 | | 2023-08-06 |
| Nancy | Hally (J.Haliyama) | 8:07 | Removed By Request | 3.0 | | 2021-02-26 |
| Nemesis '90 Kai - A Fighter (Boss) | Konami Kukeiha Club | 0:54 | Active | 4.0 | | 2020-10-25 |
| Nemesis '90 Kai - A Journey to the Start (Air Combat Theme) | Konami Kukeiha Club | 1:20 | Active | 4.0 | | 2023-08-15 |
| Nemesis '90 Kai - A Planet of Plants (Plant Planet Theme) | Konami Kukeiha Club | 1:22 | Active | 3.0 | | 2021-08-25 |
| Nemesis '90 Kai - Above the Horizon (Opening Theme) | Konami Kukeiha Club | 2:31 | Active | 4.0 | | 2023-07-18 |
| Nemesis '90 Kai - Blazed Up (Flame Planet Theme) | Konami Kukeiha Club | 1:40 | Active | 4.0 | | 2023-01-15 |
| Nemesis '90 Kai - Dancing Venus (Floating Continents Theme) | Konami Kukeiha Club | 1:09 | Active | 4.0 | | 2020-10-27 |
| Nemesis '90 Kai - Don't Leave Me Alone (Fortress Planet Theme) | Konami Kukeiha Club | 1:20 | Active | 4.0 | | 2023-08-21 |
| Nemesis '90 Kai - Frontier Disputes (Life Planet Theme) | Konami Kukeiha Club | 1:17 | Active | 4.7 | | 2023-06-04 |
| Nemesis '90 Kai - Killer Coast Land (Colossus Planet Theme) | Konami Kukeiha Club | 1:53 | Active | 3.8 | | 2023-09-01 |
| Nemesis '90 Kai - Killer Love (Return Theme) | Konami Kukeiha Club | 1:55 | Active | 4.0 | | 2023-07-06 |
| Nemesis '90 Kai - Moonspin (Large Mothership Venom Theme) | Konami Kukeiha Club | 1:24 | Active | 4.0 | | 2023-08-11 |
| Nemesis '90 Kai - Powerful Waves (Boss Battleship Interior - Last Boss) | Konami Kukeiha Club | 0:40 | Active | 5.0 | | 2021-11-05 |
| Nemesis '90 Kai - Red Diamond (Ancient Planet Theme) | Konami Kukeiha Club | 0:53 | Active | 4.5 | | 2021-01-30 |
| Nemesis '90 Kai - Tears Began Gushing (Space Tricky Area Theme) | Konami Kukeiha Club | 1:03 | Active | 2.0 | | 2022-02-17 |
| No More | Yamagata , yar-3 , Yuki | 5:46 | Active | 2.9 | | 2023-09-03 |
| No Tech Jazz | Hally (J.Haliyama) | 9:06 | Active | 2.7 | | 2020-11-13 |
| No.04 | Osamu Ikeda | 6:03 | Active | 4.4 | | 2023-09-24 |
| No.05 | Osamu Ikeda | 5:01 | Active | 4.4 | | 2023-07-19 |
| No.06 | Osamu Ikeda | 2:01 | Active | 4.0 | | 2023-05-03 |
| No.07 | Osamu Ikeda | 2:48 | Active | 4.3 | | 2023-09-16 |
| Original Mdx No.1 - Change!! | Tsun | 3:31 | Active | 4.4 | | 2023-08-17 |
| Original Mdx No.2 - Chaos | Tsun | 1:52 | Active | 4.8 | | 2023-09-17 |
| Original Mdx No.3 - Ravening | Tsun | 2:54 | Active | 4.6 | | 2023-09-11 |
| Original Mdx No.4 - 夏がやってきた!! | Tsun | 1:23 | Active | 5.0 | | 2023-06-30 |
| pf (underground) | Y.Tachibana (Yasuhiko Taschibana) | 9:39 | Active | 3.0 | | 2020-09-02 |
| Plug 1 | T.Kotobuki | 5:11 | Active | 2.0 | | 2023-07-13 |
| Quantize A MDMA | Utabi Hirokawa | 7:32 | Active | 1.3 | | 2023-09-08 |
| RANDOMANIA | Y.Tachibana (Yasuhiko Taschibana) | 5:41 | Active | 3.3 | | 2023-09-15 |
| rapidfire | M.Otaki | 5:22 | Active | 3.3 | | 2023-07-04 |
| Rhythma | Hally (J.Haliyama) | 9:14 | Active | 2.1 | | 2020-11-05 |
| roBism2 | roB woB | 5:21 | Active | 3.0 | | 2023-08-28 |
| S-R-G-P-I-I-I | M.Otaki | 4:51 | Active | 1.6 | | 2023-06-29 |
| SAKURA | XX | 6:25 | Active | 2.0 | | 2020-11-08 |
| Sanoxsanoxma Holesabi | Utabi Hirokawa | 6:47 | Active | 1.5 | | 2020-11-02 |
| sap (Meaning jungly) | M.Otaki | 8:12 | Active | 2.5 | | 2020-11-01 |
| sap (No meaning) | M.Otaki | 6:22 | Active | 3.0 | | 2023-09-23 |
| self-ruin | T.Kotobuki | 7:34 | Active | 1.5 | | 2023-07-21 |
| SEOUL MUSIC (Steppin'nSeoul) | TMK | 6:03 | Active | 2.5 | | 2023-07-17 |
| SKYHURRICANE II | Hally (J.Haliyama) | 5:55 | Active | 2.5 | | 2023-05-22 |
| Smog | TMK | 10:29 | Active | 2.9 | | 2023-07-19 |
| SoundShock: FM Synthesis Maddness!! - Pendulum II | hizmi | 5:35 | Active | 3.2 | | 2023-07-26 |
| SoundShock: FM Synthesis Maddness!! - Stop and Go (Ubiktune edit) | Utabi Hirokawa | 3:21 | Active | 4.0 | | 2023-09-16 |
| SoundShock: FM Synthesis Maddness!! - Ubatism - A Synthesizer Boy | Hally (J.Haliyama) , Seiko Kobuchi | 2:37 | Active | 3.8 | | 2023-09-14 |
| sSs (Squeezing a Sound and Soul) | M.Otaki | 9:00 | Active | 3.0 | | 2023-07-04 |
| Star Trader - The Logic of Shooters (Stage 1 Zone Silva) | Keishi Yonao (与猶 啓至) | 5:37 | Active | 4.5 | | 2023-07-30 |
| Star Trader - Ugly Beauty (Stage 2 Zone Oguma) | Keishi Yonao (与猶 啓至) | 3:17 | Active | 4.5 | | 2023-08-17 |
| Star Trader - Visual Scene 3 (Ending) | Hassy (Hiroya Hatsushiba) | 6:45 | Active | 5.0 | | 2023-08-22 |
| STRAIGHT | Utabi Hirokawa | 8:13 | Active | 1.5 | | 2020-11-01 |
| STRIDER | M.Otaki | 6:41 | Active | 2.5 | | 2023-07-02 |
| Summer Carnival '96 | Hally (J.Haliyama) | 5:57 | Removed By Request | 2.7 | | 2020-12-31 |
| The 8bits of Christmas - Xmas Songs Plastic Sputnik Arcade Punk Remix | Hally (J.Haliyama) | 2:31 | Active | 4.0 | | 2023-09-12 |
| the Beast | M.Otaki | 10:39 | Active | 3.0 | | 2020-12-12 |
| Trance Leader (,The 3rd) | N.Shin*da | 8:34 | Active | 4.0 | | 2023-08-04 |
| Triaez | Hally (J.Haliyama) | 3:43 | Active | 2.0 | | 2023-09-21 |
| Triaez (instrumental) | Hally (J.Haliyama) | 3:43 | Active | 3.3 | | 2023-09-12 |
| Twinbee - Boss #1 | Shigeru Fukutake | 0:16 | Active | 1.0 | | 2023-05-30 |
| Twinbee - Boss #2 | Shigeru Fukutake | 0:46 | Active | 1.7 | | 2023-08-12 |
| Twinbee - Brand New Start | Shigeru Fukutake | 0:05 | Jingle | | | |
| Twinbee - Game Over | Shigeru Fukutake | 0:05 | Jingle | | | |
| Twinbee - Key Assign | Shigeru Fukutake | 0:19 | Active | 3.5 | | 2023-05-23 |
| Twinbee - Last Chance! | Shigeru Fukutake | 0:49 | Active | 1.3 | | 2023-06-09 |
| Twinbee - Next Stage | Shigeru Fukutake | 0:03 | Active | 3.0 | | 2023-02-23 |
| Twinbee - Power-Up | Shigeru Fukutake | 1:38 | Active | 4.5 | | 2023-08-28 |
| Twinbee - Twinbee Theme | Shigeru Fukutake | 3:10 | Active | 4.5 | | 2023-09-18 |
| Under Stage | XX | 6:01 | Active | 2.4 | | 2023-09-01 |
| VACUA | M.Otaki | 7:45 | Active | 3.5 | | 2021-08-26 |
| Vakada | Hally (J.Haliyama) | 4:46 | Active | 2.6 | | 2023-08-30 |
| X68303 | Hally (J.Haliyama) | 8:00 | Active | 2.5 | | 2020-11-05 |
| XXX | Hally (J.Haliyama) | 9:49 | Active | 2.0 | | 2020-11-18 |
| yes, we are | Utabi Hirokawa | 8:02 | Active | 3.4 | | 2023-08-21 |
| ボーゼルの砦 | Napo.sun | 2:53 | Active | 4.8 | | 2023-09-04 |