CVGM.net - Chiptune, Retro & Video Game Music

Platform - Computer » Amstrad CPC (Colour Personal Computer)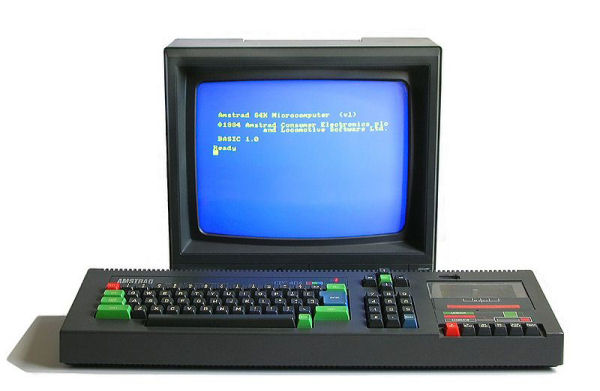 Amstrad CPC and similar range of home computers.
The computer was produced between 1984-1990 and competed in the field of 8-bit home computers against Commodore 64 and ZX Spectrum. Amstrad CPC established a considerable user base in United Kingdom and large continental West-European countries. About three million units were sold globally.
Letters CPC stand for "Colour Personal Computer". The most important CPC models were CPC464, CPC664, and CPC6128. Later models are 464plus, 6128 plus and XG4000 (game console).
The technical data of AY-3-8910 sound chip:
-three primary sound channels
-in total sixteen 8-bit registers
-six 8-bit registers control pitches of sound channels (two for each channel: one for channel mixing, another one for controlling pseudo-random noise generator)
-maximum 12-bit wavelength value with 4096 pitches
-three registers for volume control and turning on/off additional envelope controls
-three registers for controlling times of ADSR envelope controller
Songs
| Song Title | Artist | Song Length | Status | Avg. Vote | Queue | Last Played |
| --- | --- | --- | --- | --- | --- | --- |
| &0D4A (2010) | Ultrasyd Brainstorm | 2:52 | Active | 4.8 | | 2023-09-19 |
| 1488 morons (2009) | Ultrasyd | 3:58 | Active | 4.7 | | 2023-09-04 |
| 1942 | Mark Cooksey | 1:21 | Active | 4.0 | | 2023-07-30 |
| A.M.C.: Astro Marine Corps - Title | José Antonio Martín Tello | 1:47 | Active | 4.3 | | 2023-08-31 |
| Adieu Paris (2009) | Ultrasyd | 3:06 | Active | 4.6 | | 2023-08-08 |
| Alex Kidd In Spectrum Castle | Fenyx Kell (Sylvain Guehl) | 2:00 | Active | 4.6 | | 2023-08-14 |
| Asphalt | Philippe Marchiset | 1:20 | Active | 4.3 | | 2023-07-25 |
| BallBreaker Title | Jay Derrett | 2:01 | Active | 4.1 | | 2023-08-26 |
| Ballbreaker Title | Jay Derrett | 2:11 | Active | 4.5 | | 2023-09-20 |
| Before the End (2009) | Ultrasyd | 4:34 | Active | 4.8 | | 2023-08-30 |
| Beyond the Ice Palace - Intro | David Whittaker | 4:30 | Active | 4.4 | | 2023-03-10 |
| Beyond the Ice Palace - Title | David Whittaker | 0:29 | Active | 4.5 | | 2023-06-27 |
| Billy 2 | Jean-Philippe Biscay | 0:51 | Active | 3.0 | | 2023-09-05 |
| Billy la Banlieue | Jean-Philippe Biscay | 1:18 | Active | 4.5 | | 2023-09-12 |
| Bloc(k) Us (2011) | Ultrasyd Brainstorm | 3:32 | Active | 4.6 | | 2023-08-11 |
| BobLine | Fenyx Kell (Sylvain Guehl) | 1:44 | Active | 3.9 | | 2023-08-19 |
| Bosconian - Title | Jason C. Brooke | 2:13 | Active | 3.9 | | 2023-08-18 |
| Bumpy | Michel Winogradoff | 1:16 | Active | 4.0 | | 2023-08-20 |
| Burnin' Rubber | Jonathan Dunn | 1:31 | Active | 4.5 | | 2023-08-07 |
| Call BD10 n'Oeuf | Fenyx Kell (Sylvain Guehl) | 2:05 | Active | 4.8 | | 2023-09-15 |
| Cauldron | Richard Joseph | 1:02 | Active | 3.7 | | 2023-07-30 |
| Cauldron II: The Pumpkin Strikes Back | Richard Joseph | 1:08 | Active | 4.6 | | 2023-09-04 |
| Checkmate | Tom & Jerry (Hervé Monchatre) Pulpo Corrosivo | 1:54 | Active | 4.0 | | 2023-08-30 |
| Color Lines (2010) | Ultrasyd | 2:48 | Active | 4.4 | | 2023-07-29 |
| Commando - In game | Unknown Artist | 1:10 | Active | 4.0 | | 2023-07-02 |
| Commando - Title / High score | Unknown Artist | 1:11 | Active | 3.4 | | 2023-08-29 |
| Count Duckula 2 | Uncle Art (Dave Lowe) | 5:00 | Needs Re-Encoding | 3.4 | | 2018-08-03 |
| CPC Breakah | Dma-Sc (Mathieu Stempell) Sector One | 2:29 | Active | 5.0 | | 2023-05-21 |
| Crystal Hammer | BSC (Oliver Mayer) | 4:05 | Active | 4.7 | | 2023-09-06 |
| Crystal Kingdom Dizzy - Intro | Unknown Artist | 2:27 | Active | 4.4 | | 2023-08-08 |
| Cybernoid - The Ultimate Fighting Machine | Dave Rogers | 2:21 | Active | 4.7 | | 2023-09-07 |
| Cybernoid II: The Revenge | Dave Rogers | 3:00 | Active | 4.6 | | 2023-09-17 |
| Deep Strike | Unknown Artist | 0:16 | Active | 4.0 | | 2023-05-05 |
| Desert Dream - The Second Part (Remake) | Targhan (Julien Nevo) | 3:52 | Active | 4.5 | | 2023-07-11 |
| Destination Maths | Unknown Artist | 1:25 | Active | 4.6 | | 2023-09-05 |
| Elysium | Shap (Olivier Antoine) | 5:46 | Active | 4.8 | | 2023-09-08 |
| Emotion Trouble | m_dr_m ramdam brouhaha [aaouaa] | 2:10 | Active | | | 2023-09-13 |
| Ghosts 'N Goblins | David Whittaker | 1:32 | Active | 4.5 | | 2023-07-11 |
| Golden Tail (main theme) | reidrac (Juan J. Martinez) | 2:17 | Active | 4.0 | | 2023-06-29 |
| Hydrofool | Rob Hubbard | 2:55 | Active | 4.2 | | 2023-09-12 |
| I See Cubes (2010) | Ultrasyd | 2:35 | Active | 4.7 | | 2023-08-16 |
| Inertie | Xavier Talgorn | 1:27 | Active | 3.8 | | 2023-08-25 |
| Ishido | Targhan (Julien Nevo) Arkos | 7:20 | Active | 3.0 | | 2023-09-10 |
| Kellyon | Fenyx Kell (Sylvain Guehl) | 1:10 | Active | 4.1 | | 2023-07-29 |
| Lazy Coders (2010) | Ultrasyd | 4:39 | Active | 4.6 | | 2023-07-17 |
| Le 5eme Axe - Ingame | Gilles Soulet | 1:40 | Active | 4.7 | | 2023-06-25 |
| Les passagers du temps | Unknown Artist | 1:35 | Active | 3.0 | | 2023-09-19 |
| Les passagers du vent 1 - Part 01 | Charles Callet | 3:02 | Active | 4.0 | | 2023-09-11 |
| Lonely Robot (Amstrad CPC) (2010) | Ultrasyd | 5:02 | Active | 4.8 | | 2023-09-04 |
| Lost in Fractal Dimension (2009) | Ultrasyd | 3:24 | Active | 4.6 | | 2023-08-26 |
| Mach 3 | Michel Winogradoff | 0:30 | Active | 4.5 | | 2023-08-19 |
| Mata Hari | Jean-Philippe Biscay | 1:06 | Active | 4.2 | | 2023-08-29 |
| Orion Prime - Intro | Targhan (Julien Nevo) Arkos | 4:06 | Active | 3.6 | | 2023-06-25 |
| Orion Prime - Title | Targhan (Julien Nevo) Arkos | 2:46 | Active | 3.7 | | 2023-07-10 |
| Resonance | Targhan (Julien Nevo) GPA | 4:09 | Active | 4.3 | | 2023-09-15 |
| Saboteur II | Rob Hubbard | 2:21 | Active | 4.7 | | 2023-05-23 |
| Sigma 7 | Julian Breeze | 0:50 | Active | 4.3 | | 2023-08-05 |
| Skweek | Michel Winogradoff | 0:49 | Active | 4.3 | | 2023-07-14 |
| Solarium | Fenyx Kell (Sylvain Guehl) | 2:05 | Active | 4.7 | | 2023-06-30 |
| Space Debris | BSC (Oliver Mayer) | 4:54 | Active | 4.7 | | 2023-09-15 |
| SRAM | Unknown Artist | 0:53 | Active | 3.4 | | 2023-09-20 |
| SRAM II | Unknown Artist | 1:12 | Active | 3.6 | | 2023-07-25 |
| Still Rising's Cracktro (2013) | Ultrasyd | 1:35 | Active | 4.5 | | 2022-10-27 |
| Stormlord - Title | Dave Rogers | 2:30 | Active | 4.3 | | 2023-09-05 |
| STreet Art | Dma-Sc (Mathieu Stempell) Sector One | 2:43 | Active | 5.0 | | 2023-08-14 |
| Teenage Mutant Hero Turtles | Unknown Artist | 2:09 | Active | 4.3 | | 2023-08-31 |
| The Dead Floppy (2009) | Ultrasyd | 3:13 | Active | 4.9 | | 2023-09-03 |
| The Last Piece Of AY In 2013 | serpent (Touko Väre) | 0:26 | Active | 5.0 | | 2023-07-24 |
| The Return of Traxtor | reidrac (Juan J. Martinez) | 1:06 | Active | 4.0 | | 2023-08-03 |
| Troopers (2009) | Ultrasyd | 2:48 | Active | 4.3 | | 2023-09-19 |
| Vector Ball | Hagar (Wally Beben) | 2:05 | Active | 4.6 | | 2023-07-11 |
| Wake Up! (end part) | Dma-Sc (Mathieu Stempell) | 2:40 | Active | 4.7 | | 2023-08-03 |
| Wake Up! (main part) | McKlain (John McKlain) | 4:29 | Active | 4.7 | | 2023-08-31 |
| We Died Yesterday (2009) | Ultrasyd | 3:44 | Active | 4.6 | | 2023-09-19 |
| YM-Type (2009) | Ultrasyd | 3:54 | Active | 4.3 | | 2023-08-16 |
| Zynaps | Dave Rogers | 5:47 | Active | 4.3 | | 2023-08-28 |