CVGM.net - Chiptune, Retro & Video Game Music

Platform - Computer » PC (OPL3 = SB Pro 2 / SB16 / AWE32 / AdLib Gold)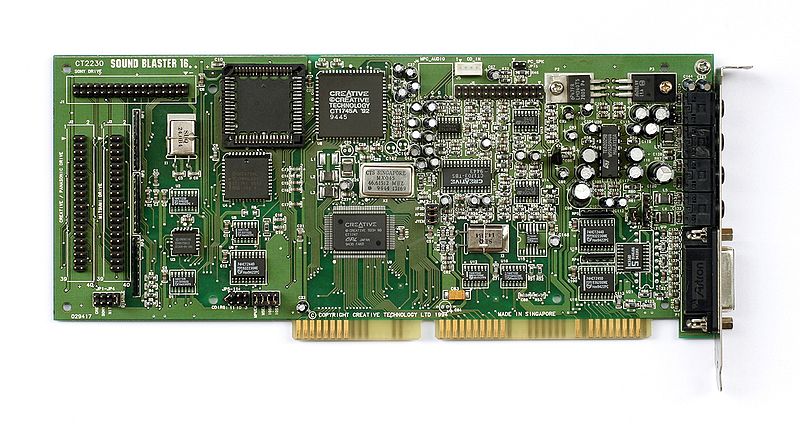 OPL-3 (Yamaha YMF262) is the sound chip which is an improved version of the Yamaha YM3812 (OPL2).
OPL-3 was used in several sound cards:
-Sound Blaster Pro 2.0 (1991)
-Sound Blaster 16 (1992)
-numerous Sound Blaster clones
-MSX OPL3 Cartridge
-Adlib Gold
These cards play also non-OPL music since they are capable of playing digitized sound. SB16 actually plays CD quality sound.
The Adlib Gold also has the option of an DSP addon for reverb effect.
Also Sound Blaster AWE has OPL-3 chip even though it plays MIDI music by other means.
OPL is an acronym for FM Operator Type-L
Most of PC gamers heard the music of massive hit game, Doom, through cards equipped with OPL-3 chip.
Songs
| Song Title | Artist | Song Length | Status | Avg. Vote | Queue | Last Played |
| --- | --- | --- | --- | --- | --- | --- |
| Blackthorne - Ending | Bill Roper , Glenn Stafford , Michael Morhaime , Rick Jackson | 3:47 | Active | 4.1 | | 2023-07-29 |
| Blackthorne - Intro | Bill Roper , Glenn Stafford , Michael Morhaime , Rick Jackson | 3:01 | Active | 3.8 | | 2023-08-29 |
| Blackthorne - Lord Sarlac | Bill Roper , Glenn Stafford , Michael Morhaime , Rick Jackson | 2:53 | Active | 3.0 | | 2023-07-29 |
| Blackthorne - The Forest of Onehand | Bill Roper , Glenn Stafford , Michael Morhaime , Rick Jackson | 2:11 | Active | 3.0 | | 2023-08-14 |
| Blackthorne - The High Tower of Sarlac | Bill Roper , Glenn Stafford , Michael Morhaime , Rick Jackson | 3:03 | Active | 3.6 | | 2023-09-13 |
| Blackthorne - The Wastelands of Thoros | Bill Roper , Glenn Stafford , Michael Morhaime , Rick Jackson | 4:29 | Active | 3.8 | | 2023-08-09 |
| Blackthorne - The Xandralite Mines | Bill Roper , Glenn Stafford , Michael Morhaime , Rick Jackson | 3:10 | Active | 4.1 | | 2023-09-23 |
| Blackthorne - Title | Bill Roper , Glenn Stafford , Michael Morhaime , Rick Jackson | 1:19 | Active | 4.0 | | 2022-11-08 |
| Command Adventures: Starship - Combat | The Thin Man (Hamilton Altstatt) | 1:44 | Active | 3.0 | | 2023-09-12 |
| Command Adventures: Starship - Hunter | The Thin Man (Hamilton Altstatt) | 1:58 | Active | 4.0 | | 2023-06-28 |
| Command Adventures: Starship - Mystery | The Thin Man (Hamilton Altstatt) | 5:14 | Active | 4.8 | | 2023-09-22 |
| Command Adventures: Starship - Planet 1 | The Thin Man (Hamilton Altstatt) | 3:24 | Active | 4.5 | | 2023-08-14 |
| Command Adventures: Starship - Planet 2 | The Thin Man (Hamilton Altstatt) | 3:31 | Active | 4.6 | | 2023-07-15 |
| Command Adventures: Starship - Planet 3 | The Thin Man (Hamilton Altstatt) | 3:32 | Active | 3.0 | | 2023-09-18 |
| Command Adventures: Starship - Sahara | The Thin Man (Hamilton Altstatt) | 4:42 | Active | 4.3 | | 2023-09-25 |
| Command Adventures: Starship - Shuttle | The Thin Man (Hamilton Altstatt) | 1:49 | Active | 4.8 | | 2023-09-16 |
| Command Adventures: Starship - Spacey | The Thin Man (Hamilton Altstatt) | 2:21 | Active | 4.0 | | 2023-07-03 |
| Command Adventures: Starship - Title | The Thin Man (Hamilton Altstatt) | 3:24 | Active | 4.2 | | 2023-07-24 |
| Command Adventures: Starship - Wildride | The Thin Man (Hamilton Altstatt) | 2:47 | Active | 4.0 | | 2023-09-20 |
| Cybersphere - Bonus Stage 1 | Clay Hellman | 1:28 | Active | | | 2023-05-26 |
| Cybersphere - Bonus Stage 2 | Clay Hellman | 1:27 | Active | 4.0 | | 2022-11-20 |
| Cybersphere - Bonus Stage 3 | Clay Hellman | 1:30 | Active | 4.0 | | 2022-09-13 |
| Cybersphere - Level Music 1 | Clay Hellman | 1:53 | Active | | | 2020-12-11 |
| Cybersphere - Level Music 2 | Clay Hellman | 1:32 | Active | 3.8 | | 2023-08-19 |
| Cybersphere - Level Music 3 | Clay Hellman | 2:24 | Active | 3.8 | | 2023-09-22 |
| Cybersphere - Level Selector | Clay Hellman | 1:04 | Active | 4.0 | | 2023-07-08 |
| Cybersphere - Stage Complete | Clay Hellman | 1:03 | Active | 3.8 | | 2023-06-12 |
| Cybersphere - Title | Clay Hellman | 0:38 | Active | 4.0 | | 2022-02-19 |
| Descent - Level 1 & 23 | Brian Luzietti , Jim Torres , Ken Allen , Larry Peacock , Leslie Spitzer , Tim Wiles | 3:28 | Active | 4.6 | | 2023-09-07 |
| Descent - Level 2 & 24 | Brian Luzietti , Jim Torres , Ken Allen , Larry Peacock , Leslie Spitzer , Tim Wiles | 3:58 | Active | 4.0 | | 2023-09-13 |
| Descent - Level 3 & 25 | Brian Luzietti , Jim Torres , Ken Allen , Larry Peacock , Leslie Spitzer , Tim Wiles | 3:41 | Active | 4.0 | | 2023-09-20 |
| Descent - Level 4 & 26 | Brian Luzietti , Jim Torres , Ken Allen , Larry Peacock , Leslie Spitzer , Tim Wiles | 2:39 | Active | 4.4 | | 2023-09-02 |
| Descent - Menu | Brian Luzietti , Jim Torres , Ken Allen , Larry Peacock , Leslie Spitzer , Tim Wiles | 3:44 | Active | 4.4 | | 2023-08-07 |
| Duke Nukem 3D - Title | Lee Jackson | 1:35 | Active | 4.8 | | 2023-09-24 |
| Dune - Arakeen Palace (DSP) | Stéphane Picq | 3:08 | Active | 4.8 | | 2023-09-14 |
| Dune - Deep Desert (DSP) | Stéphane Picq | 2:51 | Active | 4.3 | | 2023-06-10 |
| Dune - Introduction (DSP) | Stéphane Picq | 3:33 | Active | 4.4 | | 2023-09-22 |
| Dune - Map (DSP) | Stéphane Picq | 3:40 | Active | 4.5 | | 2023-07-02 |
| Dune - Morning Sunrise (DSP) | Stéphane Picq | 4:59 | Active | 4.8 | | 2023-09-19 |
| Dune - Ornithopter (DSP) | Stéphane Picq | 1:20 | Active | 4.8 | | 2023-08-07 |
| Dune - Sietch Tabr (DSP) | Stéphane Picq | 4:17 | Active | 4.9 | | 2023-09-17 |
| Dune - Sietch Tuek (DSP) | Stéphane Picq | 1:43 | Active | 3.7 | | 2023-08-28 |
| Dune - Water Of Life (DSP) | Stéphane Picq | 1:12 | Active | 4.0 | | 2023-08-03 |
| Dune II: Battle for Arrakis - Atreides BGM 1 | Frank Klepacki | 1:52 | Active | | | 2023-07-05 |
| Dune II: Battle for Arrakis - Atreides BGM 2 | Frank Klepacki | 3:09 | Active | 2.5 | | 2023-07-05 |
| Dune II: Battle for Arrakis - End Credits | Frank Klepacki | 2:14 | Active | 4.0 | | 2023-03-20 |
| Dune II: Battle for Arrakis - Harkonnen BGM 1 | Frank Klepacki | 2:04 | Active | 4.3 | | 2023-08-22 |
| Dune II: Battle for Arrakis - Harkonnen BGM 2 | Frank Klepacki | 1:37 | Active | 3.0 | | 2023-07-11 |
| Dune II: Battle for Arrakis - Ordos BGM 1 | Frank Klepacki | 3:05 | Active | 4.7 | | 2023-08-31 |
| Dune II: Battle for Arrakis - Under Attack | Frank Klepacki | 1:05 | Active | 3.0 | | 2020-10-19 |
| Dune II: Battle for Arrakis - Victory | Frank Klepacki | 0:36 | Active | 4.0 | | 2023-05-22 |
| Indelektro | Acidline (Martin Spielmans) High Society | 3:38 | Active | 4.2 | | 2023-06-10 |
| Indiana Jones and the Fate of Atlantis - Azores | Clint Bajakian , Michael Z. Land , Peter McConnell | 1:48 | Active | 3.5 | | 2023-09-19 |
| Indiana Jones and the Fate of Atlantis - Intro (w/ sfx) | Clint Bajakian , Michael Z. Land , Peter McConnell | 6:44 | Active | 4.5 | | 2023-08-05 |
| Indiana Jones and the Fate of Atlantis - New York | Clint Bajakian , Michael Z. Land , Peter McConnell | 0:56 | Active | 4.2 | | 2023-09-11 |
| Indiana Jones and the Fate of Atlantis - On the Stage | Clint Bajakian , Michael Z. Land , Peter McConnell | 1:32 | Active | 4.0 | | 2023-06-04 |
| Lands of Lore: The Throne of Chaos - City of Yvel | Frank Klepacki | 2:36 | Active | 4.2 | | 2023-08-20 |
| Lands of Lore: The Throne of Chaos - End Credits | Frank Klepacki | 4:03 | Active | 4.3 | | 2023-07-29 |
| Lands of Lore: The Throne of Chaos - Geron's Office | Frank Klepacki | 0:17 | Active | 3.0 | | 2022-10-13 |
| Lands of Lore: The Throne of Chaos - Gray Eagle Inn | Frank Klepacki | 0:48 | Active | 5.0 | | 2020-10-28 |
| Lands of Lore: The Throne of Chaos - Herbalist | Frank Klepacki | 2:02 | Active | 3.7 | | 2023-08-03 |
| Lands of Lore: The Throne of Chaos - Scotia's Castle | Frank Klepacki | 3:30 | Active | 4.0 | | 2023-09-20 |
| Lands of Lore: The Throne of Chaos - Southland Forest | Frank Klepacki | 2:23 | Active | 3.8 | | 2023-09-24 |
| Lands of Lore: The Throne of Chaos - The White Tower | Frank Klepacki | 3:05 | Active | 4.5 | | 2023-07-24 |
| Lands of Lore: The Throne of Chaos - Urbish Mine | Frank Klepacki | 1:15 | Active | 3.0 | | 2022-01-29 |
| Leisure Suit Larry 6: Shape Up or Slip Out! - 2 Rump 2 Pump | Dan Kehler | 1:32 | Active | 3.0 | | 2023-09-16 |
| Leisure Suit Larry 6: Shape Up or Slip Out! - Air for the G-String | Dan Kehler | 1:53 | Active | 4.0 | | 2023-08-10 |
| Leisure Suit Larry 6: Shape Up or Slip Out! - Burgundy's Blues | Dan Kehler | 3:18 | Active | 4.0 | | 2023-05-01 |
| Leisure Suit Larry 6: Shape Up or Slip Out! - Cell Block Love | Dan Kehler | 2:03 | Active | 3.5 | | 2019-08-10 |
| Leisure Suit Larry 6: Shape Up or Slip Out! - Credits | Dan Kehler | 1:32 | Active | 5.0 | | 2020-11-22 |
| Leisure Suit Larry 6: Shape Up or Slip Out! - For Your Tighs Only | Dan Kehler | 2:20 | Active | 2.0 | | 2021-04-22 |
| Leisure Suit Larry 6: Shape Up or Slip Out! - Game Over, Larry | Dan Kehler | 0:12 | Active | | | 2022-11-24 |
| Leisure Suit Larry 6: Shape Up or Slip Out! - Gary's Happy Ending | Dan Kehler | 0:49 | Active | 3.0 | | 2023-07-20 |
| Leisure Suit Larry 6: Shape Up or Slip Out! - Hard Is Good, Right? | Dan Kehler | 2:00 | Active | 5.0 | | 2023-09-10 |
| Leisure Suit Larry 6: Shape Up or Slip Out! - Harry Palm Blues | Dan Kehler | 2:52 | Active | 4.5 | | 2021-10-02 |
| Leisure Suit Larry 6: Shape Up or Slip Out! - Jazzy Bar | Dan Kehler | 1:30 | Active | 3.0 | | 2022-02-08 |
| Leisure Suit Larry 6: Shape Up or Slip Out! - La Costa Lotta's Lobby | Dan Kehler | 3:51 | Active | 3.0 | | 2021-10-25 |
| Leisure Suit Larry 6: Shape Up or Slip Out! - Larry's Room | Dan Kehler | 1:36 | Active | 4.0 | | 2022-09-06 |
| Leisure Suit Larry 6: Shape Up or Slip Out! - Larry, Be Bad! | Dan Kehler | 1:57 | Active | 5.0 | | 2023-01-17 |
| Leisure Suit Larry 6: Shape Up or Slip Out! - Moonlight Romance | Dan Kehler | 4:13 | Active | 3.0 | | 2021-02-05 |
| Leisure Suit Larry 6: Shape Up or Slip Out! - Muskrat Lust | Dan Kehler | 2:12 | Active | | | 2021-05-15 |
| Leisure Suit Larry 6: Shape Up or Slip Out! - No Pain No Gain | Dan Kehler | 2:26 | Active | 2.0 | | 2021-06-06 |
| Leisure Suit Larry 6: Shape Up or Slip Out! - Not Ravel's Bolero #1 | Dan Kehler | 1:34 | Active | 2.8 | | 2023-09-08 |
| Leisure Suit Larry 6: Shape Up or Slip Out! - Not Ravel's Bolero #2 | Dan Kehler | 1:34 | Active | 5.0 | | 2022-11-04 |
| Leisure Suit Larry 6: Shape Up or Slip Out! - Peeping Tom | Dan Kehler | 1:40 | Active | 3.0 | | 2022-10-27 |
| Leisure Suit Larry 6: Shape Up or Slip Out! - Samba de Hooters | Dan Kehler | 2:31 | Active | 4.0 | | 2022-07-10 |
| Leisure Suit Larry 6: Shape Up or Slip Out! - Shock Your Booty | Dan Kehler | 1:51 | Active | 2.0 | | 2023-03-04 |
| Leisure Suit Larry 6: Shape Up or Slip Out! - Spanish Surprise | Dan Kehler | 2:09 | Active | 3.0 | | 2023-08-18 |
| Leisure Suit Larry 6: Shape Up or Slip Out! - Spiritually Aware | Dan Kehler | 2:02 | Active | 4.0 | | 2023-08-25 |
| Leisure Suit Larry 6: Shape Up or Slip Out! - Spiritually Perverted | Dan Kehler | 2:16 | Active | 5.0 | | 2021-02-17 |
| Leisure Suit Larry 6: Shape Up or Slip Out! - Story | Dan Kehler | 1:11 | Active | 2.5 | | 2023-09-18 |
| Leisure Suit Larry 6: Shape Up or Slip Out! - Switch Hitt'n Kitt'n | Dan Kehler | 1:02 | Active | 2.0 | | 2022-11-11 |
| Leisure Suit Larry 6: Shape Up or Slip Out! - Twist Till It Hurts | Dan Kehler | 1:42 | Active | 2.0 | | 2022-09-23 |
| Leisure Suit Larry 6: Shape Up or Slip Out! - Un Noche en Parlier | Dan Kehler | 1:21 | Active | 3.3 | | 2023-09-17 |
| Lode Runner: The Legend Returns - Abandoned Mines | Brian Salter , Matt Berardo | 2:10 | Active | 4.0 | | 2023-05-20 |
| Lode Runner: The Legend Returns - Caverns | Brian Salter , Matt Berardo | 1:35 | Active | 3.0 | | 2023-08-22 |
| Lode Runner: The Legend Returns - Crystal Caverns | Brian Salter , Matt Berardo | 1:51 | Active | 4.0 | | 2023-05-30 |
| Lode Runner: The Legend Returns - Jungle | Brian Salter , Matt Berardo | 1:34 | Active | 4.0 | | 2023-06-28 |
| Lode Runner: The Legend Returns - Lava Area | Brian Salter , Matt Berardo | 1:43 | Active | 4.0 | | 2023-08-08 |
| Monkey Island 2: LeChuck's Revenge - Captain Dread | Clint Bajakian , Michael Z. Land , Peter McConnell | 2:06 | Active | 4.6 | | 2023-08-25 |
| Monkey Island 2: LeChuck's Revenge - Main Title | Clint Bajakian , Michael Z. Land , Peter McConnell | 1:55 | Active | 4.9 | | 2023-09-09 |
| Monkey Island 2: LeChuck's Revenge - Pirate's Stories | Clint Bajakian , Michael Z. Land , Peter McConnell | 1:52 | Active | 4.4 | | 2023-07-17 |
| Monkey Island 2: LeChuck's Revenge - Largo La Grande | Clint Bajakian , Michael Z. Land , Peter McConnell | 0:57 | Active | 4.0 | | 2023-08-14 |
| Now That's What I Call Kulor! - Cruisin' Mah '95 Pimpmobile | Kulor (Richard J. Armijo) | 2:31 | Active | 4.4 | | 2023-09-01 |
| Now That's What I Call Kulor! - I'm No Cyberhero | Kulor (Richard J. Armijo) | 2:38 | Active | 4.5 | | 2023-03-30 |
| PDEMO Theme II | J. Tan , WH Sim (Sim Wong Hoo) | 1:22 | Active | 4.6 | | 2023-07-16 |
| Sim City 2000 - Buildings | Sue Kasper | 0:39 | Active | 3.0 | | 2022-01-31 |
| Sim City 2000 - City Shimmy | Brian Conrad , Justin McCormick , Sue Kasper | 1:46 | Active | 4.4 | | 2023-09-12 |
| Sim City 2000 - City Shimmy | Brian Conrad , Justin McCormick , Sue Kasper | 1:43 | Active | 4.3 | | 2023-09-19 |
| Sim City 2000 - Dancing Megalopolis | Sue Kasper | 1:58 | Active | 3.3 | | 2023-08-11 |
| Sim City 2000 - Dawn of City | Sue Kasper | 1:53 | Active | 4.7 | | 2023-06-27 |
| Sim City 2000 - Disaster Decision | Brian Conrad , Justin McCormick , Sue Kasper | 1:42 | Active | 3.0 | | 2023-07-25 |
| Sim City 2000 - Growing up Town | Sue Kasper | 0:58 | Active | 5.0 | | 2021-06-09 |
| Sim City 2000 - Happy Land | Sue Kasper | 0:15 | Active | | | 2020-12-15 |
| Sim City 2000 - Key of Success | Sue Kasper | 1:43 | Active | 4.0 | | 2020-11-21 |
| Sim City 2000 - Melancholic Mayor | Sue Kasper | 1:42 | Active | 4.0 | | 2023-08-12 |
| Sim City 2000 - Pale City | Sue Kasper | 0:19 | Active | | | 2023-04-25 |
| Sim City 2000 - Railroad Rap | Brian Conrad , Justin McCormick , Sue Kasper | 1:09 | Active | 4.0 | | 2022-10-23 |
| Sim City 2000 - Railroad Rap | Brian Conrad , Justin McCormick , Sue Kasper | 1:05 | Active | 4.2 | | 2023-08-17 |
| Sim City 2000 - Selfish Citizen | Sue Kasper | 0:16 | Active | 3.0 | | 2023-01-10 |
| Sim City 2000 - Serious Sims | Brian Conrad , Justin McCormick , Sue Kasper | 2:26 | Active | 2.3 | | 2023-09-07 |
| Sim City 2000 - Simcity Segue | Brian Conrad , Justin McCormick , Sue Kasper | 1:47 | Active | 3.0 | | 2023-08-13 |
| Sim City 2000 - Skyscrapers | Sue Kasper | 2:23 | Active | 2.3 | | 2023-09-19 |
| Sim City 2000 - Subway Song | Brian Conrad , Justin McCormick , Sue Kasper | 3:10 | Active | 4.0 | | 2023-09-25 |
| Sim City 2000 - Subway Song | Brian Conrad , Justin McCormick , Sue Kasper | 3:05 | Active | 3.8 | | 2022-12-29 |
| Sim City 2000 - Tax & Money | Sue Kasper | 3:06 | Active | 2.0 | | 2022-10-31 |
| Sim City 2000 - The Construction | Sue Kasper | 1:39 | Active | 3.0 | | 2023-03-16 |
| Sim City 2000 - The Sim Magic | Sue Kasper | 1:14 | Active | | | 2023-08-25 |
| Sim City 2000 - Traffic Trouble | Brian Conrad , Justin McCormick , Sue Kasper | 1:17 | Active | 3.5 | | 2023-06-24 |
| Sim City 2000 - Work Work Work! | Sue Kasper | 1:05 | Active | 2.0 | | 2023-05-18 |
| SoundShock: FM Synthesis Maddness!! - Oskari the Heimfanker | Madbrain (Hubert Lamontagne) | 4:37 | Active | 4.4 | | 2023-08-28 |
| Space Beacon | radiantx (Martin Evald) | 2:34 | Active | 5.0 | | 2023-09-24 |
| Supaplex - Level Complete | David Whittaker | 0:01 | Active | 5.0 | | 2023-03-02 |
| Supaplex - Main Theme | David Whittaker | 5:04 | Active | 4.0 | | 2023-09-10 |
| System Shock - Intro Theme | Greg LoPiccolo , Tim Ries | 1:49 | Active | 4.8 | | 2023-09-23 |
| System Shock - Medical | Greg LoPiccolo , Tim Ries | 1:56 | Active | 4.2 | | 2023-07-10 |
| The Absence of Julia | Encore (Mikkel Hastrup) | 1:00 | Active | 4.5 | | 2023-08-29 |
| The Adventures of Willy Beamish - Babysitter From Hell! | Christopher Stevens | 0:35 | Active | | | 2020-12-17 |
| The Adventures of Willy Beamish - Back to Reality | Christopher Stevens | 0:11 | Active | | | 2022-08-29 |
| The Adventures of Willy Beamish - Bailout | Christopher Stevens | 0:58 | Active | | | 2021-12-28 |
| The Adventures of Willy Beamish - Beamish Backyard | Christopher Stevens | 0:52 | Active | 4.0 | | 2023-09-24 |
| The Adventures of Willy Beamish - Beautiful Suburbs | Christopher Stevens | 1:14 | Active | 3.0 | | 2021-11-08 |
| The Adventures of Willy Beamish - Blow-up Spider | Christopher Stevens | 0:55 | Active | 2.0 | | 2023-02-28 |
| The Adventures of Willy Beamish - Breaking Some Wind | Christopher Stevens | 1:45 | Active | 1.0 | | 2023-07-25 |
| The Adventures of Willy Beamish - Busty the Nurse | Christopher Stevens | 0:42 | Active | | | 2023-07-20 |
| The Adventures of Willy Beamish - Busy Train Room | Christopher Stevens | 0:57 | Active | | | 2022-10-01 |
| The Adventures of Willy Beamish - Carbuncle Assembly | Christopher Stevens | 0:44 | Active | | | 2022-07-31 |
| The Adventures of Willy Beamish - Chef Cildish's Kitchen | Christopher Stevens | 1:08 | Active | 3.0 | | 2020-12-28 |
| The Adventures of Willy Beamish - Corporate Lies | Christopher Stevens | 1:14 | Active | 3.0 | | 2023-02-22 |
| The Adventures of Willy Beamish - Creepy Mansion | Christopher Stevens | 2:26 | Active | | | 2023-08-19 |
| The Adventures of Willy Beamish - Downtown (Day 4) | Christopher Stevens | 0:50 | Active | | | 2022-11-14 |
| The Adventures of Willy Beamish - Downtown - Day 2 | Christopher Stevens | 1:26 | Active | | | 2023-06-30 |
| The Adventures of Willy Beamish - Downtown - Day 3 | Christopher Stevens | 1:11 | Active | | | 2020-12-11 |
| The Adventures of Willy Beamish - Dreaming of Nintari | Christopher Stevens | 0:25 | Active | | | 2022-09-01 |
| The Adventures of Willy Beamish - Dynamix Jingle | Christopher Stevens | 0:08 | Active | 1.0 | | 2022-06-19 |
| The Adventures of Willy Beamish - Evil Vibes | Christopher Stevens | 1:32 | Active | | | 2021-11-10 |
| The Adventures of Willy Beamish - Factory Monorail | Christopher Stevens | 1:24 | Active | | | 2022-11-30 |
| The Adventures of Willy Beamish - Foul Executives | Christopher Stevens | 1:06 | Active | | | 2021-12-25 |
| The Adventures of Willy Beamish - Frantic Bat Chase | Christopher Stevens | 1:08 | Active | | | 2020-12-10 |
| The Adventures of Willy Beamish - Frog Havoc | Christopher Stevens | 0:42 | Active | | | 2022-02-08 |
| The Adventures of Willy Beamish - Frogs for the Rescue! | Christopher Stevens | 0:43 | Active | | | 2023-02-13 |
| The Adventures of Willy Beamish - Game Over (Bonked by the Baddies) | Christopher Stevens | 0:46 | Active | 3.0 | | 2023-05-21 |
| The Adventures of Willy Beamish - Game Over - Another Dimension | Christopher Stevens | 0:22 | Active | | | 2023-09-05 |
| The Adventures of Willy Beamish - Game Over - Captured by The Bat | Christopher Stevens | 0:13 | Active | 2.0 | | 2022-11-08 |
| The Adventures of Willy Beamish - Game Over - Consequences #1 | Christopher Stevens | 2:15 | Active | 3.0 | | 2023-04-14 |
| The Adventures of Willy Beamish - Game Over - Consequences #2 | Christopher Stevens | 1:08 | Active | | | 2023-05-28 |
| The Adventures of Willy Beamish - Game Over - Duffy Runaway | Christopher Stevens | 1:36 | Active | | | 2021-08-10 |
| The Adventures of Willy Beamish - Game Over - Failed Drug Test | Christopher Stevens | 1:03 | Active | | | 2022-08-01 |
| The Adventures of Willy Beamish - Game Over - Frumpton Carnival | Christopher Stevens | 1:01 | Active | 2.0 | | 2023-09-12 |
| The Adventures of Willy Beamish - Game Over - Hospital of Horrors | Christopher Stevens | 0:43 | Active | 3.0 | | 2023-03-26 |
| The Adventures of Willy Beamish - Game Over - Jailtime | Christopher Stevens | 0:42 | Active | | | 2021-02-27 |
| The Adventures of Willy Beamish - Game Over - Military School | Christopher Stevens | 0:39 | Active | | | 2022-10-28 |
| The Adventures of Willy Beamish - Game Over - Pastrami Quest | Christopher Stevens | 0:27 | Active | | | 2023-04-20 |
| The Adventures of Willy Beamish - Game Over - Poorward | Christopher Stevens | 0:56 | Active | | | 2021-07-02 |
| The Adventures of Willy Beamish - Game Over - Train and Mind Wreck | Christopher Stevens | 0:57 | Active | | | 2021-01-16 |
| The Adventures of Willy Beamish - Gang Chase | Christopher Stevens | 1:08 | Active | | | 2022-05-22 |
| The Adventures of Willy Beamish - Getting Ready for the Race | Christopher Stevens | 1:13 | Active | 2.0 | | 2022-01-27 |
| The Adventures of Willy Beamish - Glassy Class | Christopher Stevens | 1:19 | Active | | | 2023-01-04 |
| The Adventures of Willy Beamish - Golden Bowl | Christopher Stevens | 0:50 | Active | | | 2020-12-10 |
| The Adventures of Willy Beamish - Gordon's Conversation | Christopher Stevens | 1:11 | Active | | | 2020-12-14 |
| The Adventures of Willy Beamish - Hoooray! The Day is Saved! | Christopher Stevens | 1:10 | Active | 5.0 | | 2023-04-25 |
| The Adventures of Willy Beamish - Horny is Caught! | Christopher Stevens | 0:06 | Active | 3.0 | | 2023-04-01 |
| The Adventures of Willy Beamish - Horny Love | Christopher Stevens | 1:13 | Active | 2.0 | | 2023-01-22 |
| The Adventures of Willy Beamish - Horny's Family | Christopher Stevens | 0:06 | Active | | | 2022-07-28 |
| The Adventures of Willy Beamish - I Won the Lottery! | Christopher Stevens | 1:08 | Active | 5.0 | | 2023-03-15 |
| The Adventures of Willy Beamish - Inside Golden Bowl | Christopher Stevens | 1:08 | Active | 2.0 | | 2021-04-26 |
| The Adventures of Willy Beamish - Job Loss | Christopher Stevens | 0:51 | Active | | | 2023-05-24 |
| The Adventures of Willy Beamish - Jolly Park | Christopher Stevens | 1:31 | Active | 3.0 | | 2023-02-26 |
| The Adventures of Willy Beamish - Junpin' Frogs | Christopher Stevens | 0:43 | Active | 2.0 | | 2020-11-21 |
| The Adventures of Willy Beamish - Kibbles 'n Grits | Christopher Stevens | 1:01 | Active | | | 2023-05-08 |
| The Adventures of Willy Beamish - Later on... | Christopher Stevens | 0:38 | Active | 3.0 | | 2023-03-27 |
| The Adventures of Willy Beamish - Meanwhile | Christopher Stevens | 0:35 | Active | 4.0 | | 2022-12-25 |
| The Adventures of Willy Beamish - Monster Squad Theme | Christopher Stevens | 0:19 | Active | 4.0 | | 2023-06-25 |
| The Adventures of Willy Beamish - Nighty Night | Christopher Stevens | 0:30 | Active | | | 2022-04-15 |
| The Adventures of Willy Beamish - Nintari Jingle | Christopher Stevens | 0:24 | Active | 1.0 | | 2023-08-26 |
| The Adventures of Willy Beamish - Outside Plumber's Union | Christopher Stevens | 1:29 | Active | | | 2022-07-20 |
| The Adventures of Willy Beamish - Plumber's Rally | Christopher Stevens | 0:42 | Active | | | 2022-02-18 |
| The Adventures of Willy Beamish - Principal's Room | Christopher Stevens | 1:46 | Active | | | 2020-12-18 |
| The Adventures of Willy Beamish - Rigging Phone Calls | Christopher Stevens | 2:08 | Active | 5.0 | | 2020-12-19 |
| The Adventures of Willy Beamish - Saving Dad | Christopher Stevens | 1:25 | Active | 4.0 | | 2023-07-12 |
| The Adventures of Willy Beamish - School's Out! | Christopher Stevens | 1:01 | Active | 4.0 | | 2023-09-04 |
| The Adventures of Willy Beamish - Setting the Frogs Free! | Christopher Stevens | 0:37 | Active | | | 2022-09-10 |
| The Adventures of Willy Beamish - Slice 'o Life | Christopher Stevens | 1:48 | Active | 4.0 | | 2023-02-15 |
| The Adventures of Willy Beamish - Sludgeworks Entrace | Christopher Stevens | 2:11 | Active | 2.0 | | 2021-05-30 |
| The Adventures of Willy Beamish - Sneaking in the Plumber's Union | Christopher Stevens | 2:03 | Active | | | 2022-01-26 |
| The Adventures of Willy Beamish - Spider up The Wall | Christopher Stevens | 1:07 | Active | | | 2023-09-25 |
| The Adventures of Willy Beamish - Stanley Got Sacked! | Christopher Stevens | 0:47 | Active | 2.5 | | 2023-06-25 |
| The Adventures of Willy Beamish - Sudden Ninjas | Christopher Stevens | 1:26 | Active | 4.0 | | 2023-06-07 |
| The Adventures of Willy Beamish - Sushi Funtime | Christopher Stevens | 1:04 | Active | | | 2023-06-21 |
| The Adventures of Willy Beamish - The Beamish House - Day 1 | Christopher Stevens | 2:06 | Active | 3.0 | | 2020-12-20 |
| The Adventures of Willy Beamish - The Beamish House - Day 2 | Christopher Stevens | 1:59 | Active | | | 2023-08-13 |
| The Adventures of Willy Beamish - The Beamish House - Day 3 | Christopher Stevens | 2:15 | Active | | | 2023-03-30 |
| The Adventures of Willy Beamish - The Beamish House - Day 4 | Christopher Stevens | 2:06 | Active | 5.0 | | 2023-09-02 |
| The Adventures of Willy Beamish - The Cripes | Christopher Stevens | 1:42 | Active | 3.0 | | 2023-01-04 |
| The Adventures of Willy Beamish - The Ferry Ride - Japanese Tourists | Christopher Stevens | 1:02 | Active | 4.0 | | 2021-08-31 |
| The Adventures of Willy Beamish - The Ferry Ride - Polka Overdose | Christopher Stevens | 1:09 | Active | 5.0 | | 2022-03-05 |
| The Adventures of Willy Beamish - The Grand Chase | Christopher Stevens | 1:07 | Active | | | 2023-05-15 |
| The Adventures of Willy Beamish - Tiff The Punk | Christopher Stevens | 0:21 | Active | 3.0 | | 2022-03-13 |
| The Adventures of Willy Beamish - Tiffany's Fat Surprise | Christopher Stevens | 0:40 | Active | | | 2022-04-09 |
| The Adventures of Willy Beamish - Tiresome Interviews | Christopher Stevens | 1:26 | Active | | | 2021-07-22 |
| The Adventures of Willy Beamish - Title Theme | Christopher Stevens | 1:38 | Active | 4.0 | | 2023-03-15 |
| The Adventures of Willy Beamish - TootSweet HQ | Christopher Stevens | 1:35 | Active | | | 2021-10-31 |
| The Adventures of Willy Beamish - TootSweet Security | Christopher Stevens | 1:57 | Active | 2.0 | | 2021-12-06 |
| The Adventures of Willy Beamish - Toupee Attack! | Christopher Stevens | 0:24 | Active | | | 2022-12-06 |
| The Adventures of Willy Beamish - Trapped! | Christopher Stevens | 1:05 | Active | 4.0 | | 2021-03-23 |
| The Adventures of Willy Beamish - Treacherous Tram | Christopher Stevens | 1:21 | Active | 5.0 | | 2023-09-03 |
| The Adventures of Willy Beamish - Tree Fortress | Christopher Stevens | 1:17 | Active | 4.0 | | 2023-07-20 |
| The Adventures of Willy Beamish - Trespassing the Hallway | Christopher Stevens | 1:21 | Active | 4.0 | | 2021-12-09 |
| The Adventures of Willy Beamish - TV - Frog Jump Competition | Christopher Stevens | 0:52 | Active | | | 2023-01-04 |
| The Adventures of Willy Beamish - TV - News Flash | Christopher Stevens | 0:11 | Active | | | 2023-09-22 |
| The Adventures of Willy Beamish - TV - Slam Dunk Cola | Christopher Stevens | 1:05 | Active | 4.0 | | 2020-11-21 |
| The Adventures of Willy Beamish - TV - TootSweet | Christopher Stevens | 1:01 | Active | | | 2021-01-30 |
| The Adventures of Willy Beamish - Ultra Jump | Christopher Stevens | 0:17 | Active | | | 2022-06-15 |
| The Adventures of Willy Beamish - Underhanded Capture | Christopher Stevens | 0:42 | Active | 5.0 | | 2022-07-28 |
| The Adventures of Willy Beamish - Unused Track #1 | Christopher Stevens | 0:04 | Active | 3.0 | | 2022-03-27 |
| The Adventures of Willy Beamish - Unused Track #10 | Christopher Stevens | 0:12 | Active | | | 2023-04-12 |
| The Adventures of Willy Beamish - Unused Track #2 | Christopher Stevens | 0:55 | Active | | | 2023-09-01 |
| The Adventures of Willy Beamish - Unused Track #3 | Christopher Stevens | 0:27 | Active | | | 2021-06-21 |
| The Adventures of Willy Beamish - Unused Track #4 | Christopher Stevens | 1:09 | Active | 5.0 | | 2022-10-24 |
| The Adventures of Willy Beamish - Unused Track #5 | Christopher Stevens | 0:50 | Active | 4.0 | | 2021-05-29 |
| The Adventures of Willy Beamish - Unused Track #6 | Christopher Stevens | 0:58 | Active | 2.5 | | 2022-10-02 |
| The Adventures of Willy Beamish - Unused Track #7 | Christopher Stevens | 1:12 | Active | | | 2022-08-23 |
| The Adventures of Willy Beamish - Unused Track #8 | Christopher Stevens | 1:17 | Active | | | 2023-06-22 |
| The Adventures of Willy Beamish - Unused Track #9 | Christopher Stevens | 1:52 | Active | 3.0 | | 2021-10-24 |
| The Adventures of Willy Beamish - Upstairs - Day 1 | Christopher Stevens | 2:12 | Active | 4.0 | | 2020-12-20 |
| The Adventures of Willy Beamish - Upstairs - Day 2 | Christopher Stevens | 2:06 | Active | | | 2022-03-19 |
| The Adventures of Willy Beamish - Upstairs - Day 3 | Christopher Stevens | 2:20 | Active | 3.5 | | 2023-09-14 |
| The Adventures of Willy Beamish - Upstairs - Day 4 | Christopher Stevens | 2:07 | Active | | | 2022-03-04 |
| The Adventures of Willy Beamish - Waking up to a New Day | Christopher Stevens | 0:40 | Active | | | 2023-05-05 |
| The Adventures of Willy Beamish - Washing the Rover | Christopher Stevens | 0:19 | Active | 3.0 | | 2022-08-15 |
| The Adventures of Willy Beamish - West-End Frumpton | Christopher Stevens | 1:26 | Active | 1.0 | | 2023-01-13 |
| The Adventures of Willy Beamish - What Did Just Happen? | Christopher Stevens | 0:41 | Active | | | 2020-12-12 |
| The Boring Path of Life (2009) | Ultrasyd | 3:27 | Active | 4.8 | | 2023-08-26 |
| The Lost Vikings - Candy Land | Alan Prem Selaar , Allister Brimble , Charles Deenen , Dave Bean , Glenn Stafford , Rick Jackson | 3:09 | Active | 3.5 | | 2022-01-26 |
| Traffic Department 2192: A Distant Sun Rises | Robert Allen | 0:55 | Active | 4.0 | | 2021-11-12 |
| Traffic Department 2192: Climax | Robert Allen | 2:10 | Active | 2.7 | | 2023-08-24 |
| Traffic Department 2192: Commander Satair | John Pallett-Plowright | 1:28 | Active | 4.0 | | 2023-09-05 |
| Traffic Department 2192: Disaster Strikes | Owen Pallett (Michael Pallett-Plowright) | 1:53 | Active | 5.0 | | 2022-09-26 |
| Traffic Department 2192: Game Over | Owen Pallett (Michael Pallett-Plowright) | 0:31 | Active | 5.0 | | 2023-06-14 |
| Traffic Department 2192: Gloomy mood | Robert Allen | 2:03 | Active | 4.5 | | 2022-10-16 |
| Traffic Department 2192: hangar | Robert Allen | 1:52 | Active | 4.0 | | 2022-05-17 |
| Traffic Department 2192: Menu | Owen Pallett (Michael Pallett-Plowright) | 1:59 | Active | 3.0 | | 2023-09-13 |
| Traffic Department 2192: Mission Alfa | Robert Allen | 2:20 | Active | 4.5 | | 2022-11-21 |
| Traffic Department 2192: Mission Beta | Robert Allen | 1:27 | Active | 4.5 | | 2023-08-12 |
| Traffic Department 2192: Mission Gamma | Robert Allen | 1:34 | Active | 4.0 | | 2021-07-21 |
| Traffic Department 2192: Mood | Robert Allen | 1:52 | Active | | | 2022-03-18 |
| Traffic Department 2192: Notice | Robert Allen | 1:38 | Active | 4.0 | | 2021-07-21 |
| Traffic Department 2192: Theme of Traffic Department 2192 | Robert Allen | 1:43 | Active | 4.0 | | 2022-04-12 |
| Traffic Department 2192: Vulture | Owen Pallett (Michael Pallett-Plowright) | 1:55 | Active | 4.0 | | 2022-07-28 |
| Transport Tycoon - Aliens Ate my Railway | John Broomhall | 3:54 | Active | 3.7 | | 2023-08-27 |
| Transport Tycoon - Broomers Oil Rag | John Broomhall | 2:06 | Active | 4.0 | | 2023-09-25 |
| Transport Tycoon - Cant Get There From Here | John Broomhall | 3:45 | Active | 3.7 | | 2023-09-08 |
| Transport Tycoon - City Groove | John Broomhall | 4:04 | Active | 3.6 | | 2022-12-19 |
| Transport Tycoon - Cruise Control | John Broomhall | 3:37 | Active | 3.2 | | 2023-07-28 |
| Transport Tycoon - Don't Walk | John Broomhall | 3:56 | Active | 4.0 | | 2023-07-10 |
| Transport Tycoon - Easy Driver | John Broomhall | 3:59 | Active | 4.0 | | 2023-09-08 |
| Transport Tycoon - Fell Apart on Me | John Broomhall | 3:40 | Active | 4.0 | | 2023-08-22 |
| Transport Tycoon - Funk Central | John Broomhall | 3:38 | Active | 4.0 | | 2023-07-16 |
| Transport Tycoon - Goss Groove | John Broomhall | 3:47 | Active | 4.0 | | 2023-09-09 |
| Transport Tycoon - Hard Drivin | John Broomhall | 3:46 | Active | 4.0 | | 2023-06-29 |
| Transport Tycoon - Hold That Train | John Broomhall | 2:50 | Active | 4.4 | | 2023-08-22 |
| Transport Tycoon - Jammit | John Broomhall | 3:32 | Active | 5.0 | | 2023-09-11 |
| Transport Tycoon - Little Red Diesel | John Broomhall | 3:55 | Active | 3.9 | | 2023-09-07 |
| Transport Tycoon - Movin on | John Broomhall | 3:39 | Active | 4.0 | | 2023-06-20 |
| Transport Tycoon - Road Hog | John Broomhall | 3:40 | Active | 3.0 | | 2023-08-03 |
| Transport Tycoon - Sawyers Tune | John Broomhall | 2:44 | Active | 4.0 | | 2023-08-23 |
| Transport Tycoon - Snarl Up | John Broomhall | 4:14 | Active | 4.0 | | 2023-08-09 |
| Transport Tycoon - Stoke It | John Broomhall | 3:44 | Active | 4.0 | | 2023-07-14 |
| Transport Tycoon - Theme | John Broomhall | 1:22 | Active | 4.5 | | 2023-08-15 |
| Transport Tycoon Deluxe - Theme | John Broomhall | 1:17 | Active | 4.8 | | 2023-08-14 |
| Tyrian - A Field for Mag | Siren (Alexander Brandon) | 1:01 | Active | 4.0 | | 2022-07-04 |
| Tyrian - Asteroid Dance Part 1 | Siren (Alexander Brandon) | 1:54 | Active | 4.7 | | 2023-09-24 |
| Tyrian - Asteroid Dance Part 2 | Siren (Alexander Brandon) | 1:46 | Active | 4.7 | | 2023-08-22 |
| Tyrian - BEER | Siren (Alexander Brandon) | 0:37 | Active | 4.5 | | 2023-09-04 |
| Tyrian - Buy-Sell Music | Siren (Alexander Brandon) | 1:00 | Active | 4.9 | | 2023-08-18 |
| Tyrian - Camanis | Siren (Alexander Brandon) | 1:58 | Active | 4.8 | | 2023-05-11 |
| Tyrian - Camanise | Siren (Alexander Brandon) | 0:18 | Active | 4.0 | | 2022-09-27 |
| Tyrian - Come Back to Me Savara | Siren (Alexander Brandon) | 1:27 | Active | 4.0 | | 2023-05-08 |
| Tyrian - Composition in Q | Siren (Alexander Brandon) | 0:58 | Active | 4.8 | | 2023-08-20 |
| Tyrian - Deli Shop Quartet | Siren (Alexander Brandon) | 1:46 | Active | 4.5 | | 2023-07-29 |
| Tyrian - Gryphons of the West | Siren (Alexander Brandon) | 1:01 | Active | 4.6 | | 2023-09-13 |
| Tyrian - Gyges Will You Please Help Me | Siren (Alexander Brandon) | 1:08 | Active | 4.4 | | 2023-05-24 |
| Tyrian - Halloween Ramble | Siren (Alexander Brandon) | 2:02 | Active | 4.0 | | 2023-08-05 |
| Tyrian - I Speak Gygese | Siren (Alexander Brandon) | 0:44 | Active | 4.5 | | 2020-08-24 |
| Tyrian - One Musn't Fall | Siren (Alexander Brandon) | 1:23 | Active | 4.9 | | 2023-08-25 |
| Tyrian - Parlance | Siren (Alexander Brandon) | 0:38 | Active | 4.5 | | 2020-08-24 |
| Tyrian - Quest for Peace | Siren (Alexander Brandon) | 1:26 | Active | 3.0 | | 2023-07-05 |
| Tyrian - Return Me to Savara | Siren (Alexander Brandon) | 1:12 | Active | 4.8 | | 2023-09-04 |
| Tyrian - Rock Garden | Siren (Alexander Brandon) | 2:15 | Active | 4.0 | | 2023-09-06 |
| Tyrian - Sarah's Song | Siren (Alexander Brandon) | 1:16 | Active | 4.5 | | 2023-08-21 |
| Tyrian - Somebody pick up the Gryphone | Siren (Alexander Brandon) | 0:44 | Active | 4.8 | | 2023-09-17 |
| Tyrian - Space Journey 1 | Siren (Alexander Brandon) | 1:34 | Active | 4.0 | | 2023-09-12 |
| Tyrian - Space Journey 2 | Siren (Alexander Brandon) | 2:56 | Active | 4.6 | | 2023-05-15 |
| Tyrian - Starts | Siren (Alexander Brandon) | 1:02 | Active | 4.5 | | 2023-08-14 |
| Tyrian - The Final Edge | Siren (Alexander Brandon) | 1:15 | Active | 4.4 | | 2023-09-08 |
| Tyrian - The Level | Siren (Alexander Brandon) | 1:19 | Active | 5.0 | | 2023-08-15 |
| Tyrian - The Navigator | Siren (Alexander Brandon) | 0:35 | Active | 5.0 | | 2022-11-06 |
| Tyrian - The Song | Siren (Alexander Brandon) | 1:49 | Active | 4.2 | | 2023-08-15 |
| Tyrian - Thorm The Gathering | Siren (Alexander Brandon) | 1:32 | Active | 4.3 | | 2023-09-09 |
| Tyrian - Transon | Siren (Alexander Brandon) | 1:29 | Active | 4.8 | | 2023-06-24 |
| Tyrian - Tunneling Trolls | Siren (Alexander Brandon) | 1:26 | Active | 4.9 | | 2023-07-02 |
| Tyrian - Zanacs | Siren (Alexander Brandon) | 1:00 | Active | 4.0 | | 2023-09-03 |
| Wacky Wheels - Ashes (Course Select) | Mark Klem | 1:17 | Active | 4.0 | | 2023-09-15 |
| Wacky Wheels - Banshee | Mark Klem | 2:34 | Active | 4.0 | | 2023-08-15 |
| Wacky Wheels - Bass Attack | Mark Klem | 3:43 | Active | 4.0 | | 2023-09-16 |
| Wacky Wheels - Brick Wall | Mark Klem | 2:20 | Active | 3.0 | | 2022-12-07 |
| Wacky Wheels - Dance | Mark Klem | 3:26 | Active | 4.6 | | 2023-09-25 |
| Wacky Wheels - Dream (Main Theme) | Mark Klem | 1:42 | Active | 4.9 | | 2023-07-23 |
| Wacky Wheels - Flight | Mark Klem | 4:01 | Active | 4.4 | | 2023-07-25 |
| Wacky Wheels - Kard | Mark Klem | 2:17 | Active | 3.0 | | 2023-08-09 |
| Wacky Wheels - Overdrive | Mark Klem | 3:37 | Active | 4.7 | | 2023-09-11 |
| Wacky Wheels - Pumper | Mark Klem | 2:06 | Active | 4.0 | | 2023-08-17 |
| Wacky Wheels - Spacey (How To Play) | Mark Klem | 2:06 | Active | 4.0 | | 2023-01-17 |
| Wacky Wheels - Star Brain | Mark Klem | 1:46 | Active | 4.6 | | 2023-07-15 |
| Wacky Wheels - Title | Mark Klem | 1:59 | Active | 4.9 | | 2023-07-02 |
| Wacky Wheels - Turbo | Mark Klem | 2:59 | Active | 4.5 | | 2023-09-16 |
| WarCraft: Orcs & Humans - Briefing | Glenn Stafford | 2:14 | Active | 4.0 | | 2023-07-01 |
| WarCraft: Orcs & Humans - Human Lose | Glenn Stafford | 1:25 | Active | 2.0 | | 2022-05-13 |
| WarCraft: Orcs & Humans - Human Theme 1 | Glenn Stafford , Rick Jackson | 8:18 | Active | 3.8 | | 2023-04-27 |
| WarCraft: Orcs & Humans - Human Theme 2 | Glenn Stafford , Rick Jackson | 8:26 | Active | 4.5 | | 2023-08-24 |
| WarCraft: Orcs & Humans - Human Theme 3 | Glenn Stafford , Rick Jackson | 7:17 | Active | 3.6 | | 2023-09-18 |
| WarCraft: Orcs & Humans - Human Win 1 | Glenn Stafford | 2:06 | Active | 3.8 | | 2023-09-02 |
| WarCraft: Orcs & Humans - Human Win 2 | Glenn Stafford | 3:45 | Active | 4.2 | | 2023-09-16 |
| WarCraft: Orcs & Humans - Intro | Glenn Stafford , Rick Jackson | 3:21 | Active | 4.5 | | 2023-09-20 |
| WarCraft: Orcs & Humans - Main Menu | Glenn Stafford , Rick Jackson | 2:14 | Active | 4.0 | | 2023-07-11 |
| WarCraft: Orcs & Humans - Orc Lose | Chris Palmer , Glenn Stafford , Gregory Alper , Rick Jackson | 1:35 | Active | 4.0 | | 2023-08-24 |
| WarCraft: Orcs & Humans - Orc Theme 1 | Glenn Stafford | 7:19 | Active | 4.0 | | 2023-07-20 |
| WarCraft: Orcs & Humans - Orc Theme 2 | Glenn Stafford | 7:03 | Active | 4.0 | | 2023-08-15 |
| WarCraft: Orcs & Humans - Orc Theme 3 | Glenn Stafford | 9:40 | Active | 3.8 | | 2023-07-24 |
| WarCraft: Orcs & Humans - Orc Win 1 | Glenn Stafford | 1:39 | Active | 4.0 | | 2020-12-20 |
| WarCraft: Orcs & Humans - Orc Win 2 | Glenn Stafford | 4:04 | Active | 4.3 | | 2023-06-25 |