CVGM.net - Chiptune, Retro & Video Game Music

Platform - Computer » Atari ST (Sixteen/Thirty-two)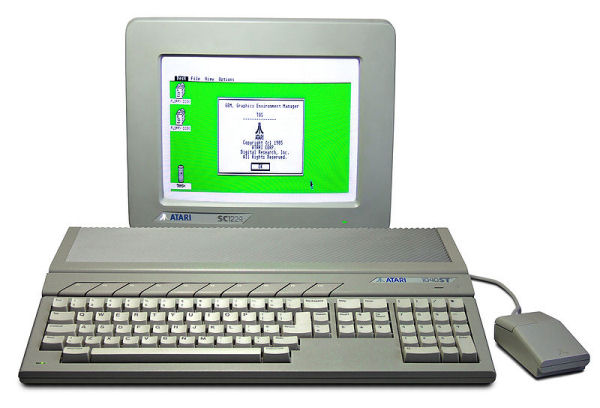 Atari ST is 16-bit Atari computer released in 1985.
While Atari's 8-bit home computers failed to conquer markets Atari ST did much better becoming major 16-bit generation home computer along with Commodore Amiga.
Atari ST's YM2149 sound chip is Yamaha's variant of AY-3-8910 which is designed by General Instrument. The similiar sound chips were used also in some 8-bit generation computers and consoles including Amstrad CPC, MSX 1 and ZX Spectrum 128. For various reasons however, these machines do not have exactly the same kind of sound when compared but similiarity is still obvious.
Like almost any sound chip, YM2149 can play digital samples when some programming tricks are used. However, this consumes ST's processor time and thus samples are seldom used during games.
Atari ST is equipped with an in-build MIDI-port and became popular among professional music makers as a MIDI-device (which means that computer is used for composing and directing music while sound is produced by external sources).
The king of the Atari ST composers is Jochen Hippel
The technical data of YM2149/AY-3-8910 sound chip:
-three primary sound channels
-in total sixteen 8-bit registers
-six 8-bit registers control pitches of sound channels (two for each channel: one for channel mixing, another one for controlling pseudo-random noise generator)
-maximum 12-bit wavelength value with 4096 pitches
-three registers for volume control and turning on/off additional envelope controls
-three registers for controlling times of ADSR envelope controller
Songs
Song Title
Artist
Song Length
Status
Avg. Vote
Queue
Last Played
13th
505 (Nils Feske)
2:23
Active
4.3

2023-08-26

17kr Sexpacket (installer edit)
Dubmood (Kalle Jonnson)
1:28
Active
4.0

2023-06-03

17th
505 (Nils Feske)
2:10
Active
4.6

2023-08-04

1943
Jason C. Brooke
1:19
Active
4.5

2023-08-01

1990s Superbike
gwEm (Gareth Morris)
2:56
Active
3.8

2023-09-25

20 Years - Menu (Original Version)
Dma-Sc (Mathieu Stempell)
2:04
Active
3.7

2023-07-29

2nd Reality Soundtrack (Atari ST Edit)
Dubmood (Kalle Jonnson)
4:22
Active
4.9

2023-09-12

5th Gear - Title
Mad Max (Jochen Hippel) The Exceptions (TEX)
6:46
Active
4.4

2023-08-18

5th Gear - Track 2
Mad Max (Jochen Hippel) The Exceptions (TEX)
1:16
Active
4.4

2023-08-18

6th
505 (Nils Feske)
1:44
Active
3.0

2023-06-15

720 ST Mix
Marcer (Marcus Lindberg)
2:01
Active
1.8

2023-09-05

96 Shades
505 (Nils Feske) Paradox (Atari)
1:12
Active
4.2

2023-08-20

970 Bytes to Swing
Jess (Jean-Sébastien Gérard) Overlanders
0:57
Active
3.7

2023-08-19

A Case For Two
Big Alec (Gunnar Gaubatz) Delta Force
2:51
Active
4.6

2023-09-09

A Quest for Galaxia - Title
Goth (Gary Wheaton) The Shapeshifters
4:05
Active
3.7

2023-07-16

A Sixties Slow
Jess (Jean-Sébastien Gérard) Overlanders
4:24
Active
3.7

2023-09-19

Ace 2 short mix
Marcer (Marcus Lindberg)
0:40
Active
3.0

2023-09-09

Aeh
505 (Nils Feske)
4:14
Active
4.5

2023-09-28

After Burner - Title
Uncle Art (Dave Lowe)
5:32
Active
3.3

2023-07-03

Agent Hippel To The Rescue!
!Cube (Toni Lönnberg) Aggression
3:11
Active
4.7

2023-09-25

Agent-X ("LSD" ZX Spectrum demo cover)
Factor6 YM Digital
2:49
Active
4.6

2023-08-10

Ahead
505 (Nils Feske)
3:00
Active
4.0

2023-08-30

Akira versus San Go Ku
Jess (Jean-Sébastien Gérard)
6:52
Active
4.7

2023-09-27

Albedo
Gilles Soulet
11:00
Active
4.2

2023-07-27

Alice Love ST
Marcer (Marcus Lindberg)
2:56
Active
4.6

2023-08-25

Alien World - Title
Paul Tankard
2:15
Active
4.1

2023-04-17

Alive (Birth, part 2)
Tao (Frank Seemann)
7:36
Active
4.8

2023-08-25

All of Me
cerror (Roel Heerspink)
0:54
Active
4.5

2023-07-14

Alloy Run
Mad Max (Jochen Hippel) The Exceptions (TEX)
2:18
Active
4.5

2023-09-28

Another kind of Heaven
Scavenger (Joris de Man) Synergy
0:58
Active
4.0

2023-09-18

Another Western Legend
Jess (Jean-Sébastien Gérard) Overlanders
7:09
Active
4.5

2023-07-26

Apa Vart e du? (A Tribute To Kootie)
Dubmood (Kalle Jonnson) , Zabutom (Niklas Sjösvärd) FylleCell , Razor 1911
3:30
Active
4.5

2023-08-26

Aragorn
505 (Nils Feske) The Sirius Cybernetics Corporation [tSCc]
3:00
Active
4.4

2023-09-29

Arcade
505 (Nils Feske)
2:22
Active
4.6

2023-08-10

Arcade Classix - Hiscore
4-Mat (Matt Simmonds)
3:38
Active
4.5

2023-06-19

Archipelagos - ingame
David Whittaker
5:14
Active
3.6

2023-09-01

Archipelagos - Title
David Whittaker
1:22
Active
3.0

2023-08-26

Arpy - Track 1
Mad Max (Jochen Hippel) The Exceptions (TEX)
3:35
Active
4.9

2023-08-06

Arpy - Track 2
Mad Max (Jochen Hippel) The Exceptions (TEX)
0:54
Active
4.2

2023-08-19

Arpy - Track 5
Mad Max (Jochen Hippel) The Exceptions (TEX)
0:58
Active
4.3

2023-08-24

Arpy - Track 6
Mad Max (Jochen Hippel) The Exceptions (TEX)
1:32
Active
4.0

2023-09-20

Arpy Mix
Mad Max (Jochen Hippel) The Exceptions (TEX)
4:19
Active
4.7

2023-08-24

Astaroth - Level 1
Mad Max (Jochen Hippel) The Exceptions (TEX)
6:34
Active
4.4

2023-08-22

Astaroth - Level 2
Mad Max (Jochen Hippel) The Exceptions (TEX)
2:18
Active
4.5

2023-09-17

Astaroth - Level 3
Mad Max (Jochen Hippel) The Exceptions (TEX)
5:12
Active
4.8

2023-08-26

Astaroth - Title
Mad Max (Jochen Hippel) The Exceptions (TEX)
2:03
Active
4.8

2023-09-08

At House
Marcer (Marcus Lindberg)
1:17
Active
3.5

2021-11-25

Atari Solo - Disco Ver Atari
STU
3:36
Active
4.4

2023-09-25

Atari Solo - Fuck Machine
STU
2:12
Active
3.6

2023-09-13

Atari Solo - Kyou Wa Koko Made
STU
1:55
Active
3.7

2023-09-30

Atari Solo - Night Jam
STU
1:25
Active
3.8

2023-09-21

Atari Solo - Ready To Score
STU
2:31
Active
3.9

2023-07-06

Atari Solo - Singing Robot
STU
2:18
Active
3.6

2023-08-18

Atari Solo - ST-God Back From Hell
STU
4:07
Active
4.4

2023-08-30

Atari Solo - Such A Square
STU
2:46
Dupe
4.5

2012-10-14

Atari Underground Chiptune Resistance
STU
4:04
Active
4.1

2023-08-30

Atari!
Decoder (Jesper Värn) , Ratpoison (Marcus Andersson) Twin Freaks
2:37
Active
4.0

2023-05-27

Atomino - Track 1
Mad Max (Jochen Hippel) The Exceptions (TEX)
2:49
Active
4.8

2023-08-26

Atomino - Track 2
Mad Max (Jochen Hippel) The Exceptions (TEX)
3:58
Active
3.8

2023-07-28

Atomino - Track 3
Mad Max (Jochen Hippel) The Exceptions (TEX)
1:48
Active
4.7

2023-08-26

Atomino - Track 4
Mad Max (Jochen Hippel) The Exceptions (TEX)
1:32
Active
4.5

2022-05-27

Atomix
Mad Max (Jochen Hippel) The Exceptions (TEX)
9:33
Active
4.6

2023-08-26

Attack
505 (Nils Feske) Paradox (Atari)
1:28
Active
4.1

2023-05-28

AV8B Harrier Assault
Matt Furniss
2:38
Active
3.9

2023-06-04

Avenger
Scavenger (Joris de Man) Synergy
4:21
Active
4.8

2023-09-18

Axel F
Marcer (Marcus Lindberg)
1:27
Active
4.5

2023-08-29

Axel F
Mad Max (Jochen Hippel) The Exceptions (TEX)
2:47
Active
3.4

2023-08-21

B.I.G Demo - Gerry The Germ - Track 1
Mad Max (Jochen Hippel) The Exceptions (TEX)
1:32
Active
2.3

2023-08-28

B.I.G Demo - Gerry The Germ - Track 2
Mad Max (Jochen Hippel) The Exceptions (TEX)
1:47
Active
3.6

2023-08-18

B.I.G Demo - Gerry The Germ - Track 3
Mad Max (Jochen Hippel) The Exceptions (TEX)
1:43
Active
3.0

2023-09-04

B.I.G Demo - Gerry The Germ - Track 4
Mad Max (Jochen Hippel) The Exceptions (TEX)
2:10
Active
3.0

2023-09-05

B.I.G Demo - Gerry The Germ - Track 5
Mad Max (Jochen Hippel) The Exceptions (TEX)
1:39
Active
3.0

2022-01-13

B.I.G Demo - Gerry The Germ - Track 6
Mad Max (Jochen Hippel) The Exceptions (TEX)
1:09
Active
3.0

2023-01-03

B.I.G Demo - Gerry The Germ - Track 7
Mad Max (Jochen Hippel) The Exceptions (TEX)
1:47
Active
3.0

2023-06-18

B.I.G Demo - Harvey Smith Show Jumping
Mad Max (Jochen Hippel) The Exceptions (TEX)
2:13
Active
2.5

2023-07-21

B.I.G. Demo - Ace 2
Mad Max (Jochen Hippel) The Exceptions (TEX)
4:07
Active
3.7

2023-08-08

B.I.G. Demo - Auf Wiedersehen Monty
Mad Max (Jochen Hippel) The Exceptions (TEX)
6:04
Active
3.8

2023-07-03

B.I.G. Demo - Battle Of Britain
Mad Max (Jochen Hippel) The Exceptions (TEX)
4:13
Active
4.0

2023-09-19

B.I.G. Demo - Bump Set Spike
Mad Max (Jochen Hippel) The Exceptions (TEX)
2:49
Active
4.2

2023-06-19

B.I.G. Demo - Chimera - Title
Mad Max (Jochen Hippel) The Exceptions (TEX)
3:35
Active
3.5

2023-06-04

B.I.G. Demo - Chimera - Track 2
Mad Max (Jochen Hippel) The Exceptions (TEX)
2:02
Active
5.0

2023-08-26

B.I.G. Demo - Commando - Game
Mad Max (Jochen Hippel) The Exceptions (TEX)
3:56
Active
4.3

2023-09-07

B.I.G. Demo - Commando - High Score
Mad Max (Jochen Hippel) The Exceptions (TEX)
1:01
Active
4.1

2023-09-12

B.I.G. Demo - Confuzion
Mad Max (Jochen Hippel) The Exceptions (TEX)
1:34
Active
4.0

2023-09-05

B.I.G. Demo - Crazy Comets - Title
Mad Max (Jochen Hippel) The Exceptions (TEX)
4:36
Active
4.2

2023-08-10

B.I.G. Demo - Crazy Comets - Track 2
Mad Max (Jochen Hippel) The Exceptions (TEX)
1:05
Active
1.5

2023-09-02

B.I.G. Demo - Delta - Highscore
Mad Max (Jochen Hippel) The Exceptions (TEX)
1:32
Active
3.8

2023-08-19

B.I.G. Demo - Delta - Title
Mad Max (Jochen Hippel) The Exceptions (TEX)
1:32
Active
3.4

2023-09-21

B.I.G. Demo - Final Synth Sample I - Track 1
Mad Max (Jochen Hippel) The Exceptions (TEX)
2:33
Active
3.8

2023-06-21

B.I.G. Demo - Final Synth Sample I - Track 2
Mad Max (Jochen Hippel) The Exceptions (TEX)
1:28
Active
4.0

2023-09-19

B.I.G. Demo - Final Synth Sample I - Track 3
Mad Max (Jochen Hippel) The Exceptions (TEX)
1:43
Active
3.7

2023-09-16

B.I.G. Demo - Final Synth Sample I - Track 4
Mad Max (Jochen Hippel) The Exceptions (TEX)
2:29
Active
3.3

2023-05-27

B.I.G. Demo - Final Synth Sample I - Track 5
Mad Max (Jochen Hippel) The Exceptions (TEX)
1:55
Active
3.0

2023-08-24

B.I.G. Demo - Final Synth Sample I - Track 6
Mad Max (Jochen Hippel) The Exceptions (TEX)
1:16
Active
3.0

2023-07-20

B.I.G. Demo - Final Synth Sample I - Track 7
Mad Max (Jochen Hippel) The Exceptions (TEX)
1:55
Active
3.0

2023-07-29

B.I.G. Demo - Flash Gordon
Mad Max (Jochen Hippel) The Exceptions (TEX)
5:42
Active
3.6

2023-08-29

B.I.G. Demo - Formula One
Mad Max (Jochen Hippel) The Exceptions (TEX)
2:49
Active
3.5

2023-09-30

B.I.G. Demo - Froehn
Mad Max (Jochen Hippel) The Exceptions (TEX)
1:01
Active
4.0

2021-10-22

B.I.G. Demo - Human Race - Track 1
Mad Max (Jochen Hippel) The Exceptions (TEX)
2:27
Active
3.0

2023-06-30

B.I.G. Demo - Human Race - Track 2
Mad Max (Jochen Hippel) The Exceptions (TEX)
1:09
Active
2.0

2020-07-31

B.I.G. Demo - Human Race - Track 3
Mad Max (Jochen Hippel) The Exceptions (TEX)
2:41
Active
4.1

2023-09-17

B.I.G. Demo - Human Race - Track 4
Mad Max (Jochen Hippel) The Exceptions (TEX)
1:43
Active
3.7

2023-09-29

B.I.G. Demo - Hunter Patrol
Mad Max (Jochen Hippel) The Exceptions (TEX)
3:36
Active
3.4

2023-09-29

B.I.G. Demo - I-Ball
Mad Max (Jochen Hippel) The Exceptions (TEX)
4:55
Active
3.7

2023-08-11

B.I.G. Demo - International Karate
Mad Max (Jochen Hippel) The Exceptions (TEX)
9:36
Active
3.5

2022-09-03

B.I.G. Demo - Lightforce
Mad Max (Jochen Hippel) The Exceptions (TEX)
8:16
Active
4.0

2019-12-15

B.I.G. Demo - Locomotion
Mad Max (Jochen Hippel) The Exceptions (TEX)
2:00
Active
4.5

2022-12-07

B.I.G. Demo - Master of Magic
Mad Max (Jochen Hippel) The Exceptions (TEX)
5:16
Active
3.0

2023-09-17

B.I.G. Demo - Monty On The Run - Highscore
Mad Max (Jochen Hippel) The Exceptions (TEX)
2:43
Active
4.1

2023-09-12

B.I.G. Demo - Monty On the Run - Title
Mad Max (Jochen Hippel) The Exceptions (TEX)
5:50
Active
3.6

2023-09-25

B.I.G. Demo - Nemesis The Warlock
Mad Max (Jochen Hippel) The Exceptions (TEX)
6:49
Active
4.1

2023-09-29

B.I.G. Demo - One Man And His Droid
Mad Max (Jochen Hippel) The Exceptions (TEX)
5:48
Active
3.8

2023-08-10

B.I.G. Demo - Phantoms Of The Asteroid - Title
Mad Max (Jochen Hippel) The Exceptions (TEX)
4:16
Active
3.3

2023-08-04

B.I.G. Demo - Phantoms Of The Asteroid - Track 2
Mad Max (Jochen Hippel) The Exceptions (TEX)
2:18
Active
2.5

2023-07-14

B.I.G. Demo - Proteus
Mad Max (Jochen Hippel) The Exceptions (TEX)
3:30
Active
3.0

2023-08-10

B.I.G. Demo - Saboteur 2
Mad Max (Jochen Hippel) The Exceptions (TEX)
4:50
Active
4.0

2023-06-18

B.I.G. Demo - Sanxion - InGame
Mad Max (Jochen Hippel) The Exceptions (TEX)
2:48
Active
3.3

2023-05-28

B.I.G. Demo - Sanxion - Title
Mad Max (Jochen Hippel) The Exceptions (TEX)
5:34
Active
3.0

2023-09-25

B.I.G. Demo - Spellbound
Mad Max (Jochen Hippel) The Exceptions (TEX)
5:10
Active
3.7

2023-04-21

B.I.G. Demo - Star Paws
Mad Max (Jochen Hippel) The Exceptions (TEX)
3:04
Active
3.3

2023-08-16

B.I.G. Demo - Thanatos
Mad Max (Jochen Hippel) The Exceptions (TEX)
1:01
Active
3.0

2023-09-09

B.I.G. Demo - The Digital Department - Ace 2
Mad Max (Jochen Hippel) The Exceptions (TEX)
5:52
Active
3.9

2023-08-31

B.I.G. Demo - The Digital Department - Labello
Mad Max (Jochen Hippel) The Exceptions (TEX)
4:49
Active
4.4

2023-07-15

B.I.G. Demo - The Digital Department - Phantoms 1
Mad Max (Jochen Hippel) The Exceptions (TEX)
4:28
Active
3.8

2023-09-21

B.I.G. Demo - The Digital Department - Phantoms 2
Mad Max (Jochen Hippel) The Exceptions (TEX)
2:30
Active
3.5

2023-08-16

B.I.G. Demo - The Digital Department - Sanxion - Loader
Mad Max (Jochen Hippel) The Exceptions (TEX)
5:39
Active
4.2

2023-09-05

B.I.G. Demo - The Digital Department - Star Paws
Mad Max (Jochen Hippel) The Exceptions (TEX)
3:17
Active
4.7

2023-06-19

B.I.G. Demo - The Last V8
Mad Max (Jochen Hippel) The Exceptions (TEX)
2:15
Active
4.5

2023-08-13

B.I.G. Demo - Thing On A Spring
Mad Max (Jochen Hippel) The Exceptions (TEX)
3:41
Active
4.1

2023-09-12

B.I.G. Demo - Thrust
Mad Max (Jochen Hippel) The Exceptions (TEX)
5:46
Active
4.1

2023-08-22

B.I.G. Demo - Trans-Atlantic Baloon Challenge
Mad Max (Jochen Hippel) The Exceptions (TEX)
4:13
Active
4.0

2023-07-22

B.I.G. Demo - Wiz
Mad Max (Jochen Hippel) The Exceptions (TEX)
5:30
Active
4.0

2023-07-18

B.I.G. Demo - W_A_R
Mad Max (Jochen Hippel) The Exceptions (TEX)
8:31
Active
3.2

2019-07-17

B.I.G. Demo - Zoids
Mad Max (Jochen Hippel) The Exceptions (TEX)
5:03
Active
4.0

2023-07-26

B.I.G. Demo - Zoolook
Mad Max (Jochen Hippel) The Exceptions (TEX)
4:52
Active
4.5

2023-08-03

Bach The Future
Mad Max (Jochen Hippel) The Exceptions (TEX)
1:22
Active
4.2

2023-08-15

Back To Basics
!Cube (Toni Lönnberg) Aggression
2:46
Active
4.6

2023-09-26

Back To The Future
David Whittaker
2:03
Active
4.6

2023-08-29

Bad Cat
Mad Max (Jochen Hippel)
6:19
Active
4.1

2023-09-16

Bad Company - Title
David Whittaker
1:11
Active
3.7

2023-06-21

Bad Company - Track 2
David Whittaker
2:14
Active
4.9

2023-06-08

Bad Company - Track 3
David Whittaker
1:29
Active
3.0

2023-08-11

Bad Company - Track 4
David Whittaker
1:07
Active
3.5

2022-11-21

Bad Company - Track 5
David Whittaker
4:28
Active
3.3

2023-09-01

Balibulu
505 (Nils Feske)
1:53
Active
4.5

2023-09-26

Bambi
505 (Nils Feske)
1:46
Active
4.5

2023-09-02

Bangin' Nights
gwEm (Gareth Morris) preromanbritain
4:03
Active
4.2

2023-09-06

Bangkok Knights Loader
Mad Max (Jochen Hippel)
4:20
Active
4.3

2023-08-23

Bangkok Knights Loader
Big Alec (Gunnar Gaubatz) Delta Force
4:23
Active
4.4

2023-08-30

Bangkok Knights Title
Mad Max (Jochen Hippel) The Exceptions (TEX)
6:20
Active
3.6

2023-08-16

Barbarian
Richard Joseph
3:51
Active
4.0

2023-08-01

Battle Command
Jonathan Dunn
2:45
Active
4.0

2023-07-25

Beat Nick Mix
Donald Fakk (Peter Andersson)
2:15
Active
4.7

2023-09-14

Beatnic Demo Screen
Mad Max (Jochen Hippel) The Lost Boys
7:28
Active
4.0

2022-12-17

Bee
STU
1:31
Active
3.5

2022-01-25

Beenden
505 (Nils Feske)
2:11
Active
4.5

2023-08-30

Best Part Of The Creation
Big Alec (Gunnar Gaubatz) Delta Force
3:11
Active
4.9

2023-09-21

Best Part: Ze 16 mns Hit
Jess (Jean-Sébastien Gérard) Overlanders
16:35
Active
4.2

2023-08-30

Beverly Hills Cop (Axel F.)
David Whittaker
2:28
Active
4.0

2023-09-17

Beyond The Ice Palace
David Whittaker
4:53
Active
4.5

2023-09-17

Blakkel
SH3
3:29
Active
4.5

2022-01-02

Blark
505 (Nils Feske)
1:52
Active
4.4

2023-09-25

BlaSTer burn
XyNo (Nicolas Allaire)
1:56
Active
3.5

2023-04-25

Blazing Wings
505 (Nils Feske)
4:30
Active
4.7

2023-08-16

Blazzering
Harvey
2:33
Active
5.0

2023-03-12

Blipblop Memories
!Cube (Toni Lönnberg)
4:09
Active
5.0

2023-09-15

Blood Money
David Whittaker
3:51
Active
4.0

2023-08-31

Blue
Marcer (Marcus Lindberg)
1:01
Active
3.0

2023-07-27

Bobs Going Plasma
Scavenger (Joris de Man) Synergy
5:01
Active
4.6

2023-09-28

Bomb Squad
STU
1:27
Active
4.5

2022-02-09

Bombazooka
STU
3:23
Active
4.3

2023-08-11

Bombsquad
Crawdaddy
1:37
Active
4.0

2022-08-18

Bombtro
STU
3:26
Active
4.0

2023-09-16

Bombuzal
The Wyvern (Ross Goodley)
2:38
Active
3.8

2023-09-06

Boobs
Marcer (Marcus Lindberg)
4:37
Active
3.3

2023-06-23

Botkyrka Sidekickers & ST-Style (atariST edit)
Dubmood (Kalle Jonnson) Razor 1911
3:48
Active
4.7

2023-09-21

Bounce
505 (Nils Feske)
2:02
Active
4.0

2023-09-26

Bouncing Banana (2009)
Ultrasyd
3:02
Active
4.6

2023-08-26

Brain Damagin Arps (2009)
Ultrasyd
4:47
Active
4.7

2023-09-22

Breath
Tao (Frank Seemann) Mystic Bytes
3:19
Active
4.1

2023-08-16

Breath 2000
Tao (Frank Seemann) Cream
3:34
Active
4.5

2023-08-28

Breath Outline
Marcer (Marcus Lindberg)
3:11
Active
3.8

2023-07-12

Brief History of Time
Mad Max (Jochen Hippel) The Exceptions (TEX)
4:00
Active
4.7

2023-09-01

BRN 2010
505 (Nils Feske)
5:56
Active
4.3

2023-09-08

Broken
Marcer (Marcus Lindberg)
2:02
Active
4.0

2022-01-08

Brotchen
505 (Nils Feske)
2:06
Active
4.0

2022-08-21

Brutal Act
505 (Nils Feske)
2:13
Active
4.3

2023-01-25

Bubble 2005
Marcer (Marcus Lindberg)
2:09
Active
4.8

2023-08-19

Bubble Dizzy - Track 1
David Whittaker
2:27
Active
4.6

2023-09-19

Bubble Dizzy - Track 2
David Whittaker
1:45
Active
3.0

2022-08-04

Bye Bye Friend
Marcer (Marcus Lindberg)
1:42
Active
4.0

2022-10-23

Byeing
505 (Nils Feske)
3:20
Active
4.5

2023-09-01

Cannon Fodder - Intro
Richard Joseph
3:36
Needs Re-Encoding

2017-09-28

Cannon Fodder - Mission Clear
Richard Joseph
1:13
Needs Re-Encoding
3.0

2017-10-24

Cannon Fodder - Narcissus
Richard Joseph
3:25
Needs Re-Encoding
3.0

2014-06-09

Cannon Fodder - Phase Clear
Richard Joseph
0:25
Active
3.0

2023-09-03

Cannon Fodder - Phase Clear
Richard Joseph
0:40
Active
2.3

2023-08-21

Cats Love ST (2009)
Ultrasyd
2:51
Active
4.4

2023-03-04

Chambers
Marcer (Marcus Lindberg)
1:12
Active
4.5

2023-08-07

Chambers Of Shaolin (Loader)
Mad Max (Jochen Hippel)
2:51
Active
3.9

2023-06-21

Chaos
Scavenger (Joris de Man)
5:34
Active
4.2

2023-09-04

Chaos #1 Theme
BLZ (Wojciech Golczewski) , Dubmood (Kalle Jonnson) , Zabutom (Niklas Sjösvärd)
1:01
Active
4.9

2023-09-19

Charly (Trip into drum and bass Paza chip remix)
Paza Rahm
3:28
Active
3.3

2023-09-10

Chase HQ
Jonathan Dunn
1:00
Active
4.0

2023-08-17

Cheezylame
XyNo (Nicolas Allaire)
1:29
Active
4.0

2023-09-05

Ching Chong
Marcer (Marcus Lindberg)
1:02
Active
3.0

2023-05-08

Chippy
505 (Nils Feske) Paradox (Atari)
3:54
Active
4.4

2023-08-05

chiprape
STU
3:41
Active
4.2

2023-09-26

Chips Challenge
David Whittaker
1:00
Active
4.3

2023-09-13

Chronicles Of Omega - Track 1
Unknown Artist
1:56
Active
5.0

2023-01-23

Chronicles Of Omega - Track 2
Unknown Artist
1:40
Active
3.8

2023-05-13

Chuck Rock
4-Mat (Matt Simmonds)
2:32
Active
3.8

2023-08-21

Circus Attractions
Mad Max (Jochen Hippel) The Exceptions (TEX)
2:53
Active
4.2

2023-09-04

Cloud castles
radiantx (Martin Evald)
2:46
Active
4.3

2023-09-24

Cloud Kingdoms
David Whittaker
1:05
Active
4.3

2023-09-12

Clouds
505 (Nils Feske) YM Rockerz
3:04
Active
4.7

2023-08-28

Coco Cooper
Marcer (Marcus Lindberg)
1:43
Active
4.5

2023-08-11

Coding on E
gwEm (Gareth Morris)
3:24
Active
4.3

2023-09-25

Combo Racer
The Jackal (Barry Leitch)
3:21
Active
4.2

2023-09-07

Comic Bakery
Mad Max (Jochen Hippel) The Exceptions (TEX)
3:08
Active
4.7

2023-08-24

Comic Bakery Mix
Marcer (Marcus Lindberg)
2:42
Active
4.5

2023-09-21

Compo Breaker
serpent (Touko Väre)
2:58
Active
4.8

2023-09-06

Conan Remix
Marcer (Marcus Lindberg)
1:54
Active
4.3

2023-09-04

Concerto for Acid Band
Jess (Jean-Sébastien Gérard) Overlanders
8:04
Active
4.7

2023-07-26

Cool
Marcer (Marcus Lindberg)
2:02
Active
4.3

2023-09-28

Corndogs and Caviar (intro)
XyNo (Nicolas Allaire)
1:22
Active
4.0

2023-09-29

Corsair (microB cover) (2009)
Ultrasyd
2:55
Active
4.7

2023-09-04

Cosmic Pirates - Title
David Whittaker
1:55
Active
4.0

2023-07-11

Cover for Maria
Marcer (Marcus Lindberg)
0:41
Active
4.0

2020-10-27

CPU Eater
505 (Nils Feske)
3:44
Active
4.7

2023-09-01

Crackers Revenge (YM AHOI!)
Rebb (Teemu Pohjanlehto) Paradise , Tristar & Red Sector Inc. [TRSI]
3:06
Active
4.3

2023-09-23

Crapman
Scavenger (Joris de Man) Synergy
2:00
Active
4.3

2023-08-28

Crapman - Level 1 / Instructions
Scavenger (Joris de Man) Synergy
1:20
Active
4.7

2023-08-18

Crapman - Level 2
Scavenger (Joris de Man) Synergy
3:02
Active
4.5

2023-09-08

Crapman - Level 3
Scavenger (Joris de Man) Synergy
2:47
Active
4.4

2023-06-20

Crapman - Title
Scavenger (Joris de Man) Synergy
1:55
Active
4.8

2023-09-16

Crikey Wot A Tune!
gwEm (Gareth Morris)
4:30
Active
4.3

2023-08-16

Crystal Clear
Big Alec (Gunnar Gaubatz) Delta Force
3:39
Active
4.5

2023-08-18

Crystallized
!Cube (Toni Lönnberg) Aggression
1:42
Active
4.4

2023-09-27

Cubase Versus Notator
Jess (Jean-Sébastien Gérard) Overlanders
8:53
Active
4.4

2023-09-06

Cuddly Demo - Main Menu
Mad Max (Jochen Hippel) The Exceptions (TEX)
2:13
Active
4.5

2023-09-25

Cuddly Demo - Reset Screen
Mad Max (Jochen Hippel) The Exceptions (TEX)
2:34
Active
4.3

2023-09-06

Cuddly This Year
Scavenger (Joris de Man) Synergy
4:48
Active
4.7

2023-09-06

Custodian - Title
David Whittaker
4:21
Active
3.9

2023-08-26

CVGM jingle
Marcer (Marcus Lindberg)
0:09
Jingle
Cybernetic Celtic Wizard
YERZMYEY YM Digital
3:44
Active
4.7

2023-09-20

Cybernoid
Unknown Artist
2:25
Active
4.8

2023-09-11

Cybernoid 2
Mad Max (Jochen Hippel) The Exceptions (TEX)
5:46
Active
4.7

2023-09-07

Cyberstorm - Title
Goth (Gary Wheaton)
4:04
Active
3.6

2023-08-12

Cyborgs N' Clubs
XyNo (Nicolas Allaire)
2:52
Active
3.3

2023-09-30

Dan Dare - Title
David Whittaker
1:48
Active
3.0

2023-04-04

Danger
STU
3:19
Active
4.3

2023-08-04

Dark
505 (Nils Feske)
1:44
Active
4.2

2023-09-20

Dark Rooms
XyNo (Nicolas Allaire)
2:34
Active
3.0

2022-10-23

Dark Side Of The Spoon
Mad Max (Jochen Hippel) The Exceptions (TEX)
2:03
Active
4.7

2023-09-03

Dark Side of the Spoon - Main Menu
Chris (Christoph Remspecher) Unlimited Matricks (ULM)
3:16
Active
3.7

2023-09-17

Datadance
STU
2:47
Active
4.5

2023-09-06

DBA Magazine #6 - Intro
Scavenger (Joris de Man) Synergy
4:46
Active
4.8

2023-09-27

Dead Hacker
STU
3:00
Active
2.6

2023-09-14

Decade - 3D Dots
Count Zero (Nic Alderton) Inner Circle
4:45
Active
4.4

2023-09-30

Decade - Boot
Count Zero (Nic Alderton) Inner Circle
3:50
Active
4.5

2023-06-14

Decade - FlexiScroll
Count Zero (Nic Alderton) Inner Circle
3:11
Active
4.5

2023-09-05

Decade - Intro
Count Zero (Nic Alderton) Inner Circle
3:46
Active
4.6

2023-07-12

Decade - Loader
Count Zero (Nic Alderton) Inner Circle
1:09
Active
3.8

2023-08-14

Decade - Main Menu
Count Zero (Nic Alderton) Inner Circle
3:57
Active
4.8

2023-08-22

Decade - Mini Monty Mix
Count Zero (Nic Alderton) Inner Circle
4:38
Active
3.1

2023-08-20

Decade - Paralax
Count Zero (Nic Alderton) Inner Circle
2:02
Active
4.5

2023-08-26

Decade - PipeWorx
Count Zero (Nic Alderton) Inner Circle
2:37
Active
4.8

2023-09-28

Decade - Raster Scroller
Count Zero (Nic Alderton) Inner Circle
3:38
Active
4.8

2023-08-01

Decade - Reset
Count Zero (Nic Alderton) Inner Circle
2:49
Active
4.1

2023-05-11

Decade - Wheres My Willy
Count Zero (Nic Alderton) Inner Circle
4:58
Active
4.2

2023-09-14

Deep Strike
Mad Max (Jochen Hippel) The Exceptions (TEX)
4:05
Active
4.0

2021-11-22

Deflektor
Ben Daglish
2:58
Active
4.5

2023-08-02

Delta
Tao (Frank Seemann) Cream
2:22
Active
4.8

2023-09-27

Delta Force Goes Sverige
Big Alec (Gunnar Gaubatz) Delta Force
3:34
Active
4.1

2023-08-13

Demon X
Unknown Artist
1:20
Active
3.5

2022-12-07

Despair
4-Mat (Matt Simmonds) , Malodix
4:26
Active
4.7

2023-09-07

Destruct
505 (Nils Feske)
1:15
Active
3.8

2023-09-29

Deth Tehkno
AN Cool (Anders Nilsson) The Carebears [TCB]
3:06
Active
3.7

2023-09-28

Digi Dick
Donald Fakk (Peter Andersson)
3:44
Active
4.3

2023-08-26

Disco Snax (Sanxion remix)
gwEm (Gareth Morris) preromanbritain
3:11
Active
4.2

2023-07-04

Disk0
Marcer (Marcus Lindberg)
2:49
Active
4.0

2020-10-30

Disturbance Bilocated
Monk
2:38
Active
4.8

2023-09-04

Dizzy: Prince of the Yolkfolk - Main Theme
4-Mat (Matt Simmonds)
3:20
Active
4.3

2023-07-21

Do You Speak Russian?
Jess (Jean-Sébastien Gérard) Overlanders
7:07
Active
4.5

2023-08-31

Dogs Of War - Title
David Whittaker
3:14
Active
4.8

2023-09-24

Dosk
505 (Nils Feske)
2:41
Active
4.8

2023-08-08

Douglas Rockmoor 2 - Title
Goth (Gary Wheaton)
4:19
Active
5.0

2023-05-20

Dragon Flight
Marcer (Marcus Lindberg)
3:50
Active
4.5

2022-01-05

Dragonflight
Mad Max (Jochen Hippel) The Exceptions (TEX)
6:56
Active
4.3

2023-08-30

Drea:M
Factor6 YM Digital
3:12
Active
4.7

2023-09-29

Drinking in Vasby
Marcer (Marcus Lindberg)
1:50
Active
4.0

2021-02-25

Drivin' Force
Sinbad (Dave Hasler)
4:57
Active
4.5

2023-09-03

DropDaBomb Live intro
STU
1:58
Active
4.2

2023-08-20

DrumBase
STU
1:42
Active
4.6

2023-08-03

Dubmood Is A Robot
Zabutom (Niklas Sjösvärd)
3:50
Active
4.5

2023-09-08

Dubmood's MILF
Orbiter (Nicklas Carlsson) , Timbral (Martin Knutsson)
3:01
Active
4.6

2023-06-25

Dune - Track 1
Sector One
4:00
Active
3.0

2023-08-03

Dune - Track 2
Sector One
4:00
Active
4.0

2023-09-13

Dune - Track 3
Sector One
1:38
Active
4.0

2023-07-05

Dune Mathematique Dentro
Sector One
4:00
Active
3.2

2023-09-18

Earth
!Cube (Toni Lönnberg) Aggression
3:21
Active
4.8

2023-09-26

Earth is Rotten (Reset)
Donald Fakk (Peter Andersson) S.O.T.E
4:47
Active
4.8

2023-09-17

Easy
505 (Nils Feske)
1:34
Active
4.3

2023-09-18

Echelle
Jess (Jean-Sébastien Gérard) Overlanders
3:18
Active
4.7

2023-09-18

Echoic
Donald Fakk (Peter Andersson) S.O.T.E
4:59
Active
4.5

2023-09-29

Electrox
STU
3:00
Active
3.5

2021-05-27

Eliminator
Mad Max (Jochen Hippel) The Exceptions (TEX)
4:21
Active
4.7

2023-09-18

Eliminator
JMP (John M. Phillips)
1:21
Needs Re-Encoding
3.0

2013-06-05

Enchanted Jambala
Scavenger (Joris de Man) Synergy
4:28
Active
4.8

2023-09-25

Enchanted Land, the sequel
Scavenger (Joris de Man) Synergy
3:38
Active
4.9

2023-09-22

Enchanted Lands - Game Over
Mad Max (Jochen Hippel) The Exceptions (TEX)
6:00
Active
4.3

2023-09-18

Enchanted Lands - Intro
Mad Max (Jochen Hippel)
3:55
Needs Re-Encoding
4.2

2023-09-21

Enchanted Lands - Level 1
Mad Max (Jochen Hippel) The Exceptions (TEX)
4:51
Active
4.5

2023-09-04

Enchanted Lands - Level 2
Mad Max (Jochen Hippel) The Exceptions (TEX)
6:15
Active
4.2

2023-07-21

Enchanted Lands - Level 3
Mad Max (Jochen Hippel) The Exceptions (TEX)
4:16
Active
4.5

2023-08-28

Enchanted Lands - Level 4
Mad Max (Jochen Hippel) The Exceptions (TEX)
4:37
Active
4.7

2023-09-13

Enchanted Lands - Level 5
Mad Max (Jochen Hippel) The Exceptions (TEX)
5:18
Active
4.6

2023-09-24

Enchanted Lands - Level 6
Mad Max (Jochen Hippel) The Exceptions (TEX)
0:51
Active
4.0

2022-11-14

Enchanted Lands - Level 7
Mad Max (Jochen Hippel) The Exceptions (TEX)
1:01
Active
4.0

2023-05-02

Enchanted Lands - Level 8
Mad Max (Jochen Hippel) The Exceptions (TEX)
0:56
Active
5.0

2023-08-23

Enduro Racer - InGame
David Whittaker
4:00
Active
4.0

2023-08-26

Enduro Racer - Title
David Whittaker
2:35
Active
3.3

2023-03-24

Equinoxe
Mad Max (Jochen Hippel) The Exceptions (TEX)
2:39
Active
3.0

2023-04-19

Error in Line '99 Competition
Tao (Frank Seemann) Cream
5:45
Active
4.4

2023-09-12

Escape from the Planet of the Robot Monsters - Title
Matt Furniss
3:24
Active
4.8

2023-08-31

Etudial
505 (Nils Feske)
1:13
Active
3.3

2023-09-22

Everything
505 (Nils Feske)
2:48
Active
4.7

2023-08-02

Eye of Horus - Title
David Whittaker
1:27
Active
4.0

2023-09-15

Fantasia - 2nd Part
Dma-Sc (Mathieu Stempell)
2:34
Active
4.7

2023-08-21

Fantasia - Classic ST Tunes Medley
Dma-Sc (Mathieu Stempell) Sector One
5:23
Active
4.7

2023-09-14

Fantasia - Ending
Dma-Sc (Mathieu Stempell)
2:34
Active
3.0

2023-09-29

Fantasy World Dizzy - Title
David Whittaker
0:55
Active
4.0

2022-11-06

FearDrop
Big Alec (Gunnar Gaubatz) Delta Force
4:20
Active
4.6

2023-08-09

Federation Of Free Traders (F.O.F.T)
Ben Daglish
3:19
Active
3.9

2023-09-12

Fish'N'Chips - Intro
Sewercide Sewer Software
3:20
Active
3.8

2023-08-24

Flash Gordon (triple SID-voice)
Mad Max (Jochen Hippel) , Tao (Frank Seemann) Cream , The Exceptions (TEX)
5:43
Active
4.2

2023-09-25

Flex Flicker
STU
3:05
Active
3.0

2023-05-11

Flimbo's Quest - Track 1
Steve Wetherill
1:27
Active
4.0

2023-08-11

Flimbo's Quest - Track 2
Steve Wetherill
2:00
Active
4.4

2023-07-09

Flimbo's Quest - Track 3
Steve Wetherill
0:53
Active
4.3

2023-08-19

Flow
Tao (Frank Seemann) Cream
2:08
Active
4.7

2023-09-16

Flum (Unfinished)
Donald Fakk (Peter Andersson) S.O.T.E
0:50
Active
4.0

2023-09-17

For Your Loader °1
Jess (Jean-Sébastien Gérard) Overlanders
3:49
Active
4.3

2023-09-15

For Your Loader °2
Jess (Jean-Sébastien Gérard) Overlanders
2:00
Active
4.0

2023-09-15

For Your Loader °3
Jess (Jean-Sébastien Gérard) Overlanders
1:25
Active
4.3

2023-09-01

Forever 'Ardcore
gwEm (Gareth Morris)
3:09
Active
4.5

2023-09-07

Foundation's Waste - Ingame
Hagar (Wally Beben)
6:30
Active
4.5

2023-09-14

Fubb
XyNo (Nicolas Allaire)
1:34
Active
3.0

2023-09-10

G-Spot
Crazy Q (Christian Källström)
3:01
Active
3.6

2023-08-16

Galaxy (unfinished)
Big Alec (Gunnar Gaubatz)
1:47
Active
4.8

2023-09-01

Gambol - Track 1
Mad Max (Jochen Hippel) The Exceptions (TEX)
3:30
Active
3.0

2023-08-23

Gambol - Track 2
Mad Max (Jochen Hippel) The Exceptions (TEX)
1:30
Active
4.0

2023-05-25

Gambol - Track 3
Mad Max (Jochen Hippel) The Exceptions (TEX)
2:30
Active
4.3

2023-09-26

Gangstar
Scavenger (Joris de Man) Synergy
1:47
Active
3.0

2023-09-10

Garfield
David Whittaker
3:36
Active
4.4

2023-09-24

Gauloise
505 (Nils Feske) Checkpoint
2:05
Active
4.9

2023-09-16

Gazza Soccer 2
David Whittaker
2:48
Active
4.0

2023-08-12

GeneraliST
Factor6 YM Digital
3:52
Active
4.8

2023-08-12

Generation Two.Zero
Jess (Jean-Sébastien Gérard) Overlanders
4:26
Active
3.8

2023-09-26

Get Dexter 2
Philippe Ulrich
1:12
Active
3.6

2023-09-08

Get Wicked
Big Alec (Gunnar Gaubatz) Delta Force
2:13
Active
4.0

2023-07-27

Ghost Battle - Loader
Mad Max (Jochen Hippel) The Exceptions (TEX)
5:20
Active
4.6

2023-09-26

Ghost Battle - The Castle/The Ice-Cavern (Level 2 and 3)
Mad Max (Jochen Hippel) The Exceptions (TEX)
5:46
Active
4.7

2023-09-26

Ghost Battle - The End
Mad Max (Jochen Hippel)
2:55
Active
4.5

2023-09-20

Ghost Battle - The Final Test (Level 5)
Mad Max (Jochen Hippel) The Exceptions (TEX)
4:46
Active
4.9

2023-08-11

Ghost Battle - The Forest (Level 1)
Mad Max (Jochen Hippel)
4:06
Active
4.4

2023-09-06

Ghost Battle - The Jungle (Level 4)
Mad Max (Jochen Hippel) The Exceptions (TEX)
3:54
Active
5.0

2023-08-07

Ghost Battle - Title
Mad Max (Jochen Hippel) The Exceptions (TEX)
2:02
Active
4.3

2023-07-12

Give Me Time
Factor6
3:13
Active
4.5

2023-09-28

Glenz
505 (Nils Feske)
4:36
Active
4.7

2023-09-26

Gold Of The Aztecs - InGame
David Whittaker
1:58
Active
4.3

2023-09-24

Gold Of The Aztecs - Title
David Whittaker
1:28
Active
3.3

2023-08-31

Golden Axe - Death Adder
David Whittaker
1:45
Active
3.6

2023-08-01

Golden Axe - Path of the Fiend
David Whittaker
1:05
Active
4.3

2023-09-20

Golden Axe - Title
David Whittaker
0:56
Active
4.0

2023-09-30

Goldfish
Maktone (Martin Nordell)
4:26
Active
4.4

2023-09-12

GoldRunner
Rob Hubbard
3:08
Active
4.7

2023-08-25

Grand Monster Slam
Mad Max (Jochen Hippel) The Exceptions (TEX)
3:10
Active
4.2

2023-09-27

Granit
Maktone (Martin Nordell)
3:04
Active
4.3

2023-08-12

Granit
505 (Nils Feske)
0:36
Active

2021-08-07

Gravity - Title
The Wyvern (Ross Goodley)
6:58
Active
1.5

2023-08-09

Greasy
Marcer (Marcus Lindberg)
1:38
Active
3.0

2023-04-03

Great Courts 2
Mad Max (Jochen Hippel) The Exceptions (TEX)
4:00
Active
4.5

2021-11-26

GrimBlood
David Whittaker
2:17
Active
4.0

2023-08-31

Ground
505 (Nils Feske)
2:51
Active
4.5

2023-09-26

Guardian Moons - Tune 1
Alex Herbert The Lost Boys
3:00
Active
4.4

2023-09-16

Guardian Moons - Tune 2
Alex Herbert The Lost Boys
3:20
Active
4.8

2023-07-30

Guardian Moons - Tune 3
Alex Herbert The Lost Boys
3:10
Active
4.3

2023-09-23

Guile
Jess (Jean-Sébastien Gérard) Overlanders
2:19
Active
4.0

2023-09-26

HAL Ninethousand
Scavenger (Joris de Man) Synergy
3:09
Active
4.8

2023-09-28

Hammas (original by Radix) ST Mix
Marcer (Marcus Lindberg)
0:58
Active
4.0

2021-11-25

Hard ' n' Heavy - Title
The Soundmachine (Jürgen Piscol)
4:57
Active
3.6

2023-09-12

Hardsync 01I
505 (Nils Feske)
7:59
Active
4.6

2023-09-29

Harlequin - Level 1
The Jackal (Barry Leitch)
3:27
Active
4.5

2022-10-03

Harlequin - Title
The Jackal (Barry Leitch)
3:15
Active
4.9

2023-08-24

Hate
Scavenger (Joris de Man) Synergy
4:51
Active
4.6

2023-09-28

Heaven
Scavenger (Joris de Man) Synergy
4:37
Active
3.7

2023-07-26

Heavy
Decoder (Jesper Värn) , Ratpoison (Marcus Andersson) Twin Freaks
1:24
Active
4.3

2023-07-06

Hero Quest Mix
Marcer (Marcus Lindberg)
2:03
Active
4.0

2023-05-13

Hex
Maktone (Martin Nordell)
3:04
Active
3.3

2023-07-14

Hiber Nation
STU
3:38
Active
3.7

2023-05-14

Hidden 2
Danny Oneway (Tobias Bonnke) RISK
2:19
Active
3.5

2022-10-07

Highway Up North (ft. Schmx)
STU
2:49
Active
2.7

2023-09-02

Hit Me!
Per Almered Excellence in Art (XiA)
3:32
Active
3.0

2023-07-25

Hollywood Poker Pro - Track 1
Chris Hülsbeck
5:54
Active
3.5

2023-09-11

Hollywood Poker Pro - Track 2
Chris Hülsbeck
1:20
Active
4.2

2023-08-22

Hot Like Hell
Scavenger (Joris de Man) Synergy
5:35
Active
4.7

2023-09-27

Hotcom
STU
2:33
Active
3.0

2023-01-08

Hotliner
Scavenger (Joris de Man) Synergy
2:41
Active
2.5

2023-08-18

Human Race - Track 4 (triple SID-voice)
Mad Max (Jochen Hippel) , Tao (Frank Seemann) Cream , The Exceptions (TEX)
2:58
Active
4.8

2023-09-14

Human Race 4
Donald Fakk (Peter Andersson) S.O.T.E
3:05
Active
4.6

2023-09-05

Hybrid Funky Stars
Dubmood (Kalle Jonnson) Razor 1911
2:58
Active
4.8

2023-09-20

Hybris mix
Marcer (Marcus Lindberg)
2:07
Active
3.7

2023-05-23

Hysteria
505 (Nils Feske)
1:26
Active
4.7

2023-09-29

I Found the Dead Zone
Jess (Jean-Sébastien Gérard) Overlanders
7:30
Active
4.4

2023-09-20

I Want SID
505 (Nils Feske)
4:21
Active
3.5

2023-09-08

I Want U to Shoot Zem Op
Jess (Jean-Sébastien Gérard) Overlanders
9:22
Active
4.0

2023-09-28

I Wish v1
Marcer (Marcus Lindberg)
3:06
Active
5.0

2023-09-28

I Wish v2
Marcer (Marcus Lindberg)
3:54
Active
3.5

2023-09-03

I, Ball
Unknown Artist
4:37
Active
4.5

2023-09-17

I,Ball 2
Hagar (Wally Beben)
5:19
Active
4.5

2023-08-28

Ice Cream Dream
STU
0:30
Active
4.3

2023-07-13

ICS Intro
Donald Fakk (Peter Andersson) S.O.T.E
1:44
Active
4.3

2023-08-09

If it Works Good !.
Jess (Jean-Sébastien Gérard) Overlanders
9:13
Active
4.4

2023-08-01

IK+
Mad Max (Jochen Hippel) The Exceptions (TEX)
7:37
Active
3.3

2023-07-03

IK+ Remix
AlienVsCoronationSt
5:12
Active
2.0

2022-10-07

Impossamole Mix
Marcer (Marcus Lindberg)
5:42
Active
4.0

2020-03-27

In Door
Danny Oneway (Tobias Bonnke) RISK
2:37
Active
4.0

2021-03-17

In Full Effect
Scavenger (Joris de Man) Synergy
2:01
Active
4.0

2023-09-29

In the Gettho
Marcer (Marcus Lindberg)
1:21
Active
4.0

2023-05-10

Injected With a Poison (a cover of Praga Khan)
Factor6 YM Digital
3:58
Active
3.7

2023-09-28

Insectz
STU
3:54
Active
4.3

2023-08-31

Insecure
XyNo (Nicolas Allaire)
1:57
Active
3.0

2023-09-27

ITC Digi
Donald Fakk (Peter Andersson)
2:46
Active
5.0

2023-09-11

Ivanhoe - Bonus Level
Jean Baudlot , Pierre-Eric Loriaux
2:53
Active
3.8

2023-07-07

Ivanhoe - High Score
Jean Baudlot , Pierre-Eric Loriaux
0:39
Active

2022-10-29

Ivanhoe - Level 1: English Forest
Jean Baudlot , Pierre-Eric Loriaux
3:00
Active
4.0

2023-09-23

Ivanhoe - Level 2: Boat to Europe
Jean Baudlot , Pierre-Eric Loriaux
2:12
Active
4.0

2023-09-11

Ivanhoe - Level 3: Ride from France to Austria
Jean Baudlot , Pierre-Eric Loriaux
3:25
Active
4.5

2023-09-18

Ivanhoe - Level 4: The Austrian Town
Jean Baudlot , Pierre-Eric Loriaux
3:15
Active
5.0

2023-08-13

Ivanhoe - Level 5: The Castle
Jean Baudlot , Pierre-Eric Loriaux
2:28
Active
4.2

2023-08-20

Ivanhoe - Title
Jean Baudlot , Pierre-Eric Loriaux
0:52
Active
2.5

2020-01-18

Jag Rullar
Donald Fakk (Peter Andersson)
2:37
Active
4.7

2023-08-13

Jag Springer Fort
Donald Fakk (Peter Andersson)
3:50
Active
4.8

2023-08-15

Jambala
Marcer (Marcus Lindberg)
1:22
Active
4.0

2022-03-15

Japanese
!Cube (Toni Lönnberg)
1:37
Active
4.0

2023-09-07

Jelling
505 (Nils Feske)
1:17
Active
3.5

2023-07-07

Jet Set Willy
Chrispy Noodle Bad Brew Crew [BBC]
5:31
Active
4.4

2023-08-20

Jim Power - Track 1
Chris Hülsbeck
1:27
Active
4.8

2023-09-23

Jim Power - Track 2
Chris Hülsbeck
2:28
Active
4.7

2023-09-08

Jim Power - Track 4
Chris Hülsbeck
2:02
Active
3.3

2023-05-06

Jinks
Mad Max (Jochen Hippel) The Exceptions (TEX)
2:37
Active
3.5

2023-08-19

Jobil
SH3
4:16
Active
4.0

2023-09-28

Jochen Spirit
Jess (Jean-Sébastien Gérard) Overlanders
5:22
Active
4.4

2023-09-14

Judgement Day
Big Alec (Gunnar Gaubatz)
7:04
Active
4.4

2023-09-03

JUG - Ingame
Paul Shields
6:22
Active
4.5

2023-08-24

JUG - Menu
Paul Shields
3:00
Active
4.4

2023-09-06

JUG - Title
Paul Shields
5:10
Active
4.5

2023-09-24

Jumps
505 (Nils Feske)
3:15
Active
4.6

2023-07-27

Jungle
Scavenger (Joris de Man) Synergy
1:28
Active
2.3

2023-05-04

Jupiter Masterdrive - Title
David Whittaker
2:02
Active
3.6

2023-08-31

Jupiter Probe
Rob Hubbard
1:52
Active
4.3

2023-08-13

Just Buggin' - Mate
Titan
9:20
Active
4.6

2022-09-17

Killer (digidrum version)
Big Alec (Gunnar Gaubatz) Delta Force
4:20
Active
4.0

2020-12-07

Kitchentable
505 (Nils Feske)
3:00
Active
4.3

2023-09-05

Klax
Matt Furniss
2:27
Active
4.8

2023-08-18

Knuckle Joe
Scavenger (Joris de Man) Synergy
3:55
Active
4.4

2023-07-07

Knuckle Joe II
Scavenger (Joris de Man) Synergy
3:06
Active
4.7

2023-09-11

Knucklebusters
Mad Max (Jochen Hippel) The Exceptions (TEX)
18:18
Active
3.1

2023-08-26

Ko and Kossa
Donald Fakk (Peter Andersson)
3:06
Active
4.2

2023-09-04

Kvant Krull Kompott
Donald Fakk (Peter Andersson)
2:22
Active
4.6

2023-08-08

Lamerbrain 1 - Techmoc
Danny Oneway (Tobias Bonnke) RISK
2:31
Active
3.6

2023-09-26

Lap 27
Lap (Emmanuel Lary) NeXT
1:44
Active
4.1

2023-08-07

Lap 6 (Jarre)
Lap (Emmanuel Lary)
1:04
Active
4.5

2023-04-15

Last Minute
STU
2:27
Active
3.0

2021-12-05

Last Ninja
Mad Max (Jochen Hippel)
3:34
Active
4.8

2023-08-24

Last Ninja Remix
Mad Max (Jochen Hippel) The Exceptions (TEX)
2:51
Active
3.3

2023-09-15

Latina
Marcer (Marcus Lindberg)
2:45
Active
5.0

2023-01-23

LeatherNeck - Ingame
David Whittaker
1:47
Active
4.7

2023-09-26

LeatherNeck - Title
David Whittaker
1:49
Active
4.2

2023-05-31

Leaving Terramis - Level 1
Mad Max (Jochen Hippel) The Exceptions (TEX)
3:20
Active
4.0

2023-08-29

Leaving Terramis - Level 2
Mad Max (Jochen Hippel) The Exceptions (TEX)
2:14
Active
3.8

2023-07-27

Leaving Terramis - Level 3
Mad Max (Jochen Hippel) The Exceptions (TEX)
1:38
Active
3.7

2023-08-19

Leaving Terramis - Level 4
Mad Max (Jochen Hippel) The Exceptions (TEX)
3:45
Active
4.8

2023-09-05

Leaving Terramis - Level 5
Mad Max (Jochen Hippel) The Exceptions (TEX)
1:32
Active
4.3

2023-07-20

Leaving Terramis - Level 6
Mad Max (Jochen Hippel) The Exceptions (TEX)
2:37
Active
4.5

2023-09-19

Leaving Terramis - Level 7
Mad Max (Jochen Hippel) The Exceptions (TEX)
2:41
Active
4.3

2023-08-08

Leaving Terramis - Title
Mad Max (Jochen Hippel) The Exceptions (TEX)
2:44
Active
4.0

2023-07-29

Legend of Djel - Title
Robin Aziosmanoff
1:51
Active
2.3

2023-09-23

Leif
Donald Fakk (Peter Andersson) S.O.T.E
3:15
Active
4.0

2021-05-05

Leif Rullar
Scavenger (Joris de Man) Synergy
2:21
Active
4.4

2023-09-23

Lemmings - Awesome
Justin Sharvona
2:24
Active
3.3

2023-09-29

Lemmings - Can Can
Justin Sharvona
0:42
Active
3.7

2023-03-19

Lemmings - Dance of The Little Swans
Justin Sharvona
2:06
Active
4.5

2021-08-15

Lemmings - Dance of The Reed Flutes
Justin Sharvona
2:22
Active
5.0

2023-06-20

Lemmings - Forest Green
Justin Sharvona
2:37
Active
4.5

2023-08-16

Lemmings - How much is That Doggie in the Window
Justin Sharvona
1:25
Active

2022-07-29

Lemmings - Keep Your Hair on Mr. Lemming
Justin Sharvona
2:24
Active
3.5

2023-09-09

Lemmings - Lend a Helping Hand
Justin Sharvona
2:37
Active
5.0

2023-01-23

Lemmings - London Bridge is Falling Down
Justin Sharvona
1:51
Active
5.0

2023-06-21

Lemmings - Menace
Justin Sharvona
2:39
Active
4.0

2023-07-17

Lemmings - Mind The Step
Justin Sharvona
2:52
Active
4.0

2023-04-15

Lemmings - One Way or Another
Justin Sharvona
1:52
Active
3.0

2023-07-04

Lemmings - Pachelbell's Cannon
Justin Sharvona
1:35
Active
2.3

2023-08-28

Lemmings - Postcard from Lemmingland
Justin Sharvona
1:35
Active
4.0

2023-04-14

Lemmings - Rainbow Islands
Justin Sharvona
1:32
Active
4.0

2022-10-17

Lemmings - Rondo Alla Turca
Justin Sharvona
2:06
Active
4.0

2022-12-13

Lemmings - Shadow of the Beast I
Justin Sharvona
2:24
Active
3.5

2023-04-26

Lemmings - Shadow of the Beast II
Justin Sharvona
2:16
Active
3.0

2023-05-15

Lemmings - She'll be Coming 'Round The Mountain
Justin Sharvona
1:59
Active
4.0

2021-05-06

Lemmings - Smile if You Love Lemmings
Justin Sharvona
2:06
Active
5.0

2023-01-23

Lemmings - Twang
Justin Sharvona
2:21
Active
3.5

2023-04-07

Lemon Squeezer's Dream
Jess (Jean-Sébastien Gérard) Overlanders
6:48
Active
4.8

2023-09-26

Let Ze Djoard Bells Ring
Jess (Jean-Sébastien Gérard) Overlanders
4:21
Active
4.7

2023-09-18

Let's Talk About Max
Scavenger (Joris de Man) Synergy
1:34
Active
4.5

2023-08-22

Leviathan - Title
David Whittaker
2:29
Active
3.7

2023-07-31

Life's A Bitch - AK-Screen
Mad Max (Jochen Hippel) The Exceptions (TEX)
3:58
Active
4.7

2023-06-19

Life's A Bitch - Beat Nick
Mad Max (Jochen Hippel) The Exceptions (TEX)
6:12
Active
4.6

2023-07-05

Life's A Bitch - Bittner Mix
Mad Max (Jochen Hippel) The Exceptions (TEX)
2:18
Active
2.5

2023-08-12

Lightforce (triple SID-voice)
Mad Max (Jochen Hippel) , Tao (Frank Seemann) Cream , The Exceptions (TEX)
8:28
Active
4.6

2023-07-09

Little Ninja
STU
1:03
Active
3.5

2023-07-16

Live And Let Die - Ending
Mark Cooksey
3:06
Active
4.3

2023-09-06

Live And Let Die - Title
Mark Cooksey
2:27
Active
4.4

2023-08-05

Live at Micromusic Italy Sunday Jam
gwEm (Gareth Morris)
25:38
Active
4.0

2021-11-01

LM
Mad Max (Jochen Hippel) The Exceptions (TEX)
3:30
Active
4.6

2023-09-17

Locomotion
Big Alec (Gunnar Gaubatz)
4:13
Active
4.6

2023-09-26

Logical - Title
Markus Weichselbaum
2:25
Active
4.6

2023-07-27

Lonely Robot (2009)
Ultrasyd
6:20
Active
4.8

2023-08-18

Loop 03
505 (Nils Feske)
1:11
Active
4.0

2023-07-09

Loop 04
505 (Nils Feske)
0:34
Active
4.0

2022-05-13

Lords of Chaos
Matt Furniss
2:25
Active
4.3

2023-09-19

Lotus 1 Title Remix
Marcer (Marcus Lindberg)
1:29
Active
3.5

2022-01-11

Lotus III: The Ultimate Challenge - Track 1
Unknown Artist
2:45
Active
2.7

2023-09-01

Lotus III: The Ultimate Challenge - Track 2
Unknown Artist
3:21
Active
4.0

2020-05-15

Lotus III: The Ultimate Challenge - Track 3
Unknown Artist
2:25
Active
4.7

2023-09-07

Lotus III: The Ultimate Challenge - Track 4
Unknown Artist
2:39
Active
4.3

2023-08-25

Lotus III: The Ultimate Challenge - Track 5
Unknown Artist
2:58
Active
4.0

2023-08-24

Lotus III: The Ultimate Challenge - Track 6
Unknown Artist
2:44
Active
3.0

2023-09-05

Lotus Turbo Challenge 2 - Track 1
The Jackal (Barry Leitch)
2:38
Active
4.3

2023-07-02

Lotus Turbo Challenge 2 - Track 2
The Jackal (Barry Leitch)
2:10
Active
4.0

2023-08-14

Machine
STU
2:56
Active
4.5

2023-01-23

Mad Max Humiliation
Lotus (Laurens Tummers) Hotline
3:21
Active
3.1

2023-09-27

Mad World ST
Marcer (Marcus Lindberg)
1:26
Active
2.0

2023-07-06

Manical Drop - Introduction
Dma-Sc (Mathieu Stempell)
3:59
Active
4.2

2023-08-31

Marcha
Marcer (Marcus Lindberg)
2:07
Active
4.8

2023-09-26

Masters Of Shit
Dark Angel (Frank Lautenbach) Aura
2:13
Active
4.0

2023-09-23

maxYMise
gwEm (Gareth Morris)
3:31
Active
4.5

2023-08-10

MDemo 4 - Tron
AN Cool (Anders Nilsson) The Carebears [TCB]
3:27
Active
2.7

2023-08-07

MEGAblaST
STU
4:50
Active
4.1

2023-09-09

Melancho (unfinished)
Big Alec (Gunnar Gaubatz)
1:47
Active
4.0

2022-11-14

Meltdis
Scavenger (Joris de Man) Synergy
2:40
Active
4.3

2023-09-28

Menace - Ingame
David Whittaker
2:29
Active
4.5

2023-07-18

Menace - Title
David Whittaker
1:03
Active
3.0

2023-09-06

Messing
505 (Nils Feske)
1:45
Active
4.8

2023-09-28

METEOR RAIN
YERZMYEY YM Digital
3:48
Active
4.6

2023-08-06

Miami Spice
Scavenger (Joris de Man) Synergy
2:01
Active
3.0

2022-08-12

Middle Earth Theme
Jess (Jean-Sébastien Gérard) Overlanders
7:24
Active
4.6

2023-09-28

Midi Maze 2
The Soundmachine (Jürgen Piscol)
6:09
Active
3.8

2023-07-29

Might 382
Marcer (Marcus Lindberg)
2:28
Active
5.0

2023-01-23

Millenium
David Whittaker
2:41
Active
3.4

2023-07-01

Mindbomb
Mad Max (Jochen Hippel) The Exceptions (TEX)
4:33
Active
4.8

2023-09-12

Mindbomb - Foxx Tunnel
Tangens (Christian Hellmanzik) Foxx
2:32
Active
4.0

2023-09-26

Mindfields (Prodigy remix)
Paza Rahm
5:26
Active
4.2

2023-08-16

Mine Sweeper
Tao (Frank Seemann) Cream
6:46
Active
4.8

2023-09-16

Monster Business (All Tracks)
Lotus (Laurens Tummers)
17:51
Active
4.9

2023-06-28

Monster Business - BGM 1
Lotus (Laurens Tummers)
3:03
Active
4.7

2023-09-19

Monster Business - BGM 2
Lotus (Laurens Tummers)
2:38
Active
4.5

2023-06-28

Monster Business - BGM 3
Lotus (Laurens Tummers)
2:50
Active
4.7

2023-08-27

Monster Business - BGM 4
Lotus (Laurens Tummers)
2:39
Active
4.8

2023-08-28

Monster Business - BGM 5
Lotus (Laurens Tummers)
3:38
Active
4.8

2023-08-24

Monster Business - BGM 6
Lotus (Laurens Tummers)
3:33
Active
4.6

2023-08-03

Monster Business - End
Lotus (Laurens Tummers)
1:14
Active
4.7

2023-06-28

Monster Business - Title
Lotus (Laurens Tummers)
1:52
Active
4.3

2023-07-01

Morphonic Lab XI Invitation
lsl Checkpoint
5:14
Active
1.5

2023-01-12

Mugicha
STU
3:20
Active
4.3

2023-04-04

Musik För Rymdfart (DATA105)
Dubmood (Kalle Jonnson)
34:51
Active
4.5

2023-09-24

My Name is Jess, Jessbond
Jess (Jean-Sébastien Gérard) Overlanders
2:04
Active
4.5

2023-08-18

My ST Suntans in Brasil
Jess (Jean-Sébastien Gérard) Overlanders
5:13
Active
4.8

2023-09-25

mYMelody
STU
3:19
Active
3.8

2023-08-30

Myth
Scavenger (Joris de Man) Synergy
6:06
Active
4.7

2023-07-12

Myth
505 (Nils Feske)
3:48
Active
4.8

2023-07-12

Nadaaaaaaaaaahhh!
Scavenger (Joris de Man) Synergy
1:55
Active
4.5

2023-09-25

Nearly Spherical
Mad Max (Jochen Hippel) The Exceptions (TEX)
6:00
Active
4.1

2023-07-02

Neon Love (a cover of Tesla Boy)
Factor6 YM Digital
4:57
Active
4.2

2023-09-09

New Trend
Marcer (Marcus Lindberg)
1:34
Active
4.0

2023-09-11

Ninja Remix - Palace Gardens
Mad Max (Jochen Hippel)
4:42
Active
4.2

2023-07-03

Ninja Remix - The Dungeons
Mad Max (Jochen Hippel)
4:36
Active
4.4

2023-08-24

Ninja Remix - The Inner Sanctum
Mad Max (Jochen Hippel)
3:31
Active
4.3

2023-09-20

Ninja Remix - The Wastelands
Mad Max (Jochen Hippel)
4:08
Active
4.6

2023-08-28

Ninja Remix - The Wilderness
Mad Max (Jochen Hippel)
5:28
Active
4.5

2023-09-12

Ninja Remix - Title / The Palace
Mad Max (Jochen Hippel)
4:40
Active
4.5

2023-07-05

ninjaflood starts school (z00m^TCG AYedit)
Dubmood (Kalle Jonnson) Razor 1911
1:17
Active
4.9

2023-09-05

No Mules Rapido?
Scavenger (Joris de Man) Synergy
3:19
Active
4.3

2023-09-20

No Second Prize - Menu
Big Alec (Gunnar Gaubatz)
2:20
Active
4.4

2023-08-28

No Second Prize - Title
Big Alec (Gunnar Gaubatz)
2:27
Active
4.5

2023-06-15

Noisy Pillar Mix
Marcer (Marcus Lindberg)
2:03
Active
4.7

2023-08-30

Nostalgic-O-Demo - Credits screen
Tao (Frank Seemann) Oxygene
3:51
Active
4.8

2023-08-30

Not a 0110100101
XyNo (Nicolas Allaire)
1:58
Active
3.7

2023-05-11

Not a Soporific Lullaby
Jess (Jean-Sébastien Gérard) Overlanders
8:40
Active
4.3

2023-07-12

Now Loading (and packing)
Scavenger (Joris de Man) Synergy
1:15
Active
4.8

2023-09-26

NYPD Hangover Chase
YERZMYEY YM Digital
2:37
Active
4.2

2023-05-31

Obliterator - InGame
David Whittaker
2:03
Active
3.7

2023-09-12

Obliterator - Title
David Whittaker
3:13
Active
4.0

2023-09-07

Ocean Loader
Mad Max (Jochen Hippel)
4:53
Active
4.4

2023-09-12

Odd Stuff - Ending
Dma-Sc (Mathieu Stempell)
3:20
Active
4.9

2023-09-28

Odd Stuff - Main
Dma-Sc (Mathieu Stempell)
4:07
Active
4.9

2023-09-03

Ode to Stash
Scavenger (Joris de Man) Synergy
1:12
Active
4.0

2022-06-05

Oh No! More Lemmings - Down And Out Lemmings
CoLD SToRAGE (Tim Wright)
3:08
Active
3.5

2021-12-01

Oh No! More Lemmings - Downwardly Mobile Lemmings
CoLD SToRAGE (Tim Wright)
3:10
Active
3.0

2020-12-18

Oh No! More Lemmings - Intsy Wintsy... Lemming?
CoLD SToRAGE (Tim Wright)
2:39
Active
5.0

2023-01-23

Oh No! More Lemmings - Rent-a-Lemming
CoLD SToRAGE (Tim Wright)
1:36
Active
4.0

2021-06-21

Oh No! More Lemmings - Snuggle up to a Lemming
CoLD SToRAGE (Tim Wright)
2:16
Active
4.0

2023-09-18

Oh No! More Lemmings - Undercover Lemming
CoLD SToRAGE (Tim Wright)
1:50
Active
4.0

2023-09-25

Once
505 (Nils Feske)
1:57
Active
2.0

2021-11-26

Once Again
Jess (Jean-Sébastien Gérard) Overlanders
1:58
Dupe
4.8

2012-11-03

Once Again ...
Jess (Jean-Sébastien Gérard) Overlanders
2:03
Active
4.8

2023-07-14

Only the Lonely
Scavenger (Joris de Man) Synergy
2:22
Active
4.7

2023-09-27

Ooh Crikey - Hidden
Mad Max (Jochen Hippel) The Exceptions (TEX)
2:10
Active
4.6

2023-06-24

Ooh Crikey - Mainmenu
Mad Max (Jochen Hippel) The Exceptions (TEX)
3:35
Active
4.8

2023-09-28

Ooh Crikey - There Are No Sheep
Mad Max (Jochen Hippel) The Exceptions (TEX)
3:32
Active
4.9

2023-07-14

Ooh Crikey - Your Mind Is My Ashtray
Mad Max (Jochen Hippel) The Exceptions (TEX)
3:29
Active
4.5

2023-09-20

Ooh Crikey Wot a Scorcher - Intro
Spaz (Dave Moss) The Lost Boys
5:28
Active
4.1

2023-07-30

Operation Jupiter
Antichrist (Joel Le Griguer)
2:44
Active
4.6

2023-08-05

Outline
SH3
2:21
Active
5.0

2023-01-23

Outline 2010 Invitation
Per Almered Checkpoint , Excellence in Art (XiA)
2:45
Active
4.2

2023-08-01

Outlined
gwEm (Gareth Morris)
3:24
Active
4.0

2023-09-22

Outrun 2005 Mix
Marcer (Marcus Lindberg)
3:20
Active
4.1

2023-09-12

Oxxonian - Ingame
The Soundmachine (Jürgen Piscol)
5:27
Active
3.9

2023-07-03

Oxxonian - Title
The Soundmachine (Jürgen Piscol)
3:05
Active
3.4

2023-06-04

Oxyd
The Soundmachine (Jürgen Piscol)
3:08
Active
4.2

2023-09-17

Oxyd 2
The Soundmachine (Jürgen Piscol)
3:46
Active
3.3

2023-09-19

Oxygen8
Marcer (Marcus Lindberg)
3:18
Active
4.6

2023-05-10

Pablo & The Gold Of Montezuma - Track 1
Mad Max (Jochen Hippel) The Exceptions (TEX)
3:25
Active
4.7

2023-08-27

Pablo & The Gold Of Montezuma - Track 2
Mad Max (Jochen Hippel) The Exceptions (TEX)
2:23
Active
4.8

2023-07-25

Pablo & The Gold Of Montezuma - Track 3
Mad Max (Jochen Hippel) The Exceptions (TEX)
1:21
Active
4.7

2023-07-14

Pablo & The Gold Of Montezuma - Track 4
Mad Max (Jochen Hippel) The Exceptions (TEX)
1:22
Active
4.0

2023-08-18

Pandora
Marcer (Marcus Lindberg) Elite
1:46
Active
5.0

2023-08-05

Pandora
Mad Max (Jochen Hippel) The Exceptions (TEX)
2:28
Active
4.0

2022-11-04

Pandora's Box
Scavenger (Joris de Man) Synergy
2:56
Active
4.7

2023-08-18

Paradize Theme
Marcer (Marcus Lindberg)
1:39
Active
4.0

2022-09-30

Password
Scavenger (Joris de Man) Synergy
3:00
Active
4.5

2023-08-06

PEA
SH3 Reservoir Gods
2:44
Active
4.2

2023-06-08

Pentatonik Illusion
Jess (Jean-Sébastien Gérard) Overlanders
8:23
Active
4.5

2023-07-15

Pestwurz
505 (Nils Feske)
1:30
Active
3.0

2023-09-16

Phaleon Gigademo - Intro
Lap (Emmanuel Lary) NeXT
1:59
Active
5.0

2023-07-01

Phallanx
Mad Max (Jochen Hippel) The Exceptions (TEX)
4:00
Active
4.4

2023-09-11

Pieces
505 (Nils Feske)
3:38
Active
4.0

2022-11-20

Pitfight
Matt Furniss
3:35
Active
4.4

2023-09-30

Platoon - Dugout (Stage 3)
David Whittaker
1:51
Active
4.0

2023-06-22

Platoon - Sigh Of The Eye (Name Entry)
David Whittaker
1:29
Active
4.3

2023-05-10

Platoon - Stage 1 (Jungle)
David Whittaker
5:07
Active
4.3

2023-09-17

Platoon - Title
David Whittaker
1:32
Active
4.8

2023-09-14

Please Wait
Scavenger (Joris de Man) Synergy
5:15
Active
4.8

2023-07-15

Please, No...
Jess (Jean-Sébastien Gérard) Overlanders
1:11
Active
1.0

2023-09-10

Podróż w tajemniczej krainie
Creonix Brain Wave
2:31
Active
4.3

2023-09-18

Polar Summer
Big Alec (Gunnar Gaubatz)
3:02
Active
4.2

2023-05-09

Police Quest 2 - Title
Mark Seibert
1:58
Active
3.6

2023-09-08

Popcorn
Marcer (Marcus Lindberg) Elite
2:03
Active
4.7

2023-09-09

Poppycock - Sprites
Big Alec (Gunnar Gaubatz)
3:12
Active
4.3

2023-05-31

Poppycock - Stars
Big Alec (Gunnar Gaubatz)
4:12
Active
3.3

2023-08-06

Popstars - Asfalt
Frequent (Åsmund Tørnquist Johansen) YM Rockerz
3:20
Active
3.8

2023-07-28

Popstars - Cybernetic Dancer
Dma-Sc (Mathieu Stempell) YM Rockerz
3:01
Active
4.7

2023-08-21

Popstars - Dancing T-Girl
Lotek Style (Stefan Benz) The Sirius Cybernetics Corporation [tSCc] , YM Rockerz
3:03
Active
4.0

2023-09-12

Popstars - Double Danger Action Agents
Nemo (Jan Daldrup) YM Rockerz
3:52
Active
3.5

2021-07-27

Popstars - Groupie
Tao (Frank Seemann) YM Rockerz
2:55
Active
4.3

2023-09-11

Popstars - Haschkaka
Dubmood (Kalle Jonnson) YM Rockerz
3:00
Active
4.4

2023-08-28

Popstars - Manic
505 (Nils Feske) YM Rockerz
3:16
Active
4.8

2023-08-28

Popstars - Phat & Phunky Part 1
Crazy Q (Christian Källström) YM Rockerz
2:15
Active
4.3

2023-06-05

Popstars - Return of the Lapplander
Frazer (Andreas Franzen) YM Rockerz
4:24
Active
4.5

2023-06-28

Popstars - Song For Hanah
gwEm (Gareth Morris) YM Rockerz
3:54
Active
4.4

2023-08-28

Porkchop (Unfinished)
Donald Fakk (Peter Andersson) S.O.T.E
0:23
Jingle
4.4

2010-11-23

Powercode
Scavenger (Joris de Man) Synergy
5:23
Active
4.6

2023-08-08

Praeludium (Unfinished)
Donald Fakk (Peter Andersson) S.O.T.E
0:53
Active
4.3

2023-06-08

Prehistoric Tale - Intro
Mad Max (Jochen Hippel) The Exceptions (TEX)
6:27
Active
4.8

2023-09-23

Prehistoric Tale - Title
Mad Max (Jochen Hippel) The Exceptions (TEX)
1:18
Active
3.8

2023-08-05

Prehistoric Tale - Track 1
Mad Max (Jochen Hippel) The Exceptions (TEX)
2:37
Active
4.9

2023-09-11

Prehistoric Tale - Track 2
Mad Max (Jochen Hippel) The Exceptions (TEX)
1:58
Active
5.0

2023-08-19

Prehistoric Tale - Track 3 (Adagio in G minor)
Mad Max (Jochen Hippel) The Exceptions (TEX)
2:34
Active
3.9

2023-07-01

Prehistoric Tale - Track 4
Mad Max (Jochen Hippel) The Exceptions (TEX)
0:38
Active
4.3

2023-07-16

Prehistoric Tale - Track 5
Mad Max (Jochen Hippel) The Exceptions (TEX)
1:40
Active
3.0

2021-03-24

Prehistoric Tale - Track 6
Mad Max (Jochen Hippel) The Exceptions (TEX)
2:49
Active
4.5

2023-08-29

Prehistoric Tale - Track 7
Mad Max (Jochen Hippel) The Exceptions (TEX)
1:21
Active
4.7

2023-09-17

Pressure
Donald Fakk (Peter Andersson)
2:53
Active
4.4

2023-09-22

Primus
Scavenger (Joris de Man) Synergy
3:22
Active
4.6

2023-09-28

Pro BMX Simulator
Mad Max (Jochen Hippel) The Exceptions (TEX)
1:16
Active
4.0

2023-05-24

Prophecy
Big Alec (Gunnar Gaubatz)
4:58
Active
4.7

2023-09-25

Protect Your Environment
Jess (Jean-Sébastien Gérard) Overlanders
7:46
Active
4.5

2023-08-28

Psychosonorous Disorder
Jess (Jean-Sébastien Gérard) Overlanders
4:51
Active
4.6

2023-08-12

Psychotic
STU
2:25
Active
3.5

2019-09-09

Punish Your Machine - Best Part of the Creation (Digidrum Version)
Big Alec (Gunnar Gaubatz) Delta Force
3:12
Active
4.9

2023-08-12

Punish Your Machine - Copper Kaah Baah Naah
Big Alec (Gunnar Gaubatz)
3:20
Active
4.8

2023-08-31

Punish Your Machine - Ishido: Way of the Stones
Big Alec (Gunnar Gaubatz) Delta Force
3:20
Active
4.4

2023-08-29

Punish Your Machine - Jingle
Big Alec (Gunnar Gaubatz) Delta Force
2:48
Active
4.0

2023-07-27

Punish Your Machine - Leif Rullar +intro sample
Scavenger (Joris de Man) Delta Force
6:41
Active
4.8

2023-09-02

Punish Your Machine - Menu (Digidrum Version)
Big Alec (Gunnar Gaubatz) Delta Force
2:45
Active
4.5

2023-07-07

Punish Your Machine - Omega
Big Alec (Gunnar Gaubatz) Delta Force
3:18
Active
4.6

2023-05-30

Punish Your Machine - Primetime
Big Alec (Gunnar Gaubatz) Delta Force , Offbeat
6:40
Active
4.6

2023-08-16

Punish Your Machine - Tubular Bells Remix
Big Alec (Gunnar Gaubatz) Delta Force
3:42
Active
2.0

2023-01-08

Punish Your Machine - When the Colours Are Going Bang! Bang!
Big Alec (Gunnar Gaubatz) Delta Force
3:29
Active
4.4

2023-09-30

Quadralien
David Whittaker
4:39
Active
4.3

2023-08-23

Rampage
David Whittaker
2:20
Active
4.0

2023-08-29

Ravin'
gwEm (Gareth Morris)
0:56
Active
5.0

2023-01-23

Readers Digest
Scavenger (Joris de Man) Synergy
3:12
Active
4.5

2023-07-26

Reality
Big Alec (Gunnar Gaubatz)
4:20
Active
4.6

2023-08-22

Reasonless
505 (Nils Feske)
2:34
Active
4.4

2023-08-11

Relix
505 (Nils Feske)
2:49
Active
3.0

2022-12-12

Render
505 (Nils Feske)
2:01
Active
4.5

2023-07-04

Renegade
David Whittaker
1:42
Active
4.8

2023-09-11

Renegade
Tim Follin (Timothy John Follin)
4:05
Active
4.5

2023-09-24

Retelling
505 (Nils Feske)
0:54
Active
4.0

2023-08-15

Retina
STU
3:43
Active
4.2

2023-08-18

Retro
YERZMYEY YM Digital
2:20
Active
4.6

2023-09-22

Return Of Medusa - Track 1
Mad Max (Jochen Hippel) The Exceptions (TEX)
3:18
Active
4.8

2023-09-20

Return Of Medusa - Track 2
Mad Max (Jochen Hippel) The Exceptions (TEX)
8:40
Active
4.7

2023-07-17

Return To Genesis
David Whittaker
4:17
Active
4.4

2023-08-20

Rings Of Medusa - Ingame
Mad Max (Jochen Hippel) The Exceptions (TEX)
6:20
Active
4.2

2023-07-17

Rings Of Medusa - Title
Mad Max (Jochen Hippel) The Exceptions (TEX)
1:36
Active
3.7

2023-06-01

Rings of Medusa mix
Marcer (Marcus Lindberg)
1:18
Active
4.0

2021-07-31

Rogue Trooper - title
Matt Furniss
2:30
Active
4.9

2023-08-06

Rotterdam Atari Acid
Bioscillator
2:10
Active
2.5

2023-09-18

Row, Row, Row Your Boat
Scavenger (Joris de Man) Synergy
1:41
Active
4.7

2023-09-19

Run for Your Life
Jess (Jean-Sébastien Gérard) Overlanders
4:58
Active
3.8

2023-09-21

Russian Caramba - Final
Marcer (Marcus Lindberg)
3:20
Active
3.5

2023-09-03

Saboteur 2
SH3 Reservoir Gods
4:18
Active
4.7

2023-09-13

Sailor Toys
Marcer (Marcus Lindberg)
1:16
Active
4.3

2023-09-18

Sait Evil
Scavenger (Joris de Man) Synergy
3:41
Active
4.6

2023-09-16

Sample Animal is Alive!
Scavenger (Joris de Man) Synergy
2:59
Active
4.6

2023-09-22

Sanna suck my nectar
Timbral (Martin Knutsson)
1:54
Active
4.0

2023-05-24

Sanxion Mix (digidrum version)
Big Alec (Gunnar Gaubatz) Delta Force
2:59
Active
4.7

2023-08-08

Sapiens - Part 1
Gilles Soulet
5:55
Active
4.0

2023-09-28

Sapiens - Part 1 (Atari ST midi, Casio CZ-101)
Gilles Soulet
5:54
Active
3.8

2023-09-18

Sapiens - Part 2
Gilles Soulet
8:47
Active
4.2

2023-09-21

Sapiens - Part 2 (Atari ST midi, Casio CZ-101)
Gilles Soulet
8:47
Active
2.7

2023-08-22

Scene Spirit (2009)
Ultrasyd
4:03
Active
4.7

2023-07-17

Scheme
505 (Nils Feske)
0:55
Active
2.0

2022-02-06

Scooter
STU
1:26
Active
3.0

2021-02-13

Scout
Mad Max (Jochen Hippel) The Exceptions (TEX)
4:05
Active
4.6

2023-08-24

SDI - Title
Source
4:36
Active
3.0

2020-12-05

See Ya Again On Falcon..
Jess (Jean-Sébastien Gérard)
9:26
Active
4.8

2023-09-24

Seven - Ex in My Bed
gwEm (Gareth Morris) YM Rockerz
2:59
Active
4.3

2023-09-08

Seven - Insane Level
STU YM Rockerz
3:43
Active
4.1

2023-09-27

Seven - Its My Paradize
Marcer (Marcus Lindberg) YM Rockerz
3:03
Active
3.8

2023-08-18

Seven - The 2149 Gang
Dma-Sc (Mathieu Stempell) YM Rockerz
6:09
Active
4.2

2023-09-24

Seven - Ultraflow
Tao (Frank Seemann) YM Rockerz
4:13
Active
4.5

2023-09-24

Seven Gates Of Jambala - Intro
Mad Max (Jochen Hippel) The Exceptions (TEX)
3:57
Active
4.7

2023-09-11

Seven Gates Of Jambala - Level 1
Mad Max (Jochen Hippel) The Exceptions (TEX)
1:30
Active
4.6

2023-07-29

Seven Gates Of Jambala - Level 10
Mad Max (Jochen Hippel) The Exceptions (TEX)
1:01
Active
4.2

2023-08-01

Seven Gates Of Jambala - Level 11
Mad Max (Jochen Hippel) The Exceptions (TEX)
4:02
Active
4.4

2023-09-08

Seven Gates Of Jambala - Level 2
Mad Max (Jochen Hippel) The Exceptions (TEX)
2:08
Active
3.6

2023-09-09

Seven Gates Of Jambala - Level 3
Mad Max (Jochen Hippel) The Exceptions (TEX)
1:48
Active
4.0

2023-07-21

Seven Gates Of Jambala - Level 4
Mad Max (Jochen Hippel) The Exceptions (TEX)
1:59
Active
4.3

2023-08-28

Seven Gates Of Jambala - Level 5
Mad Max (Jochen Hippel) The Exceptions (TEX)
2:16
Active
4.7

2023-08-13

Seven Gates Of Jambala - Level 6
Mad Max (Jochen Hippel) The Exceptions (TEX)
1:57
Active
4.4

2023-09-11

Seven Gates Of Jambala - Level 7
Mad Max (Jochen Hippel) The Exceptions (TEX)
1:07
Active
4.3

2023-08-17

Seven Gates Of Jambala - Level 8
Mad Max (Jochen Hippel) The Exceptions (TEX)
0:58
Active
4.0

2023-08-22

Seven Gates Of Jambala - Level 9
Mad Max (Jochen Hippel) The Exceptions (TEX)
0:45
Active
4.7

2023-09-13

Shades & Giana
Mad Max (Jochen Hippel)
5:38
Active
4.7

2023-09-09

Shadowlands
Matt Furniss
2:29
Active
4.7

2023-08-14

Shadoworlds
Matt Furniss
12:23
Active
3.6

2021-08-18

Sharpness Buzztone
Jess (Jean-Sébastien Gérard) Overlanders
6:46
Active
4.7

2023-09-25

Shotgun
Maktone (Martin Nordell)
1:55
Active
4.5

2023-09-17

Siebenschläfer
505 (Nils Feske)
1:55
Active
3.0

2020-12-16

Silkworm
The Jackal (Barry Leitch)
2:16
Active
4.3

2023-08-02

Sillyventure 2010 Invitro
YERZMYEY Mystic Bytes
3:22
Active
4.8

2023-09-30

Simply Larry
Marcer (Marcus Lindberg)
0:32
Active
2.5

2022-05-27

Simulcra - Title
Jason Page
2:47
Active
4.0

2023-08-18

Sinesinger
505 (Nils Feske) Paradox (Atari)
4:52
Active
4.6

2023-08-21

Skate or Die - Intro
Mad Max (Jochen Hippel) The Exceptions (TEX)
5:12
Active
4.9

2023-08-07

Skateball - Title
David Whittaker
2:15
Active
4.2

2023-09-30

Skateball - Track 2
David Whittaker
2:02
Active
3.7

2023-08-22

skummis416
Zabutom (Niklas Sjösvärd)
4:40
Active
4.3

2023-07-19

Small Trip
Monk
1:05
Active
5.0

2023-01-23

Snork - The Stretching Demo
LTK Mystic [atari]
4:56
Active
4.0

2023-09-13

Snowman ST Chip Mix
Marcer (Marcus Lindberg)
3:09
Active
4.6

2023-08-10

Songs That Make You go Hhmm... 2 - 150 Mph
Tao (Frank Seemann) Cream
5:20
Active
4.9

2023-09-24

Songs That Make You Go Hhmm... 2 - Androids
Tao (Frank Seemann) Cream
3:09
Active
4.8

2023-09-27

Songs That Make You go Hhmm... 2 - Call Me
Tao (Frank Seemann) Cream
4:14
Active
4.5

2023-09-22

Songs That Make You go Hhmm... 2 - For Abyss
Tao (Frank Seemann) Cream
4:05
Active
4.6

2023-07-19

Songs That Make You go Hhmm... 2 - Powerman
Tao (Frank Seemann) Cream
4:53
Active
4.6

2023-07-13

Songs That Make You go Hhmm... 2 - Rise (reset screen)
Tao (Frank Seemann) Cream
4:46
Active
4.4

2023-09-04

Songs That Make You go Hhmm... 2 - Seagulls
Tao (Frank Seemann) Cream
4:14
Active
4.9

2023-07-13

Songs That Make You go Hhmm... 2 - Stars (intro)
Tao (Frank Seemann) Cream
8:37
Active
4.4

2023-09-02

Songs That Make You go Hhmm... 2 - Steps
Tao (Frank Seemann) Cream
4:44
Active
4.8

2023-08-13

Songs That Make You go Hhmm... 2 - Sunriders
Tao (Frank Seemann) Cream
4:04
Active
4.7

2023-09-25

Songs That Make You go Hhmm... 2 - The Arrival
Tao (Frank Seemann) Cream
3:38
Active
4.7

2023-09-28

Songs That Make You go Hhmm... 2 - The Cave
Tao (Frank Seemann) Cream
5:23
Active
4.8

2023-08-28

Songs That Make You go Hhmm... 2 - The Dancer
Tao (Frank Seemann) Cream
3:52
Active
4.3

2023-06-18

Songs That Make You go Hhmm... 2 - Walk on Ice
Tao (Frank Seemann) Cream
3:55
Active
4.7

2023-09-10

Songs That Make You go Hhmm... 2 - Wide Awake
Tao (Frank Seemann) Cream
5:23
Active
4.6

2023-09-30

Songs That Make You go Mmhh! - Ace II
Howard Hunter (Frank Seemann) The Technical Knock Out
5:55
Active
4.1

2023-08-10

Songs That Make You go Mmhh! - Commando Highscore
Howard Hunter (Frank Seemann) The Technical Knock Out
2:06
Active
4.5

2023-09-18

Songs That Make You go Mmhh! - Flash Gordon
Howard Hunter (Frank Seemann) The Technical Knock Out
5:43
Active
4.0

2023-09-30

Songs That Make You go Mmhh! - IK+
Howard Hunter (Frank Seemann) The Technical Knock Out
7:56
Active
3.6

2023-08-12

Songs That Make You go Mmhh! - Lightforce
Howard Hunter (Frank Seemann) The Technical Knock Out
7:25
Active
4.2

2023-09-19

Songs That Make You go Mmhh! - Master of Magic
Howard Hunter (Frank Seemann) The Technical Knock Out
5:17
Active
4.2

2023-09-17

Songs That Make You go Mmhh! - Monty Highscore
Howard Hunter (Frank Seemann) The Technical Knock Out
2:24
Active
4.7

2023-09-21

Songs That Make You go Mmhh! - Rasputin
Howard Hunter (Frank Seemann) The Technical Knock Out
4:44
Active
4.5

2023-08-21

Songs That Make You go Mmhh! - Sanxion
Howard Hunter (Frank Seemann) The Technical Knock Out
5:47
Active
4.5

2023-08-23

Songs That Make You go Mmhh! - Spellbound
Howard Hunter (Frank Seemann) The Technical Knock Out
5:32
Active
4.0

2023-01-22

Songs That Make You go Mmhh! - Thundercats
Howard Hunter (Frank Seemann) The Technical Knock Out
4:08
Active
4.7

2023-08-18

Songs That Make You go Mmhh! - Zoolook
Howard Hunter (Frank Seemann) The Technical Knock Out
4:05
Active
4.5

2023-08-20

SOS Means: Save Our ST
Jess (Jean-Sébastien Gérard) Overlanders
8:03
Active
4.9

2023-09-25

Sound demo - Tune 1
The Soundmachine (Jürgen Piscol)
1:42
Active
4.0

2020-10-27

Sound demo - Tune 2
The Soundmachine (Jürgen Piscol)
0:58
Active
4.0

2021-12-02

Sound demo - Tune 3
The Soundmachine (Jürgen Piscol)
2:42
Active

2023-08-22

Sound demo - Tune 4
The Soundmachine (Jürgen Piscol)
5:43
Active
4.8

2023-09-09

Sounds of 85-06
Marcer (Marcus Lindberg)
1:58
Active
3.0

2022-01-02

SoWatt - Intro
Mad Max (Jochen Hippel) The Exceptions (TEX)
1:47
Active
4.0

2023-02-25

Space
505 (Nils Feske)
4:43
Active
4.1

2023-09-01

Space
Mad Max (Jochen Hippel) The Exceptions (TEX)
2:49
Active
4.5

2023-03-26

Space Ball 2
Mad Max (Jochen Hippel) The Exceptions (TEX)
0:30
Active
4.0

2023-09-26

Space Invaders
Celtic
3:42
Active
4.2

2023-09-24

Spacola
The Soundmachine (Jürgen Piscol)
3:43
Active
3.0

2023-03-13

Spanker
Donald Fakk (Peter Andersson) S.O.T.E
4:01
Active
4.8

2023-08-28

Speedball
David Whittaker
2:30
Active
4.2

2022-11-21

Sphere
505 (Nils Feske)
2:51
Active
4.5

2023-09-25

Spinning Wheels - 2 Lives Left
Nemo (Jan Daldrup) YM Rockerz
2:45
Active
4.4

2023-08-16

Spinning Wheels - Da ChipShit
Tao (Frank Seemann) YM Rockerz
3:42
Active
4.6

2023-09-14

Spinning Wheels - Faith
Mad Max (Jochen Hippel) YM Rockerz
3:40
Active
4.0

2023-08-21

Spinning Wheels - Game Over
Nemo (Jan Daldrup) YM Rockerz
3:36
Active
3.8

2023-06-22

Spinning Wheels - Headaxe
505 (Nils Feske) YM Rockerz
1:35
Active
4.2

2023-08-05

Spinning Wheels - Landflucht
Bodenstaendig 2000 (Bernhard Kirsch & Dragan Espenschied) YM Rockerz
4:15
Active
3.1

2023-08-13

Spinning Wheels - Mourning
MC Laser (Stefan Benz) YM Rockerz
3:20
Active
3.4

2023-08-17

Spinning Wheels - Visitors From Dreams
Dma-Sc (Mathieu Stempell) YM Rockerz
5:23
Active
4.8

2023-09-23

Spring Party
Dma-Sc (Mathieu Stempell)
3:01
Active
4.4

2023-09-29

ST News - 61
Mad Max (Jochen Hippel) The Exceptions (TEX)
3:30
Active
4.5

2023-08-31

ST News - Panther
David Whittaker
2:10
Active
4.7

2023-09-26

ST Rambo
Marcer (Marcus Lindberg)
3:45
Active
4.5

2023-09-29

Stand By
Big Alec (Gunnar Gaubatz) Delta Force
5:55
Active
4.6

2022-12-21

Standard YM
Marcer (Marcus Lindberg)
2:15
Active
3.0

2023-04-15

Star Ray - Title
David Whittaker
2:24
Active
4.0

2023-07-11

Star Ray - Track 2
David Whittaker
1:53
Active
3.7

2023-07-01

StarBlaze - Title
David Whittaker
2:19
Active
4.3

2023-09-24

Stay Alive ST
Marcer (Marcus Lindberg)
1:24
Active
4.0

2023-07-11

Steam Dream
Donald Fakk (Peter Andersson) S.O.T.E
4:50
Active
4.7

2023-09-27

Steps - 150 mph
Tao (Frank Seemann) Cream
5:19
Active
4.8

2023-09-16

Steps - Androids
Tao (Frank Seemann) Cream
3:14
Active
4.9

2023-09-23

Steps - Call Me
Tao (Frank Seemann) Cream
4:11
Active
4.9

2023-09-28

Steps - Chicago
Tao (Frank Seemann) Cream
3:56
Active
4.0

2023-09-10

Steps - Cultivation
Tao (Frank Seemann) Cream
7:27
Active
4.8

2023-08-20

Steps - For Abyss
Tao (Frank Seemann) Cream
4:03
Active
4.8

2023-09-25

Steps - Ice Age
Tao (Frank Seemann) Cream
5:37
Active
4.7

2023-09-27

Steps - Just Feel It
Tao (Frank Seemann) Cream
2:55
Active
4.8

2023-07-29

Steps - Line of Fire
Tao (Frank Seemann) Cream
5:45
Active
4.5

2023-08-25

Steps - Mine Sweeper
Tao (Frank Seemann) Cream
7:14
Active
4.7

2023-09-29

Steps - Prelude
Tao (Frank Seemann) Cream
4:01
Active
4.5

2023-09-21

Steps - Ride the Sky
Tao (Frank Seemann) Cream
4:00
Active
4.0

2023-09-25

Steps - Rise
Tao (Frank Seemann) Cream
4:45
Active
4.7

2023-09-01

Steps - Seagulls
Tao (Frank Seemann) Cream
4:16
Active
4.8

2023-09-14

Steps - Stars
Tao (Frank Seemann) Cream
7:34
Active
4.8

2023-06-30

Steps - State of Confusion
Tao (Frank Seemann) Cream
2:41
Active
4.9

2023-09-11

Steps - Steps
Tao (Frank Seemann) Cream
4:40
Active
4.7

2023-07-21

Steps - Sunriders
Tao (Frank Seemann) Cream
4:07
Active
4.8

2023-09-21

Steps - The Arrival
Tao (Frank Seemann) Cream
3:45
Active
4.9

2023-09-12

Steps - The Cave
Tao (Frank Seemann) Cream
5:33
Active
4.7

2023-07-30

Steps - The Powerman
Tao (Frank Seemann) Cream
4:46
Active
4.7

2023-09-06

Steps - Walk on Ice
Tao (Frank Seemann) Cream
3:54
Active
4.9

2023-09-09

Steps - Wide Awake
Tao (Frank Seemann) Cream
5:12
Active
4.4

2023-09-27

Stereoid (remix)
STU
3:00
Active
4.0

2021-03-03

STfucck Up !!!
XyNo (Nicolas Allaire)
2:02
Active
3.3

2023-09-08

Stormlord Ingame
Mad Max (Jochen Hippel)
8:00
Active
4.5

2023-07-23

Stormlord Title
Mad Max (Jochen Hippel)
6:13
Active
4.6

2023-09-16

Stormtrooper - Title
David Whittaker
4:16
Active
3.7

2023-09-14

Stream
505 (Nils Feske)
1:46
Active
4.0

2023-02-15

Street Gang
Mad Max (Jochen Hippel)
9:34
Active
3.9

2023-07-23

Structure
Big Alec (Gunnar Gaubatz) Delta Force
5:19
Active
4.0

2023-08-09

Such a Square
STU
2:45
Active
4.0

2023-08-22

SumrtYMe
Jefftheworld
1:38
Active
4.0

2023-04-30

Super Mario Bros Family
Jess (Jean-Sébastien Gérard) Overlanders
8:19
Active
4.1

2023-08-01

Supercars 2 - Track 1
The Jackal (Barry Leitch)
3:12
Active
3.7

2023-07-31

Supercars 2 - Track 2
The Jackal (Barry Leitch)
3:17
Active
3.5

2023-01-05

Supersonic
Mad Max (Jochen Hippel) The Exceptions (TEX)
2:13
Active
4.8

2023-09-01

Switchblade - Ingame
Ben Daglish
3:21
Active
4.4

2023-08-26

Switchblade - Title
Ben Daglish
2:40
Active
4.2

2023-06-24

Synergy Lovetheme
Scavenger (Joris de Man) Synergy
4:21
Active
4.7

2023-09-30

Synergy Megademo - Chipmon 2 example
Scavenger (Joris de Man) Synergy
1:01
Active
4.8

2023-06-18

Synergy Megademo - Credits
Scavenger (Joris de Man) Synergy
3:51
Active
4.7

2023-07-06

Synergy Megademo - Having a Period in 3D Space
Scavenger (Joris de Man) Synergy
27:24
Active
4.4

2023-09-07

Synergy Megademo - Intro
Scavenger (Joris de Man) Synergy
2:45
Active
4.3

2023-09-11

Synergy Megademo - Mainmenu
Scavenger (Joris de Man) Synergy
5:54
Active
4.7

2023-08-24

Synergy Megademo - Pajaro
Scavenger (Joris de Man) Synergy
4:29
Active
4.8

2023-09-30

Synergy Megademo - Symbiosis
Scavenger (Joris de Man) Synergy
5:44
Active
4.6

2023-09-25

Synical
Scavenger (Joris de Man) Synergy
6:48
Active
4.3

2023-08-23

Syntax Terror - Fletch
Mad Max (Jochen Hippel) The Exceptions (TEX)
3:02
Active
4.7

2023-08-01

Syntax Terror - Level 16
Mad Max (Jochen Hippel) The Exceptions (TEX)
1:47
Active
4.5

2023-08-24

Syntax Terror - Loader
Mad Max (Jochen Hippel) Delta Force , The Exceptions (TEX)
2:03
Active
4.6

2023-07-26

Syntax Terror - Reset
Mad Max (Jochen Hippel) The Exceptions (TEX)
1:42
Active
4.3

2023-07-22

Syntax Terror - TLB
Mad Max (Jochen Hippel) The Exceptions (TEX)
3:42
Active
4.9

2023-08-06

Syntax Terror Loader Mix
Donald Fakk (Peter Andersson)
2:14
Active
4.9

2023-09-09

Synth Dream Music Disk - Track 1
Lotus (Laurens Tummers)
0:30
Active
4.0

2023-04-07

Synth Dream Music Disk - Track 2
Lotus (Laurens Tummers)
1:47
Active
3.7

2023-09-20

Synth Dream Music Disk - Track 3
Lotus (Laurens Tummers)
1:42
Active
4.4

2023-09-21

Synth Dream Music Disk - Track 4
Lotus (Laurens Tummers)
1:32
Active
4.7

2023-09-30

Synth Dream Music Disk - Track 5
Lotus (Laurens Tummers)
2:46
Active
3.7

2023-06-28

Synth Dream Music Disk - Track 6
Lotus (Laurens Tummers)
0:46
Active
5.0

2023-08-08

Synth Dream Music Disk - Track 7
Lotus (Laurens Tummers)
1:04
Active
3.0

2023-01-08

Tambumbi
505 (Nils Feske)
1:54
Active
4.3

2023-09-01

Taotic
505 (Nils Feske)
3:07
Active
4.7

2023-08-29

TCB Sprites
Mad Max (Jochen Hippel) The Exceptions (TEX)
2:03
Active
4.6

2023-09-21

Tears on my Keyboard
Jess (Jean-Sébastien Gérard) Overlanders
6:13
Active
4.4

2023-08-01

Techno Orion
Marcer (Marcus Lindberg)
1:50
Active
3.5

2023-02-15

Techno Stormer
Dark Angel (Frank Lautenbach) Aura
1:03
Active
4.5

2023-06-07

Teddy (UCM 20 Intro)
Baggio (Robert Högberg)
1:29
Active
3.0

2023-09-22

Teh Won
SH3
4:41
Active
3.5

2023-08-25

Tell me
505 (Nils Feske)
1:24
Active
4.5

2023-08-30

Temple of Asherah
YERZMYEY
3:48
Active
4.0

2023-08-19

Terramex
Ben Daglish
3:42
Active
3.7

2023-09-14

Tetra Quest
Paul Shields
8:34
Active
4.3

2023-06-08

Tetris - Title
David Whittaker
0:48
Active
3.0

2021-10-23

Thalion Intro
Mad Max (Jochen Hippel)
2:57
Active
4.5

2023-04-02

Thalion Intro (Hidden)
Mad Max (Jochen Hippel) The Exceptions (TEX)
1:41
Active
4.5

2023-09-26

That's Illogical Captian
Jess (Jean-Sébastien Gérard) Overlanders
1:08
Active
4.0

2023-06-07

Thats The Way It Is
Mad Max (Jochen Hippel) The Exceptions (TEX)
7:14
Active
4.6

2023-08-31

The 8bits of Christmas - The First Blip Blop Noel
Dma-Sc (Mathieu Stempell)
3:50
Active
4.6

2023-08-23

The Battle of Arpegios
Jess (Jean-Sébastien Gérard) Overlanders
8:14
Active
4.7

2023-08-01

The Day YM Killed Fakebit (2009)
Ultrasyd
6:24
Active
4.7

2023-09-30

The Flying Over the Planet Edena
LTK Mystic [atari]
6:27
Active
4.6

2023-08-18

The Lame Trop - Intro (part 2)
Jovis Zuul
5:05
Active
4.3

2023-08-18

The Legacy Nightmare
Jess (Jean-Sébastien Gérard) Overlanders
8:20
Active
4.6

2023-07-25

The Light Corridor - Title
Frederic Mentzen
3:00
Active
3.8

2023-09-28

The Mighty Pirate Sessions Volume 1
Dubmood (Kalle Jonnson)
35:02
Active
4.6

2022-04-22

The Mighty Pirate Sessions Volume 2 [Live]
Dubmood (Kalle Jonnson) , Zabutom (Niklas Sjösvärd)
44:55
Active
4.9

2023-08-02

The Munsters
Ben Daglish
1:40
Active
4.5

2023-08-26

The Popples' Revenge
Jess (Jean-Sébastien Gérard) Overlanders
7:29
Active
4.4

2023-08-03

The Real Ghostbusters
David Whittaker
2:29
Active
4.6

2023-08-03

The Singing Green Frog
Jess (Jean-Sébastien Gérard) Overlanders
4:42
Active
4.0

2023-08-24

The Song
Dark Angel (Frank Lautenbach)
3:17
Active
4.7

2023-08-28

The Treasure
Marcer (Marcus Lindberg)
0:45
Active
3.3

2023-06-27

The Twins Paradoxe
Jess (Jean-Sébastien Gérard) Overlanders
7:37
Active
4.3

2023-09-18

The Undead Horror Show
Jess (Jean-Sébastien Gérard) Overlanders
2:40
Active
4.3

2023-07-23

There Aren't Any Sheeps In Outer Mongolia
Mad Max (Jochen Hippel) The Lost Boys
3:33
Active
4.8

2023-09-03

Thing
505 (Nils Feske) Paradox (Atari)
2:43
Active
4.6

2023-09-23

Think Twice
Mad Max (Jochen Hippel) The Exceptions (TEX)
0:38
Active
4.5

2023-09-20

Thiz Music!
Jess (Jean-Sébastien Gérard) Overlanders
3:23
Active
4.7

2023-09-11

Throw it in a Trash Can
Jess (Jean-Sébastien Gérard) Overlanders
6:16
Active
4.1

2023-09-27

Throw the Confettis...
Jess (Jean-Sébastien Gérard) Overlanders
9:04
Active
4.6

2023-08-04

Thrust
505 (Nils Feske)
1:50
Active
4.4

2023-08-22

Thundercats
Mad Max (Jochen Hippel) The Exceptions (TEX)
4:48
Active
4.2

2023-08-26

Thundercats
Rob Hubbard
4:13
Active
3.8

2023-09-29

Time Machine - Title
Hagar (Wally Beben)
4:23
Active
4.6

2023-09-26

Tinkle Tinkle Little Star
Marcer (Marcus Lindberg)
1:30
Active
4.1

2023-09-07

To be on Top - Intro
Mad Max (Jochen Hippel)
5:41
Active
4.3

2023-06-25

Toki - Intro (Green Beret Title)
Pierre-Eric Loriaux
1:47
Active
4.6

2023-06-02

Torvak The Warrior
Matt Furniss
2:29
Active
4.4

2023-09-24

Total
Maktone (Martin Nordell)
4:13
Active
4.3

2023-08-22

Total Recall - Title
David Whittaker
3:04
Active
4.1

2023-08-13

Total Recall - Track 2
David Whittaker
2:46
Active
3.3

2023-08-04

Tra La Li and Tra La La
Jess (Jean-Sébastien Gérard) Overlanders
10:15
Active
3.6

2023-08-04

Traffic
Big Alec (Gunnar Gaubatz) Delta Force
4:40
Active
4.6

2023-09-15

Trantor
David Whittaker
2:12
Active
4.4

2023-08-02

Traxxer 2
Marcer (Marcus Lindberg)
2:45
Active
5.0

2023-08-26

Traxxer 3
Marcer (Marcus Lindberg)
3:27
Active
4.0

2023-09-16

Treasure Trap
The Jackal (Barry Leitch)
5:41
Active
3.4

2023-06-27

Triplex 2
505 (Nils Feske)
2:41
Active
3.9

2023-09-17

Trippin
505 (Nils Feske)
3:13
Active
4.8

2023-09-28

Trust
Marcer (Marcus Lindberg)
1:56
Active
5.0

2023-01-23

Trust Cool 07
Marcer (Marcus Lindberg)
2:01
Active
3.0

2023-04-01

TSC 60
Frazer (Andreas Franzen) The Syndicate
2:53
Active
4.0

2023-08-28

TSC 82
Frazer (Andreas Franzen) The Syndicate
3:33
Active
4.3

2023-07-24

Tsrups
505 (Nils Feske)
1:09
Active
3.5

2020-01-12

Turbo - Tune 1
Alex Herbert The Lost Boys
4:25
Active
3.8

2023-09-30

Turbo - Tune 2
Alex Herbert The Lost Boys
2:42
Active
4.6

2023-09-24

Turbo - Tune 3
Alex Herbert The Lost Boys
2:17
Active
4.0

2023-08-29

Turbo - tune 4
Alex Herbert
2:14
Active
3.8

2023-09-25

Turrican 1 - Level 1-1
Mad Max (Jochen Hippel) The Exceptions (TEX)
1:43
Active
3.7

2023-09-30

Turrican 1 - Level 1-2
Mad Max (Jochen Hippel) The Exceptions (TEX)
1:27
Active
3.0

2023-09-23

Turrican 1 - Level 2-1
Mad Max (Jochen Hippel) The Exceptions (TEX)
2:09
Active
3.7

2023-09-07

Turrican 1 - Level 2-2
Mad Max (Jochen Hippel) The Exceptions (TEX)
2:13
Active
4.0

2023-08-08

Turrican 1 - Level 2-3
Mad Max (Jochen Hippel) The Exceptions (TEX)
2:14
Active
3.9

2023-07-29

Turrican 1 - Level 2-4
Mad Max (Jochen Hippel) The Exceptions (TEX)
0:28
Active
3.0

2023-08-31

Turrican 1 - Level 3-1
Mad Max (Jochen Hippel) The Exceptions (TEX)
1:43
Active
3.3

2023-07-05

Turrican 1 - Level 3-2
Mad Max (Jochen Hippel) The Exceptions (TEX)
1:47
Active
3.0

2021-06-01

Turrican 1 - Level 3-3
Mad Max (Jochen Hippel) The Exceptions (TEX)
2:30
Active
4.0

2023-03-05

Turrican 1 - Level 4-1
Mad Max (Jochen Hippel) The Exceptions (TEX)
2:31
Active
3.3

2023-06-09

Turrican 1 - Level 4-2
Mad Max (Jochen Hippel) The Exceptions (TEX)
1:23
Active
2.5

2023-07-24

Turrican 1 - Level 4-3