CVGM.net - Chiptune, Retro & Video Game Music

Platform - Utility » PC Trackers (S3M / XM / IT / ...)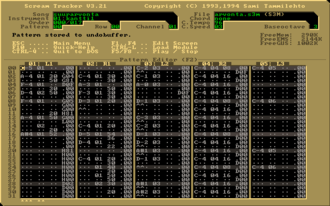 Things that should be added under this platform:
- tracked songs in S3M format
- tracked songs in XM format
- tracked songs in IT format
- other songs from PC tracker applications
- tracked songs in MOD format ONLY if they are from PC games
Things that should NOT be added under this platform:
- tracked songs in MOD format (these should be added under Amiga platform)
----------------------------------------
Following the footsteps of Amiga tracker music, some demoscene coders started to create PC tracker programs which could make music based on custom digital instrument samples.
Just few computer games on PC used tracker music but in PC demoscene tracker music became a standard. Sound card Gravis Ultrasound was popular in demoscene due to its extra memory reserved for instrument samples. But in most of cases people heard tracker music through their Sound Blasters.
-S3M : Screamtracker 3. PC tracker program & format developed by Sami Tammilehto (PSI of Future Crew). The first Scream Tracker version was released in 1990.
-XM : FastTracker 2 format created by Fredrik "Mr. H" Huss and Magnus "Vogue" Högdahl from demogroup Triton. Fast Tracker 2 was released in 1997 and was the first popular PC tracker to support 44khz/16-bit samples bringing CD quality sound to tracker music.
-IT : Mod format used by Impulse Tracker which looks like Scream Tracker but has more features (including CD quality sound).
Songs
Song Title
Artist
Song Length
Status
Avg. Vote
Queue
Last Played
Bejeweled Twist: Blitz
Skaven (Peter Hajba)
20:37
Active
4.3

2022-09-23

Mysteeri suuri
Yoni (Joni Masko )
2:10
Active
3.3

2023-07-23

! Loading !
Dualtrax (Marco Stahl)
0:30
Active
4.8

2023-09-29

#ff0 Spread
Coda (Ken Snyder)
0:54
Active

2020-12-16

'Cross the Floor
Dario (Jussi Lind)
3:20
Active
3.5

2023-04-17

'September' Edit
Reed (Jaakko Kaitaniemi)
1:34
Active
3.5

2022-09-04

(Dreaming of) Foreign Skys
Big Jim (Jim Storer)
2:58
Active
4.7

2023-09-16

(H)Ackerlight
serpent (Touko Väre)
1:16
Active
4.8

2023-09-24

(not)again
Vim (Keith Baylis)
2:30
Active
4.7

2023-08-02

* cHaNel n. *
Lluvia (Anne Haessig)
3:27
Active
4.8

2023-09-15

0% Sianisms
Vim (Keith Baylis)
3:15
Active
2.9

2023-09-29

080808
alk (Jim Redfern)
2:34
Active
5.0

2023-02-27

0xx00 (featuring 3paq)
Dubmood (Kalle Jonnson) Razor 1911
3:12
Active
4.2

2023-09-22

1 Vuoden Takuun!
Spike (Claus Larsen) Kløver Design
4:48
Active
4.5

2023-06-06

1000000 Miles [Alto Knallo]
Ronny (Ronny Pries) Free Electric Band
3:50
Active
3.8

2023-09-11

118 in 64 and 194
Reed (Jaakko Kaitaniemi)
3:15
Active
4.6

2023-09-03

1566
Algar (Jimmy Granath) , xylo (Tom Offringa)
2:05
Active
4.5

2023-07-04

16k TeleZentrum
Dualtrax (Marco Stahl)
1:01
Active
4.0

2022-01-15

1991-Das Jahr, in dem wir Kontakt aufnahmen
Acidline (Martin Spielmans) High Society
4:24
Active
3.0

2023-08-27

1996 Called (Day 18)
4-Mat (Matt Simmonds) Ate Bit
2:06
Active
4.3

2023-06-04

1:45 a.m. / She
Graff (Paweł Daudzward)
5:57
Active
3.3

2023-09-12

1STADLIB (unreleased)
El Blanco (Mark Sanders) Terraformer
1:05
Active
2.0

2021-10-25

2 Bros
Acidline (Martin Spielmans) High Society
4:04
Active
2.7

2023-09-16

20 bubs in a zhweel
El Blanco (Mark Sanders) Opiate , Terraformer
7:03
Active
4.0

2021-12-01

2005
cxw
3:30
Active
4.0

2023-09-20

2006
Coda (Ken Snyder)
0:52
Active
4.0

2022-07-16

2Notes
Xerxes (Klaus Lunde) Brainstorm
2:29
Active
4.3

2023-09-29

3 Monkeys - 1 Beer!
DRAX (Thomas Mogensen)
1:43
Active
5.0

2022-09-22

303mat (Day 30)
4-Mat (Matt Simmonds) Ate Bit
0:49
Active
3.5

2023-08-10

3D Galaxy
Dubmood (Kalle Jonnson) Razor 1911
3:39
Active
4.8

2023-09-28

4 your compo
serpent (Touko Väre)
3:48
Active
4.3

2023-05-31

464
Maf (Benoît C.)
3:14
Active
4.4

2023-07-12

4th And Goal / Supernova Sunday
Stein (Justin Reid)
9:25
Active
3.2

2023-08-18

570 million years
Graff (Paweł Daudzward)
4:20
Active
4.3

2023-09-24

64K RAM In My Head
Pero-Fotar
4:10
Active
1.9

2023-08-19

80
Maf (Benoît C.)
3:13
Active
4.4

2023-09-05

800XL
Acidline (Martin Spielmans) High Society
5:01
Active
3.4

2023-08-23

90kb Day Dreams
Dualtrax (Marco Stahl)
2:43
Active
4.3

2023-07-29

93Inside
eno93 (Jérôme Lemonnier)
3:15
Active
2.0

2021-12-16

< Insert Title Here >
Ron (Ronny Selnes) , Xerxes (Klaus Lunde) Level-D
6:45
Active
4.4

2023-08-22

A C10WN 1N THE M00N (Assembler Instinct)
Svolkraq (Kjetil Hoem) Gollum
3:16
Active
4.5

2023-07-12

A Daring Escape
Virt (Jake Kaufman)
3:21
Active
4.4

2023-08-25

A Dash for Freedom
Rapture (Fabian Del Priore)
3:54
Active
4.7

2023-09-28

A Day in Heaven
Dario (Jussi Lind)
3:53
Active
4.8

2023-08-06

A Day in Heaven (DMix)
Dario (Jussi Lind)
4:26
Active
3.7

2023-06-14

A Dream Too Far
Arne (Arne Puszelski)
4:11
Active
5.0

2023-08-01

A Ducks Cry
Coda (Ken Snyder)
2:20
Active
4.0

2021-06-07

A Fine Duck
Coda (Ken Snyder)
1:27
Active
4.5

2022-03-11

A Fine Tune
Tito (Johan Lars Althoff) Candela [CNA]
2:54
Active
4.3

2023-07-31

A Kind Gesture
Xerxes (Klaus Lunde) Brainstorm
3:12
Active
4.7

2023-08-23

A Kind of Beauty
Norfair (Carl Aborg)
4:17
Active
3.8

2023-08-22

A Little Love (Revive 88-Remix)
Acidline (Martin Spielmans) High Society
4:05
Active
4.0

2022-05-26

A New Beginning (Intro 2)
Skaven (Peter Hajba)
0:31
Active
3.0

2020-12-14

A New Generation
Awesome (Victor Vergara)
4:45
Active
4.6

2023-08-09

A Nice Guy
Coda (Ken Snyder)
1:27
Active
3.0

2022-10-02

A Pane in the Glass
Reed (Jaakko Kaitaniemi)
6:19
Active
4.3

2023-09-27

A Piece of Magic
LizardKing (Gustaf Grefberg)
4:21
Active
4.1

2023-09-25

A Piece of Magic (2nd version)
LizardKing (Gustaf Grefberg)
5:41
Active
4.6

2023-06-18

A Piece of Magic (Mix)
LizardKing (Gustaf Grefberg)
7:41
Active
4.6

2023-09-17

A Rockstar Ate My ST-00
Haz
2:48
Active
4.8

2023-09-10

A Rose of Gold
DRAX (Thomas Mogensen) Maniacs Of Noise
3:47
Active
3.5

2023-09-27

A Second Chans
Area 51 (Dan Nyman)
3:25
Active
4.3

2023-08-07

A shrubbery !
AceMan (Jakub Szelag)
4:23
Active
4.2

2023-09-19

A Strange Vision
Mystical (Asbjoern Andersen) purple
2:38
Active
4.0

2023-07-22

A Synthetic Device
Reed (Jaakko Kaitaniemi)
1:32
Active
4.6

2023-07-05

A Tribute to Anthony Rother
Acidline (Martin Spielmans) High Society
4:09
Active
3.0

2021-03-03

A vesztes
Carlos (Gábor Csordás )
3:25
Active
4.6

2023-09-28

A Way to Freedom
LizardKing (Gustaf Grefberg)
9:07
Active
4.5

2021-09-18

Abandon
RabiteMan (Ian Stocker)
6:31
Active
3.0

2023-04-10

Aboard The Milk Truck
Coda (Ken Snyder)
1:10
Active
4.0

2023-02-06

Absent Minded
Dalezy (Ronny Engmann)
2:10
Active
4.0

2023-09-26

Abyss 29/63
Ü (Michel Paul César Montagné)
6:27
Active
1.8

2023-03-15

Accelerando At End
Coda (Ken Snyder)
0:27
Active
4.0

2023-08-13

Acid Gunner
Coda (Ken Snyder)
1:16
Active
3.0

2023-04-29

Acid Planes
Coda (Ken Snyder)
1:12
Active
3.0

2023-04-18

acidline - Don't you worry (80s Remix)
Acidline (Martin Spielmans) High Society
3:51
Active
3.2

2023-07-23

acidline - Need Your Love (Indelektro Remix)
Acidline (Martin Spielmans) High Society
3:53
Active
3.9

2023-08-23

Acorn Soup
Coda (Ken Snyder)
1:27
Active
3.0

2021-12-09

Active Spoon
Coda (Ken Snyder)
1:16
Active
3.0

2023-02-12

Ad intro song #1
El Blanco (Mark Sanders) Terraformer
0:56
Active
4.0

2023-05-17

Ad intro song #1
El Blanco (Mark Sanders) Terraformer
2:33
Active
3.8

2023-09-20

Adaptable War Design (awd) (unreleased)
El Blanco (Mark Sanders) Terraformer
3:28
Active
3.0

2022-05-24

Add then substract
Hunz (Johannes Van Vliet)
4:37
Active
4.4

2023-09-05

After Hours
Elwood (Jussi-Matti Salmela)
3:39
Active
4.0

2023-05-26

After Sunset
Chuck Biscuits (Andrew Fort) Kosmic Free Music Foundation [KFMF]
19:56
Active
3.7

2023-08-23

After the storm
Hunz (Johannes Van Vliet)
3:08
Active
4.2

2023-09-06

Afterburner Cover
Dubmood (Kalle Jonnson) Razor 1911
3:32
Active
4.9

2023-08-21

Afterlife
Tourach (Juha Leinonen) Chaos Theory
5:58
Active
4.7

2023-08-01

Afternoon
Coda (Ken Snyder)
1:44
Active
3.0

2023-09-04

Ag (unleaShed power)
Fred (1) (Frédéric Flavion) Surprise!Productions [S!P]
0:57
Active
4.3

2023-07-22

Against Time
LizardKing (Gustaf Grefberg)
2:06
Active
4.8

2023-09-28

Agony
Elwood (Jussi-Matti Salmela)
5:30
Active
4.8

2023-08-25

Air Conditioning
Coda (Ken Snyder)
1:30
Active
3.0

2023-08-28

AirNeZ In C Minor
Chuck Biscuits (Andrew Fort) DiE Productions (DiE)
1:39
Active
3.0

2021-07-15

Airwolf
LizardKing (Gustaf Grefberg)
0:30
Active
3.0

2023-09-19

Alan Merkin
Coda (Ken Snyder)
1:32
Active
3.0

2022-08-05

Alanya Spring
Zalza (Alessandro Bulér)
2:52
Active
4.3

2023-08-23

Alarm
eno93 (Jérôme Lemonnier)
2:54
Active
1.4

2023-09-15

Alchemy of 1999
Dario (Jussi Lind)
3:15
Active
3.5

2020-07-13

Alertia
MyVoice (Jukke Lundqvist) , Reptile
5:03
Active
4.8

2023-09-24

Alien Mind
Graff (Paweł Daudzward)
1:45
Active
4.5

2023-07-22

Alien Nation (Lost In Space)
Skidz (Ed Salisbury) Hemoroids [HMD]
3:55
Active
3.5

2022-09-24

Alien Penetration
LizardKing (Gustaf Grefberg)
3:04
Active
4.0

2023-09-30

Alien Projects Theme
BigYo (Marcin Dąbrowski)
4:33
Active
4.5

2023-09-04

Alien Soul
Graff (Paweł Daudzward)
1:38
Active
4.7

2023-09-29

All aboard the impure train!
Zabutom (Niklas Sjösvärd) IMPURE 1940
7:46
Active
4.0

2023-08-19

All Hallows Eve
Siren (Alexander Brandon) Kosmic Free Music Foundation [KFMF]
6:11
Active
4.0

2023-08-02

All soul's day
eno93 (Jérôme Lemonnier)
5:56
Active
2.9

2023-09-13

Alltime Classics
Bruno (Jussi Pietilä)
2:14
Active
4.3

2023-09-30

Alone
Belial (Jeremias Spiegel)
3:44
Active
5.0

2023-09-28

Alone (Day 26)
4-Mat (Matt Simmonds) Ate Bit
1:49
Active
4.5

2023-03-29

Alone again (redo)
cerror (Roel Heerspink)
3:03
Active
4.4

2023-09-20

Alone in the City
Traven (Romain Gauthier)
5:31
Active
4.6

2023-08-19

Altar of Sacrifice
Grif (Faragó Péter) grif
6:29
Active
2.5

2023-05-18

Altar of Sacrifice 2
Grif (Faragó Péter) grif
6:25
Active
3.0

2023-05-06

Altered Silence
Coda (Ken Snyder)
1:32
Active
4.0

2022-02-21

Alternative Park
KilleR
3:59
Active
4.4

2023-09-03

Always Remember - The Peak Pt. 2
Xerxes (Klaus Lunde) Jade , Night 55
2:23
Active
4.8

2023-08-26

Always show respect for the ladies
Axel (Alexander Strohm) , cerror (Roel Heerspink) , Mystra (Kjell Pedersen) , Prime / PRM (Carl Engström)
2:51
Active
4.3

2023-07-18

Amazonas
Skaven (Peter Hajba) Future Crew
2:43
Active
5.0

2022-12-27

Amazonas (Dynomite Mix)
Skaven (Peter Hajba) Future Crew
10:14
Active
4.3

2023-09-04

Ambience
Xerxes (Klaus Lunde)
2:34
Active
4.4

2023-08-20

Ambient Light
Vogue (Magnus Hogdahl)
0:34
Active
4.4

2023-09-01

Ambient Power
Vogue (Magnus Hogdahl)
2:33
Active
4.6

2023-09-15

Ambrozia
Noiseless (Jogeir Liljedahl) , Scorpik (Adam Skorupa) Pulse
12:03
Active
4.8

2023-09-29

Amen Temple
Coda (Ken Snyder)
1:12
Active
3.0

2021-02-18

Among the stars
Skuter (Filip Skutela)
2:13
Active
4.4

2023-08-25

Amoxacilin
Acidline (Martin Spielmans) High Society
4:09
Active
4.0

2023-03-19

Amperical Theme
LizardKing (Gustaf Grefberg)
2:23
Active
4.0

2022-02-05

Amused
Xerxes (Klaus Lunde) Brainstorm
1:43
Active
4.7

2023-09-07

An Amazing Event!
Dualtrax (Marco Stahl)
1:13
Active
4.5

2023-09-20

An Ordinary Ant
Coda (Ken Snyder)
1:39
Active
1.5

2022-02-21

Anal Breeze
Coda (Ken Snyder)
1:08
Active
4.0

2023-05-24

Ancient
Xerxes (Klaus Lunde)
2:49
Active
3.5

2023-08-26

Ancient Stories
Awesome (Victor Vergara)
6:31
Active
4.7

2023-08-18

Ancient Yatze
Xerxes (Klaus Lunde)
2:05
Active
4.0

2023-09-02

Andromeda
rams (Ramon Ott)
4:55
Active
4.3

2023-08-26

Aneme
El Blanco (Mark Sanders) Terraformer
1:09
Active
4.0

2022-01-12

Angels
!Cube (Toni Lönnberg) Trauma Child Genesis [TCG]
1:39
Active
4.4

2023-07-03

Animals
Coda (Ken Snyder)
1:06
Active
3.0

2023-08-22

Anna May (Day 12)
4-Mat (Matt Simmonds) Ate Bit
1:20
Active
3.0

2022-01-08

Anna's Erotic Cafe
Zalza (Alessandro Bulér)
0:53
Active
4.0

2023-09-23

Anomalous Panda
Coda (Ken Snyder)
1:11
Active
3.0

2023-04-21

Another Generic Song
Coda (Ken Snyder)
1:32
Active
5.0

2021-07-16

Another Score (unleaShed power)
Fred (1) (Frédéric Flavion) Surprise!Productions [S!P]
1:16
Active
3.0

2022-07-04

Ant Attack
Graff (Paweł Daudzward)
3:23
Active
4.0

2023-09-05

Anthem
Nightbeat (Carl Larsson)
5:32
Active
4.3

2023-09-23

Antibird
Coda (Ken Snyder)
1:19
Active
4.0

2022-07-20

Antichthones
Coda (Ken Snyder)
0:30
Active
4.0

2023-05-19

Anxiety
Hunz (Johannes Van Vliet) , Norfair (Carl Aborg) Kosmic Free Music Foundation [KFMF]
3:29
Active
4.4

2023-08-10

Ao
Coda (Ken Snyder)
1:16
Active
4.0

2022-07-17

Aphrodisiac
Rapture (Fabian Del Priore)
2:57
Active
4.6

2023-08-23

Apidya Level 2.1
Rapture (Fabian Del Priore)
2:30
Active
4.8

2023-09-29

Apidya Level 5.1
Rapture (Fabian Del Priore)
2:20
Active
4.5

2021-08-28

Apocalypse
Megaman (Henri Hurtig)
4:24
Active
3.6

2023-08-20

Apollo 11
Area 51 (Dan Nyman)
2:56
Active
4.3

2023-09-24

Apple Jerks
Coda (Ken Snyder)
0:48
Active
3.0

2022-07-03

Applesauce Tale
Coda (Ken Snyder)
1:22
Active
4.0

2023-09-23

Approach
Nightbeat (Carl Larsson)
3:04
Active
3.3

2023-05-03

Approaching Antares
Svolkraq (Kjetil Hoem) Gollum
4:08
Active
4.0

2023-09-21

Apricot Cinnamon Jam
Reed (Jaakko Kaitaniemi)
3:31
Active
4.6

2023-09-16

April Twools
Nikku4211
2:02
Active

2023-07-10

Aquaphobia
Purple Motion (Jonne Valtonen) Future Crew
2:32
Active
4.5

2023-09-17

Aquarious
Mystical (Asbjoern Andersen) purple
1:56
Active

2023-02-03

Aquarium
Awesome (Victor Vergara)
5:00
Active
4.7

2023-09-15

Aqueduct
Coda (Ken Snyder)
1:55
Active
5.0

2023-09-10

Arab Dream (Club Rmx)
Area 51 (Dan Nyman)
3:04
Active
3.7

2023-08-29

Arabian Nights
CeDeROM (Tomek Cedro)
1:54
Active
1.0

2021-07-07

Area 51
Area 51 (Dan Nyman)
3:24
Active
3.8

2023-08-17

Argus
Coda (Ken Snyder)
1:16
Active
4.0

2022-02-19

Arpeggiojörssiä kansalle
Paokala (Aleksi Sahala)
2:33
Active
4.0

2023-08-03

Art of Chrome
LizardKing (Gustaf Grefberg)
2:40
Active
4.4

2023-08-28

Artificial Avacado
Coda (Ken Snyder)
0:50
Active
4.0

2022-10-05

Artificial Sweetener
Funky Fish (Christian Finstad) , raina (Lasse Mattila) Brainstorm
3:12
Active
4.8

2023-08-26

Aryx
Karsten Koch
2:21
Active
4.7

2023-09-06

Asasa Muaet'al (release version)
El Blanco (Mark Sanders) Terraformer
3:12
Active
3.0

2023-08-21

Asasa Muaet'al (with vox) (unreleased version)
El Blanco (Mark Sanders) Terraformer
3:12
Active
3.5

2021-05-15

Ascent of the Cloud Eagle
Necros (Andrew Gregory Sega)
4:53
Active
4.8

2023-09-18

Asimilate Me
Hunz (Johannes Van Vliet)
4:12
Active
4.4

2023-09-28

Aslsa
Coda (Ken Snyder)
1:00
Active
4.0

2022-11-22

Asphalt Swamp
Coda (Ken Snyder)
2:10
Active
3.0

2020-12-14

Asshole Jazz
Xerxes (Klaus Lunde)
2:17
Active
4.0

2022-09-30

Asswaltz
Xerxes (Klaus Lunde)
1:09
Active
4.5

2023-08-19

Astaris
Karsten Koch
3:20
Active
4.8

2023-09-11

Asteroids & Hemmoroids
Coda (Ken Snyder)
0:42
Active
4.0

2023-05-05

Astral Chase
DjLizard
3:14
Active
5.0

2023-09-06

Astral Chase (Extended)
DjLizard
4:48
Active
4.2

2023-09-13

Astral Dreams
Nightbeat (Carl Larsson)
4:26
Active
4.3

2023-09-19

Astralscape
Ceekayed (Sampo Närhi)
7:56
Active
4.3

2023-07-14

Astraying Voyages
Purple Motion (Jonne Valtonen) Future Crew
4:27
Active
4.4

2023-06-20

At war with one sample on one channel of Tigris whistling International Karate
serpent (Touko Väre)
2:38
Active
4.0

2023-09-28

Atari Boy
Funky Fish (Christian Finstad)
2:29
Active
4.3

2023-08-26

Atlantic
Xerxes (Klaus Lunde)
3:33
Active
4.3

2023-08-26

Atlantis
Area 51 (Dan Nyman)
3:47
Active
4.3

2023-08-02

Atlantis Jr.
Coda (Ken Snyder)
1:16
Active

2020-12-17

Atomica MooZics
Salomon (Hannu Salonen)
6:35
Active

2020-12-10

ATTENTION!!
DRAX (Thomas Mogensen) Maniacs Of Noise
3:02
Active
4.7

2023-08-22

Aural Sea Edit
Falcon (Jacek Dojwa)
4:04
Active
4.7

2023-09-20

Aural Sunflower
Falcon (Jacek Dojwa) Pulse
5:12
Active
4.8

2023-08-29

Aurora
Awesome (Victor Vergara)
4:20
Active
4.9

2023-09-04

Aurora Borealis
Rapture (Fabian Del Priore)
5:27
Active
4.4

2023-08-29

Aurora Dawn
Seablue (Henrik Rønnow)
2:35
Active
4.0

2022-06-09

Automathic
Coda (Ken Snyder)
0:55
Active
4.5

2022-07-16

Autonomus
Skaven (Peter Hajba) Future Crew
1:55
Active
4.8

2023-09-10

Autonomus 2.0
Skaven (Peter Hajba) Future Crew
1:51
Active
5.0

2023-08-05

Autumn in Budapest
Carlos (Gábor Csordás )
4:00
Active
4.5

2023-06-07

Autumn Rain
Skuter (Filip Skutela)
0:55
Active
4.0

2020-01-22

Autumn's Dawning
Leviathan (US) (Andrew Carlson)
3:04
Active
4.0

2023-09-11

Autumnal Equinox
lemonade (Pasi Sakala)
3:47
Active
4.0

2021-12-05

Aviators
Rapture (Fabian Del Priore)
4:28
Active
4.0

2021-07-22

Awesome Pack Great Shelob
Coda (Ken Snyder)
1:15
Active

2023-04-08

Awoogah
Coda (Ken Snyder)
1:11
Active

2020-12-09

Ayulan
Ceekayed (Sampo Närhi)
8:13
Active
4.4

2023-07-20

Az ugynok
Carlos (Gábor Csordás )
2:06
Active
4.3

2023-09-25

A_*_L_*_P_*_H_*_A
Tommy (Thomas Jännicke) RISK
25:12
Active
3.6

2023-09-07

b0c or b02
Coda (Ken Snyder)
1:16
Active
3.0

2021-01-31

Babomba
Area 51 (Dan Nyman)
3:21
Active
4.7

2023-07-14

Babylon
Necros (Andrew Gregory Sega)
4:31
Active
5.0

2023-08-31

Back 2 B4 Tomorrow
DRAX (Thomas Mogensen) Maniacs Of Noise , Vibrants
3:48
Active
4.6

2023-09-18

Back For A Dance
Nightbeat (Carl Larsson)
2:15
Active
5.0

2022-06-13

Back in September
Acidline (Martin Spielmans) High Society
3:27
Active
3.0

2021-08-04

Back To Basic
Andromeda (Morgan Norrestam) , Mempheria (Andre Thomasson) Razor 1911
3:14
Active
4.7

2023-09-18

Back To Basic
Tito (Johan Lars Althoff) Candela [CNA] , The Planet of Leather Moomins
2:24
Active
3.9

2023-09-20

Backbeard
Coda (Ken Snyder)
1:26
Active
3.0

2020-12-11

Baconnaise
Coda (Ken Snyder)
1:19
Active
4.0

2021-07-16

Bacorn
Coda (Ken Snyder)
1:23
Active
4.0

2023-01-13

BADLAND (unreleased)
El Blanco (Mark Sanders) Terraformer
0:30
Active
3.0

2023-05-27

Bafh Introtune
Dualtrax (Marco Stahl)
0:38
Active
4.0

2022-05-17

Bag Donus
Coda (Ken Snyder)
1:52
Active

2023-07-15

Bagel Pocket
Coda (Ken Snyder)
1:08
Active
4.0

2023-03-28

Bagger
cerror (Roel Heerspink)
1:37
Active
4.6

2023-09-25

Bailando (Remix)
Area 51 (Dan Nyman)
2:49
Active
3.5

2023-08-09

Baked Beams
DRAX (Thomas Mogensen)
4:09
Active
4.5

2023-05-26

Balcon
Coda (Ken Snyder)
0:38
Active
4.0

2022-12-17

Baldus
Coda (Ken Snyder)
1:15
Active

2022-09-23

Bale
Coda (Ken Snyder)
1:13
Active
4.0

2023-05-31

Banana Conspiracy
Coda (Ken Snyder)
1:48
Active
4.0

2021-11-28

Bank Gothic Is A Bad Font
Coda (Ken Snyder)
1:03
Active
4.0

2023-02-05

Bard
Coda (Ken Snyder)
1:56
Active
4.0

2023-09-15

Bass Reflux
Coda (Ken Snyder)
1:03
Active
4.5

2022-11-02

Bass Solo At End
Coda (Ken Snyder)
1:13
Active
3.0

2023-03-01

Battery Love
Loonie (Ulf Liedberg) Digisonix
1:52
Active
5.0

2022-09-17

Battle Squadron Remake
Reed (Jaakko Kaitaniemi)
3:27
Active
3.7

2023-05-24

Beach
Maf (Benoît C.)
1:12
Active
4.5

2023-08-30

Beach In The Sky
Coda (Ken Snyder)
2:30
Active
4.0

2023-03-08

Beak
Coda (Ken Snyder)
0:30
Active
3.0

2023-04-30

Beansectors
Coda (Ken Snyder)
1:27
Active

2021-11-21

Beanulous Typography
Coda (Ken Snyder)
1:18
Active
4.0

2023-08-30

Beast From Inside
!Cube (Toni Lönnberg) Trauma Child Genesis [TCG]
4:21
Active
4.6

2023-09-16

Beat the beatMARIO!
Slash (Steven Velema) Fromage
3:08
Active
3.5

2023-03-09

Beat2
Tommy (Thomas Jännicke)
2:16
Active
4.2

2023-07-16

Beaufort Tryout 1
Reed (Jaakko Kaitaniemi) Fairlight (FLT)
3:44
Active
4.4

2023-08-30

Beauty And The Beast
Tommy (Thomas Jännicke)
4:32
Active
4.1

2023-09-17

Bed & breakfast
Joule Satanic Kids Enterprise [SKE]
2:43
Active
5.0

2023-04-28

Bed N Breakfast
Tito (Johan Lars Althoff) Plum
3:17
Active
4.7

2023-09-24

Beef Gravy
Coda (Ken Snyder)
0:54
Active

2021-10-06

Beefcase
Coda (Ken Snyder)
1:26
Active
4.5

2020-09-14

Beeper Blast From The Past (Yeah!!)
Pero-Fotar
4:33
Active
2.5

2021-07-23

Beer Hall Antics
Coda (Ken Snyder)
0:28
Active
3.0

2023-01-14

Bees
Leśnik (Piotr Leśnikowski)
1:43
Active
4.0

2023-09-22

Bejeweled 2 Suite
Skaven (Peter Hajba) Future Crew
31:15
Active
4.6

2020-03-24

Bejeweled 2 Theme
Skaven (Peter Hajba) Future Crew
2:26
Active
4.6

2023-06-05

Bejeweled 3 - Butterflies
Siren (Alexander Brandon) , Skaven (Peter Hajba)
5:25
Active
4.8

2023-09-18

Bejeweled 3 - Classic
Siren (Alexander Brandon) , Skaven (Peter Hajba)
10:10
Active
4.7

2023-08-01

Bejeweled 3 - Diamond Mine
Siren (Alexander Brandon) , Skaven (Peter Hajba)
5:16
Active
4.0

2023-06-03

Bejeweled 3 - Ice Storm
Siren (Alexander Brandon) , Skaven (Peter Hajba)
5:34
Active
4.4

2023-05-28

Bejeweled 3 - Minigame 1
Siren (Alexander Brandon) , Skaven (Peter Hajba)
3:25
Active
4.4

2023-09-15

Bejeweled 3 - Minigame 2
Siren (Alexander Brandon) , Skaven (Peter Hajba)
4:34
Active
4.2

2023-09-01

Bejeweled 3 - Poker
Siren (Alexander Brandon) , Skaven (Peter Hajba)
5:41
Active
4.5

2023-06-02

Bejeweled 3 - Title
Siren (Alexander Brandon) , Skaven (Peter Hajba)
1:36
Active
4.8

2023-08-24

Bejeweled Twist Suite
Philippe Charron
24:54
Active
3.5

2020-10-30

Belive in Yourself (extended remix)
Stalker (US) (Ariel Gross)
3:52
Active
4.4

2023-07-05

Beluga
Coda (Ken Snyder)
1:32
Active

2023-07-07

Beneath Your Waves (Day 27)
4-Mat (Matt Simmonds) Ate Bit
2:03
Active
4.7

2023-09-28

Benighted Triumphant
serpent (Touko Väre)
4:58
Active
4.3

2023-07-08

Benighted1
serpent (Touko Väre)
4:25
Active
5.0

2023-07-21

benighted2
serpent (Touko Väre)
4:18
Active
4.4

2023-08-12

Bent Out Of Shape
Xerxes (Klaus Lunde) Brainstorm
5:13
Active
4.6

2023-08-23

bequille
Xyce (Tom Offringa & Roel Heerspink)
3:01
Active
4.5

2023-08-16

Beyond Reality
Vogue (Magnus Hogdahl)
1:01
Active
3.3

2023-08-30

Beyond The Gates
Kb (Tammo Hinrichs)
3:58
Active
5.0

2023-04-13

Beyond The Network
Skaven (Peter Hajba)
1:05
Active
5.0

2022-04-10

Beyond The Rainbow
Elwood (Jussi-Matti Salmela)
4:26
Active
4.6

2023-09-17

Beyond the Stars
Area 51 (Dan Nyman)
4:08
Active
4.3

2023-09-30

Biiiit 1
Tommy (Thomas Jännicke)
0:13
Active
4.0

2023-03-24

Billig und Gut
Acidline (Martin Spielmans) High Society
3:04
Active
3.2

2023-08-03

Bimpin
Coda (Ken Snyder)
1:01
Active

2021-04-13

Bind Rebind
El Blanco (Mark Sanders) Chaos Theory
4:38
Active
2.5

2023-07-09

Bingo Speedmath (Day 07)
4-Mat (Matt Simmonds) Ate Bit
1:52
Active
4.0

2023-09-07

Biohazard
Coda (Ken Snyder)
1:53
Active
4.0

2023-06-21

BIP 4 The Future
Frykman Binary Poets
7:10
Active
3.3

2023-09-12

Bipartite
Coda (Ken Snyder)
1:10
Active
4.0

2023-05-07

Biscuit World
Coda (Ken Snyder)
1:14
Active
3.0

2022-03-04

Bismuth
Coda (Ken Snyder)
0:56
Active
4.0

2023-02-11

Bist Du bereit für den wirklichen Spaß?
Acidline (Martin Spielmans) High Society
3:44
Active
4.8

2023-09-17

Bist Du bereit für den wirklichen Spaß?
Acidline (Martin Spielmans)
3:44
Dupe
4.0

2017-07-17

Bist Du endlich bereit für den wirklichen Spaß?
Acidline (Martin Spielmans) High Society
4:04
Rejected
Bist Du endlich bereit für den wirklichen Spaß?
Acidline (Martin Spielmans) High Society
4:04
Rejected
Bist Du endlich bereit für den wirklichen Spaß?
Acidline (Martin Spielmans) High Society
4:04
Active
4.5

2022-12-29

Bist Du erneut bereit für den wirklichen Spaß?
Acidline (Martin Spielmans) High Society
4:12
Active
5.0

2023-03-19

Bist Du erneut bereit für den wirklichen Spass
Acidline (Martin Spielmans) High Society
4:12
Active
5.0

2023-06-28

Bitbin UCDemo2
Coda (Ken Snyder)
1:55
Active
4.0

2023-08-31

BitBlaster (Party Version)
alk (Jim Redfern) , Zalza (Alessandro Bulér) Titan
2:36
Active
4.5

2023-09-04

BitChip
Haz
1:16
Active
4.0

2023-07-26

BitHappy
Core
2:30
Active
4.8

2023-09-22

Bitssalad #1 (intro 14)
Dubmood (Kalle Jonnson) Razor 1911
3:27
Active
4.5

2023-08-31

Biztro 4
Bzl
2:27
Active
5.0

2022-12-04

Bjornholm
Coda (Ken Snyder)
2:03
Active
5.0

2022-07-18

Bkotn
Coda (Ken Snyder)
1:40
Active
4.0

2021-09-27

Black Lipstick (Day 01)
4-Mat (Matt Simmonds) Ate Bit
1:15
Active
4.3

2023-09-19

Black Parity
Maxxilla The Invisible Amoebas
7:02
Active
3.5

2023-03-22

Black Sun
Lamer Pinky (Petr Klusal)
5:56
Active
4.4

2023-06-19

Blameless (Day 17)
4-Mat (Matt Simmonds) Ate Bit
2:26
Active
4.4

2023-09-24

Blammo!
Coda (Ken Snyder)
1:38
Active
4.0

2023-08-31

Blank Page (Day 24)
4-Mat (Matt Simmonds) Ate Bit
9:22
Active
4.6

2023-08-30

Blarg Blarg Blarg
Coda (Ken Snyder)
1:31
Active
4.5

2021-12-12

Bleh
Xerxes (Klaus Lunde)
2:52
Active
3.7

2023-09-04

Blink
Workbench (Sébastien Marchal)
5:06
Active
4.7

2023-08-24

Blockfarty
Coda (Ken Snyder)
2:04
Active

2023-09-25

Blood Moon
Coda (Ken Snyder)
0:45
Active
4.0

2022-01-19

Blossom
Coda (Ken Snyder)
1:25
Active
3.0

2021-10-14

Blue Clouds
Pero-Fotar
6:38
Active
2.0

2023-08-30

blue cool penguin
Falcon (Jacek Dojwa)
2:28
Active
4.5

2023-08-30

Blue Crystal
Awesome (Victor Vergara)
3:05
Active
5.0

2023-09-09

Blue Flame
Chris Jarvis
6:38
Active
4.7

2023-08-15

Blue Moments
Carlos (Gábor Csordás )
3:15
Active
4.6

2023-08-20

Blue Phoebe Love
Falcon (Jacek Dojwa)
3:42
Active
4.4

2023-09-19

Blue Polar Bears
Falcon (Jacek Dojwa)
2:36
Active
4.7

2023-04-26

Blümchen
Acidline (Martin Spielmans) High Society
3:31
Active
4.0

2022-09-20

Blumerem
Tommy (Thomas Jännicke)
3:03
Active
4.3

2023-07-01

Blur Reality
Chuck Biscuits (Andrew Fort) Mono211
5:31
Active
4.0

2023-09-18

Boci Jam
Carlos (Gábor Csordás )
2:22
Active
4.0

2023-08-31

Bog Wraith
LizardKing (Gustaf Grefberg)
0:34
Active
4.5

2022-06-07

Bomber Medley
Nobuyuki
2:59
Active
4.5

2022-02-11

Bompi Bearz
Funky Fish (Christian Finstad)
2:30
Active
4.8

2023-08-22

Bon Voyage (Klatsch in die Hände-Remix)
Acidline (Martin Spielmans) High Society
3:15
Active
1.5

2023-08-24

Bon Voyage (Space Invaders-Remix)
Acidline (Martin Spielmans) High Society
3:16
Active
2.0

2020-02-22

Bonorkraft
Coda (Ken Snyder)
0:30
Active
3.0

2020-12-11

Bonus
Coda (Ken Snyder)
1:25
Active
4.5

2023-09-18

Bonus
LizardKing (Gustaf Grefberg)
0:34
Active
4.0

2021-10-02

Bonus (Bah)
Hazel (Ketil Jensen)
1:01
Active
4.0

2023-09-13

Bonus (Beach Life)
Hazel (Ketil Jensen)
0:49
Active
3.5

2021-02-25

Bonus (Hippi)
Hazel (Ketil Jensen)
1:19
Active
5.0

2023-08-18

Bonus (Little Raver)
Hazel (Ketil Jensen)
0:28
Active
4.0

2022-07-24

Bonus (So What)
Hazel (Ketil Jensen)
1:32
Active
4.5

2022-12-01

Bonus (Still Can't Dance)
Hazel (Ketil Jensen)
0:41
Active
4.5

2022-07-25

bonus (The Time Traveller)
Hazel (Ketil Jensen)
0:36
Active
4.0

2023-01-28

Bonus (Total)
Hazel (Ketil Jensen)
1:21
Active
3.5

2022-05-31

Book
El Blanco (Mark Sanders) Terraformer
3:42
Active
3.0

2022-07-15

Boonka
Skaven (Peter Hajba)
11:50
Active
3.8

2021-12-01

Boros
Coda (Ken Snyder)
1:37
Active
4.0

2022-02-13

Bouss
Coda (Ken Snyder)
0:25
Active
4.0

2022-02-20

Bowtie
Coda (Ken Snyder)
1:43
Active
3.0

2023-03-04

Bq-Eq
Xerxes (Klaus Lunde)
8:25
Active
3.7

2023-09-01

Brain In A Jar
Coda (Ken Snyder)
1:34
Active
4.0

2023-01-09

BraveHeart (ClubMix)
Area 51 (Dan Nyman)
4:22
Active
4.2

2023-03-10

Bravenex
Xerxes (Klaus Lunde) Spetsnaz [STZ]
4:04
Active
4.6

2023-09-21

Brazil
Coda (Ken Snyder)
1:27
Active
3.0

2023-08-28

Breakfast Lunch
Coda (Ken Snyder)
1:41
Active
4.0

2023-09-19

Breakout of Bedroom
Falcon (Jacek Dojwa)
5:02
Active
4.6

2023-09-05

Breathing Love
Skaven (Peter Hajba)
2:39
Active
4.0

2023-06-18

Bright and Powerful
Acidline (Martin Spielmans) High Society
4:00
Active
4.3

2023-08-30

Bright Eyes
Radix (Jakob Svanholm)
1:59
Active
4.5

2023-09-18

BrixOut XP - Dance in Synthesized Land
Manwe (Alexander Matchugovsky) The SandS
2:48
Active
4.5

2023-07-27

BrixOut XP - Horse in Synthesized World
Manwe (Alexander Matchugovsky) The SandS
2:46
Active
4.0

2023-06-26

BrixOut XP - Leaving the Synthesized Land
Manwe (Alexander Matchugovsky) The SandS
1:13
Active
4.0

2021-10-26

BrixOut XP - New Wind in Synthesized World
Manwe (Alexander Matchugovsky) The SandS
1:29
Active
4.0

2023-02-07

BrixOut XP - On the Road to Synthesized Land
Manwe (Alexander Matchugovsky) The SandS
1:14
Active
4.2

2023-08-25

BrixOut XP - Rain in Synthesized World
Manwe (Alexander Matchugovsky) The SandS
3:29
Active
4.5

2023-08-08

BrixOut XP - Synthesized Land Nostalgy
Manwe (Alexander Matchugovsky) The SandS
1:29
Active
3.5

2022-01-14

Broken Heart
4-Mat (Matt Simmonds) Razor 1911
1:51
Active
4.7

2023-09-23

BrOmbEere
Tommy (Thomas Jännicke) RISK
2:57
Active
4.2

2023-09-30

Brooklyn Dreamfog
Svolkraq (Kjetil Hoem) Gollum
4:18
Active
3.3

2023-09-22

Bubbles
Coda (Ken Snyder)
1:25
Active
4.0

2022-12-10

Bubbles
Nightbeat (Carl Larsson)
1:57
Active
4.0

2023-06-30

Bud rap
Moby (Frédéric Motte)
2:36
Active
3.5

2023-06-18

Bug Splat
XyNo (Nicolas Allaire)
1:56
Active
3.4

2023-09-17

Bugs Invasion
Alexel
2:33
Active
3.0

2023-05-29

Bugu-Bug-Bach
El Blanco (Mark Sanders) Terraformer
2:09
Active
4.0

2022-11-29

Bullen
LizardKing (Gustaf Grefberg)
2:30
Active
4.3

2023-07-28

Bullet Octopus
Coda (Ken Snyder)
1:56
Active
4.0

2023-03-31

Bumber
Coda (Ken Snyder)
0:45
Active

2022-02-16

Burden
krotan (Evgeny V. Rozantsev)
0:29
Active
2.0

2023-04-03

Burning My Heart
CyberZip
4:11
Active
4.4

2023-09-18

Burning My Heart (Martyn's Magic remix)
Martyn (Mattias Sundling)
4:20
Active
4.8

2023-09-09

Burrito Cluster
Coda (Ken Snyder)
0:52
Active

2023-05-10

Bursting Bubble Boy
Joule
3:28
Dupe
5.0

2022-09-17

Burt
Coda (Ken Snyder)
1:24
Active
2.0

2022-10-18

Buscando bayas mágicas
franz_koopa (Jari S.)
3:11
Active
4.0

2023-08-20

Butt Chunk
Coda (Ken Snyder)
2:30
Active
3.0

2020-12-11

Butt Hat
Coda (Ken Snyder)
0:22
Active
4.5

2021-11-09

Buttboat
Coda (Ken Snyder)
1:16
Active
3.0

2023-03-10

Butterfingers-Chan
Coda (Ken Snyder)
1:51
Active

2021-02-14

Buttin
Coda (Ken Snyder)
0:54
Active

2022-01-14

Buttsores
Coda (Ken Snyder)
0:58
Active
4.5

2022-02-06

By My Bed
Xerxes (Klaus Lunde)
2:09
Active
4.1

2023-09-28

Bye
Coda (Ken Snyder)
0:54
Active
4.0

2022-05-03

Bye For Now
Nightbeat (Carl Larsson)
7:43
Active
5.0

2023-09-19

Byt and E (Remix)
LizardKing (Gustaf Grefberg)
3:19
Active
4.3

2023-06-06

C64 Lives (Part I)
LizardKing (Gustaf Grefberg)
3:42
Active
3.3

2023-08-21

Cabal
Ü (Michel Paul César Montagné)
5:39
Active
2.8

2023-07-01

Cafe del Acid
Acidline (Martin Spielmans) High Society
4:40
Active
4.1

2023-09-23

café au lait
rams (Ramon Ott) #cubernicus
1:55
Active
4.8

2023-08-19

Caillean
El Blanco (Mark Sanders) Terraformer
3:12
Active
3.3

2023-06-05

Can Not Wait
LizardKing (Gustaf Grefberg)
2:41
Active
4.0

2021-04-02

Can't Fake the Funk
Basehead (Dan Gardopée)
4:25
Active
4.0

2022-10-28

Candy
ko0x , Saga Musix (Johannes Schultz)
2:16
Active
4.0

2023-01-12

Cannon Angel
Skaven (Peter Hajba)
5:38
Active
4.1

2023-09-06

Cape Horn
Reed (Jaakko Kaitaniemi)
4:16
Active
4.4

2023-08-24

Captain Snerg! Rebellion in the Cyberdome!
e!ghtbm
4:00
Active
5.0

2023-08-30

Caramel Condition
ko0x
3:01
Active
5.0

2023-09-17

Carjacker
Reed (Jaakko Kaitaniemi)
3:02
Active
3.9

2023-08-11

Caroline in neon (hot pants)
Joule , ko0x
2:09
Active
4.7

2023-09-02

Carpe Futurus
Basehead (Dan Gardopée)
3:46
Active
2.3

2023-08-20

Cascade
Skaven (Peter Hajba)
1:28
Active
4.0

2023-09-28

Castaway
Sikamikanico (Johan Lundin)
3:49
Active

2021-01-20

Castle of the Mists
Necros (Andrew Gregory Sega)
3:36
Active
4.6

2023-07-25

Cat On Craq
Xerxes (Klaus Lunde)
1:23
Active
4.4

2023-08-14

Catch that goblin!!
Skaven (Peter Hajba) Future Crew
1:56
Active
4.8

2023-09-02

Celestial Fantasia
BeaT (Seth Peelle)
5:50
Active
4.8

2023-09-16

Cerices
Xyce (Tom Offringa & Roel Heerspink)
2:24
Active
5.0

2023-09-30

Cerror Has Gone Mad!
Funky Fish (Christian Finstad)
1:27
Active
5.0

2023-09-04

Certified
Xerxes (Klaus Lunde) Brainstorm
4:48
Active
4.7

2023-09-14

Cession
Xyce (Tom Offringa & Roel Heerspink)
2:46
Active
4.7

2023-08-18

Chakalaka
Acidline (Martin Spielmans) High Society
3:35
Rejected
Chakalaka
Acidline (Martin Spielmans) High Society
3:35
Active
5.0

2022-09-29

Chalupa Pass
Coda (Ken Snyder)
1:31
Active
3.0

2022-07-19

Champagne!
Tito (Johan Lars Althoff) Candela [CNA]
4:13
Active
4.4

2023-09-23

Changing Times
Rage (Harri Blom)
3:17
Active
3.5

2022-06-11

Chaos Orb
LizardKing (Gustaf Grefberg)
2:30
Active
3.3

2023-08-09

Chaotic Moment
LizardKing (Gustaf Grefberg) The Black Lotus
3:08
Active
4.3

2023-09-30

Chariots of Fire
LizardKing (Gustaf Grefberg)
3:12
Active
3.9

2023-08-28

Charmed
Artifact (Johan Candreus) Troon
2:37
Active
5.0

2020-10-22

Charts Overdrive
Purple Motion (Jonne Valtonen) Future Crew
2:10
Active
4.8

2023-09-04

Cheap Tune
EviL (Nelson Tavares)
1:55
Active
5.0

2023-06-26

Checkmate
Carlos (Gábor Csordás )
2:03
Active
4.5

2023-08-30

Cheeky Girls Fast Food
cerror (Roel Heerspink)
2:21
Active
5.0

2023-04-18

Cheese Land (unreleased)
El Blanco (Mark Sanders) Terraformer
0:30
Active
3.0

2020-11-16

Cherry Jam
Reed (Jaakko Kaitaniemi)
2:19
Active
4.8

2023-07-30

Chiba City Lights 96
Chuck Biscuits (Andrew Fort) Kosmic Free Music Foundation [KFMF]
11:10
Active
4.0

2023-09-04

Chicago
Xyce (Tom Offringa & Roel Heerspink) Titan
2:50
Active
4.5

2022-01-28

Chicago Chiphop
Dubmood (Kalle Jonnson) Razor 1911
2:11
Active
4.5

2023-09-29

Child Torture Centre
Apricorn (Henry Thompson)
1:58
Active
4.6

2023-08-31

Children (Classic Version)
Nightbeat (Carl Larsson)
2:44
Active
4.5

2021-12-22

Chill
Norfair (Carl Aborg)
4:29
Active
4.7

2023-08-28

Chip Gaming Vol 1
Sergeeo (Sergio De Prado)
1:43
Active
4.0

2022-11-16

Chip House
Acidline (Martin Spielmans) High Society
3:49
Active
3.8

2023-08-09

Chip-Slayer!
LizardKing (Gustaf Grefberg)
3:37
Active
4.6

2023-07-04

Chiphop #3
Dubmood (Kalle Jonnson) Razor 1911
2:45
Active
4.4

2023-09-04

Chiptro-2
Vim (Keith Baylis)
1:42
Active
5.0

2022-04-02

Chop Suey
Mystra (Kjell Pedersen)
2:35
Active
4.8

2023-09-29

Chose and Contemplate
Skaven (Peter Hajba)
2:01
Active
4.0

2021-12-28

Christmas hentai hooker
franz_koopa (Jari S.)
1:49
Active
4.6

2023-09-02

Chronos Beta - Ayesha's Meat
Cosmos Computer Music
4:50
Active
2.0

2021-07-31

Chronos Beta - B03_4
Cosmos Computer Music
2:18
Active
4.0

2023-07-31

Chronos Beta - B10_8
Cosmos Computer Music
0:58
Active
3.0

2020-11-20

Chronos Beta - B10_G
Cosmos Computer Music
1:36
Active
3.0

2022-12-18

Chronos Beta - B68_1
Cosmos Computer Music
1:41
Active
1.2

2023-08-11

Chronos Beta - B69
Cosmos Computer Music
1:16
Active
3.0

2020-12-20

Chronos Beta - B70
Cosmos Computer Music
1:05
Active
3.0

2023-02-04

Chronos Beta - B71_1
Cosmos Computer Music
0:46
Active
2.5

2023-09-09

Chronos Beta - B77
Cosmos Computer Music
1:55
Active

2023-05-05

Chronos Beta - B85
Cosmos Computer Music
1:11
Active

2023-02-17

Chronos Beta - B86_2
Cosmos Computer Music
2:49
Active
1.5

2023-05-11

Chronos Beta - B87
Cosmos Computer Music
1:05
Active
3.0

2023-02-09

Chronos Beta - BETA22_1
Cosmos Computer Music
1:06
Active
3.0

2020-12-24

Chronos Beta - Dynamic Groove
Cosmos Computer Music
6:35
Active
2.0

2020-11-02

Chronos Beta - Fire Flower
Cosmos Computer Music
2:12
Active
2.0

2022-01-14

Chronos Beta - FL_3 (Birdless Edit)
Cosmos Computer Music
2:54
Active

2023-02-20

Chronos Beta - FM_2
Cosmos Computer Music
2:06
Active
1.0

2020-12-18

Chronos Beta - FUNKN
Cosmos Computer Music
2:27
Active
3.0

2022-08-20

Chronos Beta - Microchip Circuit Overload
Cosmos Computer Music
2:20
Active
3.5

2023-06-28

Chronos Beta - My Robots
Cosmos Computer Music
2:41
Active
2.6

2023-08-28

Chronos Beta - On Mars
Cosmos Computer Music
3:11
Active
3.0

2022-08-25

Chronos Beta - Orbital
Cosmos Computer Music
4:01
Active
4.0

2020-11-21

Chronos Beta - Plunk
Cosmos Computer Music
1:33
Active
3.0

2022-12-26

Chronos Beta - RAW.ZIP
Cosmos Computer Music
1:30
Active
3.0

2020-11-06

Chronos Beta - ROBO (Edit)
Cosmos Computer Music
2:10
Active
2.0

2020-12-10

Chronos Beta - Short Computery Blip
Cosmos Computer Music
1:02
Active
4.0

2022-12-04

Chronos Beta - Spaceship Intruders
Cosmos Computer Music
1:55
Active
4.0

2023-05-16

Chronos Beta - STAR01_2
Cosmos Computer Music
1:25
Active
3.0

2022-01-07

Chronos Beta - STAR03_5
Cosmos Computer Music
6:08
Active
5.0

2021-07-29

Chronos Beta - TRANSF~1
Cosmos Computer Music
1:22
Active

2023-04-08

Chronos Beta - Urk (Edit)
Cosmos Computer Music
2:01
Active
2.5

2020-09-02

Chronos Beta - What The Hell?
Cosmos Computer Music
3:30
Active
2.3

2023-08-30

Chronos Beta - You Can't Spend Your Whole Life
Cosmos Computer Music
4:49
Active
2.7

2023-08-19

Church Pop
LizardKing (Gustaf Grefberg)
2:25
Active
3.4

2023-04-06

Cis
Ü (Michel Paul César Montagné)
6:46
Active
2.4

2023-07-09

City Of Legions
Nightbeat (Carl Larsson) Prometheus
4:32
Active
4.0

2023-09-19

Civilian
Reed (Jaakko Kaitaniemi)
2:25
Active
4.6

2023-04-04

Clamberdown
Reed (Jaakko Kaitaniemi)
3:25
Active
4.3

2023-08-12

CLASS (unreleased)
El Blanco (Mark Sanders) Terraformer
2:25
Active
4.0

2022-05-31

Classic Trash
DjLizard
2:13
Active
4.2

2023-07-01

Claustrophobia
LizardKing (Gustaf Grefberg)
3:29
Active
4.3

2023-06-01

Click
Necros (Andrew Gregory Sega)
3:09
Active
5.0

2023-09-18

Clone It
Hunz (Johannes Van Vliet)
3:20
Active
4.5

2023-06-20

Close Your Eyes
Crazy Man (Olmo Jonathan Stefano Jr. Lipani) Trackers At Work
4:14
Active
4.5

2023-09-28

Clouds
Maggot (Markus Bergman)
2:34
Active
5.0

2023-02-18

Clysm
Nightbeat (Carl Larsson) Prometheus
6:07
Active
4.2

2023-09-19

Cocoon Land
Maf (Benoît C.)
2:26
Active
4.6

2023-09-04

Codswollop
Reed (Jaakko Kaitaniemi)
2:51
Active
4.6

2023-09-20

Cold Fear
Big Jim (Jim Storer)
4:12
Active
4.0

2023-02-03

Cold Sensation
Alexel
3:27
Active
3.0

2021-07-10

Coleslaw
Xerxes (Klaus Lunde) Brainstorm
3:12
Active
4.2

2023-09-04

Collage
Necros (Andrew Gregory Sega)
5:07
Active
4.8

2023-07-09

Color Crime
Accord (SE) (Patrick Johansson)
1:53
Active
2.0

2022-12-04

Combustible Rain (release version)
El Blanco (Mark Sanders) Terraformer
2:46
Active
4.0

2022-03-12

Combustible Rain (remix) (unreleased version)
El Blanco (Mark Sanders) Terraformer
2:54
Active
3.0

2021-10-30

Combustion
Firelight (Brett Paterson)
1:54
Active
3.0

2022-08-11

Come Here
Reed (Jaakko Kaitaniemi)
2:59
Active
4.0

2023-09-24

Community
MyVoice (Jukke Lundqvist)
5:59
Active
4.7

2023-06-01

Complex Intro
Chibi-Tech (Jaelyn Nisperos)
1:16
Active
4.3

2023-09-05

Compulsion to Obey
LizardKing (Gustaf Grefberg)
2:59
Active
4.5

2023-08-24

Concerto For Piano
Spike (Claus Larsen) Reflectors (RFL)
2:27
Active
4.0

2023-08-01

Confide
Hunz (Johannes Van Vliet)
2:35
Active
4.3

2023-05-06

Configuration Dreams
Starpilot (Duane Aberle)
2:38
Inactive

2011-01-22

Confusion Rulezzz!
Spike (Claus Larsen)
7:14
Active
3.5

2023-06-03

Conga Track
SunSpire (Marco Marold) Titan
2:25
Active
3.0

2022-09-28

Connection
Guru Leo Grand (Leo Wilhelm Lindroos)
3:09
Active
4.0

2023-05-25

Contemplation
Mystical (Asbjoern Andersen) purple
2:26
Active
4.0

2022-01-24

Continuation
serpent (Touko Väre)
2:19
Active
4.0

2023-08-04

Contribution Sux
cerror (Roel Heerspink)
1:59
Active
5.0

2022-12-01

Controversy
Laamaa
2:31
Active

2023-08-29

Cool As A Cucumber
Virt (Jake Kaufman)
3:45
Active
5.0

2023-08-18

Cool City
Purple Motion (Jonne Valtonen)
3:00
Active
4.0

2023-08-23

Cool Maniac
LizardKing (Gustaf Grefberg)
4:17
Active
4.3

2023-08-05

Core Cracktro #1
Dualtrax (Marco Stahl)
1:16
Active
4.5

2022-09-16

Coredump 1
Maf (Benoît C.)
3:49
Active
4.0

2023-09-05

Coredump 2
Maf (Benoît C.)
4:55
Active
4.8

2023-09-15

Coredump 2 Short
Maf (Benoît C.)
3:57
Active
4.6

2023-09-06

Coredump 3
Maf (Benoît C.)
2:51
Active
3.9

2023-09-06

Corned Bouche
Coda (Ken Snyder)
1:24
Active
4.0

2023-09-21

Corque Screw
Xerxes (Klaus Lunde) Brainstorm
5:07
Active
4.3

2023-08-21

Cosmic Moon Power
Dualtrax (Marco Stahl)
2:02
Active
4.2

2023-08-24

Cosmic Outflow
Falcon (Jacek Dojwa) Pulse
3:45
Active
4.8

2023-09-25

Cosmic Outflow 2
Falcon (Jacek Dojwa) Pulse
3:25
Active
4.4

2023-07-22

Cosmotic
Maelcum (Dan Nicholson) Kosmic Free Music Foundation [KFMF]
2:37
Active
2.3

2023-09-30

Crackchip #11
Dubmood (Kalle Jonnson) Razor 1911
1:01
Active
4.8

2023-09-06

Cranberry Cruise
Reed (Jaakko Kaitaniemi)
3:36
Active
4.6

2023-07-11

Crazy Cat
Svolkraq (Kjetil Hoem) Gollum
2:53
Active
3.3

2023-07-09

Cream Cracker
serpent (Touko Väre)
1:43
Active
4.7

2023-09-16

Crescendo Decrescendo (unreleased)
El Blanco (Mark Sanders) Terraformer
10:43
Active
4.0

2020-12-12

Crockett's Theme
Wayfinder (Sebastian Grillmaier)
3:06
Active
4.6

2023-08-02

Crome vs Pikachu
Dualtrax (Marco Stahl)
1:26
Active
4.3

2023-07-06

Crosnake In Game Tune
Dualtrax (Marco Stahl)
1:01
Active
3.7

2023-06-24

Cruise Loose 2.0
Zodiak (Erik Stridell)
4:16
Active
5.0

2022-12-02

Crusader: No Remorse - Dimension 2012
Necros (Andrew Gregory Sega) Five Musicians
5:45
Active
4.7

2023-09-21

Crusader: No Remorse - Hypnotic
Necros (Andrew Gregory Sega) Five Musicians
3:09
Active
4.5

2023-06-04

Crusader: No Remorse - Military
Basehead (Dan Gardopée) Five Musicians
4:23
Active
4.3

2023-07-30

Crusader: No Remorse - Prison
Basehead (Dan Gardopée) Five Musicians
3:35
Active
3.3

2023-08-23

Crusader: No Remorse - Rebel Base 1
Necros (Andrew Gregory Sega) Five Musicians
3:14
Active
4.3

2023-09-25

Crusader: No Remorse - Rebel Base 2
Necros (Andrew Gregory Sega) Five Musicians
3:04
Active
4.3

2023-08-07

Crusader: No Remorse - Science
Basehead (Dan Gardopée) Five Musicians
5:22
Active
4.6

2023-07-11

Crusader: No Remorse - Science Station
Necros (Andrew Gregory Sega) Five Musicians
3:19
Active
4.6

2023-08-18

Crusader: No Remorse - The Traveler
Necros (Andrew Gregory Sega) Five Musicians
1:44
Active
4.7

2023-07-30

Crusin' Sicilia!
Zalza (Alessandro Bulér) Rebels
2:41
Active
3.5

2023-08-14

crystal (ripped off new order)
Acidline (Martin Spielmans) High Society
3:27
Active
3.0

2023-09-15

Crystalline tears
Nemesis (Andrew Wise)
3:11
Active
2.0

2020-11-14

Cuneiform
lemonade (Pasi Sakala)
2:43
Active
4.0

2023-07-03

Curse of women
Swallow [fi] (Janne Laitinen )
1:47
Active
4.5

2020-07-01

CyberFaktory
CeDeROM (Tomek Cedro)
8:34
Active
4.0

2023-09-06

Cyberjourney
Svolkraq (Kjetil Hoem) Gollum
2:35
Active
4.0

2023-06-27

Cybernostra Weekend
Unknown Artist Razor 1911
5:51
Active
4.0

2023-06-20

CyberPunk!
CeDeROM (Tomek Cedro)
4:39
Active
2.6

2023-09-13

CyberTrance
CeDeROM (Tomek Cedro)
5:02
Active
3.5

2023-09-11

Cycling! (Petimix)
Abaddon (Timo Taipalus) Abaddon
2:49
Active
4.0

2020-10-25

Cydonian Sky
Dubmood (Kalle Jonnson) Bastard Artists From Hell , Razor 1911
2:53
Active
4.8

2023-09-06

D 1A
Tommy (Thomas Jännicke)
0:34
Active
5.0

2023-09-30

D 1AB
Tommy (Thomas Jännicke)
1:24
Active
4.0

2023-09-28

D 1AC
Tommy (Thomas Jännicke)
1:43
Active
5.0

2023-09-08

Da Feelin'
JosSs (Jose Manuel)
3:39
Active
4.7

2023-07-13

Daft Overload
Norfair (Carl Aborg)
3:01
Active
3.6

2023-07-23

Dam Nation
Reed (Jaakko Kaitaniemi)
6:02
Active
3.8

2023-09-30

Dance of September
Dario (Jussi Lind)
2:35
Active
4.0

2023-03-22

Dance of the Dead
Necros (Andrew Gregory Sega) , Siren (Alexander Brandon)
3:06
Active
4.6

2023-08-29

Dancing in slow motion
ko0x
4:05
Active
4.3

2023-05-08

Dancing On My Own (80s House-Remix)
Acidline (Martin Spielmans) High Society
3:55
Active
3.1

2023-09-05

Dancing With R4zi3l
Dualtrax (Marco Stahl)
0:46
Active
5.0

2023-09-16

Dangar
LizardKing (Gustaf Grefberg)
1:59
Active
3.0

2022-12-22

Danny elfmania
Moby (Frédéric Motte) NoOoN
5:39
Active
4.2

2023-08-20

Dans la rue
Xyce (Tom Offringa & Roel Heerspink)
2:42
Active
4.5

2023-09-07

Dark
Belial (Jeremias Spiegel)
3:09
Active
4.2

2023-08-21

Dark Ages (Iterate)
Xerxes (Klaus Lunde) imbusy & xerxes
2:13
Active
4.6

2023-07-23

Dark Days 2.0 (XM version)
Zodiak (Erik Stridell)
5:16
Active
4.0

2023-08-21

Dark Intentions (Xerxes Remix)
Clyde (Morten Christiansen) , Xerxes (Klaus Lunde)
3:11
Active
4.3

2023-09-19

Dark Voices of Destiny
Crazy Man (Olmo Jonathan Stefano Jr. Lipani) Trackers At Work
10:20
Active
4.2

2023-09-06

Darkside
Acidline (Martin Spielmans) High Society
3:42
Active
3.0

2020-10-20

Das Model (A Tribute)
Acidline (Martin Spielmans) High Society
3:27
Active
3.4

2023-09-17

Datajack
Skaven (Peter Hajba) Future Crew
4:05
Active
4.3

2023-06-22

Dave Hollis
Vim (Keith Baylis)
2:30
Active
4.2

2023-07-09

Dawn
Xerxes (Klaus Lunde) Jade , Night 55
2:18
Active
4.8

2023-09-30

Dawn Main Theme
Awesome (Victor Vergara)
5:29
Active
4.4

2023-08-27

Dawn Of Pendragon
Nightbeat (Carl Larsson) Prometheus
6:29
Active
2.0

2023-09-16

Day of the lollipop
Purple Motion (Jonne Valtonen)
3:10
Active
2.2

2023-08-15

Daybreak in Stereo
BigYo (Marcin Dąbrowski)
3:36
Active
4.5

2022-12-14

Dead floor
eno93 (Jérôme Lemonnier)
3:26
Active
3.5

2023-06-25

Dead Flower
Falcon (Jacek Dojwa)
5:36
Active
4.7

2023-07-15

Dead Lock
Elwood (Jussi-Matti Salmela)
4:19
Active
4.9

2023-09-27

Deadly Groove
Norfair (Carl Aborg)
1:30
Active
5.0

2023-08-11

Deadly Injection
Area 51 (Dan Nyman)
3:17
Active
3.4

2023-09-06

Debut
Outzider (Christer Børge Lunde) Darkzone
4:14
Active
4.4

2023-09-20

Deep In Her Eyes
Skaven (Peter Hajba)
4:16
Active
4.0

2023-03-08

Deep Ocean
Rapture (Fabian Del Priore)
6:30
Active
4.7

2023-08-29

Deep Space (Compo Cut)
Bacter (Itzik Shemesh-Sarel) , Saga Musix (Johannes Schultz)
4:02
Active
4.0

2023-08-30

Defeated
LioZ (Thomas Bergersen)
2:44
Active
4.5

2023-09-10

Defect
Graff (Paweł Daudzward)
3:25
Active
4.3

2023-09-28

Dej Muzko Prpali!!!
Pero-Fotar
6:11
Active
2.5

2023-08-23

Delhi Delhi Tanga
Loonie (Ulf Liedberg)
3:05
Active
4.0

2022-05-06

Delicious Nightmare
Jason (Kim Morten Jensen) The Silents [TSL]
1:17
Active
4.0

2023-06-11

Delightful
Falcon (Jacek Dojwa)
3:28
Active
4.5

2023-09-08

Delirious (Relax Your Body-Remix)
Acidline (Martin Spielmans) High Society
3:44
Active
2.0

2023-05-02

Delta
LizardKing (Gustaf Grefberg)
1:29
Active
5.0

2019-10-01

Delta Title Theme
Rapture (Fabian Del Priore)
3:05
Active
4.0

2023-04-24

Delusion
BigYo (Marcin Dąbrowski)
3:33
Active
5.0

2021-06-15

demolition - on'n'on
Deetsay (Tero Heikki Mäyränen) Dual Crew , Orange
3:01
Active
3.0

2023-07-30

Depression. but why?
Algar (Jimmy Granath)
1:13
Active

2023-09-24

Depth
Electric Keet (Jason Tracer)
6:42
Active
4.0

2023-03-11

Depths
Linde
3:36
Active
3.5

2023-09-07

Depths of Communication
Cardamar (Marco Sijbesma)
4:00
Active
4.2

2023-09-08

Der 6Mal Mann
Acidline (Martin Spielmans) High Society
3:31
Active
4.1

2023-08-14

Der Letzte Abend auf der Welt (E-Pop Remix)
Acidline (Martin Spielmans) High Society
3:08
Active
3.0

2023-08-08

Der Robotertanz, wie wir ihn mögen
Acidline (Martin Spielmans) High Society
4:38
Active
4.0

2023-08-12

Descent Into Matter
Cirdan (Lauri Turjansalo) Paradise Dreams
3:47
Active
4.8

2023-09-18

Desert Sands (new)
El Blanco (Mark Sanders) Terraformer
2:41
Active
4.0

2021-10-21

Desire
Logos
4:39
Active
4.1

2023-09-07

Destination Unknown: The Megamix
Hazel (Ketil Jensen)
12:06
Active
4.0

2022-11-17

Destruction
Norfair (Carl Aborg) Kosmic Free Music Foundation [KFMF]
6:35
Active
4.4

2023-09-19

Deviator
A_Hamre (Anders Hamre)
4:04
Active
4.0

2022-10-04

Devotion Shuttle
Malmen (Kristoffer Malmgren)
3:41
Active
4.7

2023-09-04

Diamond Shrine
Xerxes (Klaus Lunde) Brainstorm
3:50
Active
4.4

2023-09-08

Dick Bokeh
Coda (Ken Snyder)
0:41
Active
5.0

2022-08-24

Diesel
Little Bitchard (Arto Koivisto) Kewlers
1:42
Active
2.3

2023-05-21

Dieter is not gay
Acidline (Martin Spielmans) High Society
4:31
Active
3.5

2022-10-25

Dig Deep
Xerxes (Klaus Lunde) Brainstorm
3:40
Active
4.4

2023-09-25

Dig Deep
Chuck Biscuits (Andrew Fort) Mono211
9:29
Active
4.0

2023-09-07

Digg Deep
Aahz (David Fitches)
7:16
Active
3.8

2023-06-22

Digital Adventure 2.0 (2002)
Ultrasyd
1:21
Active
4.4

2023-09-08

Digital Dreamer
Infinity (Arttu Kataja) The Carebears [TCB]
7:02
Active
4.0

2022-02-03

Digital Feelings
Dualtrax (Marco Stahl)
1:09
Active
4.3

2023-09-04

Digital Orgasm
Accord (SE) (Patrick Johansson)
4:25
Active
4.0

2023-03-21

Diler
Acidline (Martin Spielmans) High Society
3:41
Active
4.4

2023-09-16

dino 3
Graff (Paweł Daudzward)
1:08
Active
4.0

2023-05-22

Dirty Walk
Necros (Andrew Gregory Sega)
4:32
Active
4.3

2023-06-15

Disbelief
Xerxes (Klaus Lunde) Spetsnaz [STZ]
18:02
Active
4.4

2023-08-11

Disco del Copstation
Reed (Jaakko Kaitaniemi)
3:29
Active
4.6

2023-09-08

Dismal Sport
Chrono (Oyvind Mork)
3:19
Active
4.3

2023-08-05

Disregarder
Coda (Ken Snyder)
1:34
Active
5.0

2023-06-15

Distance
Jophish
3:42
Active
4.0

2023-07-30

Distance
The Zapper
3:21
Active
5.0

2020-11-22

Disturbia (Do Not Disturb-Remix)
Acidline (Martin Spielmans) High Society
4:44
Active
2.0

2023-06-02

Diversion
Chuck Biscuits (Andrew Fort) DiE Productions (DiE)
2:47
Active
4.0

2021-04-28

Dobeheaven
Tommy (Thomas Jännicke)
4:02
Active
4.3

2023-09-24

Dodging Bullets
raina (Lasse Mattila)
2:30
Active
4.5

2023-09-02

Dogmatic Erratic
Starpilot (Duane Aberle)
4:14
Inactive

2010-12-21

Doin it 99
Carlos (Gábor Csordás )
5:34
Active
3.8

2023-09-27

Don't Be Afraid of Me
Leśnik (Piotr Leśnikowski) Razor 1911
1:01
Active
4.0

2023-08-09

Don't Be Afraid To Sweat (Classic House-Remix)
Acidline (Martin Spielmans) High Society
3:56
Active
2.5

2023-07-08

Don't Cry It's Christmas [stella]
Crazy Man (Olmo Jonathan Stefano Jr. Lipani)
4:43
Active
4.3

2023-08-14

Don't Give Up
Rage (Harri Blom)
3:00
Active
3.8

2023-09-04

Don't hurt
Traven (Romain Gauthier)
1:39
Active
4.7

2023-09-09

Don't Stop
MyVoice (Jukke Lundqvist)
5:38
Active
4.8

2023-08-28

Don't Turn Around
Beek (Chris Hampton)
1:50
Active
4.0

2022-04-27

Donovan's Moonbike
Radix (Jakob Svanholm)
2:36
Active
4.6

2023-09-23

DOODLIN
El Blanco (Mark Sanders) 3STF
2:18
Active
3.5

2023-09-06

Doodlin'
El Blanco (Mark Sanders) 3STF
2:18
Active
4.0

2023-02-16

Doodlin' (different comment version)
El Blanco (Mark Sanders) Chaos Theory
2:18
Active
4.0

2021-07-07

Doodlin' (original)
El Blanco (Mark Sanders) Terraformer
2:18
Active
4.0

2023-01-27

Dope (Onward ride original)
Jugi (Jukka Kaartinen) Complex
8:34
Active
4.5

2023-09-08

Doskpop Intro
LizardKing (Gustaf Grefberg)
2:02
Active
4.4

2023-05-25

Downtown Cab
Tito (Johan Lars Althoff) Candela [CNA]
5:35
Active
4.7

2023-09-06

Dragon Warrior Remix
Xerxes (Klaus Lunde)
3:04
Active
4.0

2023-08-08

DragonLore
Skaven (Peter Hajba)
3:28
Active
5.0

2023-02-20

Dream Crapper
serpent (Touko Väre)
2:05
Active
4.3

2023-07-30

Dream Dimension
Rapture (Fabian Del Priore)
3:32
Active
3.4

2023-09-08

Dreaming in Green
Necros (Andrew Gregory Sega)
5:24
Active
4.9

2023-09-22

Dreamplay
Norfair (Carl Aborg)
4:00
Active
4.7

2023-08-25

Dreams of Deez
Vogue (Magnus Hogdahl)
2:50
Active
4.0

2023-02-18

Dreams of Despair
Awesome (Victor Vergara)
5:59
Active
4.4

2023-07-18

Dreams of Hope 2
Awesome (Victor Vergara)
5:51
Active
4.9

2023-09-02

Dreams of the Future
SoulDragon (Bryan Martin)
2:30
Active

2023-07-22

Dreamstate
Chuck Biscuits (Andrew Fort) Kosmic Free Music Foundation [KFMF]
12:01
Active
2.5

2022-03-13

Dreamstone
Nightbeat (Carl Larsson)
2:54
Active
3.0

2022-01-27

Drift
Nobody (Tommi Uimonen) Wild Light
3:38
Active
5.0

2021-05-02

Drift
theHacker (Krisjanis P. Gale) Kosmic Free Music Foundation [KFMF]
9:10
Active
3.0

2019-11-03

Drift (Darkside Remix)
theHacker (Krisjanis P. Gale) Kosmic Free Music Foundation [KFMF]
6:11
Active
3.5

2023-09-28

Droid
LizardKing (Gustaf Grefberg)
3:14
Active
4.5

2023-08-28

Drop The Bass Knob
Chuck Biscuits (Andrew Fort) Kosmic Free Music Foundation [KFMF]
9:29
Active
4.7

2021-07-29

Drunk Diving
DRAX (Thomas Mogensen)
3:00
Active
4.5

2023-06-14

Drunken Noise (TMD2005 Version)
Hazel (Ketil Jensen)
3:38
Active
4.4

2023-09-30

Drying Out
Hunz (Johannes Van Vliet)
3:16
Active
4.0

2023-07-01

Du Weist Doch (XM)
Xyce (Tom Offringa & Roel Heerspink)
2:31
Active
3.7

2023-09-19

Dual Complex
El Blanco (Mark Sanders) Terraformer
1:35
Active
3.0

2021-02-18

Duke Nukem Forever!
CeDeROM (Tomek Cedro)
0:10
Jingle
1.0

2011-08-22

DUMB (unreleased)
El Blanco (Mark Sanders) Terraformer
2:30
Active

2022-12-02

DUMBASS (unreleased)
El Blanco (Mark Sanders) Terraformer
0:23
Active
1.8

2023-07-21

Dust to Dust
Leviathan (US) (Andrew Carlson)
3:40
Active
4.4

2023-09-29

DX-Ball 2 - beatWave
Sidewinder (Eric Geiseke)
7:41
Active
4.0

2023-02-01

DX-Ball 2 - DustRaiders
Sidewinder (Eric Geiseke)
3:27
Active
3.7

2023-02-26

DX-Ball 2 - ORbitalFlower
Sidewinder (Eric Geiseke)
5:35
Active

2021-12-13

E..M.B.R.I.O.N
CeDeROM (Tomek Cedro)
2:38
Active
3.5

2023-09-07

Earl
Coda (Ken Snyder)
1:39
Active
3.5

2022-12-04

East Enders
Reed (Jaakko Kaitaniemi)
3:00
Active
4.3

2023-08-14

Easy Does it
Hunz (Johannes Van Vliet)
2:18
Active
5.0

2022-03-02

Eating The Fisk
XenoDuck Facerape
1:00
Active
3.0

2020-12-18

Ecclesiastical Scrotum
Starpilot (Duane Aberle)
3:57
Active
4.4

2023-05-13

eer amak et amorv'e!
Keith303 (Klaus Spang)
7:43
Active
4.5

2023-09-08

Ei Sätkiä Sälleille
Chanel5 (Eero Lempinen)
4:39
Active
3.8

2023-08-25

Eighties Lullaby
cerror (Roel Heerspink)
2:21
Active
3.5

2022-10-21

Ein Ohrwurm für zwischendurch
Acidline (Martin Spielmans) High Society
2:35
Active
4.0

2022-03-06

Ejtynnir
Reed (Jaakko Kaitaniemi)
3:50
Active
4.2

2023-07-02

Electric Fields
Norfair (Carl Aborg)
1:15
Active
5.0

2020-10-29

Electron Gun Jack
El Blanco (Mark Sanders) Terraformer
2:51
Active
3.0

2023-08-29

Electronic Dreams
Andreas (Andreas Viklund)
3:06
Active
4.0

2023-09-06

Electronic Music!
Dualtrax (Marco Stahl)
1:48
Active
4.0

2023-08-19

Elektrode
Xerxes (Klaus Lunde) Night 55
4:36
Active
4.3

2023-07-12

Elephantism
Reed (Jaakko Kaitaniemi)
5:07
Active
4.5

2023-08-14

Eliminator Cover
Dubmood (Kalle Jonnson) Razor 1911
1:20
Active
4.0

2023-08-08

Elojatek
Carlos (Gábor Csordás )
4:34
Active
4.4

2023-05-19

Emerald Fortress (2009)
Ultrasyd
4:25
Active
4.7

2023-09-18

Emerald Visions
Leviathan (US) (Andrew Carlson)
4:11
Active
4.7

2023-09-06

emergency capsule
Falcon (Jacek Dojwa)
8:38
Active
3.8

2023-09-18

Endless Eternity
LizardKing (Gustaf Grefberg)
3:05
Active
4.0

2021-05-31

Endscroll Theme
Xerxes (Klaus Lunde) Night 55
2:54
Active
4.7

2023-09-22

Enemies Closer
Dubmood (Kalle Jonnson) , wasp (Alex Löfgren)
3:34
Active
4.0

2021-12-19

Energy 14
Acidline (Martin Spielmans) High Society
3:27
Active

2020-12-10

Enigma
CeDeROM (Tomek Cedro)
5:07
Active
3.7

2023-06-11

Enigmatical Sound (Lost In Space)
Skidz (Ed Salisbury) Hemoroids [HMD]
0:41
Active
3.0

2023-06-05

Enough Of this Shit
Crazy Man (Olmo Jonathan Stefano Jr. Lipani) Trackers At Work
4:51
Active
4.2

2023-09-13

Ephemeral Wanderer
C. C. Catch (Kenny Chow)
5:38
Active
4.5

2023-09-22

Epic Pinball - Android
Robert Allen
1:32
Active
4.6

2023-09-12

Epic Seascape
Ryan Cramer
3:40
Active
5.0

2023-01-29

Epidemic Introtune
C. C. Catch (Kenny Chow) Renaissance
1:56
Active
3.0

2022-02-21

Error in head
Algar (Jimmy Granath)
3:29
Active
3.0

2023-09-19

Es war einmal ein Wal
Acidline (Martin Spielmans) High Society
3:43
Active
4.0

2023-04-15

Escape
Leviathan (US) (Andrew Carlson)
2:28
Active

2023-06-13

Escape from Atlantis
Traven (Romain Gauthier)
2:44
Active
4.3

2023-07-26

Escape from Delirium - Fade to Dark
Walter Koch
3:11
Active
4.0

2022-08-29

Escape From Monkey Island Cracktro
2pac (Giovanni Bagaccin) Defacto2 [DF2]
2:30
Active
3.7

2023-08-25

Escape from Mountain Gate
T-101
6:25
Active
5.0

2021-09-19

Escape from Pori
Purple Motion (Jonne Valtonen)
4:07
Active
4.2

2023-08-24

Escape from Universe Part II
Graff (Paweł Daudzward)
1:59
Active
4.5

2021-08-14

Essentials Entact
Nightbeat (Carl Larsson)
3:04
Active
5.0

2023-09-05

Eternal Flame (Remix)
Dario (Jussi Lind)
3:13
Active
3.8

2023-07-20

Eternity
4-Mat (Matt Simmonds) Ate Bit
2:54
Active
4.9

2023-09-21

Eternity
Lluvia (Anne Haessig)
5:41
Active
4.4

2023-05-21

Everlasting Smile
Andreas (Andreas Viklund) Lagoona
5:43
Active
4.4

2023-09-22

Everlasting War
Andromeda (Morgan Norrestam) Kosmic Free Music Foundation [KFMF]
2:17
Active
5.0

2023-09-10

Every Day Partyday
Dualtrax (Marco Stahl)
0:46
Active
4.0

2022-12-17

Existance (Bootti)
Spook (Sami Kuronen) codex , Ihana , Kahvila
3:21
Active
3.3

2023-05-28

Existing (S3M version)
MickRip (Mick Rippon)
4:11
Active
5.0

2022-12-05

Existing (XM version)
MickRip (Mick Rippon)
3:30
Active
3.8

2023-09-30

Exit Strategy (Day 20)
4-Mat (Matt Simmonds) Ate Bit
1:07
Active
4.0

2022-11-21

Experience
Elwood (Jussi-Matti Salmela)
3:00
Active
4.2

2023-09-14

Experimental Thaw
cxw
2:30
Active
3.9

2023-09-02

Experimentations
eno93 (Jérôme Lemonnier)
3:14
Active
1.3

2023-08-29

Exploration
Purple Motion (Jonne Valtonen) Future Crew
2:30
Active
5.0

2022-06-02

Exploration
Vogue (Magnus Hogdahl)
2:30
Active
4.0

2023-09-30

Exposed
MickRip (Mick Rippon)
6:36
Active
4.5

2023-09-02

Exquisite
Andreas (Andreas Viklund)
5:16
Active
4.3

2023-07-22

Faeerytale
Gnosis (Gisle M. M.)
3:56
Active
4.0

2023-03-06

Fairlight in Action
Reed (Jaakko Kaitaniemi)
3:45
Active
4.8

2023-08-27

Faja (2)
CeDeROM (Tomek Cedro)
2:26
Active
2.2

2023-08-10

Fall From Sky
Elwood (Jussi-Matti Salmela)
2:57
Active
4.8

2023-08-28

Falling Flakes
Norfair (Carl Aborg)
2:02
Active
4.0

2023-08-28

Falling Leaf
BigYo (Marcin Dąbrowski)
1:32
Active
4.3

2023-09-14

Falling to Pieces (Day 30)
4-Mat (Matt Simmonds) Ate Bit
1:55
Active
4.0

2023-09-10

Fantaisie en Azerty
serpent (Touko Väre)
3:11
Active
4.8

2023-09-08

Fantastic Times
Syphus
1:17
Active
4.4

2023-06-05

Far Away
Elwood (Jussi-Matti Salmela)
5:52
Active
4.5

2023-09-20

Farandole
Alexel
3:23
Active
4.0

2023-04-09

Fast But Slow
Tommy (Thomas Jännicke)
5:31
Active
4.3

2023-08-06

FastBlast (unleaShed power)
Fred (1) (Frédéric Flavion) Surprise!Productions [S!P]
4:21
Active
2.5

2023-08-24

Faster Harder Accelerator
Lawb (Antti Viitamäki) NoID
0:56
Active
3.5

2022-01-23

Fastfunk
Walkman (Tor Bernhard Gausen)
8:31
Active
3.3

2023-09-21

Fat Cat Wants Tasty Fish
Manwe (Alexander Matchugovsky) The SandS
3:35
Active
4.0

2023-07-04

FEAR
CeDeROM (Tomek Cedro)
3:17
Active
4.0

2023-08-21

Fear and Wonder (extended)
serpent (Touko Väre)
4:37
Active
4.8

2023-09-19

Feats Of Valour
Elwood (Jussi-Matti Salmela)
4:12
Active
4.8

2023-09-16

Fed up with E.L.I.S.A. (2002)
Ultrasyd
2:40
Active
4.4

2023-09-21

Feed Your Supermind
Elwood (Jussi-Matti Salmela)
5:17
Active
3.5

2023-09-21

Feel the Groove in the Night
Acidline (Martin Spielmans) High Society
3:01
Active
4.0

2020-12-20

Feng Shui Schematics
Radix (Jakob Svanholm) Haujobb
2:23
Active
4.0

2023-09-16

feuilles
Xyce (Tom Offringa & Roel Heerspink)
2:38
Active
4.7

2022-12-22

Fiddler the Drunkard
BigYo (Marcin Dąbrowski)
1:56
Active
3.0

2023-06-23

Fidkfiskfisk
Xerxes (Klaus Lunde) Jade , Night 55
2:09
Active
3.0

2022-02-14

Fields of Destiny
Dualtrax (Marco Stahl)
1:05
Active
3.8

2023-08-20

Fieldtrip
Chuck Biscuits (Andrew Fort) Kosmic Free Music Foundation [KFMF]
11:15
Active
3.4

2022-06-17

Fighting Spirit
Dario (Jussi Lind)
3:04
Active
3.0

2022-06-15

Filet Mignon
lemonade (Pasi Sakala)
2:13
Active
3.7

2023-09-18

Filled Buns Processing
Coda (Ken Snyder)
1:51
Active
4.0

2020-12-11

Final Boss Theme
Zabutom (Niklas Sjösvärd)
0:59
Active
4.1

2023-09-14

Final Destination
Skaven (Peter Hajba)
1:39
Active
4.0

2020-12-16

Final Reality Music
Teque (Tero Kostermaa)
7:27
Active
4.8

2023-09-30

Finding Your Weakness
P-Rat (Sacha Von Dages)
3:59
Active
4.5

2022-11-28

Firepower
Chris Jarvis
3:59
Active
4.0

2023-08-23

Firestorm
Chris Jarvis
3:07
Active
3.0

2023-05-31

First Adlib Attempt
Skaven (Peter Hajba) Future Crew
1:48
Active
4.7

2023-08-01

First Escape
Big Jim (Jim Storer)
3:19
Active
4.0

2023-01-27

Fjant
Artifact (Johan Candreus) Troon
0:25
Active
4.5

2022-02-01

Flashback
lemonade (Pasi Sakala)
4:22
Active
4.5

2023-09-18

Flashback
Chrono (Oyvind Mork)
1:04
Active
3.0

2022-03-24

Flashtique
Imode (Aaron Yee)
3:23
Active
4.4

2023-08-02

Flatline
Tito (Johan Lars Althoff) Candela [CNA]
5:45
Active
4.1

2023-09-19

fleetwood imac
Wayfinder (Sebastian Grillmaier)
3:34
Active
3.8

2023-09-15

Flight Of The Kingfisher
Nightbeat (Carl Larsson)
2:59
Active
4.0

2023-05-09

Flintchip!
Dualtrax (Marco Stahl)
0:45
Active
4.3

2023-08-25

Flip A Chip
Dalezy (Ronny Engmann)
1:33
Active
4.0

2022-07-24

Floon
Coda (Ken Snyder)
1:24
Active
4.0

2023-09-02

Floret
Coda (Ken Snyder)
1:03
Active
3.0

2023-03-03

Flowerguy's Pool Party
Virt (Jake Kaufman)
3:09
Active
4.8

2023-08-29

Flowers Of Fantasy
DRAX (Thomas Mogensen)
3:48
Active
4.5

2023-07-20

Fluid Balance
Coda (Ken Snyder)
1:30
Active
4.5

2022-10-15

Flying Away!
Dualtrax (Marco Stahl)
1:24
Active
5.0

2023-08-14

Flying Indian
Mystical (Asbjoern Andersen) purple
2:03
Active
3.0

2022-11-23

Flying Indian II
Mystical (Asbjoern Andersen) purple
3:24
Active
4.0

2022-08-16

Flying Through the Moss
Breeze (Samppa Leino)
4:59
Active
3.0

2022-05-16

Focus on the Groove
Norfair (Carl Aborg)
2:30
Active
5.0

2023-03-13

Follow You, Follow Me
Necros (Andrew Gregory Sega)
3:29
Active
4.0

2023-08-31

Following The Stream
Nightbeat (Carl Larsson)
3:20
Active
4.0

2023-02-15

Fondue de la fromage
Xyce (Tom Offringa & Roel Heerspink)
2:43
Active
4.6

2023-06-05

For A Friend
Xerxes (Klaus Lunde) Night 55
5:01
Active
3.5

2021-12-28

For a New World
Awesome (Victor Vergara)
3:07
Active
4.7

2023-09-20

For Funky Fish
cerror (Roel Heerspink)
1:32
Active
5.0

2022-11-15

For Mexs
cerror (Roel Heerspink)
1:03
Active
5.0

2022-09-17

Forced Motivation
serpent (Touko Väre)
3:00
Active
4.6

2023-09-19

Forever Blue
Dario (Jussi Lind)
3:00
Active
4.0

2020-05-28

Forever Dreams
Vizz (Frank Vezina)
3:08
Active

2023-04-12

Forgotten City
Skuter (Filip Skutela)
2:40
Active
4.0

2023-06-29

Format Your Brain
Acidline (Martin Spielmans) High Society
3:23
Active
3.9

2023-09-11

fouilles
Xyce (Tom Offringa & Roel Heerspink)
2:21
Active
4.1

2023-07-03

Fourth Symmetriad
Skaven (Peter Hajba)
4:38
Active
3.3

2023-09-23

Fragments of Peace
Mesonyx (Jón Dal Kristbjörnsson)
3:50
Active
3.7

2023-09-25

Frank
Reed (Jaakko Kaitaniemi)
3:05
Active
4.3

2023-05-01

French Connection
Falcon (Jacek Dojwa)
5:56
Active
4.5

2023-09-20

french head rivet
Falcon (Jacek Dojwa)
6:26
Active
2.8

2023-08-17

french workhours pls
serpent (Touko Väre)
1:27
Active
4.9

2023-07-18

Friendship
BigYo (Marcin Dąbrowski)
1:32
Active
4.3

2023-06-23

Frog dance
krotan (Evgeny V. Rozantsev)
1:20
Active
2.0

2020-12-12

From The Past
Xerxes (Klaus Lunde) Brainstorm
2:38
Active
4.6

2023-09-22

FrostBlade Opening (Day 10)
4-Mat (Matt Simmonds) Ate Bit
0:46
Active
4.0

2021-06-12

Fruitbat
Beek (Chris Hampton) , Virt (Jake Kaufman)
4:28
Active
4.7

2023-08-24

Fuck The Ecstasy!
Pero-Fotar
5:04
Active
2.8

2023-09-21

Fucked up at Dreamhack
Dubmood (Kalle Jonnson) , Stalker (SE) (Anders Lilja) Razor 1911
1:31
Active
4.3

2023-09-20

Fuk
Xerxes (Klaus Lunde) Brainstorm
2:43
Active
4.5

2023-09-17

Full Sail
Scirocco (Ian Graves Lymann) Jade , Night 55 , Vandals
3:58
Active
4.3

2023-09-06

Funkacider
Reed (Jaakko Kaitaniemi)
3:37
Active
4.0

2020-10-31

FunkGeNerator
Icicle
3:20
Active
4.7

2023-08-29

Funky Squad
Firelight (Brett Paterson)
2:36
Active
3.3

2023-08-28

Funky Sushi
Funky Fish (Christian Finstad) , Mystra (Kjell Pedersen) Brainstorm
2:25
Active
4.5

2023-09-13

Funkymexspulsecarpet
cerror (Roel Heerspink)
1:08
Active
5.0

2022-12-06

Future Blue
Acetip (Bernard Briais)
2:00
Active
4.0

2023-09-18

g@7 7h@ m@55ag@
Vim (Keith Baylis)
2:28
Active
4.5

2022-12-31

Gabba Gabba Doo
EviL (Nelson Tavares) Scoopex
3:00
Active
4.0

2022-03-05

Gaia floating in Me
!Cube (Toni Lönnberg) Trauma Child Genesis [TCG]
3:48
Active
4.6

2023-09-26

Galileon
Linde
4:10
Active
4.0

2023-07-04

Gallahads Theme C64
Rapture (Fabian Del Priore)
3:45
Active
5.0

2023-09-26

Gametune#1
Dualtrax (Marco Stahl)
1:07
Active
4.0

2022-06-02

Gangnam Style (Play my Piano-Remix)
Acidline (Martin Spielmans) High Society
3:21
Active
3.8

2023-07-29

Gangnam Style (Stomp Your Feet-Remix)
Acidline (Martin Spielmans) High Society
3:21
Active
3.4

2023-09-05

Ganska Fet
Accord (SE) (Patrick Johansson)
1:20
Active
4.0

2023-01-22

Gao Generation
Coda (Ken Snyder)
1:25
Active
4.7

2023-06-02

Garbage on Titan
cerror (Roel Heerspink) , Funky Fish (Christian Finstad)
1:38
Active
4.8

2023-09-26

Gares de la Tropopause
franz_koopa (Jari S.)
3:30
Active
4.5

2023-02-14

Gateway
Necros (Andrew Gregory Sega)
4:35
Active
4.6

2023-09-27

Gateways To Jambala
!Cube (Toni Lönnberg) Trauma Child Genesis [TCG]
3:19
Active
3.8

2023-09-12

Gazela
Tito (Johan Lars Althoff) Candela [CNA]
4:09
Active
4.3

2023-06-09

Gemini
serpent (Touko Väre)
2:39
Active
4.0

2023-09-07

Generation-X
!Cube (Toni Lönnberg)
2:38
Active
4.5

2023-09-10

Genocide (1Mb Version)
Bartesek (Bartosz Niedźwiecki)
22:17
Active
4.0

2022-12-14

Geppetto
krotan (Evgeny V. Rozantsev)
1:18
Active
2.0

2022-02-21

Get A Brian Morans!
FearOfDark
4:21
Active
4.7

2023-09-22

Getting Inspiration
Accord (SE) (Patrick Johansson)
3:10
Active
3.0

2023-08-19

Ghostfriend
Xerxes (Klaus Lunde) Brainstorm
2:48
Active
4.3

2023-09-20

Gia's Rush
ko0x
2:14
Active
5.0

2023-06-25

Girl from Zamardi
Carlos (Gábor Csordás )
4:07
Active
4.4

2023-09-19

Girl Next Door
Wiklund (Alexander Wiklund) Fairlight (FLT)
2:04
Active
4.6

2023-08-29

Girls, girls, girls (Satisfaction 110%)
Chanel5 (Eero Lempinen)
3:59
Active
2.1

2023-09-27

Give me an Om
Vim (Keith Baylis)
1:55
Active
4.3

2023-09-21

Glass lizard
krotan (Evgeny V. Rozantsev)
1:09
Active
1.5

2023-09-28

Global Motion Vol. 1
Purple Motion (Jonne Valtonen) Future Crew
5:48
Active
5.0

2023-08-02

Glowing (all i need is mix)
Falcon (Jacek Dojwa)
5:34
Active
4.0

2023-09-10

Glueberry
Coda (Ken Snyder)
1:40
Active
4.5

2023-09-17

Goatage
Andromeda (Morgan Norrestam) , Evade (Robert Olofsson) Noice [NOC]
5:20
Active
4.8

2023-09-26

Going Milking
Haggeman (Thomas Hagfors)
3:25
Active
4.8

2023-09-04

Going to Battle
SoulDragon (Bryan Martin)
2:06
Active
4.0

2023-09-13

Going Under
Hunz (Johannes Van Vliet)
2:30
Active
4.7

2023-09-25

Gold
Coda (Ken Snyder)
1:53
Active
5.0

2023-09-23

Golden Stream
serpent (Touko Väre)
3:23
Active
4.9

2023-09-08

Goldrunners
serpent (Touko Väre)
3:27
Active
4.6

2023-09-01

Gone Fishing
Radix (Jakob Svanholm) , Tito (Johan Lars Althoff)
3:12
Active
4.8

2023-09-26

Good Morning, Ziphoid
Malmen (Kristoffer Malmgren) Brainstorm
3:35
Active
4.4

2023-05-02

good night
serpent (Touko Väre)
1:53
Active
4.7

2023-05-26

Good Old Outrun!
LizardKing (Gustaf Grefberg)
2:07
Active
4.6

2023-05-24

Google
Xerxes (Klaus Lunde) Brainstorm
3:02
Active
4.5

2023-09-26

Gotham Nights
Basehead (Dan Gardopée)
3:07
Active
3.0

2023-03-25

Gotta Get It Out
Mystical (Asbjoern Andersen) purple
2:48
Active
3.7

2023-08-24

Grandpa blues
Carlos (Gábor Csordás )
3:46
Active
4.7

2023-03-19

gRAVEy
Hunz (Johannes Van Vliet)
3:41
Active
4.8

2023-07-29

Greentro
r0k (Oliver Kaeferstein) Keen Like Frogs
3:26
Active
3.0

2022-08-14

Gremlins_in_My_house
silok (Robert Katsenos)
3:10
Active
4.7

2023-09-16

GRLS WITH SUNGLASSES (brudar i solglasogon)
Algar (Jimmy Granath)
2:44
Active

2023-08-26

Groovin' malon !
Traven (Romain Gauthier)
2:15
Active
5.0

2020-10-25

Grr!
Feenix (Sami Kuhmonen) Epical
2:53
Active
4.0

2022-03-02

Grünkohl mit Mettwurst
Acidline (Martin Spielmans) High Society
4:45
Active
3.5

2023-09-07

Guack
Coda (Ken Snyder)
1:44
Active
4.3

2023-09-27

Gueulin
Maf (Benoît C.)
2:05
Active
3.6

2023-08-30

Guild of Sounds
Rage (Harri Blom)
2:56
Active
4.0

2023-09-24

Guinevere's Theme
Nightbeat (Carl Larsson) Prometheus
3:15
Active
4.0

2023-09-19

Guitar
Mystical (Asbjoern Andersen) purple
1:00
Active
5.0

2022-10-04

Gulp!
Tito (Johan Lars Althoff) Candela [CNA]
1:11
Active
4.0

2023-09-26

Guntech - Atlantis
!Cube (Toni Lönnberg) , Teque (Tero Kostermaa)
4:03
Active
4.3

2023-07-18

Guntech - Cybernetica
!Cube (Toni Lönnberg) , Teque (Tero Kostermaa)
4:03
Active
3.8

2023-09-27

Guntech - Dune
!Cube (Toni Lönnberg) , Teque (Tero Kostermaa)
3:05
Active
4.0

2023-06-28

Guntech - G-Factory
!Cube (Toni Lönnberg) , Teque (Tero Kostermaa)
4:05
Active
4.4

2023-09-13

Guntech - Outer World
!Cube (Toni Lönnberg) , Teque (Tero Kostermaa)
3:31
Active
3.3

2023-06-17

Guntech - Shanghai Simulation
!Cube (Toni Lönnberg) , Teque (Tero Kostermaa)
4:08
Active
4.0

2022-11-30

Gutbucket
Reed (Jaakko Kaitaniemi)
3:42
Active
4.7

2023-09-23

Haamu
serpent (Touko Väre)
3:06
Active
3.4

2023-09-12

Hackers Revolution
Manwe (Alexander Matchugovsky) , Tarh (Alexander Vasilyevsky) The SandS
2:56
Active
5.0

2021-06-07

Hairy Soap
Dalezy (Ronny Engmann)
2:32
Active
4.0

2021-08-30

Halvanyan
Carlos (Gábor Csordás )
3:19
Active
4.5

2023-08-22

Hammer 1
eno93 (Jérôme Lemonnier)
3:54
Active
2.3

2023-09-26

Hammer 2
eno93 (Jérôme Lemonnier)
3:20
Active
2.0

2023-02-26

Hamsterball
Skaven (Peter Hajba)
13:49
Active
4.0

2020-11-23

Hamsterball Gold
Skaven (Peter Hajba)
17:04
Active
5.0

2021-11-30

Hangover (Wake to Hell)
Big Jim (Jim Storer)
3:42
Active
4.0

2022-10-03

Hap Hazard
Skaven (Peter Hajba)
20:40
Active
4.0

2020-12-11

Häppi Nu Jir 2019
Acidline (Martin Spielmans) High Society
4:07
Active
4.3

2023-05-23

Happy Easter!
Dualtrax (Marco Stahl)
0:54
Active
4.9

2023-09-02

happy limpid tigress
Graff (Paweł Daudzward)
2:29
Active
5.0

2021-08-14

Happy now
Graff (Paweł Daudzward)
3:25
Active
5.0

2023-09-20

Hard to Believe
Awesome (Victor Vergara)
4:01
Active
4.9

2023-06-24

Hard to Take
Vizz (Frank Vezina)
3:11
Active
4.0

2021-03-10

Hare's Theme
Rapture (Fabian Del Priore)
0:54
Active
3.0

2021-11-15

Harmitus painaa mieltäni
Dune (Lassi Nikko) Orange
1:59
Active
4.0

2021-09-06

Havoc
eno93 (Jérôme Lemonnier)
7:01
Active
1.4

2023-07-20

He Has No Face
Skaven (Peter Hajba)
3:10
Active
4.0

2023-01-15

Headache
Skaven (Peter Hajba)
3:29
Active
3.0

2020-12-11

Hear My Cry for You
Reed (Jaakko Kaitaniemi)
3:06
Active
3.0

2020-10-31

Heart Attack
Skaven (Peter Hajba)
2:39
Active
3.0

2023-07-10

Heaven 7
Shaman (Lóránt Tóth) Exceed [EXD]
2:47
Active
4.7

2023-09-23

Heights
Linde
2:52
Active
4.0

2023-06-24

Hell Rave
Breeze (Samppa Leino)
2:32
Active
4.0

2021-08-22

Help me find?
Hunz (Johannes Van Vliet)
3:18
Active
4.0

2023-08-03

Helpless AuToMaTOn
Necros (Andrew Gregory Sega)
2:47
Active
3.7

2023-09-20

Her Feelings
Breeze (Samppa Leino)
4:32
Active
5.0

2022-06-18

Her spirits Rise
Falcon (Jacek Dojwa)
5:12
Active
4.9

2023-09-13

Here's Andy
Cactus (Peter Kozak)
2:58
Active
2.8

2023-09-07

Herr Doktor
cerror (Roel Heerspink)
2:30
Active
5.0

2022-12-07

Hesten Sover
Xerxes (Klaus Lunde) Jade , Night 55
12:21
Active
4.3

2023-09-27

Hevi-HämäHämäHäkki
Skaven (Peter Hajba)
0:23
Active
1.0

2023-04-18

HeviJänis Istu Maas
Skaven (Peter Hajba)
0:15
Active
1.0

2022-11-18

Hey Girl Hey Boy
Hazel (Ketil Jensen)
5:15
Active
4.1

2023-09-17

Hey Hey Hey (acidline's 80s Remix)
Acidline (Martin Spielmans) High Society
2:33
Active
2.7

2023-08-19

HHC Mega Mix
Eha (Erik Hellbing)
17:55
Active
3.4

2023-09-05

Higgins
Coda (Ken Snyder)
1:02
Active
4.0

2023-03-16

High Adventure
Nightbeat (Carl Larsson)
3:17
Active
2.0

2022-08-04

High Five
Coda (Ken Snyder)
1:40
Active
4.5

2023-01-31

High Quality Noise
BigYo (Marcin Dąbrowski)
1:24
Active
5.0

2020-07-05

High Score Tune
serpent (Touko Väre)
1:47
Active
3.0

2022-10-05

highBist Du erneut bereit für den wirklichen Spass
Acidline (Martin Spielmans) High Society
4:12
Rejected
Hiljainen Laulu
Dario (Jussi Lind)
3:14
Active
4.0

2020-12-21

Hippel had an Oedipus Complex
serpent (Touko Väre)
2:41
Active
4.5

2023-09-27

Hissilisko
lemonade (Pasi Sakala)
3:05
Active
4.8

2023-09-17

Hoax
Xerxes (Klaus Lunde) Brainstorm
2:20
Active
4.4

2023-09-05