CVGM.net - Chiptune, Retro & Video Game Music

Platform - Handheld » Game Boy (LSDJ, with extra equipment)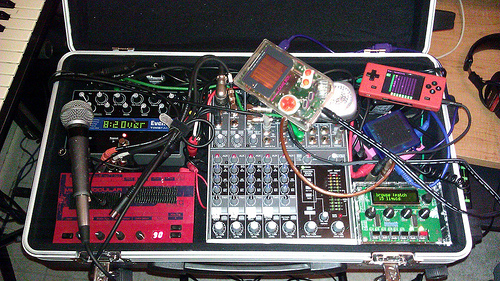 This platform should be used if the track was composed using Little Sound DJ with additional sound mixing equipment/instruments (instead of using the Wild category). If the track was composed only with LSDJ, you can use the regular Nintendo Gameboy category.
Little sound DJ transforms a plain Game Boy/Game Boy Color into a full-fledged music workstation. This allows the user to create music using a suite of various tools:
Sequencer
The sequencer of Little Sound Dj has a very open structure. It was designed to leave all the musical possibilities of the Gameboy in the hands of the user. The system can be said to be both simple and complex; it has a slight learning curve, but when learned, it is possible to transcribe a complete Bach piece to it on less than one hour.
Sound
The Gameboy sound chip offers four channels with 4-bit sound. Custom waveforms can be created by free-hand drawing, or by using a subtractive synthesizer with resonant filters. For extra versatility, Little Sound Dj also contains a quite powerful arpeggiator, which possibilities go far beyond the classic C64-style chords.
Samples
Sample-wise, Little Sound Dj boasts a set of 59 phonems for programmable speech. Besides that, it also features drum kits sampled from machines TR-606, TR-707, TR-727, TR-808, TR-909, CR-78, CR-8000, KR-55, DR-55, DR-110, DMX, Drumulator, RhythmAce, TOM and LinnDrum.
Synchronization
It is possible to use a link cable to sync two Game Boys; great for party fun or for added polyphony! If you want to, you can sync LSDJ with Nanoloop. MIDI sync is possible too
Songs
| Song Title | Artist | Song Length | Status | Avg. Vote | Queue | Last Played |
| --- | --- | --- | --- | --- | --- | --- |
| $ilencio | Analog (Chile) | 2:18 | Active | 3.2 | | 2023-09-13 |
| .database | Jefftheworld | 2:59 | Active | 4.2 | | 2023-07-25 |
| 1 Sh4ll R1s3 1 Sh4ll F4ll | Optimus Chad (Chad Roose) | 2:05 | Active | 2.0 | | 2023-07-20 |
| 103rd Street Towers | Wizwars | 1:21 | Active | 4.3 | | 2023-08-12 |
| 1890 | AndaruGO | 4:29 | Active | 3.0 | | 2021-12-06 |
| 1937 | AndaruGO | 3:33 | Active | 2.5 | | 2023-07-23 |
| 1937 durrrrr | AndaruGO | 4:23 | Active | 3.7 | | 2023-09-01 |
| 2 Gud 4 Da Flea Market (Optimus Chad Rework by MM Project) | Optimus Chad (Chad Roose) | 2:14 | Active | 1.3 | | 2023-09-01 |
| 213-323-562 | Wizwars | 3:14 | Active | 5.0 | | 2023-01-15 |
| 23:35 | arcadecoma. (Ross Murdoch) | 3:02 | Active | 3.5 | | 2021-01-12 |
| 3000 vs 1 | Procyon Lotor | 3:40 | Active | 4.3 | | 2023-09-19 |
| 4 Player 2 | Shit Bird | 1:55 | Active | 3.0 | | 2023-08-10 |
| 629AM | Spöka (Timmy Saldén-Wagner) | 4:39 | Active | 1.0 | | 2021-08-28 |
| A New Day | Danimal Cannon | 3:14 | Active | 4.0 | | 2023-08-25 |
| A Thing On The Doorstep | AndaruGO | 4:32 | Active | 1.7 | | 2023-08-06 |
| A//CE | Jefftheworld | 3:44 | Active | 4.0 | | 2023-09-26 |
| Abandonedsmaller | Dylanbrochill (Dylan MacKinnon) | 5:11 | Active | 3.0 | | 2023-04-24 |
| abondonyourflesh | Battle Lava (Alexander Westcott) | 4:14 | Active | 4.4 | | 2023-09-03 |
| Acidblargh! | Starpilot (Duane Aberle) | 5:33 | Active | 3.3 | | 2023-08-15 |
| Act of Contrition | Natty (Nathaniel Adams) | 4:33 | Active | 1.6 | | 2023-08-03 |
| Adventure Quest | Kool Skull | 1:43 | Active | 1.8 | | 2023-08-24 |
| Aegis of iliad | Jefftheworld | 3:45 | Active | 3.5 | | 2023-09-16 |
| Afterschool La-La-La- | NNNNNNNNNN | 4:24 | Active | 3.4 | | 2023-08-25 |
| Agrobacter | Danimal Cannon | 2:56 | Active | 5.0 | | 2022-02-09 |
| Airline Flight 69 | Wiklund (Alexander Wiklund) | 3:48 | Active | 4.0 | | 2023-09-21 |
| Akira | I Against Me | 3:51 | Active | 4.0 | | 2023-09-20 |
| All Encompassing (Gianna Gianna Remix) | Kool Skull | 5:33 | Active | 3.5 | | 2021-12-28 |
| All that she wants | SidAbitBall (Pierre Boquet) | 2:19 | Active | 4.6 | | 2023-08-23 |
| Always Stepping | Jellica (Jacob Manley) | 4:22 | Active | 2.8 | | 2023-09-05 |
| An Adventure Without Heroes (2011) | Ultrasyd | 4:16 | Active | 4.6 | | 2023-07-19 |
| Animals Do Not Belong in the Street | Solarbear | 2:38 | Active | 2.5 | | 2023-04-24 |
| Anxiety | Wizwars | 1:45 | Active | 2.4 | | 2023-08-30 |
| Anxiety (live) | Wizwars | 1:48 | Active | 3.2 | | 2023-09-10 |
| Apoplexy (sui caedere) | Da Pantz (Ricardo Almonte) | 3:20 | Active | 1.8 | | 2023-05-07 |
| Arle Gets Raped On The Way To Tim Hortons | kommisar (Christophe Goulet-LeBlanc) | 3:02 | Active | 3.8 | | 2023-09-07 |
| Arsonist (2012 Version) | Electric Children | 5:46 | Active | 4.1 | | 2023-08-26 |
| ASDCjam (more 4x4 mix) | NNNNNNNNNN | 3:44 | Active | 4.5 | | 2023-09-15 |
| Ashtrays | Electric Children | 4:13 | Active | 4.6 | | 2023-08-26 |
| Assault At The Front Door | Iron Curtain (Samuel Abram) | 2:34 | Active | 2.6 | | 2023-07-01 |
| Assglobe | Timeheater | 3:46 | Active | 3.0 | | 2023-08-26 |
| Astral (LSDJ version) | Auxcide | 3:07 | Active | 4.6 | | 2023-08-06 |
| Astro X | Fighter X (Nickolas Walthew) | 3:14 | Active | 4.0 | | 2023-03-06 |
| Astro Zombies (misfits cover) | Electric Children | 3:28 | Active | 3.5 | | 2023-08-06 |
| Atomic Jill | kommisar (Christophe Goulet-LeBlanc) | 2:52 | Active | 4.1 | | 2023-05-13 |
| Aureate Starguts (Eye of Sauron Version) | Starpilot (Duane Aberle) | 0:39 | Active | 1.8 | | 2023-09-10 |
| Aureate Starguts (Original Version) | Starpilot (Duane Aberle) | 3:52 | Active | 2.5 | | 2023-07-02 |
| Awaken | Blip Noir | 2:44 | Active | 3.0 | | 2023-08-28 |
| Awaken | Blip Noir | 2:44 | Active | | | 2023-04-19 |
| Awesomesauce | Kool Skull | 4:47 | Active | 1.7 | | 2023-07-23 |
| Bad apple ! | kommisar (Christophe Goulet-LeBlanc) | 3:39 | Active | 4.3 | | 2023-08-30 |
| Bad News | Knife City (Luke Silas) | 4:30 | Active | 3.8 | | 2023-07-28 |
| Bae Caught Me Chippin | Cooshinator (Christian Calhoun) | 6:59 | Active | 2.0 | | 2023-08-29 |
| Basking In The Sunlight | Whitely | 2:53 | Active | 4.0 | | 2020-12-24 |
| Bat Outta Hell | Phonetic Hero | 3:47 | Active | 4.0 | | 2023-08-19 |
| Bdaybrodown - Kaneda-chan | Hunterquinn | 5:30 | Active | 3.3 | | 2023-09-12 |
| Bdaybrodown - L4Z0RcannonvstheM34Tmachine | Hunterquinn | 4:00 | Active | 2.8 | | 2023-08-23 |
| Bdaybrodown - Tetsuo-kun | Hunterquinn | 3:21 | Active | 4.0 | | 2023-06-10 |
| Bdaybrodown - Thethingwithmeatforfeet | Hunterquinn | 4:08 | Active | 4.5 | | 2022-07-09 |
| Beatlump | Downstate | 1:21 | Active | 3.7 | | 2023-06-01 |
| Beautiful Brutality | Random (William Rickman) | 2:28 | Active | 4.6 | | 2023-08-29 |
| Bedroom pirates | SidAbitBall (Pierre Boquet) | 2:00 | Active | 3.7 | | 2023-07-30 |
| Berserker | Fighter X (Nickolas Walthew) | 3:43 | Active | 5.0 | | 2023-04-28 |
| Better Days | Blip Noir | 3:22 | Active | 3.0 | | 2022-10-05 |
| Beyond the Horizon | VCMG (Vincent Chang) | 5:34 | Active | 3.0 | | 2022-07-19 |
| Big Black Anchor | Bud Melvin | 4:03 | Active | 4.4 | | 2023-08-30 |
| BIG Jr. | Fighter X (Nickolas Walthew) | 3:26 | Active | 4.3 | | 2023-09-17 |
| Billy Boogie | Wiklund (Alexander Wiklund) | 4:02 | Active | 4.3 | | 2023-07-26 |
| Blackout - Conduit | Zef (Chris Penner) | 4:19 | Active | 5.0 | | 2021-12-02 |
| Blackout - Gambit | Zef (Chris Penner) | 4:42 | Active | 4.4 | | 2023-09-27 |
| Blackout - Get Slow | Zef (Chris Penner) | 4:47 | Active | 4.0 | | 2023-07-09 |
| Blackout - Pure Voltage | Zef (Chris Penner) | 5:01 | Active | 3.8 | | 2023-08-20 |
| Blackout - Stronghold | Zef (Chris Penner) | 3:34 | Active | 5.0 | | 2020-11-17 |
| Blackout - Subsonic | Zef (Chris Penner) | 4:00 | Active | 3.7 | | 2023-08-17 |
| Blaster | Optimus Chad (Chad Roose) | 3:00 | Active | 1.0 | | 2023-09-14 |
| Block Rockin' Beats (Chemical Brothers cover) | Starpilot (Duane Aberle) | 5:43 | Active | 2.9 | | 2023-09-05 |
| Bloodstep | Optimus Chad (Chad Roose) | 4:10 | Active | 1.0 | | 2023-09-28 |
| Blue Line | Wizwars | 2:20 | Active | 2.5 | | 2020-11-28 |
| Blue Line (live) | Wizwars | 2:52 | Active | | | 2020-12-10 |
| Blueshift | Danimal Cannon | 4:19 | Active | 3.0 | | 2022-07-31 |
| Blurrr | Optimus Chad (Chad Roose) | 1:02 | Active | 1.0 | | 2023-09-17 |
| Bokura | AndaruGO | 4:44 | Active | 2.0 | | 2023-09-29 |
| Bom Didl | arcadecoma. (Ross Murdoch) | 1:59 | Active | 3.0 | | 2023-07-16 |
| Braid | Knife City (Luke Silas) | 3:19 | Active | 3.7 | | 2023-09-11 |
| Brains | Datacats | 4:01 | Active | 3.7 | | 2023-08-03 |
| Breathing | Dylanbrochill (Dylan MacKinnon) | 3:08 | Active | 4.0 | | 2023-09-16 |
| Brightest Eyes | Optimus Chad (Chad Roose) | 2:50 | Active | 2.0 | | 2023-09-29 |
| Brok3n | Dos | 3:29 | Active | 4.0 | | 2023-05-25 |
| Broke Ass | Kool Skull | 3:15 | Active | 2.4 | | 2023-08-28 |
| Brown & Red | subPixel | 4:13 | Active | 2.0 | | 2020-11-21 |
| Bruised-bit | Shit Bird | 2:44 | Active | 2.3 | | 2023-08-24 |
| Bulletproof | Storm Blooper (Chris De Pew) | 4:58 | Active | 5.0 | | 2022-04-25 |
| Burdbreyne | Downstate | 2:17 | Active | 2.0 | | 2022-11-02 |
| Button Mash | Snesei | 2:33 | Active | 3.5 | | 2023-07-08 |
| Buttpoop EP - Cosecant | Cooshinator (Christian Calhoun) | 7:31 | Active | 4.3 | | 2023-09-04 |
| Buttpoop EP - Eternal Rave | Cooshinator (Christian Calhoun) | 9:17 | Active | 4.4 | | 2023-09-01 |
| Buttpoop EP - Jesus Likes Unce | Cooshinator (Christian Calhoun) | 8:22 | Active | 4.8 | | 2023-09-01 |
| Buttpoop EP - Trench Warfare | Cooshinator (Christian Calhoun) | 8:53 | Active | 3.8 | | 2023-08-28 |
| Bzrkr | Freque | 2:17 | Active | 3.0 | | 2023-08-31 |
| C-Bass | Galaxy Wolf | 1:48 | Active | 2.0 | | 2021-10-27 |
| Caffeine | VCMG (Vincent Chang) | 2:54 | Active | 4.4 | | 2023-08-24 |
| Can't Stop Us | Chipzel (Niamh Houston) | 2:22 | Active | 4.4 | | 2023-09-02 |
| Carpetleech | Shit Bird | 1:27 | Active | 3.0 | | 2023-08-14 |
| Cats of Ulthar | AndaruGO | 1:44 | Active | 1.0 | | 2022-10-28 |
| Cccnnnp | Jellica (Jacob Manley) | 3:43 | Active | 2.8 | | 2023-09-09 |
| Chain Reaction | Auxcide | 5:13 | Active | 4.5 | | 2023-08-26 |
| Chaotic Evil | CHICKENANDROFLS | 3:23 | Active | 4.0 | | 2023-09-27 |
| Cheap Jungle | USK | 2:35 | Active | 4.7 | | 2023-08-03 |
| cHilltop | Oven Rake (Dakota Clark) | 4:36 | Active | 3.3 | | 2023-09-11 |
| Chimera | Shanebro | 4:30 | Active | 3.5 | | 2023-09-23 |
| Chip protocol | SidAbitBall (Pierre Boquet) | 2:20 | Active | 3.8 | | 2023-09-11 |
| Chocolate Rain (Tay Zonday Remix) | Kedromelon | 2:20 | Active | 3.5 | | 2023-09-11 |
| Chopper | USK | 3:43 | Active | 3.5 | | 2023-09-09 |
| Cityborg | Optimus Chad (Chad Roose) | 2:33 | Active | 1.7 | | 2023-05-18 |
| Cityglow | VCMG (Vincent Chang) | 3:41 | Active | 3.0 | | 2023-05-26 |
| Clifton Clowers | Bud Melvin | 3:34 | Active | 2.4 | | 2023-09-04 |
| Closure | Bart Youngsters , Dan McClay Men Of Mega | 2:07 | Active | 3.0 | | 2023-08-06 |
| Coded Pulse | Matecha | 2:18 | Active | 4.0 | | 2023-09-21 |
| Codex - DRIFTER VIP | Frostbyte | 4:21 | Active | 4.8 | | 2023-09-03 |
| Codex - Like The Animal I Am | Frostbyte | 4:52 | Active | 4.4 | | 2023-06-30 |
| Codex - Master Xaiwan's Last Funeral | Frostbyte | 3:46 | Active | 4.0 | | 2023-09-14 |
| Codex - Monsters Under The Bed VIP | Frostbyte | 5:04 | Active | 4.3 | | 2023-09-16 |
| Codex - Overture: Codex Hyeme (The Book of Winter) | Frostbyte | 3:51 | Active | 5.0 | | 2023-08-31 |
| Codex - Rise From The Ashes | Frostbyte | 2:44 | Active | 4.0 | | 2023-07-01 |
| Codex - Scarred [The Lion's Pride] | Frostbyte | 5:23 | Active | 5.0 | | 2023-08-28 |
| Codex - The Great Escape (Take Me Away) | Frostbyte | 3:15 | Active | 2.7 | | 2023-07-13 |
| Codex - You (Don't Tell Me) | Frostbyte | 4:20 | Active | 3.7 | | 2023-09-14 |
| Codigo Azul | Freque | 3:11 | Active | 3.0 | | 2022-04-03 |
| Cognitive Dissonance | an0va (Daniel Davis) | 3:28 | Active | 3.5 | | 2023-07-18 |
| Coin Paint | Downstate | 2:54 | Active | 3.3 | | 2023-09-03 |
| Colors | Optimus Chad (Chad Roose) | 3:26 | Active | 1.7 | | 2023-09-03 |
| Columbia | Space Town Savior | 6:48 | Active | 3.5 | | 2022-11-16 |
| Computer Savvy - Cluck | J. Arthur Keenes | 1:50 | Active | 4.8 | | 2023-09-03 |
| Computer Savvy - Expelling Bee | J. Arthur Keenes | 5:11 | Active | 4.9 | | 2023-09-06 |
| Computer Savvy - Foe Paw | J. Arthur Keenes | 4:12 | Active | 4.7 | | 2023-09-06 |
| Computer Savvy - Low Tide | J. Arthur Keenes | 2:55 | Active | 4.8 | | 2023-09-06 |
| Computer Savvy - Spaniard | J. Arthur Keenes | 3:02 | Active | 3.8 | | 2023-09-03 |
| Computer Savvy - The Bus That Couldn't Slow Down | J. Arthur Keenes | 2:47 | Active | 4.1 | | 2023-08-22 |
| Computer Savvy - Water2 (Wetter) | J. Arthur Keenes | 5:10 | Active | 4.2 | | 2023-08-31 |
| Conscience | softRESET | 2:34 | Active | 5.0 | | 2023-09-28 |
| Consolisation Win Melody | Stress_TN | 2:02 | Active | 4.0 | | 2023-09-14 |
| Consultation | Bart Youngsters , Dan McClay Men Of Mega | 3:16 | Active | 5.0 | | 2023-07-13 |
| Consumer//Electronixx | AndaruGO | 2:56 | Active | 2.0 | | 2023-06-16 |
| Contra Legem | Je deviens dj en 3 jours | 3:45 | Active | 4.0 | | 2023-07-15 |
| Contre les Béhémots | IAYD (Alex) | 3:49 | Active | 2.8 | | 2023-09-08 |
| Control | IAYD (Alex) | 5:05 | Active | 2.5 | | 2023-09-14 |
| Controllo Operativo | Secret Lab | 5:23 | Active | 3.4 | | 2023-07-20 |
| Corridor Horror | Downstate | 1:14 | Active | 2.1 | | 2023-09-05 |
| Cotton | Optimus Chad (Chad Roose) | 1:02 | Active | 2.2 | | 2023-09-12 |
| Counterattack VIP | Dire Hit | 6:03 | Active | 4.0 | | 2023-07-30 |
| Crack Pinocchio | Comptroller (Michael Cox) | 2:04 | Active | 2.7 | | 2023-08-23 |
| Crashing Tide | Dylanbrochill (Dylan MacKinnon) | 2:53 | Active | 4.4 | | 2023-09-01 |
| Creatures | Henry Homesweet | 3:32 | Active | 4.4 | | 2023-09-02 |
| Credit Where Credit is Due | VCMG (Vincent Chang) | 5:13 | Active | 4.4 | | 2023-08-07 |
| Critical EP | TREYFREY | 5:15 | Active | 4.0 | | 2022-03-01 |
| Crowsfeet | Shit Bird | 2:20 | Active | 3.0 | | 2021-11-15 |
| Cruise Control | Zef (Chris Penner) | 4:01 | Active | 3.0 | | 2023-08-25 |
| Crush | Bud Melvin | 3:50 | Active | 3.1 | | 2023-09-06 |
| Crystal Dimension | Wiklund (Alexander Wiklund) | 3:13 | Active | 4.4 | | 2023-09-01 |
| Ctrl-X Woe | Jellica (Jacob Manley) | 3:28 | Active | 1.8 | | 2023-08-17 |
| Cursor Curse - Intro Theme | Danimal Cannon | 1:21 | Active | 3.5 | | 2023-06-26 |
| Cursor Curse - Level 1 Theme | Danimal Cannon | 2:57 | Active | 4.0 | | 2022-11-19 |
| Cursor Curse - Level 2 Theme | Danimal Cannon | 2:28 | Active | 3.0 | | 2022-02-09 |
| Cursor Curse - Level 3 Theme | Danimal Cannon | 3:41 | Active | 4.0 | | 2020-12-19 |
| Cursor Curse - Level 4 Theme | Danimal Cannon | 3:13 | Active | 3.0 | | 2022-08-22 |
| Cursor Curse - Ominous Theme | Danimal Cannon | 0:45 | Active | | | 2023-06-06 |
| Cursor Curse - Victory Fanfare | Danimal Cannon | 0:12 | Active | | | 2023-09-20 |
| Cyberphantom - Astrophantom | Hunterquinn | 3:51 | Active | 2.3 | | 2023-07-01 |
| Cyberphantom - finaLLy | Hunterquinn | 5:52 | Active | 3.3 | | 2023-08-24 |
| Cyberphantom - Fuck You | Hunterquinn | 2:51 | Active | 2.0 | | 2023-04-22 |
| Cyberphantom - Gastrogauntlet | Hunterquinn | 6:39 | Active | 3.0 | | 2021-11-15 |
| Cyberphantom - Spacemadness | Hunterquinn | 5:48 | Active | 1.5 | | 2023-04-22 |
| Cyberphantom - Starsandstabs | Hunterquinn | 5:04 | Active | 4.5 | | 2021-08-15 |
| Cyberphantom - Wavscrn | Hunterquinn | 3:27 | Active | 2.0 | | 2023-09-01 |
| Cyberphantom - Wiggles | Hunterquinn | 4:15 | Active | 1.6 | | 2023-08-04 |
| Cyberphantom - Woub | Hunterquinn | 3:52 | Active | 2.4 | | 2023-06-09 |
| Cyberphantom - Zyxon | Hunterquinn | 3:35 | Active | 3.0 | | 2023-02-26 |
| Cyprus Ruin - Midtown Meltdown | Nestrogen (Michael Raisner) | 1:24 | Active | 3.3 | | 2023-09-10 |
| Cyprus Ruin - This Which Has Yet to be Named | Nestrogen (Michael Raisner) | 1:03 | Active | 1.0 | | 2023-07-31 |
| Cyprus Ruin - YEASTMODE | Nestrogen (Michael Raisner) | 1:53 | Active | 2.6 | | 2023-09-01 |
| Daddy Rat With A Cigarette | Kool Skull | 2:44 | Active | 2.3 | | 2023-07-26 |
| Dance Floor Radiations | SingkongBalado (Leo Avero) | 2:34 | Active | 4.0 | | 2023-04-18 |
| Dancing After Midnight | bubu (Barnabás József Fekete) | 2:17 | Active | 4.0 | | 2021-11-23 |
| Dancing on Air (The Noose and the Necktie) | Natty (Nathaniel Adams) | 4:25 | Active | 3.7 | | 2023-09-13 |
| Danger Limit | PDF Format (David Dineen-Porter) | 2:56 | Active | 4.3 | | 2023-08-28 |
| Danimal Across America | Danimal Cannon | 3:26 | Active | 4.3 | | 2023-08-20 |
| Danimal Across America (IRL Mix) | Danimal Cannon | 3:25 | Active | 4.6 | | 2023-09-13 |
| Dark Room Disko | USK | 4:31 | Active | 3.7 | | 2023-09-27 |
| dARKNET | Jefftheworld | 5:03 | Active | 3.8 | | 2023-09-15 |
| Dead should dance | SidAbitBall (Pierre Boquet) | 2:21 | Active | 3.0 | | 2021-08-22 |
| Dead World | Optimus Chad (Chad Roose) | 9:54 | Active | 2.0 | | 2023-05-22 |
| Dean Bee (drum and bass in face place) | Jellica (Jacob Manley) | 4:46 | Active | 3.0 | | 2021-09-26 |
| Death Conga | DJ-PIE | 3:22 | Active | 2.0 | | 2022-11-12 |
| Death Is Dead OC Remix (Starpilot) | Optimus Chad (Chad Roose) , Starpilot (Duane Aberle) | 11:48 | Active | 1.8 | | 2023-05-22 |
| Deathcrush | Wizwars | 2:13 | Active | 1.7 | | 2023-08-28 |
| Debut | Nameless | 2:15 | Active | 2.3 | | 2023-08-10 |
| Decibel | Stress_TN | 7:07 | Active | 2.2 | | 2023-07-23 |
| Decisive Battle | Stress_TN | 4:37 | Active | 3.3 | | 2023-09-21 |
| Decoupage (Remix) | Je deviens dj en 3 jours | 5:02 | Active | 4.1 | | 2023-09-11 |
| Deeksha | AlexOgre | 3:14 | Active | 4.0 | | 2023-07-01 |
| Deformation | SingkongBalado (Leo Avero) | 2:37 | Active | 4.0 | | 2023-04-30 |
| Demodulation | Ten Pixels Tall (Jeremy Buzek) | 4:16 | Active | 4.0 | | 2022-12-31 |
| Demoscene Is Best Scene | .exe | 2:22 | Active | 3.5 | | 2023-06-04 |
| Dennye | Jellica (Jacob Manley) | 3:52 | Active | 4.8 | | 2023-09-29 |
| Desolate Time | Kedromelon | 3:55 | Active | 4.0 | | 2022-06-26 |
| Destruction | Abortifacient | 3:34 | Active | 2.5 | | 2023-07-10 |
| Dethroned | Bud Melvin | 4:02 | Active | 2.6 | | 2023-09-07 |
| Dichotomy - AA!ABBA!AA! | Spinning Voices | 3:06 | Active | 4.0 | | 2021-06-28 |
| Dichotomy - Baruchel of Monkeys | Spinning Voices | 4:30 | Active | 4.0 | | 2021-11-18 |
| Dichotomy - Bye Bye Daruma | Spinning Voices | 3:30 | Active | 2.0 | | 2023-01-21 |
| Dichotomy - Freak Week | Spinning Voices | 3:18 | Active | 4.0 | | 2023-01-22 |
| Dichotomy - Independent Candidate for President | Spinning Voices | 2:23 | Active | 2.6 | | 2023-04-25 |
| Dichotomy - Irregula | Spinning Voices | 4:07 | Active | 3.0 | | 2022-06-22 |
| Dichotomy - It's That Brat | Spinning Voices | 2:22 | Active | 2.5 | | 2021-08-28 |
| Dichotomy - Lakebirds | Spinning Voices | 4:19 | Active | 4.0 | | 2022-09-24 |
| Dichotomy - Three Politicians in Search of Burgers | Spinning Voices | 2:13 | Active | 4.0 | | 2021-11-11 |
| Dichotomy - Wake and Flake | Spinning Voices | 2:26 | Active | 2.2 | | 2023-07-28 |
| DieshitbirdDie | Shit Bird | 1:23 | Active | 1.9 | | 2023-08-17 |
| Digits (Bonus Track) | VCMG (Vincent Chang) | 2:40 | Active | 5.0 | | 2022-06-29 |
| Diiisscos Deux | Jellica (Jacob Manley) | 3:40 | Active | 3.0 | | 2023-09-01 |
| Dimensions (LSDJ version) | Auxcide | 3:22 | Active | 4.1 | | 2023-08-31 |
| Dirty Electricity | IAYD (Alex) | 9:10 | Active | 2.3 | | 2023-07-23 |
| DirtyWing | Shit Bird | 3:05 | Active | 2.0 | | 2022-09-01 |
| Discarnate Future | Battle Lava (Alexander Westcott) | 1:04 | Active | 1.5 | | 2023-09-05 |
| Distress Signal | ArcticMetal | 3:39 | Active | 4.3 | | 2023-07-20 |
| Divisione Generale | Secret Lab | 3:50 | Active | 4.0 | | 2023-07-20 |
| Do What You Want | Nordloef | 1:32 | Active | 3.8 | | 2023-08-02 |
| Do You Love Her | Oven Rake (Dakota Clark) | 4:37 | Active | 3.2 | | 2023-09-05 |
| Dog Days | Vince Kaichan | 4:35 | Active | 4.7 | | 2023-07-06 |
| Doitsu Kyun Kyun | AndaruGO | 6:48 | Active | 3.0 | | 2023-02-22 |
| Dojo | Shanebro | 3:54 | Active | 4.0 | | 2023-09-07 |
| Dolphinz | Kool Skull | 3:18 | Active | 1.6 | | 2023-06-08 |
| Don't Go | Cooshinator (Christian Calhoun) | 6:02 | Active | 4.0 | | 2023-09-07 |
| Dooom | Monodeer (Mark van den Heuvel) | 5:47 | Active | 4.4 | | 2023-09-27 |
| Dreadful Dub - Dead Dub | Oven Rake (Dakota Clark) | 5:33 | Active | 4.0 | | 2022-10-05 |
| Dreadful Dub - Horror Dub | Oven Rake (Dakota Clark) | 4:38 | Active | 4.0 | | 2023-06-14 |
| Dreadful Dub - India Dub | Oven Rake (Dakota Clark) | 3:07 | Active | 2.0 | | 2023-04-05 |
| Dreadful Dub - Prog Dub | Oven Rake (Dakota Clark) | 4:04 | Active | 4.0 | | 2023-09-08 |
| Dreadnought | IAYD (Alex) | 4:42 | Active | 3.1 | | 2023-09-14 |
| Dream | TREYFREY | 5:01 | Active | 4.4 | | 2023-09-12 |
| Dual Sapphire | Je mappelle | 3:56 | Active | | | 2023-06-09 |
| Dusk Runner | Brick Breaker | 2:07 | Active | 2.0 | | 2022-09-08 |
| Earthscape (LSDJ) | Auxcide | 4:59 | Active | 5.0 | | 2020-12-21 |
| Earthworm Facts | Cartoon Bomb | 3:13 | Active | 4.0 | | 2023-09-10 |
| Ecstasy | Obtuse | 3:47 | Active | 3.0 | | 2023-07-19 |
| Ecstasy Dream | KymAz (Kym Azlan) | 4:47 | Active | 4.0 | | 2023-04-13 |
| Eight | Facundo | 0:59 | Active | 1.5 | | 2023-08-10 |
| Electrified | Wiklund (Alexander Wiklund) | 3:05 | Active | 4.9 | | 2023-08-07 |
| Elevators | Da Pantz (Ricardo Almonte) | 3:17 | Active | 2.2 | | 2023-08-11 |
| Emerald City Outrage | Electric Children | 3:16 | Active | 4.6 | | 2023-09-15 |
| Empty Suit | Abortifacient | 2:49 | Active | 4.0 | | 2023-09-24 |
| Engaging With A Demon | Je mappelle | 2:21 | Active | | | 2023-07-13 |
| Enslaving of People Melody | Stress_TN | 1:13 | Active | 4.5 | | 2022-12-27 |
| Erarae | Spinning Voices | 3:32 | Active | 2.0 | | 2020-11-19 |
| Erich Zann | AndaruGO | 4:21 | Active | 3.4 | | 2023-09-14 |
| Evil Boy (Die Antwoord Remix) | Kool Skull | 2:28 | Active | 2.3 | | 2023-09-06 |
| Experimentalist - Another Shipment Of Dust And Drizzle | Starpilot (Duane Aberle) | 1:32 | Active | 3.4 | | 2023-09-12 |
| Experimentalist - Death-A-Sketch | Starpilot (Duane Aberle) | 3:33 | Active | 2.2 | | 2023-07-14 |
| Experimentalist - Entropy | Starpilot (Duane Aberle) | 2:55 | Active | 2.2 | | 2023-08-02 |
| Experimentalist - Lantø's Pulsing Snores | Starpilot (Duane Aberle) | 2:03 | Active | 2.7 | | 2023-09-10 |
| Experimentalist - Moar Of The Same | Starpilot (Duane Aberle) | 2:48 | Active | 4.0 | | 2023-08-16 |
| Experimentalist - Pixelucinations | Starpilot (Duane Aberle) | 3:32 | Active | 3.5 | | 2023-05-10 |
| Experimentalist - Quantum Jazz | Starpilot (Duane Aberle) | 4:36 | Active | 1.9 | | 2023-04-30 |
| Experimentalist - Raxx00n | Starpilot (Duane Aberle) | 2:12 | Active | 3.0 | | 2022-08-08 |
| Experimentalist - Smear Peanut Butter On The Edges | Starpilot (Duane Aberle) | 6:22 | Active | 3.0 | | 2023-08-08 |
| Experimentalist - So Oxytocin With You | Starpilot (Duane Aberle) | 0:48 | Active | 2.0 | | 2023-05-22 |
| Experimentalist - Tau Sagittarii | Starpilot (Duane Aberle) | 10:16 | Active | 3.5 | | 2023-07-26 |
| Experimentalist - The Resin Of How It Be | Starpilot (Duane Aberle) | 4:06 | Active | 4.0 | | 2022-10-05 |
| Experimentalist - This Is Psychochip | Starpilot (Duane Aberle) | 5:44 | Active | 3.5 | | 2023-09-20 |
| Experimentalist - To Kill Your Darlings | Starpilot (Duane Aberle) | 3:12 | Active | 1.9 | | 2023-05-21 |
| Experimentalist - Your Head Is Birds | Starpilot (Duane Aberle) | 4:01 | Active | 2.8 | | 2023-03-14 |
| Eyejuice | Kool Skull | 3:30 | Active | 2.5 | | 2021-11-29 |
| Face Blasted | Facundo | 24:58 | Active | 2.0 | | 2019-09-03 |
| Face Down Fist Clinched | Optimus Chad (Chad Roose) | 2:01 | Removed By Request | 1.4 | | 2021-01-14 |
| Face Eater a la Mode | DEADBEATBLAST (Jake Moolenbeek) | 3:36 | Active | 3.5 | | 2023-09-10 |
| Face Nation - A Nation of Faces | S.P.R.Y. | 3:35 | Active | 3.4 | | 2023-05-11 |
| Faster Than the Speed of Light | VCMG (Vincent Chang) | 3:13 | Active | 4.2 | | 2023-09-21 |
| Faust at Magnitogorsk | Natty (Nathaniel Adams) | 3:31 | Active | 2.0 | | 2021-12-01 |
| Feed Them Once | Bud Melvin | 4:13 | Active | 3.4 | | 2023-09-14 |
| Feedback Warrior | Optimus Chad (Chad Roose) | 2:27 | Active | 1.0 | | 2023-08-21 |
| Feisty Robot (Pixel Addict Remix) | Starpilot (Duane Aberle) | 3:37 | Active | 3.4 | | 2023-07-19 |
| Fever (italo chipdisco) | Monodeer (Mark van den Heuvel) | 4:13 | Active | 4.5 | | 2022-05-07 |
| Fifteen | Facundo | 1:26 | Active | 1.0 | | 2022-08-21 |
| Fin | Nameless | 2:12 | Active | 2.6 | | 2023-09-25 |
| Firework (Katy Perry cover) | Kedromelon | 3:43 | Active | 4.0 | | 2023-06-01 |
| First Date | Dylanbrochill (Dylan MacKinnon) | 3:19 | Active | 4.0 | | 2023-03-18 |
| Flesh Eating Barbie | Kool Skull | 3:23 | Active | 2.0 | | 2023-06-12 |
| Fleshcraft of the B'wana Beast | .exe | 3:00 | Active | 4.0 | | 2023-07-28 |
| Flicker Tech | Battle Lava (Alexander Westcott) | 2:53 | Active | 2.8 | | 2023-08-11 |
| Flip | Da Pantz (Ricardo Almonte) | 3:58 | Active | 2.3 | | 2023-09-17 |
| Florida Set | Electric Children | 32:48 | Active | 4.3 | | 2023-09-22 |
| Flow | an0va (Daniel Davis) | 3:25 | Active | 4.0 | | 2023-01-16 |
| Fly | Kool Skull | 1:20 | Active | 1.5 | | 2023-08-12 |
| Forest Gnome Shindig | Danimal Cannon | 4:38 | Active | 3.9 | | 2023-04-10 |
| Forest Spit | .exe | 2:02 | Active | 2.8 | | 2023-05-11 |
| Forever After Never | Eastern Blok | 5:29 | Active | 5.0 | | 2023-09-14 |
| Forever Faceless | Hunterquinn | 3:41 | Active | 3.0 | | 2021-12-21 |
| Forty Two | Facundo | 6:14 | Inactive | 1.0 | | 2012-07-10 |
| Four | Facundo | 5:17 | Active | 2.5 | | 2023-09-02 |
| Fowl | Shit Bird | 3:15 | Active | 3.0 | | 2023-08-25 |
| Fraggle rock | SidAbitBall (Pierre Boquet) | 1:32 | Active | 4.4 | | 2023-09-17 |
| From Beyond | AndaruGO | 2:59 | Active | 1.0 | | 2023-06-17 |
| From Utopia To Destruction | Optimus Chad (Chad Roose) | 1:56 | Active | 1.6 | | 2023-08-16 |
| Ft. Wenty VIP | Boaconstructor | 3:12 | Active | 3.3 | | 2023-06-10 |
| Fuck yeah NONONONO -Los Angeles- | NNNNNNNNNN | 4:07 | Active | 3.2 | | 2023-09-05 |
| Fucklife | Timeheater | 3:12 | Inactive | 1.5 | | 2014-05-26 |
| Funky Slime | Kool Skull | 3:10 | Active | 2.0 | | 2023-08-26 |
| Furor | Fighter X (Nickolas Walthew) | 1:24 | Active | 5.0 | | 2022-05-16 |
| fuuuuu | Jefftheworld | 2:34 | Active | 3.3 | | 2023-09-15 |
| Fuveg 2 (live w ghetto mpc drums) | Downstate | 3:40 | Active | 3.0 | | 2023-08-21 |
| Fuxdat | Freque | 2:23 | Active | 3.0 | | 2023-05-29 |
| Galaxy | Whitely | 2:15 | Active | 4.4 | | 2023-09-11 |
| Galaxy Mecca | Optimus Chad (Chad Roose) | 17:17 | Inactive | 1.3 | | 2019-05-31 |
| Galaxy Smasher | IAYD (Alex) | 5:22 | Active | 2.8 | | 2023-08-01 |
| Gameboy Raiders (Chip meets Iron Maiden) | kommisar (Christophe Goulet-LeBlanc) | 1:48 | Active | 5.0 | | 2023-02-01 |
| Gantrash | Cooshinator (Christian Calhoun) | 5:50 | Active | 2.4 | | 2023-09-14 |
| Gathering | Dylanbrochill (Dylan MacKinnon) | 1:59 | Active | 4.0 | | 2023-08-16 |
| GBC | Optimus Chad (Chad Roose) | 1:34 | Active | 2.0 | | 2023-09-28 |
| Generic Chip | Fade Runner | 4:18 | Active | 3.8 | | 2023-07-03 |
| Get Daddy His Lighter | Kool Skull | 2:05 | Active | 2.4 | | 2023-06-26 |
| Get Naked | Wizwars | 2:08 | Active | 1.7 | | 2023-09-22 |
| Get Naked (live) | Wizwars | 2:19 | Active | 2.0 | | 2022-01-28 |
| Ghidorah | .exe | 2:38 | Active | 2.8 | | 2023-07-24 |
| Girl with Butterfly | Freque | 4:20 | Active | 3.3 | | 2023-08-24 |
| Glasshouse | Frostbyte | 4:12 | Active | 4.0 | | 2023-09-10 |
| Glider | AlexOgre | 4:27 | Active | 3.9 | | 2023-09-20 |
| Glitch (Showdown Version) | Zef (Chris Penner) | 5:44 | Active | 4.0 | | 2023-09-11 |
| Golden | TREYFREY | 3:42 | Active | 2.0 | | 2022-08-14 |
| Good Journey (Don't Say Goodbye) | Danimal Cannon | 3:32 | Active | 4.0 | | 2022-02-09 |
| Gorelax | Danimal Cannon | 4:31 | Active | 4.0 | | 2023-03-17 |
| Gravity Distortion | YZYX | 3:55 | Active | 4.5 | | 2023-02-16 |
| Green Line | Wizwars | 1:02 | Active | 4.0 | | 2022-12-28 |
| Grey Love (Short Vers.) | Random (William Rickman) | 1:57 | Active | 4.0 | | 2023-09-20 |
| Greyscale | VCMG (Vincent Chang) | 4:46 | Active | 4.0 | | 2023-09-21 |
| Grim Bleeper | Wizwars | 3:24 | Active | 4.5 | | 2023-07-26 |
| Grizzzly | JayTresh | 4:02 | Active | 4.2 | | 2023-09-27 |
| Grzly Cntry | Freque | 2:46 | Active | 3.1 | | 2023-08-05 |
| GS | Timeheater | 5:05 | Active | 4.0 | | 2023-01-27 |
| Guttural | S.P.R.Y. | 3:28 | Active | 3.0 | | 2023-04-22 |
| Guy Montag | Datamancer | 3:30 | Active | 4.2 | | 2023-09-29 |
| Hail | Jansaw (Matthew Janik) | 3:57 | Active | 3.6 | | 2023-07-17 |
| Halls of Justice | Timeheater | 3:29 | Active | 2.0 | | 2023-02-01 |
| Halls of Justice 2 | Timeheater | 4:32 | Active | 1.8 | | 2023-09-15 |
| Hallucinogenic Ethics | Nario | 2:37 | Active | 4.0 | | 2022-05-06 |
| Handheld Hero | Wizwars | 2:32 | Active | 4.4 | | 2023-09-23 |
| Hands, Body, Mind | Whitely | 3:35 | Active | 4.6 | | 2023-09-17 |
| Happiness Like This | bubu (Barnabás József Fekete) | 3:05 | Active | 4.0 | | 2023-09-02 |
| Happy bday Freedrull (you gots to chugmix) | Oven Rake (Dakota Clark) | 11:57 | Active | 3.3 | | 2023-09-27 |
| Happy Ending After all | Random (William Rickman) | 5:31 | Active | 4.5 | | 2023-09-27 |
| Harimau | Fighter X (Nickolas Walthew) | 3:48 | Active | 4.7 | | 2023-07-15 |
| Harmonix | iamclouD | 2:55 | Active | 3.0 | | 2023-07-14 |
| He's So Cool | Electric Children | 5:12 | Active | 4.0 | | 2023-09-23 |
| Heart On A Leash | bubu (Barnabás József Fekete) | 2:02 | Active | 4.0 | | 2023-04-28 |
| Hello World! | Zef (Chris Penner) | 2:33 | Active | 4.5 | | 2023-03-06 |
| Henna | AlexOgre | 4:00 | Active | 4.0 | | 2023-09-27 |
| Here Come The Pretzels! | Da Pantz (Ricardo Almonte) | 3:46 | Active | 1.0 | | 2023-09-22 |
| hey day | arcadecoma. (Ross Murdoch) | 1:09 | Active | 3.5 | | 2023-01-25 |
| Hey! (No E) | Diamond Machine | 3:02 | Active | 2.8 | | 2023-09-05 |
| HH 1 | Jefftheworld | 4:08 | Active | 3.3 | | 2023-09-07 |
| Hierarchy | Bart Youngsters , Dan McClay Men Of Mega | 2:27 | Active | 3.7 | | 2023-09-18 |
| Holden Torana | Timeheater | 3:40 | Active | 1.0 | | 2023-07-29 |
| Hollywood Cowboy | Kool Skull | 3:32 | Active | 1.3 | | 2023-09-11 |
| Hourglass | Blip Noir | 5:18 | Active | 4.3 | | 2023-09-29 |
| Hours | Nordloef | 4:04 | Active | 3.0 | | 2022-11-27 |
| House of Skulls | Abortifacient | 3:06 | Active | 3.3 | | 2023-09-02 |
| Hunters (the Chase) | Monodeer (Mark van den Heuvel) | 5:04 | Active | 4.1 | | 2023-09-10 |
| Hunting | Knife City (Luke Silas) | 5:47 | Active | 3.8 | | 2023-09-17 |
| Hyper-Ukon | NNNNNNNNNN | 3:45 | Active | 3.3 | | 2023-06-24 |
| Hypereffect | Spinning Voices | 3:02 | Active | 5.0 | | 2021-04-20 |
| Hypergiant | Fighter X (Nickolas Walthew) | 5:10 | Active | 4.0 | | 2023-08-17 |
| Hyperspace (ver1.2) | DEADBEATBLAST (Jake Moolenbeek) | 6:23 | Active | 4.1 | | 2023-09-11 |
| I Am Wizwars (live) | Wizwars | 1:38 | Active | 2.5 | | 2022-07-06 |
| I Am Wizwars (Real Los Angeles Chipthrash) | Wizwars | 2:54 | Active | 3.0 | | 2023-06-21 |
| I Am Your Drug Dealer | Boaconstructor , Turtlesaur | 4:16 | Active | 5.0 | | 2023-05-13 |
| I Can See the Strangelets-Roger That | Natty (Nathaniel Adams) | 5:28 | Active | 1.0 | | 2023-03-31 |
| I Do | Cheapshot (James York) | 3:45 | Active | 4.0 | | 2023-01-06 |
| I feel love (Game Boy disco dub cart death version) | Jellica (Jacob Manley) | 3:49 | Active | 3.0 | | 2023-07-31 |
| I Will Eat You All | Kool Skull | 0:14 | Active | 2.0 | | 2023-09-28 |
| I'm Old Fashioned | Bud Melvin | 5:18 | Active | 3.9 | | 2023-09-27 |
| IAYD2d | NNNNNNNNNN | 3:13 | Active | 3.6 | | 2023-04-08 |
| Ice Wall | AndaruGO | 5:16 | Active | 2.8 | | 2023-09-14 |
| Identity Formation | an0va (Daniel Davis) | 4:40 | Active | 3.4 | | 2023-09-10 |
| IIII | 2xAA | 4:31 | Active | 2.5 | | 2023-05-27 |
| Impact | Auxcide | 5:49 | Active | 4.3 | | 2023-08-16 |
| Impulse (Bonus Track) | VCMG (Vincent Chang) | 2:33 | Active | 4.5 | | 2023-08-05 |
| In Dark Rooms (We're Beautiful) | Da Pantz (Ricardo Almonte) | 3:08 | Active | 1.7 | | 2023-09-09 |
| Infinite Cheap Death Tricks | SKGB | 6:26 | Active | 1.8 | | 2023-06-29 |
| Infinite EP | TREYFREY | 3:54 | Active | 4.2 | | 2023-08-23 |
| Infinite Overdrive | Brick Breaker | 4:04 | Active | 4.5 | | 2023-05-22 |
| Inlywndr | Timeheater | 5:01 | Active | 1.0 | | 2022-10-25 |
| Intergalactic | SingkongBalado (Leo Avero) | 3:48 | Active | 4.8 | | 2023-08-30 |
| Interlewd | Cooshinator (Christian Calhoun) | 1:23 | Active | 3.0 | | 2023-01-30 |
| Internastellar - The Sound Turns Purple And Makes Crazy In My Head | Starpilot (Duane Aberle) | 4:41 | Active | 4.1 | | 2023-04-28 |
| Intro | Danimal Cannon | 1:04 | Active | 2.0 | | 2023-05-14 |
| Intro | Bleeds | 0:19 | Active | 2.0 | | 2023-09-04 |
| Intro (live) | Wizwars | 1:24 | Active | 3.0 | | 2023-09-07 |
| Intro (Still Splodin' Tho) | Cooshinator (Christian Calhoun) | 1:43 | Active | | | 2023-01-22 |
| Invaders Lunch | Stress_TN | 3:37 | Active | 2.5 | | 2023-06-29 |
| IONLYHAVEEYESFORYOU | Ten Pixels Tall (Jeremy Buzek) | 4:00 | Active | 4.0 | | 2022-11-12 |
| Iskloo Dandruff-Morningstar Express | Vince Kaichan | 4:08 | Active | 4.0 | | 2023-09-26 |
| It Doesn't Matter At All | Bud Melvin | 3:52 | Active | 2.9 | | 2023-09-27 |
| It's Never Enough | RobotSexMusic | 2:26 | Active | 3.0 | | 2022-11-06 |
| It's Not Cypress Ruin vol.2 | Nestrogen (Michael Raisner) | 0:49 | Active | 3.0 | | 2022-07-30 |
| Jambo | Cheapshot (James York) | 3:31 | Active | 3.0 | | 2021-06-10 |
| Jean Luc | Danimal Cannon | 4:04 | Active | 4.3 | | 2023-09-26 |
| Jet Set Lets Go! | Henry Homesweet | 2:43 | Active | 3.9 | | 2023-09-02 |
| Johnny Mnemonic | NNNNNNNNNN | 2:58 | Active | 3.4 | | 2023-05-25 |
| Jollyrancherjolly | Kool Skull | 2:33 | Active | 1.6 | | 2023-09-04 |
| Journey | Dylanbrochill (Dylan MacKinnon) | 3:00 | Active | 3.5 | | 2023-08-25 |
| Joy Of Living | Wiklund (Alexander Wiklund) | 3:34 | Active | 4.5 | | 2023-07-13 |
| Judgement Day | Chipzel (Niamh Houston) | 3:34 | Active | 4.0 | | 2023-08-11 |
| Juggernaut (I Am Omega, The End) | Frostbyte | 3:55 | Active | 5.0 | | 2021-02-05 |
| June 1st (Andrew Kilpatrick Remix) | Optimus Chad (Chad Roose) | 2:35 | Active | 3.0 | | 2023-03-13 |
| Jungle Juice | USK | 4:10 | Active | 5.0 | | 2022-11-21 |
| Jupiter (collab with Pandastar) | softRESET | 3:21 | Active | 4.0 | | 2022-10-06 |
| Just Thinkin Pt. II | Mega Flare | 3:37 | Active | 3.0 | | 2022-08-23 |
| Just Trash | Knife City (Luke Silas) | 5:13 | Active | 4.5 | | 2022-03-19 |
| JustGotPizza | Electric Children | 4:03 | Active | 4.5 | | 2023-09-01 |
| K1ng 0v Teh #D4rk | DJ-PIE | 4:06 | Active | 3.4 | | 2023-07-23 |
| Kaede Royale | NNNNNNNNNN | 3:49 | Active | 2.6 | | 2023-07-22 |
| Kazan | Vince Kaichan | 3:57 | Active | 4.0 | | 2023-09-29 |
| Keplian Shear | Datacats | 2:56 | Active | 3.5 | | 2023-09-17 |
| killing time | arcadecoma. (Ross Murdoch) | 1:38 | Active | 3.4 | | 2023-09-23 |
| Kinemortophobia | Bleeds | 2:44 | Active | 3.0 | | 2023-06-01 |
| King Fish | Galaxy Wolf | 3:54 | Active | 3.3 | | 2023-07-22 |
| Kogeki no Kiken | K.O.M.H. | 3:02 | Active | 3.8 | | 2023-07-08 |
| Kubiori | NNNNNNNNNN | 3:45 | Active | 3.2 | | 2023-09-08 |
| Kup Is Jammin | Optimus Chad (Chad Roose) | 2:51 | Active | 1.3 | | 2023-09-12 |
| Kyoto Love Disko | NNNNNNNNNN | 4:00 | Active | 3.9 | | 2023-08-17 |
| La Chips Party | Zombectro | 2:54 | Active | 1.8 | | 2023-09-13 |
| Laika | Dylanbrochill (Dylan MacKinnon) | 1:19 | Active | 2.0 | | 2020-10-28 |
| Lake Eerie | J. Arthur Keenes | 2:22 | Active | 4.3 | | 2023-07-26 |
| Laser Car on the Bandit Highway | Freque | 1:48 | Active | 2.0 | | 2023-04-18 |
| Last Chance | Stress_TN | 3:24 | Active | 3.7 | | 2023-06-18 |
| Late In The Night | Electric Children | 4:02 | Active | 3.5 | | 2023-09-06 |
| Laughing Acid (ver. 2) | Jellica (Jacob Manley) | 3:53 | Active | 2.6 | | 2023-09-13 |
| Lazor Dragon Pizzeria | Parallelis | 3:17 | Active | 3.0 | | 2022-02-05 |
| Le Soir | Xyce (Tom Offringa & Roel Heerspink) | 2:45 | Active | 4.8 | | 2023-07-08 |
| Lemonade | bubu (Barnabás József Fekete) | 2:35 | Active | 4.3 | | 2023-09-02 |
| Les Longueurs (too long Outro) | XyNo (Nicolas Allaire) | 3:34 | Active | 2.0 | | 2023-02-12 |
| Let's Get Weird | Shanebro | 3:48 | Active | 4.0 | | 2023-07-08 |
| Letters To Howard | AndaruGO | 3:57 | Active | 3.5 | | 2023-05-11 |
| Lickwid Lazer | Kool Skull | 2:32 | Active | 1.6 | | 2023-09-19 |
| Little Baby James' Garbage Blues | Kool Skull | 4:32 | Active | 2.6 | | 2023-09-17 |
| Little Red Light | Zef (Chris Penner) | 3:06 | Active | 4.7 | | 2023-07-09 |
| Little Worm | Wizwars | 1:30 | Active | 1.0 | | 2021-01-22 |
| Live Chiptune Performance with Four Gameboys [TWIC] | TREYFREY | 45:21 | Active | 4.0 | | 2023-07-18 |
| Livewire | Zef (Chris Penner) | 5:42 | Active | 4.4 | | 2023-08-29 |
| Lo-Biton | USK | 5:54 | Active | 4.2 | | 2023-09-05 |
| LOL | SidAbitBall (Pierre Boquet) | 3:28 | Active | 4.0 | | 2023-08-08 |
| Lolita | SidAbitBall (Pierre Boquet) | 2:56 | Active | 3.8 | | 2023-08-11 |
| London Physics Club | Little-Scale (Sebastian Tomczak) | 6:14 | Active | 4.0 | | 2023-07-05 |
| Looks Easy | Da Pantz (Ricardo Almonte) | 2:37 | Active | 1.7 | | 2023-09-10 |
| Loop It Under Your Skin | Bleeds | 3:48 | Active | 3.8 | | 2023-09-01 |
| Lost Boy | Nameless | 3:30 | Active | 1.5 | | 2023-06-02 |
| Love your Elfen<censored>lied | NNNNNNNNNN | 1:47 | Active | 2.9 | | 2023-08-14 |
| Lowland | Je mappelle | 4:18 | Active | 2.0 | | 2023-01-04 |
| Lynched By Letters | Wizwars | 1:48 | Active | 3.0 | | 2021-10-22 |
| M-BIT | Optimus Chad (Chad Roose) | 2:28 | Active | 1.8 | | 2023-08-09 |
| Machineder | AndaruGO | 6:21 | Active | 3.3 | | 2023-04-20 |
| Madison59 | cTrix (Chris Mylrae) | 8:22 | Active | 4.8 | | 2022-09-07 |
| Make You See | Kool Skull | 5:45 | Active | 3.0 | | 2023-09-21 |
| Makeshift Clone | Wiklund (Alexander Wiklund) | 4:28 | Active | 4.6 | | 2023-07-21 |
| Mallo Valley A | Timeheater | 2:23 | Active | 2.0 | | 2023-08-26 |
| Mallo Valley B | Timeheater | 0:29 | Active | 1.5 | | 2021-08-25 |
| Mallo Valley C | Timeheater | 1:54 | Active | 1.5 | | 2022-11-26 |
| Mallo Valley D | Timeheater | 0:50 | Active | 3.7 | | 2023-07-26 |
| Mallo Valley E | Timeheater | 1:40 | Active | 3.0 | | 2022-02-23 |
| Mallo Valley F | Timeheater | 3:09 | Active | 3.7 | | 2023-07-29 |
| Man Three | Jellica (Jacob Manley) | 4:18 | Active | 3.0 | | 2023-09-17 |
| Manic Compression | Solarbear | 4:05 | Active | 4.0 | | 2023-09-14 |
| Manifesta - Saturé nights part2 | Dubmood (Kalle Jonnson) OaiStar | 5:29 | Active | 4.6 | | 2023-09-26 |
| March of the Grizzly Bears | Monodeer (Mark van den Heuvel) | 5:04 | Active | 4.4 | | 2023-09-07 |
| Mass Times You | Bananablob | 2:35 | Active | 2.2 | | 2023-08-28 |
| Me Quedo Muerto | Oven Rake (Dakota Clark) | 5:10 | Active | 3.0 | | 2023-09-09 |
| Mi Go Cylinder | AndaruGO | 4:27 | Active | 2.0 | | 2023-04-07 |
| Midnight Adventures | VCMG (Vincent Chang) | 4:10 | Active | 4.3 | | 2023-08-11 |
| Mighty Morphin' Gameboy Quavers | Downstate | 5:33 | Active | 3.5 | | 2023-07-08 |
| Migration | UnCanard | 3:42 | Active | 3.4 | | 2023-06-08 |
| Milky Maze | Noia | 4:24 | Active | 3.7 | | 2023-07-14 |
| Mind Gate | Je mappelle | 2:48 | Active | | | 2023-01-20 |
| Mischief Youth | Bleeds | 3:40 | Active | 4.5 | | 2023-07-29 |
| MMXII Δ | Whitely | 3:36 | Active | 2.0 | | 2021-01-10 |
| Model #_ _New Horizons_ | an0va (Daniel Davis) | 3:58 | Active | 3.5 | | 2023-02-18 |
| Modern Panda | Timeheater | 3:30 | Active | 2.0 | | 2022-12-05 |
| Mommy Spicepants^The Collapse of History (ATR remix) | Nestrogen (Michael Raisner) | 2:10 | Active | 1.7 | | 2023-09-11 |
| Monster Rave (8 Bit DnB) | Rockman (Ramiro Navarro) | 4:24 | Active | 4.3 | | 2023-09-07 |
| Moonlight Sonata | Danimal Cannon | 6:05 | Active | 2.5 | | 2022-06-05 |
| Mouth Full of Ashes | Electric Children | 5:27 | Active | 4.5 | | 2023-08-11 |
| Mr Spock holidays | SidAbitBall (Pierre Boquet) | 2:36 | Active | 4.8 | | 2023-09-12 |
| Mr Turbo Sailor | Wiklund (Alexander Wiklund) | 2:52 | Active | 4.4 | | 2023-09-18 |
| Mu | Solarbear | 2:57 | Active | 3.0 | | 2020-12-21 |
| Munen | AndaruGO | 5:48 | Active | 4.0 | | 2023-09-08 |
| Mute | Da Pantz (Ricardo Almonte) | 4:42 | Active | 1.0 | | 2022-04-20 |
| Muzzle | Boaconstructor | 5:34 | Active | 4.8 | | 2023-09-03 |
| My First Lsdj | Cooshinator (Christian Calhoun) | 10:00 | Active | 4.0 | | 2023-07-11 |
| My happy friend | Wiklund (Alexander Wiklund) | 2:49 | Active | 4.0 | | 2023-09-25 |
| My Life as a Teenage Sex Toy | Cooshinator (Christian Calhoun) | 5:59 | Active | 3.0 | | 2023-09-24 |
| Mystic Gear | King Keytan | 4:41 | Active | 3.7 | | 2023-09-02 |
| Nana Hard (crimson) | NNNNNNNNNN | 3:04 | Active | 3.2 | | 2023-09-11 |
| Nebulae | KymAz (Kym Azlan) | 3:29 | Active | 2.0 | | 2022-08-16 |
| Necropanspermia | Abortifacient | 2:28 | Active | 2.0 | | 2023-09-10 |
| Neon | TREYFREY | 4:43 | Active | 3.3 | | 2023-07-26 |
| Neon Lights, Neon Sights | VCMG (Vincent Chang) | 5:45 | Active | 4.5 | | 2023-07-07 |
| Nerd Fatale | Chema64 (José Padilla) | 2:17 | Active | 3.0 | | 2023-07-14 |
| NES games bonus | Stress_TN | 9:24 | Active | 4.3 | | 2023-07-12 |
| Nexus | Fighter X (Nickolas Walthew) | 3:38 | Active | 5.0 | | 2023-07-23 |
| Nightflower | Random (William Rickman) | 2:53 | Active | 4.8 | | 2023-09-17 |
| Nightlife | Da Pantz (Ricardo Almonte) | 3:06 | Active | 2.0 | | 2023-08-03 |
| NightSkyMoon | VCMG (Vincent Chang) | 7:31 | Active | 3.3 | | 2023-08-15 |
| NNdisko | NNNNNNNNNN | 4:00 | Dupe | 4.3 | | 2016-01-05 |
| No Answer in Flakesville | Nestrogen (Michael Raisner) | 1:07 | Active | 1.3 | | 2023-08-25 |
| No Particular Reason | Monodeer (Mark van den Heuvel) | 5:26 | Active | 4.0 | | 2023-06-10 |
| Noisewave | Kool Skull | 5:11 | Active | 3.4 | | 2023-05-04 |
| Noojs | Monodeer (Mark van den Heuvel) | 4:44 | Active | 2.0 | | 2023-07-28 |
| Northern Bitmasters - An 8-Bit Compilation - Power Up | DEADBEATBLAST (Jake Moolenbeek) | 6:00 | Active | 4.6 | | 2023-07-12 |
| Not Meant To Be | Optimus Chad (Chad Roose) | 2:31 | Active | 1.5 | | 2023-09-11 |
| Nova factory | Wiklund (Alexander Wiklund) | 3:36 | Active | 4.7 | | 2023-08-19 |
| Nova Prime | Optimus Chad (Chad Roose) | 12:25 | Inactive | 1.8 | | 2019-09-03 |
| Now That's What I Call Kulor! - My First LSDJ | Kulor (Richard J. Armijo) | 2:12 | Active | 4.3 | | 2023-07-23 |
| Nowhere Fast (Original LSDJ Mix) | Buskerdroid | 3:50 | Active | 2.4 | | 2023-09-18 |
| Nu (Summer) | Buskerdroid | 4:46 | Active | 3.5 | | 2021-08-08 |
| Nude Vows | Bud Melvin | 3:10 | Active | 3.0 | | 2023-07-14 |
| Nuthin' Sus' | Abortifacient | 2:28 | Active | 5.0 | | 2021-11-02 |
| Nyarlathostep | AndaruGO | 5:07 | Active | 1.8 | | 2023-09-02 |
| NYUU A GO!GO! | NNNNNNNNNN | 5:31 | Active | 2.9 | | 2023-08-31 |
| Ohm | IAYD (Alex) | 1:05 | Active | 3.0 | | 2023-09-04 |
| Old Skool | Wizwars | 1:35 | Active | 2.3 | | 2023-08-05 |
| OMG | Jyooruje (Jorge) | 1:50 | Active | 3.3 | | 2023-05-22 |
| On All My Holy Mountain | GreyScreen | 2:56 | Active | 2.8 | | 2023-09-26 |
| One Shal Rise One Shall Fall (Starpilot's Eyeballs Remix) | Optimus Chad (Chad Roose) , Starpilot (Duane Aberle) | 4:25 | Active | 2.3 | | 2023-09-29 |
| One Three Seven | Je mappelle | 2:24 | Active | | | 2023-01-04 |
| Only Human (7" edit) | Chipzel (Niamh Houston) | 4:00 | Active | 3.0 | | 2021-04-16 |
| Only Human (Trey Frey Remix) | Chipzel (Niamh Houston) | 4:26 | Active | 4.7 | | 2023-09-14 |
| Onyx | Zef (Chris Penner) | 4:06 | Active | 4.0 | | 2022-02-22 |
| Ooze Rocker | Kool Skull | 2:32 | Active | 2.1 | | 2023-08-30 |
| OR | Timeheater | 2:30 | Active | 1.7 | | 2023-08-13 |
| Orchids | iamclouD | 4:20 | Active | 4.6 | | 2023-09-03 |
| Out of the Swamp | JayTresh | 3:28 | Active | 4.4 | | 2023-08-03 |
| Ovalface | Kool Skull | 3:32 | Active | 2.4 | | 2023-09-06 |
| Over the sea | Wiklund (Alexander Wiklund) | 4:43 | Active | 4.5 | | 2023-08-21 |
| Oversoul (LSDJ version) | Auxcide | 2:28 | Active | 4.0 | | 2020-10-25 |
| P0wning The Race | Crit Hit | 4:24 | Active | 2.7 | | 2023-08-16 |
| Panda 1 | Timeheater | 2:51 | Active | 1.8 | | 2023-09-03 |
| Panda 2 | Timeheater | 3:14 | Active | 4.0 | | 2023-05-29 |
| Panda 3 | Timeheater | 3:05 | Active | 5.0 | | 2022-08-21 |
| Passing By | Cooshinator (Christian Calhoun) | 8:14 | Active | 2.6 | | 2023-06-30 |
| Peeattle | Oven Rake (Dakota Clark) | 6:59 | Active | 2.9 | | 2023-09-22 |
| Perplexity | Bart Youngsters , Dan McClay Men Of Mega | 2:42 | Active | 4.5 | | 2021-12-10 |
| Pills & Needles VIP | Electric Children | 4:19 | Active | 4.8 | | 2023-09-12 |
| Pimpollo | Bud Melvin | 3:29 | Active | 2.5 | | 2023-08-12 |
| Pirate Broadcast | Battle Lava (Alexander Westcott) | 2:42 | Active | 3.0 | | 2023-09-11 |
| Pixel Bombing | Stress_TN | 3:16 | Active | 4.3 | | 2023-09-21 |
| Piz.DOS | Stress_TN | 6:06 | Active | 2.8 | | 2023-09-25 |
| Pizza Hut Taco Bell (feat. Force of Will) | Bright Primate | 2:19 | Active | 2.9 | | 2023-09-25 |
| Pizza Kitchen | Kool Skull | 2:22 | Active | 2.0 | | 2023-09-24 |
| PJILLST | Wizwars | 1:08 | Active | 2.2 | | 2023-09-06 |
| PJILLST (live) | Wizwars | 1:15 | Active | 1.0 | | 2022-11-23 |
| pl0xw3rt plzz | VCMG (Vincent Chang) | 5:50 | Active | 3.8 | | 2023-08-15 |
| Plug in children | NNNNNNNNNN | 3:47 | Active | 2.9 | | 2023-08-22 |
| Points | Comptroller (Michael Cox) | 3:05 | Active | 3.0 | | 2022-11-07 |
| Polywrath | Danimal Cannon | 4:46 | Active | 4.8 | | 2023-09-27 |
| Pool Fairies | .exe | 1:37 | Active | 2.7 | | 2023-07-20 |
| Popsnap | Kool Skull | 3:47 | Active | 2.0 | | 2023-08-07 |
| Power to Arrange in Rank Order | Bart Youngsters , Dan McClay Men Of Mega | 4:26 | Active | 3.8 | | 2023-08-30 |
| Power To Take Into Account | Bart Youngsters , Dan McClay Men Of Mega | 3:16 | Active | 4.5 | | 2023-07-26 |
| Prima Shooter | Stress_TN | 5:43 | Active | 3.1 | | 2023-08-25 |
| Providence | AndaruGO | 7:11 | Active | 2.0 | | 2022-01-11 |
| Prppersnots | Timeheater | 3:30 | Active | 2.3 | | 2023-09-11 |
| Pull Your Head In | Abortifacient | 2:22 | Active | 2.6 | | 2023-09-16 |
| Pulse traveller | Wiklund (Alexander Wiklund) | 3:07 | Active | 4.3 | | 2023-08-13 |
| Push On | TREYFREY | 5:16 | Active | 2.3 | | 2023-07-10 |
| Pxl-Bot One Year Later - Rediscovery | Gnarly Sunshine | 3:15 | Active | 4.2 | | 2023-07-21 |
| Pyramid Bouncer | Turtlesaur | 4:11 | Active | 4.4 | | 2023-09-08 |
| Quadraxis | .exe | 1:51 | Active | 2.9 | | 2023-07-22 |
| Quantum Manifold | Graviton Flux | 5:43 | Active | 4.0 | | 2022-03-23 |
| Quiet | Kool Skull | 6:52 | Active | 3.5 | | 2021-11-04 |
| Racecar (Fast One) | VCMG (Vincent Chang) | 1:57 | Active | 5.0 | | 2022-06-29 |
| Rainbow Sting | VCMG (Vincent Chang) | 1:48 | Active | 4.7 | | 2023-09-10 |
| Randolph Carter | AndaruGO | 4:31 | Active | 3.0 | | 2023-09-05 |
| Rape of the Sugar Plum Faeries | Natty (Nathaniel Adams) | 3:08 | Active | 2.8 | | 2023-07-28 |
| Real In The Field | Da Pantz (Ricardo Almonte) | 2:35 | Active | 2.7 | | 2023-09-13 |
| Realms | Auxcide | 8:42 | Active | 5.0 | | 2020-12-11 |
| Reasons | Dire Hit | 3:23 | Active | 5.0 | | 2021-10-02 |
| Recoil (v2) | Kedromelon | 4:14 | Active | | | 2021-12-08 |
| Recover | TREYFREY | 5:46 | Active | 4.3 | | 2023-09-28 |
| Red Pill | Spamtron | 4:45 | Active | 5.0 | | 2022-11-22 |
| Red Ranger | Optimus Chad (Chad Roose) | 2:24 | Active | 2.0 | | 2023-08-24 |
| REEK | Shit Bird | 1:54 | Active | 2.5 | | 2023-07-22 |
| Reflections | el Musho | 2:56 | Active | 4.7 | | 2023-07-25 |
| Reformat The Planet (Bit Shifter cover) | Wizwars | 3:39 | Active | 4.2 | | 2023-08-15 |
| Reformat The Planet (live) | Wizwars | 3:52 | Active | 3.8 | | 2023-06-19 |
| Registers - Dye My Hair With Gasoline | Starpilot (Duane Aberle) | 3:58 | Active | 2.2 | | 2023-09-25 |
| Registers - Gestalt Psychology | Starpilot (Duane Aberle) | 6:49 | Active | 3.2 | | 2023-09-02 |
| Registers - Landfill Grocery Store | Starpilot (Duane Aberle) | 4:54 | Active | 3.3 | | 2023-09-11 |
| Registers - Registers | Starpilot (Duane Aberle) | 10:08 | Active | 3.5 | | 2023-09-27 |
| Registers - Shut The Fuck Up And Dance / Rabid Raunch | Starpilot (Duane Aberle) | 9:15 | Active | 1.7 | | 2020-08-26 |
| Registers - Time Tickler (Up Heaven's Chimney, Again) | Starpilot (Duane Aberle) | 4:43 | Active | 1.5 | | 2022-01-19 |
| Registers - VHS Blur | Starpilot (Duane Aberle) | 3:20 | Active | 2.0 | | 2023-09-09 |
| Remoss33 | Jellica (Jacob Manley) | 2:57 | Active | 3.0 | | 2021-10-17 |
| Ren | Downstate | 2:15 | Active | 2.5 | | 2023-01-08 |
| Reparto Arditi | Secret Lab | 3:37 | Active | 3.7 | | 2023-08-21 |
| Reptilian Brown Eye (DNB Dubstep) | Abortifacient | 3:42 | Active | 2.4 | | 2023-06-03 |
| Requiem For A Broken Heart | Wizwars | 2:11 | Active | 5.0 | | 2022-03-07 |
| Rescue Expedition | Stress_TN | 4:05 | Active | 4.0 | | 2023-08-25 |
| Returning home | ovenrake | 5:03 | Active | 5.0 | | 2023-09-21 |
| return_trip | Datacats | 18:14 | Active | 3.3 | | 2021-10-22 |
| Reveries at sunrise | Kedromelon | 2:49 | Active | 4.0 | | 2023-05-19 |
| Riccio | Timeheater | 3:23 | Active | 2.0 | | 2023-09-15 |
| Riding Casseopea Collidin Planet Heart | I Against Me | 5:01 | Active | 3.0 | | 2023-08-09 |
| Right back to you | Wizwars | 2:49 | Active | 4.0 | | 2022-02-07 |
| Rigid Paradise | kommisar (Christophe Goulet-LeBlanc) | 2:42 | Active | 3.4 | | 2023-09-10 |
| Rings | Doomsberry | 3:30 | Active | 3.4 | | 2023-08-29 |
| RIP THE CHIP. | DEADBEATBLAST (Jake Moolenbeek) | 6:10 | Active | 4.3 | | 2023-08-19 |
| RIPPER | Abortifacient | 3:51 | Active | 1.5 | | 2022-06-16 |
| Riverhead | Dylanbrochill (Dylan MacKinnon) | 2:35 | Active | 4.3 | | 2023-07-25 |
| Roboroach | Derris-Kharlan (Nathan) | 4:28 | Active | 4.0 | | 2023-03-18 |
| Rokko Chan - Dr. Mad Stage 4 (summer evening remix) | USK | 5:51 | Active | 3.5 | | 2023-02-07 |
| Rokko Chan - Ending | Nordloef | 3:12 | Active | 5.0 | | 2023-08-21 |
| Rokko Chan - Lightning Man Stage | Zef (Chris Penner) | 3:51 | Active | 4.4 | | 2023-07-17 |
| Rooster Brain | Shit Bird | 1:35 | Active | 2.5 | | 2023-05-21 |
| Roots | Danimal Cannon | 4:54 | Active | 4.1 | | 2023-09-19 |
| Roots (IRL Mix) | Danimal Cannon | 4:49 | Active | 4.5 | | 2023-06-03 |
| Runaway | Blip Noir | 3:47 | Active | 4.0 | | 2022-06-26 |
| Russian Bitch | Set_Diamond | 4:50 | Active | 3.3 | | 2023-08-18 |
| Rusty Trawler | Kool Skull | 4:29 | Active | 2.2 | | 2023-06-08 |
| S-Pirait-Rerica(megafunchmix) | Oven Rake (Dakota Clark) | 7:49 | Active | 3.8 | | 2023-08-09 |
| Sabretooth | TREYFREY | 3:55 | Active | 4.0 | | 2023-09-16 |
| Safafa BCF d3 | Jellica (Jacob Manley) | 4:37 | Active | 3.0 | | 2023-05-01 |
| Screen Hallucinations | Battle Lava (Alexander Westcott) | 3:00 | Active | 2.5 | | 2023-06-06 |
| SDM | .exe | 3:48 | Active | 2.0 | | 2023-08-29 |
| Searching For Atlantis | Random (William Rickman) | 3:22 | Active | 4.5 | | 2023-08-16 |
| Secret Star System | KymAz (Kym Azlan) | 4:57 | Active | 2.0 | | 2022-09-26 |
| Seetee Mormegil | Nestrogen (Michael Raisner) | 0:38 | Active | 3.0 | | 2021-12-02 |
| Seize My Day | Rainbowdragoneyes | 3:12 | Active | 3.4 | | 2023-08-08 |
| Sense of Justice | Wiklund (Alexander Wiklund) | 2:28 | Active | 4.0 | | 2023-08-24 |
| Sentience Achieved | an0va (Daniel Davis) | 3:46 | Active | 4.4 | | 2023-08-28 |
| Serotonin Assault | Bleeds | 2:44 | Active | 4.5 | | 2023-07-30 |
| Shade in This Oppressive Heat Wave | Nestrogen (Michael Raisner) | 1:33 | Active | 5.0 | | 2022-05-26 |
| Shadow Mainframe | The Syntax Sin Tax | 4:03 | Active | 4.0 | | 2022-07-23 |
| Shark Flower | Stenobot | 3:16 | Active | 4.0 | | 2021-12-29 |
| Shatter | Monodeer (Mark van den Heuvel) | 5:05 | Active | 3.9 | | 2023-07-21 |
| She Will Be Remembered | Danimal Cannon | 4:04 | Active | 4.8 | | 2023-09-26 |
| Shitmypants | Kool Skull | 1:56 | Active | 2.0 | | 2023-08-23 |
| Shoebox | Shit Bird | 4:01 | Active | 2.0 | | 2023-06-01 |
| Short 'n Sweet (Bonus Track) | VCMG (Vincent Chang) | 1:08 | Active | 3.0 | | 2022-08-07 |
| Shortcomings | Solarbear | 3:19 | Active | 5.0 | | 2023-09-24 |
| Show Me Your World | bubu (Barnabás József Fekete) | 2:43 | Active | 3.7 | | 2023-08-11 |
| Shut Up And Fight! (Ft. Bitman) | Shanebro | 3:36 | Active | 4.0 | | 2023-07-18 |
| Siberia | Stress_TN | 3:20 | Active | 3.3 | | 2023-08-16 |
| Sikkky (Safafa version) | Jellica (Jacob Manley) | 3:38 | Active | 4.0 | | 2022-01-26 |
| Silk | JayTresh | 3:07 | Active | 4.5 | | 2023-07-19 |
| Silver Head | Comptroller (Michael Cox) | 2:18 | Active | 3.9 | | 2023-06-11 |
| Sir, That Does Not Qualify as a Backbone | Nestrogen (Michael Raisner) | 0:34 | Active | 2.8 | | 2023-08-24 |
| Sixteen | Facundo | 1:58 | Removed By Request | 1.3 | | 2021-02-17 |
| Skulls | J. Arthur Keenes | 2:27 | Active | 2.8 | | 2023-06-15 |
| Sky Attack | Kedromelon | 4:09 | Active | 5.0 | | 2020-12-20 |
| Slam Dunk Lifestyle | Knife City (Luke Silas) | 4:20 | Active | 4.0 | | 2023-09-23 |
| Small Wonders | Datacats | 2:18 | Active | 4.5 | | 2020-12-07 |
| Snow | Daniel Capo | 5:16 | Active | 2.9 | | 2023-09-23 |
| Snowmonster Massacre | Kool Skull | 3:57 | Active | 1.3 | | 2023-09-02 |
| Solar Pt.II | KymAz (Kym Azlan) | 4:24 | Active | 2.5 | | 2023-04-29 |
| Something You Said | TREYFREY | 4:25 | Active | 3.5 | | 2023-09-20 |
| Soundwave Superior | Optimus Chad (Chad Roose) | 2:10 | Active | 2.0 | | 2021-11-29 |
| Space Bass chang:01 | NNNNNNNNNN | 3:12 | Active | 4.0 | | 2023-09-04 |
| Space Cadet - Amputated Fist | Starpilot (Duane Aberle) | 2:32 | Active | 3.0 | | 2023-09-21 |
| Space Cadet - Big Bacon Vortex | Starpilot (Duane Aberle) | 5:08 | Active | 3.5 | | 2023-09-01 |
| Space Cadet - Death Is Dead / Shedding Spores | Starpilot (Duane Aberle) | 6:08 | Active | 2.3 | | 2023-03-13 |
| Space Cadet - Feisty Robot | Starpilot (Duane Aberle) | 3:36 | Active | 3.5 | | 2023-07-11 |
| Space Cadet - Freefly | Starpilot (Duane Aberle) | 4:10 | Active | 4.3 | | 2023-09-24 |
| Space Cadet - Ha Ha Ha Haters | Starpilot (Duane Aberle) | 7:13 | Active | 3.6 | | 2023-09-03 |
| Space Cadet - Paranoia Is A Liar | Starpilot (Duane Aberle) | 8:03 | Active | 4.3 | | 2023-07-26 |
| Space Cadet - Space Cadet | Starpilot (Duane Aberle) | 3:20 | Active | 4.0 | | 2023-06-26 |
| Space Cadet - Tripping Out | Starpilot (Duane Aberle) | 3:16 | Active | 2.2 | | 2023-09-08 |
| Space Cadet - Vailixi | Starpilot (Duane Aberle) | 6:54 | Active | 4.2 | | 2023-09-10 |
| Space Disco | RobotSexMusic | 4:33 | Active | 4.3 | | 2023-09-19 |
| Space Ninja 16 | NNNNNNNNNN | 5:18 | Active | 3.2 | | 2023-08-18 |
| Space Poupon - As Far As I Know | Spinning Voices | 3:06 | Active | 3.0 | | 2022-09-26 |
| Space Poupon - Bytelark | Spinning Voices | 3:37 | Active | 2.3 | | 2023-06-11 |
| Space Poupon - Fret Less | Spinning Voices | 2:08 | Active | 3.0 | | 2023-04-01 |
| Space Poupon - IO Spectrum | Spinning Voices | 2:45 | Active | 2.0 | | 2022-08-13 |
| Space Poupon - Lopside | Spinning Voices | 2:54 | Active | 2.5 | | 2022-07-27 |
| Space Poupon - Retroexpect | Spinning Voices | 2:29 | Active | 3.0 | | 2023-02-14 |
| Space Poupon - Sibble | Spinning Voices | 2:45 | Active | 4.3 | | 2023-08-15 |
| Space Poupon - Team Team | Spinning Voices | 2:14 | Active | 2.0 | | 2021-01-08 |
| Space Poupon - Upper Layer SYNACK | Spinning Voices | 3:59 | Active | 3.7 | | 2023-09-04 |
| Space Poupon - Vanilla | Spinning Voices | 4:11 | Active | 4.0 | | 2023-01-30 |
| Space Wulf | Galaxy Wolf | 2:38 | Active | 3.0 | | 2022-06-24 |
| Spaceflight | Battle Lava (Alexander Westcott) | 2:12 | Active | 3.0 | | 2023-08-04 |
| Spacewalk | Danimal Cannon | 4:28 | Active | 4.5 | | 2023-08-09 |
| Spank | SingkongBalado (Leo Avero) | 3:28 | Active | 3.8 | | 2023-07-21 |
| Spectra - Aurora Borealis | Chipzel (Niamh Houston) | 3:37 | Active | 3.5 | | 2020-11-09 |
| Spectra - Beyond the Cosmos | Chipzel (Niamh Houston) | 3:33 | Active | 4.0 | | 2021-12-10 |
| Spectra - Evolution | Chipzel (Niamh Houston) | 5:35 | Active | 4.0 | | 2022-05-24 |
| Spectra - Final Credits | Chipzel (Niamh Houston) | 3:44 | Active | 5.0 | | 2023-08-23 |
| Spectra - Forged in Stars | Chipzel (Niamh Houston) | 3:16 | Active | 2.0 | | 2022-03-05 |
| Spectra - Formed in the Clouds (Interlude) | Chipzel (Niamh Houston) | 2:22 | Active | 5.0 | | 2020-12-14 |
| Spectra - Only Human | Chipzel (Niamh Houston) | 3:58 | Active | 3.5 | | 2023-07-14 |
| Spectra - Sonnet | Chipzel (Niamh Houston) | 3:40 | Active | 4.0 | | 2023-03-28 |
| Spectra - Spectra | Chipzel (Niamh Houston) | 3:56 | Active | 4.0 | | 2023-07-04 |
| Spectra - Sunday | Chipzel (Niamh Houston) | 3:46 | Active | 5.0 | | 2023-09-09 |
| Spectra - The Art of War | Chipzel (Niamh Houston) | 3:13 | Active | 4.5 | | 2023-02-07 |
| Spectra - Tokyo Skies | Chipzel (Niamh Houston) | 3:52 | Active | 5.0 | | 2023-06-29 |
| Spectra - Veteran | Chipzel (Niamh Houston) | 4:00 | Active | 2.0 | | 2023-09-25 |
| Spill The Poison | JayTresh | 4:07 | Active | 4.1 | | 2023-07-16 |
| Spirit (LSDJ version) | Auxcide | 4:53 | Active | 4.0 | | 2023-07-26 |
| Springs | Twistboy | 4:20 | Active | 4.9 | | 2023-08-25 |
| Square Power | Stress_TN | 4:32 | Active | 3.3 | | 2023-05-12 |
| SSL(2) (BOTB Winter Chip Version) | Jellica (Jacob Manley) | 3:27 | Active | 4.0 | | 2022-12-12 |
| ssǝɔu!ɹd ǝɔɐds ʎʞunɟ | AndaruGO | 5:55 | Active | 2.0 | | 2023-08-28 |
| Stardrain | Kool Skull | 3:24 | Active | 1.8 | | 2023-07-05 |
| StarDRIVE | nickelPUNK | 2:35 | Active | 3.0 | | 2022-12-09 |
| Stares | Beastmode | 3:01 | Active | 2.7 | | 2023-07-14 |
| Stares | Beastmode | 3:01 | Active | 3.0 | | 2023-06-22 |
| Stargaze | IAYD (Alex) | 4:33 | Active | 3.0 | | 2022-11-23 |
| Staring Daggers | Battle Lava (Alexander Westcott) | 3:25 | Active | 3.0 | | 2021-08-01 |
| Stars And Skies Forever | VCMG (Vincent Chang) | 5:05 | Active | 4.0 | | 2023-07-04 |
| Starting over | Chipzel (Niamh Houston) | 2:43 | Active | 4.0 | | 2022-12-12 |
| Statics & Dynamics | TREYFREY | 4:21 | Active | 3.5 | | 2023-09-29 |
| Stelar Company | .exe | 5:29 | Active | 3.2 | | 2023-09-26 |
| Step Your Game Up | Boaconstructor , Turtlesaur | 3:08 | Active | 3.5 | | 2023-04-21 |
| Still Hope (Ambient Remix) | Datacats | 11:55 | Active | 3.5 | | 2020-11-02 |
| Still Hope (Still Time) | Datacats | 2:58 | Active | 5.0 | | 2023-09-23 |
| Stop Saying Chipthrash | Nestrogen (Michael Raisner) | 0:18 | Active | 4.0 | | 2023-07-26 |
| Strobe (Bonus Track) | VCMG (Vincent Chang) | 1:57 | Active | 4.0 | | 2020-10-28 |
| Summer | Jyooruje (Jorge) | 2:36 | Active | 3.3 | | 2023-09-19 |
| Summer in Sopot | Blip Noir | 3:39 | Active | | | 2023-01-23 |
| Sunsetter | VCMG (Vincent Chang) | 2:48 | Active | 3.0 | | 2020-10-23 |
| Sweat and heartstrokes (es un monstruo) | PaK-Zer0 | 3:54 | Active | 4.0 | | 2023-09-16 |
| Sweet dreams | SidAbitBall (Pierre Boquet) | 2:55 | Active | 4.3 | | 2023-08-27 |
| Sweet Potato Queen | Michael Television | 4:21 | Active | 5.0 | | 2023-04-20 |
| Syfilis och vitlök (Archipos Remix) | Wiklund (Alexander Wiklund) | 3:54 | Active | 4.3 | | 2023-09-16 |
| Synergy (ft. Paul Wardingham, Shnabubula, and Tony Dickinson) | Danimal Cannon | 6:01 | Active | 4.5 | | 2023-08-09 |
| Synthesis | Blip Noir | 5:56 | Active | 4.2 | | 2023-07-07 |
| Synthetiseur | Monodeer (Mark van den Heuvel) | 4:06 | Active | 4.1 | | 2023-08-05 |
| Tainted Tune | Wiklund (Alexander Wiklund) | 3:28 | Active | 4.8 | | 2023-08-28 |
| Take It | Bleeds | 2:43 | Active | 3.5 | | 2023-02-03 |
| Take On Me, already! (a-ha cover) | Jefftheworld | 4:08 | Active | 2.8 | | 2023-06-21 |
| Tank Resistance | Stress_TN | 4:05 | Active | 4.5 | | 2023-07-14 |
| Tat Do I Is Owl | Jellica (Jacob Manley) | 5:46 | Active | 2.5 | | 2023-08-21 |
| Taxi | Wiklund (Alexander Wiklund) | 3:52 | Active | 4.6 | | 2023-08-24 |
| Technoir | Ralp (Raül Peix) | 3:15 | Active | 2.0 | | 2023-09-02 |
| Technological Singularity | Wizwars | 3:39 | Active | 3.2 | | 2023-09-10 |
| Telephone to the Moon and Back | VCMG (Vincent Chang) | 4:57 | Active | 3.8 | | 2023-08-28 |
| Tell Me a Tale, Salty Seaman | VCMG (Vincent Chang) | 3:39 | Active | 4.4 | | 2023-04-05 |
| Telstar Arcade (live) | Wizwars | 3:25 | Active | 4.0 | | 2022-03-31 |
| Tension | Zef (Chris Penner) | 4:57 | Active | 4.3 | | 2023-09-29 |
| texas battle | arcadecoma. (Ross Murdoch) | 2:37 | Active | 4.3 | | 2023-06-29 |
| TFRecover | TREYFREY | 5:44 | Active | 4.6 | | 2023-09-26 |
| That Girl Is A Vampire EP | TREYFREY | 4:14 | Active | 3.0 | | 2023-01-12 |
| The Beatdown in Midtown | Nestrogen (Michael Raisner) | 1:19 | Active | 3.0 | | 2022-06-08 |
| The Big Crunch | Danimal Cannon | 3:30 | Active | 3.4 | | 2023-08-11 |
| The Crespucular | Shit Bird | 2:38 | Active | 2.8 | | 2023-09-08 |
| The Datamoshpit | Wizwars | 1:11 | Active | 1.0 | | 2023-07-13 |
| The Devil is a Disco Dancer | Freque | 3:30 | Active | 2.0 | | 2021-04-18 |
| The Dig | Ten Pixels Tall (Jeremy Buzek) | 4:00 | Active | 4.7 | | 2023-09-17 |
| The Digital Force | Wiklund (Alexander Wiklund) | 4:45 | Active | 4.8 | | 2023-08-26 |
| The Ecstacy of Gold | Glomag (Chris Burke) | 1:56 | Active | 4.5 | | 2023-08-07 |
| The Girl In The Ferrari | Ten Pixels Tall (Jeremy Buzek) | 1:39 | Active | 5.0 | | 2023-06-07 |
| The Interstellar Medium | IAYD (Alex) | 3:20 | Active | 4.0 | | 2021-07-09 |
| The Last Shred Of Green Dream | bubu (Barnabás József Fekete) | 2:53 | Active | 4.0 | | 2021-11-13 |
| The Mermalair | Ten Pixels Tall (Jeremy Buzek) | 4:08 | Active | 5.0 | | 2022-05-11 |
| The New New Real Real Folk Blues | Bud Melvin | 4:33 | Active | 2.7 | | 2023-08-07 |
| The Prologue and the Promise | an0va (Daniel Davis) | 1:28 | Active | 3.4 | | 2023-05-21 |
| The remarkable story | Wiklund (Alexander Wiklund) | 3:36 | Active | 4.3 | | 2023-08-18 |
| The Sea Will Bleach Bones | Joseph Eidson | 4:27 | Active | 4.0 | | 2023-09-12 |
| The Search Part 1 | Dylanbrochill (Dylan MacKinnon) | 3:28 | Active | 3.0 | | 2021-05-20 |
| The Search Part 2 | Dylanbrochill (Dylan MacKinnon) | 2:41 | Active | 3.0 | | 2023-05-25 |
| The Sky Is Ours | Shanebro | 5:04 | Active | 4.0 | | 2023-09-05 |
| The Streets Will Run Red | Da Pantz (Ricardo Almonte) | 2:51 | Active | 2.4 | | 2023-08-30 |
| The Terminal | Bleeds | 3:12 | Active | 3.9 | | 2023-09-29 |
| The Very Old Man (hum cover) | Starpilot (Duane Aberle) | 3:28 | Active | 3.0 | | 2023-04-17 |
| The Violator | Wizwars | 2:42 | Active | 2.2 | | 2023-07-13 |
| The Violator (live) | Wizwars | 2:42 | Active | 2.0 | | 2023-03-15 |
| The Wrong Mistake | Random (William Rickman) | 2:53 | Active | 3.9 | | 2023-09-15 |
| Theme from Twin Peaks | Natty (Nathaniel Adams) | 4:28 | Active | 2.3 | | 2023-08-11 |
| There Was a Planet Here | an0va (Daniel Davis) | 3:40 | Active | 4.7 | | 2023-09-26 |
| They Predicted This | Whitely | 7:41 | Active | 3.9 | | 2023-08-04 |
| They Were Right | Whitely | 4:36 | Active | 2.5 | | 2023-07-08 |
| This Is Why We Can't Have Nice Things (Remastered) | Storm Blooper (Chris De Pew) | 3:10 | Active | 4.8 | | 2023-09-12 |
| Thrash CIty | Wizwars | 3:02 | Active | 2.0 | | 2023-08-06 |
| Thrash City (live) | Wizwars | 3:17 | Active | 2.9 | | 2023-08-28 |
| Thrashboy | XyNo (Nicolas Allaire) | 3:15 | Active | 3.0 | | 2022-03-05 |
| Thunda Boltz | Boaconstructor , Turtlesaur | 4:30 | Active | 5.0 | | 2021-02-02 |
| Tidal Bout - Still Life With Ghosts | Roboctopus | 6:01 | Active | 4.1 | | 2023-08-03 |
| Tidal Bout - Tidal Bout | Roboctopus | 3:26 | Active | 4.5 | | 2023-08-05 |
| Tidal Bout - Underwater on the Moon | Roboctopus | 4:50 | Active | 3.8 | | 2023-08-20 |
| Tiger | Whitely | 2:22 | Active | 4.0 | | 2023-06-10 |
| Time to Die | Fighter X (Nickolas Walthew) | 4:17 | Active | 4.4 | | 2023-09-24 |
| Tired of Gameboy Music - Aureate Starguts (Wake Up Version) | Starpilot (Duane Aberle) | 4:12 | Active | 3.0 | | 2023-01-16 |
| Tired of Gameboy Music - Becuz Love | Starpilot (Duane Aberle) | 4:42 | Active | 2.4 | | 2023-09-11 |
| Tired of Gameboy Music - Dictatorchip | Starpilot (Duane Aberle) | 4:52 | Active | 1.7 | | 2023-09-04 |
| Tired of Gameboy Music - Let There Be Jellyfish | Starpilot (Duane Aberle) | 3:15 | Active | 2.0 | | 2023-08-21 |
| Tired of Gameboy Music - Lynching The Creators | Starpilot (Duane Aberle) | 6:06 | Active | 4.0 | | 2021-09-26 |
| Tired of Gameboy Music - Starspangled Sweatpants / 4am Divine | Starpilot (Duane Aberle) | 7:43 | Active | 3.8 | | 2023-08-27 |
| Tired of Gameboy Music - Tired Of It Because It's Become Just The Same Old Same Old Boring Clicky Unce Club | Starpilot (Duane Aberle) | 2:13 | Active | 1.0 | | 2022-09-16 |
| Tired of Gameboy Music - Uninvited | Starpilot (Duane Aberle) | 0:46 | Active | 3.0 | | 2022-08-19 |
| Titan 2 | Kedromelon | 4:31 | Active | 4.0 | | 2022-01-30 |
| TMNT rmx (bonus track) | Stress_TN | 2:56 | Active | 4.3 | | 2023-08-13 |
| Tonight | Cooshinator (Christian Calhoun) | 3:07 | Active | 3.0 | | 2020-11-18 |
| Too Much - Burn All The Liars | Starpilot (Duane Aberle) | 4:53 | Active | 2.8 | | 2023-07-31 |
| Too Much - Give Me All Your Gravitons | Starpilot (Duane Aberle) | 1:58 | Active | 4.8 | | 2023-09-20 |
| Too Much - Gristlebunnies! | Starpilot (Duane Aberle) | 5:42 | Active | 2.8 | | 2023-09-05 |
| Too Much - It Tastes Like Mathematics | Starpilot (Duane Aberle) | 3:09 | Active | 4.0 | | 2023-06-19 |
| Too Much - Kiss My Abyss | Starpilot (Duane Aberle) | 3:20 | Active | 2.6 | | 2023-09-11 |
| Too Much - Stars on the Floor | Starpilot (Duane Aberle) | 4:33 | Active | 3.0 | | 2020-10-28 |
| Too Trashed To Thrash | Wizwars | 3:03 | Active | 4.5 | | 2023-04-17 |
| TORIENA-ASDCjam(Cockscomb Remix) | NNNNNNNNNN | 5:31 | Active | 4.2 | | 2023-08-26 |
| Torpedophile of Wonder and Joy | Nestrogen (Michael Raisner) | 2:23 | Active | 2.0 | | 2023-05-17 |
| Total Disaster | DEADBEATBLAST (Jake Moolenbeek) | 5:44 | Active | 3.0 | | 2023-09-09 |
| Touch of Death | Beastmode | 2:19 | Active | 2.8 | | 2023-09-05 |
| Touchtone | Ten Pixels Tall (Jeremy Buzek) | 2:55 | Active | 5.0 | | 2023-07-11 |
| Trash80-Missing You (EC Heartbreaker Remix) | Electric Children | 6:42 | Active | 4.2 | | 2023-09-03 |
| Traverse De Rn85 (Dubmood Vs Facteur Remix) | Dubmood (Kalle Jonnson) | 5:09 | Active | 4.5 | | 2023-07-27 |
| Trevor | Bud Melvin | 3:38 | Active | 3.8 | | 2023-09-10 |
| TRibe 727 | Ikuma | 5:02 | Active | 4.0 | | 2023-08-13 |
| Triborough Bridge | Da Pantz (Ricardo Almonte) | 3:22 | Active | 3.0 | | 2023-06-05 |
| Triborough Bridge (live) | Wizwars | 2:04 | Active | 3.5 | | 2023-08-12 |
| Triborough Bridge (remix, original by DaPantz) | Wizwars | 2:35 | Active | 3.5 | | 2022-03-28 |
| Trypticon | Optimus Chad (Chad Roose) | 2:57 | Active | 2.2 | | 2023-09-21 |
| Tubelights | Monodeer (Mark van den Heuvel) | 5:19 | Active | 4.3 | | 2023-09-10 |
| Twenty Three | Facundo | 2:41 | Active | 1.7 | | 2023-09-02 |
| Two kinds of brothers | Wiklund (Alexander Wiklund) | 4:02 | Active | 4.3 | | 2023-09-13 |
| Type I Error | an0va (Daniel Davis) | 2:56 | Active | 3.8 | | 2023-08-11 |
| U Had Me @ ASL | Freque | 3:26 | Active | 3.2 | | 2023-09-03 |
| U Should come to Kyoto | NNNNNNNNNN | 5:49 | Active | 4.4 | | 2023-08-08 |
| Ultimately, we just want to be happy | Chipzel (Niamh Houston) | 4:38 | Active | 3.7 | | 2023-09-16 |
| Ultraviolet | VCMG (Vincent Chang) | 4:17 | Active | 3.8 | | 2023-08-21 |
| Unagi's Cavern | .exe | 2:56 | Active | 1.4 | | 2023-09-03 |
| Underground | Nameless | 2:15 | Active | 1.0 | | 2023-03-28 |
| Untitled | VCMG (Vincent Chang) | 2:58 | Active | 4.7 | | 2023-09-20 |
| Untitled #666 | Cooshinator (Christian Calhoun) | 10:13 | Active | 3.8 | | 2023-08-09 |
| Untitled 7 | Bleeds | 3:48 | Active | 4.3 | | 2023-09-17 |
| Untraceable | Dylanbrochill (Dylan MacKinnon) | 2:05 | Active | 3.3 | | 2023-08-14 |
| Untz Untz! | Jyooruje (Jorge) | 1:42 | Active | 3.1 | | 2023-07-07 |
| Uptown, Baby! | Da Pantz (Ricardo Almonte) | 2:44 | Active | 1.3 | | 2023-08-21 |
| Username | Facundo | 1:23 | Active | 2.5 | | 2022-05-21 |
| Veil of Royal Upbringing | Timeheater | 2:54 | Active | 5.0 | | 2021-02-22 |
| Versa Monroe | Optimus Chad (Chad Roose) | 6:43 | Removed By Request | 1.3 | | 2022-01-06 |
| Versus Mode | Ultrasyd | 4:51 | Active | 4.7 | | 2023-07-22 |
| Vibrance | Fighter X (Nickolas Walthew) | 3:20 | Active | 5.0 | | 2023-09-16 |
| Victory Lapse - All Outta Bubblegum | Roboctopus | 2:37 | Active | 4.3 | | 2023-06-26 |
| Victory Lapse - Lighter Than Air, Briefly | Roboctopus | 2:49 | Active | 5.0 | | 2022-02-14 |
| Victory Lapse - The Walls Became the World | Roboctopus | 3:27 | Active | 4.5 | | 2023-05-30 |
| Victory Lapse - Victory Lapse | Roboctopus | 2:52 | Active | 4.5 | | 2023-08-13 |
| Victory Lapse - Your Stars at Dawn | Roboctopus | 3:58 | Active | 5.0 | | 2023-06-27 |
| Viral Corrupt | .exe | 1:38 | Active | 2.3 | | 2023-08-25 |
| Voyager | Datacats | 3:09 | Active | 5.0 | | 2023-01-11 |
| WAG | Timeheater | 1:04 | Removed By Request | 1.0 | | 2020-12-26 |
| Waiting Updates | XyNo (Nicolas Allaire) | 1:55 | Active | 4.0 | | 2022-04-09 |
| Wakak | NNNNNNNNNN | 3:44 | Active | 4.1 | | 2023-06-22 |
| Waking Up in the Perseids | VCMG (Vincent Chang) | 5:07 | Active | 4.6 | | 2023-08-15 |
| Walking Like We Were Shot Through Our Heads | Da Pantz (Ricardo Almonte) | 3:11 | Active | 2.0 | | 2023-09-02 |
| Wanabee | SidAbitBall (Pierre Boquet) | 2:03 | Active | 3.4 | | 2023-09-27 |
| Wank Harder | NNNNNNNNNN | 4:33 | Active | 3.5 | | 2023-07-23 |
| War Face | EGR | 1:41 | Active | 1.3 | | 2023-08-08 |
| Waterwing Warrior | Dylanbrochill (Dylan MacKinnon) | 1:40 | Active | 4.5 | | 2021-10-04 |
| We call it snus | Wiklund (Alexander Wiklund) | 4:00 | Active | 4.8 | | 2023-08-28 |
| We Must Fly | bubu (Barnabás József Fekete) | 2:01 | Active | 4.0 | | 2023-08-19 |
| We Never Said | bubu (Barnabás József Fekete) | 3:06 | Active | 4.5 | | 2022-09-11 |
| We Screw Up At The End | Mr Wimmer , Solarbear | 2:35 | Active | 2.5 | | 2023-08-30 |
| We Were Toxic All Along | Blip Noir | 3:41 | Active | 3.5 | | 2023-07-22 |
| Wee Monster | Unicorn Kid (Oliver Sabin) | 3:18 | Active | 4.7 | | 2023-08-23 |
| Weighs a Literal Skele-Ton | Nestrogen (Michael Raisner) | 1:48 | Active | 2.0 | | 2022-10-18 |
| Welcome Back (intro) | Optimus Chad (Chad Roose) | 1:36 | Active | 3.0 | | 2023-09-28 |
| Wget Money | Oven Rake (Dakota Clark) | 4:16 | Active | 3.8 | | 2023-09-20 |
| What is love ? | SidAbitBall (Pierre Boquet) | 1:58 | Active | 3.7 | | 2023-06-23 |
| What? nothing. | arcadecoma. (Ross Murdoch) | 2:56 | Active | 4.0 | | 2023-04-07 |
| Whip the Blip | Wiklund (Alexander Wiklund) | 3:45 | Active | 4.7 | | 2023-08-16 |
| Whore VI//New Haircut | IAYD (Alex) | 4:47 | Active | 3.0 | | 2023-07-15 |
| Wiggle | Xyce (Tom Offringa & Roel Heerspink) | 3:06 | Active | 3.7 | | 2023-03-17 |
| Wing Beats | Wiklund (Alexander Wiklund) | 3:49 | Active | 4.4 | | 2023-08-19 |
| Wish Granted (Passage III) | Aliceffekt | 10:02 | Active | 3.5 | | 2020-11-02 |
| Wob Bob | Stress_TN | 4:25 | Active | 3.0 | | 2023-07-16 |
| Wreck | TREYFREY | 3:48 | Active | 2.0 | | 2023-08-30 |
| XXN9 | Spöka (Timmy Saldén-Wagner) | 4:06 | Active | 5.0 | | 2023-09-03 |
| Yesterday's Fragile Bird | bubu (Barnabás József Fekete) | 3:15 | Active | 4.0 | | 2023-02-09 |
| Yisso | Jellica (Jacob Manley) | 3:34 | Active | 5.0 | | 2022-10-23 |
| You & Him | Whitely | 4:41 | Active | 3.8 | | 2023-08-22 |
| Z-Bombs | Comptroller (Michael Cox) | 2:29 | Active | 2.6 | | 2023-09-16 |
| Zenith | Shirobon (Michael Cordedda) | 3:26 | Active | | | |
| Zero (isolationideology) | Da Pantz (Ricardo Almonte) | 3:20 | Active | 1.9 | | 2023-05-17 |
| Zetafacts | .exe | 1:38 | Active | 2.0 | | 2023-07-12 |
| Zocie | Downstate | 4:58 | Active | 3.5 | | 2023-08-14 |
| "I don't think this is any synthesizer." | Optimus Chad (Chad Roose) | 0:36 | Active | 3.6 | | 2023-06-09 |
| "I think it's Japanese." | Optimus Chad (Chad Roose) | 0:51 | Active | 3.2 | | 2023-06-26 |
| "It's what I choose to believe." | Optimus Chad (Chad Roose) | 0:37 | Active | 1.3 | | 2023-06-18 |
| ♥∞ | The One Electric | 2:55 | Active | 4.3 | | 2023-05-18 |
| スターストリーム (Star Stream) | kommisar (Christophe Goulet-LeBlanc) | 2:01 | Active | 3.7 | | 2023-09-25 |
| パーティーで最もきれいな女の子 | AWESOMECAT | 2:52 | Active | 4.6 | | 2023-08-22 |