CVGM.net - Chiptune, Retro & Video Game Music

Platform - Console » Master System / Sega Mark III (FM)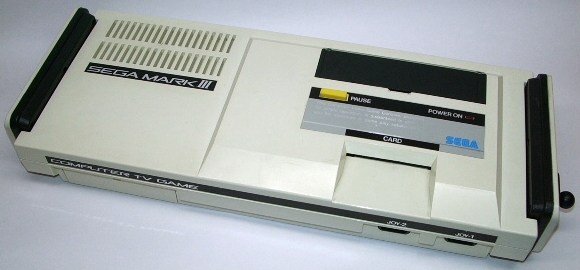 This platform is for FM sounds from Yamaha YM2413 chip when used in Japanese 8-bit Sega machines: Mark III & Master System which were the same machine in different case. In other areas Sega Master System was sold without YM2413 sound chip which produces FM sound and were equipped only with PSG chip (SN76489). These Japanese machines however, included both older PSG chip and FM chip.
The first version of Master System was called "Sega SG-1000 Mark III" and sold only in Japan. SG-1000 Mark III was produced in 1985-1987. It is virtually the same machine as Japanese Master System. This machine and also Japanese Master System (1987) both contained optional YM2413 sound chip which is cost reduced version of Yamaha's OPL2 chip. When this optional FM chip is used, Mark III and Japanese Master System produce highly different sound when compared to Master System sold in other areas.
Because in Japan Sega Master System did not become very popular console, Sega's FM music were not known in areas where the machine achieved its strongest support.
Songs
| Song Title | Artist | Song Length | Status | Avg. Vote | Queue | Last Played |
| --- | --- | --- | --- | --- | --- | --- |
| Alex Kidd: The Lost Stars - Machine World & Giants Body (BGM 3) | Hiro (1) (Hiroshi Kawaguchi) | 1:41 | Active | 5.0 | | 2023-09-26 |
| Alex Kidd: The Lost Stars - Toy World & Monster World (BGM 1) | Hiro (1) (Hiroshi Kawaguchi) | 1:53 | Active | 5.0 | | 2023-07-11 |
| Alex Kidd: The Lost Stars - Water World (BGM 4) | Hiro (1) (Hiroshi Kawaguchi) | 2:42 | Active | 4.0 | | 2023-08-26 |
| Alex Kidd: The Lost Stars - World of Make Believe & The Shrine of Jiggarat (BGM 2) | Hiro (1) (Hiroshi Kawaguchi) | 1:52 | Active | 5.0 | | 2023-08-17 |
| BIOS Music - Space Harrier Theme | Hiro (1) (Hiroshi Kawaguchi) | 4:30 | Active | 4.9 | | 2023-09-23 |
| Dynamite Dux - Pseudo Japan | Hiro (1) (Hiroshi Kawaguchi) | 1:19 | Active | 4.4 | | 2023-07-02 |
| Phantasy Star - Cave (FM) | Tokuhiko Uwabo | 1:30 | Active | 3.7 | | 2023-08-13 |
| Phantasy Star - Medusa (FM) | Tokuhiko Uwabo | 1:55 | Active | 4.1 | | 2023-09-18 |
| Phantasy Star - Motavia (FM) | Tokuhiko Uwabo | 1:57 | Active | 4.7 | | 2023-07-10 |
| Phantasy Star - Palma (FM) | Tokuhiko Uwabo | 1:29 | Active | 4.2 | | 2023-09-16 |
| Punch You | Rainbowdragoneyes | 1:16 | Active | 4.3 | | 2023-08-07 |
| Wonderboy III: The Dragon's Trap - Side-Crawler's Dance | Shinichi Sakamoto | 2:28 | Active | 4.8 | | 2023-09-06 |
| Wonderboy III: The Dragon's Trap - The Last Dungeon | Shinichi Sakamoto | 1:46 | Active | 3.4 | | 2023-09-12 |
| Wonderboy III: The Dragon's Trap - The Monster's Lair | Shinichi Sakamoto | 1:59 | Active | 4.3 | | 2023-09-04 |