CVGM.net - Chiptune, Retro & Video Game Music

Platform - Computer » X68000 (CM-64)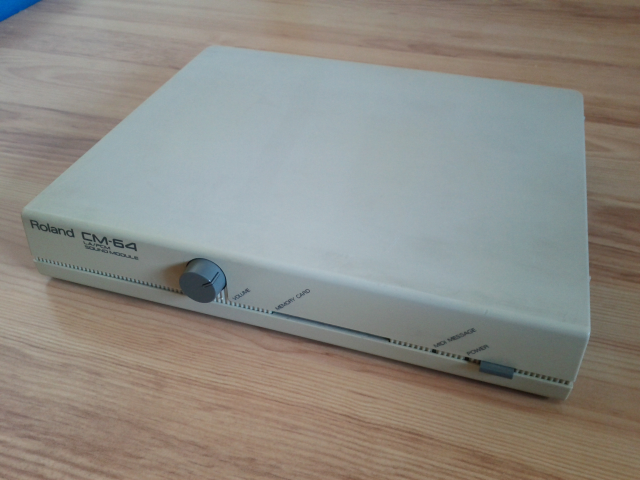 This platform is for Sharp X68000 game music played through Roland CM-64. Sharp X68000 is Japanese computer not known well in Europe.
The Roland CM-64 is an external module that consists of the Roland CM-32L and CM-32P in a single housing, offering the sounds of the MT-32 and high quality PCM samples.
The LA board provides 32 partial poly while the PCM board offers 31 note poly.
Songs
| Song Title | Artist | Song Length | Status | Avg. Vote | Queue | Last Played |
| --- | --- | --- | --- | --- | --- | --- |
| Gemini Wing - End A | Manabu Saito (斎藤 学) , Metal Yuhki (斎藤 幹雄) | 0:38 | Jingle | 4.0 | | |
| Gemini Wing - End B | Manabu Saito (斎藤 学) , Metal Yuhki (斎藤 幹雄) | 1:40 | Active | 4.8 | | 2022-04-22 |
| Gemini Wing - Ending B (Rock Drums PCM Card) | Manabu Saito (斎藤 学) , Metal Yuhki (斎藤 幹雄) | 1:40 | Active | 4.8 | | 2022-04-30 |
| Gemini Wing - Scene 1 | Manabu Saito (斎藤 学) , Metal Yuhki (斎藤 幹雄) | 2:38 | Active | 4.3 | | 2022-04-27 |
| Gemini Wing - Scene 2 | Manabu Saito (斎藤 学) , Metal Yuhki (斎藤 幹雄) | 3:03 | Active | 4.2 | | 2022-02-15 |
| Gemini Wing - Scene 3 | Manabu Saito (斎藤 学) , Metal Yuhki (斎藤 幹雄) | 3:03 | Active | 4.0 | | 2022-04-30 |
| Gemini Wing - Scene 4 | Manabu Saito (斎藤 学) , Metal Yuhki (斎藤 幹雄) | 5:21 | Active | 4.2 | | 2022-03-18 |
| Gemini Wing - Scene 5 | Manabu Saito (斎藤 学) , Metal Yuhki (斎藤 幹雄) | 1:37 | Active | 4.0 | | 2020-03-07 |
| Gemini Wing - Scene 6 | Manabu Saito (斎藤 学) , Metal Yuhki (斎藤 幹雄) | 1:38 | Active | 5.0 | | 2022-05-17 |
| Gemini Wing - Scene 7 | Manabu Saito (斎藤 学) , Metal Yuhki (斎藤 幹雄) | 1:50 | Active | 4.5 | | 2022-05-22 |
| Gemini Wing - Stage 1 (Rock Drums PCM Card) | Manabu Saito (斎藤 学) , Metal Yuhki (斎藤 幹雄) | 2:48 | Active | 4.5 | | 2022-05-22 |
| Gemini Wing - Stage 2 (Rock Drums PCM Card) | Manabu Saito (斎藤 学) , Metal Yuhki (斎藤 幹雄) | 3:14 | Active | 4.0 | | 2022-02-03 |
| Gemini Wing - Stage 3 (Rock Drums PCM Card) | Manabu Saito (斎藤 学) , Metal Yuhki (斎藤 幹雄) | 3:13 | Active | 4.5 | | 2021-09-27 |
| Gemini Wing - Stage 5 (Rock Drums PCM Card) | Manabu Saito (斎藤 学) , Metal Yuhki (斎藤 幹雄) | 1:46 | Active | 3.7 | | 2022-02-08 |
| Gemini Wing - Stage 6 (Rock Drums PCM Card) | Manabu Saito (斎藤 学) , Metal Yuhki (斎藤 幹雄) | 1:48 | Active | 5.0 | | 2021-02-27 |
| Gemini Wing - Stage 7 (Rock Drums PCM Card) | Manabu Saito (斎藤 学) , Metal Yuhki (斎藤 幹雄) | 2:00 | Active | 4.0 | | 2021-08-12 |
| Gemini Wing - Winner | Manabu Saito (斎藤 学) , Metal Yuhki (斎藤 幹雄) | 0:37 | Jingle | 4.3 | | |
| Sol-Feace - Amalthes Moon [Stage 6] | Motoi Sakuraba (桜庭 統) | 1:55 | Active | 4.8 | | 2021-12-25 |
| Sol-Feace - An Artificial Sun [Stage 3] | Motoi Sakuraba (桜庭 統) | 2:22 | Active | 4.4 | | 2022-05-10 |
| Sol-Feace - Base on Pluto [Stage 5] | Motoi Sakuraba (桜庭 統) | 2:28 | Active | 4.5 | | 2022-04-09 |
| Sol-Feace - Cilius Moon [Stage 2] | Motoi Sakuraba (桜庭 統) | 2:36 | Active | 4.6 | | 2022-05-25 |
| Sol-Feace - Enemy Cruiseship [Stage 4] | Motoi Sakuraba (桜庭 統) | 2:47 | Active | 4.6 | | 2022-05-27 |
| Sol-Feace - Fight for Mankind [Unused] | Motoi Sakuraba (桜庭 統) | 2:29 | Active | 4.6 | | 2022-05-26 |
| Sol-Feace - Final Destination [Stage 7] | Motoi Sakuraba (桜庭 統) | 1:28 | Active | 3.3 | | 2022-02-12 |
| Sol-Feace - Sol-Feace [Stage 1] | Motoi Sakuraba (桜庭 統) | 2:31 | Active | 4.8 | | 2022-05-24 |