CVGM.net - Chiptune, Retro & Video Game Music

Platform - Computer » X68000 (MT-32)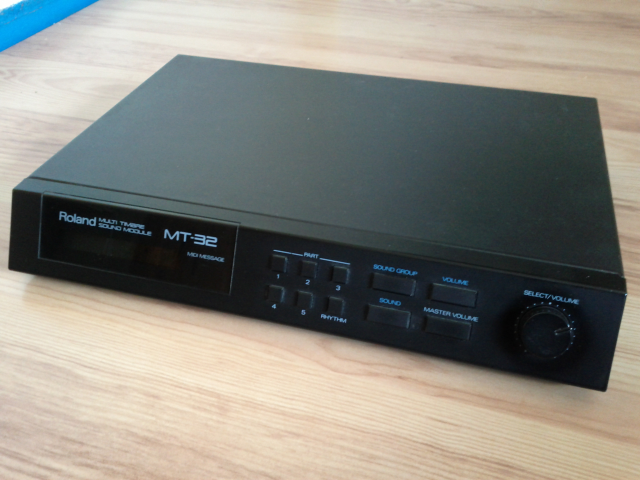 This platform is for Sharp X68000 game music played through Roland MT-32. Sharp X68000 is Japanese computer not known well in Europe.
MT-32 is Roland's MIDI synthesizer module released in 1987.
This device would have given high quality sample based instruments sound for PC gamers but the price of the product was above what most of average consumers were willing to pay.. The module was originally meant for professional use.
-sample-based synthesis + subtractive synthesis to produce sound
-128 synth sounds
-30 rhythm sounds
-8 melodic channels
-one rhythm channel
MT-32 was a "higher level" standard for game music until sound cards with General MIDI support started to arrive in the early 1990s.
Some songs in this platform may have extra soundsets in addition to the original instruments of MT-32 module.
Songs
| Song Title | Artist | Song Length | Status | Avg. Vote | Queue | Last Played |
| --- | --- | --- | --- | --- | --- | --- |
| Akumajo Dracula - Bloody Tears | Konami Kukeiha Club | 2:20 | Active | 4.6 | | 2023-09-08 |
| Akumajo Dracula - Creatures in the Depth | Konami Kukeiha Club | 1:36 | Active | 3.8 | | 2023-06-27 |
| Akumajo Dracula - Etude for the Killer | Konami Kukeiha Club | 2:29 | Active | 3.3 | | 2023-07-06 |
| Akumajo Dracula - Load BGM | Konami Kukeiha Club | 2:19 | Active | 4.5 | | 2023-09-04 |
| Akumajo Dracula - Moon-Fight | Konami Kukeiha Club | 2:26 | Active | 4.5 | | 2023-09-18 |
| Akumajo Dracula - Mother Earth | Konami Kukeiha Club | 2:47 | Active | 4.7 | | 2023-09-01 |
| Akumajo Dracula - The Tower of Dolls | Konami Kukeiha Club | 2:17 | Active | 4.3 | | 2023-09-23 |
| Akumajo Dracula - The Tower of Gears | Konami Kukeiha Club | 2:35 | Active | 3.0 | | 2022-09-12 |
| Akumajo Dracula - Theme of Simon Belmondo | Konami Kukeiha Club | 3:13 | Active | 4.7 | | 2023-07-15 |
| Akumajo Dracula - Thrashard in the Cave | Konami Kukeiha Club | 3:18 | Active | 4.7 | | 2023-09-12 |
| Akumajo Dracula - Vampire Killer | Konami Kukeiha Club | 2:05 | Active | 4.9 | | 2023-08-07 |
| Akumajo Dracula - Wiched Child | Konami Kukeiha Club | 1:59 | Active | 4.6 | | 2023-04-19 |
| Akumajo Dracula - You Goddamned Bathead! | Konami Kukeiha Club | 3:12 | Active | 4.2 | | 2023-08-07 |
| Detana!! Twinbee - Beyond the Sea of Clouds - Stage 2 | Michiru Yamane (山根 ミチル) | 1:54 | Active | 5.0 | | 2022-06-02 |
| Detana!! Twinbee - Boss Theme #1 | Michiru Yamane (山根 ミチル) | 2:03 | Active | 5.0 | | 2023-04-16 |
| Detana!! Twinbee - Boss Theme #2 | Michiru Yamane (山根 ミチル) | 1:09 | Active | 5.0 | | 2022-03-30 |
| Detana!! Twinbee - Ending | Michiru Yamane (山根 ミチル) | 1:55 | Active | 3.0 | | 2020-11-17 |
| Detana!! Twinbee - Final Boss | Michiru Yamane (山根 ミチル) | 1:39 | Active | 5.0 | | 2023-08-05 |
| Detana!! Twinbee - Game Over | Michiru Yamane (山根 ミチル) | 0:09 | Active | 4.0 | | 2022-04-24 |
| Detana!! Twinbee - Gift From the Wind - Stage 1 | Michiru Yamane (山根 ミチル) | 2:15 | Active | 5.0 | | 2021-11-18 |
| Detana!! Twinbee - Laputa Fortress in the Sky - Stage 3 | Michiru Yamane (山根 ミチル) | 2:52 | Active | 5.0 | | 2023-06-25 |
| Detana!! Twinbee - Loading Theme | Michiru Yamane (山根 ミチル) | 1:46 | Active | 5.0 | | 2021-10-31 |
| Detana!! Twinbee - March on the Water - Stage 5 | Michiru Yamane (山根 ミチル) | 2:56 | Active | 5.0 | | 2023-05-26 |
| Detana!! Twinbee - Paradise Beyond the Fog - Stage 7 | Michiru Yamane (山根 ミチル) | 2:06 | Active | 5.0 | | 2022-06-04 |
| Detana!! Twinbee - Prologue | Michiru Yamane (山根 ミチル) | 0:52 | Active | 4.0 | | 2022-10-05 |
| Detana!! Twinbee - Ranking | Michiru Yamane (山根 ミチル) | 0:35 | Active | | | 2020-12-10 |
| Detana!! Twinbee - Stage Clear | Michiru Yamane (山根 ミチル) | 0:09 | Active | | | 2023-05-20 |
| Detana!! Twinbee - Temple of Iva - Stage 6 | Michiru Yamane (山根 ミチル) | 1:48 | Active | 5.0 | | 2023-04-15 |
| Detana!! Twinbee - Title Theme | Michiru Yamane (山根 ミチル) | 0:28 | Active | 4.0 | | 2021-08-08 |
| Detana!! Twinbee - World of the Mold - Stage 4 | Michiru Yamane (山根 ミチル) | 2:05 | Active | 5.0 | | 2022-06-02 |
| Genocide 2 - Again... [Stage 1-1] | Hideyuki Shimono (下野 秀幸) , Naoyuki Kimura (木村 直之) | 3:44 | Active | 4.3 | | 2023-09-20 |
| Genocide 2 - Drains [Stage 2-1] | Hideyuki Shimono (下野 秀幸) , Naoyuki Kimura (木村 直之) | 2:16 | Active | 4.3 | | 2023-07-31 |
| Genocide 2 - Endless Road [Stage 2-3] | Hideyuki Shimono (下野 秀幸) , Naoyuki Kimura (木村 直之) | 4:04 | Active | 4.7 | | 2023-09-11 |
| Genocide 2 - Enter Secretly [Stage 3-2] | Hideyuki Shimono (下野 秀幸) , Naoyuki Kimura (木村 直之) | 4:09 | Active | 4.8 | | 2023-09-09 |
| Genocide 2 - Forestal Foreteller [Stage 4-1] | Hideyuki Shimono (下野 秀幸) , Naoyuki Kimura (木村 直之) | 3:03 | Active | 4.8 | | 2023-07-01 |
| Genocide 2 - Fuujin, Rijin [Stage 3 Boss] | Hideyuki Shimono (下野 秀幸) , Naoyuki Kimura (木村 直之) | 1:43 | Active | 3.5 | | 2023-01-24 |
| Genocide 2 - Hard Core [Stage 2 Boss] | Hideyuki Shimono (下野 秀幸) , Naoyuki Kimura (木村 直之) | 2:51 | Active | 2.7 | | 2023-09-24 |
| Genocide 2 - Jack & Better [Stage 2-2] | Hideyuki Shimono (下野 秀幸) , Naoyuki Kimura (木村 直之) | 3:02 | Active | 3.0 | | 2023-04-14 |
| Genocide 2 - Lue [Stage 4 Boss] | Hideyuki Shimono (下野 秀幸) , Naoyuki Kimura (木村 直之) | 2:54 | Active | 3.6 | | 2023-07-10 |
| Genocide 2 - Mellow Device [Stage 6-1] | Hideyuki Shimono (下野 秀幸) , Naoyuki Kimura (木村 直之) | 3:22 | Active | 5.0 | | 2023-09-22 |
| Genocide 2 - Melting Point [Stage 6-2] | Hideyuki Shimono (下野 秀幸) , Naoyuki Kimura (木村 直之) | 3:16 | Active | 4.0 | | 2023-05-12 |
| Genocide 2 - Opening 1 | Hideyuki Shimono (下野 秀幸) , Naoyuki Kimura (木村 直之) | 0:40 | Active | | | 2023-08-13 |
| Genocide 2 - Opening 2 | Hideyuki Shimono (下野 秀幸) , Naoyuki Kimura (木村 直之) | 1:40 | Active | 4.5 | | 2022-06-24 |
| Genocide 2 - Option Mode | Hideyuki Shimono (下野 秀幸) , Naoyuki Kimura (木村 直之) | 1:27 | Active | 4.5 | | 2023-04-11 |
| Genocide 2 - Refreshing Breeze [Stage 3-1] | Hideyuki Shimono (下野 秀幸) , Naoyuki Kimura (木村 直之) | 3:40 | Active | 4.7 | | 2023-08-11 |
| Genocide 2 - Shock '72 [Stage 1 Boss] | Hideyuki Shimono (下野 秀幸) , Naoyuki Kimura (木村 直之) | 2:39 | Active | 3.0 | | 2022-06-24 |
| Genocide 2 - Steel Castle [Stage 3-3] | Hideyuki Shimono (下野 秀幸) , Naoyuki Kimura (木村 直之) | 3:30 | Active | 4.4 | | 2023-08-21 |
| Genocide 2 - Strange Tune [Stage 1-2] | Hideyuki Shimono (下野 秀幸) , Naoyuki Kimura (木村 直之) | 2:42 | Active | 4.3 | | 2023-09-09 |
| Genocide 2 - Technical Skill [Stage 5-1] | Hideyuki Shimono (下野 秀幸) , Naoyuki Kimura (木村 直之) | 2:43 | Active | 4.7 | | 2023-08-28 |
| Genocide 2 - Tetchy Funk [Stage 1-3] | Hideyuki Shimono (下野 秀幸) , Naoyuki Kimura (木村 直之) | 3:23 | Active | 4.7 | | 2023-08-13 |
| Genocide 2 - Trap of Relics [Stage 4-2] | Hideyuki Shimono (下野 秀幸) , Naoyuki Kimura (木村 直之) | 4:10 | Active | 4.0 | | 2023-09-07 |
| Granada - "Advance" Granada [Opening Theme] | Motoi Sakuraba (桜庭 統) | 2:17 | Active | 4.4 | | 2023-09-10 |
| Granada - Beat [Final Boss] | Motoi Sakuraba (桜庭 統) | 1:39 | Active | 2.0 | | 2020-10-28 |
| Granada - Bumpy Road [Stage 8: Volcano] | Motoi Sakuraba (桜庭 統) | 2:55 | Active | 4.8 | | 2023-09-09 |
| Granada - Clap [Stages 1-4 Boss] | Motoi Sakuraba (桜庭 統) | 1:27 | Active | 4.0 | | 2021-06-22 |
| Granada - Heavy Line [Stage 1: Dead City] | Motoi Sakuraba (桜庭 統) | 2:46 | Active | 4.8 | | 2023-08-19 |
| Granada - Hopping Express [Stage 3: Underground City] | Motoi Sakuraba (桜庭 統) | 2:19 | Active | 4.0 | | 2023-08-30 |
| Granada - Marching Way [Stage 4: Underground Cavern] | Motoi Sakuraba (桜庭 統) | 3:04 | Active | 4.8 | | 2023-08-28 |
| Granada - Mountain Path [Stage 6: Fortress] | Motoi Sakuraba (桜庭 統) | 2:44 | Active | 4.8 | | 2023-09-17 |
| Granada - Nature Trail [Stage 5: Mountains] | Motoi Sakuraba (桜庭 統) | 3:59 | Active | 4.0 | | 2023-08-06 |
| Granada - Smashing Street [Stage 9: Enemy Base] | Motoi Sakuraba (桜庭 統) | 3:03 | Active | 4.5 | | 2023-08-23 |
| Granada - Take a Chance [Stage 7: Destroyed Base] | Motoi Sakuraba (桜庭 統) | 2:21 | Active | 4.8 | | 2023-08-31 |
| Granada - Tap [Stages 5-8 Boss] | Motoi Sakuraba (桜庭 統) | 1:47 | Active | 4.0 | | 2023-01-15 |
| Granada - Windy Avenue [Stage 2: Carrier] | Motoi Sakuraba (桜庭 統) | 3:42 | Active | 4.4 | | 2023-07-18 |
| Metal Sight - Archive of Dimension (Stage 09) | Keishi Yonao (与猶 啓至) | 4:50 | Active | 4.5 | | 2023-09-15 |
| Metal Sight - Cvrette of the Space (Stage 08) | Keishi Yonao (与猶 啓至) | 4:27 | Active | 4.3 | | 2023-09-25 |
| Metal Sight - Darkness the Legend (Stage 04) | Keishi Yonao (与猶 啓至) | 3:58 | Active | 4.3 | | 2023-08-19 |
| Metal Sight - Dep_seated Grudge of for Lives (Stage 10) | Keishi Yonao (与猶 啓至) | 1:33 | Active | 3.0 | | 2023-06-27 |
| Metal Sight - Fire of Black (Stage 07) | Keishi Yonao (与猶 啓至) | 3:37 | Active | 4.0 | | 2023-01-03 |
| Metal Sight - Into the Shadow (Stage 01) | Keishi Yonao (与猶 啓至) | 3:43 | Active | 4.1 | | 2023-07-24 |
| Metal Sight - Perpetual Road (Stage 03) | Keishi Yonao (与猶 啓至) | 3:54 | Active | 4.0 | | 2023-09-24 |
| Metal Sight - The Cold Nerve (Stage 05) | Keishi Yonao (与猶 啓至) | 4:00 | Active | 4.2 | | 2023-09-24 |
| Metal Sight - The Light Arrow Shot Throught Dark (Stage 06) | Keishi Yonao (与猶 啓至) | 3:26 | Active | 4.7 | | 2023-08-07 |
| Metal Sight - Wind of Wilderness (Stage 02) | Keishi Yonao (与猶 啓至) | 4:53 | Active | 4.5 | | 2023-09-16 |
| Parodius Da! - Sabre Dance | Konami Kukeiha Club | 1:41 | Active | 3.9 | | 2023-09-12 |
| Parodius Da! - Track 03 | Konami Kukeiha Club | 2:19 | Active | 4.8 | | 2023-08-11 |
| Phalanx - BGM #01 | Kenichi Kamio | 2:29 | Active | 4.3 | | 2023-08-27 |
| Phalanx - BGM #02 | Kenichi Kamio | 2:42 | Active | 3.8 | | 2023-08-05 |
| Phalanx - BGM #03 | Kenichi Kamio | 2:10 | Active | 2.7 | | 2023-09-15 |
| Phalanx - BGM #04 | Kenichi Kamio | 2:01 | Active | 4.3 | | 2023-09-12 |
| Phalanx - BGM #05 | Kenichi Kamio | 3:07 | Active | 4.4 | | 2023-09-19 |
| Phalanx - BGM #06 | Kenichi Kamio | 2:25 | Active | 4.0 | | 2023-08-07 |
| Phalanx - BGM #07 | Kenichi Kamio | 1:54 | Active | 4.0 | | 2022-03-20 |
| Phalanx - BGM #08 | Kenichi Kamio | 2:40 | Active | 3.3 | | 2023-08-20 |