CVGM.net - Chiptune, Retro & Video Game Music

Platform - Computer » Atari 8-bit (XL / XE / 400 / 800)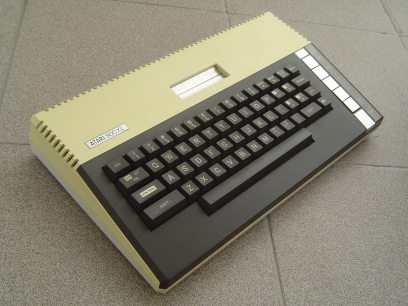 Atari 400/800 was released in 1979.
Atari XL is 8-bit Atari computer released in 1982. Its expanded edition was called Atari XE.
Pokey chip used in these machines was designed earlier in the 1970s. Pokey handles samples relatively well and has a distinctive square wave sound which is easy to recognize.
During the early 1980s just few significant game songs were made for Atari XL but later especially some Polish composers have made fine music with it.
The word "POKEY" is derived from POtentiometer and KEYboard.
Despite of machines being technically relatively good, 8-bit Atari computers were not very successful in 8-bit home computer markets.
Audio features
-4 semi-independent audio channels with following configurations for channel frequency resolution (not sample bits!): 4x8-bit, 2x16 or 1x16-bit + 2x16bit channels
-Per-channel volume, frequency, and waveform
-High-pass filter
The chip is designed by Atari's Doug Neubauer
Songs
| Song Title | Artist | Song Length | Status | Avg. Vote | Queue | Last Played |
| --- | --- | --- | --- | --- | --- | --- |
| 3886 days ago | 505 (Nils Feske) | 3:41 | Active | 4.5 | | 2023-08-14 |
| 404 Error | Greg (PL) (Grzegorz Kwiatek) , X-Ray (Łukasz Sychowicz) Grayscale | 2:27 | Active | 4.7 | | 2023-08-18 |
| A Compo of Epic Proportions | FearOfDark | 2:26 | Active | | | 2022-10-23 |
| Already Obsolete | Kulor (Richard J. Armijo) | 0:11 | Jingle | | | |
| An Anthem for Winterchip | Kulor (Richard J. Armijo) | 2:11 | Active | 4.6 | | 2023-08-10 |
| Arcade Fruit Machine Simulator | Gizmo (Adam Gilmore) | 1:29 | Active | 4.6 | | 2023-05-03 |
| Archon | Tommy Dunbar | 1:04 | Active | 4.3 | | 2023-09-17 |
| Ballad | 505 (Nils Feske) | 2:19 | Active | 4.6 | | 2023-09-12 |
| Ballsong Nr. 1 | Douglas Crockford | 6:36 | Active | 3.0 | | 2023-09-21 |
| Ballsong Nr. 2 | Douglas Crockford | 4:25 | Active | 5.0 | | 2021-11-06 |
| Barymag #1 - Intro | Bartman (Bartosz Kalinowski) | 5:39 | Active | 4.7 | | 2023-09-20 |
| Bitter Reality | SoTe (Adam Bienias) Slight | 1:28 | Active | 4.5 | | 2023-08-23 |
| Bitter Reality - Farewell | SoTe (Adam Bienias) Slight | 1:21 | Active | 5.0 | | 2022-11-13 |
| Bitter Reality - Filet Lazma | SoTe (Adam Bienias) Slight | 0:38 | Active | 4.0 | | 2022-10-28 |
| Bitter Reality - Flexible Squares | SoTe (Adam Bienias) Slight | 5:14 | Active | 4.3 | | 2023-08-31 |
| Bitter Reality - Greetings | SoTe (Adam Bienias) Slight | 2:26 | Active | 5.0 | | 2023-08-31 |
| Bitter Reality - Loader | SoTe (Adam Bienias) Slight | 0:15 | Active | 5.0 | | 2023-02-20 |
| Bitter Reality - Partyland 1 | SoTe (Adam Bienias) Slight | 3:35 | Active | 5.0 | | 2022-12-02 |
| Bitter Reality - Partyland 2 | SoTe (Adam Bienias) Slight | 3:23 | Active | 4.0 | | 2023-07-25 |
| Bitter Reality - Rzog Plazma | SoTe (Adam Bienias) Slight | 3:27 | Active | 4.3 | | 2023-08-31 |
| Blinky's Scary School | Gizmo (Adam Gilmore) | 2:40 | Active | 4.7 | | 2023-08-11 |
| Blood Fighter - Tune 1 | Tomasz Liebich | 2:33 | Active | 4.5 | | 2022-02-11 |
| Blood Fighter - tune 2 | Tomasz Liebich | 2:50 | Active | 4.9 | | 2023-09-10 |
| Bunny on the Moon | YERZMYEY | 2:52 | Active | 4.4 | | 2023-09-01 |
| Cipher Of Moving Compass, The | Kulor (Richard J. Armijo) | 1:52 | Active | 3.7 | | 2023-09-10 |
| Colding | Kulor (Richard J. Armijo) | 2:01 | Active | 4.8 | | 2023-09-19 |
| Congrabalation! | Kulor (Richard J. Armijo) | 1:27 | Active | 4.8 | | 2023-07-25 |
| Cool Emotion | Hard Software | 1:32 | Active | 4.4 | | 2023-08-19 |
| Cropky | Caruso (Michał Brzezicki) Agenda | 1:14 | Active | 4.5 | | 2022-08-03 |
| Crystal | 505 (Nils Feske) | 2:22 | Active | 4.7 | | 2023-09-20 |
| Datavoid | Chema64 (José Padilla) | 2:24 | Active | 3.3 | | 2023-07-29 |
| Dead Boy's Poem | Epi (Adrian Matoga) | 2:25 | Active | 3.2 | | 2023-06-08 |
| Delight | 505 (Nils Feske) | 2:19 | Active | 4.4 | | 2023-09-07 |
| Dictum Acerbum | Tomasz Liebich | 2:34 | Active | 3.9 | | 2023-08-10 |
| Dot Dot Dot | Kulor (Richard J. Armijo) | 0:10 | Jingle | | | |
| Draconus | Adam Gilmore | 2:59 | Active | 4.7 | | 2023-08-06 |
| Drum Power I | Benjy (Stephan Düsterhöft) | 3:21 | Active | 3.7 | | 2023-06-26 |
| Echo (sampled version) | Zoltar X (Filip Golewski) | 1:23 | Active | 4.8 | | 2023-07-29 |
| Exodus | Cedyn (Marcin Czartyński) | 3:47 | Active | 4.7 | | 2023-08-15 |
| Fuji Rave | YERZMYEY | 2:36 | Active | 4.4 | | 2023-08-13 |
| Funktion | 505 (Nils Feske) | 4:24 | Active | 4.2 | | 2023-09-04 |
| Gamma | 505 (Nils Feske) | 6:49 | Active | 4.6 | | 2023-08-03 |
| Generic Battle | Kulor (Richard J. Armijo) | 0:51 | Active | 4.0 | | 2022-07-06 |
| Happy Train to Kingdom of Pleasures - Sampled Version | SoTe (Adam Bienias) | 3:36 | Active | 4.7 | | 2023-09-12 |
| Hobby Tronic '91 - Equalizer | Benjy (Stephan Düsterhöft) | 5:09 | Active | 3.9 | | 2023-08-30 |
| Hot&Cold Adventure - Lato | Caruso (Michał Brzezicki) Agenda | 1:23 | Active | 4.0 | | 2023-02-10 |
| Hot&Cold Adventure - Zima | Caruso (Michał Brzezicki) Agenda | 1:36 | Active | 4.5 | | 2021-07-07 |
| Hyperbased ('Enjoy the POKEY' 2xAtariXL Mix) | XLENT | 4:44 | Active | 4.7 | | 2023-09-08 |
| It Means War | Zbx Virus (Daniel Numan) | 3:12 | Active | 3.8 | | 2023-09-01 |
| Jet Set Neo | Epi (Adrian Matoga) | 3:22 | Active | 4.6 | | 2023-05-09 |
| Jet Set Willy | Rob Hubbard | 5:05 | Active | 4.6 | | 2023-09-22 |
| Jocky Wilson's Darts Challenge | Gizmo (Adam Gilmore) | 3:02 | Active | 4.5 | | 2023-08-27 |
| Let It Roll | Greg (PL) (Grzegorz Kwiatek) , X-Ray (Łukasz Sychowicz) Grayscale | 3:11 | Active | 4.4 | | 2023-09-02 |
| Line runner | Caruso (Michał Brzezicki) Agenda | 0:23 | Active | 3.0 | | 2023-07-17 |
| Lost in a Forest | FearOfDark | 3:28 | Active | 3.0 | | 2021-09-30 |
| Megameng II | Chema64 (José Padilla) | 3:25 | Active | 4.0 | | 2023-09-01 |
| Meryb | Epi (Adrian Matoga) | 2:15 | Active | 4.6 | | 2023-08-13 |
| Metri | 505 (Nils Feske) | 3:45 | Active | 4.8 | | 2023-09-20 |
| Mountain in the Sky | YERZMYEY | 2:53 | Active | 4.7 | | 2023-06-24 |
| Ninja Commando | Gizmo (Adam Gilmore) | 2:01 | Active | 4.3 | | 2023-06-07 |
| Nothing | 505 (Nils Feske) | 0:52 | Active | 4.5 | | 2023-07-12 |
| Now That's What I Call Kulor! - Elementary School Supernova | Kulor (Richard J. Armijo) | 1:44 | Active | 3.6 | | 2023-08-29 |
| Now That's What I Call Kulor! - Madness Sky Falling Etc. | Kulor (Richard J. Armijo) | 1:06 | Active | 4.3 | | 2023-08-26 |
| Now That's What I Call Kulor! - Random Encounter | Kulor (Richard J. Armijo) | 3:04 | Active | 4.6 | | 2023-09-20 |
| Oldschool MODe - m4700rK4 | Epi (Adrian Matoga) Tristesse | 2:35 | Active | 4.0 | | 2023-06-29 |
| Pandora | 505 (Nils Feske) | 1:37 | Active | 3.0 | | 2023-06-28 |
| Pneumatic Driller | Greg (PL) (Grzegorz Kwiatek) , X-Ray (Łukasz Sychowicz) Grayscale | 3:41 | Active | 4.8 | | 2023-09-07 |
| Pokey Axel Foley | Kulor (Richard J. Armijo) | 2:49 | Active | 4.5 | | 2023-09-13 |
| Pretty Eight Machine - Atarible Lie | Inverse Phase (Brendan Becker) | 4:38 | Active | 4.4 | | 2023-05-31 |
| Pretty Eight Machine - That's What I Chipped | Inverse Phase (Brendan Becker) | 4:27 | Active | 3.9 | | 2023-07-31 |
| Quetzalli | Chema64 (José Padilla) | 3:21 | Active | 4.5 | | 2023-09-18 |
| Quicky | 505 (Nils Feske) | 2:06 | Active | 3.6 | | 2023-09-17 |
| Rasterizer | Factor6 | 3:01 | Active | 4.7 | | 2023-08-20 |
| RAVE'olution | YERZMYEY | 4:25 | Active | 4.6 | | 2023-09-09 |
| Rebound | Richard Munns | 3:33 | Active | 4.1 | | 2023-09-19 |
| Reksio SillyVenture 2023SE Invitro | Duccinator | 5:54 | Active | | | 2023-08-07 |
| Rucu | Tomasz Liebich | 1:17 | Active | 4.5 | | 2022-05-05 |
| Running | 505 (Nils Feske) | 2:22 | Active | 4.7 | | 2023-09-08 |
| Scream | Epi (Adrian Matoga) | 2:45 | Active | 4.1 | | 2023-09-08 |
| Severley Overused - Christmas Version | Kulor (Richard J. Armijo) | 1:27 | Active | 3.3 | | 2023-07-25 |
| Shuffleschrabbelgepiepe | Triace (Roland Voss) | 3:00 | Active | 4.0 | | 2022-07-31 |
| Silly Venture 2023 Invitation SE | Tatooo DESiRE | 2:01 | Active | 2.0 | | 2023-09-19 |
| Straight Edge? | Epi (Adrian Matoga) | 1:42 | Active | 4.4 | | 2023-08-18 |
| SV2K10 | 505 (Nils Feske) | 2:49 | Active | 4.8 | | 2023-09-02 |
| Takeoff | 505 (Nils Feske) | 3:26 | Active | 4.6 | | 2023-09-06 |
| The Day the Sun Exploded | FearOfDark | 2:09 | Active | 4.0 | | 2023-01-13 |
| The Glide | Benjy (Stephan Düsterhöft) | 2:10 | Active | 4.7 | | 2023-08-18 |
| Those Were The Good Old Days | Kulor (Richard J. Armijo) | 0:35 | Jingle | 3.0 | | |
| Tokyo Gondwana | YERZMYEY | 3:22 | Active | 4.2 | | 2023-06-23 |
| Trans-X | Cedyn (Marcin Czartyński) | 2:29 | Active | 4.3 | | 2023-09-13 |
| Tristesse | 505 (Nils Feske) | 3:00 | Active | 4.6 | | 2023-08-18 |
| Veronika - 6 | Hard Software | 2:41 | Active | 4.8 | | 2023-09-17 |
| Virgill Birthtro 2023 | Triace (Roland Voss) DESiRE | 2:08 | Active | | | 2023-07-30 |
| Warhawk | Rob Hubbard | 3:44 | Active | 4.5 | | 2023-05-07 |
| Waving Sound | Zoltar X (Filip Golewski) | 1:58 | Active | 4.4 | | 2023-08-06 |
| Wodospadem Czasu | Jakub Husak | 4:43 | Active | 4.7 | | 2023-08-24 |
| XL Dance | YERZMYEY | 3:04 | Active | 4.6 | | 2023-09-05 |
| Xmascard | 505 (Nils Feske) | 2:17 | Active | 4.5 | | 2023-08-20 |
| Yoomp! - Congratz | X-Ray (Łukasz Sychowicz) Grayscale | 0:14 | Active | 3.5 | | 2023-08-22 |
| Yoomp! - Game Over | X-Ray (Łukasz Sychowicz) Grayscale | 0:28 | Active | 4.0 | | 2022-09-26 |
| Yoomp! - In Game | X-Ray (Łukasz Sychowicz) Grayscale | 3:32 | Active | 4.1 | | 2023-09-19 |
| Yoomp! - Level Done | X-Ray (Łukasz Sychowicz) Grayscale | 0:12 | Active | | | 2022-09-26 |
| Yoomp! - Menu | X-Ray (Łukasz Sychowicz) Grayscale | 1:09 | Active | 4.2 | | 2023-08-18 |
| Yoomp! - Start Level | X-Ray (Łukasz Sychowicz) Grayscale | 0:40 | Active | 4.3 | | 2023-08-18 |
| Zizibum | X-Ray (Łukasz Sychowicz) Grayscale | 6:29 | Active | 4.8 | | 2023-09-18 |
| Zybex | Adam Gilmore | 2:10 | Active | 4.0 | | 2023-09-14 |
| [PONG] Atari Style | Factor6 | 2:58 | Active | 4.3 | | 2023-08-20 |