CVGM.net - Chiptune, Retro & Video Game Music

Platform - Console » Neo Geo (AES / CD / MVS)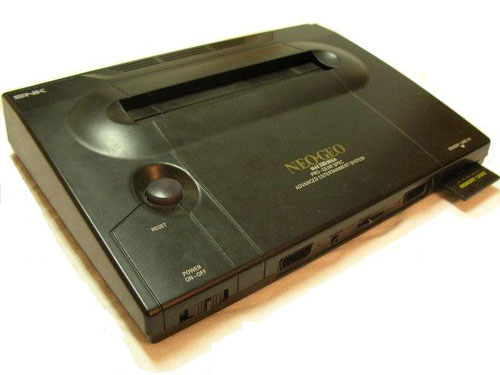 Mythic video game system released by Japanese SNK in 1990. It is a home version of SNK's Multi Video System which was used in arcade halls. The System allowed switching from one arcade game to another simply by changing cartridge and cabinet.
Initially Neo Geo was only rented for places such as bars and hotels but later it was sold for homes in a very high price (around 600$) when some people expressed that they want to buy it. Each game cost around 200$. The machine was technically superior to other consoles of the early 1990s but not many gamers decided to buy it. Because SNK's arcade games could be released as Neo Geo games, there were eventually 154 games available the last being released in 2005.
Audio processed by Zilog Z80A (4 MHz) and YM2610 (8 MHz), which enable : 3 PSG voices, 4 FM voices, 7 PCM voices.
When uploading Neo Geo CD songs choose "source" as "Game (CD Audio)".
Songs
| Song Title | Artist | Song Length | Status | Avg. Vote | Queue | Last Played |
| --- | --- | --- | --- | --- | --- | --- |
| ASO II: Last Guardian - The Space Flight (area 1) | Konny , Shinsekai Gakkyoku Zatsugidan (SNK Sound Team) | 4:11 | Active | 4.7 | | 2023-08-25 |
| Blazing Star - Accomplish | Harumi Fujita (藤田 晴美) | 0:52 | Active | 4.4 | | 2023-08-13 |
| Blazing Star - Apocalypse | Harumi Fujita (藤田 晴美) | 1:43 | Active | 4.2 | | 2023-07-29 |
| Blazing Star - Ascenseur | Harumi Fujita (藤田 晴美) | 1:45 | Active | 4.7 | | 2023-08-25 |
| Blazing Star - Go Ahead | Harumi Fujita (藤田 晴美) | 1:16 | Active | 3.3 | | 2023-06-25 |
| Blazing Star - Return | Harumi Fujita (藤田 晴美) | 1:43 | Active | 4.0 | | 2023-08-09 |
| Burning Fight - Stage 1 | Yasumasa Yamada | 2:19 | Active | 3.0 | | 2022-01-17 |
| Burning Fight - Stage 1,2,4 Boss | Yasumasa Yamada | 1:30 | Active | 3.0 | | 2020-05-03 |
| Burning Fight - Stage 2-1 | Yasumasa Yamada | 2:20 | Active | 3.0 | | 2020-10-26 |
| Burning Fight - Stage 2-2 | Yasumasa Yamada | 1:28 | Active | | | 2023-06-21 |
| Burning Fight - Stage 2-3 | Yasumasa Yamada | 2:15 | Active | 5.0 | | 2022-11-20 |
| Burning Fight - Stage 3 Boss | Yasumasa Yamada | 1:05 | Active | 4.3 | | 2023-09-06 |
| Burning Fight - Stage 3-1 | Yasumasa Yamada | 2:20 | Active | 3.0 | | 2021-11-23 |
| Burning Fight - Stage 3-2 | Yasumasa Yamada | 1:43 | Active | 3.0 | | 2023-03-18 |
| Burning Fight - Stage 4 | Yasumasa Yamada | 2:03 | Active | 4.2 | | 2023-09-19 |
| Burning Fight - Stage 5 | Yasumasa Yamada | 2:45 | Active | 4.0 | | 2023-06-01 |
| Burning Fight - Stage 5 Boss | Yasumasa Yamada | 2:42 | Active | 3.0 | | 2022-01-28 |
| Burning Fight - Sub-Boss | Yasumasa Yamada | 0:57 | Active | 3.0 | | 2023-09-17 |
| Ennenkin | Ilmarque (Paavo Pessi) | 3:30 | Active | 4.9 | | 2023-09-15 |
| Last Resort - Cold Machine (Boss 3) | Toshio Shimizu , Yasuo Yamate | 2:00 | Active | 5.0 | | 2023-03-16 |
| Last Resort - Don't Touch me Baby (Stage 5-1) | Toshio Shimizu , Yasuo Yamate | 2:43 | Active | 4.0 | | 2023-05-12 |
| Last Resort - Dusky (Boss 4) | Toshio Shimizu , Yasuo Yamate | 3:04 | Active | 4.0 | | 2022-01-30 |
| Last Resort - Flower Dancing (Ranking) | Toshio Shimizu , Yasuo Yamate | 0:57 | Active | | | 2022-12-02 |
| Last Resort - Jack to the Metro (Stage 1) | Toshio Shimizu , Yasuo Yamate | 3:21 | Active | 4.0 | | 2020-12-27 |
| Last Resort - Legend of King (Boss 5) | Toshio Shimizu , Yasuo Yamate | 2:28 | Active | 3.0 | | 2023-03-23 |
| Last Resort - Melting Point (Stage 4) | Toshio Shimizu , Yasuo Yamate | 2:43 | Active | 4.0 | | 2023-09-07 |
| Last Resort - Sonar (Stage 3) | Toshio Shimizu , Yasuo Yamate | 2:17 | Active | 4.0 | | 2023-08-18 |
| Last Resort - The Ruins of Metro (Stage 2) | Toshio Shimizu , Yasuo Yamate | 2:26 | Active | 3.0 | | 2023-07-01 |
| Last Resort - The Sunset Sky Part II (Ending) | Toshio Shimizu , Yasuo Yamate | 2:26 | Active | 4.0 | | 2022-08-28 |
| Last Resort - Tyrannical (Boss 2) | Toshio Shimizu , Yasuo Yamate | 2:42 | Active | 3.7 | | 2023-09-22 |
| Last Resort - Vice (Boss 1) | Toshio Shimizu , Yasuo Yamate | 1:48 | Active | | | 2021-07-21 |
| Magician Lord - Stage 1 (Dale Of Evil Gods) | Hideki Yamamoto , Hiroaki Shimizu , Yuka Watanabe | 2:54 | Active | 3.8 | | 2023-09-01 |
| Magician Lord - Stage 2 (To The Evil Mine) | Hideki Yamamoto , Hiroaki Shimizu , Yuka Watanabe | 2:32 | Active | 3.8 | | 2023-09-01 |
| Magician Lord - Stage 4 (Castle of Devils) | Hideki Yamamoto , Hiroaki Shimizu , Yuka Watanabe | 3:17 | Active | 4.4 | | 2023-09-20 |
| Magician Lord - Stage 5 (Underground Passage of Terror) | Hideki Yamamoto , Hiroaki Shimizu , Yuka Watanabe | 2:48 | Active | 3.6 | | 2023-08-12 |
| Metal Slug 2 - Assault Theme (Boss Theme C) | HIYA! (Takushi Hiyamuta) | 4:14 | Active | 4.2 | | 2023-08-30 |
| Metal Slug 2 - Back to the China (stage 4) | HIYA! (Takushi Hiyamuta) | 3:09 | Active | 4.4 | | 2023-07-22 |
| Metal Slug 2 - Final Attack (Final Boss Theme) | HIYA! (Takushi Hiyamuta) | 3:18 | Active | 4.0 | | 2023-09-10 |
| Metal Slug 2 - First Contact (Boss Theme B) | HIYA! (Takushi Hiyamuta) | 2:44 | Active | 3.7 | | 2023-09-09 |
| Metal Slug 2 - Judgment (stage 1) | HIYA! (Takushi Hiyamuta) | 2:56 | Active | 4.5 | | 2023-09-06 |
| Metal Slug 2 - Kiss in the Dark (stage 5-2) | HIYA! (Takushi Hiyamuta) | 2:15 | Active | 3.6 | | 2023-08-17 |
| Metal Slug 2 - Livin' on the Deck (stage 3) | HIYA! (Takushi Hiyamuta) | 3:33 | Active | 4.5 | | 2023-09-26 |
| Metal Slug 2 - Metamorphosis (stage 5-3) | HIYA! (Takushi Hiyamuta) | 3:04 | Active | 3.0 | | 2023-08-25 |
| Metal Slug 2 - New Godokin Street (stage 5-1) | HIYA! (Takushi Hiyamuta) | 1:58 | Active | 4.3 | | 2023-04-17 |
| Metal Slug 2 - Prehistoric Site (stage 2-1, 2-2) | HIYA! (Takushi Hiyamuta) | 2:59 | Active | 4.1 | | 2023-05-22 |
| Metal Slug 2 - Steel Beast 6Beets (Boss Theme A) | HIYA! (Takushi Hiyamuta) | 2:02 | Active | 3.7 | | 2023-09-17 |
| Metal Slug 2 - The Cenotaph (stage 2-3) | HIYA! (Takushi Hiyamuta) | 3:21 | Active | 3.3 | | 2023-07-01 |
| Money Idol Exchanger - Character Selection | Kennosuke Suemura (末村 謙之輔) , Norihiko Togashi (富樫 則彦) | 1:02 | Active | 4.4 | | 2023-07-25 |
| Money Idol Exchanger - Opening | Kennosuke Suemura (末村 謙之輔) , Norihiko Togashi (富樫 則彦) | 0:36 | Active | 5.0 | | 2023-05-27 |
| Money Idol Exchanger - STAGE A (Theme of EXCHANGER) | Kennosuke Suemura (末村 謙之輔) , Norihiko Togashi (富樫 則彦) | 2:57 | Active | 4.5 | | 2023-09-17 |
| Money Idol Exchanger - STAGE B (Theme of DEBTMIZER) | Kennosuke Suemura (末村 謙之輔) , Norihiko Togashi (富樫 則彦) | 3:46 | Active | 4.3 | | 2023-09-17 |
| Money Idol Exchanger - STAGE C | Kennosuke Suemura (末村 謙之輔) , Norihiko Togashi (富樫 則彦) | 2:32 | Active | 4.0 | | 2023-08-12 |
| Money Idol Exchanger - STAGE D | Kennosuke Suemura (末村 謙之輔) , Norihiko Togashi (富樫 則彦) | 3:04 | Active | 4.0 | | 2023-08-14 |
| Samurai Spirit IV - Nakoruru | Shinsekai Gakkyoku Zatsugidan (SNK Sound Team) | 2:36 | Active | 4.6 | | 2023-08-25 |
| Samurai Spirits - Foreign (Tam Tam) | Shinsekai Gakkyoku Zatsugidan (SNK Sound Team) | 2:16 | Active | 2.0 | | 2020-03-14 |
| Samurai Spirits - Foreign Woman (Charlotte) | Shinsekai Gakkyoku Zatsugidan (SNK Sound Team) | 1:46 | Active | 3.5 | | 2023-04-30 |
| Samurai Spirits - King Tiger (Wan-Fu) | Shinsekai Gakkyoku Zatsugidan (SNK Sound Team) | 2:19 | Active | 3.3 | | 2023-09-01 |
| Samurai Spirits - Megatama (Kyoshiro Senryo) | Shinsekai Gakkyoku Zatsugidan (SNK Sound Team) | 2:15 | Active | 4.2 | | 2023-06-10 |
| Samurai Spirits - Natures Banquet (Nakoruru) | Shinsekai Gakkyoku Zatsugidan (SNK Sound Team) | 2:24 | Active | 4.1 | | 2023-08-31 |
| Samurai Spirits - Shadow (Hanzo Hattori) | Shinsekai Gakkyoku Zatsugidan (SNK Sound Team) | 2:23 | Active | 3.2 | | 2023-08-24 |
| Samurai Spirits - Song of Men - Moon (Ukyo Tachibana) | Shinsekai Gakkyoku Zatsugidan (SNK Sound Team) | 3:15 | Active | 3.8 | | 2023-09-20 |
| Samurai Spirits - Song of Men - Sun (Haohmaru) | Shinsekai Gakkyoku Zatsugidan (SNK Sound Team) | 3:56 | Active | 3.6 | | 2023-07-13 |
| Samurai Spirits - Tuna (Galford) | Shinsekai Gakkyoku Zatsugidan (SNK Sound Team) | 2:18 | Active | 3.8 | | 2023-09-22 |
| Viewpoint - Physical Daydream (area 6) | Masaki Kase , Megumi Matsuura , Shizuyoshi Okamura | 3:22 | Active | 4.6 | | 2023-08-15 |
| Waku Waku 7 - Arina Stage | Masato Araikawa (洗川 真人) | 2:08 | Active | 4.6 | | 2023-07-13 |
| Waku Waku 7 - Opening | Masato Araikawa (洗川 真人) | 0:42 | Active | 4.3 | | 2023-09-09 |