CVGM.net - Chiptune, Retro & Video Game Music

Platform - Console » Master System (PSG)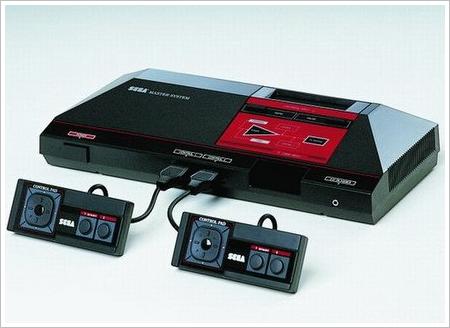 This platform is for PSG sound from Texas Instruments SN76489 chip when used in 8-bit Sega console Master System and its less famous predecessors: SG-1000, SC-3000, SG-1000 II & Mark III
While Nintendo dominated 8-bit console markets in the USA and Japan, Master System was popular in many European countries and Brazil.
In the USA Nintendo gave such licenses for game publishers which did not allow publishers to make ports for other platforms. This reduced the availability of Master System games dramatically in the USA (these kind of policies were banned in the USA in 1991). Those same publishers however sold Master System games in Europe.
All these 8-bit Segas share the same Texas Instruments SN76489 sound chip, which allows 4 channel mono sound: 3 Square Waves and 1 White Noise. While older Segas use the original SN76489 chip, Master System actually have clone called SN76489A (Japanese Master System & Mark III also have an FM sound chip which has a platform of its own here at CVGM).
Earlier Segas also use the same sound chip. The very first sega console is SG-1000 (1983) and its computer variant is SC-3000 which had keyboard and floppy drive. SG-1000 II was an updated version of console released in 1984 and Sega Mark III (1985) was the first version of Master System. The systems are downwards compatible. The most important differences are in graphic output features.
In Europe and Brazil Sega released Master System II (1990) which had different case. In Brazil there is also Master System III and some other variations such as wireless Master System Compact and pink Master System Girl aimed at female consumers. Master Systems are still being produced in Brazil.
Songs
| Song Title | Artist | Song Length | Status | Avg. Vote | Queue | Last Played |
| --- | --- | --- | --- | --- | --- | --- |
| Alex Kidd in Miracle World - Main Theme | Tokuhiko Uwabo | 1:01 | Active | 4.6 | | 2023-05-04 |
| Alex Kidd in Miracle World - Underwater | Tokuhiko Uwabo | 2:26 | Active | 5.0 | | 2023-03-31 |
| Alex Kidd in Shinobi World - Round 1 - Kabuto | Xor | 1:58 | Active | 4.1 | | 2023-05-07 |
| Alex Kidd in Shinobi World - Round 2 - Raid of the Helicopters | Xor | 2:55 | Active | 3.8 | | 2023-04-16 |
| Alex Kidd in Shinobi World - Round 3 - The Jungle | Xor | 2:10 | Active | 3.0 | | 2023-05-06 |
| Alex Kidd in Shinobi World - Round 4 - The Battle with the Dark Ninja | Xor | 1:44 | Active | 4.2 | | 2022-11-06 |
| Alex Kidd: The Lost Stars - Machine World & Giants Body (BGM 3) | Hiro (1) (Hiroshi Kawaguchi) | 1:42 | Active | 4.0 | | 2023-03-09 |
| Alex Kidd: The Lost Stars - Toy World & Monster World (BGM 1) | Hiro (1) (Hiroshi Kawaguchi) | 1:52 | Active | | | 2023-05-24 |
| Alex Kidd: The Lost Stars - Water World (BGM 4) | Hiro (1) (Hiroshi Kawaguchi) | 2:43 | Active | 4.0 | | 2022-10-08 |
| Alex Kidd: The Lost Stars - World of Make Believe & The Shrine of Jiggarat (BGM 2) | Hiro (1) (Hiroshi Kawaguchi) | 1:52 | Active | 4.0 | | 2022-08-09 |
| Angel Delgado | Alex Mauer | 1:19 | Active | 4.3 | | 2023-03-22 |
| Ashey | Alex Mauer | 0:25 | Active | 4.3 | | 2023-03-17 |
| Bees & Bells | Alex Mauer | 0:36 | Active | 3.5 | | 2023-05-21 |
| Boom Boom Room | Alex Mauer | 1:16 | Active | 4.3 | | 2023-05-01 |
| Cadaver | Little-Scale (Sebastian Tomczak) | 5:35 | Active | 3.1 | | 2023-05-14 |
| Cat of the Dragons | Alex Mauer | 1:42 | Active | 4.5 | | 2023-05-21 |
| Choplifter - Round 1 | Tokuhiko Uwabo | 1:32 | Active | 4.7 | | 2023-06-02 |
| Choplifter - Round 2 | Tokuhiko Uwabo | 0:38 | Active | 3.5 | | 2023-03-01 |
| Choplifter - Round 3 | Tokuhiko Uwabo | 2:42 | Active | 3.4 | | 2023-05-14 |
| Darkside | Alex Mauer | 1:25 | Active | 4.4 | | 2023-03-31 |
| Don't Get Mad at Matador | Alex Mauer | 1:21 | Active | 4.0 | | 2023-05-26 |
| Dragons | Little-Scale (Sebastian Tomczak) | 3:49 | Active | 2.1 | | 2023-02-23 |
| Golden Axe Warrior - Overworld | Tarnya (ターニャ) | 1:35 | Active | 4.3 | | 2023-05-24 |
| Golden Axe Warrior - Village | Tarnya (ターニャ) | 1:14 | Active | 3.7 | | 2023-03-05 |
| Golvellius: Valley of Doom - First Cave | Masatomo Miyamoto (宮本 昌知) , Myam , Pazu , Shin-Kun | 1:57 | Active | 4.0 | | 2023-04-04 |
| Golvellius: Valley of Doom - Overworld 2 | Masatomo Miyamoto (宮本 昌知) , Myam , Pazu , Shin-Kun | 1:38 | Active | 4.5 | | 2022-12-30 |
| Hokuto No Ken (Black Belt) - Boss (Black Belt) | Funky K.H. (Katsuhiro Hayashi) | 2:20 | Active | 4.6 | | 2023-04-27 |
| Hospital | Alex Mauer | 1:14 | Active | 3.0 | | 2022-08-27 |
| Hour of Never | deathy (Clifford A. Anderson) | 4:52 | Active | 4.0 | | 2023-05-04 |
| Judith Light | Alex Mauer | 1:30 | Active | 4.3 | | 2023-06-05 |
| Lambda | Little-Scale (Sebastian Tomczak) | 1:14 | Active | 2.0 | | 2022-04-01 |
| Lemmings - Can Can | Matt Furniss | 0:55 | Active | 4.3 | | 2023-05-05 |
| Lemmings - Dance of The Little Swans | Matt Furniss | 1:01 | Active | 4.0 | | 2020-11-28 |
| Lemmings - Dance of The Reed Flutes | Matt Furniss | 1:20 | Active | 4.6 | | 2023-02-23 |
| Lemmings - Don't Dilly Dally on the Way | Matt Furniss | 0:46 | Active | 4.5 | | 2022-11-01 |
| Lemmings - How much is That Doggie in the Window? | Matt Furniss | 0:56 | Active | 2.3 | | 2023-03-05 |
| Lemmings - Keep Your Hair on Mr. Lemming | Matt Furniss | 0:51 | Active | 4.3 | | 2023-05-11 |
| Lemmings - Lend a Helping Hand | Matt Furniss | 1:20 | Active | 4.0 | | 2023-05-21 |
| Lemmings - London Bridge is Falling Down | Matt Furniss | 1:08 | Active | 5.0 | | 2020-12-13 |
| Lemmings - Mind The Step | Matt Furniss | 1:01 | Active | 4.6 | | 2023-04-04 |
| Lemmings - Miniature Overture | Matt Furniss | 1:01 | Active | 5.0 | | 2022-12-24 |
| Lemmings - One Way or Another | Matt Furniss | 1:01 | Active | 5.0 | | 2022-08-09 |
| Lemmings - Pachelbel's Cannon | Matt Furniss | 1:01 | Active | 3.0 | | 2021-11-14 |
| Lemmings - Rondo Alla Turca | Matt Furniss | 1:07 | Active | 4.5 | | 2021-02-26 |
| Lemmings - Scotland be Brave | Matt Furniss | 0:54 | Active | 4.0 | | 2020-12-12 |
| Lemmings - She'll be Coming 'Round The Mountain | Matt Furniss | 1:07 | Active | 4.0 | | 2023-01-15 |
| Lemmings - Smile if You Love Lemmings | Matt Furniss | 1:20 | Active | 3.7 | | 2023-04-22 |
| Lemmings - Title Screen | Matt Furniss | 0:53 | Active | 4.3 | | 2023-05-05 |
| Lemmings - Unknown BGM | Matt Furniss | 0:54 | Active | 4.7 | | 2023-05-20 |
| Lethal Weapon III - Game Over | Wave (Jeroen Tel) | 1:37 | Active | 4.8 | | 2023-05-21 |
| Lethal Weapon III - Level 2 | Wave (Jeroen Tel) | 2:23 | Active | 5.0 | | 2023-06-10 |
| Lethal Weapon III - Level Complete | Wave (Jeroen Tel) | 2:39 | Active | 4.2 | | 2023-03-02 |
| Lethal Weapon III - Pause Mode | Wave (Jeroen Tel) | 2:55 | Active | 4.9 | | 2023-05-16 |
| Lethal Weapon III - Title | Wave (Jeroen Tel) | 2:38 | Active | 4.5 | | 2023-06-02 |
| Lotch Kotch Key | Alex Mauer | 1:03 | Active | 4.0 | | 2023-05-15 |
| Mastermind Ingame | Syniphas (Eric Pinheiro) | 1:03 | Active | 5.0 | | 2023-01-11 |
| Mastermind Title | Syniphas (Eric Pinheiro) | 0:47 | Active | 4.2 | | 2023-04-26 |
| Mid Air Collision | Alex Mauer | 0:48 | Active | 4.3 | | 2023-04-15 |
| N.K.Y.W. | Little-Scale (Sebastian Tomczak) | 3:21 | Active | 2.8 | | 2023-02-14 |
| Now That's What I Call Kulor! - Nintendo Entertainment Samba | Kulor (Richard J. Armijo) | 1:03 | Active | 4.5 | | 2023-05-02 |
| Now That's What I Call Kulor! - Snofer's Infiltration Mission | Kulor (Richard J. Armijo) | 2:18 | Active | 4.0 | | 2022-07-14 |
| Phantasy Star - Battle | Tokuhiko Uwabo | 1:04 | Active | 3.0 | | 2023-04-19 |
| Phantasy Star - Boss Dungeon | Tokuhiko Uwabo | 1:04 | Active | 4.4 | | 2023-05-24 |
| Phantasy Star - Cave | Tokuhiko Uwabo | 1:32 | Active | 3.0 | | 2019-11-11 |
| Phantasy Star - Church | Tokuhiko Uwabo | 0:52 | Active | 3.0 | | 2022-09-15 |
| Phantasy Star - Dark Falz | Tokuhiko Uwabo | 1:04 | Active | 3.0 | | 2022-06-01 |
| Phantasy Star - Dezoris | Tokuhiko Uwabo | 1:18 | Active | 4.0 | | 2023-03-21 |
| Phantasy Star - Ending | Tokuhiko Uwabo | 1:07 | Active | 3.7 | | 2023-03-10 |
| Phantasy Star - Intro | Tokuhiko Uwabo | 1:58 | Active | 3.6 | | 2023-04-30 |
| Phantasy Star - Lassic | Tokuhiko Uwabo | 1:05 | Active | 4.0 | | 2023-04-29 |
| Phantasy Star - Medusa | Tokuhiko Uwabo | 1:58 | Active | 4.1 | | 2023-05-08 |
| Phantasy Star - Motavia | Tokuhiko Uwabo | 2:00 | Active | 4.3 | | 2023-04-30 |
| Phantasy Star - Palma | Tokuhiko Uwabo | 1:30 | Active | 4.6 | | 2023-05-10 |
| Phantasy Star - Shop | Tokuhiko Uwabo | 0:40 | Active | 3.2 | | 2023-06-03 |
| Phantasy Star - Story | Tokuhiko Uwabo | 0:38 | Active | 3.5 | | 2022-08-02 |
| Phantasy Star - Title | Tokuhiko Uwabo | 1:08 | Active | 4.4 | | 2023-06-03 |
| Phantasy Star - Town | Tokuhiko Uwabo | 1:18 | Active | 3.3 | | 2023-03-09 |
| Phantasy Star - Vehicle | Tokuhiko Uwabo | 1:30 | Active | 4.0 | | 2023-06-08 |
| Phantasy Star - Village | Tokuhiko Uwabo | 0:52 | Active | 4.0 | | 2023-05-17 |
| Pretty Eight Machine - Something You Didn't Ever Have | Inverse Phase (Brendan Becker) | 5:54 | Active | 4.2 | | 2023-05-16 |
| Psycho Fox - Amida | Mr. Question | 1:40 | Active | 3.0 | | 2022-11-18 |
| Psycho Fox - Boss | Mr. Question | 1:30 | Active | 3.0 | | 2023-05-04 |
| Psycho Fox - Diabolical Desert | Mr. Question | 2:08 | Active | 3.0 | | 2023-05-31 |
| Psycho Fox - Ending | Mr. Question | 1:09 | Active | 3.3 | | 2023-06-01 |
| Psycho Fox - Mystical Mountains | Mr. Question | 1:58 | Active | 3.5 | | 2023-05-02 |
| Psycho Fox - Pause | Mr. Question | 0:42 | Active | 4.0 | | 2022-05-03 |
| Psycho Fox - Skull Land | Mr. Question | 2:32 | Active | 3.8 | | 2023-05-09 |
| Psycho Fox - Title Screen | Mr. Question | 1:05 | Active | 4.4 | | 2023-06-02 |
| Psycho Fox - Warp Zone | Mr. Question | 1:12 | Active | 3.0 | | 2022-07-03 |
| Quartet - Round 1 | Funky K.H. (Katsuhiro Hayashi) | 3:00 | Active | 4.7 | | 2023-05-20 |
| Sonic the Hedgehog - Bonus Zone | Yuzo Koshiro (古代 祐三) | 2:14 | Active | 4.5 | | 2023-03-30 |
| Sonic the Hedgehog - Boss Theme | Yuzo Koshiro (古代 祐三) | 0:35 | Active | 5.0 | | 2023-04-25 |
| Sonic the Hedgehog - Bridge Zone | Yuzo Koshiro (古代 祐三) | 1:04 | Active | 4.8 | | 2023-05-11 |
| Sonic the Hedgehog - Ending | Yuzo Koshiro (古代 祐三) | 1:36 | Active | 4.7 | | 2023-04-27 |
| Sonic the Hedgehog - Green Hill Zone | Masato Nakamura (中村 正人) , Yuzo Koshiro (古代 祐三) | 1:45 | Active | 4.8 | | 2023-06-02 |
| Sonic the Hedgehog - Jungle Zone | Yuzo Koshiro (古代 祐三) | 1:10 | Active | 4.7 | | 2023-04-30 |
| Sonic the Hedgehog - Labyrinth Zone | Yuzo Koshiro (古代 祐三) | 1:10 | Active | 4.2 | | 2023-05-18 |
| Sonic the Hedgehog - Scrap Brain Zone | Yuzo Koshiro (古代 祐三) | 1:58 | Active | 5.0 | | 2023-05-19 |
| Sonic the Hedgehog - Sky Base Zone | Yuzo Koshiro (古代 祐三) | 0:45 | Active | 3.8 | | 2023-06-01 |
| Sonic the Hedgehog - Title Screen | Masato Nakamura (中村 正人) , Yuzo Koshiro (古代 祐三) | 0:08 | Jingle | 5.0 | | 2012-06-29 |
| Sr. Ursula | Alex Mauer | 1:26 | Active | 4.8 | | 2023-05-20 |
| Sunday (SMS) (2009) | Ultrasyd | 2:36 | Active | 4.4 | | 2023-04-18 |
| System of a Master | Alex Mauer | 1:17 | Active | 4.3 | | 2023-05-05 |
| The Monk | Alex Mauer | 1:54 | Active | 3.9 | | 2023-06-01 |
| The Smurfs - The Mountains | Alberto Jose Gonzalez | 2:02 | Active | 4.8 | | 2023-04-29 |
| Trophies For Everyone | Little-Scale (Sebastian Tomczak) | 3:28 | Active | 3.2 | | 2023-04-20 |
| Vitamin D | Little-Scale (Sebastian Tomczak) | 2:15 | Active | 4.8 | | 2023-06-04 |
| Wonderboy III: The Dragon's Trap - Side-Crawler's Dance | Shinichi Sakamoto | 2:24 | Active | 4.8 | | 2023-03-29 |
| Xuxa! Xuxa! Xuxa! | Alex Mauer | 1:48 | Active | 4.3 | | 2023-06-07 |
| Zaxxoff | Alex Mauer | 1:25 | Active | 4.7 | | 2023-06-08 |
| Zillion - Inside Planet (BGM) | Tokuhiko Uwabo | 2:00 | Active | | | 2023-05-18 |
| Zillion - Pure Stone (Title) | Tokuhiko Uwabo | 3:16 | Active | | | 2023-05-18 |
| Zillion - Push (Ending) | Tokuhiko Uwabo | 1:25 | Active | | | 2023-06-04 |