CVGM.net - Chiptune, Retro & Video Game Music

Platform - Computer » PC (OPL2 = AdLib / Sound Blaster)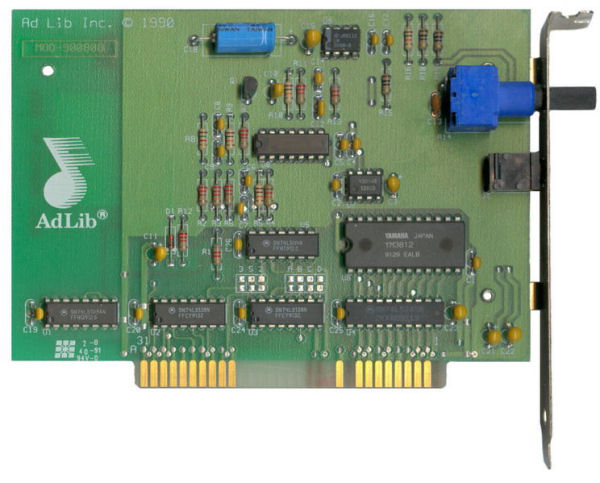 Music from early PC sound cards that had OPL2 (Yamaha YM3812 FM) sound chip.
Released in 1987, AdLib was the first IBM PC sound card which became a de facto standard. It has Yamaha YM3812 FM sound chip. Also early Sound Blasters (SB, SB pro 1) used the same sound chip.
Compared to more expensive Roland MT-32 sound module (1987), Amiga's Paula chip (1985) and Super Nintendo's sound chip (1990) both OPL-2 and OPL-3 were based on inferior technology producing digital FM synthesis instead of digitized "real-life" instrument sounds.
Songs
| Song Title | Artist | Song Length | Status | Avg. Vote | Queue | Last Played |
| --- | --- | --- | --- | --- | --- | --- |
| A-Train - Bullet Train | Brad Madix , Russell Lieblich | 0:41 | Active | 4.0 | | 2023-03-23 |
| A-Train - Deck The halls | Brad Madix , Russell Lieblich | 0:40 | Active | 2.8 | | 2023-05-28 |
| A-Train - Fall | Brad Madix , Russell Lieblich | 0:40 | Active | 4.0 | | 2023-05-31 |
| A-Train - Game Over | Brad Madix , Russell Lieblich | 1:29 | Active | 4.0 | | 2023-09-29 |
| A-Train - Jingle Bells | Brad Madix , Russell Lieblich | 0:41 | Active | 4.0 | | 2023-01-17 |
| A-Train - Spring | Brad Madix , Russell Lieblich | 0:47 | Active | 3.0 | | 2023-02-19 |
| A-Train - Summer | Brad Madix , Russell Lieblich | 0:36 | Active | 4.0 | | 2023-09-13 |
| A-Train - Title Theme | Brad Madix , Russell Lieblich | 0:45 | Active | 3.0 | | 2023-09-02 |
| A-Train - Victory | Brad Madix , Russell Lieblich | 0:39 | Active | 4.0 | | 2023-05-10 |
| A-Train - Winter | Brad Madix , Russell Lieblich | 0:34 | Active | 3.5 | | 2023-09-11 |
| Alone in the Dark - Exploring Derceto | Philippe Vachey | 2:01 | Active | 4.7 | | 2023-09-29 |
| Alone in the Dark - Opening | Philippe Vachey | 2:30 | Active | 3.8 | | 2023-09-28 |
| Alone in the Dark - Suspense and Intimidation | Philippe Vachey | 1:04 | Active | 4.0 | | 2023-07-22 |
| Alpha Waves / Continuum (title) | Frederic Mentzen | 2:31 | Active | 4.3 | | 2023-08-12 |
| Call of Cthulhu: Shadow of the Comet - Illsmouth Theme 1 | Philippe Vachey | 2:43 | Active | 4.0 | | 2023-05-27 |
| Call of Cthulhu: Shadow of the Comet - Main Theme (CD Version) | Philippe Vachey | 3:01 | Active | 3.0 | | 2023-09-24 |
| Call of Cthulhu: Shadow of the Comet - Main Theme (Disk Version) | Philippe Vachey | 2:17 | Active | 4.0 | | 2023-09-05 |
| Cannon Fodder - Mission Clear | Nigel Taylor , Richard Joseph | 0:14 | Active | | | 2023-05-11 |
| Cannon Fodder - Mission Failed | Nigel Taylor , Richard Joseph | 0:17 | Active | | | 2022-04-09 |
| Cannon Fodder - Mission Narcissus | Nigel Taylor , Richard Joseph | 4:34 | Active | 4.0 | | 2023-09-10 |
| Cannon Fodder - Objective | Nigel Taylor , Richard Joseph | 1:03 | Active | 4.7 | | 2023-09-07 |
| Cannon Fodder - Phase Clear | Nigel Taylor , Richard Joseph | 0:34 | Active | 4.0 | | 2022-08-28 |
| Cannon Fodder - War | Nigel Taylor , Richard Joseph | 2:27 | Active | 4.3 | | 2023-09-15 |
| Castlevania - Black Night | Kris Hatlelid | 1:14 | Active | 3.3 | | 2023-09-13 |
| Castlevania - Credits | Kris Hatlelid | 1:45 | Active | 3.5 | | 2023-02-22 |
| Castlevania - Game Over | Kris Hatlelid | 0:02 | Active | 1.0 | | 2023-04-21 |
| Castlevania - Heart of Fire - Stages 10-12 | Kris Hatlelid | 2:03 | Active | 3.0 | | 2023-07-25 |
| Castlevania - Out of Time - Stage 16-18 | Kris Hatlelid | 1:09 | Active | 4.0 | | 2022-11-11 |
| Castlevania - Prologue | Kris Hatlelid | 0:07 | Active | | | 2023-07-17 |
| Castlevania - Stage Clear | Kris Hatlelid | 0:05 | Active | 4.0 | | 2023-01-18 |
| Castlevania - Stalker - Stages 4-6 | Kris Hatlelid | 1:14 | Active | 3.0 | | 2020-12-14 |
| Castlevania - Vampire Killer - Stages 1-3 | Kris Hatlelid | 1:07 | Active | 4.5 | | 2022-02-07 |
| Castlevania - Walking on The Edge - Stages 13-15 | Kris Hatlelid | 1:21 | Active | 4.0 | | 2023-03-18 |
| Castlevania - Wicked Child - Stages 7-9 | Kris Hatlelid | 2:26 | Active | 3.0 | | 2023-02-11 |
| Comitek BBS Intro Tune | Dalezy (Ronny Engmann) | 2:10 | Active | 4.2 | | 2023-08-24 |
| Commander Keen 4 - Border Village | Bobby Prince (Robert Prince) | 1:05 | Active | 4.0 | | 2023-08-29 |
| Commander Keen 4 - Cave of the Descendants | Bobby Prince (Robert Prince) | 1:04 | Active | 3.6 | | 2023-08-21 |
| Commander Keen 4 - Sand Yego | Bobby Prince (Robert Prince) | 1:03 | Active | 3.2 | | 2023-09-20 |
| Commander Keen 4 - Shadowlands | Bobby Prince (Robert Prince) | 1:44 | Active | 2.8 | | 2023-06-23 |
| Commander Keen 4 - Slug village | Bobby Prince (Robert Prince) | 1:30 | Active | 3.9 | | 2023-08-20 |
| Commander Keen 5 - Be very Sphereful with My Diamonds | Bobby Prince (Robert Prince) | 2:15 | Active | 3.9 | | 2023-06-18 |
| Commander Keen 5 - Came in | Bobby Prince (Robert Prince) | 0:57 | Active | 3.7 | | 2023-08-22 |
| Commander Keen 5 - Help Screen | Bobby Prince (Robert Prince) | 1:46 | Active | 3.5 | | 2023-07-18 |
| Commander Keen 5 - Jazz me | Bobby Prince (Robert Prince) | 1:49 | Active | 4.0 | | 2023-07-12 |
| Commander Keen 5 - Make it Tighter | Bobby Prince (Robert Prince) | 2:06 | Active | 4.3 | | 2023-09-20 |
| Commander Keen 5 - Snooping | Bobby Prince (Robert Prince) | 2:53 | Active | 4.2 | | 2023-09-27 |
| Commander Keen 5 - The Armageddon Machine | Bobby Prince (Robert Prince) | 2:01 | Active | 3.8 | | 2023-09-13 |
| Commander Keen 5 - The Omegamatic | Bobby Prince (Robert Prince) | 2:15 | Active | 3.8 | | 2023-09-14 |
| Commander Keen 5 - Wedenesday at the Beach | Bobby Prince (Robert Prince) | 2:00 | Active | 4.2 | | 2023-09-01 |
| Cycles: International Grand Prix Racing - Intro | Kris Hatlelid | 1:04 | Active | 5.0 | | 2023-08-28 |
| Cycles: International Grand Prix Racing - Menu Theme | Kris Hatlelid | 1:12 | Active | 4.3 | | 2023-09-06 |
| Dark Ages - Boss | Keith Schuler | 2:13 | Active | 4.0 | | 2020-12-16 |
| Dark Ages - Dark Ages | Keith Schuler | 1:14 | Active | 3.0 | | 2023-07-11 |
| Dark Ages - Dungeon | Keith Schuler | 1:41 | Active | 3.0 | | 2020-11-18 |
| Dark Ages - Ending | Keith Schuler | 5:35 | Active | 3.0 | | 2023-07-08 |
| Dark Ages - Game Over | Keith Schuler | 0:16 | Active | | | 2022-04-20 |
| Dark Ages - Lava River | Keith Schuler | 2:34 | Active | 3.0 | | 2023-01-05 |
| Dark Ages - Prepare For Your Quest! | Keith Schuler | 0:11 | Active | 4.0 | | 2023-08-22 |
| Dark Ages - Waterfall | Keith Schuler | 1:25 | Active | 4.0 | | 2021-12-02 |
| Demon Blue - Game Over | Adam Gilmore | 2:11 | Active | 5.0 | | 2023-09-01 |
| Demon Blue - Title | Adam Gilmore | 7:00 | Active | 3.9 | | 2023-09-17 |
| Doom - At Doom's Gate (E1M1) | Bobby Prince (Robert Prince) | 2:06 | Active | 4.7 | | 2023-09-12 |
| Doom - Bunny | Bobby Prince (Robert Prince) | 1:06 | Active | 4.5 | | 2023-08-25 |
| Doom - Dark Halls (E1M3) | Bobby Prince (Robert Prince) | 4:52 | Active | 3.4 | | 2023-08-15 |
| Doom - Deep Into The Code (E3M3) | Bobby Prince (Robert Prince) | 2:37 | Active | 3.6 | | 2023-08-24 |
| Doom - Demons on the Prey (E1M7) | Bobby Prince (Robert Prince) | 2:57 | Active | 4.0 | | 2023-09-12 |
| Doom - Donna To The Rescue (E3M2) | Bobby Prince (Robert Prince) | 2:10 | Active | 3.2 | | 2023-09-16 |
| Doom - Facing The Spider (E3M8) | Bobby Prince (Robert Prince) | 1:56 | Active | 3.2 | | 2023-09-04 |
| Doom - Hell Keep (E3M1) | Bobby Prince (Robert Prince) | 2:00 | Active | 4.0 | | 2023-09-04 |
| Doom - Hiding The Secrets (E1M9) | Bobby Prince (Robert Prince) | 2:36 | Active | 4.3 | | 2023-08-30 |
| Doom - I Sawed The Demons (E2M1) | Bobby Prince (Robert Prince) | 2:56 | Active | 4.3 | | 2023-09-05 |
| Doom - Intermission | Bobby Prince (Robert Prince) | 3:35 | Active | 3.4 | | 2023-07-24 |
| Doom - Kitchen Ace (And Taking Names) (E1M4) | Bobby Prince (Robert Prince) | 3:03 | Active | 4.1 | | 2023-09-19 |
| Doom - Nobody Told Me About id (E2M8) | Bobby Prince (Robert Prince) | 3:16 | Active | 4.3 | | 2023-07-18 |
| Doom - On the Hunt (E1M6) | Bobby Prince (Robert Prince) | 1:48 | Active | 3.9 | | 2023-08-06 |
| Doom - Sign of Evil (E1M8) | Bobby Prince (Robert Prince) | 2:52 | Active | 4.3 | | 2023-08-12 |
| Doom - Sinister (E2M6) | Bobby Prince (Robert Prince) | 3:17 | Active | 3.4 | | 2023-04-30 |
| Doom - Suspense (E1M5) | Bobby Prince (Robert Prince) | 3:04 | Active | 4.0 | | 2023-08-10 |
| Doom - The Demons From Adrian's Pen (E2M2) | Bobby Prince (Robert Prince) | 2:52 | Active | 4.4 | | 2023-09-18 |
| Doom - The Imp's Song (E1M2) | Bobby Prince (Robert Prince) | 2:48 | Active | 4.4 | | 2023-09-26 |
| Doom - They're Going To Get You (E2M4) | Bobby Prince (Robert Prince) | 4:36 | Active | 1.7 | | 2023-08-06 |
| Doom - Victory | Bobby Prince (Robert Prince) | 3:32 | Active | 3.6 | | 2023-07-25 |
| Doom - Waltz of the Demons (E2M7) | Bobby Prince (Robert Prince) | 2:08 | Active | 3.5 | | 2022-10-03 |
| Double Dragon 3 - Title | JO (Poul-Jesper Olsen) | 3:17 | Active | 4.5 | | 2023-08-10 |
| Duke Nukem II - Apogee Logo | Bobby Prince (Robert Prince) | 0:06 | Jingle | | | 2011-08-23 |
| Duke Nukem II - Boss Approach | Bobby Prince (Robert Prince) | 1:19 | Active | 4.0 | | 2023-09-02 |
| Duke Nukem II - Boss Battle | Bobby Prince (Robert Prince) | 1:09 | Active | 3.5 | | 2022-10-11 |
| Duke Nukem II - Ending | Bobby Prince (Robert Prince) | 1:07 | Active | 3.7 | | 2023-09-18 |
| Duke Nukem II - Intro | Bobby Prince (Robert Prince) | 1:18 | Active | 4.3 | | 2023-01-16 |
| Duke Nukem II - Loading | Bobby Prince (Robert Prince) | 0:34 | Active | 3.5 | | 2023-04-16 |
| Duke Nukem II - Main Menu | Bobby Prince (Robert Prince) | 0:56 | Active | 4.5 | | 2023-05-06 |
| Duke Nukem II - Stage 1-1, 2-7, 4-3 | Bobby Prince (Robert Prince) | 1:12 | Active | 4.2 | | 2023-06-22 |
| Duke Nukem II - Stage 1-2, 4-2 | Bobby Prince (Robert Prince) | 1:42 | Active | 3.8 | | 2023-05-20 |
| Duke Nukem II - Stage 1-3, 2-6, 3-4, 4-1 | Bobby Prince (Robert Prince) | 1:34 | Active | 4.1 | | 2023-06-12 |
| Duke Nukem II - Stage 1-4, 2-5, 3-2, 4-4 | Bobby Prince (Robert Prince) | 1:15 | Active | 4.0 | | 2021-11-04 |
| Duke Nukem II - Stage 1-5, 4-6 | Bobby Prince (Robert Prince) | 1:47 | Active | 4.4 | | 2023-08-22 |
| Duke Nukem II - Stage 1-6, 3-1, 4-5 | Bobby Prince (Robert Prince) | 2:24 | Active | 3.8 | | 2023-09-13 |
| Duke Nukem II - Stage 1-7, 3-7, 4-7 | Bobby Prince (Robert Prince) | 1:07 | Active | 4.7 | | 2023-08-05 |
| Duke Nukem II - Stage 2-1, 3-6 | Bobby Prince (Robert Prince) | 2:18 | Active | 3.3 | | 2023-07-08 |
| Duke Nukem II - Stage 2-2 | Bobby Prince (Robert Prince) | 2:31 | Active | 3.8 | | 2023-06-09 |
| Duke Nukem II - Stage 2-3 | Bobby Prince (Robert Prince) | 2:13 | Active | 3.0 | | 2023-07-22 |
| Duke Nukem II - Stage 2-4, 3-3 | Bobby Prince (Robert Prince) | 2:49 | Active | 3.3 | | 2023-08-08 |
| Duke Nukem II - Stage 3-5 | Bobby Prince (Robert Prince) | 2:16 | Active | 3.5 | | 2023-08-23 |
| Dune - Arakeen Palace (Arrakis) | Stéphane Picq | 5:37 | Active | 4.7 | | 2023-09-18 |
| Dune - Deep Desert (Wormintr) | Stéphane Picq | 2:51 | Active | 4.8 | | 2023-09-15 |
| Dune - Introduction (Wormsuit) | Stéphane Picq | 6:32 | Active | 4.6 | | 2023-09-26 |
| Dune - Map (Sekence) | Stéphane Picq | 3:32 | Active | 4.6 | | 2023-08-14 |
| Dune - Morning Sunrise (Morning) | Stéphane Picq | 3:28 | Active | 4.6 | | 2023-09-28 |
| Dune - Ornithopter (Warsong) | Stéphane Picq | 2:07 | Active | 4.9 | | 2023-09-07 |
| Dune - Sietch Tabr (Baghdad) | Stéphane Picq | 3:08 | Active | 4.1 | | 2023-09-06 |
| Dune - Sietch Tuek (Sietchm) | Stéphane Picq | 1:29 | Active | 5.0 | | 2023-09-13 |
| Dune - Water Of Life (Water) | Stéphane Picq | 2:23 | Active | 4.5 | | 2023-06-11 |
| First Samurai - Intro / Title | Martin Walker | 7:58 | Active | 4.7 | | 2023-09-01 |
| Fox Ranger - Credits | MIDIKID (Nam Sangkyu) | 2:28 | Active | 4.5 | | 2023-09-05 |
| Fox Ranger - Stage 1 | MIDIKID (Nam Sangkyu) | 2:10 | Active | 4.6 | | 2023-08-14 |
| Fox Ranger - Stage 2 | MIDIKID (Nam Sangkyu) | 1:35 | Active | 3.5 | | 2023-08-06 |
| Fox Ranger - Stage 3 | MIDIKID (Nam Sangkyu) | 2:06 | Active | 3.5 | | 2021-11-15 |
| Fox Ranger - Stage 4 | MIDIKID (Nam Sangkyu) | 1:39 | Active | 3.7 | | 2023-08-24 |
| Fox Ranger - Stage 5 | MIDIKID (Nam Sangkyu) | 1:42 | Active | 4.5 | | 2023-05-12 |
| Fox Ranger - Stage 6 | MIDIKID (Nam Sangkyu) | 1:45 | Active | 4.2 | | 2023-09-23 |
| Fox Ranger - Title | MIDIKID (Nam Sangkyu) | 0:55 | Active | 4.3 | | 2023-06-07 |
| Goblins 3 - Brief Encounter | Charles Callet | 4:23 | Active | 4.5 | | 2023-09-04 |
| Goblins 3 - Death at Your Heels | Charles Callet | 3:22 | Active | 4.3 | | 2023-07-23 |
| Goblins 3 - Encounters of the Third Kind | Charles Callet | 3:38 | Active | 4.6 | | 2023-07-17 |
| Goblins 3 - Impossible Mission | Charles Callet | 3:59 | Active | 4.3 | | 2023-09-05 |
| Goblins 3 - Last Limit | Charles Callet | 2:23 | Active | 3.8 | | 2023-09-15 |
| Goblins 3 - The Fearless Queen | Charles Callet | 3:53 | Active | 4.5 | | 2023-08-22 |
| Goblins 3 - The Great Folly | Charles Callet | 3:33 | Active | 3.8 | | 2023-09-06 |
| Goblins 3 - The Tears of Others | Charles Callet | 7:15 | Active | 4.5 | | 2023-09-26 |
| Gods - Intro | Richard Joseph | 2:33 | Active | 4.3 | | 2023-09-25 |
| Holiday Lemmings - Good King Wenceslas | Tiny (Tony Williams) | 2:16 | Active | 3.5 | | 2023-07-31 |
| Holiday Lemmings - Jingle Bells | Tiny (Tony Williams) | 2:51 | Active | 3.7 | | 2023-07-11 |
| KGB - Burokrat | Stéphane Picq | 4:34 | Active | 4.4 | | 2023-09-02 |
| KGB - Gorbi | Stéphane Picq | 3:40 | Active | 4.2 | | 2023-09-01 |
| KGB - Goulag | Stéphane Picq | 4:16 | Active | 4.2 | | 2023-09-18 |
| KGB - Kursk | Stéphane Picq | 4:32 | Active | 4.3 | | 2023-08-03 |
| KGB - Machine | Stéphane Picq | 2:50 | Active | 4.6 | | 2023-07-27 |
| KGB - Paradise | Stéphane Picq | 3:57 | Active | 3.8 | | 2023-08-05 |
| Legend of Kyrandia: Book Two: The Hand of Fate - Abominable Abode | Frank Klepacki | 1:17 | Active | 4.0 | | 2023-09-12 |
| Legend of Kyrandia: Book Two: The Hand of Fate - Alpinia | Frank Klepacki | 5:21 | Active | 3.5 | | 2022-11-30 |
| Legend of Kyrandia: Book Two: The Hand of Fate - Bountiful Bureaucracy | Frank Klepacki | 1:31 | Active | | | 2020-12-15 |
| Legend of Kyrandia: Book Two: The Hand of Fate - Brueth the Fairy | Frank Klepacki | 0:30 | Active | 3.5 | | 2023-09-06 |
| Legend of Kyrandia: Book Two: The Hand of Fate - Calescent Caverns | Frank Klepacki | 4:38 | Active | 3.5 | | 2023-07-22 |
| Legend of Kyrandia: Book Two: The Hand of Fate - Cheesy Cellar | Frank Klepacki | 0:33 | Active | 1.0 | | 2023-03-01 |
| Legend of Kyrandia: Book Two: The Hand of Fate - Credits | Frank Klepacki | 1:43 | Active | 4.5 | | 2023-09-19 |
| Legend of Kyrandia: Book Two: The Hand of Fate - Crying Croc | Frank Klepacki | 0:34 | Active | 4.0 | | 2023-09-07 |
| Legend of Kyrandia: Book Two: The Hand of Fate - Darkmoor Swamp | Frank Klepacki | 4:31 | Active | 3.3 | | 2023-08-06 |
| Legend of Kyrandia: Book Two: The Hand of Fate - Downcast Dragonfly | Frank Klepacki | 1:01 | Active | 4.0 | | 2022-08-06 |
| Legend of Kyrandia: Book Two: The Hand of Fate - Drunk Dragon | Frank Klepacki | 2:11 | Active | 3.0 | | 2019-06-13 |
| Legend of Kyrandia: Book Two: The Hand of Fate - Facetious Faun | Frank Klepacki | 1:09 | Active | 4.0 | | 2023-02-28 |
| Legend of Kyrandia: Book Two: The Hand of Fate - Fanciful Flight | Frank Klepacki | 1:40 | Active | 4.2 | | 2023-09-21 |
| Legend of Kyrandia: Book Two: The Hand of Fate - Far Fall | Frank Klepacki | 1:52 | Active | 3.0 | | 2022-03-26 |
| Legend of Kyrandia: Book Two: The Hand of Fate - Fearful Faun | Frank Klepacki | 0:38 | Active | 2.0 | | 2022-11-21 |
| Legend of Kyrandia: Book Two: The Hand of Fate - Firefly Fantasia | Frank Klepacki | 0:08 | Active | 3.0 | | 2020-11-22 |
| Legend of Kyrandia: Book Two: The Hand of Fate - Floundering Fishermen | Frank Klepacki | 0:45 | Active | 3.0 | | 2023-05-24 |
| Legend of Kyrandia: Book Two: The Hand of Fate - Highmoon | Frank Klepacki | 4:34 | Active | 3.0 | | 2021-10-22 |
| Legend of Kyrandia: Book Two: The Hand of Fate - Homely Herb | Frank Klepacki | 2:09 | Active | 4.3 | | 2023-08-14 |
| Legend of Kyrandia: Book Two: The Hand of Fate - Hunter Haven | Frank Klepacki | 1:04 | Active | 5.0 | | 2023-01-18 |
| Legend of Kyrandia: Book Two: The Hand of Fate - Hurtful Hand | Frank Klepacki | 0:38 | Active | 4.0 | | 2021-06-30 |
| Legend of Kyrandia: Book Two: The Hand of Fate - Introduction | Frank Klepacki | 3:54 | Active | 3.6 | | 2023-07-09 |
| Legend of Kyrandia: Book Two: The Hand of Fate - Malcolm Returns | Frank Klepacki | 0:53 | Active | | | 2021-08-26 |
| Legend of Kyrandia: Book Two: The Hand of Fate - Mock Medusa | Frank Klepacki | 0:23 | Active | | | 2021-05-25 |
| Legend of Kyrandia: Book Two: The Hand of Fate - Mooncalf Marko | Frank Klepacki | 1:15 | Active | 4.0 | | 2023-02-06 |
| Legend of Kyrandia: Book Two: The Hand of Fate - Morningmist Valley | Frank Klepacki | 3:52 | Active | 3.6 | | 2023-09-18 |
| Legend of Kyrandia: Book Two: The Hand of Fate - Mustard Militia | Frank Klepacki | 1:49 | Active | 4.0 | | 2023-04-19 |
| Legend of Kyrandia: Book Two: The Hand of Fate - Mysterious Mechanisms | Frank Klepacki | 2:52 | Active | 3.5 | | 2019-10-10 |
| Legend of Kyrandia: Book Two: The Hand of Fate - Negligent Knight | Frank Klepacki | 0:59 | Active | 3.0 | | 2021-09-11 |
| Legend of Kyrandia: Book Two: The Hand of Fate - Octopian Odds | Frank Klepacki | 0:40 | Active | 2.0 | | 2023-04-06 |
| Legend of Kyrandia: Book Two: The Hand of Fate - Petrified Forest | Frank Klepacki | 0:42 | Active | 4.0 | | 2023-07-03 |
| Legend of Kyrandia: Book Two: The Hand of Fate - Punchlining Pirates | Frank Klepacki | 0:59 | Active | 4.0 | | 2022-01-30 |
| Legend of Kyrandia: Book Two: The Hand of Fate - Quicksand | Frank Klepacki | 1:59 | Active | 3.0 | | 2019-12-24 |
| Legend of Kyrandia: Book Two: The Hand of Fate - Rampaging Rex | Frank Klepacki | 1:31 | Active | 4.0 | | 2021-12-13 |
| Legend of Kyrandia: Book Two: The Hand of Fate - Reticent Rat | Frank Klepacki | 2:02 | Active | 3.7 | | 2023-09-09 |
| Legend of Kyrandia: Book Two: The Hand of Fate - Scalding Shot | Frank Klepacki | 1:29 | Active | 3.0 | | 2023-02-23 |
| Legend of Kyrandia: Book Two: The Hand of Fate - Sleight of Sailing | Frank Klepacki | 2:41 | Active | 3.0 | | 2022-02-17 |
| Legend of Kyrandia: Book Two: The Hand of Fate - Tall Tales | Frank Klepacki | 1:07 | Active | 4.0 | | 2023-05-19 |
| Legend of Kyrandia: Book Two: The Hand of Fate - The Hand of Fate | Frank Klepacki | 0:17 | Active | 3.0 | | 2022-04-17 |
| Legend of Kyrandia: Book Two: The Hand of Fate - Tram Travesty | Frank Klepacki | 0:22 | Active | 4.0 | | 2021-03-25 |
| Legend of Kyrandia: Book Two: The Hand of Fate - Veritable Victory | Frank Klepacki | 1:40 | Active | 4.0 | | 2023-08-11 |
| Legend of Kyrandia: Book Two: The Hand of Fate - Volcania | Frank Klepacki | 3:32 | Active | 4.5 | | 2023-07-25 |
| Legend of Kyrandia: Book Two: The Hand of Fate - Westwood Logo | Frank Klepacki | 0:06 | Active | | | 2021-10-26 |
| Legend of Kyrandia: Book Two: The Hand of Fate - Zanthia's Laboratory | Frank Klepacki | 1:25 | Active | 4.0 | | 2023-08-14 |
| Leisure Suit Larry 1: In the Land of the Lounge Lizards VGA - Air For a G String | Chris Brayman | 1:16 | Active | 4.5 | | 2022-06-12 |
| Leisure Suit Larry 1: In the Land of the Lounge Lizards VGA - Ajax Liquor Message | Chris Brayman | 0:14 | Active | | | 2022-12-15 |
| Leisure Suit Larry 1: In the Land of the Lounge Lizards VGA - All Tied Up | Chris Brayman | 0:34 | Active | 3.0 | | 2023-08-08 |
| Leisure Suit Larry 1: In the Land of the Lounge Lizards VGA - Backstreet Bully | Chris Brayman | 0:44 | Active | 4.0 | | 2021-10-31 |
| Leisure Suit Larry 1: In the Land of the Lounge Lizards VGA - Disco Dancing | Chris Brayman | 1:06 | Active | 4.0 | | 2023-06-20 |
| Leisure Suit Larry 1: In the Land of the Lounge Lizards VGA - Faith of Crisis | Chris Brayman | 0:38 | Active | | | 2022-11-03 |
| Leisure Suit Larry 1: In the Land of the Lounge Lizards VGA - For Your Thighs Only | Chris Brayman | 2:21 | Active | 3.0 | | 2021-11-30 |
| Leisure Suit Larry 1: In the Land of the Lounge Lizards VGA - Game Over, Larry | Chris Brayman | 0:09 | Active | 4.0 | | 2023-01-09 |
| Leisure Suit Larry 1: In the Land of the Lounge Lizards VGA - Her Albert Has Some Iguana Gas | Chris Brayman | 2:01 | Active | 5.0 | | 2021-11-14 |
| Leisure Suit Larry 1: In the Land of the Lounge Lizards VGA - I Can-Can You | Chris Brayman | 2:15 | Active | 4.0 | | 2023-08-20 |
| Leisure Suit Larry 1: In the Land of the Lounge Lizards VGA - Larry's Acrobatics | Chris Brayman | 1:07 | Active | 3.0 | | 2022-08-18 |
| Leisure Suit Larry 1: In the Land of the Lounge Lizards VGA - Larry's In The Game | Chris Brayman | 0:36 | Active | 1.0 | | 2023-08-18 |
| Leisure Suit Larry 1: In the Land of the Lounge Lizards VGA - Lefty's Bar | Chris Brayman | 3:16 | Active | 5.0 | | 2023-09-03 |
| Leisure Suit Larry 1: In the Land of the Lounge Lizards VGA - Mantovani's Revenge | Chris Brayman | 4:39 | Active | | | 2023-02-20 |
| Leisure Suit Larry 1: In the Land of the Lounge Lizards VGA - Prelude to an Afternoon of Fawn | Chris Brayman | 3:37 | Active | 3.0 | | 2023-08-25 |
| Leisure Suit Larry 1: In the Land of the Lounge Lizards VGA - Stellar Night | Chris Brayman | 4:50 | Active | 3.0 | | 2023-09-14 |
| Leisure Suit Larry 1: In the Land of the Lounge Lizards VGA - Street Drunkard | Chris Brayman | 0:13 | Active | 2.0 | | 2022-10-12 |
| Leisure Suit Larry 1: In the Land of the Lounge Lizards VGA - Taxicab From Hell | Chris Brayman | 1:08 | Active | 4.0 | | 2023-02-15 |
| Leisure Suit Larry 1: In the Land of the Lounge Lizards VGA - That's a Sweet Moon, Honey | Chris Brayman | 1:54 | Active | 4.0 | | 2023-07-16 |
| Leisure Suit Larry 1: In the Land of the Lounge Lizards VGA - Theme for BoLarry | Chris Brayman | 2:21 | Active | 4.0 | | 2023-01-25 |
| Leisure Suit Larry 1: In the Land of the Lounge Lizards VGA - TV - Commercial | Chris Brayman | 1:39 | Active | 2.8 | | 2023-05-31 |
| Leisure Suit Larry 1: In the Land of the Lounge Lizards VGA - TV - Documentary | Chris Brayman | 0:39 | Active | | | 2020-12-10 |
| Leisure Suit Larry 1: In the Land of the Lounge Lizards VGA - TV - Educational | Chris Brayman | 0:47 | Active | | | 2020-12-13 |
| Leisure Suit Larry 1: In the Land of the Lounge Lizards VGA - TV - Musical | Chris Brayman | 0:58 | Active | | | 2023-05-30 |
| Leisure Suit Larry 1: In the Land of the Lounge Lizards VGA - TV - Oh No... The Horrors! | Chris Brayman | 0:36 | Active | | | 2020-12-10 |
| Leisure Suit Larry 1: In the Land of the Lounge Lizards VGA - TV - Soap Opera | Chris Brayman | 1:34 | Active | 2.0 | | 2023-03-26 |
| Leisure Suit Larry 1: In the Land of the Lounge Lizards VGA - TV - Sports | Chris Brayman | 0:47 | Active | | | 2022-02-24 |
| Leisure Suit Larry 1: In the Land of the Lounge Lizards VGA - Wedding March by Bloughengrin | Chris Brayman | 0:52 | Active | | | 2023-07-21 |
| Leisure Suit Larry 1: In the Land of the Lounge Lizards VGA- TV - Sexy Time | Chris Brayman | 2:10 | Active | 5.0 | | 2023-08-16 |
| Leisure Suit Larry 5: Passionate Patti Does a Little Undercover Work - A Studio Session | Chris Braymen , Craig Safan | 2:14 | Active | 4.0 | | 2022-11-19 |
| Leisure Suit Larry 5: Passionate Patti Does a Little Undercover Work - Airplane Panic | Chris Braymen , Craig Safan | 0:42 | Active | 3.0 | | 2023-01-12 |
| Leisure Suit Larry 5: Passionate Patti Does a Little Undercover Work - Another Meeting | Chris Braymen , Craig Safan | 1:44 | Active | 4.0 | | 2022-05-28 |
| Leisure Suit Larry 5: Passionate Patti Does a Little Undercover Work - Chauffeur's Harrasment | Chris Braymen , Craig Safan | 0:32 | Active | | | 2023-07-02 |
| Leisure Suit Larry 5: Passionate Patti Does a Little Undercover Work - Chi Chi a Me Me | Chris Braymen , Craig Safan | 2:18 | Active | 3.0 | | 2021-12-20 |
| Leisure Suit Larry 5: Passionate Patti Does a Little Undercover Work - Closing Theme | Chris Braymen , Craig Safan | 2:09 | Active | | | 2023-08-14 |
| Leisure Suit Larry 5: Passionate Patti Does a Little Undercover Work - Desmond's Intermission | Chris Braymen , Craig Safan | 0:21 | Active | | | 2023-06-13 |
| Leisure Suit Larry 5: Passionate Patti Does a Little Undercover Work - Desmond's Office | Chris Braymen , Craig Safan | 2:11 | Active | | | 2023-02-03 |
| Leisure Suit Larry 5: Passionate Patti Does a Little Undercover Work - Desmond's Theme | Chris Braymen , Craig Safan | 0:53 | Active | | | 2021-02-21 |
| Leisure Suit Larry 5: Passionate Patti Does a Little Undercover Work - Doc'll Pulliam | Chris Braymen , Craig Safan | 1:39 | Active | 4.0 | | 2020-12-16 |
| Leisure Suit Larry 5: Passionate Patti Does a Little Undercover Work - Dream on Flight to Atlantic City (Venice) | Chris Braymen , Craig Safan | 1:10 | Active | 4.0 | | 2023-09-18 |
| Leisure Suit Larry 5: Passionate Patti Does a Little Undercover Work - Dream on Flight to Miami (Taj Mahal Rock Concert) | Chris Braymen , Craig Safan | 1:27 | Active | 3.0 | | 2023-07-16 |
| Leisure Suit Larry 5: Passionate Patti Does a Little Undercover Work - Evil Vibe | Chris Braymen , Craig Safan | 1:03 | Active | | | 2023-07-16 |
| Leisure Suit Larry 5: Passionate Patti Does a Little Undercover Work - Facing Andy | Chris Braymen , Craig Safan | 1:05 | Active | | | 2020-12-10 |
| Leisure Suit Larry 5: Passionate Patti Does a Little Undercover Work - FBI Physical Exam | Chris Braymen , Craig Safan | 0:41 | Active | | | 2020-12-14 |
| Leisure Suit Larry 5: Passionate Patti Does a Little Undercover Work - For Your Tighs Only | Chris Braymen , Craig Safan | 2:56 | Active | 3.3 | | 2023-09-01 |
| Leisure Suit Larry 5: Passionate Patti Does a Little Undercover Work - Hard Rock It | Chris Braymen , Craig Safan | 1:50 | Active | 3.0 | | 2021-02-06 |
| Leisure Suit Larry 5: Passionate Patti Does a Little Undercover Work - Hard Rock Me | Chris Braymen , Craig Safan | 1:48 | Active | 4.0 | | 2020-10-23 |
| Leisure Suit Larry 5: Passionate Patti Does a Little Undercover Work - Hard Rock You | Chris Braymen , Craig Safan | 1:42 | Active | | | 2023-06-11 |
| Leisure Suit Larry 5: Passionate Patti Does a Little Undercover Work - Hero Worship | Chris Braymen , Craig Safan | 1:21 | Active | 4.3 | | 2023-08-25 |
| Leisure Suit Larry 5: Passionate Patti Does a Little Undercover Work - Ivana Skate | Chris Braymen , Craig Safan | 1:13 | Active | 4.0 | | 2023-04-03 |
| Leisure Suit Larry 5: Passionate Patti Does a Little Undercover Work - Julius Attacks | Chris Braymen , Craig Safan | 0:54 | Active | 4.0 | | 2023-02-26 |
| Leisure Suit Larry 5: Passionate Patti Does a Little Undercover Work - Julius Encounter | Chris Braymen , Craig Safan | 0:54 | Active | 4.0 | | 2020-12-21 |
| Leisure Suit Larry 5: Passionate Patti Does a Little Undercover Work - Julius Meeting | Chris Braymen , Craig Safan | 2:06 | Active | 4.0 | | 2023-07-19 |
| Leisure Suit Larry 5: Passionate Patti Does a Little Undercover Work - K-RAP Rap | Chris Braymen , Craig Safan | 1:55 | Active | 4.0 | | 2023-05-31 |
| Leisure Suit Larry 5: Passionate Patti Does a Little Undercover Work - K-RAP Rock | Chris Braymen , Craig Safan | 2:02 | Active | 4.5 | | 2023-03-04 |
| Leisure Suit Larry 5: Passionate Patti Does a Little Undercover Work - K-RAP Talk | Chris Braymen , Craig Safan | 2:12 | Active | 4.0 | | 2023-06-14 |
| Leisure Suit Larry 5: Passionate Patti Does a Little Undercover Work - Michele's Song | Chris Braymen , Craig Safan | 1:56 | Active | | | 2023-05-19 |
| Leisure Suit Larry 5: Passionate Patti Does a Little Undercover Work - Nasty Girlz | Chris Braymen , Craig Safan | 1:45 | Active | 3.0 | | 2023-06-03 |
| Leisure Suit Larry 5: Passionate Patti Does a Little Undercover Work - Nasty Michele | Chris Braymen , Craig Safan | 1:16 | Active | 4.0 | | 2023-05-28 |
| Leisure Suit Larry 5: Passionate Patti Does a Little Undercover Work - On Board the Flight | Chris Braymen , Craig Safan | 0:15 | Active | | | 2020-12-16 |
| Leisure Suit Larry 5: Passionate Patti Does a Little Undercover Work - On the Boardwalk | Chris Braymen , Craig Safan | 3:07 | Active | 4.0 | | 2023-08-28 |
| Leisure Suit Larry 5: Passionate Patti Does a Little Undercover Work - Passionate Reunion | Chris Braymen , Craig Safan | 1:22 | Active | 4.0 | | 2023-03-18 |
| Leisure Suit Larry 5: Passionate Patti Does a Little Undercover Work - Patty's Dream | Chris Braymen , Craig Safan | 0:30 | Active | | | 2020-11-21 |
| Leisure Suit Larry 5: Passionate Patti Does a Little Undercover Work - PornProd Meeting | Chris Braymen , Craig Safan | 1:24 | Active | 4.0 | | 2023-07-12 |
| Leisure Suit Larry 5: Passionate Patti Does a Little Undercover Work - PornProdCorp Lobby | Chris Braymen , Craig Safan | 4:35 | Active | 2.5 | | 2023-04-21 |
| Leisure Suit Larry 5: Passionate Patti Does a Little Undercover Work - Salsa This | Chris Braymen , Craig Safan | 1:10 | Active | 3.0 | | 2022-11-27 |
| Leisure Suit Larry 5: Passionate Patti Does a Little Undercover Work - Saxy Sex | Chris Braymen , Craig Safan | 0:45 | Active | | | 2022-01-02 |
| Leisure Suit Larry 5: Passionate Patti Does a Little Undercover Work - Shill This | Chris Braymen , Craig Safan | 2:55 | Active | | | 2022-12-30 |
| Leisure Suit Larry 5: Passionate Patti Does a Little Undercover Work - Silas Scruemall | Chris Braymen , Craig Safan | 2:11 | Active | 4.0 | | 2023-09-09 |
| Leisure Suit Larry 5: Passionate Patti Does a Little Undercover Work - Snake Charmer | Chris Braymen , Craig Safan | 1:21 | Active | 2.0 | | 2022-03-06 |
| Leisure Suit Larry 5: Passionate Patti Does a Little Undercover Work - Tramp's Casino | Chris Braymen , Craig Safan | 2:46 | Active | 4.5 | | 2023-05-27 |
| Leisure Suit Larry 5: Passionate Patti Does a Little Undercover Work - White House Dinner | Chris Braymen , Craig Safan | 1:48 | Active | 1.5 | | 2023-02-10 |
| Leisure Suit Larry 5: Passionate Patti Does a Little Undercover Work - Whoz on Top | Chris Braymen , Craig Safan | 1:05 | Active | 3.7 | | 2023-08-21 |
| Leisure Suit Larry III: Passionate Patti in Pursuit of the Pulsating Pectorals - Adventurous Patty | Mike Dana | 1:04 | Active | 2.0 | | 2021-05-31 |
| Leisure Suit Larry III: Passionate Patti in Pursuit of the Pulsating Pectorals - Attack of the Feral Pig | Mike Dana | 2:22 | Active | 3.0 | | 2022-10-11 |
| Leisure Suit Larry III: Passionate Patti in Pursuit of the Pulsating Pectorals - Bambi's Theme | Mike Dana | 2:10 | Active | 3.0 | | 2020-10-24 |
| Leisure Suit Larry III: Passionate Patti in Pursuit of the Pulsating Pectorals - Cheatem Offices | Mike Dana | 3:15 | Active | 5.0 | | 2023-03-27 |
| Leisure Suit Larry III: Passionate Patti in Pursuit of the Pulsating Pectorals - Cherry Tart Theme | Mike Dana | 2:56 | Active | 4.0 | | 2023-03-21 |
| Leisure Suit Larry III: Passionate Patti in Pursuit of the Pulsating Pectorals - Cherry Tart's Dance | Mike Dana | 1:28 | Active | 3.0 | | 2022-08-07 |
| Leisure Suit Larry III: Passionate Patti in Pursuit of the Pulsating Pectorals - Chip 'n Dale's Club | Mike Dana | 1:22 | Active | 4.0 | | 2023-09-23 |
| Leisure Suit Larry III: Passionate Patti in Pursuit of the Pulsating Pectorals - Crab Attack | Mike Dana | 1:46 | Active | 3.0 | | 2021-05-22 |
| Leisure Suit Larry III: Passionate Patti in Pursuit of the Pulsating Pectorals - Dale's Tease | Mike Dana | 0:49 | Active | 2.8 | | 2023-09-07 |
| Leisure Suit Larry III: Passionate Patti in Pursuit of the Pulsating Pectorals - Dale's Theme | Mike Dana | 3:35 | Active | 4.0 | | 2020-10-25 |
| Leisure Suit Larry III: Passionate Patti in Pursuit of the Pulsating Pectorals - Death March | Mike Dana | 1:53 | Active | 3.0 | | 2022-11-07 |
| Leisure Suit Larry III: Passionate Patti in Pursuit of the Pulsating Pectorals - Fat City | Mike Dana | 2:31 | Active | 2.0 | | 2020-12-18 |
| Leisure Suit Larry III: Passionate Patti in Pursuit of the Pulsating Pectorals - Feeling Tired Now... | Mike Dana | 1:08 | Active | 4.0 | | 2023-02-06 |
| Leisure Suit Larry III: Passionate Patti in Pursuit of the Pulsating Pectorals - For Your Tighs Only | Mike Dana | 2:21 | Active | 5.0 | | 2023-01-23 |
| Leisure Suit Larry III: Passionate Patti in Pursuit of the Pulsating Pectorals - Fortunate Spy | Mike Dana | 1:18 | Active | 4.0 | | 2020-11-15 |
| Leisure Suit Larry III: Passionate Patti in Pursuit of the Pulsating Pectorals - Getting a Little Thirsty... | Mike Dana | 1:57 | Active | 2.8 | | 2023-06-05 |
| Leisure Suit Larry III: Passionate Patti in Pursuit of the Pulsating Pectorals - Getting High Over the Chasm | Mike Dana | 1:06 | Active | 3.5 | | 2022-12-17 |
| Leisure Suit Larry III: Passionate Patti in Pursuit of the Pulsating Pectorals - Hotel Lounge | Mike Dana | 4:12 | Active | 3.3 | | 2023-08-25 |
| Leisure Suit Larry III: Passionate Patti in Pursuit of the Pulsating Pectorals - In Pursuit of the Pulsating Pectorals | Mike Dana | 3:15 | Active | 3.0 | | 2023-08-20 |
| Leisure Suit Larry III: Passionate Patti in Pursuit of the Pulsating Pectorals - Larry's at It | Mike Dana | 0:54 | Active | 3.0 | | 2023-07-31 |
| Leisure Suit Larry III: Passionate Patti in Pursuit of the Pulsating Pectorals - Larry's Dance | Mike Dana | 1:28 | Active | 5.0 | | 2023-08-12 |
| Leisure Suit Larry III: Passionate Patti in Pursuit of the Pulsating Pectorals - Meeting the Boss | Mike Dana | 1:11 | Active | 4.0 | | 2022-07-13 |
| Leisure Suit Larry III: Passionate Patti in Pursuit of the Pulsating Pectorals - Misunderstanding #1 | Mike Dana | 1:14 | Active | | | 2022-05-14 |
| Leisure Suit Larry III: Passionate Patti in Pursuit of the Pulsating Pectorals - Misunderstanding #2 | Mike Dana | 0:36 | Active | 3.0 | | 2021-11-14 |
| Leisure Suit Larry III: Passionate Patti in Pursuit of the Pulsating Pectorals - Misunderstanding #3 | Mike Dana | 0:49 | Active | 4.0 | | 2023-06-22 |
| Leisure Suit Larry III: Passionate Patti in Pursuit of the Pulsating Pectorals - Misunderstanding #4 | Mike Dana | 0:32 | Active | | | 2022-06-27 |
| Leisure Suit Larry III: Passionate Patti in Pursuit of the Pulsating Pectorals - Misunderstanding #5 | Mike Dana | 3:09 | Active | | | 2023-09-13 |
| Leisure Suit Larry III: Passionate Patti in Pursuit of the Pulsating Pectorals - Music Hall Dance | Mike Dana | 2:48 | Active | 4.0 | | 2022-09-05 |
| Leisure Suit Larry III: Passionate Patti in Pursuit of the Pulsating Pectorals - Nontoonyt Island | Mike Dana | 2:29 | Active | 4.0 | | 2023-05-23 |
| Leisure Suit Larry III: Passionate Patti in Pursuit of the Pulsating Pectorals - Passionate Love #1 | Mike Dana | 2:17 | Active | | | 2022-09-05 |
| Leisure Suit Larry III: Passionate Patti in Pursuit of the Pulsating Pectorals - Passionate Love #2 | Mike Dana | 0:43 | Active | 4.0 | | 2022-01-08 |
| Leisure Suit Larry III: Passionate Patti in Pursuit of the Pulsating Pectorals - Passionate Love #3 | Mike Dana | 1:03 | Active | 3.0 | | 2022-01-09 |
| Leisure Suit Larry III: Passionate Patti in Pursuit of the Pulsating Pectorals - Passionate Love #4 | Mike Dana | 0:53 | Active | 4.0 | | 2022-08-02 |
| Leisure Suit Larry III: Passionate Patti in Pursuit of the Pulsating Pectorals - Passionate Love #5 | Mike Dana | 1:11 | Active | 2.8 | | 2023-08-31 |
| Leisure Suit Larry III: Passionate Patti in Pursuit of the Pulsating Pectorals - Patty's Theme | Mike Dana | 4:00 | Active | 3.0 | | 2023-06-30 |
| Leisure Suit Larry III: Passionate Patti in Pursuit of the Pulsating Pectorals - Piano Bar Theme #1 | Mike Dana | 1:10 | Active | 4.0 | | 2023-08-03 |
| Leisure Suit Larry III: Passionate Patti in Pursuit of the Pulsating Pectorals - Piano Bar Theme #2 | Mike Dana | 2:41 | Active | 3.0 | | 2021-11-22 |
| Leisure Suit Larry III: Passionate Patti in Pursuit of the Pulsating Pectorals - Piano Bar Theme #3 | Mike Dana | 1:08 | Active | 4.0 | | 2020-12-18 |
| Leisure Suit Larry III: Passionate Patti in Pursuit of the Pulsating Pectorals - Piano Bar Theme #4 | Mike Dana | 2:46 | Active | 3.0 | | 2023-04-11 |
| Leisure Suit Larry III: Passionate Patti in Pursuit of the Pulsating Pectorals - Pulsating Pectorals | Mike Dana | 2:22 | Active | 2.0 | | 2022-07-08 |
| Leisure Suit Larry III: Passionate Patti in Pursuit of the Pulsating Pectorals - Reunion | Mike Dana | 0:33 | Active | 2.0 | | 2023-07-29 |
| Leisure Suit Larry III: Passionate Patti in Pursuit of the Pulsating Pectorals - River Log Ride | Mike Dana | 2:37 | Active | 3.5 | | 2023-05-02 |
| Leisure Suit Larry III: Passionate Patti in Pursuit of the Pulsating Pectorals - Tawni's Theme | Mike Dana | 2:13 | Active | 4.0 | | 2023-06-24 |
| Leisure Suit Larry III: Passionate Patti in Pursuit of the Pulsating Pectorals - The Bamboo Forest | Mike Dana | 3:37 | Active | 2.0 | | 2020-12-18 |
| Leisure Suit Larry III: Passionate Patti in Pursuit of the Pulsating Pectorals - The Comedy Hut | Mike Dana | 1:11 | Active | | | 2021-03-07 |
| Leisure Suit Larry III: Passionate Patti in Pursuit of the Pulsating Pectorals - Workout Video | Mike Dana | 1:23 | Active | 3.8 | | 2023-04-23 |
| Lemmings - Awesome | Tiny (Tony Williams) | 2:23 | Active | 4.0 | | 2023-06-24 |
| Lemmings - Can Can | Tiny (Tony Williams) | 1:27 | Active | 3.0 | | 2022-01-02 |
| Lemmings - Dance of The Little Swans | Tiny (Tony Williams) | 2:10 | Active | 4.0 | | 2023-06-12 |
| Lemmings - Dance of The Reed Flutes | Tiny (Tony Williams) | 2:26 | Active | 2.0 | | 2023-09-20 |
| Lemmings - Forest Green | Tiny (Tony Williams) | 2:42 | Active | 3.3 | | 2023-07-19 |
| Lemmings - How much is That Doggie in the Window? | Tiny (Tony Williams) | 1:32 | Active | 3.0 | | 2022-08-23 |
| Lemmings - Keep Your Hair on Mr. Lemming | Tiny (Tony Williams) | 2:17 | Active | 3.0 | | 2022-11-26 |
| Lemmings - Lend a Helping Hand | Tiny (Tony Williams) | 2:42 | Active | 4.5 | | 2020-02-06 |
| Lemmings - London Bridge is Falling Down | Tiny (Tony Williams) | 1:54 | Active | 4.0 | | 2023-09-08 |
| Lemmings - Menace | Tiny (Tony Williams) | 2:20 | Active | 3.0 | | 2020-09-17 |
| Lemmings - Mind The Step | Tiny (Tony Williams) | 2:57 | Active | | | 2023-06-19 |
| Lemmings - One Way or Another | Tiny (Tony Williams) | 3:30 | Active | 4.0 | | 2023-09-08 |
| Lemmings - Pachelbel's Cannon | Tiny (Tony Williams) | 1:54 | Active | 2.5 | | 2022-01-28 |
| Lemmings - Postcard from Lemmingland | Tiny (Tony Williams) | 1:39 | Active | 5.0 | | 2023-09-23 |
| Lemmings - Rainbow Islands | Tiny (Tony Williams) | 3:44 | Active | 5.0 | | 2023-09-21 |
| Lemmings - Rondo Alla Turca | Tiny (Tony Williams) | 2:10 | Active | 4.0 | | 2023-07-11 |
| Lemmings - Shadow of the Beast I | Tiny (Tony Williams) | 2:51 | Active | 4.5 | | 2023-07-09 |
| Lemmings - Shadow of the Beast II | Tiny (Tony Williams) | 3:01 | Active | 3.0 | | 2022-08-24 |
| Lemmings - She'll be Coming 'Round The Mountain | Tiny (Tony Williams) | 1:49 | Active | 3.0 | | 2023-02-03 |
| Lemmings - Smile if You Love Lemmings | Tiny (Tony Williams) | 1:53 | Active | 5.0 | | 2022-03-26 |
| Lemmings - Twang | Tiny (Tony Williams) | 2:11 | Active | 3.4 | | 2023-08-03 |
| Lemmings 2: The Tribes - Beach Tribe | David Whittaker | 3:00 | Active | 4.5 | | 2023-09-20 |
| Lemmings 2: The Tribes - Cavelem Tribe | David Whittaker | 3:04 | Active | 4.5 | | 2022-05-21 |
| Lemmings 2: The Tribes - Circus Tribe | David Whittaker | 3:17 | Active | 4.0 | | 2023-06-24 |
| Lemmings 2: The Tribes - Classic Tribe | David Whittaker | 2:49 | Active | 4.8 | | 2023-07-13 |
| Lemmings 2: The Tribes - Egyptian Tribe | David Whittaker | 2:17 | Active | 3.7 | | 2023-09-13 |
| Lemmings 2: The Tribes - End Theme | David Whittaker | 2:37 | Active | 3.5 | | 2023-08-29 |
| Lemmings 2: The Tribes - Highland Tribe | David Whittaker | 2:15 | Active | 4.0 | | 2022-01-06 |
| Lemmings 2: The Tribes - Medieval Tribe | David Whittaker | 2:19 | Active | 4.0 | | 2023-07-16 |
| Lemmings 2: The Tribes - Menu Theme | David Whittaker | 3:58 | Active | 4.0 | | 2023-03-15 |
| Lemmings 2: The Tribes - Outdoor Tribe | David Whittaker | 3:10 | Active | 4.0 | | 2023-06-24 |
| Lemmings 2: The Tribes - Polar Tribe | David Whittaker | 1:58 | Active | 4.5 | | 2022-11-21 |
| Lemmings 2: The Tribes - Shadow Tribe | David Whittaker | 2:35 | Active | 4.0 | | 2022-08-09 |
| Lemmings 2: The Tribes - Space Tribe | David Whittaker | 2:14 | Active | 3.0 | | 2023-08-02 |
| Lemmings 2: The Tribes - Sports Tribe | David Whittaker | 2:57 | Active | 4.5 | | 2022-10-29 |
| Lotus: The Ultimate Challenge - Breathless | Patrick Phelan | 2:49 | Active | 4.3 | | 2023-05-29 |
| Lotus: The Ultimate Challenge - Lotus III Theme | Patrick Phelan | 2:28 | Active | 4.6 | | 2023-09-05 |
| Lotus: The Ultimate Challenge - Metal Machine | Patrick Phelan | 3:33 | Active | 4.3 | | 2023-08-09 |
| Lotus: The Ultimate Challenge - Miami Ice | Patrick Phelan | 3:10 | Active | 4.8 | | 2023-05-13 |
| Lotus: The Ultimate Challenge - Shamrip | Patrick Phelan | 2:54 | Active | 3.0 | | 2023-06-24 |
| Lotus: The Ultimate Challenge - Space Ninja | Patrick Phelan | 1:41 | Active | 4.6 | | 2023-08-26 |
| LSL2 - Feelings | Al Lowe | 0:18 | Active | | | 2022-02-27 |
| LSL2 - For Your Thighs Only | Al Lowe | 1:50 | Active | 5.0 | | 2023-09-29 |
| LSL2 - Game Over, Larry | Al Lowe | 0:10 | Active | 4.0 | | 2022-08-13 |
| LSL2 - KGB Got Their Hands on You | Al Lowe | 0:08 | Active | | | 2023-05-14 |
| LSL2 - Larry Goes Berserk | Al Lowe | 0:29 | Active | | | 2022-11-30 |
| LSL2 - Lucky Life | Al Lowe | 0:53 | Active | 3.0 | | 2023-05-01 |
| LSL2 - Nonokee's Lair | Al Lowe | 1:47 | Active | 2.0 | | 2023-09-17 |
| LSL2 - Story | Al Lowe | 1:20 | Active | 3.0 | | 2022-01-11 |
| LSL2 - The Dating Connection | Al Lowe | 2:09 | Active | | | 2021-09-29 |
| LSL2 - Tribal Wedding March | Al Lowe | 2:47 | Active | 3.0 | | 2023-08-30 |
| LSL2 - Visions | Al Lowe | 0:53 | Active | | | 2023-06-11 |
| LSL2 - Visions | Al Lowe | 1:31 | Active | 2.3 | | 2023-09-09 |
| Mad TV - Advertising Agency | Jochen Hess | 1:53 | Active | 5.0 | | 2022-10-04 |
| Mad TV - American Society Against Nicotine Addiction | Jochen Hess | 2:05 | Active | 3.0 | | 2023-01-07 |
| Mad TV - Betty's Office | Jochen Hess | 2:42 | Active | 4.0 | | 2023-08-22 |
| Mad TV - Bio-controlled, Bio-dynamic Monster Building Room | Jochen Hess | 1:57 | Active | 5.0 | | 2022-09-12 |
| Mad TV - Coalition of American Tobacco Producers | Jochen Hess | 2:15 | Active | 5.0 | | 2023-03-19 |
| Mad TV - Consulate of the Free Republic of Duban | Jochen Hess | 3:03 | Active | 5.0 | | 2023-08-11 |
| Mad TV - Consulate of the People's Republic of Duban | Jochen Hess | 1:12 | Active | 2.5 | | 2022-11-17 |
| Mad TV - Hallway | Jochen Hess | 3:44 | Active | 5.0 | | 2023-08-15 |
| Mad TV - In the Office | Jochen Hess | 5:00 | Active | 4.0 | | 2023-08-15 |
| Mad TV - Intro | Jochen Hess , Norbert Schmidt | 6:00 | Active | 4.6 | | 2023-09-24 |
| Mad TV - Laundry Room | Jochen Hess | 1:53 | Active | 5.0 | | 2023-08-15 |
| Mad TV - Movie Agency | Jochen Hess | 5:35 | Dupe | | | |
| Mad TV - Movie Agency | Jochen Hess | 5:35 | Active | 4.0 | | 2022-07-02 |
| Mad TV - Mr. Raffer, TV Station Boss, Grumpy | Jochen Hess | 3:46 | Active | 1.8 | | 2023-09-24 |
| Mad TV - Newsroom | Jochen Hess | 2:17 | Active | 5.0 | | 2023-08-15 |
| Mad TV - Peace Brothers, International Peace League | Jochen Hess | 4:44 | Active | 4.5 | | 2022-03-29 |
| Mad TV - Psychiatrist | Jochen Hess | 1:53 | Active | 5.0 | | 2023-06-28 |
| Mad TV - Rattling Agency | Jochen Hess | 1:42 | Active | 4.0 | | 2021-05-08 |
| Mad TV - Real Estate Agency | Jochen Hess | 2:37 | Active | 5.0 | | 2022-07-20 |
| Mad TV - Screenplay Agency | Jochen Hess | 1:31 | Active | 5.0 | | 2023-05-11 |
| Mad TV - Supermarket | Jochen Hess | 3:58 | Active | 5.0 | | 2022-09-28 |
| Mad TV - The Video Library | Jochen Hess | 3:49 | Active | 2.3 | | 2023-09-10 |
| Mad TV - TV Studio | Jochen Hess | 3:53 | Active | 3.7 | | 2023-07-28 |
| Major Stryker - "weird" | Bobby Prince (Robert Prince) | 1:12 | Active | 3.0 | | 2022-05-05 |
| Major Stryker - Apogee Theme | Bobby Prince (Robert Prince) | 0:09 | Jingle | | | |
| Major Stryker - Cruising With Stryker | Bobby Prince (Robert Prince) | 1:41 | Active | 3.0 | | 2023-07-16 |
| Major Stryker - Dodging the Meteors | Bobby Prince (Robert Prince) | 2:14 | Active | | | 2023-05-30 |
| Major Stryker - Funky, Funky Spaceway | Bobby Prince (Robert Prince) | 2:52 | Active | 2.5 | | 2023-05-22 |
| Major Stryker - Handsome Tom | Bobby Prince (Robert Prince) | 1:12 | Active | 3.0 | | 2022-02-27 |
| Major Stryker - High Flying | Bobby Prince (Robert Prince) | 2:05 | Active | 4.0 | | 2023-09-18 |
| Major Stryker - Kissing The Sky | Bobby Prince (Robert Prince) | 1:34 | Active | 4.0 | | 2020-12-13 |
| Major Stryker - Light Years Per Hour | Bobby Prince (Robert Prince) | 1:48 | Active | 3.0 | | 2021-01-26 |
| Major Stryker - Major Stryker | Bobby Prince (Robert Prince) | 2:38 | Active | 3.0 | | 2023-08-03 |
| Major Stryker - Pressure's On | Bobby Prince (Robert Prince) | 1:36 | Active | 3.0 | | 2021-07-13 |
| Major Stryker - Riding the Light Waves | Bobby Prince (Robert Prince) | 1:45 | Active | 3.0 | | 2020-10-26 |
| Major Stryker - Rock It | Bobby Prince (Robert Prince) | 3:42 | Active | 3.5 | | 2023-06-21 |
| Major Stryker - Segueway | Bobby Prince (Robert Prince) | 0:07 | Jingle | | | |
| Major Stryker - Shooting Star | Bobby Prince (Robert Prince) | 1:44 | Active | 3.0 | | 2023-05-30 |
| Major Stryker - So Sad, You're Dead | Bobby Prince (Robert Prince) | 4:11 | Active | 1.0 | | 2023-06-18 |
| Major Stryker - Soaring To Dizzy Heights | Bobby Prince (Robert Prince) | 1:08 | Active | 4.0 | | 2023-08-15 |
| Major Stryker - Something's Wrong | Bobby Prince (Robert Prince) | 1:51 | Active | 4.0 | | 2023-08-07 |
| Major Stryker - Super Nova | Bobby Prince (Robert Prince) | 1:57 | Active | 3.5 | | 2023-06-08 |
| Major Stryker - Super Sonic | Bobby Prince (Robert Prince) | 1:27 | Active | 3.0 | | 2022-11-13 |
| Major Stryker - Torpedo | Bobby Prince (Robert Prince) | 3:10 | Active | 4.0 | | 2023-05-04 |
| MegaRace - Factory Land | Stéphane Picq | 3:31 | Active | 4.6 | | 2023-08-18 |
| MegaRace - Fractalian Space | Stéphane Picq | 2:58 | Active | 4.0 | | 2023-07-03 |
| MegaRace - Maeva | Stéphane Picq | 2:32 | Active | 4.9 | | 2023-07-27 |
| MegaRace - New San | Stéphane Picq | 2:55 | Active | 4.2 | | 2023-08-29 |
| MegaRace - Skyholder (Credits) | Stéphane Picq | 3:19 | Active | 3.7 | | 2023-08-21 |
| MegaRace - Terminal Space | Stéphane Picq | 2:42 | Active | 4.6 | | 2023-09-20 |
| Monkey Island 2: LeChuck's Revenge - Phatt's Jail | Clint Bajakian , Michael Z. Land , Peter McConnell | 0:31 | Active | 4.0 | | 2023-02-04 |
| Monkey Island 2: LeChuck's Revenge - Kate Capsize's Ship and Diving | Clint Bajakian , Michael Z. Land , Peter McConnell | 2:18 | Active | 4.3 | | 2023-09-29 |
| Monkey Island 2: LeChuck's Revenge - Scabb Island Overview | Clint Bajakian , Michael Z. Land , Peter McConnell | 1:57 | Active | 3.6 | | 2023-08-22 |
| Oh No! More Lemmings - Down And Out Lemmings | Tiny (Tony Williams) | 2:58 | Active | | | 2022-11-14 |
| Oh No! More Lemmings - Downwardly Mobile Lemmings | Tiny (Tony Williams) | 2:47 | Active | 3.5 | | 2022-04-02 |
| Oh No! More Lemmings - Intsy Wintsy... Lemming? | Tiny (Tony Williams) | 2:36 | Active | 5.0 | | 2023-09-01 |
| Oh No! More Lemmings - Rent-a-Lemming | Tiny (Tony Williams) | 1:41 | Active | 4.0 | | 2022-06-23 |
| Oh No! More Lemmings - Snuggle up to a Lemming | Tiny (Tony Williams) | 4:13 | Active | 4.0 | | 2022-08-27 |
| Oh No! More Lemmings - Undercover Lemming | Tiny (Tony Williams) | 2:01 | Active | 3.5 | | 2021-12-30 |
| Pac-in-Time - Castle | El Mobo (Frédéric Motte) | 2:50 | Active | 4.0 | | 2020-10-27 |
| Pac-in-Time - Desert | El Mobo (Frédéric Motte) | 2:02 | Active | 4.3 | | 2023-09-17 |
| Pac-in-Time - Factory | El Mobo (Frédéric Motte) | 2:30 | Active | 4.0 | | 2020-04-29 |
| Pac-in-Time - Jingle Start | El Mobo (Frédéric Motte) | 0:03 | Jingle | 4.0 | | |
| Pac-in-Time - Lagoon | El Mobo (Frédéric Motte) | 2:24 | Active | 3.5 | | 2023-09-16 |
| Pac-in-Time - The End | El Mobo (Frédéric Motte) | 1:02 | Active | 3.0 | | 2022-09-15 |
| Pac-in-Time - Village | El Mobo (Frédéric Motte) | 2:29 | Active | 4.0 | | 2023-09-06 |
| Prince of Persia - Ending | Francis Mechner | 2:11 | Active | 4.3 | | 2023-06-30 |
| Prince of Persia - Intro | Francis Mechner | 1:46 | Active | 4.2 | | 2023-08-23 |
| Prince of Persia 2 - Dead Spider | Jonelle Adkisson | 2:14 | Active | 3.7 | | 2023-09-06 |
| Prince of Persia 2 - Intro | Jonelle Adkisson | 3:14 | Active | 3.6 | | 2023-08-23 |
| Prince of Persia 2 - Riding | Jonelle Adkisson | 0:46 | Active | 4.5 | | 2023-05-25 |
| Prince of Persia 2 - Roofs | Jonelle Adkisson | 1:36 | Active | 3.5 | | 2023-06-08 |
| Prince of Persia 2 - Skeleton on Bridge | Jonelle Adkisson | 1:50 | Active | 4.1 | | 2023-08-14 |
| Raptor: Call of the Shadows - Apogee Fanfare | Matt Murphy | 0:06 | Active | 3.0 | | 2022-07-02 |
| Raptor: Call of the Shadows - Credits | Matt Murphy | 0:19 | Active | 3.0 | | 2022-11-24 |
| Raptor: Call of the Shadows - Game Over | Matt Murphy | 1:41 | Active | 3.8 | | 2023-08-08 |
| Raptor: Call of the Shadows - Hangar | Matt Murphy | 1:07 | Active | 4.7 | | 2023-08-16 |
| Raptor: Call of the Shadows - Intro Theme | Matt Murphy | 0:33 | Active | 2.0 | | 2023-01-02 |
| Raptor: Call of the Shadows - Menu Theme | Matt Murphy | 0:54 | Active | 4.0 | | 2023-09-11 |
| Raptor: Call of the Shadows - Night Waves | Matt Murphy | 1:31 | Active | 1.0 | | 2023-02-08 |
| Raptor: Call of the Shadows - Unused Theme | Matt Murphy | 0:38 | Active | 3.0 | | 2021-06-16 |
| Raptor: Call of the Shadows - Wave Music #1 | Matt Murphy | 1:27 | Active | 5.0 | | 2022-01-18 |
| Raptor: Call of the Shadows - Wave Music #2 | Matt Murphy | 1:17 | Active | 3.0 | | 2021-10-30 |
| Raptor: Call of the Shadows - Wave Music #3 | Matt Murphy | 1:37 | Active | 3.0 | | 2021-07-20 |
| Raptor: Call of the Shadows - Wave Music #4 | Matt Murphy | 0:32 | Active | 3.0 | | 2022-09-01 |
| Raptor: Call of the Shadows - Wave Music #5 | Matt Murphy | 1:10 | Active | 3.0 | | 2023-08-19 |
| Raptor: Call of the Shadows - Wave Music #6 | Matt Murphy | 1:35 | Active | 4.0 | | 2023-06-08 |
| Rescue me | Argasek (Jakub Argasiński) | 2:47 | Active | 3.8 | | 2023-06-08 |
| Reunion - Ingame "Music I" | Tamás Kreiner | 4:53 | Active | 4.0 | | 2023-09-22 |
| Reunion - Ingame "Music II" | Tamás Kreiner | 4:23 | Active | 5.0 | | 2023-09-15 |
| Seasons of Sakura - After the Club Activities Briefing | Takanori Nakaigawa | 1:07 | Active | 4.0 | | 2022-01-07 |
| Seasons of Sakura - Apology scene | Takanori Nakaigawa | 1:56 | Active | 3.0 | | 2022-04-05 |
| Seasons of Sakura - Athletics Festival | Takanori Nakaigawa | 1:43 | Active | 5.0 | | 2023-03-05 |
| Seasons of Sakura - Bad End | Takanori Nakaigawa | 1:15 | Active | 3.0 | | 2023-01-12 |
| Seasons of Sakura - Birthday Party Scene | Takanori Nakaigawa | 0:57 | Active | 2.0 | | 2022-12-25 |
| Seasons of Sakura - Christmas | Takanori Nakaigawa | 1:05 | Active | 5.0 | | 2021-10-28 |
| Seasons of Sakura - Cliff scene (Ruri Rescue) | Takanori Nakaigawa | 1:12 | Active | 3.0 | | 2023-07-06 |
| Seasons of Sakura - Club Activities Briefing | Takanori Nakaigawa | 1:58 | Active | | | 2022-05-27 |
| Seasons of Sakura - Confession scene | Takanori Nakaigawa | 1:37 | Active | 2.0 | | 2021-07-08 |
| Seasons of Sakura - Crisis | Takanori Nakaigawa | 1:27 | Active | 2.0 | | 2022-12-07 |
| Seasons of Sakura - Ending | Takanori Nakaigawa | 2:19 | Active | | | 2022-10-12 |
| Seasons of Sakura - Folk Dance | Takanori Nakaigawa | 1:18 | Active | 4.0 | | 2022-04-07 |
| Seasons of Sakura - Hanami | Takanori Nakaigawa | 1:18 | Active | 5.0 | | 2023-06-14 |
| Seasons of Sakura - Main Theme | Takanori Nakaigawa | 2:25 | Active | 4.0 | | 2023-09-03 |
| Seasons of Sakura - Open Air School | Takanori Nakaigawa | 1:24 | Active | 5.0 | | 2023-03-05 |
| Seasons of Sakura - Protagonist's Home | Takanori Nakaigawa | 1:31 | Active | 4.0 | | 2023-07-26 |
| Seasons of Sakura - Scenes reflecting one year | Takanori Nakaigawa | 3:27 | Active | 3.0 | | 2022-03-30 |
| Seasons of Sakura - School | Takanori Nakaigawa | 1:08 | Active | 4.0 | | 2023-05-13 |
| Seasons of Sakura - School Festival | Takanori Nakaigawa | 1:18 | Active | | | 2023-09-09 |
| Seasons of Sakura - Shogatsu | Takanori Nakaigawa | 2:22 | Active | 5.0 | | 2023-09-15 |
| Seasons of Sakura - Song of the City | Takanori Nakaigawa | 0:59 | Active | | | 2021-11-17 |
| Seasons of Sakura - Song of the Sea | Takanori Nakaigawa | 2:13 | Active | 4.0 | | 2023-01-22 |
| Seasons of Sakura - Sunset scene | Takanori Nakaigawa | 2:06 | Active | 4.0 | | 2020-11-21 |
| Seasons of Sakura - Theme of Aki Hinagiku | Takanori Nakaigawa | 1:20 | Active | | | 2023-03-26 |
| Seasons of Sakura - Theme of Kiyomi Shinfuji | Takanori Nakaigawa | 1:12 | Active | | | 2022-04-18 |
| Seasons of Sakura - Theme of Kyoko Kobayashi | Takanori Nakaigawa | 2:03 | Active | | | 2021-12-27 |
| Seasons of Sakura - Theme of Meimi Nakano | Takanori Nakaigawa | 0:54 | Active | 4.0 | | 2022-08-08 |
| Seasons of Sakura - Theme of Mio Suzuki | Takanori Nakaigawa | 1:28 | Active | 4.0 | | 2021-12-25 |
| Seasons of Sakura - Theme of Reiko Sawamura | Takanori Nakaigawa | 1:50 | Active | 3.5 | | 2023-01-22 |
| Seasons of Sakura - Theme of Ruri Shiromisu | Takanori Nakaigawa | 1:51 | Active | 5.0 | | 2023-03-05 |
| Seasons of Sakura - Theme of Shoko Nishino | Takanori Nakaigawa | 1:04 | Active | | | 2021-11-10 |
| Seasons of Sakura - Valentine's Day | Takanori Nakaigawa | 3:16 | Active | 5.0 | | 2022-11-13 |
| Sid and Al's Incredible Toons - Arab Theme | Christopher Stevens | 1:08 | Active | 3.7 | | 2023-07-29 |
| Sid and Al's Incredible Toons - Barber of Seville | Christopher Stevens | 2:05 | Active | | | 2022-10-08 |
| Sid and Al's Incredible Toons - Beach | Christopher Stevens | 1:26 | Active | 4.0 | | 2022-09-03 |
| Sid and Al's Incredible Toons - Blue Danube | Christopher Stevens | 3:52 | Active | 4.3 | | 2023-09-07 |
| Sid and Al's Incredible Toons - Broadcast | Christopher Stevens | 0:05 | Active | 2.0 | | 2021-09-26 |
| Sid and Al's Incredible Toons - CanCan | Christopher Stevens | 2:24 | Active | 3.5 | | 2023-07-22 |
| Sid and Al's Incredible Toons - Credits | Christopher Stevens | 2:00 | Active | 4.0 | | 2023-07-03 |
| Sid and Al's Incredible Toons - Disco | Christopher Stevens | 1:51 | Active | 3.0 | | 2021-05-01 |
| Sid and Al's Incredible Toons - Free Jazz | Christopher Stevens | 4:37 | Active | 3.0 | | 2023-07-13 |
| Sid and Al's Incredible Toons - Intro | Christopher Stevens | 0:58 | Active | 5.0 | | 2022-05-19 |
| Sid and Al's Incredible Toons - Lake | Christopher Stevens | 1:48 | Active | 2.5 | | 2020-09-14 |
| Sid and Al's Incredible Toons - March | Christopher Stevens | 3:26 | Active | 3.5 | | 2022-03-27 |
| Sid and Al's Incredible Toons - Metal Theme #1 | Christopher Stevens | 1:51 | Active | | | 2021-11-24 |
| Sid and Al's Incredible Toons - Metal Theme #2 | Christopher Stevens | 2:14 | Active | 3.0 | | 2023-03-20 |
| Sid and Al's Incredible Toons - Polka | Christopher Stevens | 2:48 | Active | 2.0 | | 2023-08-13 |
| Sid and Al's Incredible Toons - Symphony in G minor No.25 | Christopher Stevens | 3:34 | Active | | | 2021-10-08 |
| Sid and Al's Incredible Toons - The Irish Washerwoman | Christopher Stevens | 4:14 | Active | 4.3 | | 2023-09-23 |
| Sid and Al's Incredible Toons - Toccata and Fugue in D Minor | Christopher Stevens | 4:16 | Active | 2.0 | | 2021-09-26 |
| Sid and Al's Incredible Toons - Unnamed Theme #1 | Christopher Stevens | 2:09 | Active | | | 2022-04-01 |
| Sid and Al's Incredible Toons - Unnamed Theme #10 | Christopher Stevens | 1:25 | Active | 4.0 | | 2023-04-18 |
| Sid and Al's Incredible Toons - Unnamed Theme #2 | Christopher Stevens | 2:23 | Active | | | 2022-02-18 |
| Sid and Al's Incredible Toons - Unnamed Theme #3 | Christopher Stevens | 1:59 | Active | 2.0 | | 2022-09-27 |
| Sid and Al's Incredible Toons - Unnamed Theme #4 | Christopher Stevens | 1:31 | Active | 3.5 | | 2021-06-23 |
| Sid and Al's Incredible Toons - Unnamed Theme #5 | Christopher Stevens | 1:42 | Active | | | 2022-07-25 |
| Sid and Al's Incredible Toons - Unnamed Theme #6 | Christopher Stevens | 2:10 | Active | 3.0 | | 2023-03-05 |
| Sid and Al's Incredible Toons - Unnamed Theme #7 | Christopher Stevens | 1:31 | Active | 3.0 | | 2023-08-28 |
| Sid and Al's Incredible Toons - Unnamed Theme #8 | Christopher Stevens | 2:35 | Active | 3.0 | | 2023-01-17 |
| Sid and Al's Incredible Toons - Unnamed Theme #9 | Christopher Stevens | 1:41 | Active | | | 2023-04-13 |
| Sid and Al's Incredible Toons - Ventures | Christopher Stevens | 2:43 | Active | 3.3 | | 2023-09-23 |
| Sid and Al's Incredible Toons - William Tell Overture | Christopher Stevens | 3:43 | Active | 3.0 | | 2021-04-05 |
| Sid and Al's Incredible Toons - Zydeco | Christopher Stevens | 0:46 | Active | | | 2022-02-13 |
| SkyRoads - Menu | Ott (Ott M. Aaloe ) | 2:05 | Active | 4.0 | | 2023-09-15 |
| SkyRoads - Road 1 | Ott (Ott M. Aaloe ) | 1:59 | Active | 4.5 | | 2023-09-28 |
| SkyRoads - Road 10 | Ott (Ott M. Aaloe ) | 1:52 | Active | 3.8 | | 2023-09-24 |
| SkyRoads - Road 11 | Ott (Ott M. Aaloe ) | 2:05 | Active | 4.0 | | 2023-09-19 |
| SkyRoads - Road 12 | Ott (Ott M. Aaloe ) | 2:06 | Active | 3.0 | | 2022-11-14 |
| SkyRoads - Road 2 | Ott (Ott M. Aaloe ) | 1:40 | Active | 3.0 | | 2023-07-06 |
| SkyRoads - Road 3 | Ott (Ott M. Aaloe ) | 2:04 | Active | 3.7 | | 2023-08-05 |
| SkyRoads - Road 4 | Ott (Ott M. Aaloe ) | 2:07 | Active | 3.0 | | 2021-02-03 |
| SkyRoads - Road 5 | Ott (Ott M. Aaloe ) | 2:17 | Active | 4.0 | | 2022-01-13 |
| SkyRoads - Road 6 | Ott (Ott M. Aaloe ) | 1:41 | Active | 4.0 | | 2023-07-19 |
| SkyRoads - Road 7 | Ott (Ott M. Aaloe ) | 2:06 | Active | 3.0 | | 2023-07-15 |
| SkyRoads - Road 8 | Ott (Ott M. Aaloe ) | 3:00 | Active | 4.6 | | 2023-07-19 |
| SkyRoads - Road 9 | Ott (Ott M. Aaloe ) | 2:01 | Active | 3.7 | | 2023-09-02 |
| Solar Winds: Galaxy - Battle 1 | Dan Froelich | 1:28 | Active | 3.0 | | 2021-12-27 |
| Solar Winds: Galaxy - Battle 2 | Dan Froelich | 0:55 | Active | 2.0 | | 2020-08-20 |
| Solar Winds: Galaxy - Battle 3 | Dan Froelich | 1:46 | Active | 4.0 | | 2023-08-18 |
| Solar Winds: Galaxy - Battle 4 | Dan Froelich | 1:02 | Active | 4.0 | | 2023-08-19 |
| Solar Winds: Galaxy - Communication 1 | Dan Froelich | 1:51 | Active | 4.3 | | 2023-06-15 |
| Solar Winds: Galaxy - Communication 2 | Dan Froelich | 2:19 | Active | 3.3 | | 2023-05-27 |
| Solar Winds: Galaxy - Communication 3 | Dan Froelich | 1:46 | Active | 3.0 | | 2023-09-07 |
| Solar Winds: Galaxy - Communication 4 | Dan Froelich | 1:58 | Active | 3.6 | | 2023-09-29 |
| Solar Winds: Galaxy - Intro | Dan Froelich | 0:30 | Active | | | 2021-11-16 |
| Solar Winds: Galaxy - Space 1 | Dan Froelich | 1:44 | Active | 3.7 | | 2023-05-17 |
| Solar Winds: Galaxy - Space 2 | Dan Froelich | 1:32 | Active | 4.0 | | 2020-08-20 |
| Solar Winds: Galaxy - Space 3 | Dan Froelich | 1:57 | Active | 4.4 | | 2023-06-29 |
| Solar Winds: Galaxy - Space 4 | Dan Froelich | 1:42 | Active | 3.7 | | 2023-07-03 |
| Space Crusade - Title/Ingame | The Jackal (Barry Leitch) | 6:32 | Active | 4.4 | | 2023-08-21 |
| Spelljammer - Crew Combat | Mark McGough , Peter Grisdale | 2:55 | Active | 5.0 | | 2023-09-08 |
| Spelljammer - Docked | Mark McGough , Peter Grisdale | 1:06 | Active | 2.5 | | 2023-09-13 |
| Spelljammer - Game Over | Mark McGough , Peter Grisdale | 1:49 | Active | 4.0 | | 2023-09-12 |
| Spelljammer - Intro | Mark McGough , Peter Grisdale | 2:07 | Active | 4.8 | | 2023-08-13 |
| Spelljammer - Sailing | Mark McGough , Peter Grisdale | 3:10 | Active | 4.5 | | 2023-09-18 |
| Spelljammer - Ship Combat | Mark McGough , Peter Grisdale | 2:11 | Active | 4.0 | | 2023-09-04 |
| Spelljammer - Victory | Mark McGough , Peter Grisdale | 1:30 | Active | | | 2023-09-13 |
| Stone Age - Autumn Storm | Thomas Detert | 4:07 | Active | 4.1 | | 2023-09-27 |
| Stone Age - Bone and Stone | Thomas Detert | 2:26 | Active | 4.5 | | 2023-07-18 |
| Stone Age - No Choice Left | Thomas Detert | 2:43 | Active | 3.8 | | 2023-09-23 |
| Stone Age - Plastic Age | Thomas Detert | 2:56 | Active | 4.3 | | 2023-06-13 |
| Stone Age - Stardust Falling | Thomas Detert | 3:28 | Active | 3.8 | | 2023-08-26 |
| Stone Age - The Dragon's Tale | Thomas Detert | 3:46 | Active | 4.1 | | 2023-09-15 |
| Stone Age - The Golden Valley | Thomas Detert | 3:05 | Active | 4.7 | | 2023-09-04 |
| Stone Age - Wildlife | Thomas Detert | 3:47 | Active | 4.0 | | 2023-03-22 |
| Street Rod 2: The Next Generation - Main Title | Unknown Artist | 1:15 | Active | 4.0 | | 2023-08-02 |
| Stunts (4D Sports Driving) - Intro | Brian Plank , Kris Hatlelid , Michael J. Sokyrka | 1:00 | Active | 4.7 | | 2023-09-07 |
| Stunts (4D Sports Driving) - Race Menu | Brian Plank , Kris Hatlelid , Michael J. Sokyrka | 1:48 | Active | 4.8 | | 2023-07-14 |
| Stunts (4D Sports Driving) - Race Results (Looser) | Brian Plank , Kris Hatlelid , Michael J. Sokyrka | 1:13 | Active | 4.0 | | 2023-04-17 |
| Stunts (4D Sports Driving) - Race Results (Winner) | Brian Plank , Kris Hatlelid , Michael J. Sokyrka | 1:04 | Active | 4.0 | | 2023-09-10 |
| Supaplex | David Whittaker | 5:05 | Active | 3.8 | | 2023-09-11 |
| Supaplex - Level Complete | David Whittaker | 0:02 | Active | 4.0 | | 2023-09-14 |
| Syndicate - Assassinate | Russell Shaw | 4:16 | Active | 4.2 | | 2023-05-17 |
| Syndicate - Danger | Russell Shaw | 1:20 | Active | 4.3 | | 2023-08-11 |
| Syndicate - Mission Completed | Russell Shaw | 0:09 | Jingle | 4.0 | | 2012-06-04 |
| Syndicate - Mission Failed | Russell Shaw | 0:08 | Active | | | 2021-09-11 |
| Syndicate - Opening | Russell Shaw | 2:07 | Active | 4.3 | | 2023-06-30 |
| Syndicate - Opening (with SFX) | Russell Shaw | 2:15 | Active | 3.5 | | 2023-07-07 |
| The Even More Incredible Machine - Caribbean | Christopher Stevens | 1:47 | Active | 5.0 | | 2020-10-24 |
| The Even More Incredible Machine - East | Christopher Stevens | 0:44 | Active | 5.0 | | 2023-01-13 |
| The Even More Incredible Machine - Jungle | Christopher Stevens | 1:14 | Active | | | 2021-04-30 |
| The Even More Incredible Machine - Miller | Christopher Stevens | 2:38 | Active | 4.0 | | 2023-05-27 |
| The Even More Incredible Machine - Spilane | Christopher Stevens | 2:03 | Active | 5.0 | | 2022-06-18 |
| The Incredible Machine - Blues | Christopher Stevens | 2:51 | Active | 3.0 | | 2022-01-15 |
| The Incredible Machine - Classical | Christopher Stevens | 1:33 | Active | 4.0 | | 2022-05-30 |
| The Incredible Machine - Cruz | Christopher Stevens | 2:14 | Active | 4.0 | | 2023-02-05 |
| The Incredible Machine - Euro | Christopher Stevens | 3:32 | Active | 2.0 | | 2020-12-16 |
| The Incredible Machine - Funk | Christopher Stevens | 1:22 | Active | 4.0 | | 2023-06-18 |
| The Incredible Machine - Fusion | Christopher Stevens | 2:02 | Active | 5.0 | | 2023-03-02 |
| The Incredible Machine - Metal | Christopher Stevens | 0:57 | Active | 4.0 | | 2022-02-25 |
| The Incredible Machine - Polka | Christopher Stevens | 1:40 | Active | 3.0 | | 2022-09-28 |
| The Incredible Machine - Reggae | Christopher Stevens | 1:47 | Active | 3.0 | | 2023-05-12 |
| The Incredible Machine - Rock #1 | Christopher Stevens | 2:04 | Active | 4.3 | | 2023-08-24 |
| The Incredible Machine - Rock #2 | Christopher Stevens | 1:13 | Active | 4.0 | | 2022-10-01 |
| The Incredible Machine - Romantic | Christopher Stevens | 1:49 | Active | 4.0 | | 2023-08-25 |
| The Incredible Machine - Salsa | Christopher Stevens | 1:35 | Active | 3.0 | | 2023-06-15 |
| The Incredible Machine - T.I.M | Christopher Stevens | 0:43 | Active | 5.0 | | 2022-12-23 |
| The Incredible Machine - Western | Christopher Stevens | 1:15 | Active | 4.0 | | 2023-02-02 |
| The Incredible Machine - Zydeco | Christopher Stevens | 1:17 | Active | 3.0 | | 2020-12-14 |
| The Incredible Machine 2 - 1959 Prom | Christopher Stevens | 2:49 | Active | 4.5 | | 2023-09-19 |
| The Incredible Machine 2 - 60's Rock | Christopher Stevens | 2:31 | Active | 5.0 | | 2021-01-05 |
| The Incredible Machine 2 - Blazooes | Christopher Stevens | 3:51 | Active | 2.0 | | 2023-06-05 |
| The Incredible Machine 2 - Bongo Bango | Christopher Stevens | 3:55 | Active | 3.0 | | 2022-08-11 |
| The Incredible Machine 2 - Detective | Christopher Stevens | 4:25 | Active | 3.0 | | 2020-12-18 |
| The Incredible Machine 2 - Dreams | Christopher Stevens | 2:42 | Active | 3.0 | | 2021-10-22 |
| The Incredible Machine 2 - Grunge | Christopher Stevens | 2:17 | Active | 3.5 | | 2023-06-21 |
| The Incredible Machine 2 - Hay Seed | Christopher Stevens | 2:37 | Active | 4.0 | | 2021-11-02 |
| The Incredible Machine 2 - Hip Hop | Christopher Stevens | 1:50 | Active | | | 2023-03-01 |
| The Incredible Machine 2 - Huey Dewey | Christopher Stevens | 4:02 | Active | | | 2022-04-07 |
| The Incredible Machine 2 - Keep Tryin' | Christopher Stevens | 3:39 | Active | | | 2020-12-19 |
| The Incredible Machine 2 - New Age | Christopher Stevens | 3:48 | Active | 5.0 | | 2022-02-07 |
| The Incredible Machine 2 - Pictures | Christopher Stevens | 3:16 | Active | 4.0 | | 2023-09-08 |
| The Incredible Machine 2 - Progressive Rock | Christopher Stevens | 2:34 | Active | 3.8 | | 2023-09-20 |
| The Incredible Machine 2 - Ragtime | Christopher Stevens | 2:51 | Active | 4.0 | | 2020-12-18 |
| The Incredible Machine 2 - Salsa | Christopher Stevens | 3:03 | Active | 4.0 | | 2022-09-08 |
| The Incredible Machine 2 - Sierra Fanfare | Christopher Stevens | 0:12 | Active | | | 2021-10-31 |
| The Incredible Machine 2 - Space Theme | Christopher Stevens | 2:15 | Active | 4.0 | | 2020-06-24 |
| The Incredible Machine 2 - Steel Drums | Christopher Stevens | 2:34 | Active | 4.0 | | 2023-04-07 |
| The Incredible Machine 2 - Techno Rave | Christopher Stevens | 2:40 | Active | 2.7 | | 2023-09-17 |
| The Incredible Machine 2 - TIM | Christopher Stevens | 2:55 | Active | 3.0 | | 2023-01-31 |
| The Incredible Machine 2 - Tropical Pop | Christopher Stevens | 5:12 | Active | 4.0 | | 2022-11-15 |
| The Incredible Machine 2 - Tuna Loaf | Christopher Stevens | 3:12 | Active | 4.6 | | 2023-09-02 |
| The Incredible Machine 2 - Unplugged | Christopher Stevens | 3:27 | Active | 2.0 | | 2022-11-19 |
| The Secret of Monkey Island - By the Fireplace | Michael Z. Land | 1:37 | Active | 4.5 | | 2023-09-01 |
| The Secret of Monkey Island - Captain LeChuck | Michael Z. Land | 1:37 | Active | 5.0 | | 2023-06-07 |
| The Secret of Monkey Island - Chapter Title | Michael Z. Land | 0:09 | Active | | | 2022-08-27 |
| The Secret of Monkey Island - Fettucini Brothers | Michael Z. Land | 2:27 | Active | 4.0 | | 2023-03-06 |
| The Secret of Monkey Island - Fortune Teller's | Michael Z. Land | 1:35 | Active | 4.3 | | 2023-07-23 |
| The Secret of Monkey Island - Guybrush Meets Elaine | Michael Z. Land | 2:30 | Active | 3.0 | | 2023-07-03 |
| The Secret of Monkey Island - Intro | Michael Z. Land | 1:38 | Active | 4.5 | | 2023-07-28 |
| The Secret of Monkey Island - Mangy Bride | Michael Z. Land | 2:00 | Active | | | 2021-04-08 |
| The Secret of Monkey Island - Melee Island Map | Michael Z. Land | 2:11 | Active | 4.3 | | 2023-09-03 |
| The Secret of Monkey Island - Monkey Island Map | Michael Z. Land | 1:46 | Active | | | 2022-10-24 |
| The Secret of Monkey Island - Searching for Treasure | Michael Z. Land | 2:06 | Active | 4.7 | | 2023-09-10 |
| The Secret of Monkey Island - Shaky-Gostly Tune | Michael Z. Land | 1:23 | Active | 4.0 | | 2022-01-16 |
| The Secret of Monkey Island - The Journey to Monkey Island | Michael Z. Land | 1:14 | Active | 4.0 | | 2021-05-15 |
| The Secret of Monkey Island - The SCUMM Bar | Michael Z. Land | 1:35 | Active | 5.0 | | 2023-08-12 |
| The Space Vegetable Corps - Mission Objective | Adam Gilmore | 1:56 | Active | 4.8 | | 2023-09-15 |
| The Space Vegetable Corps - Title | Adam Gilmore | 4:28 | Active | 4.0 | | 2023-09-18 |
| Times of Lore - Title | Martin Galway | 5:18 | Active | 4.5 | | 2023-09-13 |
| Vroom - Main Theme | Maximum of Sound | 4:33 | Active | 4.7 | | 2023-08-21 |
| Wolfenstein 3D - Menu music | Bobby Prince (Robert Prince) | 2:21 | Active | 4.6 | | 2023-09-11 |
| Wolfenstein 3D - Title music (Horst Wessel Lied) | Bobby Prince (Robert Prince) | 2:05 | Active | 3.8 | | 2023-06-27 |
| Wolfsbane - Installation | Tim Haywood | 2:32 | Active | 4.0 | | 2023-01-11 |
| Wolfsbane - Title | Tim Haywood | 2:17 | Active | 3.7 | | 2023-07-21 |
| Wolfsbane - Town Theme 1 | Tim Haywood | 3:25 | Active | 3.7 | | 2023-09-10 |
| World 1 | edlinfan (Peter Fidelman) | 2:41 | Active | 4.5 | | 2022-11-13 |
| X-COM: Terror from the Deep - Tune 03: Geo 1 | John Broomhall | 6:17 | Active | 3.7 | | 2023-08-10 |
| Xargon - A Strange New Dimension | Dan Froelich | 2:06 | Active | 4.0 | | 2022-07-13 |
| Xargon - An Underwater Cove | Dan Froelich | 1:12 | Active | 3.0 | | 2023-01-07 |
| Xargon - Bizarre New World | Dan Froelich | 1:52 | Active | 3.0 | | 2021-02-21 |
| Xargon - Cave of the Ancients | Dan Froelich | 2:03 | Active | 4.0 | | 2022-11-16 |
| Xargon - Ending Sequence | Dan Froelich | 2:03 | Active | 3.0 | | 2021-11-20 |
| Xargon - Forest of Enchanted Trees | Dan Froelich | 2:05 | Active | 2.0 | | 2022-03-22 |
| Xargon - Map 1 | Dan Froelich | 2:09 | Active | 3.0 | | 2021-08-28 |
| Xargon - Map 2 | Dan Froelich | 2:13 | Active | 3.0 | | 2022-10-30 |
| Xargon - Map 3 | Dan Froelich | 2:18 | Active | 3.0 | | 2023-02-17 |
| Xargon - More of the Giant Trolls | Dan Froelich | 1:28 | Active | 3.5 | | 2021-08-19 |
| Xargon - More of this Strange Land | Dan Froelich | 1:54 | Active | 3.4 | | 2023-09-13 |
| Xargon - Robot Development Plant | Dan Froelich | 2:24 | Active | 3.0 | | 2022-08-27 |
| Xargon - Searching for Xargon's Castle | Dan Froelich | 1:28 | Active | 3.0 | | 2022-12-26 |
| Xargon - The Cave of the Deadly Xbat | Dan Froelich | 2:03 | Active | 4.0 | | 2023-03-28 |
| Xargon - The Corridors of Doom | Dan Froelich | 1:24 | Active | 4.0 | | 2021-12-02 |
| Xargon - The Dangerous Waters | Dan Froelich | 2:11 | Active | 3.3 | | 2023-09-13 |
| Xargon - The Grunt's Hideout | Dan Froelich | 2:58 | Active | 3.5 | | 2022-08-10 |
| Xargon - The Labyrinth of Despair | Dan Froelich | 1:53 | Active | 2.0 | | 2021-12-20 |
| Xargon - The Maze of Madness | Dan Froelich | 2:01 | Active | 3.8 | | 2023-08-03 |
| Xargon - The Reactor | Dan Froelich | 1:31 | Active | 4.0 | | 2023-07-01 |
| Xargon - The Secret Chamber | Dan Froelich | 1:56 | Active | 4.0 | | 2021-01-23 |
| Xargon - The Swamp of Despair | Dan Froelich | 1:35 | Active | 2.5 | | 2023-03-03 |
| Xargon - The Tunnels of Terror | Dan Froelich | 1:40 | Active | 2.0 | | 2021-10-17 |
| Xargon - Xargon's Castle | Dan Froelich | 2:09 | Active | 3.5 | | 2023-05-24 |
| Xargon - Xargon's Secret Factory | Dan Froelich | 1:40 | Active | 3.7 | | 2023-08-23 |