CVGM.net - Chiptune, Retro & Video Game Music

Platform - Computer » MSX (FM-PAC + MSX-Audio)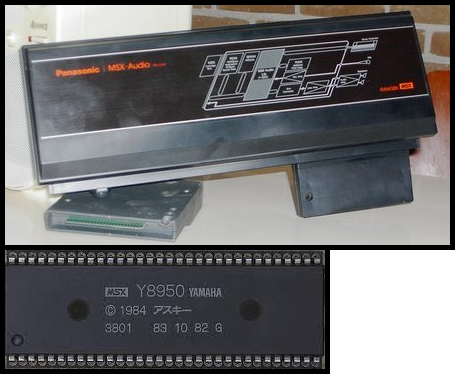 Info from: http://www.faq.msxnet.org/fmpac.html & http://www.faq.msxnet.org/msxaudio.html
FM-PAC is an FM sound synthesizer cartridge which was originally made by Panasonic. The full name is FM Pana Amusement Cartridge. It's the only official cartridge version of the MSX-Music standard.
The specs of FM-PAC:
- 16kB FM-Basic
- 4kB SRAM (just like the Panasonic SW-M001 PAC)
- Volume adjuster (3 possible output-volumes can be chosen with a switch)
- Basically a PAC + YM2413 + FM-Basic :)
- Mono sound output
MSX-Audio is a standard for FM sound synthesizer cartridges, which contain an OPL-compatible chip made by Yamaha, the Y8950. This chip is called the MSX-AUDIO. The FM sound generator in the MSX-AUDIO is compatible with the YM3526 (OPL, sometimes called OPL1), so any OPL software can be used with an MSX-Audio. The chip was produced in 1984.
The general characteristics of the chip:
- 9 channels of FM sound without drums or 6 channels of FM sound + FM drums.
- 8-bit ADPCM (Advanced Differential Pulse Code Modulation) sample unit. The maximum sampling rate is 16kHz, then you can get a maximum of 4.6 s of sampling when the standard 32kB of sample RAM is in the cartridge. It is easy to expand the amount of sample RAM to 256kB though.
- mono output.
- compared to the MSX-Music standard: all instuments can be used at any time; there is not that stupid limit that we all hated in the MSX-Music, allowing you to choose only one of the instruments marked with a "*" on the manual. No boring asterisks on the MSX-Audio, just fun. :) "
Songs
| Song Title | Artist | Song Length | Status | Avg. Vote | Queue | Last Played |
| --- | --- | --- | --- | --- | --- | --- |
| Puyo Puyo - Baroque of Puyo Puyo | Einosuke Nagao (長尾英之助) | 0:53 | Active | 4.0 | | 2021-12-31 |
| Puyo Puyo - Baroque of Puyo Puyo | Einosuke Nagao (長尾英之助) | 0:52 | Active | 3.0 | | 2020-11-15 |
| Puyo Puyo - Credits | Einosuke Nagao (長尾英之助) | 2:36 | Active | 4.0 | | 2022-12-13 |
| Puyo Puyo - Morning of Puyo Puyo | Einosuke Nagao (長尾英之助) | 1:06 | Active | | | 2022-12-23 |
| Puyo Puyo - Ondo of Puyo Puyo | Einosuke Nagao (長尾英之助) | 1:36 | Active | 4.3 | | 2023-03-08 |
| Puyo Puyo - Sorrow of Puyo Puyo | Einosuke Nagao (長尾英之助) | 0:11 | Active | 4.0 | | 2020-10-24 |
| Puyo Puyo - Toy of Puyo Puyo | Einosuke Nagao (長尾英之助) | 1:13 | Active | | | 2021-12-25 |
| Shrines of Enigma - Demo | | 1:18 | Active | 4.3 | | 2023-02-25 |
| Shrines of Enigma - End | | 2:39 | Active | 4.8 | | 2023-01-12 |
| Shrines of Enigma - Opening | | 1:32 | Active | 4.5 | | 2023-01-18 |
| Shrines of Enigma - Theme 1 | | 2:53 | Active | 4.8 | | 2023-03-13 |
| Shrines of Enigma - Theme 10 | | 1:45 | Active | 4.3 | | 2023-03-06 |
| Shrines of Enigma - Theme 2 | | 2:58 | Active | 4.9 | | 2023-02-27 |
| Shrines of Enigma - Theme 3 | | 2:13 | Active | 4.2 | | 2023-03-21 |
| Shrines of Enigma - Theme 5 | | 2:23 | Active | 4.3 | | 2023-01-21 |
| Shrines of Enigma - Theme 6 | | 1:53 | Active | 5.0 | | 2023-03-23 |
| Shrines of Enigma - Theme 7 | | 0:47 | Active | 4.0 | | 2022-12-12 |
| Shrines of Enigma - Theme 8 | | 2:06 | Active | 3.5 | | 2023-02-27 |
| Shrines of Enigma - Theme 9 | | 1:42 | Active | 4.0 | | 2020-11-22 |