CVGM.net - Chiptune, Retro & Video Game Music

Platform - Console » Xbox 360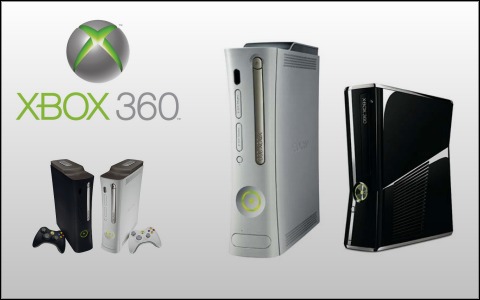 Things that should be added under this platform:
- songs ripped or recorded from games on this console or emulator
----------------------------------------
The Xbox 360, the second video game console from Microsoft Corporation, was officially unveiled on May 12, 2005 during a special presentation show that aired live on MTV.
Co-Developed with IBM, ATI, and Silicon Integrated Systems, the Xbox 360 uses the triple-core IBM designed Xenon as its CPU, ATI Xenos which has 10 MB of embedded eDRAM as the graphics processor and has a main memory pool of 512 MB. Development of the Xbox 360 began in early 2003, a year and a half after the original Xbox release.
New Xbox 360 logoFollowing the official unveil on MTV, Microsoft announced launch dates at its 2005 Electronic Entertainment Expo press conference. Launching in North America on November 22, 2005, December 2, 2005 in Europe, and December 12, 2005 in Japan, the Xbox 360 has gone on to sell more than 29 million units as of April 2009.
Songs
| Song Title | Artist | Song Length | Status | Avg. Vote | Queue | Last Played |
| --- | --- | --- | --- | --- | --- | --- |
| Alien Breed 2012 | Allister Brimble | 4:40 | Active | 4.6 | | 2022-04-27 |
| FEZ - Adventure | Disasterpeace (Rich Vreeland) | 3:18 | Active | 4.4 | | 2022-05-25 |
| FEZ - Age | Disasterpeace (Rich Vreeland) | 2:58 | Active | 3.3 | | 2022-02-24 |
| FEZ - Beacon | Disasterpeace (Rich Vreeland) | 2:33 | Active | 4.0 | | 2021-05-05 |
| FEZ - Beyond | Disasterpeace (Rich Vreeland) | 3:05 | Active | 3.3 | | 2022-04-01 |
| FEZ - Compass | Disasterpeace (Rich Vreeland) | 2:44 | Active | 3.5 | | 2022-04-08 |
| FEZ - Continuum | Disasterpeace (Rich Vreeland) | 2:35 | Active | 4.5 | | 2022-05-02 |
| FEZ - Death | Disasterpeace (Rich Vreeland) | 3:31 | Active | 4.3 | | 2022-01-11 |
| FEZ - Fear | Disasterpeace (Rich Vreeland) | 3:32 | Active | 3.4 | | 2022-04-10 |
| FEZ - Flow | Disasterpeace (Rich Vreeland) | 3:47 | Active | 4.4 | | 2022-04-24 |
| FEZ - Forgotten | Disasterpeace (Rich Vreeland) | 2:34 | Active | 4.3 | | 2022-04-20 |
| FEZ - Formations | Disasterpeace (Rich Vreeland) | 2:20 | Active | 4.3 | | 2022-01-23 |
| FEZ - Glitch | Disasterpeace (Rich Vreeland) | 3:25 | Active | 1.5 | | 2022-02-16 |
| FEZ - Home | Disasterpeace (Rich Vreeland) | 1:35 | Active | 4.0 | | 2020-11-16 |
| FEZ - Knowledge | Disasterpeace (Rich Vreeland) | 1:49 | Active | 4.3 | | 2022-01-08 |
| FEZ - Legend | Disasterpeace (Rich Vreeland) | 1:18 | Active | 3.5 | | 2022-02-21 |
| FEZ - Love | Disasterpeace (Rich Vreeland) | 1:09 | Active | 4.0 | | 2022-03-17 |
| FEZ - Majesty | Disasterpeace (Rich Vreeland) | 3:22 | Active | 4.0 | | 2021-07-03 |
| FEZ - Memory | Disasterpeace (Rich Vreeland) | 1:16 | Active | 3.3 | | 2022-03-22 |
| FEZ - Nature | Disasterpeace (Rich Vreeland) | 4:10 | Active | 4.0 | | 2021-12-11 |
| FEZ - Nocturne | Disasterpeace (Rich Vreeland) | 2:13 | Active | 3.7 | | 2022-04-25 |
| FEZ - Pressure | Disasterpeace (Rich Vreeland) | 4:00 | Active | 2.7 | | 2022-03-05 |
| FEZ - Progress | Disasterpeace (Rich Vreeland) | 4:16 | Active | 4.2 | | 2022-05-15 |
| FEZ - Puzzle | Disasterpeace (Rich Vreeland) | 2:14 | Active | 4.0 | | 2021-06-25 |
| FEZ - Reflection | Disasterpeace (Rich Vreeland) | 5:00 | Active | 3.7 | | 2020-09-21 |
| FEZ - Spirit | Disasterpeace (Rich Vreeland) | 2:52 | Active | 3.6 | | 2022-01-17 |
| FEZ - Sync | Disasterpeace (Rich Vreeland) | 2:19 | Active | 3.2 | | 2022-03-26 |
| Jump! - In-Game 1 (adventure) | Dma-Sc (Mathieu Stempell) | 2:47 | Active | 3.4 | | 2022-04-15 |
| Jump! - In-Game 2 (cave) | Dma-Sc (Mathieu Stempell) | 2:17 | Active | 5.0 | | 2021-03-08 |
| Jump! - In-Game 3 (dark castle) | Dma-Sc (Mathieu Stempell) | 3:02 | Active | 4.0 | | 2022-05-08 |
| Jump! - Menu | Dma-Sc (Mathieu Stempell) | 1:12 | Active | 3.0 | | 2022-04-10 |
| STS-06: Microdots | Man With No Alias Synesthetics | 4:51 | Active | 4.4 | | 2022-05-17 |
| Swap! - In-Game 1 | Dma-Sc (Mathieu Stempell) | 4:09 | Active | 4.7 | | 2022-04-15 |
| Swap! - In-Game 2 | Dma-Sc (Mathieu Stempell) | 6:07 | Active | 4.2 | | 2022-02-06 |
| Swap! - In-Game 3 | Dma-Sc (Mathieu Stempell) | 4:08 | Active | 4.3 | | 2022-05-20 |
| Swap! - Menu | Dma-Sc (Mathieu Stempell) | 2:03 | Active | 4.5 | | 2021-03-08 |
| Swap! - Story | Dma-Sc (Mathieu Stempell) | 1:11 | Active | 4.5 | | 2022-01-02 |
| The Last Remnant - Turn the Tide | Tsuyoshi Sekito (関戸 剛) | 4:02 | Active | 5.0 | | 2022-02-26 |
| The Last Remnant - Turn the Tide | Tsuyoshi Sekito (関戸 剛) | 4:02 | Active | 4.0 | | 2022-03-31 |
| Tom Clancy's Ghost Recon: Advanced Warfighter - Theme | Tom Salta | 1:41 | Active | 5.0 | | 2022-02-08 |