CVGM.net - Chiptune, Retro & Video Game Music

Platform - Console » PlayStation 3 (PS3)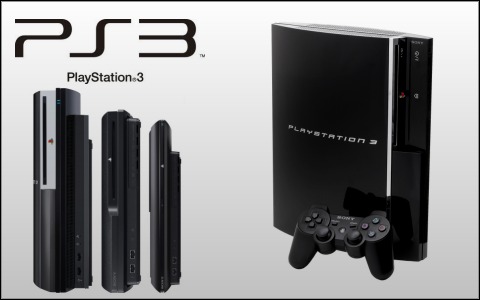 Things that should be added under this platform:
- songs ripped or recorded from games on this console
----------------------------------------
The PlayStation 3 (PS3) was officially unveiled at Sony Computer Entertainment America's Electronic Entertainment Expo press conference on May 16, 2005. When it was initially announced, Sony stated that it would be part of a longer cycle for consoles, stating that it would be part of a ten year cycle.
Sony initially announced two hardware configurations for the PlayStation 3: The 60GB and the 20GB, though the 40GB, 80GB, 120GB, 160GB, 250GB and 320GB configurations have been released since then. The PS3 was announced for a simultaneous worldwide release with a launch date of November 11, 2006 for Japan and November 17, 2006 for the United States and Europe. But due to a shortage of the blue laser diodes used for the Blu-ray Disc drive, the European launch was subsequently delayed to March 23, 2007.
The PS3 uses the Cell Broadband Engine co-developed by Sony, IBM, and Toshiba. Graphics processing is handled by the NVIDIA RSX 'Reality Synthesizer', which can output resolutions up to 1080p HD. The PS3 has 256 MB of XDR main memory and 256 MB of GDDR3 video memory for the RSX, for a total of 512 MB system memory.
Since its launch, the PS3 has a worldwide install base that has passed over 62 million (as of April 03, 2012;).
Songs
| Song Title | Artist | Song Length | Status | Avg. Vote | Queue | Last Played |
| --- | --- | --- | --- | --- | --- | --- |
| Assassin's Creed: Revelations (Vol.I: Singleplayer) - A Familiar Face | Lorne Balfe | 1:22 | Active | 3.0 | | 2023-05-27 |
| Assassin's Creed: Revelations (Vol.I: Singleplayer) - A Heated Discussion | Lorne Balfe | 1:50 | Active | 5.0 | | 2021-06-01 |
| Assassin's Creed: Revelations (Vol.I: Singleplayer) - Ambush | Jesper Kyd | 3:08 | Active | | | 2022-07-24 |
| Assassin's Creed: Revelations (Vol.I: Singleplayer) - Animus Island | Jesper Kyd | 2:52 | Active | 4.5 | | 2023-08-23 |
| Assassin's Creed: Revelations (Vol.I: Singleplayer) - Arrocco | Lorne Balfe | 2:26 | Active | 4.0 | | 2020-10-24 |
| Assassin's Creed: Revelations (Vol.I: Singleplayer) - Assassin's Creed Theme | Lorne Balfe | 4:37 | Active | 4.7 | | 2023-07-26 |
| Assassin's Creed: Revelations (Vol.I: Singleplayer) - Byzantium | Jesper Kyd | 3:15 | Active | | | 2023-06-20 |
| Assassin's Creed: Revelations (Vol.I: Singleplayer) - Die by the Blade | Jesper Kyd | 3:02 | Active | 3.0 | | 2023-05-27 |
| Assassin's Creed: Revelations (Vol.I: Singleplayer) - Fight or Flight | Jesper Kyd | 2:40 | Active | 5.0 | | 2022-10-30 |
| Assassin's Creed: Revelations (Vol.I: Singleplayer) - Forum of Ox | Jesper Kyd | 1:53 | Active | 5.0 | | 2023-06-26 |
| Assassin's Creed: Revelations (Vol.I: Singleplayer) - Galata Tower | Jesper Kyd | 2:05 | Active | | | 2023-06-27 |
| Assassin's Creed: Revelations (Vol.I: Singleplayer) - Last of the Palaiologi | Lorne Balfe | 0:57 | Active | 3.0 | | 2020-12-16 |
| Assassin's Creed: Revelations (Vol.I: Singleplayer) - Master and Mentor | Lorne Balfe | 1:45 | Active | | | 2021-12-31 |
| Assassin's Creed: Revelations (Vol.I: Singleplayer) - No Mistakes | Jesper Kyd | 2:45 | Active | | | 2023-03-05 |
| Assassin's Creed: Revelations (Vol.I: Singleplayer) - Nova Roma | Jesper Kyd | 3:54 | Active | 5.0 | | 2023-02-08 |
| Assassin's Creed: Revelations (Vol.I: Singleplayer) - On the Attack | Jesper Kyd | 4:22 | Active | 5.0 | | 2022-05-17 |
| Assassin's Creed: Revelations (Vol.I: Singleplayer) - Sailing to Constantinople | Lorne Balfe | 1:34 | Active | 4.5 | | 2022-11-25 |
| Assassin's Creed: Revelations (Vol.I: Singleplayer) - Sofia Sartor | Lorne Balfe | 0:43 | Active | | | 2023-05-10 |
| Assassin's Creed: Revelations (Vol.I: Singleplayer) - Son of Umar | Lorne Balfe | 1:24 | Active | | | 2023-08-16 |
| Assassin's Creed: Revelations (Vol.I: Singleplayer) - Suleiman's Grief | Lorne Balfe | 2:04 | Active | | | 2021-12-20 |
| Assassin's Creed: Revelations (Vol.I: Singleplayer) - Templar Occupation | Jesper Kyd | 3:27 | Active | 5.0 | | 2023-04-25 |
| Assassin's Creed: Revelations (Vol.I: Singleplayer) - The Crossroads of the World | Jesper Kyd | 3:31 | Active | 4.9 | | 2023-08-29 |
| Assassin's Creed: Revelations (Vol.I: Singleplayer) - The Noose Tightens | Jesper Kyd | 1:25 | Active | 4.0 | | 2022-07-06 |
| Assassin's Creed: Revelations (Vol.I: Singleplayer) - The Road to Masyaf | Lorne Balfe | 2:55 | Active | 5.0 | | 2022-01-31 |
| Assassin's Creed: Revelations (Vol.I: Singleplayer) - The Traitor | Jesper Kyd | 3:34 | Active | 3.0 | | 2023-02-03 |
| Assassin's Creed: Revelations (Vol.I: Singleplayer) - The Wounded Eagle | Jesper Kyd | 1:56 | Active | 5.0 | | 2023-06-11 |
| Assassin's Creed: Revelations (Vol.I: Singleplayer) - Welcome to Konstantiniyye | Jesper Kyd | 3:25 | Active | 4.0 | | 2022-08-04 |
| Assassin's Creed: Revelations (Vol.I: Singleplayer) - Yerebatan Cistern | Jesper Kyd | 1:48 | Active | | | 2023-04-11 |
| Assassin's Creed: Revelations (Vol.II: Singleplayer) - Altair and Darim | Lorne Balfe | 1:12 | Active | 5.0 | | 2022-06-18 |
| Assassin's Creed: Revelations (Vol.II: Singleplayer) - Altair Escapes | Jesper Kyd | 1:33 | Active | | | 2023-04-26 |
| Assassin's Creed: Revelations (Vol.II: Singleplayer) - An Unsubtle Approach | Lorne Balfe | 0:50 | Active | 5.0 | | 2023-07-30 |
| Assassin's Creed: Revelations (Vol.II: Singleplayer) - Betrayal | Jesper Kyd | 1:09 | Active | | | 2020-11-19 |
| Assassin's Creed: Revelations (Vol.II: Singleplayer) - Cappadocia | Jesper Kyd | 3:49 | Active | 5.0 | | 2022-10-12 |
| Assassin's Creed: Revelations (Vol.II: Singleplayer) - Constantinopolis | Jesper Kyd | 3:31 | Active | 5.0 | | 2022-07-13 |
| Assassin's Creed: Revelations (Vol.II: Singleplayer) - Crossed Swords | Jesper Kyd | 2:02 | Active | 3.0 | | 2023-02-06 |
| Assassin's Creed: Revelations (Vol.II: Singleplayer) - Enough for One Life | Lorne Balfe | 2:03 | Active | 4.7 | | 2023-08-12 |
| Assassin's Creed: Revelations (Vol.II: Singleplayer) - Everything Changes | Lorne Balfe | 3:03 | Active | 5.0 | | 2023-08-07 |
| Assassin's Creed: Revelations (Vol.II: Singleplayer) - Greek Fire | Jesper Kyd | 2:04 | Active | 5.0 | | 2021-03-04 |
| Assassin's Creed: Revelations (Vol.II: Singleplayer) - Infiltration | Jesper Kyd | 2:04 | Active | 1.0 | | 2023-08-11 |
| Assassin's Creed: Revelations (Vol.II: Singleplayer) - Investigation | Jesper Kyd | 2:06 | Active | | | 2023-03-29 |
| Assassin's Creed: Revelations (Vol.II: Singleplayer) - Istanbul | Jesper Kyd | 2:51 | Active | 4.0 | | 2023-08-19 |
| Assassin's Creed: Revelations (Vol.II: Singleplayer) - Labored and Lost | Lorne Balfe | 2:49 | Active | 4.0 | | 2023-06-03 |
| Assassin's Creed: Revelations (Vol.II: Singleplayer) - Mastermind | Lorne Balfe | 1:31 | Active | 4.0 | | 2022-12-18 |
| Assassin's Creed: Revelations (Vol.II: Singleplayer) - Notorious | Jesper Kyd | 3:02 | Active | 4.0 | | 2021-09-24 |
| Assassin's Creed: Revelations (Vol.II: Singleplayer) - Of Life and Death | Lorne Balfe | 1:27 | Active | 5.0 | | 2023-01-27 |
| Assassin's Creed: Revelations (Vol.II: Singleplayer) - Passing the Torch | Lorne Balfe | 0:52 | Active | | | 2022-05-04 |
| Assassin's Creed: Revelations (Vol.II: Singleplayer) - Rebuilding the Brotherhood | Jesper Kyd | 1:55 | Active | 3.0 | | 2022-03-25 |
| Assassin's Creed: Revelations (Vol.II: Singleplayer) - Reunion | Lorne Balfe | 0:57 | Active | | | 2022-07-13 |
| Assassin's Creed: Revelations (Vol.II: Singleplayer) - Scheduled for Deletion | Lorne Balfe | 1:01 | Active | 4.0 | | 2022-07-04 |
| Assassin's Creed: Revelations (Vol.II: Singleplayer) - Street Fight | Jesper Kyd | 2:16 | Active | 3.5 | | 2019-12-22 |
| Assassin's Creed: Revelations (Vol.II: Singleplayer) - The Hidden City | Lorne Balfe | 0:33 | Active | | | 2020-12-10 |
| Assassin's Creed: Revelations (Vol.II: Singleplayer) - The Library | Jesper Kyd | 2:54 | Active | | | 2022-10-29 |
| Assassin's Creed: Revelations (Vol.II: Singleplayer) - The Mentors Return | Lorne Balfe | 1:55 | Active | 4.0 | | 2020-11-16 |
| Assassin's Creed: Revelations (Vol.II: Singleplayer) - The Revelation | Lorne Balfe | 2:25 | Active | 4.5 | | 2022-11-02 |
| Assassin's Creed: Revelations (Vol.II: Singleplayer) - We Talk Together | Lorne Balfe | 1:15 | Active | 4.0 | | 2022-06-04 |
| Assassin's Creed: Revelations (Vol.II: Singleplayer) - You Have Earned Your Rest | Lorne Balfe | 1:09 | Active | 4.0 | | 2023-07-20 |
| Assassin's Creed: Revelations (Vol.III: Multiplayer) - Abstergo Industries | Lorne Balfe | 2:03 | Active | 3.5 | | 2022-09-02 |
| Assassin's Creed: Revelations (Vol.III: Multiplayer) - Antioch | Lorne Balfe | 0:35 | Active | | | 2020-12-15 |
| Assassin's Creed: Revelations (Vol.III: Multiplayer) - Assassinate the Target | Lorne Balfe | 1:54 | Active | | | 2023-06-04 |
| Assassin's Creed: Revelations (Vol.III: Multiplayer) - Castel Gandolfo | Lorne Balfe | 0:41 | Active | | | 2021-12-30 |
| Assassin's Creed: Revelations (Vol.III: Multiplayer) - Chase the Target | Lorne Balfe | 2:03 | Active | | | 2022-09-21 |
| Assassin's Creed: Revelations (Vol.III: Multiplayer) - Constantinople | Lorne Balfe | 0:43 | Active | | | 2021-11-30 |
| Assassin's Creed: Revelations (Vol.III: Multiplayer) - Find the Target | Lorne Balfe | 2:05 | Active | 5.0 | | 2023-02-09 |
| Assassin's Creed: Revelations (Vol.III: Multiplayer) - Firenze | Lorne Balfe | 0:41 | Active | 4.0 | | 2023-02-10 |
| Assassin's Creed: Revelations (Vol.III: Multiplayer) - In the Simulation | Lorne Balfe | 2:10 | Active | 4.5 | | 2023-01-06 |
| Assassin's Creed: Revelations (Vol.III: Multiplayer) - Kill Streak | Lorne Balfe | 0:37 | Active | 4.0 | | 2023-03-08 |
| Assassin's Creed: Revelations (Vol.III: Multiplayer) - Let the Chase Begin | Lorne Balfe | 2:04 | Active | 5.0 | | 2023-03-02 |
| Assassin's Creed: Revelations (Vol.III: Multiplayer) - On a Kill Streak | Lorne Balfe | 0:46 | Active | | | 2023-06-27 |
| Assassin's Creed: Revelations (Vol.III: Multiplayer) - On the Run | Lorne Balfe | 1:52 | Active | 4.0 | | 2023-09-18 |
| Assassin's Creed: Revelations (Vol.III: Multiplayer) - Rhodes | Lorne Balfe | 0:41 | Active | | | 2023-06-28 |
| Assassin's Creed: Revelations (Vol.III: Multiplayer) - San Donato | Lorne Balfe | 0:44 | Active | 5.0 | | 2021-07-14 |
| Assassin's Creed: Revelations (Vol.III: Multiplayer) - Sienna | Lorne Balfe | 0:36 | Active | | | 2021-05-29 |
| Assassin's Creed: Revelations (Vol.III: Multiplayer) - Souk | Lorne Balfe | 0:35 | Active | 4.0 | | 2023-04-23 |
| Assassin's Creed: Revelations (Vol.III: Multiplayer) - The Hunted | Lorne Balfe | 2:09 | Active | 5.0 | | 2023-03-07 |
| Assassin's Creed: Revelations (Vol.III: Multiplayer) - The Hunter | Lorne Balfe | 1:55 | Active | 5.0 | | 2022-04-27 |
| Assassin's Creed: Revelations (Vol.III: Multiplayer) - The Lobby | Lorne Balfe | 1:56 | Active | 2.0 | | 2020-11-12 |
| Assassin's Creed: Revelations (Vol.III: Multiplayer) - The Pursuit | Lorne Balfe | 1:55 | Active | 5.0 | | 2021-10-29 |
| Assassin's Creed: Revelations (Vol.III: Multiplayer) - Tracking Templar | Lorne Balfe | 2:13 | Active | | | 2021-04-28 |
| Assassin's Creed: Revelations (Vol.III: Multiplayer) - Venezia | Lorne Balfe | 0:46 | Active | | | 2021-11-21 |
| Assassin's Creed: Revelations (Vol.III: Multiplayer) - Welcome to the Fold | Lorne Balfe | 1:42 | Active | 2.0 | | 2023-07-08 |
| Call of Duty: Black Ops - Albion | Sean Murray | 3:05 | Active | 4.3 | | 2023-09-16 |
| Call of Duty: Black Ops - Anvil | Sean Murray | 2:19 | Active | 4.0 | | 2022-10-09 |
| Call of Duty: Black Ops - Beheaded | Sean Murray | 3:57 | Active | 5.0 | | 2023-01-24 |
| Call of Duty: Black Ops - Bendz | Sean Murray | 3:34 | Active | 2.0 | | 2022-03-16 |
| Call of Duty: Black Ops - Blackbird | Sean Murray | 3:11 | Active | 5.0 | | 2023-05-01 |
| Call of Duty: Black Ops - Commies | Sean Murray | 4:16 | Active | 4.0 | | 2023-03-16 |
| Call of Duty: Black Ops - Crash | Sean Murray | 0:44 | Active | 3.5 | | 2021-06-13 |
| Call of Duty: Black Ops - Cube One | Sean Murray | 0:58 | Active | 4.0 | | 2022-04-11 |
| Call of Duty: Black Ops - Delirious | Sean Murray | 3:38 | Active | 5.0 | | 2020-10-23 |
| Call of Duty: Black Ops - Deviant | Sean Murray | 4:44 | Active | 5.0 | | 2021-09-27 |
| Call of Duty: Black Ops - Drexel | Sean Murray | 4:09 | Active | 5.0 | | 2023-07-03 |
| Call of Duty: Black Ops - Dwarka | Sean Murray | 3:09 | Active | 3.0 | | 2023-02-27 |
| Call of Duty: Black Ops - Eagle Claw (Part 1) | Sean Murray | 4:14 | Active | | | 2021-12-10 |
| Call of Duty: Black Ops - Eagle Claw (Part 2) | Sean Murray | 2:16 | Active | | | 2022-02-19 |
| Call of Duty: Black Ops - Epilogue | Sean Murray | 1:22 | Active | | | 2022-10-22 |
| Call of Duty: Black Ops - Flaming Dart | Sean Murray | 3:04 | Active | 3.0 | | 2022-08-14 |
| Call of Duty: Black Ops - Foe | Sean Murray | 3:21 | Active | 4.0 | | 2023-01-08 |
| Call of Duty: Black Ops - Hard Target | Sean Murray | 3:18 | Active | 4.0 | | 2021-12-18 |
| Call of Duty: Black Ops - Invictus | Sean Murray | 2:17 | Active | | | 2022-01-02 |
| Call of Duty: Black Ops - Mac-V | Sean Murray | 2:17 | Active | 4.3 | | 2023-08-31 |
| Call of Duty: Black Ops - Melville | Sean Murray | 3:14 | Active | 5.0 | | 2022-05-13 |
| Call of Duty: Black Ops - Panthers | Sean Murray | 5:07 | Active | 4.0 | | 2021-07-11 |
| Call of Duty: Black Ops - Pegasus | Sean Murray | 3:10 | Active | 5.0 | | 2023-08-21 |
| Call of Duty: Black Ops - Pentagon | Sean Murray | 3:13 | Active | 4.7 | | 2023-09-06 |
| Call of Duty: Black Ops - Punch Through | Sean Murray | 4:54 | Active | 5.0 | | 2020-11-23 |
| Call of Duty: Black Ops - Resurrection | Sean Murray | 4:55 | Active | 3.4 | | 2023-07-02 |
| Call of Duty: Black Ops - Revenge | Sean Murray | 3:18 | Active | 4.0 | | 2023-03-28 |
| Call of Duty: Black Ops - Rooftops | Sean Murray | 3:32 | Active | 4.0 | | 2020-02-17 |
| Call of Duty: Black Ops - The Wall | Sean Murray | 3:15 | Active | 2.0 | | 2023-01-22 |
| Call of Duty: Black Ops - Virus | Sean Murray | 2:29 | Active | 5.0 | | 2023-09-29 |
| Call of Duty: Modern Warfare 2 - Boneyard Flyby | Hans Zimmer , Lorne Balfe | 3:08 | Active | 4.0 | | 2023-07-29 |
| Call of Duty: Modern Warfare 2 - Breach | Hans Zimmer , Lorne Balfe | 3:22 | Active | 4.0 | | 2023-07-24 |
| Call of Duty: Modern Warfare 2 - Caves Going Loud | Hans Zimmer , Lorne Balfe | 3:10 | Active | 4.3 | | 2023-07-28 |
| Call of Duty: Modern Warfare 2 - Chain of Command | Hans Zimmer , Lorne Balfe | 2:00 | Active | 5.0 | | 2022-12-05 |
| Call of Duty: Modern Warfare 2 - Chase Boat Ride | Hans Zimmer , Lorne Balfe | 2:06 | Active | 4.0 | | 2021-07-16 |
| Call of Duty: Modern Warfare 2 - Code of Conduct | Hans Zimmer , Lorne Balfe | 2:09 | Active | 3.0 | | 2023-09-12 |
| Call of Duty: Modern Warfare 2 - Contingency | Hans Zimmer , Lorne Balfe | 2:15 | Active | 4.0 | | 2022-12-07 |
| Call of Duty: Modern Warfare 2 - Coup de Grace | Hans Zimmer , Lorne Balfe | 3:21 | Active | 3.0 | | 2021-12-03 |
| Call of Duty: Modern Warfare 2 - DC White House End Run | Hans Zimmer , Lorne Balfe | 1:52 | Active | 4.4 | | 2023-09-10 |
| Call of Duty: Modern Warfare 2 - Deadline | Hans Zimmer , Lorne Balfe | 3:55 | Active | 4.0 | | 2020-12-13 |
| Call of Duty: Modern Warfare 2 - End Credits | Hans Zimmer , Lorne Balfe | 3:23 | Active | 4.4 | | 2023-08-31 |
| Call of Duty: Modern Warfare 2 - Espirit de Corps | Hans Zimmer , Lorne Balfe | 3:07 | Active | 4.4 | | 2023-07-08 |
| Call of Duty: Modern Warfare 2 - Extraction Point | Hans Zimmer , Lorne Balfe | 3:35 | Active | 4.0 | | 2022-05-29 |
| Call of Duty: Modern Warfare 2 - Guerrilla Tactics | Hans Zimmer , Lorne Balfe | 2:58 | Active | 4.0 | | 2021-05-29 |
| Call of Duty: Modern Warfare 2 - Infiltration | Hans Zimmer , Lorne Balfe | 4:27 | Active | 4.0 | | 2023-03-05 |
| Call of Duty: Modern Warfare 2 - Onwards | Hans Zimmer , Lorne Balfe | 2:27 | Active | 4.0 | | 2023-05-22 |
| Call of Duty: Modern Warfare 2 - Opening Titles | Hans Zimmer , Lorne Balfe | 3:25 | Active | 5.0 | | 2023-07-07 |
| Call of Duty: Modern Warfare 2 - Ordinance | Hans Zimmer , Lorne Balfe | 1:58 | Active | 4.0 | | 2020-10-25 |
| Call of Duty: Modern Warfare 2 - Protocol | Hans Zimmer , Lorne Balfe | 3:47 | Active | 4.0 | | 2023-07-28 |
| Call of Duty: Modern Warfare 2 - Retreat and Reveille | Hans Zimmer , Lorne Balfe | 2:57 | Active | 3.0 | | 2023-04-05 |
| Call of Duty: Modern Warfare 2 - Safeguard | Hans Zimmer , Lorne Balfe | 2:43 | Active | 4.0 | | 2023-08-15 |
| Call of Duty: Modern Warfare 2 - Siege | Hans Zimmer , Lorne Balfe | 4:05 | Active | 4.0 | | 2021-06-06 |
| Call of Duty: MW3 - Arabian End Game | Brian Tyler , Slovak National Symphony Orchestra | 2:58 | Active | 5.0 | | 2023-06-08 |
| Call of Duty: MW3 - Battle for New York | Brian Tyler , Slovak National Symphony Orchestra | 6:25 | Active | 5.0 | | 2023-09-20 |
| Call of Duty: MW3 - Call of Duty: MW3 | Brian Tyler , Slovak National Symphony Orchestra | 2:10 | Active | 4.0 | | 2023-09-10 |
| Call of Duty: MW3 - First Contact | Brian Tyler , Slovak National Symphony Orchestra | 5:42 | Active | 5.0 | | 2023-09-17 |
| Call of Duty: MW3 - Hamburg Invasion | Brian Tyler , Slovak National Symphony Orchestra | 2:57 | Active | 4.0 | | 2022-01-30 |
| Call of Duty: MW3 - Heroes | Brian Tyler , Slovak National Symphony Orchestra | 2:42 | Active | | | 2021-10-04 |
| Call of Duty: MW3 - I Stand Alone | Brian Tyler , Slovak National Symphony Orchestra | 4:41 | Active | 4.0 | | 2023-07-05 |
| Call of Duty: MW3 - London Attack | Brian Tyler , Slovak National Symphony Orchestra | 3:28 | Active | 5.0 | | 2020-11-17 |
| Call of Duty: MW3 - Manhattan Assault | Brian Tyler , Slovak National Symphony Orchestra | 4:54 | Active | 3.5 | | 2023-09-19 |
| Call of Duty: MW3 - MW3 End Credits | Brian Tyler , Slovak National Symphony Orchestra | 2:24 | Active | 4.0 | | 2023-07-11 |
| Call of Duty: MW3 - Paris Siege | Brian Tyler , Slovak National Symphony Orchestra | 5:11 | Active | 3.0 | | 2023-06-17 |
| Call of Duty: MW3 - Prague Hostilities | Brian Tyler , Slovak National Symphony Orchestra | 3:42 | Active | 3.0 | | 2023-03-12 |
| Call of Duty: MW3 - Russian Deliberations | Brian Tyler , Slovak National Symphony Orchestra | 1:46 | Active | 4.0 | | 2023-07-28 |
| Call of Duty: MW3 - Russian Warfare | Brian Tyler , Slovak National Symphony Orchestra | 1:36 | Active | | | 2021-05-21 |
| Call of Duty: MW3 - Scouting the Enemy | Brian Tyler , Slovak National Symphony Orchestra | 6:53 | Active | 5.0 | | 2020-12-12 |
| Call of Duty: MW3 - Special Forces | Brian Tyler , Slovak National Symphony Orchestra | 3:35 | Active | 3.7 | | 2023-09-21 |
| Call of Duty: MW3 - Subterranean Recon | Brian Tyler , Slovak National Symphony Orchestra | 5:08 | Active | 5.0 | | 2021-08-10 |
| Call of Duty: MW3 - The Will of a Single Man | Brian Tyler , Slovak National Symphony Orchestra | 2:11 | Active | | | 2023-03-14 |
| Call of Duty: MW3 - Undersea Warfare / Somali Payback | Brian Tyler , Slovak National Symphony Orchestra | 6:57 | Active | 5.0 | | 2023-07-07 |
| Call of Duty: MW3 - Warlords | Brian Tyler , Slovak National Symphony Orchestra | 3:22 | Active | 4.5 | | 2023-06-18 |
| Catherine - Act on Instinct | Shoji Meguro (目黒 将司) | 1:35 | Active | 4.0 | | 2023-06-26 |
| Catherine - Also Sprach Brooks | Shoji Meguro (目黒 将司) | 1:51 | Active | 3.0 | | 2023-07-25 |
| Catherine - An die Freude | Shoji Meguro (目黒 将司) | 4:37 | Active | | | 2023-01-04 |
| Catherine - Ant | Shoji Meguro (目黒 将司) | 0:40 | Active | 4.0 | | 2023-08-11 |
| Catherine - At More Choice | Shoji Meguro (目黒 将司) | 1:16 | Active | 4.0 | | 2021-10-31 |
| Catherine - Awakening | Shoji Meguro (目黒 将司) | 1:11 | Active | 4.0 | | 2022-03-16 |
| Catherine - Battle on Stage | Atsushi Kitajou (喜多條 敦志) | 2:57 | Active | 5.0 | | 2023-09-19 |
| Catherine - Departure | Shoji Meguro (目黒 将司) | 0:28 | Active | 5.0 | | 2022-01-26 |
| Catherine - Door | Shoji Meguro (目黒 将司) | 0:49 | Active | 5.0 | | 2022-01-26 |
| Catherine - Fear | Shoji Meguro (目黒 将司) | 1:08 | Active | 4.0 | | 2023-05-13 |
| Catherine - Game of Lamb | Shoji Meguro (目黒 将司) | 2:11 | Active | 5.0 | | 2022-05-18 |
| Catherine - Good Morning, New Day | Shoji Meguro (目黒 将司) | 1:56 | Active | 5.0 | | 2023-09-24 |
| Catherine - Hitsujigamine | Shoji Meguro (目黒 将司) | 2:04 | Active | 5.0 | | 2022-11-09 |
| Catherine - It's a Golden Show | Shoji Meguro (目黒 将司) | 2:34 | Active | 5.0 | | 2023-07-13 |
| Catherine - Jouji Washington | Shoji Meguro (目黒 将司) | 1:44 | Active | 3.5 | | 2023-07-04 |
| Catherine - Loser's Future | Shoji Meguro (目黒 将司) | 0:51 | Active | 5.0 | | 2022-01-26 |
| Catherine - Lost | Shoji Meguro (目黒 将司) | 1:42 | Active | 4.0 | | 2021-01-05 |
| Catherine - Non Title | Shoji Meguro (目黒 将司) | 1:25 | Active | 5.0 | | 2022-11-16 |
| Catherine - Oracle | Shoji Meguro (目黒 将司) | 1:17 | Active | 5.0 | | 2020-11-23 |
| Catherine - Pandemonium | Shoji Meguro (目黒 将司) | 1:03 | Active | 5.0 | | 2022-04-15 |
| Catherine - R30's Melancholy | Shoji Meguro (目黒 将司) | 0:47 | Active | 3.0 | | 2022-12-06 |
| Catherine - Rapunzel: Game Over | Kenichi Tsuchiya (土屋 憲一) | 0:10 | Active | 4.0 | | 2020-11-25 |
| Catherine - Rapunzel: Game Play | Kenichi Tsuchiya (土屋 憲一) | 1:20 | Active | 4.6 | | 2023-09-02 |
| Catherine - Rapunzel: Name Entry | Kenichi Tsuchiya (土屋 憲一) | 1:00 | Active | 5.0 | | 2023-06-26 |
| Catherine - Result | Shoji Meguro (目黒 将司) | 1:14 | Active | 5.0 | | 2023-09-02 |
| Catherine - Roux | Shoji Meguro (目黒 将司) | 1:30 | Active | 4.5 | | 2022-04-20 |
| Catherine - Stage | Shoji Meguro (目黒 将司) | 1:56 | Active | 4.5 | | 2023-08-23 |
| Catherine - Stalked in the Dark | Shoji Meguro (目黒 将司) | 1:26 | Active | 5.0 | | 2023-02-17 |
| Catherine - Stray Sheep | Shoji Meguro (目黒 将司) | 2:30 | Active | 4.5 | | 2023-07-15 |
| Catherine - Tension | Shoji Meguro (目黒 将司) | 1:01 | Active | 5.0 | | 2021-12-03 |
| Catherine - Up Up Up! | Atsushi Kitajou (喜多條 敦志) | 2:58 | Active | 5.0 | | 2023-09-07 |
| Catherine - Woman's Hand | Shoji Meguro (目黒 将司) | 2:00 | Active | | | 2023-08-20 |
| Catherine - Yo | L-Vokal , Shoji Meguro (目黒 将司) | 1:11 | Active | 2.0 | | 2022-05-12 |
| Catherine - Zigeunerweisen Sarasate | Kenichi Tsuchiya (土屋 憲一) | 0:26 | Active | 4.5 | | 2019-12-19 |
| Dead Space 2 - Credits | Jason Graves | 8:08 | Active | 4.0 | | 2020-12-11 |
| Deus Ex: Human Revolution - After the Crash | Michael McCann | 4:03 | Active | 5.0 | | 2023-07-08 |
| Deus Ex: Human Revolution - And Away We Go | Michael McCann | 1:17 | Active | 5.0 | | 2023-09-19 |
| Deus Ex: Human Revolution - Barrett Boss Fight | Michael McCann | 2:49 | Active | 5.0 | | 2023-03-10 |
| Deus Ex: Human Revolution - Detroit City Ambient (Part 1) | Michael McCann | 2:03 | Active | 5.0 | | 2023-08-21 |
| Deus Ex: Human Revolution - Detroit Marketplace | Michael McCann | 3:45 | Active | 5.0 | | 2022-09-11 |
| Deus Ex: Human Revolution - Endings | Michael McCann | 2:10 | Active | 4.0 | | 2023-07-09 |
| Deus Ex: Human Revolution - Entering TYM | Michael McCann | 1:54 | Active | 3.0 | | 2022-03-30 |
| Deus Ex: Human Revolution - Everybody Lies | Michael McCann | 4:41 | Active | 5.0 | | 2023-05-18 |
| Deus Ex: Human Revolution - First and Last | Michael McCann | 3:14 | Active | 3.8 | | 2023-08-14 |
| Deus Ex: Human Revolution - Harvesters | Michael McCann | 2:57 | Active | 5.0 | | 2022-11-14 |
| Deus Ex: Human Revolution - Hengsha Daylight (Part 1) | Michael McCann | 4:25 | Active | 5.0 | | 2023-02-20 |
| Deus Ex: Human Revolution - Home | Michael McCann | 2:17 | Active | 4.7 | | 2023-07-15 |
| Deus Ex: Human Revolution - Hung Hua Brothel (Extended) | Michael McCann | 3:18 | Active | 4.5 | | 2022-03-15 |
| Deus Ex: Human Revolution - Icarus (Main Theme) | Michael McCann | 3:41 | Active | 4.9 | | 2023-08-16 |
| Deus Ex: Human Revolution - Jewel of the Orient | Michael McCann | 1:04 | Active | 4.0 | | 2023-09-21 |
| Deus Ex: Human Revolution - LIMB Clinic | Michael McCann | 1:44 | Active | 4.5 | | 2023-03-28 |
| Deus Ex: Human Revolution - Lower Hengsha Ambient (Part 1) | Michael McCann | 2:21 | Active | 5.0 | | 2023-06-08 |
| Deus Ex: Human Revolution - Main Menu | Michael McCann | 1:50 | Active | 4.7 | | 2023-09-11 |
| Deus Ex: Human Revolution - Namir (Trailer Edit) | Michael McCann | 2:30 | Active | 4.0 | | 2023-04-25 |
| Deus Ex: Human Revolution - Opening Credits | Michael McCann | 2:15 | Active | 4.8 | | 2023-09-20 |
| Deus Ex: Human Revolution - Penthouse | Michael McCann | 1:36 | Active | 4.0 | | 2022-02-14 |
| Deus Ex: Human Revolution - Return to Hengsha | Michael McCann | 2:43 | Active | 5.0 | | 2023-01-08 |
| Deus Ex: Human Revolution - Singapore Ambient (Part 2) | Michael McCann | 2:24 | Active | 5.0 | | 2023-08-13 |
| Deus Ex: Human Revolution - The Hive | Michael McCann | 3:56 | Active | 4.0 | | 2023-04-11 |
| Deus Ex: Human Revolution - The Mole | Michael McCann | 2:24 | Active | 4.8 | | 2023-09-18 |
| Dragon Age: Origins - Attack on Denerim | Inon Zur | 1:06 | Active | 5.0 | | 2021-09-14 |
| Dragon Age: Origins - Battle for the Urn | Inon Zur | 1:06 | Active | | | 2023-08-03 |
| Dragon Age: Origins - Battle the Blight | Inon Zur | 1:05 | Active | 2.0 | | 2023-09-06 |
| Dragon Age: Origins - Battle the Darkspawn Hordes | Inon Zur | 1:05 | Active | | | 2022-06-06 |
| Dragon Age: Origins - Challenge an Arch Demon | Inon Zur | 3:12 | Active | 3.0 | | 2021-11-25 |
| Dragon Age: Origins - Darkspawn in the Wilds | Inon Zur | 1:13 | Active | 3.0 | | 2022-06-15 |
| Dragon Age: Origins - Dragon Age: Origins | Aubrey Ashburn , Inon Zur , Northwest Sinfonia | 2:48 | Active | 4.5 | | 2023-05-05 |
| Dragon Age: Origins - Dungeons and Dungeons | Inon Zur | 1:13 | Active | 3.0 | | 2023-08-13 |
| Dragon Age: Origins - Elves at the Mercy of Man | Inon Zur | 1:21 | Active | | | 2023-07-12 |
| Dragon Age: Origins - Enter the Korcari Wilds | Inon Zur | 1:06 | Active | 4.0 | | 2023-06-08 |
| Dragon Age: Origins - Ferelden at War | Inon Zur | 2:57 | Active | 5.0 | | 2022-02-26 |
| Dragon Age: Origins - Haven! | Inon Zur | 1:07 | Active | 3.0 | | 2020-12-21 |
| Dragon Age: Origins - Howe | Inon Zur | 1:08 | Active | | | 2023-05-28 |
| Dragon Age: Origins - Human Nobility | Inon Zur | 1:21 | Active | 4.0 | | 2022-03-18 |
| Dragon Age: Origins - I Am The One (Dark Fantasy Version) | Aubrey Ashburn , Inon Zur | 4:09 | Active | 3.8 | | 2023-09-13 |
| Dragon Age: Origins - I Am The One (High Fantasy Version) | Aubrey Ashburn , Inon Zur | 4:00 | Active | 4.0 | | 2023-09-16 |
| Dragon Age: Origins - Join the Grey Wardens | Inon Zur | 1:53 | Active | | | 2023-02-23 |
| Dragon Age: Origins - King Edrin | Inon Zur | 1:28 | Active | 4.0 | | 2022-09-30 |
| Dragon Age: Origins - Lelianna's Song | Aubrey Ashburn , Inon Zur | 2:31 | Active | 4.8 | | 2023-09-18 |
| Dragon Age: Origins - Mages in Their Chantry | Inon Zur | 2:01 | Active | 3.0 | | 2021-12-08 |
| Dragon Age: Origins - Ruins of Ostagar | Inon Zur | 1:18 | Active | 5.0 | | 2022-11-28 |
| Dragon Age: Origins - The Battle of Lothering Village | Inon Zur | 2:18 | Active | | | 2023-07-19 |
| Dragon Age: Origins - The Betrayal | Inon Zur | 3:01 | Active | | | 2023-05-05 |
| Dragon Age: Origins - The Chantry's Hubris | Inon Zur | 3:16 | Active | | | 2022-12-01 |
| Dragon Age: Origins - The Common Dwarf | Inon Zur | 1:24 | Active | | | 2021-12-17 |
| Dragon Age: Origins - The Coronation | Inon Zur | 1:03 | Active | 4.0 | | 2023-08-02 |
| Dragon Age: Origins - The Dalish | Inon Zur | 1:18 | Active | 4.0 | | 2022-06-02 |
| Dragon Age: Origins - The Dalish Elves' Encampment | Inon Zur | 1:18 | Active | 4.0 | | 2023-06-13 |
| Dragon Age: Origins - The Deep Roads | Inon Zur | 1:20 | Active | 4.0 | | 2023-05-30 |
| Dragon Age: Origins - The Dungeons of Landsmeet | Inon Zur | 1:12 | Active | | | 2023-04-02 |
| Dragon Age: Origins - The Dwarven Nobles | Inon Zur | 1:07 | Active | | | 2022-12-22 |
| Dragon Age: Origins - The Endless Wave of Hurlocks | Inon Zur | 1:06 | Active | | | 2023-08-08 |
| Dragon Age: Origins - The Party Camp | Inon Zur | 0:42 | Active | 4.5 | | 2023-05-07 |
| Dragon Age: Origins - To Kill an Ogre | Inon Zur | 3:09 | Active | 4.4 | | 2023-09-20 |
| Dragon Age: Origins - Urn of Sacred Ashes | Inon Zur | 1:01 | Active | | | 2023-09-10 |
| Ducktales_remastered_african_mines | Virt (Jake Kaufman) | 2:59 | Active | | | 2023-02-02 |
| Ducktales_remastered_amazon | Virt (Jake Kaufman) | 2:58 | Active | | | 2023-01-03 |
| Ducktales_remastered_boss | Virt (Jake Kaufman) | 1:11 | Active | 3.0 | | 2022-11-14 |
| Ducktales_remastered_credits_combined | Virt (Jake Kaufman) | 4:19 | Active | 4.0 | | 2022-12-19 |
| Ducktales_remastered_credits_piano | Virt (Jake Kaufman) | 3:28 | Active | | | 2022-01-19 |
| Ducktales_remastered_finalboss | Virt (Jake Kaufman) | 1:11 | Active | | | 2022-01-06 |
| Ducktales_remastered_Gyro | Virt (Jake Kaufman) | 0:49 | Active | | | 2022-11-14 |
| Ducktales_remastered_himalayas | Virt (Jake Kaufman) | 2:28 | Active | 4.0 | | 2023-09-10 |
| Ducktales_remastered_Himalayas2 | Virt (Jake Kaufman) | 1:54 | Active | | | 2022-12-10 |
| Ducktales_remastered_hubworld | Virt (Jake Kaufman) | 1:04 | Active | | | 2022-01-03 |
| Ducktales_remastered_moneybin | Virt (Jake Kaufman) | 2:34 | Active | | | 2023-03-18 |
| Ducktales_remastered_moon | Virt (Jake Kaufman) | 2:52 | Active | 5.0 | | 2023-05-08 |
| Ducktales_remastered_stage_complete | Virt (Jake Kaufman) | 0:06 | Jingle | | | |
| Ducktales_remastered_theme | Virt (Jake Kaufman) | 2:53 | Active | 5.0 | | 2023-08-07 |
| Ducktales_remastered_title | Virt (Jake Kaufman) | 1:04 | Active | 5.0 | | 2023-09-08 |
| Ducktales_remastered_title_unlooped | Virt (Jake Kaufman) | 0:55 | Active | | | 2023-04-08 |
| Ducktales_remastered_transylvania | Virt (Jake Kaufman) | 3:17 | Active | | | 2022-07-24 |
| Ducktales_remastered_vesuvius | Virt (Jake Kaufman) | 2:39 | Active | 3.5 | | 2023-01-28 |
| Ducktales_remastered_vesuvius_final | Virt (Jake Kaufman) | 0:44 | Active | | | 2022-01-14 |
| Final Fantasy XIII - A Brief Respite | Masashi Hamauzu (浜渦 正志) | 2:08 | Active | 4.0 | | 2023-05-05 |
| Final Fantasy XIII - All the World Against Us | Masashi Hamauzu (浜渦 正志) | 1:16 | Active | 3.0 | | 2023-04-05 |
| Final Fantasy XIII - Atonement | Masashi Hamauzu (浜渦 正志) | 4:23 | Active | 4.5 | | 2023-06-15 |
| Final Fantasy XIII - Battle Results | Masashi Hamauzu (浜渦 正志) , Mina (Mina Sakai) | 1:15 | Active | 2.0 | | 2023-05-20 |
| Final Fantasy XIII - Blinded by Light | Masashi Hamauzu (浜渦 正志) | 2:55 | Active | 5.0 | | 2023-09-07 |
| Final Fantasy XIII - Born Anew | Masashi Hamauzu (浜渦 正志) | 2:58 | Active | 5.0 | | 2023-09-06 |
| Final Fantasy XIII - Can't Catch a Break | Masashi Hamauzu (浜渦 正志) | 5:19 | Active | 4.0 | | 2023-09-20 |
| Final Fantasy XIII - Cavalry Theme | Masashi Hamauzu (浜渦 正志) | 2:37 | Active | 4.0 | | 2023-07-14 |
| Final Fantasy XIII - Chocobos of Cocoon (Chasing Dreams) | Frances Maya (フランシス マヤ) , Masashi Hamauzu (浜渦 正志) | 2:57 | Active | 2.3 | | 2023-09-12 |
| Final Fantasy XIII - Chocobos of Pulse | Masashi Hamauzu (浜渦 正志) | 4:18 | Active | 4.9 | | 2023-09-25 |
| Final Fantasy XIII - Crash Landing | Masashi Hamauzu (浜渦 正志) | 1:04 | Active | 4.0 | | 2022-01-14 |
| Final Fantasy XIII - Daddy's Got the Blues | Masashi Hamauzu (浜渦 正志) | 4:27 | Active | 5.0 | | 2022-07-25 |
| Final Fantasy XIII - Defiers of Fate | Masashi Hamauzu (浜渦 正志) | 2:23 | Active | 5.0 | | 2022-01-24 |
| Final Fantasy XIII - Desperate Struggle | Masashi Hamauzu (浜渦 正志) | 3:49 | Active | 4.5 | | 2023-06-07 |
| Final Fantasy XIII - Determination | Masashi Hamauzu (浜渦 正志) | 3:22 | Active | 5.0 | | 2022-10-23 |
| Final Fantasy XIII - Dust to Dust | Masashi Hamauzu (浜渦 正志) , Matsue Hamauzu (濱渦 真津恵) | 3:48 | Active | 4.0 | | 2022-01-14 |
| Final Fantasy XIII - Eden Under Siege | Masashi Hamauzu (浜渦 正志) | 2:33 | Active | | | 2021-12-11 |
| Final Fantasy XIII - Eidolons | Masashi Hamauzu (浜渦 正志) | 2:50 | Active | 5.0 | | 2022-04-18 |
| Final Fantasy XIII - Eidolons on Parade | Masashi Hamauzu (浜渦 正志) | 3:36 | Active | 4.0 | | 2023-02-02 |
| Final Fantasy XIII - Ending Credits | Masashi Hamauzu (浜渦 正志) | 4:42 | Active | 4.3 | | 2023-08-03 |
| Final Fantasy XIII - Escape | Masashi Hamauzu (浜渦 正志) | 1:59 | Active | 4.0 | | 2022-07-19 |
| Final Fantasy XIII - Eternal Love (Short Version) | Masashi Hamauzu (浜渦 正志) , Sayuri Sugawara (菅原 紗由理) , Sin (Shin Hashimoto) | 3:26 | Active | 3.8 | | 2023-05-12 |
| Final Fantasy XIII - Fabula Nova Crystallis | Masashi Hamauzu (浜渦 正志) | 2:40 | Active | 4.0 | | 2022-07-19 |
| Final Fantasy XIII - Face It Later | Masashi Hamauzu (浜渦 正志) | 0:54 | Active | 3.0 | | 2023-06-17 |
| Final Fantasy XIII - Fang's Theme | Masashi Hamauzu (浜渦 正志) | 3:31 | Active | 5.0 | | 2023-01-17 |
| Final Fantasy XIII - Feast of Betrayal | Masashi Hamauzu (浜渦 正志) | 3:16 | Active | 4.0 | | 2023-02-05 |
| Final Fantasy XIII - Fighting Fate | Masashi Hamauzu (浜渦 正志) | 2:27 | Active | 4.3 | | 2023-09-13 |
| Final Fantasy XIII - Final Fantasy XIII: Miracles | Masashi Hamauzu (浜渦 正志) | 2:49 | Active | 4.0 | | 2023-08-28 |
| Final Fantasy XIII - Final Fantasy XIII: The Promise | Masashi Hamauzu (浜渦 正志) | 1:32 | Active | 4.5 | | 2023-06-13 |
| Final Fantasy XIII - Focus | Masashi Hamauzu (浜渦 正志) | 2:20 | Active | 4.0 | | 2022-09-01 |
| Final Fantasy XIII - Forever Fugitives | Masashi Hamauzu (浜渦 正志) | 1:49 | Active | 4.0 | | 2021-11-11 |
| Final Fantasy XIII - Game Over | Masashi Hamauzu (浜渦 正志) | 1:14 | Active | 5.0 | | 2023-07-29 |
| Final Fantasy XIII - Hope's Theme | Masashi Hamauzu (浜渦 正志) | 3:30 | Active | 5.0 | | 2022-07-14 |
| Final Fantasy XIII - In the Sky That Night | Masashi Hamauzu (浜渦 正志) | 1:24 | Active | 3.0 | | 2022-08-23 |
| Final Fantasy XIII - Kimi ga Iru Kara (Long Version) | Masashi Hamauzu (浜渦 正志) , Sayuri Sugawara (菅原 紗由理) , Sin (Shin Hashimoto) | 6:22 | Active | | | 2022-01-23 |
| Final Fantasy XIII - Lake Bresha | Masashi Hamauzu (浜渦 正志) | 4:11 | Active | 5.0 | | 2022-12-16 |
| Final Fantasy XIII - Lightning's Theme | Masashi Hamauzu (浜渦 正志) | 2:26 | Active | 5.0 | | 2021-09-27 |
| Final Fantasy XIII - Lost Hope | Masashi Hamauzu (浜渦 正志) | 2:57 | Active | | | 2023-06-07 |
| Final Fantasy XIII - March of the Dreadnoughts | Masashi Hamauzu (浜渦 正志) | 2:31 | Active | 3.0 | | 2022-10-06 |
| Final Fantasy XIII - Memories of Happier Days | Masashi Hamauzu (浜渦 正志) | 3:13 | Active | 5.0 | | 2021-06-26 |
| Final Fantasy XIII - Mysteries Abound | Masashi Hamauzu (浜渦 正志) | 2:41 | Active | 5.0 | | 2023-06-08 |
| Final Fantasy XIII - Nascent Requiem | Masashi Hamauzu (浜渦 正志) | 5:03 | Active | | | 2022-10-01 |
| Final Fantasy XIII - Nautilus | Masashi Hamauzu (浜渦 正志) | 4:57 | Active | 4.0 | | 2022-09-17 |
| Final Fantasy XIII - No Way to Live | Masashi Hamauzu (浜渦 正志) | 2:04 | Active | 4.0 | | 2023-09-13 |
| Final Fantasy XIII - Prelude to Final Fantasy XIII | Masashi Hamauzu (浜渦 正志) | 2:55 | Active | 4.8 | | 2023-03-12 |
| Final Fantasy XIII - Primarch Dysley | Masashi Hamauzu (浜渦 正志) | 3:02 | Active | 4.0 | | 2020-02-15 |
| Final Fantasy XIII - Promised Eternity | Masashi Hamauzu (浜渦 正志) | 2:24 | Active | 4.0 | | 2023-05-18 |
| Final Fantasy XIII - Psicom | Masashi Hamauzu (浜渦 正志) | 1:02 | Active | 3.0 | | 2021-12-18 |
| Final Fantasy XIII - Ragnarok | Masashi Hamauzu (浜渦 正志) | 3:46 | Active | | | 2023-05-03 |
| Final Fantasy XIII - Saber's Edge | Masashi Hamauzu (浜渦 正志) | 3:13 | Active | 4.8 | | 2023-09-19 |
| Final Fantasy XIII - Sazh's Theme | Masashi Hamauzu (浜渦 正志) | 3:25 | Active | 3.0 | | 2020-11-16 |
| Final Fantasy XIII - Separate Paths | Masashi Hamauzu (浜渦 正志) | 2:41 | Active | 3.0 | | 2021-12-05 |
| Final Fantasy XIII - Serah's Theme | Frances Maya (フランシス マヤ) , Masashi Hamauzu (浜渦 正志) | 1:29 | Active | 4.0 | | 2020-10-25 |
| Final Fantasy XIII - Setting You Free | Masashi Hamauzu (浜渦 正志) | 2:16 | Active | | | 2020-12-13 |
| Final Fantasy XIII - Sinful Hope | Masashi Hamauzu (浜渦 正志) | 3:44 | Active | | | 2020-12-13 |
| Final Fantasy XIII - Snow's Theme | Masashi Hamauzu (浜渦 正志) | 3:47 | Active | 4.0 | | 2023-08-03 |
| Final Fantasy XIII - Start Your Engines | Masashi Hamauzu (浜渦 正志) | 3:22 | Active | 5.0 | | 2023-02-17 |
| Final Fantasy XIII - Sulyya Springs | Masashi Hamauzu (浜渦 正志) , Mina (Mina Sakai) | 3:24 | Active | 4.0 | | 2023-06-06 |
| Final Fantasy XIII - Sustained by Hate | Masashi Hamauzu (浜渦 正志) | 2:38 | Active | 5.0 | | 2022-07-24 |
| Final Fantasy XIII - Taejin's Tower | Masashi Hamauzu (浜渦 正志) | 3:08 | Active | 3.5 | | 2023-04-24 |
| Final Fantasy XIII - Tension in the Air | Masashi Hamauzu (浜渦 正志) | 3:28 | Active | 4.0 | | 2021-07-09 |
| Final Fantasy XIII - Terra Incognita | Masashi Hamauzu (浜渦 正志) | 2:18 | Active | | | 2022-12-29 |
| Final Fantasy XIII - Test of the L'Cie | Masashi Hamauzu (浜渦 正志) | 2:22 | Active | 5.0 | | 2023-02-03 |
| Final Fantasy XIII - The Archylte Steppe | Masashi Hamauzu (浜渦 正志) | 4:24 | Active | | | 2021-04-21 |
| Final Fantasy XIII - The Cradle Will Fall | Masashi Hamauzu (浜渦 正志) | 3:58 | Active | 3.0 | | 2021-11-06 |
| Final Fantasy XIII - The Final Stage | Masashi Hamauzu (浜渦 正志) | 0:42 | Active | 2.0 | | 2022-01-07 |
| Final Fantasy XIII - The Gapra Whitewood | Masashi Hamauzu (浜渦 正志) , Mina (Mina Sakai) | 2:45 | Active | 3.0 | | 2023-08-18 |
| Final Fantasy XIII - The Hanging Edge | Masashi Hamauzu (浜渦 正志) | 3:25 | Active | | | 2023-06-06 |
| Final Fantasy XIII - The Pompa Sancta | Masashi Hamauzu (浜渦 正志) | 2:11 | Active | 4.0 | | 2023-05-16 |
| Final Fantasy XIII - The Pulse Fal'Cie | Masashi Hamauzu (浜渦 正志) | 1:13 | Active | 4.0 | | 2023-08-08 |
| Final Fantasy XIII - The Pulse L'Cie (I) | Masashi Hamauzu (浜渦 正志) | 1:37 | Active | | | 2021-08-06 |
| Final Fantasy XIII - The Pulse L'Cie (II) | Masashi Hamauzu (浜渦 正志) | 4:12 | Active | 4.0 | | 2022-01-24 |
| Final Fantasy XIII - The Road Home | Masashi Hamauzu (浜渦 正志) | 1:06 | Active | | | 2022-01-15 |
| Final Fantasy XIII - The Sunleth Waterscape | Frances Maya (フランシス マヤ) , Masashi Hamauzu (浜渦 正志) | 3:46 | Active | 5.0 | | 2023-09-11 |
| Final Fantasy XIII - The Thirteenth Day | Masashi Hamauzu (浜渦 正志) | 0:53 | Active | 3.0 | | 2023-01-01 |
| Final Fantasy XIII - The Vestige | Masashi Hamauzu (浜渦 正志) | 2:48 | Active | 4.0 | | 2021-05-21 |
| Final Fantasy XIII - The Vile Peaks | Masashi Hamauzu (浜渦 正志) | 3:02 | Active | 3.0 | | 2023-09-03 |
| Final Fantasy XIII - The Warpath Home | Masashi Hamauzu (浜渦 正志) | 3:32 | Active | | | 2020-12-14 |
| Final Fantasy XIII - The Yaschas Massif | Masashi Hamauzu (浜渦 正志) | 2:10 | Active | 5.0 | | 2023-07-26 |
| Final Fantasy XIII - This Is Your Home | Masashi Hamauzu (浜渦 正志) | 2:16 | Active | 3.0 | | 2023-04-04 |
| Final Fantasy XIII - Those for the Purge | Masashi Hamauzu (浜渦 正志) | 3:04 | Active | 2.0 | | 2023-04-02 |
| Final Fantasy XIII - To Hunt L'Cie | Masashi Hamauzu (浜渦 正志) | 2:40 | Active | 5.0 | | 2021-12-19 |
| Final Fantasy XIII - Vanille's Theme | Masashi Hamauzu (浜渦 正志) | 2:59 | Active | 5.0 | | 2022-02-01 |
| Final Fantasy XIII - Will to Fight | Masashi Hamauzu (浜渦 正志) , Mina (Mina Sakai) | 4:20 | Active | 5.0 | | 2023-03-24 |
| Hard Corps Uprising - Common Alert | Daisuke Ishiwatari (石渡 太輔) | 2:14 | Active | 4.4 | | 2023-07-03 |
| Hard Corps Uprising - Common Boss (Middle) | Daisuke Ishiwatari (石渡 太輔) | 4:21 | Active | 3.5 | | 2023-09-26 |
| Hard Corps Uprising - Common Boss (Mini) | Daisuke Ishiwatari (石渡 太輔) | 4:08 | Active | 3.5 | | 2023-09-16 |
| Hard Corps Uprising - Ending | Daisuke Ishiwatari (石渡 太輔) | 5:18 | Active | 3.0 | | 2021-08-21 |
| Hard Corps Uprising - Game Over | Daisuke Ishiwatari (石渡 太輔) | 0:09 | Active | 1.0 | | 2022-05-28 |
| Hard Corps Uprising - Loading | Daisuke Ishiwatari (石渡 太輔) | 1:34 | Active | 2.0 | | 2023-08-10 |
| Hard Corps Uprising - Main Menu | Daisuke Ishiwatari (石渡 太輔) | 2:45 | Active | 1.0 | | 2023-05-30 |
| Hard Corps Uprising - Opening | Daisuke Ishiwatari (石渡 太輔) | 1:33 | Active | 2.5 | | 2023-05-13 |
| Hard Corps Uprising - Ranking | Daisuke Ishiwatari (石渡 太輔) | 1:40 | Active | 3.0 | | 2023-03-05 |
| Hard Corps Uprising - Stage 1: Desert | Daisuke Ishiwatari (石渡 太輔) | 4:14 | Active | 2.5 | | 2021-12-16 |
| Hard Corps Uprising - Stage 1: Origins (Extra) | Daisuke Ishiwatari (石渡 太輔) | 3:25 | Active | 3.5 | | 2023-09-10 |
| Hard Corps Uprising - Stage 2: Boss | Daisuke Ishiwatari (石渡 太輔) | 3:46 | Active | 2.5 | | 2022-06-11 |
| Hard Corps Uprising - Stage 2: Jungle | Daisuke Ishiwatari (石渡 太輔) | 4:54 | Active | 2.5 | | 2021-05-08 |
| Hard Corps Uprising - Stage 3: Ruins | Daisuke Ishiwatari (石渡 太輔) | 5:15 | Active | 3.3 | | 2023-08-12 |
| Hard Corps Uprising - Stage 4: Capital Highway | Daisuke Ishiwatari (石渡 太輔) | 3:59 | Active | 3.6 | | 2023-08-08 |
| Hard Corps Uprising - Stage 5: Capital Laboratory | Daisuke Ishiwatari (石渡 太輔) | 5:06 | Active | 3.3 | | 2023-09-05 |
| Hard Corps Uprising - Stage 5: Capital Laboratory (Alert) | Daisuke Ishiwatari (石渡 太輔) | 2:14 | Active | 3.7 | | 2023-06-18 |
| Hard Corps Uprising - Stage 5: Capital Laboratory (Stealth) | Daisuke Ishiwatari (石渡 太輔) | 4:06 | Active | 2.5 | | 2022-11-06 |
| Hard Corps Uprising - Stage 6: Capital Railway | Daisuke Ishiwatari (石渡 太輔) | 3:56 | Active | 3.3 | | 2023-05-11 |
| Hard Corps Uprising - Stage 7: Boss | Daisuke Ishiwatari (石渡 太輔) | 3:44 | Active | 1.0 | | 2022-04-09 |
| Hard Corps Uprising - Stage 7: Boss (Chasing) | Daisuke Ishiwatari (石渡 太輔) | 3:38 | Active | 3.8 | | 2023-08-07 |
| Hard Corps Uprising - Stage 7: Boss (Rival, Chasing) | Daisuke Ishiwatari (石渡 太輔) | 3:40 | Active | 3.3 | | 2023-06-12 |
| Hard Corps Uprising - Stage 7: Capital Tower Building | Daisuke Ishiwatari (石渡 太輔) | 5:37 | Active | 1.5 | | 2020-11-01 |
| Hard Corps Uprising - Stage 8 - Battleship | Daisuke Ishiwatari (石渡 太輔) | 6:29 | Rejected | 1.0 | | |
| Hard Corps Uprising - Stage 8: Boss | Daisuke Ishiwatari (石渡 太輔) | 4:52 | Active | 1.0 | | 2023-02-18 |
| Hard Corps Uprising - Stage 8: Final Boss | Daisuke Ishiwatari (石渡 太輔) | 4:55 | Active | 2.5 | | 2023-01-01 |
| Hard Corps Uprising - Stage Clear | Daisuke Ishiwatari (石渡 太輔) | 0:08 | Active | 1.0 | | 2023-07-04 |
| Hard Corps Uprising - Title | Daisuke Ishiwatari (石渡 太輔) | 0:10 | Active | 1.0 | | 2022-12-08 |
| Killzone 3 - 'I'll Get You Home' | Scavenger (Joris de Man) | 2:02 | Active | 4.0 | | 2022-12-24 |
| Killzone 3 - 'What If I Just Killed Everyone?' | Scavenger (Joris de Man) | 2:39 | Active | | | 2023-09-05 |
| Killzone 3 - 'You've Developed Energy Shielding' | Scavenger (Joris de Man) | 4:01 | Active | 4.0 | | 2020-12-20 |
| Killzone 3 - An Unwelcome Discovery | Scavenger (Joris de Man) | 1:37 | Active | | | 2023-06-25 |
| Killzone 3 - Birth of War: Dies Irae | Scavenger (Joris de Man) | 2:14 | Active | 4.0 | | 2022-11-25 |
| Killzone 3 - Frozen Shores Rescue | Scavenger (Joris de Man) | 2:55 | Active | 5.0 | | 2023-04-14 |
| Killzone 3 - Frozen Shores: Enter the Wasp | Scavenger (Joris de Man) | 1:32 | Active | | | 2021-11-01 |
| Killzone 3 - Frozen Shores: Escape on the Tram | Scavenger (Joris de Man) | 1:10 | Active | | | 2020-12-10 |
| Killzone 3 - Frozen Shores: Flight of the Intruder | Scavenger (Joris de Man) | 2:50 | Active | 5.0 | | 2022-02-09 |
| Killzone 3 - Frozen Shores: Jetpack Flight | Scavenger (Joris de Man) | 0:42 | Active | | | 2022-01-31 |
| Killzone 3 - Frozen Shores: The Bomb Is Set | Scavenger (Joris de Man) | 2:04 | Active | 2.0 | | 2021-12-08 |
| Killzone 3 - Helghan Jungle: Darkness | Scavenger (Joris de Man) | 1:58 | Active | 4.0 | | 2023-07-27 |
| Killzone 3 - Helghan Jungle: Helghast Spotted! | Scavenger (Joris de Man) | 1:43 | Active | | | 2023-05-31 |
| Killzone 3 - Helghan Jungle: I Am the Hunted | Scavenger (Joris de Man) | 2:01 | Active | 4.0 | | 2022-08-13 |
| Killzone 3 - Helghan Jungle: The Horror, the Horror! | Scavenger (Joris de Man) | 1:36 | Active | 2.5 | | 2023-07-26 |
| Killzone 3 - Just a Moment Ago | Scavenger (Joris de Man) | 3:57 | Active | 4.0 | | 2021-05-04 |
| Killzone 3 - Main Menu: And Ever We Fight On | Scavenger (Joris de Man) | 2:51 | Active | 5.0 | | 2023-06-13 |
| Killzone 3 - Moving Will Kill You | Scavenger (Joris de Man) | 1:47 | Active | | | 2023-06-01 |
| Killzone 3 - No Exit Strategy | Scavenger (Joris de Man) | 1:29 | Active | | | 2023-06-21 |
| Killzone 3 - Pyrrhus Outskirts: Fortification | Scavenger (Joris de Man) | 1:41 | Active | 4.0 | | 2021-07-10 |
| Killzone 3 - Pyrrhus Outskirts: Grab That Minigun! | Scavenger (Joris de Man) | 3:00 | Active | 4.0 | | 2021-11-28 |
| Killzone 3 - Pyrrhus Outskirts: Hammer | Scavenger (Joris de Man) | 2:30 | Active | 5.0 | | 2020-11-19 |
| Killzone 3 - Pyrrhus Outskirts: Sniper Crossfire | Scavenger (Joris de Man) | 2:28 | Active | 4.0 | | 2020-12-16 |
| Killzone 3 - Pyrrhus Outskirts: The Boys Are Back in Action | Scavenger (Joris de Man) | 3:28 | Active | 4.0 | | 2023-08-18 |
| Killzone 3 - Stahl Almost Gets Away | Scavenger (Joris de Man) | 2:35 | Active | 3.7 | | 2023-06-17 |
| Killzone 3 - Stahl and Orlock Square Off | Scavenger (Joris de Man) | 2:21 | Active | 4.5 | | 2023-04-10 |
| Killzone 3 - Stahl Arms: Battle My Own | Scavenger (Joris de Man) | 2:59 | Active | 3.0 | | 2022-09-13 |
| Killzone 3 - Stahl Arms: Exploring Stahl Arms | Scavenger (Joris de Man) | 2:20 | Active | 4.0 | | 2022-11-05 |
| Killzone 3 - Stahl Arms: The Icesaw Chase | Scavenger (Joris de Man) | 4:30 | Active | 3.5 | | 2021-05-08 |
| Killzone 3 - The Scrapyard: Don't Mess with the MAWLR | Scavenger (Joris de Man) | 4:13 | Active | 4.1 | | 2023-08-30 |
| Killzone 3 - The Scrapyard: Fight on a Crane | Scavenger (Joris de Man) | 4:04 | Active | 3.0 | | 2021-12-16 |
| Killzone 3 - The Scrapyard: The Heavy Returns | Scavenger (Joris de Man) | 0:24 | Active | 4.0 | | 2023-09-12 |
| Killzone 3 - The Scrapyard: The Mobile Factory | Scavenger (Joris de Man) | 2:50 | Active | 5.0 | | 2023-02-19 |
| Killzone 3 - Unfair Fight & Captured | Scavenger (Joris de Man) | 1:55 | Active | | | 2022-10-01 |
| L.A. Noire - (I Always Kill) The Things I Love | Andrew Hale , Claudia Brücken , Simon Hale | 2:55 | Active | 2.0 | | 2020-11-15 |
| L.A. Noire - Fall from Grace, Pt. 1 | Andrew Hale , Simon Hale | 1:44 | Active | | | 2021-12-04 |
| L.A. Noire - Fall from Grace, Pt. 2 | Andrew Hale , Simon Hale | 1:13 | Active | 4.0 | | 2021-11-28 |
| L.A. Noire - Guilty | Andrew Hale , Claudia Brücken , Simon Hale | 2:14 | Active | 3.2 | | 2023-08-09 |
| L.A. Noire - J.J. | Andrew Hale | 1:30 | Active | 3.0 | | 2023-06-12 |
| L.A. Noire - Main Theme | Andrew Hale | 3:06 | Active | 3.8 | | 2023-08-07 |
| L.A. Noire - Main Theme (Piano & Trumpet) | Andrew Hale | 1:25 | Active | 4.5 | | 2023-06-13 |
| L.A. Noire - Minor 9th | Andrew Hale | 2:50 | Active | 4.0 | | 2023-04-09 |
| L.A. Noire - New Beginning, Pt. 1 | Andrew Hale , Simon Hale | 1:07 | Active | 5.0 | | 2023-05-24 |
| L.A. Noire - New Beginning, Pt. 2 | Andrew Hale , Simon Hale | 1:25 | Active | 5.0 | | 2023-09-27 |
| L.A. Noire - New Beginning, Pt. 3 | Andrew Hale , Simon Hale | 3:18 | Active | 3.0 | | 2021-09-10 |
| L.A. Noire - Noire Clarinet | Andrew Hale | 2:33 | Active | 4.7 | | 2023-08-22 |
| L.A. Noire - Pride of the Job, Pt. 1 | Andrew Hale , Simon Hale | 2:38 | Active | 2.3 | | 2023-09-07 |
| L.A. Noire - Pride of the Job, Pt. 2 | Andrew Hale , Simon Hale | 2:32 | Active | 4.0 | | 2020-12-18 |
| L.A. Noire - Redemption, Pt. 1 | Andrew Hale , Simon Hale | 1:07 | Active | 4.0 | | 2022-06-04 |
| L.A. Noire - Redemption, Pt. 2 | Andrew Hale , Simon Hale | 2:28 | Active | | | 2023-03-01 |
| L.A. Noire - Redemption, Pt. 3 | Andrew Hale , Simon Hale | 1:21 | Active | | | 2023-08-01 |
| L.A. Noire - Slow Brood | Andrew Hale , Simon Hale | 2:20 | Active | 4.0 | | 2023-05-26 |
| L.A. Noire - Temptation, Pt. 1 | Andrew Hale , Simon Hale | 1:14 | Active | | | 2022-05-01 |
| L.A. Noire - Temptation, Pt. 2 | Andrew Hale , Simon Hale | 2:13 | Active | | | 2023-09-13 |
| L.A. Noire - Temptation, Pt. 3 | Andrew Hale , Simon Hale | 0:52 | Active | | | 2022-02-08 |
| L.A. Noire - Torched Song | Andrew Hale , Claudia Brücken , Simon Hale | 4:12 | Active | 4.1 | | 2023-07-08 |
| L.A. Noire - Use and Abuse, Pt. 1 | Andrew Hale , Simon Hale | 1:26 | Active | 2.0 | | 2022-01-02 |
| L.A. Noire - Use and Abuse, Pt. 2 | Andrew Hale , Simon Hale | 0:49 | Active | 3.0 | | 2023-07-07 |
| L.A. Noire - Use and Abuse, Pt. 3 | Andrew Hale , Simon Hale | 0:38 | Active | | | 2023-06-24 |
| L.A. Noire - Use and Abuse, Pt. 4 | Andrew Hale , Simon Hale | 1:21 | Active | 4.0 | | 2022-12-10 |
| Metal Gear Solid 4: Guns of the Patriots - A Rebellion Rests | Kazuma Jinnouchi (陣内 一真) , Kobo (Shuichi Kobori) , Nobuko Toda (戸田 信子) | 2:46 | Active | 5.0 | | 2023-01-18 |
| Metal Gear Solid 4: Guns of the Patriots - At Dawn | Yoshitaka Suzuki (鈴木 克崇) | 3:31 | Active | 4.0 | | 2023-06-18 |
| Metal Gear Solid 4: Guns of the Patriots - Atonement | Kazuma Jinnouchi (陣内 一真) , Kobo (Shuichi Kobori) , Nobuko Toda (戸田 信子) | 4:49 | Active | 4.3 | | 2023-08-29 |
| Metal Gear Solid 4: Guns of the Patriots - BB Corps | Harry Gregson-Williams | 3:43 | Active | 4.0 | | 2023-09-29 |
| Metal Gear Solid 4: Guns of the Patriots - Breakthrough | Harry Gregson-Williams | 3:09 | Active | 5.0 | | 2023-08-18 |
| Metal Gear Solid 4: Guns of the Patriots - Call Me Hal | Kazuma Jinnouchi (陣内 一真) , Kobo (Shuichi Kobori) , Nobuko Toda (戸田 信子) | 3:02 | Active | 4.0 | | 2021-09-25 |
| Metal Gear Solid 4: Guns of the Patriots - Cold Memories | Kazuma Jinnouchi (陣内 一真) , Kobo (Shuichi Kobori) , Nobuko Toda (戸田 信子) | 1:37 | Active | 4.0 | | 2023-07-06 |
| Metal Gear Solid 4: Guns of the Patriots - Confrontation | Yoshitaka Suzuki (鈴木 克崇) | 3:10 | Active | 4.0 | | 2022-03-06 |
| Metal Gear Solid 4: Guns of the Patriots - Crying Wolf | Kazuma Jinnouchi (陣内 一真) , Kobo (Shuichi Kobori) , Nobuko Toda (戸田 信子) | 2:11 | Active | 3.8 | | 2023-06-17 |
| Metal Gear Solid 4: Guns of the Patriots - Desperate Chase | Harry Gregson-Williams | 2:58 | Active | 5.0 | | 2023-06-13 |
| Metal Gear Solid 4: Guns of the Patriots - Drebin 893 | Kazuma Jinnouchi (陣内 一真) , Kobo (Shuichi Kobori) , Nobuko Toda (戸田 信子) | 3:29 | Active | 4.0 | | 2023-08-10 |
| Metal Gear Solid 4: Guns of the Patriots - Endless Pain | Harry Gregson-Williams | 2:46 | Active | 5.0 | | 2022-01-19 |
| Metal Gear Solid 4: Guns of the Patriots - Everything Begins | Kazuma Jinnouchi (陣内 一真) , Kobo (Shuichi Kobori) , Nobuko Toda (戸田 信子) , Yoshitaka Suzuki (鈴木 克崇) | 4:25 | Active | 5.0 | | 2022-04-01 |
| Metal Gear Solid 4: Guns of the Patriots - Everything Ends | Norihiko Hibino , Takahiro Izutani (イズタニタカヒロ) | 2:31 | Active | 4.0 | | 2023-02-20 |
| Metal Gear Solid 4: Guns of the Patriots - Father & Son | Harry Gregson-Williams | 2:31 | Active | 4.8 | | 2023-06-08 |
| Metal Gear Solid 4: Guns of the Patriots - For Liberty | Kazuma Jinnouchi (陣内 一真) , Kobo (Shuichi Kobori) , Nobuko Toda (戸田 信子) | 1:58 | Active | | | 2023-02-17 |
| Metal Gear Solid 4: Guns of the Patriots - Forced Hand | Kazuma Jinnouchi (陣内 一真) , Kobo (Shuichi Kobori) , Nobuko Toda (戸田 信子) | 2:09 | Active | 4.0 | | 2020-12-16 |
| Metal Gear Solid 4: Guns of the Patriots - Full Circle | Norihiko Hibino , Takahiro Izutani (イズタニタカヒロ) | 1:38 | Active | 4.0 | | 2023-08-16 |
| Metal Gear Solid 4: Guns of the Patriots - Gekko | Harry Gregson-Williams | 2:53 | Active | 4.3 | | 2023-07-21 |
| Metal Gear Solid 4: Guns of the Patriots - Great Escape | Kazuma Jinnouchi (陣内 一真) , Kobo (Shuichi Kobori) , Nobuko Toda (戸田 信子) | 2:15 | Active | 4.0 | | 2023-08-09 |
| Metal Gear Solid 4: Guns of the Patriots - Guns of the Patriots | Harry Gregson-Williams | 4:07 | Active | 4.0 | | 2021-11-07 |
| Metal Gear Solid 4: Guns of the Patriots - Heaven Troopers | Kazuma Jinnouchi (陣内 一真) , Kobo (Shuichi Kobori) , Nobuko Toda (戸田 信子) | 3:40 | Active | 4.5 | | 2021-11-27 |
| Metal Gear Solid 4: Guns of the Patriots - Infinite Loop | Kazuma Jinnouchi (陣内 一真) , Kobo (Shuichi Kobori) , Nobuko Toda (戸田 信子) | 3:38 | Active | | | 2023-06-17 |
| Metal Gear Solid 4: Guns of the Patriots - Laughing Octopus | Kazuma Jinnouchi (陣内 一真) , Kobo (Shuichi Kobori) , Nobuko Toda (戸田 信子) | 2:20 | Active | 3.5 | | 2022-08-02 |
| Metal Gear Solid 4: Guns of the Patriots - Love Theme | Jackie Presti , Nobuko Toda (戸田 信子) | 7:09 | Active | 4.0 | | 2022-02-25 |
| Metal Gear Solid 4: Guns of the Patriots - Metal Gear Saga | Harry Gregson-Williams | 4:19 | Active | 4.2 | | 2023-09-01 |
| Metal Gear Solid 4: Guns of the Patriots - Midnight Shadow | Harry Gregson-Williams | 2:59 | Active | 5.0 | | 2023-09-29 |
| Metal Gear Solid 4: Guns of the Patriots - Mobs Alive | Harry Gregson-Williams | 3:24 | Active | 5.0 | | 2023-09-08 |
| Metal Gear Solid 4: Guns of the Patriots - Next-Gen Control | Harry Gregson-Williams | 4:41 | Active | 4.0 | | 2023-09-20 |
| Metal Gear Solid 4: Guns of the Patriots - No Place to Hide | Kazuma Jinnouchi (陣内 一真) , Kobo (Shuichi Kobori) , Nobuko Toda (戸田 信子) | 2:38 | Active | 4.0 | | 2023-08-03 |
| Metal Gear Solid 4: Guns of the Patriots - Old Snake | Harry Gregson-Williams | 3:53 | Active | 4.4 | | 2023-08-24 |
| Metal Gear Solid 4: Guns of the Patriots - One More Reboot | Kazuma Jinnouchi (陣内 一真) , Kobo (Shuichi Kobori) , Nobuko Toda (戸田 信子) | 1:42 | Active | 5.0 | | 2023-07-11 |
| Metal Gear Solid 4: Guns of the Patriots - Paradise Lost | Kazuma Jinnouchi (陣内 一真) , Kobo (Shuichi Kobori) , Nobuko Toda (戸田 信子) | 4:14 | Active | 4.0 | | 2023-08-08 |
| Metal Gear Solid 4: Guns of the Patriots - Raging Raven | Kazuma Jinnouchi (陣内 一真) , Kobo (Shuichi Kobori) , Nobuko Toda (戸田 信子) | 2:35 | Active | 4.3 | | 2023-07-20 |
| Metal Gear Solid 4: Guns of the Patriots - Screaming Mantis | Akihiro Honda (本田 晃弘) , Kobo (Shuichi Kobori) , Nobuko Toda (戸田 信子) | 2:40 | Active | 3.7 | | 2023-07-27 |
| Metal Gear Solid 4: Guns of the Patriots - Sin | Kazuma Jinnouchi (陣内 一真) , Kobo (Shuichi Kobori) , Nobuko Toda (戸田 信子) | 1:46 | Active | 3.0 | | 2022-12-08 |
| Metal Gear Solid 4: Guns of the Patriots - Sorrow | Harry Gregson-Williams | 3:53 | Active | 5.0 | | 2023-07-16 |
| Metal Gear Solid 4: Guns of the Patriots - Surrounded | Kazuma Jinnouchi (陣内 一真) , Nobuko Toda (戸田 信子) , Souta Fujimori (藤森 崇多) | 1:59 | Active | | | 2022-12-12 |
| Metal Gear Solid 4: Guns of the Patriots - The Hunted | Kazuma Jinnouchi (陣内 一真) , Kobo (Shuichi Kobori) , Nobuko Toda (戸田 信子) | 2:01 | Active | 2.0 | | 2023-07-16 |
| Metal Gear Solid 4: Guns of the Patriots - The Hunter | Kazuma Jinnouchi (陣内 一真) , Nobuko Toda (戸田 信子) , Souta Fujimori (藤森 崇多) | 2:06 | Active | 5.0 | | 2023-09-04 |
| Metal Gear Solid 4: Guns of the Patriots - Under Curfew | Kazuma Jinnouchi (陣内 一真) , Kobo (Shuichi Kobori) , Nobuko Toda (戸田 信子) | 1:51 | Active | 5.0 | | 2023-06-07 |
| Metal Gear Solid 4: Guns of the Patriots - Unmanned Army | Kazuma Jinnouchi (陣内 一真) , Kobo (Shuichi Kobori) , Nobuko Toda (戸田 信子) | 1:28 | Active | 3.0 | | 2021-04-22 |
| Metal Gear Solid 4: Guns of the Patriots - Violent Ceasefire | Yoshitaka Suzuki (鈴木 克崇) | 2:08 | Active | | | 2021-10-24 |
| Metal Gear Solid 4: Guns of the Patriots - Vista Mansion | Kazuma Jinnouchi (陣内 一真) , Kobo (Shuichi Kobori) , Nobuko Toda (戸田 信子) | 1:32 | Active | 5.0 | | 2023-07-22 |
| Metal Gear Solid 4: Guns of the Patriots - War Zone | Kazuma Jinnouchi (陣内 一真) , Kobo (Shuichi Kobori) , Nobuko Toda (戸田 信子) | 1:28 | Active | | | 2023-03-13 |
| Metal Gear Solid 4: Guns of the Patriots - White Blood | Harry Gregson-Williams | 2:50 | Active | 4.0 | | 2021-06-27 |
| Need for Speed: The Run - Apex | Brian Tyler | 2:57 | Active | 3.7 | | 2023-09-26 |
| Need for Speed: The Run - Blurred | Brian Tyler | 2:21 | Active | 5.0 | | 2020-11-23 |
| Need for Speed: The Run - Choker | Brian Tyler | 2:09 | Active | 5.0 | | 2023-01-06 |
| Need for Speed: The Run - Crossover | Brian Tyler | 3:08 | Active | 4.0 | | 2021-11-18 |
| Need for Speed: The Run - Crusher | Brian Tyler | 2:58 | Active | 3.0 | | 2023-07-29 |
| Need for Speed: The Run - Fail | Brian Tyler | 3:11 | Active | 5.0 | | 2022-12-26 |
| Need for Speed: The Run - Front End | Brian Tyler | 2:04 | Active | 4.0 | | 2022-04-12 |
| Need for Speed: The Run - Front End American | Brian Tyler | 1:27 | Active | 5.0 | | 2023-06-17 |
| Need for Speed: The Run - Gas Station Dust | Brian Tyler | 1:22 | Active | 3.0 | | 2023-07-04 |
| Need for Speed: The Run - Insane Face | Brian Tyler | 3:47 | Active | 5.0 | | 2020-12-17 |
| Need for Speed: The Run - Into the Warehouse | Brian Tyler | 1:45 | Active | 5.0 | | 2021-10-23 |
| Need for Speed: The Run - Knife Edge | Brian Tyler | 2:58 | Active | 4.0 | | 2022-04-15 |
| Need for Speed: The Run - Need for Speed: The Run | Brian Tyler | 4:46 | Active | | | 2023-04-24 |
| Need for Speed: The Run - Overunder | Brian Tyler | 3:03 | Active | | | 2023-05-15 |
| Need for Speed: The Run - Palms of Sweat | Brian Tyler | 2:48 | Active | 4.0 | | 2022-08-25 |
| Need for Speed: The Run - Rapid Formation | Brian Tyler | 3:05 | Active | 4.3 | | 2023-08-12 |
| Need for Speed: The Run - Rival | Brian Tyler | 0:54 | Active | | | 2021-10-03 |
| Need for Speed: The Run - Scrappy Rubber | Brian Tyler | 1:34 | Active | 5.0 | | 2021-08-18 |
| Need for Speed: The Run - Sicker Than You | Brian Tyler | 3:14 | Active | 4.8 | | 2023-07-24 |
| Need for Speed: The Run - Tear Down | Brian Tyler | 1:05 | Active | | | 2021-12-29 |
| Need for Speed: The Run - That Is Impossible | Brian Tyler | 6:17 | Active | 4.0 | | 2023-01-13 |
| Need for Speed: The Run - The Journey Continues | Brian Tyler | 2:05 | Active | 4.0 | | 2023-09-11 |
| Need for Speed: The Run - The Limit | Brian Tyler | 2:14 | Active | 5.0 | | 2023-03-24 |
| Need for Speed: The Run - The Meet | Brian Tyler | 1:17 | Active | | | 2022-10-24 |
| Need for Speed: The Run - Think Thrice | Brian Tyler | 2:57 | Active | 5.0 | | 2023-08-06 |
| Need for Speed: The Run - Win | Brian Tyler | 1:47 | Active | | | 2021-05-04 |
| Red Dead Redemption - (Theme from) Red Dead Redemption | Bill Elm , Woody Jackson | 5:42 | Active | 3.5 | | 2020-11-01 |
| Red Dead Redemption - Already Dead | Bill Elm , Woody Jackson | 1:32 | Active | | | 2022-02-20 |
| Red Dead Redemption - Born Unto Trouble | Bill Elm , Woody Jackson | 3:15 | Active | 3.0 | | 2020-11-14 |
| Red Dead Redemption - Dead End Alley | Bill Elm , Woody Jackson | 2:08 | Active | 5.0 | | 2023-04-07 |
| Red Dead Redemption - El Club de los Cuerpos | Bill Elm , Woody Jackson | 6:26 | Active | 4.0 | | 2022-12-20 |
| Red Dead Redemption - Estancia | Bill Elm , Woody Jackson | 2:02 | Active | 4.0 | | 2022-09-09 |
| Red Dead Redemption - Exodus in America | Bill Elm , Woody Jackson | 5:02 | Active | 3.5 | | 2022-09-17 |
| Red Dead Redemption - Gunplay | Bill Elm , Woody Jackson | 1:28 | Active | 2.0 | | 2022-06-23 |
| Red Dead Redemption - Horseplay | Bill Elm , Woody Jackson | 3:51 | Active | 4.0 | | 2019-06-15 |
| Red Dead Redemption - Luz y Sombra | Bill Elm , Woody Jackson | 5:24 | Active | 3.5 | | 2020-09-30 |
| Red Dead Redemption - Muertos Rojos (aka The Gunslinger's Lament) | Bill Elm , Woody Jackson | 5:54 | Active | 3.0 | | 2023-03-28 |
| Red Dead Redemption - Redemption in Dub | Bill Elm , Woody Jackson | 2:11 | Active | 3.0 | | 2022-11-23 |
| Red Dead Redemption - The Outlaw's Return | Bill Elm , Woody Jackson | 6:57 | Active | 4.0 | | 2023-04-05 |
| Red Dead Redemption - The Shootist | Bill Elm , Woody Jackson | 4:21 | Active | 3.0 | | 2020-12-15 |
| Red Dead Redemption - Triggernometry | Bill Elm , Woody Jackson | 5:28 | Active | 2.5 | | 2021-12-18 |
| Red Faction: Guerrilla - Credits | The Skywalker Symphony Orchestra , Tim Wynn | 9:17 | Active | 5.0 | | 2020-12-14 |
| Red Faction: Guerrilla - Main Menu | The Skywalker Symphony Orchestra , Tim Wynn | 1:49 | Active | 5.0 | | 2022-02-05 |
| Senjou no Valkyria: Gallian Chronicles - Ano Hi no Omoide | Hitoshi Sakimoto (崎元 仁) | 3:03 | Active | 5.0 | | 2020-12-13 |
| Senjou no Valkyria: Gallian Chronicles - Ashita e no Kinou | Hitoshi Sakimoto (崎元 仁) | 3:45 | Active | 5.0 | | 2023-08-08 |
| Senjou no Valkyria: Gallian Chronicles - Dai 7 Shoutai no Nichijou | Hitoshi Sakimoto (崎元 仁) | 2:17 | Active | | | 2023-07-03 |
| Senjou no Valkyria: Gallian Chronicles - Daidanen | Hitoshi Sakimoto (崎元 仁) | 2:20 | Active | 4.0 | | 2022-11-04 |
| Senjou no Valkyria: Gallian Chronicles - Darcus Hitotachi | Hitoshi Sakimoto (崎元 仁) | 2:48 | Active | 4.0 | | 2020-10-24 |
| Senjou no Valkyria: Gallian Chronicles - Donna ni Tookutemo... (Game Ending Version) | Chokkaku , Daisuke Kawaguchi , Juju (ジュジュ) | 4:36 | Active | 3.5 | | 2023-08-26 |
| Senjou no Valkyria: Gallian Chronicles - Donna ni Tookutemo... (Game Opening Version) | Chokkaku , Daisuke Kawaguchi , Juju (ジュジュ) | 2:09 | Active | 4.0 | | 2023-07-22 |
| Senjou no Valkyria: Gallian Chronicles - Gallia Sensenki | Hitoshi Sakimoto (崎元 仁) | 3:17 | Active | 4.0 | | 2022-04-27 |
| Senjou no Valkyria: Gallian Chronicles - Galliagun | Hitoshi Sakimoto (崎元 仁) | 2:57 | Active | 4.0 | | 2021-05-26 |
| Senjou no Valkyria: Gallian Chronicles - Gekisen | Hitoshi Sakimoto (崎元 仁) | 2:54 | Active | 4.5 | | 2023-09-29 |
| Senjou no Valkyria: Gallian Chronicles - Giyuugun Dai 7 Shoutai | Hitoshi Sakimoto (崎元 仁) | 2:03 | Active | 5.0 | | 2022-05-06 |
| Senjou no Valkyria: Gallian Chronicles - Haiboku | Hitoshi Sakimoto (崎元 仁) | 0:27 | Active | 4.0 | | 2022-09-20 |
| Senjou no Valkyria: Gallian Chronicles - Ichikai no Hate ni | Hitoshi Sakimoto (崎元 仁) | 3:08 | Active | 4.0 | | 2023-05-05 |
| Senjou no Valkyria: Gallian Chronicles - Inishie no Kioku | Hitoshi Sakimoto (崎元 仁) | 2:50 | Active | 2.0 | | 2021-03-07 |
| Senjou no Valkyria: Gallian Chronicles - Juurin Seshimono | Hitoshi Sakimoto (崎元 仁) | 2:29 | Active | 4.0 | | 2022-11-06 |
| Senjou no Valkyria: Gallian Chronicles - Kessen | Hitoshi Sakimoto (崎元 仁) | 2:58 | Active | 4.0 | | 2023-03-28 |
| Senjou no Valkyria: Gallian Chronicles - Kinkyuu Shirei | Hitoshi Sakimoto (崎元 仁) | 1:48 | Active | 4.0 | | 2021-08-24 |
| Senjou no Valkyria: Gallian Chronicles - Koubousen | Hitoshi Sakimoto (崎元 仁) | 2:47 | Active | 3.5 | | 2023-09-02 |
| Senjou no Valkyria: Gallian Chronicles - Kousen | Hitoshi Sakimoto (崎元 仁) | 1:49 | Active | | | 2023-01-22 |
| Senjou no Valkyria: Gallian Chronicles - Kunren no Hibi | Hitoshi Sakimoto (崎元 仁) | 1:49 | Active | | | 2023-07-24 |
| Senjou no Valkyria: Gallian Chronicles - Kusen | Hitoshi Sakimoto (崎元 仁) | 2:25 | Active | 5.0 | | 2022-07-17 |
| Senjou no Valkyria: Gallian Chronicles - Kuukyo Naru Samishisa | Hitoshi Sakimoto (崎元 仁) | 2:27 | Active | 5.0 | | 2021-10-09 |
| Senjou no Valkyria: Gallian Chronicles - Main Theme | Hitoshi Sakimoto (崎元 仁) | 3:30 | Active | 5.0 | | 2023-09-09 |
| Senjou no Valkyria: Gallian Chronicles - Maximilian | Hitoshi Sakimoto (崎元 仁) | 3:52 | Active | | | 2022-12-11 |
| Senjou no Valkyria: Gallian Chronicles - Nansen | Hitoshi Sakimoto (崎元 仁) | 3:24 | Active | 3.5 | | 2022-12-16 |
| Senjou no Valkyria: Gallian Chronicles - Randgriz no Machi | Hitoshi Sakimoto (崎元 仁) | 1:56 | Active | 3.0 | | 2023-09-15 |
| Senjou no Valkyria: Gallian Chronicles - Randgriz Taikouke | Hitoshi Sakimoto (崎元 仁) | 2:28 | Active | 4.0 | | 2023-07-02 |
| Senjou no Valkyria: Gallian Chronicles - Rikujou Senkan Marmot | Hitoshi Sakimoto (崎元 仁) | 1:44 | Active | 2.0 | | 2020-10-21 |
| Senjou no Valkyria: Gallian Chronicles - Ronkoukoushou | Hitoshi Sakimoto (崎元 仁) | 1:13 | Active | | | 2021-06-04 |
| Senjou no Valkyria: Gallian Chronicles - Saishuu Kessen | Hitoshi Sakimoto (崎元 仁) | 2:48 | Active | 4.0 | | 2023-05-09 |
| Senjou no Valkyria: Gallian Chronicles - Sakusen Shirei | Hitoshi Sakimoto (崎元 仁) | 2:43 | Active | | | 2021-12-23 |
| Senjou no Valkyria: Gallian Chronicles - Senjika no Europa | Hitoshi Sakimoto (崎元 仁) | 2:20 | Active | | | 2023-01-08 |
| Senjou no Valkyria: Gallian Chronicles - Serikuru Kiki | Hitoshi Sakimoto (崎元 仁) | 2:15 | Active | 4.0 | | 2023-09-16 |
| Senjou no Valkyria: Gallian Chronicles - Sessen | Hitoshi Sakimoto (崎元 仁) | 3:18 | Active | 5.0 | | 2021-11-22 |
| Senjou no Valkyria: Gallian Chronicles - Shigaisen | Hitoshi Sakimoto (崎元 仁) | 2:31 | Active | 4.0 | | 2022-07-27 |
| Senjou no Valkyria: Gallian Chronicles - Shizuka na Katarai | Hitoshi Sakimoto (崎元 仁) | 2:39 | Active | 4.0 | | 2020-10-15 |
| Senjou no Valkyria: Gallian Chronicles - Shusen | Hitoshi Sakimoto (崎元 仁) | 2:33 | Active | 3.0 | | 2023-02-03 |
| Senjou no Valkyria: Gallian Chronicles - Tairitsu no Kouzu | Hitoshi Sakimoto (崎元 仁) | 3:25 | Active | 4.0 | | 2023-06-05 |
| Senjou no Valkyria: Gallian Chronicles - Tenkokugun | Hitoshi Sakimoto (崎元 仁) | 3:24 | Active | 3.0 | | 2021-12-27 |
| Senjou no Valkyria: Gallian Chronicles - Title Main Theme | Hitoshi Sakimoto (崎元 仁) | 0:36 | Active | | | 2021-12-04 |
| Senjou no Valkyria: Gallian Chronicles - Uketsugareru Omoi | Hitoshi Sakimoto (崎元 仁) , Megumi Toyoguchi (豊口 めぐみ) | 3:13 | Active | 3.0 | | 2023-01-10 |
| Senjou no Valkyria: Gallian Chronicles - Uketsugareru Omoi (Piano Solo) | Hitoshi Sakimoto (崎元 仁) | 2:45 | Active | 4.0 | | 2023-02-12 |
| Senjou no Valkyria: Gallian Chronicles - Uketsugareta Mono | Hitoshi Sakimoto (崎元 仁) | 4:06 | Active | 5.0 | | 2023-08-28 |
| Senjou no Valkyria: Gallian Chronicles - Uruwashii Gallia | Hitoshi Sakimoto (崎元 仁) | 3:05 | Active | 5.0 | | 2022-02-05 |
| Senjou no Valkyria: Gallian Chronicles - Valkyria no Kakusei | Hitoshi Sakimoto (崎元 仁) | 2:37 | Active | 4.0 | | 2021-06-20 |
| Senjou no Valkyria: Gallian Chronicles - Valkyria no Yochou | Hitoshi Sakimoto (崎元 仁) | 3:54 | Active | 5.0 | | 2023-09-16 |
| Senjou no Valkyria: Gallian Chronicles - Wakare to Namida | Hitoshi Sakimoto (崎元 仁) | 4:05 | Active | 3.0 | | 2022-02-01 |
| Senjou no Valkyria: Gallian Chronicles - Warera ga Heisha | Hitoshi Sakimoto (崎元 仁) | 2:34 | Active | 4.0 | | 2022-01-25 |
| Senjou no Valkyria: Gallian Chronicles - Warera, Dai 7 Shoutai | Hitoshi Sakimoto (崎元 仁) | 2:20 | Active | 4.7 | | 2023-06-18 |
| Senjou no Valkyria: Gallian Chronicles - Yabou no Shuushihu | Hitoshi Sakimoto (崎元 仁) | 2:56 | Active | 3.5 | | 2023-03-18 |
| Senjou no Valkyria: Gallian Chronicles - Yasen | Hitoshi Sakimoto (崎元 仁) | 3:03 | Active | 4.0 | | 2023-05-30 |
| Senjou no Valkyria: Gallian Chronicles - Yasuragi no Hitotoki | Hitoshi Sakimoto (崎元 仁) | 3:26 | Active | 5.0 | | 2023-09-04 |
| Senjou no Valkyria: Gallian Chronicles - Yogiru Fuan | Hitoshi Sakimoto (崎元 仁) | 3:34 | Active | 4.0 | | 2021-11-21 |
| Senjou no Valkyria: Gallian Chronicles - Yuusen | Hitoshi Sakimoto (崎元 仁) | 3:30 | Active | 4.0 | | 2022-03-02 |
| Silent Hill: Homecoming - 4 Pattern | Akira Yamaoka (山岡 晃) | 3:38 | Active | 3.0 | | 2023-06-27 |
| Silent Hill: Homecoming - Alex Theme | Akira Yamaoka (山岡 晃) , Melissa Williamson (Mary Elizabeth McGlynn) | 4:55 | Active | 2.8 | | 2023-07-23 |
| Silent Hill: Homecoming - Attitude 70 | Akira Yamaoka (山岡 晃) | 2:20 | Active | | | 2020-12-10 |
| Silent Hill: Homecoming - Cold Blood | Akira Yamaoka (山岡 晃) | 3:12 | Active | | | 2023-03-10 |
| Silent Hill: Homecoming - Dead Monks | Akira Yamaoka (山岡 晃) | 2:26 | Active | 4.3 | | 2023-03-27 |
| Silent Hill: Homecoming - Dreams of Leaving | Akira Yamaoka (山岡 晃) | 3:55 | Active | 4.5 | | 2022-07-25 |
| Silent Hill: Homecoming - Living in Fear | Akira Yamaoka (山岡 晃) | 2:37 | Active | 4.0 | | 2021-04-11 |
| Silent Hill: Homecoming - Mr. Joy | Akira Yamaoka (山岡 晃) | 2:31 | Active | 3.0 | | 2023-05-04 |
| Silent Hill: Homecoming - One More Soul to the Call | Akira Yamaoka (山岡 晃) , Melissa Williamson (Mary Elizabeth McGlynn) | 6:05 | Active | 3.8 | | 2023-08-24 |
| Silent Hill: Homecoming - Regards | Akira Yamaoka (山岡 晃) | 2:05 | Active | 3.0 | | 2023-03-21 |
| Silent Hill: Homecoming - Slave 2 Death | Akira Yamaoka (山岡 晃) | 2:27 | Active | | | 2023-02-18 |
| Silent Hill: Homecoming - Snow Flower | Akira Yamaoka (山岡 晃) | 2:48 | Active | 5.0 | | 2023-07-19 |
| Silent Hill: Homecoming - The Real Love | Akira Yamaoka (山岡 晃) | 3:13 | Active | 2.4 | | 2023-09-21 |
| Silent Hill: Homecoming - The Terminal Show | Akira Yamaoka (山岡 晃) | 2:56 | Active | 3.0 | | 2023-08-28 |
| Silent Hill: Homecoming - The Thing | Akira Yamaoka (山岡 晃) | 3:37 | Active | 4.0 | | 2023-04-02 |
| Silent Hill: Homecoming - This Sacred Line | Akira Yamaoka (山岡 晃) , Melissa Williamson (Mary Elizabeth McGlynn) | 4:40 | Active | 3.1 | | 2023-08-11 |
| Silent Hill: Homecoming - Total Invasion | Akira Yamaoka (山岡 晃) | 2:17 | Active | 4.7 | | 2023-08-13 |
| Silent Hill: Homecoming - Voodoo Girl | Akira Yamaoka (山岡 晃) | 2:11 | Active | | | 2023-05-05 |
| Silent Hill: Homecoming - Who Knows | Akira Yamaoka (山岡 晃) | 2:27 | Active | 3.3 | | 2023-09-10 |
| Silent Hill: Homecoming - Witchcraft | Akira Yamaoka (山岡 晃) | 3:57 | Active | 3.7 | | 2023-07-16 |
| Sniper: Ghost Warrior - Main Menu | Unknown Artist | 1:57 | Active | 5.0 | | 2023-02-18 |
| SOCOM 4: U.S. Navy SEALs - Battle for Control | Bear McCreary | 3:32 | Active | 3.0 | | 2021-04-22 |
| SOCOM 4: U.S. Navy SEALs - Benefaction | Bear McCreary | 6:42 | Active | 3.3 | | 2023-08-07 |
| SOCOM 4: U.S. Navy SEALs - Clawhammer | Bear McCreary | 2:18 | Active | 5.0 | | 2021-02-28 |
| SOCOM 4: U.S. Navy SEALs - Clawhammer's Betrayal | Bear McCreary | 3:41 | Active | 5.0 | | 2022-06-17 |
| SOCOM 4: U.S. Navy SEALs - Countdown | Bear McCreary | 2:30 | Active | 3.0 | | 2023-05-18 |
| SOCOM 4: U.S. Navy SEALs - Fluid Dynamics | Bear McCreary | 8:06 | Active | 4.5 | | 2021-05-27 |
| SOCOM 4: U.S. Navy SEALs - Gold Team | Bear McCreary | 3:09 | Active | 4.0 | | 2022-07-29 |
| SOCOM 4: U.S. Navy SEALs - Gorman's Orders | Bear McCreary | 4:05 | Active | 5.0 | | 2023-08-19 |
| SOCOM 4: U.S. Navy SEALs - Holding the Trigger | Bear McCreary | 2:24 | Active | | | 2020-12-19 |
| SOCOM 4: U.S. Navy SEALs - Leviathan | Bear McCreary | 4:02 | Active | 4.3 | | 2023-09-21 |
| SOCOM 4: U.S. Navy SEALs - Means to an End | Bear McCreary | 4:27 | Active | 4.0 | | 2023-06-12 |
| SOCOM 4: U.S. Navy SEALs - Naga Formation | Bear McCreary | 3:25 | Active | 3.0 | | 2023-06-30 |
| SOCOM 4: U.S. Navy SEALs - Onslaught at the Bridge | Bear McCreary | 3:47 | Active | 4.5 | | 2023-07-04 |
| SOCOM 4: U.S. Navy SEALs - Passing the Mantle | Bear McCreary | 4:20 | Active | 4.0 | | 2021-03-14 |
| SOCOM 4: U.S. Navy SEALs - Razad's Tarocco | Bear McCreary | 3:46 | Active | 4.0 | | 2023-07-06 |
| SOCOM 4: U.S. Navy SEALs - Rendezvous in the Mountains | Bear McCreary | 3:34 | Active | 4.0 | | 2022-08-14 |
| SOCOM 4: U.S. Navy SEALs - Revelation | Bear McCreary | 3:27 | Active | 4.0 | | 2023-03-24 |
| SOCOM 4: U.S. Navy SEALs - Safehouse | Bear McCreary | 5:03 | Active | 4.0 | | 2020-11-02 |
| SOCOM 4: U.S. Navy SEALs - The Flooded Fields | Bear McCreary | 6:21 | Active | | | 2020-12-09 |
| SOCOM 4: U.S. Navy SEALs - The Fortress | Bear McCreary | 2:03 | Active | 4.0 | | 2023-07-20 |
| SOCOM 4: U.S. Navy SEALs - The Pursuit of Vengeance | Bear McCreary | 10:08 | Active | 5.0 | | 2023-07-24 |
| SOCOM 4: U.S. Navy SEALs - Theme from SOCOM 4 | Bear McCreary | 4:35 | Active | 5.0 | | 2022-11-01 |
| SOCOM 4: U.S. Navy SEALs - Turning Point | Bear McCreary | 3:29 | Active | 5.0 | | 2022-08-28 |
| SOCOM 4: U.S. Navy SEALs - Uninvited Guest | Bear McCreary | 6:02 | Active | 3.0 | | 2023-09-25 |
| SOCOM 4: U.S. Navy SEALs - White Tiger | Bear McCreary | 3:31 | Active | 3.0 | | 2020-12-15 |
| Star Wars: The Force Unleashed - Approaching Felucia | Mark Griskey | 3:29 | Active | 5.0 | | 2022-04-23 |
| Star Wars: The Force Unleashed - Drexl's Raiders | Mark Griskey | 2:53 | Active | 4.3 | | 2023-04-11 |
| Star Wars: The Force Unleashed - General Kota and the Control Room Duel | Mark Griskey | 3:45 | Active | 4.8 | | 2023-07-02 |
| Star Wars: The Force Unleashed - Infiltrating the Junk Temple | Mark Griskey | 2:56 | Active | 3.8 | | 2023-09-06 |
| Star Wars: The Force Unleashed - Juno Eclipse / Finale | Mark Griskey | 1:13 | Active | 3.0 | | 2022-10-17 |
| Star Wars: The Force Unleashed - Maris and the Bull Rancor | Mark Griskey | 2:12 | Active | 4.5 | | 2023-06-26 |
| Star Wars: The Force Unleashed - PROXY and the Skyhook | Mark Griskey | 2:39 | Active | 4.0 | | 2022-06-21 |
| Star Wars: The Force Unleashed - Redemption | Mark Griskey | 2:21 | Active | 4.0 | | 2023-01-29 |
| Star Wars: The Force Unleashed - The Force Unleashed | Mark Griskey | 1:21 | Active | 4.0 | | 2023-04-09 |
| Star Wars: The Force Unleashed - The Sarlacc Unleashed | Mark Griskey | 3:21 | Active | 3.0 | | 2023-08-08 |
| The Elder Scrolls V: Skyrim - A Chance Meeting | Jeremy Soule | 3:11 | Active | 4.0 | | 2023-09-11 |
| The Elder Scrolls V: Skyrim - A Winter's Tale | Jeremy Soule | 3:21 | Active | 4.3 | | 2023-09-20 |
| The Elder Scrolls V: Skyrim - Ancient Stones | Jeremy Soule | 4:47 | Active | 5.0 | | 2023-03-19 |
| The Elder Scrolls V: Skyrim - Around the Fire | Jeremy Soule | 3:12 | Active | 5.0 | | 2023-05-23 |
| The Elder Scrolls V: Skyrim - Aurora | Jeremy Soule | 7:15 | Active | 5.0 | | 2023-05-28 |
| The Elder Scrolls V: Skyrim - Awake | Jeremy Soule | 1:34 | Active | 4.0 | | 2020-12-16 |
| The Elder Scrolls V: Skyrim - Before the Storm | Jeremy Soule | 1:02 | Active | 4.0 | | 2021-02-20 |
| The Elder Scrolls V: Skyrim - Beneath the Ice | Jeremy Soule | 4:08 | Active | 4.0 | | 2020-12-24 |
| The Elder Scrolls V: Skyrim - Blood and Steel | Jeremy Soule | 2:12 | Active | 5.0 | | 2023-01-21 |
| The Elder Scrolls V: Skyrim - Caught off Guard | Jeremy Soule | 1:12 | Active | 4.0 | | 2020-12-17 |
| The Elder Scrolls V: Skyrim - Dawn | Jeremy Soule | 3:59 | Active | 5.0 | | 2021-05-13 |
| The Elder Scrolls V: Skyrim - Death in the Darkness | Jeremy Soule | 2:37 | Active | 4.0 | | 2022-07-09 |
| The Elder Scrolls V: Skyrim - Death or Sovngarde | Jeremy Soule | 3:02 | Active | 4.0 | | 2022-01-27 |
| The Elder Scrolls V: Skyrim - Distant Horizons | Jeremy Soule | 3:54 | Active | 5.0 | | 2023-06-08 |
| The Elder Scrolls V: Skyrim - Dragonborn | Jeremy Soule | 3:57 | Active | 5.0 | | 2023-09-21 |
| The Elder Scrolls V: Skyrim - Dragonsreach | Jeremy Soule | 2:23 | Active | 4.3 | | 2023-09-29 |
| The Elder Scrolls V: Skyrim - Far Horizons | Jeremy Soule | 5:33 | Active | 4.0 | | 2023-06-14 |
| The Elder Scrolls V: Skyrim - From Past to Present | Jeremy Soule | 5:06 | Active | 4.8 | | 2023-09-28 |
| The Elder Scrolls V: Skyrim - Frostfall | Jeremy Soule | 3:28 | Active | 5.0 | | 2022-12-13 |
| The Elder Scrolls V: Skyrim - Imperial Throne | Jeremy Soule | 2:22 | Active | 4.5 | | 2023-09-24 |
| The Elder Scrolls V: Skyrim - Into Darkness | Jeremy Soule | 2:54 | Active | 4.0 | | 2022-04-06 |
| The Elder Scrolls V: Skyrim - Journey's End | Jeremy Soule | 4:09 | Active | 5.0 | | 2023-05-24 |
| The Elder Scrolls V: Skyrim - Kyne's Peace | Jeremy Soule | 3:51 | Active | 4.0 | | 2020-11-22 |
| The Elder Scrolls V: Skyrim - Masser | Jeremy Soule | 6:06 | Active | 4.0 | | 2022-12-11 |
| The Elder Scrolls V: Skyrim - Night without Stars | Jeremy Soule | 0:43 | Active | 5.0 | | 2022-10-01 |
| The Elder Scrolls V: Skyrim - One They Fear | Jeremy Soule | 3:00 | Active | 4.8 | | 2023-07-18 |
| The Elder Scrolls V: Skyrim - Out of the Cold | Jeremy Soule | 3:04 | Active | 4.0 | | 2023-02-12 |
| The Elder Scrolls V: Skyrim - Secunda | Jeremy Soule | 2:05 | Active | 5.0 | | 2023-09-25 |
| The Elder Scrolls V: Skyrim - Seven Thousand Steps | Jeremy Soule | 1:00 | Active | 3.0 | | 2022-10-27 |
| The Elder Scrolls V: Skyrim - Shadows and Echoes | Jeremy Soule | 2:21 | Active | 4.0 | | 2022-09-14 |
| The Elder Scrolls V: Skyrim - Shattered Shields | Jeremy Soule | 2:40 | Active | 4.0 | | 2023-09-19 |
| The Elder Scrolls V: Skyrim - Silence Unbroken | Jeremy Soule | 2:23 | Active | 4.0 | | 2022-12-22 |
| The Elder Scrolls V: Skyrim - Silent Footsteps | Jeremy Soule | 2:53 | Active | 5.0 | | 2023-02-28 |
| The Elder Scrolls V: Skyrim - Sky Above, Voice Within | Jeremy Soule | 3:52 | Active | 4.0 | | 2022-11-06 |
| The Elder Scrolls V: Skyrim - Solitude | Jeremy Soule | 2:12 | Active | 5.0 | | 2022-03-19 |
| The Elder Scrolls V: Skyrim - Sovngarde | Jeremy Soule | 3:38 | Active | 4.3 | | 2023-08-24 |
| The Elder Scrolls V: Skyrim - Standing Stones | Jeremy Soule | 6:38 | Active | 4.3 | | 2023-08-06 |
| The Elder Scrolls V: Skyrim - Steel on Steel | Jeremy Soule | 1:45 | Active | 5.0 | | 2022-10-01 |
| The Elder Scrolls V: Skyrim - The Bannered Mare | Jeremy Soule | 2:30 | Active | 3.8 | | 2023-07-11 |
| The Elder Scrolls V: Skyrim - The City Gates | Jeremy Soule | 3:48 | Active | 5.0 | | 2022-09-13 |
| The Elder Scrolls V: Skyrim - The Gathering Storm | Jeremy Soule | 2:48 | Active | 4.0 | | 2020-11-15 |
| The Elder Scrolls V: Skyrim - The Jerall Mountains | Jeremy Soule | 3:21 | Active | 5.0 | | 2023-09-25 |
| The Elder Scrolls V: Skyrim - The Streets of Whiterun | Jeremy Soule | 4:06 | Active | 4.0 | | 2023-05-01 |
| The Elder Scrolls V: Skyrim - The White River | Jeremy Soule | 3:31 | Active | 4.0 | | 2020-12-17 |
| The Elder Scrolls V: Skyrim - Tooth and Claw | Jeremy Soule | 1:50 | Active | 4.0 | | 2022-10-20 |
| The Elder Scrolls V: Skyrim - Towers and Shadows | Jeremy Soule | 2:23 | Active | | | 2022-11-29 |
| The Elder Scrolls V: Skyrim - Tundra | Jeremy Soule | 3:42 | Active | 5.0 | | 2022-08-07 |
| The Elder Scrolls V: Skyrim - Unbound | Jeremy Soule | 1:34 | Active | | | 2023-04-14 |
| The Elder Scrolls V: Skyrim - Unbroken Road | Jeremy Soule | 6:26 | Active | 5.0 | | 2022-10-29 |
| The Elder Scrolls V: Skyrim - Under an Ancient Sun | Jeremy Soule | 3:43 | Active | 2.5 | | 2021-10-06 |
| The Elder Scrolls V: Skyrim - Watch the Skies | Jeremy Soule | 2:13 | Active | 5.0 | | 2022-01-10 |
| The Elder Scrolls V: Skyrim - Wind Guide You | Jeremy Soule | 8:59 | Active | 5.0 | | 2020-12-12 |
| The Saboteur - Feeling Good (Troublemaker Remix) | Nina Simone (Eunice Kathleen Waymon) , Troublemaker (Josh Kouzomis) | 3:01 | Active | 4.8 | | 2023-08-06 |
| Tomb Raider: Underworld - Full of Surprises | Colin O'Malley | 1:19 | Active | 4.0 | | 2022-08-11 |
| Tomb Raider: Underworld - Gate of the Dead | Colin O'Malley | 2:01 | Active | | | 2023-02-03 |
| Tomb Raider: Underworld - Get Out of My Sight | Colin O'Malley | 2:12 | Active | 3.0 | | 2021-06-15 |
| Tomb Raider: Underworld - Main Theme | Troels Brun Folmann | 3:33 | Active | 4.0 | | 2023-09-05 |
| Tomb Raider: Underworld - Old Rituals | Colin O'Malley | 2:31 | Active | 4.0 | | 2022-04-07 |
| Tomb Raider: Underworld - Payback | Colin O'Malley | 3:11 | Active | | | 2023-05-22 |
| Tomb Raider: Underworld - Rest in Peace | Colin O'Malley | 2:04 | Active | 3.7 | | 2023-04-01 |
| Tomb Raider: Underworld - The Norse Connection | Colin O'Malley | 2:15 | Active | 3.0 | | 2023-07-31 |
| Tomb Raider: Underworld - Unnatural Encounter | Colin O'Malley | 2:20 | Active | | | 2020-12-10 |
| Tomb Raider: Underworld - World of Mist | Colin O'Malley | 2:20 | Active | 3.0 | | 2023-01-28 |
| Uncharted 2: Among Thieves - A Rock and a Hard Place | Alan Steinberger , Greg Edmonson , Skywalker Session Orchestra | 3:43 | Active | | | 2022-04-24 |
| Uncharted 2: Among Thieves - Among Thieves | Alan Steinberger , Greg Edmonson , Skywalker Session Orchestra | 1:39 | Active | 5.0 | | 2023-03-20 |
| Uncharted 2: Among Thieves - Breaking and Entering | Alan Steinberger , Greg Edmonson , Skywalker Session Orchestra | 3:13 | Active | 4.0 | | 2023-02-21 |
| Uncharted 2: Among Thieves - Broken Paradise | Alan Steinberger , Greg Edmonson , Skywalker Session Orchestra | 2:28 | Active | 2.0 | | 2022-07-23 |
| Uncharted 2: Among Thieves - Brutal Combo Mambo | Alan Steinberger , Greg Edmonson , Skywalker Session Orchestra | 2:24 | Active | 5.0 | | 2023-06-11 |
| Uncharted 2: Among Thieves - Bustin' Chops | Alan Steinberger , Greg Edmonson , Skywalker Session Orchestra | 2:07 | Active | | | 2023-06-16 |
| Uncharted 2: Among Thieves - Cat and Mouse | Alan Steinberger , Greg Edmonson , Skywalker Session Orchestra | 2:21 | Active | 4.0 | | 2021-07-11 |
| Uncharted 2: Among Thieves - Cornered | Alan Steinberger , Greg Edmonson , Skywalker Session Orchestra | 3:36 | Active | 3.5 | | 2022-02-09 |
| Uncharted 2: Among Thieves - Desperate Times | Alan Steinberger , Greg Edmonson , Skywalker Session Orchestra | 3:27 | Active | 4.3 | | 2023-08-21 |
| Uncharted 2: Among Thieves - Helicopter and Tank | Alan Steinberger , Greg Edmonson , Skywalker Session Orchestra | 2:06 | Active | 5.0 | | 2021-12-25 |
| Uncharted 2: Among Thieves - Marco Polo | Alan Steinberger , Greg Edmonson , Skywalker Session Orchestra | 1:31 | Active | 4.0 | | 2023-05-03 |
| Uncharted 2: Among Thieves - Nate's Theme 2.0 | Alan Steinberger , Greg Edmonson , Skywalker Session Orchestra | 1:45 | Active | 4.3 | | 2023-09-20 |
| Uncharted 2: Among Thieves - Refuge | Alan Steinberger , Greg Edmonson , Skywalker Session Orchestra | 2:10 | Active | 5.0 | | 2021-10-02 |
| Uncharted 2: Among Thieves - Reunion | Alan Steinberger , Greg Edmonson , Skywalker Session Orchestra | 1:41 | Active | 4.2 | | 2023-08-15 |
| Uncharted 2: Among Thieves - The City's Secret | Alan Steinberger , Greg Edmonson , Skywalker Session Orchestra | 3:32 | Active | 4.0 | | 2023-05-07 |
| Uncharted 2: Among Thieves - The Gates of Shambhala | Alan Steinberger , Greg Edmonson , Skywalker Session Orchestra | 3:16 | Active | 4.0 | | 2023-08-20 |
| Uncharted 2: Among Thieves - The Monastery | Alan Steinberger , Greg Edmonson , Skywalker Session Orchestra | 4:09 | Active | 4.0 | | 2023-08-05 |
| Uncharted 2: Among Thieves - The Road to Shambhala | Carmen Rizzo | 5:14 | Active | 4.0 | | 2021-10-12 |
| Uncharted 2: Among Thieves - Train Wrecked | Alan Steinberger , Greg Edmonson , Skywalker Session Orchestra | 3:06 | Active | 5.0 | | 2022-06-02 |
| Uncharted 2: Among Thieves - Warzone | Alan Steinberger , Greg Edmonson , Skywalker Session Orchestra | 2:13 | Active | 4.5 | | 2023-02-22 |
| Uncharted 3: Drake's Deception - Main Menu | Greg Edmonson | 1:47 | Active | 4.0 | | 2021-05-29 |
| Uncharted: Drake's Fortune - A Bitter End | Alan Steinberger , Greg Edmonson | 1:10 | Active | 3.0 | | 2020-12-16 |
| Uncharted: Drake's Fortune - Drake's Elegy | Alan Steinberger , Greg Edmonson | 1:55 | Active | 4.8 | | 2023-08-21 |
| Uncharted: Drake's Fortune - Drowned City | Alan Steinberger , Greg Edmonson | 2:09 | Active | 5.0 | | 2023-06-09 |
| Uncharted: Drake's Fortune - El Goddamn Dorado | Alan Steinberger , Greg Edmonson | 3:04 | Active | 3.0 | | 2023-09-27 |
| Uncharted: Drake's Fortune - Grave Robbing | Alan Steinberger , Greg Edmonson | 2:01 | Active | 3.0 | | 2022-11-06 |
| Uncharted: Drake's Fortune - Heading Upriver | Alan Steinberger , Greg Edmonson | 2:34 | Active | 5.0 | | 2023-06-07 |
| Uncharted: Drake's Fortune - Nate's Theme | Alan Steinberger , Greg Edmonson | 1:44 | Active | 4.5 | | 2023-08-26 |
| Uncharted: Drake's Fortune - Plane-wrecked | Alan Steinberger , Greg Edmonson | 2:54 | Active | | | 2023-09-10 |
| Uncharted: Drake's Fortune - Sanctuary? | Alan Steinberger , Greg Edmonson | 4:23 | Active | 3.5 | | 2021-02-14 |
| Uncharted: Drake's Fortune - Showdown | Alan Steinberger , Greg Edmonson | 2:25 | Active | 3.8 | | 2023-09-03 |
| Uncharted: Drake's Fortune - Sir Francis Drake | Alan Steinberger , Greg Edmonson | 1:05 | Active | | | 2021-05-05 |
| Uncharted: Drake's Fortune - The Bunker | Alan Steinberger , Greg Edmonson | 4:36 | Active | 4.0 | | 2023-06-30 |
| Uncharted: Drake's Fortune - The Fortress | Alan Steinberger , Greg Edmonson | 2:01 | Active | | | 2022-04-09 |
| Uncharted: Drake's Fortune - The Search for El Dorado | Alan Steinberger , Greg Edmonson | 2:48 | Active | 4.0 | | 2022-05-15 |
| Uncharted: Drake's Fortune - Trapped | Alan Steinberger , Greg Edmonson | 4:24 | Active | 5.0 | | 2021-05-19 |
| Uncharted: Drake's Fortune - Treasure Vault | Alan Steinberger , Greg Edmonson | 3:24 | Active | 5.0 | | 2022-02-17 |
| Uncharted: Drake's Fortune - Uncharted Island | Alan Steinberger , Greg Edmonson | 3:07 | Active | 4.0 | | 2020-11-16 |
| Uncharted: Drake's Fortune - Uncharted Theme | Alan Steinberger , Greg Edmonson | 1:51 | Active | 4.0 | | 2023-04-20 |
| Uncharted: Drake's Fortune - Unlocking the Past | Alan Steinberger , Greg Edmonson | 3:35 | Active | 4.0 | | 2021-12-24 |
| Uncharted: Drake's Fortune - Unwelcome Guests | Alan Steinberger , Greg Edmonson | 4:48 | Active | 4.0 | | 2023-08-06 |
| Yakuza 3 - Credits | Unknown Artist | 4:32 | Active | 4.7 | | 2023-09-10 |
| Yakuza 3 - Fly (opening cinematic size) | Hidenori Shoji (庄司 英徳) | 1:34 | Active | 4.7 | | 2023-05-14 |
| Yakuza 4 - Credits | Unknown Artist | 7:15 | Active | 4.0 | | 2023-07-09 |
| Yakuza 4 - For Faith (opening cinematic size) | Hidenori Shoji (庄司 英徳) | 1:29 | Active | 5.0 | | 2023-08-23 |