CVGM.net - Chiptune, Retro & Video Game Music

Platform - Arcade » Taito G-NET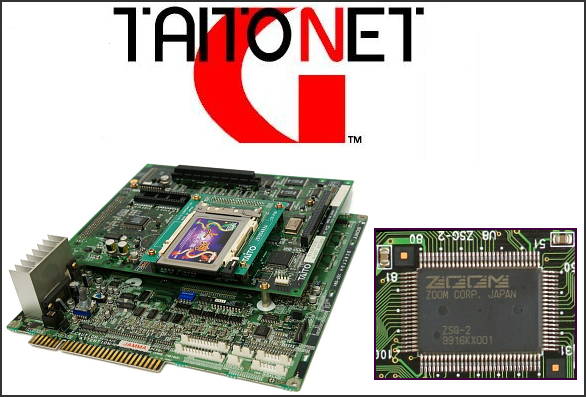 Things that should be added under this platform:
- songs ripped or recorded from this arcade system or emulator
----------------------------------------
Taito G-NET PCB uses a ZOOM soundchip (ZSG-2) and a Texas Instruments DSP (TMS57002).
Not much info about the ZOOM music chip is available, but it the sound output from the final mixing from the DSP is 16bit at 32.552khz.
This platform may also contain non-G-NET system music as long they use the ZOOM/TMS57002 sound hardware.
Songs
| Song Title | Artist | Song Length | Status | Avg. Vote | Queue | Last Played |
| --- | --- | --- | --- | --- | --- | --- |
| Raycrisis - Formless living bodies - Part 2 | Tamayo Kawamoto (河本 圭代) | 3:45 | Active | 3.5 | | 2023-05-09 |
| Raycrisis - Lavande bleu - Part 1 | Tamayo Kawamoto (河本 圭代) | 6:46 | Active | 3.0 | | 2023-04-16 |
| Raycrisis - Lavande bleu - Part 2 | Tamayo Kawamoto (河本 圭代) | 5:27 | Active | 2.8 | | 2023-05-23 |
| Raycrisis - Lavande bleu - Part 3 | Tamayo Kawamoto (河本 圭代) | 6:25 | Active | 2.7 | | 2023-03-31 |
| Raycrisis - Non sentimentalisme - Part 1 | Tamayo Kawamoto (河本 圭代) | 6:21 | Active | 5.0 | | 2022-10-15 |
| Raycrisis - Non sentimentalisme - Part 2 | Tamayo Kawamoto (河本 圭代) | 6:07 | Active | 3.0 | | 2022-11-05 |
| Raycrisis - Non sentimentalisme - Part 3 | Tamayo Kawamoto (河本 圭代) | 5:01 | Active | 4.6 | | 2023-04-29 |
| Raycrisis - Or, can it be said that her behavior is a crime? | Tamayo Kawamoto (河本 圭代) | 0:39 | Active | 5.0 | | 2023-04-02 |
| Raycrisis - Root of all evil | Tamayo Kawamoto (河本 圭代) | 3:24 | Active | 4.0 | | 2023-05-12 |
| Raycrisis - Son dessen - Part 1 | Tamayo Kawamoto (河本 圭代) | 5:59 | Active | 4.0 | | 2023-03-27 |
| Raycrisis - Son dessen - Part 2 | Tamayo Kawamoto (河本 圭代) | 6:44 | Active | 2.0 | | 2021-10-20 |
| Raycrisis - Son dessen - Part 3 | Tamayo Kawamoto (河本 圭代) | 6:51 | Active | 4.0 | | 2020-07-24 |
| Raycrisis - There is no sense unless everything is arranger completely | Tamayo Kawamoto (河本 圭代) | 1:29 | Active | 4.5 | | 2022-04-21 |
| Raycrisis - Vit-symty - Part 1 | Tamayo Kawamoto (河本 圭代) | 5:13 | Active | 4.3 | | 2023-04-30 |
| Raycrisis - Vit-symty - Part 2 | Tamayo Kawamoto (河本 圭代) | 5:48 | Active | 2.5 | | 2020-11-03 |
| Raycrisis - Vit-symty - Part 3 | Tamayo Kawamoto (河本 圭代) | 5:00 | Active | 3.0 | | 2022-10-01 |
| Raystorm - Aquarium | Tamayo Kawamoto (河本 圭代) | 5:06 | Active | 4.2 | | 2023-05-08 |
| Raystorm - Catharsis | Tamayo Kawamoto (河本 圭代) | 3:27 | Active | 4.0 | | 2021-10-20 |
| Raystorm - Ceramic Heart | Tamayo Kawamoto (河本 圭代) | 1:34 | Active | 5.0 | | 2021-09-30 |
| Raystorm - Geometric City | Tamayo Kawamoto (河本 圭代) | 2:44 | Active | 4.0 | | 2023-05-27 |
| Raystorm - Heart Land | Tamayo Kawamoto (河本 圭代) | 1:44 | Active | | | 2022-09-12 |
| Raystorm - Intolerance | Tamayo Kawamoto (河本 圭代) | 3:15 | Active | 4.0 | | 2023-04-03 |
| Raystorm - Juggler | Tamayo Kawamoto (河本 圭代) | 1:29 | Active | 2.5 | | 2022-04-21 |
| Raystorm - Luminescene | Tamayo Kawamoto (河本 圭代) | 5:05 | Active | 3.5 | | 2023-04-13 |
| Raystorm - Metaphar | Tamayo Kawamoto (河本 圭代) | 2:55 | Active | 3.4 | | 2023-05-29 |
| Raystorm - Molecular Clock | Tamayo Kawamoto (河本 圭代) | 2:55 | Active | 2.8 | | 2023-06-04 |
| Raystorm - Muddling Through | Tamayo Kawamoto (河本 圭代) | 3:06 | Active | 2.7 | | 2023-06-06 |
| Raystorm - Slaughter Hour | Tamayo Kawamoto (河本 圭代) | 6:19 | Active | 4.7 | | 2022-12-28 |
| Raystorm - Toxoplasma | Tamayo Kawamoto (河本 圭代) | 2:34 | Active | 4.0 | | 2023-05-02 |
| Shanghai: Shoryu Sairin - BGM 10 | Unknown Artist | 3:59 | Active | 3.9 | | 2023-02-05 |
| Shanghai: Shoryu Sairin - BGM 2 | Unknown Artist | 2:00 | Active | 4.0 | | 2022-03-27 |
| Shanghai: Shoryu Sairin - BGM 20 | Unknown Artist | 2:51 | Active | 4.0 | | 2023-05-25 |
| Shanghai: Shoryu Sairin - BGM 21 | Unknown Artist | 2:24 | Active | 4.0 | | 2022-06-03 |
| Shanghai: Shoryu Sairin - BGM 23 | Unknown Artist | 4:08 | Active | 3.1 | | 2023-05-06 |
| Shanghai: Shoryu Sairin - BGM 24 | Unknown Artist | 3:03 | Active | 4.0 | | 2023-04-16 |
| Shanghai: Shoryu Sairin - BGM 26 | Unknown Artist | 3:48 | Active | 4.0 | | 2023-04-24 |
| Shanghai: Shoryu Sairin - BGM 4 | Unknown Artist | 0:43 | Active | 5.0 | | 2022-08-15 |
| Shanghai: Shoryu Sairin - BGM 5 | Unknown Artist | 4:23 | Active | 3.6 | | 2023-05-04 |
| Shanghai: Shoryu Sairin - BGM 6 | Unknown Artist | 2:40 | Active | 3.0 | | 2023-05-24 |
| Shanghai: Shoryu Sairin - BGM 7 | Unknown Artist | 2:20 | Active | 4.0 | | 2023-05-30 |
| Shanghai: Shoryu Sairin - BGM 8 | Unknown Artist | 4:03 | Active | 3.3 | | 2023-06-06 |
| Shanghai: Shoryu Sairin - BGM 9 | Unknown Artist | 4:16 | Active | 3.4 | | 2023-05-26 |
| Shanghai: Shoryu Sairin - Title | Unknown Artist | 2:27 | Active | 4.8 | | 2023-04-29 |