CVGM.net

Song Information

Jesus On E's [The Audio Remake]
Author:

Echo (Graham Gray)

LSD
Uploaded By:

spoonwzd
Extra Resources:

Song Length: 27:35
Release Year: 2013
Song Status: Active
Song Bitrate: 256 kbps
Song Source: Music Disk
Song Platform:

Miscellaneous » Newschool
Additional Information:
Following 21 years and 3 days since its original release at the Digital Symposium demo party on the 24th October 1992, I present my remake of the Jesus On E's demo audio I originally created 7,673 moons ago.
Recreated and sequenced from scratch using Ableton Live, the majority of sounds and samples have been re-sourced from the original (or better) sources and span some 80 channels of audio. The remake closely follows the original, with some artistic embellishments and modern production techniques added along the way. The remake slightly exceeds the original's runtime, totalling nearly 28 minutes.
Special thanks must go to my friend Ben Foster and acapellas4u.co.uk forum members djshadesuk and drunkenbaker, whose input has been invaluable in identifying and locating the samples of the era.
For a video of the Ableton Live playback, check out www.youtube.com/watch?v=OLKYuc1Jjs4
Last Queued : 4 months ago
This song has been played 4 times. [See Request History]
It was added 4 years, 5 months ago.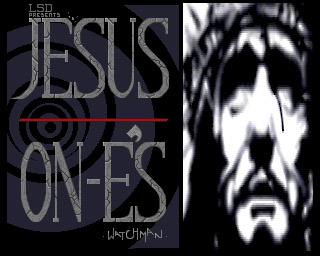 Download Pouet Production:
Click to Download
Song Rating
Song Rating: 2.5 - Votes Placed: 2
View Voting History
A total of 0 users have this song on their favourites list.
Compilation / Remix Information
Screenshots
Add new screenshot
Song Corrections & Updates
[Edit Information] - [Add Links]