CVGM.net - Chiptune, Retro & Video Game Music

Platform - Computer » ZX Spectrum (AY)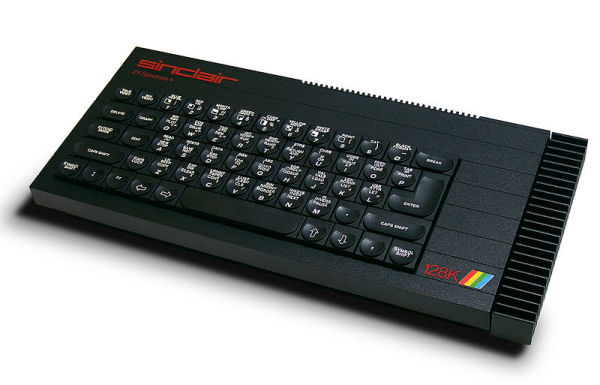 Sinclair ZX Spectrum 128 (released in 1985) and later models which also use the AY-3-8912 chip.
128 was the last model before the brand was bought by Amstrad which continued releasing new Spectrum models which had the same sound chip.
A later expansion for classic 48kb spectrum made this sound available and is still preferred by many Spectrum composers (such as AY Riders group).
In the early 1980 ZX Spectrum competed against other 8-bit generation home computers: Commodore 64, BBC Micro and Amstrad CPC. ZX Spectrum was technically more modest but also much cheaper than its competitors. Graphics of ZX Spectrum were famous of color leaks.
ZX Spectrum became popular especially in Britain and ZX Spectrum has been seen as important for the whole British IT industry and company's boss Clive Sinclair has received knighthood.
Due to ZX Spectrum's popularity in the early 1980s, the machine has received interest still in the 2000s often in the form of emulators and even 60 new ZX Spectrum games have been made during the past decade.
Songs
Song Title
Artist
Song Length
Status
Avg. Vote
Queue
Last Played
"Action" Epilogue
KSA (Stanislav Kuzin)
2:02
Active
4.7

2023-11-09

1 сентября
NVitia (Viktor Nikitin)
1:57
Active
3.3

2023-12-03

128 Miles
Factor6 AY Riders , HOOY-PROGRAM
4:00
Active
5.0

2023-10-28

17 Mgnoveniy Wesny
KSA (Stanislav Kuzin)
2:06
Active
4.5

2023-11-17

19 Mgnoweniy Wesny
KSA (Stanislav Kuzin)
2:33
Active
4.9

2023-11-26

1996, Bye!
Muzafar (Aleksey Tomanov) Adia
3:00
Active
4.8
1st Not Progressive Melody
Black Groove
1:39
Active
3.0

2022-10-22

2
Oko (Oleg Krasnobaev)
4:44
Active
4.0

2023-09-13

30 Minut
YERZMYEY AY Riders
3:35
Active
4.8

2023-11-29

3BM invitro 2014
n1k-o (Oleg Nikitin)
2:33
Active
4.1

2023-10-04

3D Galax
Ben Daglish
5:00
Active
4.4

2023-11-03

4 *Wolf* Gift
Kenotron (Andrey Tryasun) Style Group
2:00
Active
4.7

2023-12-04

4 Crash Nicker Journal
MmcM (Sergey Kosov) Sage
4:07
Active
4.8

2023-11-11

4Ever5 Anthem Realtime Compo
Z00m (Branislav Bekeš) Total Computer Gang [TCG]
0:27
Active
4.0

2023-07-07

5th Element - The Diva's song
n1k-o (Oleg Nikitin)
2:21
Active
3.5

2022-06-01

64 Mix
Oko (Oleg Krasnobaev)
3:06
Active
4.5

2023-07-27

9 Channels
YERZMYEY HOOY-PROGRAM
2:21
Active
4.6

2023-11-27

A Joke
YERZMYEY HOOY-PROGRAM
1:50
Active
3.5

2023-11-18

A Tale Of My Dream
Ashnar (Aleksey Shmonov) Beermans
3:30
Active
4.3

2023-10-22

A very odd adventure
YERZMYEY AY Riders , HOOY-PROGRAM
3:15
Active
4.5

2023-11-22

A-Bomb Ablazed
Ahim (Michael Erastov) CyberPunks Unity
3:34
Active
4.5

2023-12-03

Aavoid
C-jeff (Dmitry Zhemkov)
2:38
Active
2.3

2023-05-02

AC/DC - Fire Your Guns
tayle (Alexey Bilichenko) Team Site
1:53
Active
4.3

2023-10-30

Acoustic Dreams - Aftek (Axel F.)
Gasman (Matthew Westcott)
4:51
Active
3.2

2023-11-06

Acoustic Dreams - Agent-X Enigma
Gasman (Matthew Westcott)
1:32
Active
3.5

2023-10-26

Acoustic Dreams - Argon
Gasman (Matthew Westcott)
1:32
Active
4.7

2023-10-31

Acoustic Dreams - Erm ... No Comment
Gasman (Matthew Westcott)
1:42
Active
4.4

2023-11-26

Acoustic Dreams - Flexa
Gasman (Matthew Westcott)
2:41
Active
4.6

2023-11-28

Acoustic Dreams - H-Core
Gasman (Matthew Westcott)
0:53
Active
4.3

2023-10-31

Acoustic Dreams - Suburban Doze
Gasman (Matthew Westcott)
0:40
Active
3.3

2023-11-19

Acoustic Dreams - Technophobic
Gasman (Matthew Westcott)
0:23
Active
4.0

2022-03-18

Acoustic Dreams - Utopia
Gasman (Matthew Westcott)
1:47
Active
4.3

2023-12-02

Acoustic Dreams - WibbleWobble
Gasman (Matthew Westcott)
1:09
Active
4.7

2023-10-26

Action Force - Intro
Unknown Artist
6:16
Active
4.6

2023-11-29

Adrenalin (Remix)
Phantom Lord (Dmitriy Selin)
3:05
Active
4.0

2023-09-25

Advanced Pinball Simulator - Title
David Whittaker
2:02
Active
3.6

2023-11-07

Advanced Tactical Fighter
Unknown Artist
1:32
Active
3.5

2021-06-11

Adventure
MmcM (Sergey Kosov)
2:12
Active
4.0

2022-10-21

Aerodrome
Mast (Sergey Kaminsky) Fatality
2:09
Active
4.7

2023-09-13

Africa
Creator (Aleksey Kovrigin) Fairlight (FLT)
2:07
Active
3.5

2023-07-15

Agent X in The Brain Drain Caper
Tim Follin (Timothy John Follin)
2:58
Active
2.8

2023-11-19

AgentX 2
TDM (Tomas Hauerland) AY Riders
2:42
Active
4.8

2023-08-08

Agress
Roman Averin Real Masters
5:12
Active
3.8

2023-10-21

Agrofoby
EA Soft MegaDate Group
2:47
Active
3.5

2023-11-23

Ainsi Soit Je (ReMmcMix)
MmcM (Sergey Kosov)
3:11
Active
4.7

2023-11-14

Air Beam
DJ Denson (Denis Vorobiev)
2:27
Active
4.5

2023-10-30

Al-ya Trance from me for you...
MmcM (Sergey Kosov) Light Future Group [LFG]
2:41
Active
4.3

2023-12-05

Alchogol Eats Monkey
Fatal Snipe (Denis Pokalyuk)
4:10
Active
4.3

2023-11-27

Alf Theme
Z00m (Branislav Bekeš) Total Computer Gang [TCG]
0:30
Active
4.7

2023-08-28

Alfa4
Lash (Andrey Smirnov) Power of Sound
2:20
Active
3.7

2023-11-24

Alienate Intro
YERZMYEY HOOY-PROGRAM
2:02
Dupe
4.9

2013-03-18

Alisa - Mellaffonn!
Panda the Bear (Andrey Gorin)
0:37
Active
4.8

2023-11-27

All & Nothin'
C-jeff (Dmitry Zhemkov) AY Riders
2:33
Active
4.0

2022-06-14

Alla Turca
Fuxoft (František Fuka)
2:20
Active
4.5

2023-12-04

Alone
YERZMYEY AY Riders
2:23
Active
4.0

2023-09-18

Altered Beast - Closed in Around Me
Unknown Artist
1:06
Active
3.0

2023-09-20

Altered Beast - Gaum Hermer (Boss Theme)
Unknown Artist
1:09
Active
3.0

2022-09-30

Altered Beast - Rise from Your Grave
Unknown Artist
1:50
Active
3.4

2023-11-09

Altered Beast - Transformation
Unknown Artist
1:14
Active
3.3

2023-11-07

Alyazibo!
Panda the Bear (Andrey Gorin)
2:17
Active
4.7

2023-10-31

Ameno (Matrix version)
Wally (Sergey Nilov)
2:49
Active
4.5

2023-11-10

Amiga ChipTune 01
Z00m (Branislav Bekeš) Total Computer Gang [TCG]
0:35
Active
4.0

2023-01-16

Amiga ChipTune 02
Z00m (Branislav Bekeš) Total Computer Gang [TCG]
0:42
Active
4.0

2023-02-03

Amiga ChipTune 03
Z00m (Branislav Bekeš) Total Computer Gang [TCG]
0:51
Active
4.0

2021-11-28

Amiga ChipTune 04
Z00m (Branislav Bekeš) Total Computer Gang [TCG]
0:38
Active
4.0

2022-09-11

Amiga ChipTune 05
Z00m (Branislav Bekeš) Total Computer Gang [TCG]
0:38
Active
4.0

2021-08-01

Amiga ChipTune 06
Z00m (Branislav Bekeš) Total Computer Gang [TCG]
0:23
Active
3.0

2022-11-21

Amiga ChipTune 07
Z00m (Branislav Bekeš) Total Computer Gang [TCG]
0:51
Active
4.0

2020-11-22

Amiga ChipTune 08
Z00m (Branislav Bekeš) Total Computer Gang [TCG]
0:53
Active
4.0

2022-07-17

Amiga ChipTune 09
Z00m (Branislav Bekeš) Total Computer Gang [TCG]
0:38
Active
4.0

2023-12-03

Amiga Chiptune 6
X-Agon (Vit Hotarek)
1:02
Active
4.6

2023-12-05

Angel Dust
Factor6 AY Riders
2:48
Active
4.6

2023-11-02

Animafest Invitation
n1k-o (Oleg Nikitin)
2:04
Active
4.6

2023-11-08

Anisotropy
YERZMYEY HOOY-PROGRAM
3:12
Active
4.3

2023-11-26

Another Moon
Z00m (Branislav Bekeš) Total Computer Gang [TCG]
3:13
Active
5.0

2023-11-24

Another Side Voyages
C-jeff (Dmitry Zhemkov) AY Riders
1:21
Active
4.8

2023-11-26

Another version of RELAX...
Kenotron (Andrey Tryasun) ETC , Scene
3:26
Active
4.5

2023-09-03

Another World
Panda the Bear (Andrey Gorin)
3:03
Active
4.8

2023-11-02

April 2011
MmcM (Sergey Kosov) Sage
2:07
Active
4.8

2023-11-02

Arkanoid's Revenge
Factor6 AY Riders , HOOY-PROGRAM
2:42
Active
4.5

2023-08-03

Around Past
C-jeff (Dmitry Zhemkov) AY Riders
2:41
Active
4.7

2023-06-13

Artificial
Z00m (Branislav Bekeš) Total Computer Gang [TCG]
1:43
Active
3.5

2023-04-02

Ashes of Dreams
MmcM (Sergey Kosov) Sage
2:53
Active
5.0

2023-11-23

Assured
MmcM (Sergey Kosov)
3:46
Active
4.5

2023-10-08

Atariders - Barymag #2 - 8
Factor6 AY Riders
1:32
Active
4.7

2023-11-19

Atariders - Blip
Factor6 AY Riders
2:03
Active
5.0

2023-10-24

Atariders - Digi-loo-digi-ley
X-Agon (Vit Hotarek) AY Riders
1:57
Active
4.9

2023-09-06

Atariders - Feud - Ingame
X-Agon (Vit Hotarek) AY Riders
1:32
Active
4.6

2023-08-07

Atariders - Jet Set Willy (Another Cover)
X-Agon (Vit Hotarek) AY Riders
5:20
Active
4.7

2023-11-02

Atariders - Ninja Commando
X-Agon (Vit Hotarek) AY Riders
2:02
Active
4.9

2023-10-22

Atariders - Self Test - ZX Remix
Gasman (Matthew Westcott) AY Riders
1:19
Active
4.3

2023-10-28

Atariders - Space Lobsters
X-Agon (Vit Hotarek) AY Riders
2:13
Active
4.4

2023-04-28

Atariders - Warhawk
X-Agon (Vit Hotarek) AY Riders
3:12
Active
4.9

2023-10-30

Atariders - X-Ray Speculation (TS)
Gasman (Matthew Westcott) , Voxel (Andrey Konov) AY Riders
2:56
Active
4.9

2023-11-02

Atlantis
Panda the Bear (Andrey Gorin)
3:01
Active
4.3

2023-11-01

Atomix
Fuxoft (František Fuka)
2:08
Active
4.9

2023-09-26

Auf Wiedersehen Monty - Title
Ben Daglish
6:09
Needs Re-Encoding
4.6

2023-11-03

Autism Spectrum Disorder
Aki
2:54
Active
5.0

2023-10-24

Autumn Colors
Shiru (Aleksandr Semyonov)
3:40
Active
4.5

2023-08-25

Autumn Is Calling
Megus (Roman Petrov) AY Riders
3:33
Active
4.4

2023-11-29

Autumn Rain
MmcM (Sergey Kosov)
2:38
Active
4.5

2023-03-15

Autumntunes - Doorbellsplosion
Kulor (Richard J. Armijo)
2:36
Active
4.7

2023-10-30

Avenger
Ben Daglish
1:59
Active
4.0

2023-09-24

Axel F
Kicia (Maciej Wronski)
2:42
Active
3.7

2023-11-26

Axel F Theme
Fuxoft (František Fuka)
2:18
Active
4.2

2023-11-23

Axel Funk
Factor6 AY Riders
0:42
Active
4.6

2023-09-13

Axel-Force
Oko (Oleg Krasnobaev)
10:29
Active
4.2

2023-09-14

Axkold
Oko (Oleg Krasnobaev)
2:56
Active
5.0

2023-12-04

Axkold
Oko (Oleg Krasnobaev)
2:56
Active
4.8

2023-12-01

AY is Not a Doorbell
YERZMYEY AY Riders , HOOY-PROGRAM
2:47
Active
4.7

2023-10-31

AY Win Again (Bee Gees remake)
Z00m (Branislav Bekeš) Total Computer Gang [TCG]
3:28
Active
4.6

2023-12-03

Ayakashi of a Foreign Land
tayle (Alexey Bilichenko) Debris (ZX)
1:12
Active
4.3

2023-09-11

Back In Time
Factor6 AY Riders
2:52
Active
4.5

2023-10-26

Back On Scene
DJ Serg (Sergey Hanko) Fishbone Crew
3:25
Active
4.6

2023-11-02

Back To The Live (Compo Version)
Black Groove Light Future Group [LFG]
2:22
Active
5.0

2023-11-17

Ball Dream
Amadeus Voxon (Michael Belousov) Flash Inc.
3:05
Active
4.8

2023-10-23

Ballada by Mad Elks
Panda the Bear (Andrey Gorin)
1:27
Active
4.6

2023-08-18

Baltiyskiy-32
DNK (Dmitry Kovalev) Virtual Group
2:26
Active
4.9

2023-11-29

Baroque
YERZMYEY AY Riders
3:12
Active
4.0

2023-11-27

Batman
Oko (Oleg Krasnobaev)
2:53
Active
4.0

2023-09-11

Batman: The Movie - Cathedral
Matthew Cannon
2:10
Active
4.8

2023-11-04

Batman: The Movie - Chemical Plant
Matthew Cannon
1:29
Active
4.7

2023-03-05

Batman: The Movie - Title
Matthew Cannon
2:13
Active
4.6

2023-11-19

Battle Valley
Dave Rogers
3:58
Active
4.1

2023-11-04

Baysong
Amadeus Voxon (Michael Belousov) Flash Inc.
3:37
Active
4.2

2023-11-24

Be Friends With Bears
Panda the Bear (Andrey Gorin)
3:24
Active
4.7

2023-10-20

BECHA (Cover)
Ishma (Ivan Shmatov)
2:01
Active
4.7

2023-09-14

Beetle
Factor6 AY Riders
2:38
Active
4.8

2023-11-13

Behind The Walls
Z00m (Branislav Bekeš) Total Computer Gang [TCG]
1:02
Active
4.0

2022-05-27

Belegost
Fuxoft (František Fuka)
1:43
Active
4.4

2023-07-05

Beratron
Amadeus Voxon (Michael Belousov) Flash Inc.
4:51
Active
4.0

2023-10-29

Best, The
Marek Pilát
4:36
Active
4.3

2023-11-25

Beyond the Ice Palace - Title
David Whittaker
4:53
Active
4.6

2023-09-27

Beyond Time
MmcM (Sergey Kosov) Sage
3:10
Active
4.7

2023-12-01

Big Bang (Enola Gay)
Unknown Artist
2:04
Active
4.0

2023-11-18

Big Eyes
YERZMYEY HOOY-PROGRAM
2:18
Active
4.6

2023-11-07

Birds In Forest
Push (Ivan Bobov)
2:50
Active
4.4

2023-10-12

Bit Dance (TS)
Jerrs (Stanislav Zarubin)
2:07
Active
4.6

2023-10-15

Bits Intro
Factor6 AY Riders
1:21
Active
4.7

2023-11-19

Bits Main
Factor6 AY Riders
3:01
Active
4.3

2023-12-04

Black Dreams III
Black Groove Light Future Group [LFG]
0:49
Active
4.0

2023-09-10

Black Groove's Jazz
Black Groove Light Future Group [LFG]
0:46
Active
4.0

2022-05-05

Black Knights
Wally (Sergey Nilov)
2:20
Active
4.8

2023-11-16

Black Lamp
TDM (Tomas Hauerland) AY Riders
1:02
Active
4.3

2023-11-26

Black Lamp - Game Over
Tim Follin (Timothy John Follin)
0:08
Jingle

2012-01-10

Black Lamp - In-Game
Tim Follin (Timothy John Follin)
1:32
Active
4.6

2023-10-07

Black Sunshine
Lamer Pinky (Petr Klusal) Gembaboys
3:11
Active
4.3

2023-11-25

Bladerunner
Imp (Vladimir Hropov)
1:32
Active
4.9

2023-11-08

Bladin'
tayle (Alexey Bilichenko) Team Site
2:45
Active
4.2

2023-10-23

Blah Blah Gal
Factor6 AY Riders
1:30
Active
5.0

2023-11-07

Blasteroids - Ingame
Ben Daglish
1:13
Active
3.0

2022-12-05

Blasteroids - Title
Ben Daglish
1:05
Active
4.3

2023-08-17

BLeaFoP Main Theme
Black Groove Light Future Group [LFG]
1:32
Active
4.3

2023-11-29

Blibb Blobb - The Chiptune Podcast - Episode 001
Dalezy (Ronny Engmann) , Factor6 , Gasman (Matthew Westcott) , Megus (Roman Petrov) , Netpoet (Frank Stiegler) , TDM (Tomas Hauerland) , tmb , X-Agon (Vit Hotarek) AY Riders , Scoopex
37:22
Active
4.1

2023-11-03

Bliss
Kevin (Denis Kurlaev) Concern Chaos
3:01
Active
2.1

2023-11-10

Blood Brothers
Ben Daglish , S. Leighton
3:45
Active
4.2

2023-11-14

BloodValley
Unknown Artist
5:00
Active
3.3

2023-10-11

Blue Arctic Sky
C-jeff (Dmitry Zhemkov) AY Riders
2:22
Active
4.3

2023-09-20

Blue Car
Kenotron (Andrey Tryasun) ETC , Scene
2:15
Active
4.8

2023-11-17

BMX FreeStyle - Title
David Whittaker
1:05
Active
4.8

2023-11-13

Bomb
4-Mat (Matt Simmonds) Ate Bit
3:12
Active
3.7

2023-09-05

Bonba
Factor6 AY Riders
2:33
Active
4.7

2023-11-16

Botkyrka Sidekicker (AY Remake)
Z00m (Branislav Bekeš) Total Computer Gang [TCG]
1:47
Active
4.9

2023-11-29

Brain
Oko (Oleg Krasnobaev)
3:54
Active
3.0

2023-09-09

Brat Attack
Unknown Artist
1:39
Active
4.5

2023-10-30

BREAK SPACE
YERZMYEY
2:56
Active
4.8

2023-12-03

Breath of Air
X-Agon (Vit Hotarek) AY Riders
3:08
Active
4.6

2023-11-21

Bugs In My Mind
MmcM (Sergey Kosov)
2:34
Active
4.6

2023-11-29

Bullet In The Gun (AY Remix)
Z00m (Branislav Bekeš) Total Computer Gang [TCG]
3:11
Active
4.5

2023-08-11

Buratino Strikes Back
Black Fox (Oleg Senin)
1:10
Active
4.5

2023-09-24

Burning Rubber - Best Drivers
Jonathan Dunn
2:33
Active
4.0

2023-09-15

Burning Rubber - Congratulations
Jonathan Dunn
2:05
Active
4.7

2023-09-06

Burning Rubber - Distance Covered
Jonathan Dunn
2:18
Active
4.1

2023-10-15

Burning Rubber - Title
Jonathan Dunn
3:19
Active
4.8

2023-10-23

Butcher Hill - The Hill
Ben Daglish
2:55
Active
4.5

2023-09-11

Butcher Hill - The Jungle
Ben Daglish
3:05
Active
4.0

2022-12-05

Butcher Hill - The River
Ben Daglish
2:48
Active
3.9

2023-11-18

Butcher Hill - Title
Ben Daglish
3:05
Active
3.8

2023-11-07

Butor1
Amadeus Voxon (Michael Belousov) Flash Inc.
2:02
Active
4.4

2023-09-21

Cabal - Title
Keith Tinman
5:00
Active
2.7

2023-11-06

Calamba Da Luna
Dexus (Denis Dratov)
4:10
Active
4.5

2023-11-08

Call Another Base!
Baz0ft (Andrey Korachentsev) Smokers
4:05
Active
4.3

2023-10-30

Camouflage
Z00m (Branislav Bekeš) Total Computer Gang [TCG]
2:45
Active
4.0

2023-10-15

Can't Get Enough
Oko (Oleg Krasnobaev)
4:15
Active
3.8

2023-11-21

Captain Blood - Title
Stéphane Picq , The Jackal (Barry Leitch)
1:40
Active
4.3

2023-12-01

Captain Dynamo
David Whittaker
2:18
Active
4.0

2023-10-20

Captain Dynamo - Intro
Andrew Kolesnik
4:05
Active
4.0

2023-09-07

Captain Fizz Meets the Blaster-Trons - Title/In-Game
David Whittaker
2:10
Active
4.2

2023-11-19

Carrier Command - Title
Uncle Art (Dave Lowe)
2:27
Active
2.8

2023-10-30

Catch Me Sucker
Imp (Vladimir Hropov) Dream Makers Sofrware , RUSH
3:45
Active
4.3

2023-12-01

Catch That Mouse
Z00m (Branislav Bekeš)
0:38
Active
5.0

2023-11-13

Challenge of the Gobots
Ben Daglish
3:21
Active
4.0

2023-11-20

Champolion est un PD
Factor6 AY Riders , HOOY-PROGRAM
2:52
Active
4.3

2023-11-13

Change Orientation
Kunf (Anton Kunafin) Begemota Soft , Digital Sound Labs , Eighteen Group
3:15
Active
4.0

2022-12-25

Charts Overdrive (Original By Purple Motion)
Black Groove Light Future Group [LFG]
2:07
Active
5.0

2023-11-25

Chase H.Q.
Jonathan Dunn
1:00
Active
4.4

2023-09-08

Cherry Tobacco
YERZMYEY
3:22
Active
4.7

2023-11-09

Chevy Chase
Unknown Artist
2:13
Active
4.3

2023-10-27

Children (E'97)
Frunze (Sergey Frunze) Style Group
3:28
Active
4.8

2023-10-24

Children Remix
YERZMYEY AY Riders
4:40
Active
4.5

2023-11-08

Childs Party
Black Groove Light Future Group [LFG]
4:30
Active
4.7

2023-11-24

Chimera
Fuxoft (František Fuka)
2:23
Active
4.9

2023-12-04

China
Amadeus Voxon (Michael Belousov) Flash Inc.
3:50
Active
4.7

2023-09-17

Chlast-a-Station (cover)
Z00m (Branislav Bekeš) Total Computer Gang [TCG]
2:09
Active
4.4

2023-10-21

Chrushing
Oko (Oleg Krasnobaev)
4:03
Active
3.3

2023-10-29

Chubby Gristle
Ben Daglish
2:14
Active
4.5

2023-10-25

Classification
MmcM (Sergey Kosov) Sage
2:50
Active
4.6

2023-12-01

Clive Sinclair
Factor6 AY Riders , HOOY-PROGRAM
2:56
Active
4.4

2023-11-24

Cloud 9
Factor6 AY Riders
1:07
Active
4.9

2023-11-19

Co Ja Vim
X-Agon (Vit Hotarek) AY Riders
4:22
Active
4.8

2023-11-29

Coco Jambo
Panda the Bear (Andrey Gorin)
3:10
Active
4.7

2023-11-13

Coeur (cover)
Z00m (Branislav Bekeš) Total Computer Gang [TCG]
2:37
Active
4.5

2022-07-11

Comet Day
YERZMYEY AY Riders
2:20
Active
4.3

2023-11-03

Coming Soon Trashe
Scratcher (Sergey Aukin) E-mage
4:12
Active
4.0

2023-10-05

Commando
Fuxoft (František Fuka)
3:56
Active
4.1

2023-11-15

Con
Mischel (Mihail) FX-Illusion
2:57
Active
4.0

2023-09-16

Condommed Intro
Scratcher (Sergey Aukin) E-mage
1:28
Active
4.7

2023-08-24

Condommed Track 1
Scratcher (Sergey Aukin) E-mage
4:13
Active
3.6

2023-07-14

Condommed Track 2
Scratcher (Sergey Aukin) E-mage
1:21
Active
4.7

2023-11-18

Condommed Track 3
Scratcher (Sergey Aukin) E-mage
1:29
Active
4.8

2023-08-26

Condommed Track 4
Scratcher (Sergey Aukin) E-mage
2:33
Active
3.0

2020-07-28

Cool GFX
Klim (Grigoriy Klimenko) Omega Hackers Group
2:41
Active
4.8

2023-10-26

Cool Gfx (ReMmcMix)
MmcM (Sergey Kosov)
2:40
Active
4.5

2023-03-22

Cosmigs
Visual (Sergey Agapov) Serzhsoft
4:12
Active
3.0

2023-08-30

Cosmix Promotion
Mic (Mikhail Ivashenko) Progress [PGS]
1:17
Active
5.0

2023-11-16

CR2
Alex Mikhailov Scorpion & K H.G.
2:59
Active
4.4

2023-04-16

CrackDown
Mark Cooksey
5:00
Active
4.0

2023-10-09

Crash Override
Slash_AtD (Dennis Podolskiy) ADG
1:29
Active
4.8

2023-09-26

Crazy Comets & Penetrator
Fuxoft (František Fuka)
2:29
Active
4.3

2023-12-05

Crazy Moros (Special For SBG)
Surgeon (Aleksey Lutsenko) Entire
1:29
Active
4.8

2023-12-01

Creating The Future
C-jeff (Dmitry Zhemkov) AY Riders
3:22
Active
4.0

2023-10-30

Critical Error (Full)
YERZMYEY AY Riders , HOOY-PROGRAM
5:30
Active
4.4

2023-11-27

Critical Error part 1
YERZMYEY AY Riders , HOOY-PROGRAM
1:40
Active
4.0

2023-11-19

Critical Error part 2
YERZMYEY AY Riders , HOOY-PROGRAM
1:14
Active
5.0

2023-10-22

Critical Error part 3
YERZMYEY AY Riders , HOOY-PROGRAM
1:19
Active
4.6

2023-11-17

Crystal Rain (CSC: Deja Vu)
Panda the Bear (Andrey Gorin)
3:27
Active
4.8

2023-11-05

Cub
YERZMYEY AY Riders
2:33
Active
4.7

2023-11-17

Cube
Mas (Sergey Marinichev)
3:52
Active
4.2

2023-08-13

Cupidon's Spring
Riskej (Sergey Sharov)
2:13
Active
3.3

2023-10-26

Cyberculosis (AY Remake)
Z00m (Branislav Bekeš) Total Computer Gang [TCG]
3:12
Active
4.7

2023-11-02

Cybernoids revenge
Gasman (Matthew Westcott)
3:19
Active
4.5

2023-11-21

D.N.A. Warrior - Title
Nigel Pritchard
3:52
Active
4.6

2023-10-30

Daley Thompson's Olympic challenge
Jonathan Dunn
2:37
Active
3.5

2023-08-15

Dancing With Kaddafi
Siril (Ilya Vinogradov) 4th Dimension [4D]
2:17
Active
3.2

2023-11-27

Dark Galactica
YERZMYEY AY Riders
5:07
Active
4.1

2023-11-21

DarkMan
Jonathan Dunn
5:00
Needs Re-Encoding
3.7

2021-08-19

Days of Thunder
David Whittaker
2:26
Active
3.8

2023-10-25

Deaf DMP
C-jeff (Dmitry Zhemkov) AY Riders
2:02
Active
4.3

2023-11-24

Ded Smirnoff - Road (MmcM Remix)
MmcM (Sergey Kosov)
4:39
Active
4.8

2023-11-28

Defenders of the Earth
Ben Daglish
4:07
Dupe
5.0

2015-05-01

Defenders of the Earth - Title
Benn Daglish
4:07
Active
4.4

2023-10-06

Deflektor - Title
Ben Daglish
2:49
Active
4.3

2023-11-27

Defloration
Z00m (Branislav Bekeš)
3:16
Active
4.8

2023-11-28

Delta
Gasman (Matthew Westcott) AY Riders , HOOY-PROGRAM
1:30
Active
4.9

2023-11-25

Denizen
Andy Severn
1:40
Active
4.3

2023-10-29

Deprivation
MmcM (Sergey Kosov)
3:23
Active
5.0

2023-10-08

Destination Unknown
Z00m (Branislav Bekeš) Total Computer Gang [TCG]
3:31
Active
4.8

2023-11-29

Details
Trensoft (Zsolt Trencsényi)
4:51
Active
4.6

2023-11-26

Detroyt
Black Groove Triebkraft
2:08
Active
4.8

2023-11-25

Deviants
Andy Severn
1:32
Active
3.5

2021-09-13

Different Pain
Black Groove Light Future Group [LFG]
2:02
Active
4.0

2020-10-23

Digital Espresso
Pator (Kamil Patecki) Joker
2:51
Active

2023-11-10

Dine a Done (Cover)
Ishma (Ivan Shmatov)
2:32
Active
3.8

2023-09-19

Dist Of Dick
Fatal Snipe (Denis Pokalyuk)
4:36
Active
4.3

2023-11-22

Dizzy - Cover
Molodcov Alex (Aleksandr Molodtsov)
1:13
Active
3.5

2023-10-07

Dizzy Y - Title
Daf Sound
7:48
Active
4.7

2023-11-28

Dj Alligator
Wally (Sergey Nilov)
1:11
Active
3.8

2023-09-30

DNK 1
DNK (Dmitry Kovalev) Virtual Group
2:50
Active
4.8

2023-11-12

Dogma
Sairoos (Aleksander Gavrilov) Eternity Industry
4:57
Active
4.3

2023-11-22

Don't Stop
Dj.Mel (Aleksandr Borzenkov) Coders Academy , Partyzans
3:09
Active
4.3

2023-10-30

Don't Vote For This
X-Agon (Vit Hotarek) AY Riders
2:26
Active
3.8

2023-10-23

Doom-1 (Myst)
Sauron (Alexander Vasilyev) Digital Reality
2:05
Active
4.4

2023-11-16

Doubtful Future
MmcM (Sergey Kosov)
2:52
Active
5.0

2023-11-25

Down The Mark
wbcbz7 (Artem Vasilev)
3:00
Active
Downtown
Z00m (Branislav Bekeš)
2:40
Active
4.0

2020-12-19

Dr James
Kunf (Anton Kunafin) Begemota Soft , Digital Sound Labs , Eighteen Group
2:28
Active
3.8

2023-08-12

Dragon Slayer 2 (Cover)
Ishma (Ivan Shmatov)
2:40
Active
5.0

2021-09-16

Dragon Spirit
A. J. Madden
1:09
Active
4.6

2023-12-02

Dragonfly
Gasman (Matthew Westcott) AY Riders , HOOY-PROGRAM
2:51
Active
4.5

2023-08-16

Dream Day
MmcM (Sergey Kosov)
2:07
Active
4.5

2023-11-16

Dreamless
Mic (Mikhail Ivashenko) MPS , Progress [PGS]
2:33
Active
4.3

2023-09-27

Drowner
Mad_Max (Maksim Ponomaryov) Silicon Brains
2:25
Active
4.4

2023-10-29

E.T. Flying
Fuxoft (František Fuka)
0:42
Active
4.0

2023-07-07

Earport
YERZMYEY
5:00
Active
4.7

2023-10-19

Earport
YERZMYEY
5:00
Active
4.6

2023-10-03

Easterbirdie
Gasman (Matthew Westcott) AY Riders
1:57
Active
4.8

2023-11-28

Ecstasy 3 St
Imp (Vladimir Hropov) Dream Makers Sofrware , RUSH
3:42
Active
4.7

2023-05-07

EggHead 4
YERZMYEY HOOY-PROGRAM
4:30
Active
4.6

2023-11-28

EggHead 5
YERZMYEY HOOY-PROGRAM
3:19
Active
4.8

2023-11-16

Eldorado
Amadeus Voxon (Michael Belousov) Flash Inc.
2:48
Active
4.3

2023-10-29

Electric City
TDM (Tomas Hauerland) AY Riders
4:10
Active
4.7

2023-11-21

ElectroBody (Spectrum48 Cover)
YERZMYEY
3:44
Active
4.0

2020-10-22

ELFTRO
Kaszi75 (András Kaszanyitzky)
2:17
Active

2023-09-13

Eliminator
X-Agon (Vit Hotarek) AY Riders
6:31
Active
4.0

2023-10-04

Elysium
Mad_Max (Maksim Ponomaryov) Silicon Brains
3:08
Active
4.5

2023-11-27

Enchanted Woods
Shiru (Aleksandr Semyonov)
2:41
Active
4.6

2023-11-30

End
Amadeus Voxon (Michael Belousov) Flash Inc.
4:25
Active
4.5

2022-10-02

End of Summer
Mad_Max (Maksim Ponomaryov) Silicon Brains
3:00
Active
4.8

2023-11-22

End Time
MmcM (Sergey Kosov) Sage
2:56
Active
4.7

2023-11-03

End Time
Pentasoft Serious Speccy Group
2:08
Active
3.6

2023-08-24

Energy Soundtrack
Mic (Mikhail Ivashenko) Progress [PGS]
3:05
Active
4.7

2023-11-25

Enigma
Amadeus Voxon (Michael Belousov) Flash Inc.
2:59
Active
4.6

2023-09-21

Enigma
Factor6 AY Riders
4:44
Active
4.9

2023-11-12

Enlight
Dexter (Nikolay Zhirov) Galaxy Inc.
3:18
Active
4.4

2023-11-22

Enlight'97 2
Jass (Evgeny Spiryakov)
2:44
Active
3.7

2023-11-10

EOF
Trommler
1:30
Active
3.2

2023-09-25

Epilogue
Eraser (Artem Shabarshin) Unique
3:11
Active
4.0

2023-11-12

Equinoxe V
Fuxoft (František Fuka)
1:53
Active
4.6

2023-10-04

Escape from the Spaceship
YERZMYEY
6:43
Active
4.7

2023-11-08

eUA
n1k-o (Oleg Nikitin)
1:37
Active
5.0

2023-08-12

Everything Will Pass (Cover)
Ishma (Ivan Shmatov)
2:28
Active
4.5

2023-11-23

Exellars
Amadeus Voxon (Michael Belousov) Flash Inc.
6:19
Active
3.8

2023-11-12

Exolon - Title
Nick Jones
1:13
Active
4.5

2023-09-09

Exreal Tune
Mr. Z (Evgeny Leshukov) LS
4:42
Active
4.4

2023-11-16

Extatica
Amadeus Voxon (Michael Belousov) Flash Inc.
3:53
Active
4.3

2023-11-12

Extreme
Kum (Alexander Kuznetsov) Global Corporation
2:48
Active
4.0

2023-10-24

Extremes
Factor6 AY Riders
3:56
Active
4.0

2023-11-27

F.I.R.E.
Z00m (Branislav Bekeš)
1:16
Active
4.3

2023-12-03

F.I.R.E.
Fuxoft (František Fuka)
1:29
Active
4.5

2023-11-19

Factor6 24
TDM (Tomas Hauerland) AY Riders
2:38
Active
3.8

2023-11-11

Fall To Quatix
Kunf (Anton Kunafin) Begemota Soft , Digital Sound Labs , Eighteen Group
2:25
Active
4.0

2021-10-27

Fallos
Karbofos (Nikolay Mumrin) Triumph
2:38
Active
4.5

2023-10-03

Fantasia
Gasman (Matthew Westcott) AY Riders
1:18
Active
3.7

2023-09-22

Fantasy
KVS (Vyacheslav Kislov) Flash Inc.
3:53
Active
4.4

2023-12-02

Fantasy World Dizzy - Complete
David Whittaker
1:02
Active
3.7

2023-11-16

Fantasy World Dizzy - Ingame
David Whittaker
2:37
Active
4.3

2023-09-30

Fast
EA-Soft (Ilya Abrosimov) Antares , MegaDate Group
2:55
Active
3.4

2023-08-19

Fastmode Zorba Apocalypse
tayle (Alexey Bilichenko) Team Site
2:09
Active
4.7

2023-11-26

Fat Cat Wants Tasty Fish
Megus (Roman Petrov) AY Riders
1:56
Active
4.2

2023-10-05

Fatality
Imp (Vladimir Hropov) Dream Makers Sofrware , RUSH
5:00
Active
4.6

2023-11-30

Fear Zone
X-Agon (Vit Hotarek) AY Riders
2:46
Active
4.3

2023-08-10

February 2011
MmcM (Sergey Kosov) Sage
2:33
Active
4.8

2023-12-04

Feel Mix
C-jeff (Dmitry Zhemkov) AY Riders
2:29
Active
4.0

2023-10-16

Fellowship
Ahim (Michael Erastov) , Fatal Snipe (Denis Pokalyuk)
3:34
Active
4.6

2023-11-15

Feud
Fuxoft (František Fuka)
2:33
Active
4.8

2023-11-21

Fifth Channel
YERZMYEY HOOY-PROGRAM
4:04
Active
4.8

2023-11-15

Film Music 001
Agent-X (Ed Polinski) Exodus
6:01
Active
4.4

2023-10-26

Finder
MmcM (Sergey Kosov) Sage
1:46
Active
4.7

2023-11-24

Firebird
Amadeus Voxon (Michael Belousov) Flash Inc.
3:24
Active
4.3

2023-09-18

Firstlee
Key-Jee (Ivan Petukhov)
2:18
Active
3.0

2022-07-10

Flash! (Flash in the Night)
Amadeus Voxon (Michael Belousov) Flash Inc.
3:44
Active
4.9

2023-11-27

Flashdance
Black Lord (Roman Kusakin) Light Future Group [LFG]
2:46
Active
4.8

2023-09-25

Flimbo's Quest 1
Factor6 AY Riders
1:06
Active
4.7

2023-12-04

Flip-O
Z00m (Branislav Bekeš) Total Computer Gang [TCG]
1:32
Active
4.0

2022-12-16

Floppys
Amadeus Voxon (Michael Belousov) Flash Inc.
3:52
Active
4.3

2023-09-17

Follin' Through Space...
Gasman (Matthew Westcott) HOOY-PROGRAM
3:15
Active
4.5

2023-10-14

Follinoxe
Factor6 AY Riders
1:33
Active
4.7

2023-09-08

FOR EVERyone
Lamer Pinky (Petr Klusal)
3:08
Active
4.9

2023-09-29

Forever 2
Bloody Joseff (Ruslan Ermolin) Digital Reality
3:32
Active
4.6

2023-09-25

Freddy (Dogma intro)
Sairoos (Aleksander Gavrilov)
0:58
Active
4.0

2023-11-29

Freedom
MmcM (Sergey Kosov)
2:43
Active
4.5

2022-10-21

Freestyle
Andy Fer (Andrey Aleksandrov)
2:18
Active
4.7

2023-09-07

Freezer
Stack (Leonid Golynchik) Green Software
2:15
Active
4.5

2021-12-13

Fuck Off
YERZMYEY
3:18
Active
4.2

2023-11-20

FuckUp At Dreamhack
Z00m (Branislav Bekeš) Total Computer Gang [TCG]
1:37
Active
4.0

2023-10-04

Fugue
Fuxoft (František Fuka)
2:10
Active
4.3

2023-10-26

Funky Envelopes
Karbofos (Nikolay Mumrin)
2:19
Active
4.3

2023-11-18

FuxGift'98
Mic (Mikhail Ivashenko) Progress [PGS]
1:30
Active
4.3

2023-07-26

G.I. Hero - Title
Dave Rogers
2:30
Active
4.6

2023-11-25

Galaxy 2
ASC (Andrew Sendetsky)
4:11
Active
4.7

2023-11-27

Game Of Mind
MmcM (Sergey Kosov) Sage
2:13
Active
4.3

2023-09-23

Gary Lineker's Hot-Shot
Ben Daglish
1:22
Active
4.0

2023-11-04

Gary Lineker's Superskills - In-Game
Ben Daglish
0:58
Active
4.7

2023-11-20

Gary Lineker's Superskills - Title
Ben Daglish
1:53
Active
4.4

2023-09-09

Gavno1
Amadeus Voxon (Michael Belousov) Flash Inc.
2:59
Active
3.0

2023-10-15

Geography CZ&SK
BFA'ce
1:06
Active
4.0

2023-11-25

Geography Intro
BFA'ce
1:32
Active
4.7

2023-07-09

Get Mad
YERZMYEY
2:44
Active
3.6

2023-11-25

Get Mad (Full Version)
YERZMYEY AY Riders
2:44
Active
3.3

2023-08-09

Get Up
4-Mat (Matt Simmonds) Ate Bit
1:16
Active
4.0

2023-07-26

Ghostbusters
Fuxoft (František Fuka)
3:02
Active
4.3

2023-09-26

Gianna Cracktro
Factor6 AY Riders
1:21
Active
4.6

2023-11-15

Gift For Mike Follin
YERZMYEY HOOY-PROGRAM
2:40
Active
4.9

2023-10-06

Global Motion
Bonysoft (Boris Gribov)
5:28
Active
4.5

2022-03-12

GMS-1
GMS (Georgy Terent'ev) Gladiators Soft
3:23
Active
4.6

2023-10-16

Goddy
Karbofos (Nikolay Mumrin)
1:36
Active
4.4

2023-11-27

Golden Axe - Final Cut
Sound Images
2:02
Active
4.3

2023-06-30

Golden Axe - Title
Sound Images
4:18
Active
4.9

2023-10-14

Golden Triangle Anthem
Fuxoft (František Fuka)
0:51
Active
3.5

2022-01-27

Good 'n' Evil
Visual (Sergey Agapov) Magic Soft
2:41
Active
4.8

2023-11-05

Good In Wood
MmcM (Sergey Kosov) Sage
3:00
Active
4.8

2023-11-16

Good Mornin'!
Mic (Mikhail Ivashenko) MPS
2:37
Active
4.6

2023-10-22

Goody - Title
Gonzo (Gonzalo Suárez Girard)
1:48
Active
4.0

2023-11-11

Grand Hotel
MmcM (Sergey Kosov) Sage
2:17
Active
4.3

2023-11-27

Grave 3.0
Sergey Pahomov
2:01
Active
3.6

2023-11-18

G_Luck
MSA Excess Team
3:04
Active
3.3

2023-10-30

H.A.T.E. - Title
Ben Daglish
2:08
Active
4.8

2023-10-02

Hanashi: Pretty Voice of Spring
Riskej (Sergey Sharov)
1:48
Active
5.0

2022-09-24

Happy
MmcM (Sergey Kosov)
1:39
Active
5.0

2023-04-09

Happy Beerday, KSA!
GENA MPS , Progress [PGS]
1:44
Active
4.0

2019-11-28

Happy Birghtay, Smoke!
Jam (Dmitry Belov) Clevers Group [CLV]
1:15
Active
2.5

2023-11-22

Happy Birthday
Fresher (Aleksey Kudryashov) Phantom Family [PHF]
1:34
Active
4.0

2023-02-27

Happy Birthday - Nice Pops Music
DNK (Dmitry Kovalev) , Sector
1:40
Active
4.8

2023-11-19

Happy Birthday 2 Fikus Family!
Slack Den (Denis Suslin) Flash Inc.
2:15
Active
3.0

2023-03-04

Happy Birthday 2 Woolfy
Midisoft (Roman Tutkevich) Energy Minds
2:03
Active
4.6

2023-05-13

Happy Birthday!
Kenotron (Andrey Tryasun) ETC , Scene
1:21
Active
4.7

2023-11-20

Happy Birthday, Brom!
Seth (Aleksey Leshilovsky)
1:42
Active
5.0

2023-12-02

Happy Birthday, CyberJack!
Black Groove Light Future Group [LFG]
1:34
Active
4.7

2023-12-04

Happy Birthday, Jocker! (Jingle)
Criminal (Andrey Gulov) Die Krupps
0:15
Active
4.0

2022-11-12

Happy Birthday, KSA !!!
Mic (Mikhail Ivashenko) MPS
2:53
Active
4.7

2023-09-11

Happy Birthday, ZS!
MmcM (Sergey Kosov) Sage
2:37
Active
4.6

2023-10-28

Happy new year 2014
Factor6
2:52
Active
4.3

2023-11-05

Happy New Year Speccy
MmcM (Sergey Kosov) Sage
3:45
Active
4.6

2023-09-27

Hard Live
Zhenya (Evgeniy Dalnikov) Zero
2:53
Active
4.4

2023-09-26

Harmonics
mborik (Martin Bórik) Gembaboys
2:45
Active
4.7

2023-11-12

Haunted Mansion
YERZMYEY AY Riders
3:59
Active
4.0

2023-06-23

Hazard Lights (TFM)
Shiru (Aleksandr Semyonov)
3:02
Active
4.5

2023-02-22

Hell Raisers
Criminal (Andrey Gulov) Die Krupps
3:49
Active
4.6

2023-08-01

Hellbeat
Kunf (Anton Kunafin) Begemota Soft , Digital Sound Labs , Eighteen Group
1:18
Active
3.0

2023-11-17

Hello World !
Shark (Viktor Chaban) Mafia , Omega Hackers Group
3:02
Active
4.4

2023-09-21

Hello, I'm your mouse... (Cover)
Ishma (Ivan Shmatov)
1:56
Active
4.8

2023-11-30

Hennxx Wear II
Fatal Snipe (Denis Pokalyuk)
3:51
Active
4.0

2023-10-27

Henriette
Z00m (Branislav Bekeš) Total Computer Gang [TCG]
1:32
Active
4.0

2023-01-22

Hero Quest - In-Game 01
The Jackal (Barry Leitch)
6:58
Active
4.5

2023-11-17

Hero Quest - In-Game 02
The Jackal (Barry Leitch)
2:49
Active
4.5

2023-10-31

Hero Quest - Title
The Jackal (Barry Leitch)
3:38
Active
4.4

2023-11-01

Hexabin
Kum (Alexander Kuznetsov) Global Corporation
3:16
Active
4.0

2023-09-01

Hi! Kiiiidddoooo !!!!!
Fux (Sergey Fisun) Progress [PGS]
1:14
Active
4.3

2023-11-30

History
Black Groove Light Future Group [LFG]
1:32
Active
4.0

2020-11-17

Hit Squad
Oko (Oleg Krasnobaev)
2:22
Active
4.3

2023-11-12

Holmes
Jaan (Jaan Viira) , Starsoft (Vladislav Sobolev) Phantasy
1:33
Active
4.3

2023-10-12

Hooyoza
YERZMYEY HOOY-PROGRAM
2:27
Active
4.0

2023-10-04

Hooyoza 2
YERZMYEY HOOY-PROGRAM
3:52
Active
4.6

2023-07-02

Hooyoza 3
YERZMYEY HOOY-PROGRAM
2:25
Active
4.8

2023-09-21

Hope Spring Is Eternal
Gasman (Matthew Westcott) AY Riders
3:04
Active
4.5

2023-09-09

Horse
YERZMYEY HOOY-PROGRAM
2:26
Active
4.7

2023-10-31

Hot Shot - Title
Matt Black
1:21
Active
4.6

2023-11-18

House (Bunch Of Arse)
YERZMYEY HOOY-PROGRAM
2:59
Active
4.8

2023-12-03

Humanojodzin
YERZMYEY HOOY-PROGRAM
0:57
Active
4.5

2023-11-29

HumBuk
X-Agon (Vit Hotarek) AY Riders
1:12
Active
4.3

2023-12-01

Hung Up (Madonna Cover)
Factor6 , TDM (Tomas Hauerland) AY Riders
5:40
Active
4.3

2023-10-24

Hymn To Aurora
Igoval (Igor Shevelev)
4:13
Active
4.8

2023-11-10

I Am Fine
X-Agon (Vit Hotarek) AY Riders
3:22
Active
3.2

2023-09-29

I Don't Want To Receive A Girl
Kunf (Anton Kunafin) Begemota Soft , Digital Sound Labs , Eighteen Group
2:48
Active
3.3

2023-09-20

I like Dub
MmcM (Sergey Kosov)
2:40
Active
4.0

2022-10-21

I Wanna A1200
Never (Aleksey Kolin) CyberPunks Unity
1:41
Active
3.7

2023-12-03

I'll be really happy when I...
Panda the Bear (Andrey Gorin) ETC
1:46
Active
4.9

2023-10-25

Ice Age
Z00m (Branislav Bekeš) Total Computer Gang [TCG]
1:09
Active
5.0

2023-11-06

Illusion
Arno (Alexander Mikhailov) Omega Group
2:48
Active
5.0

2023-11-18

Illusion
Sergey Maltsev Real Masters
3:45
Active
3.7

2023-11-02

Im Not Guilty
Wally (Sergey Nilov)
1:49
Active
4.2

2023-10-07

IM35
YERZMYEY AY Riders
3:23
Active
5.0

2023-11-22

Imagination
MmcM (Sergey Kosov)
1:25
Active
4.0

2023-06-27

Imp 29
Imp (Vladimir Hropov)
2:02
Active
4.2

2023-05-28

Impaction
Juraj Machac
1:50
Active
4.3

2023-12-03

Improviz.One
Sergey Pahomov
3:05
Active
3.4

2023-10-02

Improvization
Black Groove Light Future Group [LFG]
1:21
Active
4.5

2022-11-16

In Color
Response (Kenneth Vangsjordet) Darklite , Offence
6:14
Active
4.0

2023-08-29

In Memory Of Noman^SOK R.I.P (TS)
MmcM (Sergey Kosov) Sage
2:37
Active
4.3

2023-09-28

In the Middle of Medved
Panda the Bear (Andrey Gorin)
2:36
Active
4.7

2023-09-27

Inbeatween
Sairoos (Aleksander Gavrilov)
3:59
Active
3.5

2023-10-02

Incantations 3
Gasman (Matthew Westcott) AY Riders
1:53
Active
4.0

2023-01-22

Incurable Mad
Mad_Max (Maksim Ponomaryov) Silicon Brains
3:17
Active
4.2

2023-09-29

Indiana Jones 3
Fuxoft (František Fuka)
1:54
Active
4.5

2023-09-06

Industrial Fucking 2
YERZMYEY AY Riders
3:53
Active
4.4

2023-12-03

Insane
Karbofos (Nikolay Mumrin)
1:40
Active
4.8

2023-06-07

Inside
Factor6 AY Riders
0:54
Active
5.0

2023-01-04

Inside Out
Amadeus Voxon (Michael Belousov) Flash Inc.
3:17
Active
4.8

2023-10-22

Intensive
Amadeus Voxon (Michael Belousov) Flash Inc.
3:20
Active
5.0

2023-11-17

Intro 1
Alien Virtual Group
0:39
Active
4.3

2023-11-18

Intro1
Amadeus Voxon (Michael Belousov) Flash Inc.
1:29
Active
4.7

2023-11-16

Intro1 (TS)
Voxel (Andrey Konov) Triumph
1:29
Active
4.8

2023-10-01

Intro2
Amadeus Voxon (Michael Belousov) Flash Inc.
3:52
Active
4.5

2023-09-10

Intromuza (Fractured.ni Remix)
Slash_AtD (Dennis Podolskiy) ADG
1:55
Active
4.9

2023-12-02

Invitation
Fatal Snipe (Denis Pokalyuk)
2:45
Active
4.4

2023-12-02

It's Fun
Kunf (Anton Kunafin) Begemota Soft , Digital Sound Labs , Eighteen Group
4:20
Active
4.3

2023-11-29

It's In Your Eyes...
Lamer Pinky (Petr Klusal)
3:46
Active
4.5

2023-08-20

It's Life
MmcM (Sergey Kosov) Sage
3:26
Active
4.6

2023-12-05

Jam - Intro part
Sauron (Alexander Vasilyev) Digital Reality
0:44
Active
5.0

2023-07-11

Jam - Main part
Sauron (Alexander Vasilyev) Digital Reality
1:58
Active
4.0

2023-10-09

January 2011
MmcM (Sergey Kosov) Sage
1:59
Active
4.7

2023-11-01

January Days
MmcM (Sergey Kosov)
2:18
Active
4.5

2023-10-02

Jarre
Kenotron (Andrey Tryasun) ETC , Scene
3:39
Active
4.3

2023-10-21

Jean Michelle Jarre
Kunf (Anton Kunafin) Begemota Soft , Digital Sound Labs , Eighteen Group
1:45
Active
4.2

2023-09-19

Jeffunk
Factor6 AY Riders
2:05
Active
4.7

2023-10-22

Jet Set Willy
X-Agon (Vit Hotarek) AY Riders
5:20
Active
4.2

2023-12-03

Jet Story
Fuxoft (František Fuka)
3:45
Active
4.3

2023-10-25

Join Me
Wally (Sergey Nilov)
1:52
Active
4.3

2023-11-05

Joke 4 FunTop'98 (Cover)
Ishma (Ivan Shmatov)
2:06
Active
4.3

2023-10-27

Joker01
Amadeus Voxon (Michael Belousov) Flash Inc.
2:09
Active
4.7

2023-10-26

Joker02
Amadeus Voxon (Michael Belousov) Flash Inc.
3:37
Active
4.7

2023-10-28

Jophar Vorin of Laxaria
YERZMYEY
2:37
Active
5.0

2023-11-20

Jungle (Short Version)
X-Man Alliance Team
2:53
Active
3.4

2023-11-29

Jungle Bit + PopsAcid
MmcM (Sergey Kosov) Sage
2:05
Active
4.6

2023-10-02

Jusic'97
Grey (Grigoriy Bologov)
2:58
Active
4.0

2023-07-09

Jusoft
Jusoft (Pavel Jurzykowski)
4:55
Active
4.9

2023-09-13

Kaminari
YERZMYEY AY Riders , HOOY-PROGRAM
2:43
Active
4.6

2023-11-17

Karakuli
Titus (Andrey Titov) MKHG
2:48
Active
3.0

2023-11-27

Karma
Z00m (Branislav Bekeš) Total Computer Gang [TCG]
2:49
Active
4.0

2023-08-17

Karma (Extended Version)
Z00m (Branislav Bekeš) Total Computer Gang [TCG]
3:28
Active
4.3

2023-11-24

Karma 2
Z00m (Branislav Bekeš) Total Computer Gang [TCG]
2:46
Active
4.7

2023-12-04

Kaviar (Cover)
Ishma (Ivan Shmatov)
2:10
Active
4.5

2021-04-10

Kick Da Break
Fatal Snipe (Denis Pokalyuk)
2:54
Active
4.8

2023-10-27

Kino
Oko (Oleg Krasnobaev)
9:59
Active
4.0

2019-09-19

KiSH - Sorcerer Doll
Wally (Sergey Nilov)
3:28
Active
5.0

2023-03-24

KK
Karbofos (Nikolay Mumrin) , Kyv (Yurij Klopov)
1:52
Active
4.0

2023-11-21

Kolohneez
Factor6 AY Riders
1:42
Active
3.7

2023-10-18

Konami
C-jeff (Dmitry Zhemkov)
18:39
Active
3.9

2023-02-14

KOTO Megamix
YERZMYEY AY Riders
5:24
Active
4.5

2023-10-31

Kpacku
n1k-o (Oleg Nikitin)
1:57
Active
5.0

2023-12-05

Krack Me Tonight
C-jeff (Dmitry Zhemkov)
3:26
Active
2.9

2023-10-11

Krap Gang
Z00m (Branislav Bekeš) Total Computer Gang [TCG]
2:06
Active
5.0

2023-11-11

Krunk
4-Mat (Matt Simmonds) Ate Bit
3:25
Active
4.0

2023-10-09

Krwrk RMX
Karbofos (Nikolay Mumrin)
3:00
Active
3.0

2023-09-06

KSA in Noro's Style (Party Version)
KSA (Stanislav Kuzin)
4:21
Active
4.5

2023-11-11

Kwadratish Praktish Gud
MmcM (Sergey Kosov) Sage
1:17
Active
4.5

2023-11-06

Lamerina
X-Agon (Vit Hotarek) AY Riders
1:19
Active
4.6

2023-12-04

Lamerz Must Die
Scratcher (Sergey Aukin) E-mage
2:52
Active
4.0

2023-08-05

Land of Confusion
Fuxoft (František Fuka)
4:12
Active
4.6

2023-09-30

Larel_E
Alex Mikhailov Scorpion & K H.G.
2:41
Active
4.3

2023-10-03

Last
Factor6 AY Riders
2:47
Active
4.7

2023-10-05

Last Batl
KSA (Stanislav Kuzin) Progress [PGS]
2:48
Active
4.4

2023-11-14

Last Wish
Darkman007 (Vladimir Tugay)
2:54
Active
5.0

2023-03-06

Laya
Baze (Milos Bazelides) 3SC
2:33
Active
3.3

2023-11-30

Lazarus (Out Of Time 1)
Cat-Man (Rafal Kus) Claw , Exodus
3:26
Active
3.7

2023-12-05

Lemmings - Title Screen
Unknown Artist
3:38
Active
4.5

2023-11-20

Lesnik
Wally (Sergey Nilov)
1:39
Active
4.7

2023-09-25

Level
MmcM (Sergey Kosov)
2:29
Active
4.5

2023-05-25

Lichu Naroketi!
Karbofos (Nikolay Mumrin)
3:19
Active
4.3

2023-11-22

Light'96
Deni (Denis Sokolov) X-Trade (XTD - XTR)
5:04
Active
4.7

2023-11-25

Likemya
Joe (Ruslan Ermolin) Digital Reality
2:53
Active
4.7

2023-11-20

Little Girl With Big Yellow Bow
Karbofos (Nikolay Mumrin)
1:45
Active
4.3

2023-10-22

Live After Death (Compo Version)
Black Groove Light Future Group [LFG]
2:56
Active
4.3

2023-08-05

Long End
Sector Serious Speccy Group
3:19
Active
4.7

2023-10-03

Long Flight
Ishma (Ivan Shmatov)
3:09
Active
4.9

2023-11-28

Losing Victoria
Gasman (Matthew Westcott) AY Riders , HOOY-PROGRAM
2:20
Active
4.8

2023-10-04

Lost In Sound!
Mic (Mikhail Ivashenko) Progress [PGS]
1:55
Active
4.5

2023-11-19

Lost Love
Visual (Sergey Agapov)
3:45
Active
4.3

2023-10-27

Lotus
Amadeus Voxon (Michael Belousov) Flash Inc.
3:12
Active
4.5

2023-11-12

Love '96
Slash_AtD (Dennis Podolskiy) ADG
2:46
Needs Re-Encoding
4.9

2023-10-04

Lovers
C-jeff (Dmitry Zhemkov)
3:08
Active
5.0

2023-11-02

Lyra Music Demo Pt 1
Ziutek (Andrzej Siuda) ESI
0:46
Active
4.7

2023-06-27

Lyra Music Demo Pt 2
Ziutek (Andrzej Siuda) ESI
5:37
Active
4.1

2023-11-12

Lyra Music Demo Pt 3
Ziutek (Andrzej Siuda) ESI
2:43
Active
4.4

2023-11-26

Lyra Music Demo Pt 4
Ziutek (Andrzej Siuda) ESI
6:01
Active
3.9

2023-08-25

Lyra Music Demo Pt 5
Ziutek (Andrzej Siuda) ESI
4:21
Active
4.4

2023-11-16

Lyra Music Demo Pt 6
Ziutek (Andrzej Siuda) ESI
1:09
Active
4.8

2023-11-24

Lyra Music Demo Pt 7
Ziutek (Andrzej Siuda) ESI
0:54
Active
4.0

2023-11-26

Lyra Music Demo Pt 8
Ziutek (Andrzej Siuda) ESI
2:48
Active
4.7

2023-11-19

Lyra Music Demo Pt 9
Ziutek (Andrzej Siuda) ESI
2:25
Active
4.8

2023-10-08

Mad Max
Factor6 AY Riders
4:29
Active
4.6

2023-10-21

Mad-Dog
Visual (Sergey Agapov)
4:14
Active
4.4

2023-07-30

Mad-Dog (Extended Version)
Visual (Sergey Agapov) Extreme Entertainment
4:24
Active
4.2

2023-11-05

Madmen
MmcM (Sergey Kosov)
3:08
Active
4.7

2023-12-05

Magic Land Dizzy (Remix)
Ironman (Anton Shumakov)
2:59
Active
4.0

2023-09-25

Magic Land Dizzy (Remix)
Black Fox (Oleg Senin)
2:41
Active
4.3

2023-10-19

Magic Land Dizzy - Ingame
David Whittaker
2:14
Active
4.4

2023-11-02

Magic Land Dizzy - Title
David Whittaker
5:00
Active
4.2

2023-11-11

Magic of Love
Criminal Gas (Andrey Gulov) Die Krupps
2:51
Active
3.9

2023-02-26

Magicians Are Laughing Around Jeffie
C-jeff (Dmitry Zhemkov)
2:07
Active
3.6

2023-10-25

Magnetic Fields
Z00m (Branislav Bekeš) Total Computer Gang [TCG]
1:47
Active
3.8

2023-11-18

Magnetic Fields IV
Fuxoft (František Fuka)
5:40
Active
4.8

2023-12-01

Magnetic Fields V
Fuxoft (František Fuka)
5:32
Active
4.4

2023-10-02

Malikov
Slash_AtD (Dennis Podolskiy) ADG
2:20
Active
4.4

2023-11-20

Man of Art
MmcM (Sergey Kosov)
2:53
Active
4.7

2023-09-24

Manifesto
Nick Roll Gembaboys
3:17
Active
4.3

2023-10-23

Marauder - Enter Your Name
Dave Rogers
1:16
Active
4.9

2023-11-11

Marauder - In-Game
Dave Rogers
3:47
Active
4.8

2023-10-18

Marauder - Title
Dave Rogers
1:49
Active
4.5

2023-10-18

March 2011
MmcM (Sergey Kosov) Sage
2:32
Active
4.4

2023-10-16

Mary Jane
Z00m (Branislav Bekeš) Total Computer Gang [TCG]
2:34
Active
4.0

2023-05-02

Master Of Magic
Fuxoft (František Fuka)
4:10
Active
4.3

2023-10-15

Maximum Taste
Factor6 AY Riders
1:32
Active
4.3

2023-10-20

Meat Grinder
Karbofos (Nikolay Mumrin)
2:05
Active
4.7

2023-10-10

Medication Time
Mic (Mikhail Ivashenko) Progress [PGS]
1:39
Active
4.6

2023-11-05

Mega-Apocalypse - Title/In-Game
Jason C. Brooke
3:06
Active
4.5

2023-11-20

Megaherz
Jaan (Jaan Viira) Phantasy
2:51
Active
3.7

2023-06-06

Megasong
Amadeus Voxon (Michael Belousov) Flash Inc.
3:24
Active
4.3

2023-10-10

MeHTbI
MmcM (Sergey Kosov)
3:29
Active
4.8

2023-11-11

Merlin's Pearl Xpeh
Slash_AtD (Dennis Podolskiy) ADG
1:50
Active
4.8

2023-12-03

Micro soundtrack
Factor6 Gembaboys
2:12
Active
5.0

2023-10-06

Microsongs - Ai
YERZMYEY AY Riders
4:21
Active
4.7

2023-11-15

Microsongs - Chouyaku
YERZMYEY AY Riders
3:06
Active
4.7

2023-10-06

Microsongs - Doko Ka Ni
YERZMYEY AY Riders
3:46
Active
4.5

2023-10-15

Microsongs - Egao
YERZMYEY AY Riders
3:08
Active
4.6

2023-11-15

Microsongs - Enro
YERZMYEY AY Riders
2:50
Active
4.7

2023-11-19

Microsongs - Jigoku No Sanba
YERZMYEY AY Riders
2:42
Active
4.2

2023-11-04

Microsongs - Kure-Ji
YERZMYEY AY Riders
2:29
Active
4.6

2023-11-16

Microsongs - Naguru
YERZMYEY AY Riders
3:08
Active
4.5

2023-11-24

Microsongs - Niji
YERZMYEY AY Riders
3:45
Active
4.4

2023-10-07

Microsongs - Senshi
YERZMYEY AY Riders
4:15
Active
4.8

2023-06-27

Microsongs - Yuki
YERZMYEY AY Riders
4:21
Active
4.7

2023-12-03

Minareton
Lukás Hladecek
2:18
Active
4.5

2023-06-08

Mindtime
Factor6 AY Riders
3:18
Active
4.8

2023-10-20

Mirages 2
YERZMYEY AY Riders
3:22
Active
4.8

2023-11-11

Mirages 2001
YERZMYEY
3:44
Active
4.7

2023-11-19

Mission Andromeda
Splinter (Roman Lashkov)
3:12
Active
5.0

2023-11-26

Mission Highly Improbable - Part1
YERZMYEY HOOY-PROGRAM
1:12
Active
4.6

2023-11-20

Mission Highly Improbable - Part2
YERZMYEY HOOY-PROGRAM
1:18
Active
4.8

2023-10-29

Mission Highly Improbable - Part3
YERZMYEY HOOY-PROGRAM
1:18
Active
4.7

2023-10-17

Mission Highly Improbable - Part4
YERZMYEY HOOY-PROGRAM
1:20
Active
5.0

2023-10-30

Mission Highly Improbable - Part5
YERZMYEY HOOY-PROGRAM
1:17
Active
4.0

2023-08-17

Mission Highly Improbable - Part6
YERZMYEY HOOY-PROGRAM
1:34
Active
4.5

2021-09-07

Moment
MmcM (Sergey Kosov)
2:42
Active
4.5

2023-11-27

Money Invention
Fatal Snipe (Denis Pokalyuk)
2:44
Active
4.7

2023-06-15

Monty on the Run
Fuxoft (František Fuka)
4:56
Active
4.6

2023-11-30

Moonlight
Maverick (Andrey Pochinchik) Twin Peaks Group
2:51
Active
3.5

2023-08-05

More or Less Zero
nq (Oleg Nikitin) Skrju
2:53
Active
4.7

2023-11-02

Mornin' In Ze 4est (BODROSTb)
GENA Progress [PGS]
2:26
Active
4.6

2023-11-09

Mortal Kombat Remix
Joe (Ruslan Ermolin) , Sauron (Alexander Vasilyev) Digital Reality
1:24
Active
4.4

2023-08-01

Mortal Kombat Theme
Amadeus Voxon (Michael Belousov) Flash Inc.
0:54
Active
4.8

2023-11-18

Mortal Techno
Savage
1:53
Active
3.8

2023-11-02

Moscow
Averin Roman Real Masters
7:46
Active
4.3

2023-11-06

mot!vative
Black Fox (Oleg Senin)
1:44
Active
4.5

2023-07-13

Motherboard Circuit ISSUE ONE
YERZMYEY
4:29
Active
4.0

2023-11-15

MozicART C64
X-Agon (Vit Hotarek) AY Riders
1:12
Active
4.8

2023-12-04

Mr DJ
Roman Averin , Vlad Petrov Real Masters
4:28
Active
4.8

2023-10-09

MT Intro - Koopa
YERZMYEY HOOY-PROGRAM
3:39
Active
4.2

2023-09-03

MT01 - Space
YERZMYEY HOOY-PROGRAM
3:35
Active
4.5

2023-08-11

MT02
YERZMYEY HOOY-PROGRAM
2:04
Active
4.3

2023-09-24

MT03 - Rockin'
YERZMYEY HOOY-PROGRAM
2:52
Active
4.7

2023-11-23

MT04
YERZMYEY HOOY-PROGRAM
4:05
Active
4.4

2023-09-24

MT05 - Trance
YERZMYEY HOOY-PROGRAM
3:38
Active
4.4

2023-11-07

MT06 - Ballad
YERZMYEY HOOY-PROGRAM
3:57
Active
4.3

2023-11-16

MT07
YERZMYEY HOOY-PROGRAM
2:37
Active
4.4

2023-10-15

MT08
YERZMYEY HOOY-PROGRAM
3:03
Active
4.3

2023-12-03

MT09 - Strange
YERZMYEY HOOY-PROGRAM
4:46
Active
3.7

2023-11-09

MT10 - YerzSong
YERZMYEY HOOY-PROGRAM
3:51
Active
4.7

2023-08-24

MT11 - Core
YERZMYEY HOOY-PROGRAM
4:37
Active
3.1

2023-10-14

MT12 - CrapMo 2
YERZMYEY HOOY-PROGRAM
4:18
Active
4.3

2023-11-23

MT13 - Crapmo
YERZMYEY HOOY-PROGRAM
4:24
Active
4.4

2023-11-26

MT14 - Pop Tune
YERZMYEY HOOY-PROGRAM
4:49
Active
4.1

2023-12-03

MT15
YERZMYEY HOOY-PROGRAM
0:39
Active
5.0

2023-08-26

MT16
YERZMYEY HOOY-PROGRAM
3:36
Active
4.7

2023-10-23

MT17 - Nothing Left
YERZMYEY HOOY-PROGRAM
2:51
Active
4.0

2023-10-08

MT18 - BOA Theme
YERZMYEY HOOY-PROGRAM
4:39
Active
4.7

2023-11-24

MT19 - TekTranz
YERZMYEY HOOY-PROGRAM
2:59
Active
4.8

2023-09-01

MT20 - SadTune 2
YERZMYEY HOOY-PROGRAM
5:57
Active
4.8

2023-11-22

MT21 - Funk
YERZMYEY HOOY-PROGRAM
3:48
Active
4.5

2023-11-26

MT22 - Children
YERZMYEY HOOY-PROGRAM
4:40
Dupe
4.9

2013-04-23

MT23 - Mirages
YERZMYEY HOOY-PROGRAM
4:32
Active
4.4

2023-10-05

MT24 - JazzRock
YERZMYEY HOOY-PROGRAM
2:45
Active
4.3

2023-06-14

MT25 - JazzRock 2
YERZMYEY HOOY-PROGRAM
3:36
Active
4.5

2023-10-06

MT26 - SadTune
YERZMYEY HOOY-PROGRAM
4:56
Active
4.7

2023-10-26

MT27 - Light
YERZMYEY HOOY-PROGRAM
2:08
Active
4.3

2023-08-26

MT28 - Core2
YERZMYEY HOOY-PROGRAM
4:07
Active
4.3

2023-11-05

MT29
YERZMYEY HOOY-PROGRAM
2:42
Active
4.7

2023-08-31

MT30 - Russkaya
YERZMYEY HOOY-PROGRAM
3:36
Active
4.6

2023-10-05

MT31 - Slide
YERZMYEY HOOY-PROGRAM
4:28
Active
3.8

2023-10-30

MT32 - Tek
YERZMYEY HOOY-PROGRAM
3:13
Active
4.5

2023-07-06

MT33 - Trance 2
YERZMYEY HOOY-PROGRAM
3:42
Active
4.3

2023-10-07

MT34 - YerzMix
YERZMYEY HOOY-PROGRAM
3:05
Active
4.9

2023-11-18

MT35 - Watchin' Clouds
YERZMYEY HOOY-PROGRAM
4:37
Active
4.0

2023-10-07

MT36 - YerzMix2
YERZMYEY HOOY-PROGRAM
3:29
Active
4.3

2023-11-18

Multi
Amadeus Voxon (Michael Belousov) Flash Inc.
2:23
Active
3.8

2023-10-17

Multiorn
Agent-X (Ed Polinski)
2:48
Active
4.5

2023-11-09

MultiSadCore
Factor6 AY Riders , Gembaboys , HOOY-PROGRAM
1:53
Active
4.4

2023-10-09

Muzafuckabit
MmcM (Sergey Kosov)
2:10
Active
4.3

2023-11-09

My Birthday
Black Groove
1:57
Active
3.3

2023-10-04

My Birthday (cc1999 Version)
Black Groove Light Future Group [LFG]
2:17
Active
3.0

2023-03-14

My Trax
YERZMYEY HOOY-PROGRAM
3:39
Active
4.7

2023-12-02

Mystic Shadows
Ishma (Ivan Shmatov) Power Group
4:06
Active
4.8

2023-10-07

Na Babuku!
Panda the Bear (Andrey Gorin)
1:37
Active
4.8

2023-11-19

Napalmodium
Karbofos (Nikolay Mumrin)
0:39
Active
5.0

2023-12-01

Narco
Mr. Nik (Nikolay Purtov) Flash Inc.
3:51
Active
4.7

2023-11-15

Narcotic Trance
Visual (Sergey Agapov)
3:27
Active
4.6

2023-10-19

Navstevnici Theme
Factor6
1:20
Active
4.6

2023-11-15

NES
AER (Evgeny Atkonov)
1:49
Active
2.7

2023-08-21

Net!
Wally (Sergey Nilov)
1:05
Active
4.3

2023-11-16

Never
Alien Virtual Group
2:46
Active
4.6

2023-11-19

New Age
TDM (Tomas Hauerland) AY Riders
1:55
Active
4.3

2023-06-04

New Age 77
Fatal Snipe (Denis Pokalyuk)
3:10
Active
4.0

2023-10-17

New Line
YERZMYEY
3:26
Active
4.7

2023-11-27

New Sound
YERZMYEY AY Riders
2:23
Active
4.8

2023-10-28

New Sound Part 2
YERZMYEY
2:19
Active
4.9

2023-09-11

Nightly Delirium
Kenotron (Andrey Tryasun) ETC , Scene
3:14
Active
4.6

2023-11-12

Nightmares
YERZMYEY AY Riders , HOOY-PROGRAM
2:54
Active
4.7

2023-11-25

Nik VMF
Mr. Nik (Nikolay Purtov) Flash Inc.
3:57
Active
4.7

2023-11-26

Nikakaya
Wally (Sergey Nilov)
1:20
Active
4.0

2023-11-19

Ninja Starts School
Z00m (Branislav Bekeš) Total Computer Gang [TCG]
1:18
Active
4.7

2023-08-24

NN World
Factor6 AY Riders
3:02
Active
4.8

2023-11-27

No Good (Remix)
Bell
3:49
Active
4.4

2023-09-08

No Power 2
Karbofos (Nikolay Mumrin)
1:56
Active
3.0

2023-10-20

Norwegian Blue
Gasman (Matthew Westcott) AY Riders , HOOY-PROGRAM
2:06
Active
4.4

2023-10-10

Nostalgy (Party Version)
Bloody Joseff (Ruslan Ermolin) Digital Reality
1:52
Active
4.5

2022-01-30

Nothing Else Matters
Matej Kovalcík
4:36
Active
4.4

2023-11-18

Nothing Forever
Magic Soft (Sergey Agapov)
2:59
Active
3.8

2023-11-20

Oblaka
Midisoft (Roman Tutkevich) Energy Minds
3:11
Active
4.5

2023-11-23

Occ San Geen
ASC (Andrew Sendetsky)
4:17
Active
4.5

2023-10-22

Odd Connection (cover)
Z00m (Branislav Bekeš) Total Computer Gang [TCG]
2:25
Active
4.7

2023-10-17

Oh - AY Sexy Thing!
Z00m (Branislav Bekeš) Total Computer Gang [TCG]
2:17
Active
4.6

2023-11-04

Old Mania
Klim (Grigoriy Klimenko)
2:30
Active
4.7

2023-11-15

Old Skool
X-Agon (Vit Hotarek) AY Riders
2:10
Active
4.8

2023-11-20

Old SKooL 4ever! (4 MLN'03)
EA (Ilya Abrosimov)
3:02
Active
4.8

2023-10-31

Old TV Tune [AY Version]
Megus (Roman Petrov)
2:58
Active
4.0

2022-08-21

OldSchool
YERZMYEY HOOY-PROGRAM
2:18
Active
4.5

2023-10-09

One Coin In My Hands
Kunf (Anton Kunafin) Begemota Soft , Digital Sound Labs , Eighteen Group
1:57
Active
5.0

2023-03-19

One Remix
Amadeus Voxon (Michael Belousov) Flash Inc.
2:35
Active
4.7

2023-10-28

Ooops!
Sauron (Alexander Vasilyev) Digital Reality
2:13
Active
4.8

2023-10-06

Opus2
Ded Smirnoff (Andrey Smirnov) Power of Sound
4:23
Active
4.4

2023-11-10

Outerloop Soundtrack
sweetbutt (Olga Sakharova) thesuper
3:35
Active
5.0

2023-10-24

Over Line
MmcM (Sergey Kosov) Sage
2:55
Active
4.9

2023-11-23

Over The Top (Last Part)
Ace (Alexander Mayorov)
2:42
Active
3.8

2023-09-23

Overlander - Menu
Jason C. Brooke
2:43
Active
3.8

2023-12-03

Overlander - Title
Jason C. Brooke
7:18
Active
4.1

2023-10-26

Overloaded RMX
Karbofos (Nikolay Mumrin)
2:18
Active
4.3

2023-11-15

Oxygene
Amadeus Voxon (Michael Belousov) Flash Inc.
3:01
Active
4.7

2023-08-11

Pa-Pa-Pa
Sauron (Alexander Vasilyev) Digital Reality
2:05
Active
4.7

2023-09-26

Paralactika (Extended Version)
nq (Oleg Nikitin) Skrju
3:57
Active
3.8

2023-11-28

Paranormal
Black Groove Light Future Group [LFG]
2:42
Active
4.6

2023-06-05

Paranormal Vision
Visual (Sergey Agapov) Digital Reality , Extreme Entertainment
2:53
Active
4.6

2023-12-03

Paroxyzm Theme
Mic (Mikhail Ivashenko) Progress [PGS]
2:48
Active
4.7

2023-10-24

Partytime Mortal Combat
Panda the Bear (Andrey Gorin)
3:02
Active
4.3

2023-11-24

Peace
TDM (Tomas Hauerland) AY Riders
5:41
Active
4.4

2023-11-24

Peculiar Peace
C-jeff (Dmitry Zhemkov)
2:22
Active
4.0

2023-11-12

Pet 1
Amadeus Voxon (Michael Belousov) Flash Inc.
4:03
Active
5.0

2023-12-02

Pet 2
Amadeus Voxon (Michael Belousov) Flash Inc.
2:52
Active
3.0

2023-11-13

Pet 3
Amadeus Voxon (Michael Belousov) Flash Inc.
2:55
Active
4.0

2022-10-13

Pet 4
Amadeus Voxon (Michael Belousov) Flash Inc.
2:33
Active
4.0

2021-12-17

Pet 5
Amadeus Voxon (Michael Belousov) Flash Inc.
2:59
Active
4.8

2023-11-10

PGS Intro at Fux Home
Mic (Mikhail Ivashenko) Progress [PGS]
0:54
Active
5.0

2023-11-23

Pheelone
C-jeff (Dmitry Zhemkov) , Fatal Snipe (Denis Pokalyuk)
3:14
Active
4.7

2023-11-01

Photographic
Oko (Oleg Krasnobaev)
4:05
Active
4.1

2023-10-25

Picturesque
YERZMYEY
2:05
Active
4.8

2023-11-16

Ping Pong
Unknown Artist
2:20
Active
4.8

2023-11-09

Pings Over the Era
Riskej (Sergey Sharov) Simbols
1:12
Active
3.8

2023-11-12

Pink Sunset
Z00m (Branislav Bekeš) Total Computer Gang [TCG]
2:22
Active
3.5

2021-08-19

Pinoccio
Fist Soft (Aleksey Kulakov) Virtual Vision Group
2:40
Active
3.3

2023-11-19

Piskworks Topgun
Fuxoft (František Fuka)
2:02
Active
3.6

2023-08-02

Pixy Fluff
Gasman (Matthew Westcott) AY Riders , HOOY-PROGRAM
2:22
Active
4.8

2023-10-26

Point of Departure 2
Factor6 AY Riders
3:08
Active
4.4

2023-11-08

Point-Birthday - Track 1
Moostafa (Maksim Deputat) Phantasy
2:35
Active
3.3

2023-10-18

Point-Birthday - Track 2
Moostafa (Maksim Deputat) Phantasy
3:44
Active
4.4

2023-11-18

Polkovnik
Wally (Sergey Nilov)
3:58
Active
4.8

2023-11-03

Pop-sTring
Kenotron (Andrey Tryasun) ETC , Scene
5:27
Active
4.6

2023-10-10

Popcorn
Kicia (Maciej Wronski)
2:40
Active
4.4

2023-10-11

Popcorn
Andrej Viselka
2:56
Active
2.6

2023-11-07

Popsa Must Die!
Fatal Snipe (Denis Pokalyuk)
3:00
Active
4.3

2023-11-10

Positive
Key-Jee (Ivan Petukhov)
2:32
Active
4.5

2023-04-17

Prazakum Je Hej
Factor6
4:23
Active
4.2

2023-08-31

Pressure
Chasm (Vladimir Fedorov) CyberPunks Unity
3:00
Active
4.3

2023-10-18

Primality
Gasman (Matthew Westcott) HOOY-PROGRAM
1:33
Active
4.8

2023-11-11

Proklyatiy Dom
Wally (Sergey Nilov)
3:17
Active
4.5

2023-11-09

Promenade
YERZMYEY AY Riders
2:55
Active
4.7

2023-08-28

Proof of concept
YERZMYEY AY Riders
2:36
Active
4.5

2023-11-19

Proper Summer
Shiru (Aleksandr Semyonov)
2:20
Active
5.0

2022-12-18

Proudly Loneliness
EA (Ilya Abrosimov) Antares
2:50
Active
5.0

2023-11-24

Pyramids
Suha (Alexander Sukhovsky) Digital Reality
5:04
Active
3.8

2023-11-14

Rain
Gasman (Matthew Westcott) AY Riders
1:58
Active
4.5

2023-09-06

Rainbow Dreams
Mast (Sergey Kaminsky) Fatality
3:29
Active
4.6

2023-12-03

Rains (CrazyLove #2)
Ishma (Ivan Shmatov) Power Group
2:03
Active
4.6

2023-09-21

Rally
Warlord
1:27
Active
4.0

2022-12-11

Ramparts - Title
Jason C. Brooke
3:54
Active
4.5

2023-11-19

Ratzeburg Rave
Z00m (Branislav Bekeš) Total Computer Gang [TCG]
4:59
Active
4.4

2023-09-27

Rave On!
Blind (Mihail Malyshev) CyberPunks Unity , Volume 4
3:00
Active
4.2

2023-12-03

Read Me
MmcM (Sergey Kosov) Sage
3:01
Active
4.8

2023-12-05

RealTime Track 4 CC2011
MmcM (Sergey Kosov) Sage
0:51
Active
4.7

2023-10-04

Reason of noise
MmcM (Sergey Kosov)
2:37
Active
4.5

2023-10-18

Recollection
MmcM (Sergey Kosov)
2:52
Active
4.8

2023-11-12

Recycler
Nick Roll thesuper
2:38
Active
4.8

2023-10-05

Red Zone Theme Parody
Black Groove Light Future Group [LFG]
2:34
Active
2.5

2023-10-14

Refresh
Mic (Mikhail Ivashenko) MPS , Progress [PGS]
2:40
Active
4.8

2023-12-04

Rendez-Vous 4
Kenotron (Andrey Tryasun) ETC , Scene
1:18
Active
4.8

2023-09-26

Rendezvous IV
Fuxoft (František Fuka)
3:06
Active
4.9

2023-12-04

Renegade
TDM (Tomas Hauerland) AY Riders
4:56
Active
4.4

2023-11-04

Rest In Peace
Black Groove Light Future Group [LFG]
0:46
Active
3.0

2022-01-25

Revision 2012 Invitation
Gasman (Matthew Westcott) HOOY-PROGRAM
2:10
Active
4.7

2023-10-19

Robert Miles
KVS (Vyacheslav Kislov) Flash Inc.
6:29
Active
4.8

2023-12-02

Robert Miles Remix
Mst (Maxim Pustovalov)
3:20
Active
4.2

2023-11-18

Robocop
Megus (Roman Petrov) AY Riders
3:26
Active
4.6

2023-12-03

Robocop - Title
Jonathan Dunn
3:12
Active
4.4

2023-11-09

Robocop 2
Matthew Cannon
5:00
Active
4.3

2023-09-30

Robocop In Game 1
Jonathan Dunn
1:47
Active
4.2

2023-11-11

Robocop In Game 2
Jonathan Dunn
0:41
Active
3.2

2023-11-24

Robocop4
YERZMYEY HOOY-PROGRAM
2:53
Active
4.6

2023-11-22

Romantic Express
Oko (Oleg Krasnobaev)
3:20
Active
3.5

2022-10-10

Rubber Forever!!
YERZMYEY AY Riders
0:57
Active
4.7

2023-11-19

Rubber Pleasures
YERZMYEY
4:11
Active
4.7

2023-10-24

Rythme
Scalesmann (Anton Yakovlev)
2:05
Active
4.0

2020-12-18

S. Servis
Amadeus Voxon (Michael Belousov) Flash Inc.
1:55
Active
4.6

2023-10-09

S.W.I.V. - Intro
Andrew Kolesnik Code Busters
3:53
Active
4.4

2023-10-20

S2A
Karbofos (Nikolay Mumrin)
1:34
Active
4.5

2023-08-11

Saboteur II - Title/In-Game
Rob Hubbard
2:33
Active
4.6

2023-11-30

Saga of Immortals
Sairoos (Aleksander Gavrilov)
3:05
Active
4.6

2023-11-24

Sanxion - Hi-Score
Hagar (Wally Beben)
1:37
Active
4.5

2023-10-26

Sanxion - Title
Hagar (Wally Beben)
7:00
Active
4.0

2023-09-20

Satellite One
Factor6 , TDM (Tomas Hauerland) AY Riders
1:48
Active
4.7

2023-11-11

Satisfaction Megademo - Epilogue
Andrew Kolesnik Code Busters
1:34
Active
4.8

2023-11-19

Satisfaction Megademo - Intro (Big In Japan)
Klav (Konstantin Leshchenko) Code Busters
3:33
Active
4.6

2023-11-10

Satisfaction Megademo - Part 1 (TRAZ - Title, C64)
Klav (Konstantin Leshchenko) Code Busters
3:55
Active
3.4

2023-11-08

Satisfaction Megademo - Part 10
Klav (Konstantin Leshchenko) Code Busters
3:29
Active
4.7

2023-10-09

Satisfaction Megademo - Part 2
Klav (Konstantin Leshchenko) Code Busters
2:56
Active
4.5

2023-12-03

Satisfaction Megademo - Part 3 (Megamix)
Klav (Konstantin Leshchenko) Code Busters
4:46
Active
4.2

2023-09-11

Satisfaction Megademo - Part 4 (Happy Children)
Klav (Konstantin Leshchenko) Code Busters
3:00
Active
4.3

2023-10-17

Satisfaction Megademo - Part 5 (Keep On Music)
Klav (Konstantin Leshchenko) Code Busters
4:11
Active
4.8

2023-11-23

Satisfaction Megademo - Part 6 (The Imperial March)
Klav (Konstantin Leshchenko) Code Busters
1:26
Active
4.6

2023-08-30

Satisfaction Megademo - Part 7 (From The Dawn Of Time)
Klav (Konstantin Leshchenko) Code Busters
2:04
Active
4.4

2023-11-26

Satisfaction Megademo - Part 8 (The Call Of Ktulu, Digital)
Rst7 (Dmitry Oparin) Code Busters
6:54
Active
3.9

2023-10-31

Satisfaction Megademo - Part 9
Klav (Konstantin Leshchenko) Code Busters
4:11
Active
4.0

2023-12-02

Saturnus
Amadeus Voxon (Michael Belousov) Flash Inc.
1:33
Active
4.3

2023-09-30

Scavenger 3
X-Agon (Vit Hotarek) AY Riders
3:35
Active
4.4

2023-11-26

Second Comming
Mic (Mikhail Ivashenko) Progress [PGS]
5:07
Active
4.6

2023-08-11

Second Day Uptown
Factor6 AY Riders , HOOY-PROGRAM
2:48
Active
5.0

2023-10-24

Sector Themos
D-Juice (Evgeny Leshukov)
2:58
Active
3.0

2023-11-12

Seeker (Rainbow Beer MD - Epilogue)
Robus (Aleksey Fill) Entire
4:16
Active
4.5

2023-10-30

Senseless Moles
Black Groove Light Future Group [LFG] , Triebkraft
2:31
Active
4.0

2023-12-02

Seven Up
AND (Dmitry Andreev) Speedway
3:33
Active
4.5

2023-09-27

Sextris Game - Title
Dre@mer (Vitaliy Murenko) , Mad_Max (Maksim Ponomaryov) Silicon Brains
3:18
Active
4.6

2023-12-04

Shadeways to Heaven
Ishma (Ivan Shmatov)
1:48
Active
5.0

2023-08-20

Shadow of the Beast - Ingame 1
David Whittaker
1:05
Active
4.3

2023-11-05

Shadow of the Beast - Ingame 2
David Whittaker
1:43
Active
4.5

2023-10-11

Shadow of the Beast - Title
David Whittaker
1:47
Active
4.9

2023-12-01

She Betrayed Me
Imp (Vladimir Hropov)
2:15
Active
4.8

2023-11-28

Shock Megademo Pt 1
Ziutek (Andrzej Siuda) ESI
1:42
Active
3.0

2023-04-18

Shock Megademo Pt 2
Ziutek (Andrzej Siuda) ESI
4:15
Active
4.4

2023-05-18

Shock Megademo Pt 3
Ziutek (Andrzej Siuda) ESI
3:50
Active
5.0

2023-12-03

Shock Megademo Pt 4
Ziutek (Andrzej Siuda) ESI
2:18
Active
4.2

2023-11-19

Shock Megademo Pt 5
Ziutek (Andrzej Siuda) ESI
3:12
Active
4.5

2023-07-24

Shock Megademo Pt 6
Ziutek (Andrzej Siuda) ESI
2:41
Active
4.7

2023-11-22

Shock Megademo Pt 7
Ziutek (Andrzej Siuda) ESI
4:10
Active
4.7

2023-11-04

Shock Megademo Pt 8
Ziutek (Andrzej Siuda) ESI
1:47
Active
4.3

2023-10-27

Shoot 'Em Up
Z00m (Branislav Bekeš) Total Computer Gang [TCG]
0:38
Active
3.0

2023-09-13

Shucon 2004 Intro #1
Z00m (Branislav Bekeš) Total Computer Gang [TCG]
2:49
Active
4.0

2021-09-30

Shucon 2004 Intro #2
Z00m (Branislav Bekeš) Total Computer Gang [TCG]
1:56
Active
4.0

2023-08-20

Signal 4 You
Lamer Pinky (Petr Klusal)
2:48
Active
4.8

2023-10-20

Silkworm - Title
The Jackal (Barry Leitch)
2:20
Active
4.5

2023-10-05

SKAI - Frivolous Ukrainian Girl
Wally (Sergey Nilov)
3:28
Active
5.0

2023-06-25

Sky Surfing
Igoval (Igor Shevelev) Triangle Group
2:53
Active
4.3

2023-10-07

Slova
Wally (Sergey Nilov)
3:23
Active
4.2

2023-09-22

Smilin' Funky
C-jeff (Dmitry Zhemkov) AY Riders
2:19
Active
4.8

2023-11-10

Snakebite
Gasman (Matthew Westcott) AY Riders , HOOY-PROGRAM
2:54
Active
4.5

2023-11-26

Snare
Andy Brown
1:44
Active
5.0

2023-08-03

Snowball Game
Shiru (Aleksandr Semyonov)
2:20
Active
4.7

2023-10-06

Snowstorm (Metelica)
Ishma (Ivan Shmatov) Power Group
3:20
Active
4.9

2023-11-09

Solar Invasion - Title
Tim Follin (Timothy John Follin)
2:37
Active
4.9

2023-11-04

Some Fast Music For Demo (CrazyLove #1)
Ishma (Ivan Shmatov) Power Group
4:57
Active
4.4

2023-11-25

Sommit Odd
Imp (Vladimir Hropov)
2:02
Active
4.0

2023-09-27

Sonya (AY edit)
Z00m (Branislav Bekeš) Total Computer Gang [TCG]
3:19
Active
4.9

2023-10-12

Sound Fields (Original Version)
YERZMYEY AY Riders
2:53
Active
4.8

2023-11-07

Sound Tracker Soundtrack
Kicia (Maciej Wronski)
2:28
Active
4.2

2023-11-17

Soundliner Music
Soundliner (Kirill Gavrilenko) CTL , NSHG
5:22
Active
4.1

2023-10-22

Space (TS)
Jerrs (Stanislav Zarubin)
1:26
Active
4.5

2023-11-18

Space Harrier II
Matt Furniss
1:41
Active
4.8

2023-11-29

Spartacus
Mad_Max (Maksim Ponomaryov) Silicon Brains
2:38
Active
4.6

2023-11-29

Speccy Alive!
Noize (Maksim Deputat) Phantasy
2:37
Active
5.0

2023-11-01

Spellbound
Rob Hubbard
5:08
Active
4.8

2023-11-22

Spellbound Dizzy
David Whittaker
5:00
Active
4.2

2023-11-17

Spring Came
Shiru (Aleksandr Semyonov)
2:35
Active
4.4

2023-12-05

Spring Day
MmcM (Sergey Kosov)
2:05
Active
4.5

2023-10-13

Spring is Coming
Factor6 AY Riders , HOOY-PROGRAM
3:02
Active
4.8

2023-11-06

Spring Monitor
Factor6
2:55
Active
3.6

2022-10-22

ST Compiler (Flint remix)
Kicia (Maciej Wronski)
2:02
Active
5.0

2023-02-20

ST Compiler Soundtrack
Kicia (Maciej Wronski)
1:32
Active
4.5

2023-11-16

STandard Crap
YERZMYEY AY Riders
2:43
Active
5.0

2023-11-14

Star Dragon - Title
Fuxoft (František Fuka)
5:57
Active
4.3

2023-10-30

Star Paws - Title/In-Game
Tim Follin (Timothy John Follin)
1:47
Active
4.5

2023-11-23

Star Trip
Kicia (Maciej Wronski)
1:47
Active
4.6

2023-09-25

Star Trip v2
Kicia (Maciej Wronski)
1:47
Active
4.6

2023-11-06

StarDragon Hall Of Fame
Fuxoft (František Fuka)
5:00
Needs Re-Encoding
4.0

2019-09-19

Starglider 2: The Egrons Strike Back - Title Music
Uncle Art (Dave Lowe)
2:31
Active
4.5

2023-11-18

Starshine
Gasman (Matthew Westcott) Raww Arse
4:09
Active
4.5

2023-11-06

Steam
Push (Ivan Bobov)
3:12
Active
3.3

2023-10-18

Stellar Contour
Megus (Roman Petrov) AY Riders , Brainwave
3:44
Active
4.2

2023-06-20

Stellar one
Cj Splinter (Roman Lashkov) , MmcM (Sergey Kosov)
2:48
Active
5.0

2023-10-19

Step Into Darkness
Z00m (Branislav Bekeš) Total Computer Gang [TCG]
2:52
Active
4.5

2023-08-18

Stop!
Mic (Mikhail Ivashenko) MPS
2:00
Active
4.9

2023-11-29

Stormbringer - Title/In-Game
David Whittaker
4:18
Active
4.5

2023-11-12

Stream Of Rain
MmcM (Sergey Kosov)
3:08
Active
5.0

2023-12-01

Strike Force
Z00m (Branislav Bekeš) Total Computer Gang [TCG]
1:47
Active
5.0

2023-08-08

Stuff Like That
YERZMYEY HOOY-PROGRAM
3:36
Active
4.7

2023-09-22

Stuff Like That (Alienate Version)
YERZMYEY HOOY-PROGRAM
3:36
Active
4.5

2023-10-30

Stun Runner - Title
Matt Furniss
1:55
Active
4.7

2023-11-19

Suggedy (CC Version)
Fatal Snipe (Denis Pokalyuk)
2:59
Active
4.7

2023-11-29

Suggestive
MmcM (Sergey Kosov)
4:55
Active
5.0

2023-09-27

Summer Day's (TS)
rnR T.A.D.
1:55
Active
4.8

2023-11-05

Summer Is Always with Me
MmcM (Sergey Kosov)
4:16
Active
4.6

2023-09-23

Summer Mood [AY Version]
Megus (Roman Petrov)
3:12
Active
4.5

2023-11-13

Summer Night
MmcM (Sergey Kosov) Sage
3:03
Active
4.5

2023-09-01

Summertime
MmcM (Sergey Kosov)
2:22
Active
4.9

2023-10-30

Sunny days
MmcM (Sergey Kosov) Sage
2:47
Active
4.7

2023-10-28

Surprise Bug
Oko (Oleg Krasnobaev)
3:12
Active
4.0

2023-11-22

Switchblade - In-Game
Ben Daglish
3:22
Active
4.3

2023-11-04

Switchblade - Title
Ben Daglish
2:50
Active
4.4

2023-10-02

Synthmania11
tayle (Alexey Bilichenko) Debris (ZX)
1:54
Active
4.9

2023-10-08

T2 Remix
Black Groove
1:36
Active
4.1

2023-10-13

Target Renegade - Level 1 & 3
Gary Biasillo , Jonathan Dunn
5:00
Active
4.3

2023-10-30

Target Renegade - Level 2
Gary Biasillo , Jonathan Dunn
3:59
Active
4.2

2023-10-02

Target Renegade - Level 4
Gary Biasillo , Jonathan Dunn
2:31
Active
4.2

2023-11-03

Target Renegade - Title & Level 4
Gary Biasillo , Jonathan Dunn
2:45
Active
4.4

2023-11-30

Tarzan - Title
Rob Hubbard
2:24
Active
4.1

2023-11-23

Task Force - Title
Ian Sheridan
2:23
Active
4.3

2023-11-04

Techno
Ishma (Ivan Shmatov)
2:12
Active
3.0

2020-12-15

Technodrive (TS)
Darkman007 (Vladimir Tugay)
2:27
Active
4.8

2023-11-22

Technogen Invitation Soundtrack
Megus (Roman Petrov) Brainwave
3:31
Active
4.8

2023-11-06

Tekka Tekka
tayle (Alexey Bilichenko) Team Site
4:06
Active
4.5

2021-11-12

Ten Zone (Caprize Version)
Ahim (Michael Erastov)
3:07
Active
4.5

2023-11-03

Terra Cresta
Fuxoft (František Fuka)
1:42
Active
4.4

2023-10-25

Terrible Teddy Bear and B.B.B.
Kunf (Anton Kunafin) Begemota Soft , Digital Sound Labs
2:29
Active
3.9

2023-12-02

Terrorpods Intro
MmcM (Sergey Kosov)
3:50
Active
4.5

2023-10-09

TESTOTUNOHARDOCORE
nq (Oleg Nikitin)
1:06
Active
3.5

2022-11-25

Tetris 2 - Red Dawn - Ingame
Fuxoft (František Fuka)
1:37
Active
4.6

2023-11-26

Tetris 2 - Title
Fuxoft (František Fuka)
3:00
Active
4.8

2023-11-23

The 8bits of Christmas - Merry Christmas! Jesus Holy, Born so Lowly
YERZMYEY
1:26
Active
4.5

2023-11-22

The Awakening
C-jeff (Dmitry Zhemkov)
0:51
Active
4.5

2023-08-30

The Blossoming Years
MmcM (Sergey Kosov)
77:20
Active
2.6

2021-10-01

The Funky Strut
Agent-X (Ed Polinski)
2:41
Active
4.0

2022-04-23

The Last V8
Fuxoft (František Fuka)
1:16
Active
4.8

2023-12-05

The Last... (Zest - Part 4)
Ishma (Ivan Shmatov) Power Group
2:05
Active
4.0

2023-11-21

The Left
Black Groove
1:11
Active
5.0

2023-05-11

The Light Corridor - Title
Alberto Jose Gonzalez
4:06
Active
4.8

2023-09-18

The Munsters - Title/In-Game
Ben Daglish
1:41
Active
4.8

2023-11-04

The NeverEnding Story
Fred Gray
3:17
Active
4.4

2023-11-23

The Old Future (TS)
MmcM (Sergey Kosov) Sage
3:08
Active
4.6

2023-11-14

The Race
Sonic Graffiti
3:39
Active
4.3

2023-10-25

The Splash - Part 1
Avatar (Boris Sergeev)
2:36
Active
4.0

2021-08-19

The White Road
Andy Fer (Andrey Aleksandrov)
4:39
Active
4.0

2023-11-11

Theme From Paradise
Scratcher (Sergey Aukin) E-mage
2:37
Active
4.5

2023-12-01

This Is Emptiness
Z00m (Branislav Bekeš) Total Computer Gang [TCG]
3:50
Active
4.5

2023-06-16

Through Poland
Factor6
3:21
Active
4.9

2023-11-18

Throw Up
4-Mat (Matt Simmonds) Ate Bit
3:25
Active
3.5

2023-05-21

Thundercats
Rob Hubbard
4:12
Active
4.9

2023-11-18

Tilki Vin
Wally (Sergey Nilov)
2:33
Active
4.4

2023-08-10

Titanic Cyber Remix
Gasman (Matthew Westcott) AY Riders
1:53
Active
3.8

2023-08-29

Tn2
Evolver (Vladislav Petyukevich) RUSH
3:24
Active
3.8

2023-12-03

To Risk the Courage
C-jeff (Dmitry Zhemkov) Brainstorm
2:38
Active
3.8

2023-12-02

To Us All Things On The Drum (We Don't Care)
Kenotron (Andrey Tryasun) ETC , Scene
2:16
Active
4.6

2023-10-13

To Yep Or Not To Nop
Kunf (Anton Kunafin) Begemota Soft , Digital Sound Labs , Eighteen Group
1:37
Active
4.0

2022-12-02

Touch Sense
YERZMYEY
4:44
Active
4.6

2023-10-13

Toxic Place Influence (demomix)
sweetbutt (Olga Sakharova) thesuper
5:15
Active
4.7

2023-11-24

Track 4.1
VVS (Vladimir Svoevolin) DGMS
3:05
Active
4.0

2023-12-04

Trainer
Factor6
1:54
Active
4.8

2023-08-24

Trainer Or Die
Z00m (Branislav Bekeš) Total Computer Gang [TCG]
1:54
Active
5.0

2023-11-04

Tranq
Dagma (Denis Shivikov) Extreme Entertainment
2:47
Active
4.8

2023-10-03

Transmit
Sister Antares , MegaDate Group
3:00
Active
4.0

2021-05-23

Trashe
Scratcher (Sergey Aukin) E-mage
4:40
Active
4.7

2023-11-02

Trashe Second Part
Scratcher (Sergey Aukin) E-mage
1:51
Active
4.0

2023-12-03

Treasure Island Dizzy - Ingame
David Whittaker
1:42
Active
4.8

2023-11-26

Treasure Island Dizzy - Title
David Whittaker
0:56
Active
4.8

2023-12-05

Trotil Sausage
Karbofos (Nikolay Mumrin) , Splinter (Roman Lashkov)
2:21
Active
4.3

2023-10-17

Tryptomine Dream Soundtrack
Megus (Roman Petrov) AY Riders , Brainwave
3:50
Active
4.4

2023-10-10

Turbo (TS)
Darkman007 (Vladimir Tugay)
2:37
Active
4.8

2023-10-27

Turrican 16
TDM (Tomas Hauerland) AY Riders
1:40
Active
4.8

2023-10-19

Turrican C64 (Huelsbeck, Vaca)
X-Agon (Vit Hotarek) AY Riders
3:47
Active
4.4

2023-12-03

Twinz!
Agaev Eldar
7:13
Active
4.0

2023-08-15

U96 (Zest - Part 1)
Ishma (Ivan Shmatov) Power Group
1:17
Active
4.0

2023-11-02

Under the Sun
Shiru (Aleksandr Semyonov)
2:18
Active
3.3

2023-11-10

Unfixed Reamplified Vibes
Kunf (Anton Kunafin) Begemota Soft , Digital Sound Labs , Eighteen Group
2:59
Active
4.0

2023-10-25

Unfreezing
Imp (Vladimir Hropov)
1:52
Active
3.8

2023-11-29

Unit 42
Ziutek (Andrzej Siuda) ESI
3:28
Active
4.6

2023-11-27

Unreal II
DJ Serg (Sergey Hanko) Fishbone Crew
3:08
Active
4.5

2023-11-15

Unreal Music
KSA (Stanislav Kuzin)
4:11
Active
4.9

2023-10-14

Unreal ][ - Second Reality (AY Remix)
Z00m (Branislav Bekeš) Total Computer Gang [TCG]
6:11
Active
4.6

2023-10-21

Up, Up, Up
Kunf (Anton Kunafin) Begemota Soft , Digital Sound Labs , Eighteen Group
1:59
Active
3.7

2023-10-27

Upsss... I kill the world
Black Groove Light Future Group [LFG]
1:32
Active
3.5

2023-04-07

UrsULA
YERZMYEY
5:22
Active
4.7

2023-10-09

V Ozhidanii Tepla
Shiru (Aleksandr Semyonov)
2:44
Active
4.5

2023-03-27

VDV
Wally (Sergey Nilov)
2:21
Active
4.8

2023-08-29

Vibrations #1 (Intro)
Imp (Vladimir Hropov) Dream Makers Sofrware , RUSH
2:11
Active
3.8

2023-12-05

Vibrations #2 (Krytexho)
Evolver (Vladislav Petyukevich) Dream Makers Sofrware , RUSH
4:29
Active
4.2

2023-11-07

Vibrations #3 (Epilogue)
Imp (Vladimir Hropov) Dream Makers Sofrware , RUSH
3:08
Active
4.8

2023-11-26

Vicomm
Amadeus Voxon (Michael Belousov) Flash Inc.
2:08
Active
5.0

2021-09-09

View to a Kill
Fuxoft (František Fuka)
2:25
Active
4.6

2023-10-30

Vision Re
MmcM (Sergey Kosov) Sage
1:54
Active
Voyage To Doopland
YERZMYEY AY Riders
8:57
Active
4.0

2023-10-14

Voyage To Hell
Black Groove Light Future Group [LFG]
2:18
Active
4.0

2023-01-28

Wally
Wally (Sergey Nilov)
7:11
Active
4.3

2023-07-24

Warp Sequences !!!
Klav (Konstantin Leshchenko) Code Busters
2:23
Active
4.2

2023-11-18

Wedding
YERZMYEY HOOY-PROGRAM
0:51
Active
4.0

2022-09-24

Weed Soundtrack
Key-Jee (Ivan Petukhov) Triebkraft
4:19
Active
4.8

2023-10-11

Weird
YERZMYEY
4:16
Active
4.5

2023-10-19

Westworld
Nodeus (Ilya Shirinkin) Light Future Group [LFG]
1:36
Active
3.0

2023-03-05

Wet Dream
Z00m (Branislav Bekeš)