CVGM.net - Chiptune, Retro & Video Game Music

Platform - Computer » BBC Micro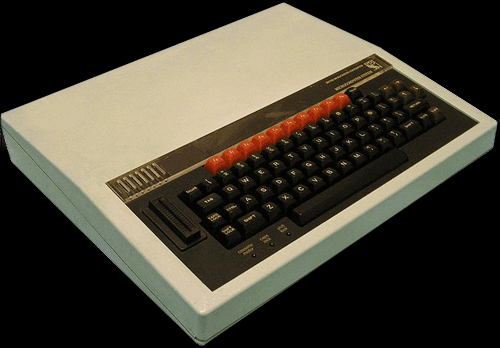 BBC Microcomputer System is 8-bit computer produced by Acorn Computers in 1981.
BBC Micro was developed under a name "Proton" (their previous computer was "Atom") but after the computer was selected to become a center piece of British Broadcasting Corporation's Computer Literacy Project, the name was changed.
Most of British schools had BBC Micro's in the 1980s and in Britain the machine met a certain level of success also outside classrooms despite of its high price. The most widely known model was the model B, which could interface to a massive array of different devices.
BBC Micro has Texas Instruments SN76489 sound chip (used also by 8-bit Sega) and also a speech chip TMS5220 by Texas Instruments featuring the voice of British newsreader Kenneth Kendall. The SN76489 sound chip has three square wave channels plus one white noise channel.
There are six models of BBC Micro: A, B, B+64, B+128, Master 128 and Master compact
Elite - one of the most famous computer games ever was developed and released first for BBC Micro.
Songs
| Song Title | Artist | Song Length | Status | Avg. Vote | Queue | Last Played |
| --- | --- | --- | --- | --- | --- | --- |
| Addict's Anthem | Daniel Pugh | 4:13 | Active | 4.6 | | 2022-08-14 |
| Bad Apple SMS (SN76489) | Inverse Phase (Brendan Becker) | 3:19 | Active | 4.4 | | 2022-05-26 |
| Bird Strike | Melvyn Wright | 2:34 | Active | 4.4 | | 2022-08-11 |
| Castle Quest | Unknown Artist | 1:19 | Active | 3.7 | | 2022-06-17 |
| Cold Tea | Andrew Robinson | 1:17 | Active | 5.0 | | 2022-06-24 |
| Crazee Rider | Martin Galway | 6:19 | Active | 4.6 | | 2022-06-29 |
| Darjunz | Unknown Artist | 9:01 | Active | 4.6 | | 2021-12-21 |
| Epic Software Loader | Melvyn Wright | 4:56 | Active | 2.9 | | 2022-07-22 |
| Estra | Melvyn Wright | 4:28 | Active | 3.8 | | 2022-05-04 |
| Firetrack Cassette Load | Unknown Artist | 5:23 | Needs Re-Encoding | 2.0 | | 2016-03-04 |
| Frak | Unknown Artist | 0:50 | Active | 4.2 | | 2022-08-03 |
| Galaforce | Martin Galway | 3:11 | Active | 4.6 | | 2022-08-03 |
| Galaforce 2 | Martin Galway | 2:58 | Active | 4.7 | | 2022-08-03 |
| Galaforce 2 - High Score | Martin Galway | 1:31 | Active | 4.3 | | 2022-05-24 |
| Hypersports | Martin Galway | 2:47 | Active | 4.2 | | 2022-06-12 |
| Postman Pat III Theme | Unknown Artist | 1:48 | Active | 3.6 | | 2022-07-17 |
| Repton 2 | Unknown Artist | 1:35 | Active | 3.7 | | 2022-08-02 |
| StarDrifter | Melvyn Wright | 2:55 | Active | 4.3 | | 2022-08-12 |
| Strykers Run | Martin Galway | 2:05 | Active | 3.9 | | 2022-06-28 |
| Way of the Exploding Fist | Unknown Artist | 1:00 | Active | 3.4 | | 2022-07-28 |